My Top 2 Favorite Decks of 2022
So excited to share with you my favorite tarot decks from 2022. These are gems! I'm delighted to have these new decks to play with for the entire season of Autumn, and these will be so perfect for the week of Halloween. What a treat! Let's dive in.
The Hocus Pocus Tarot and The Horror Tarot - both from Insight Editions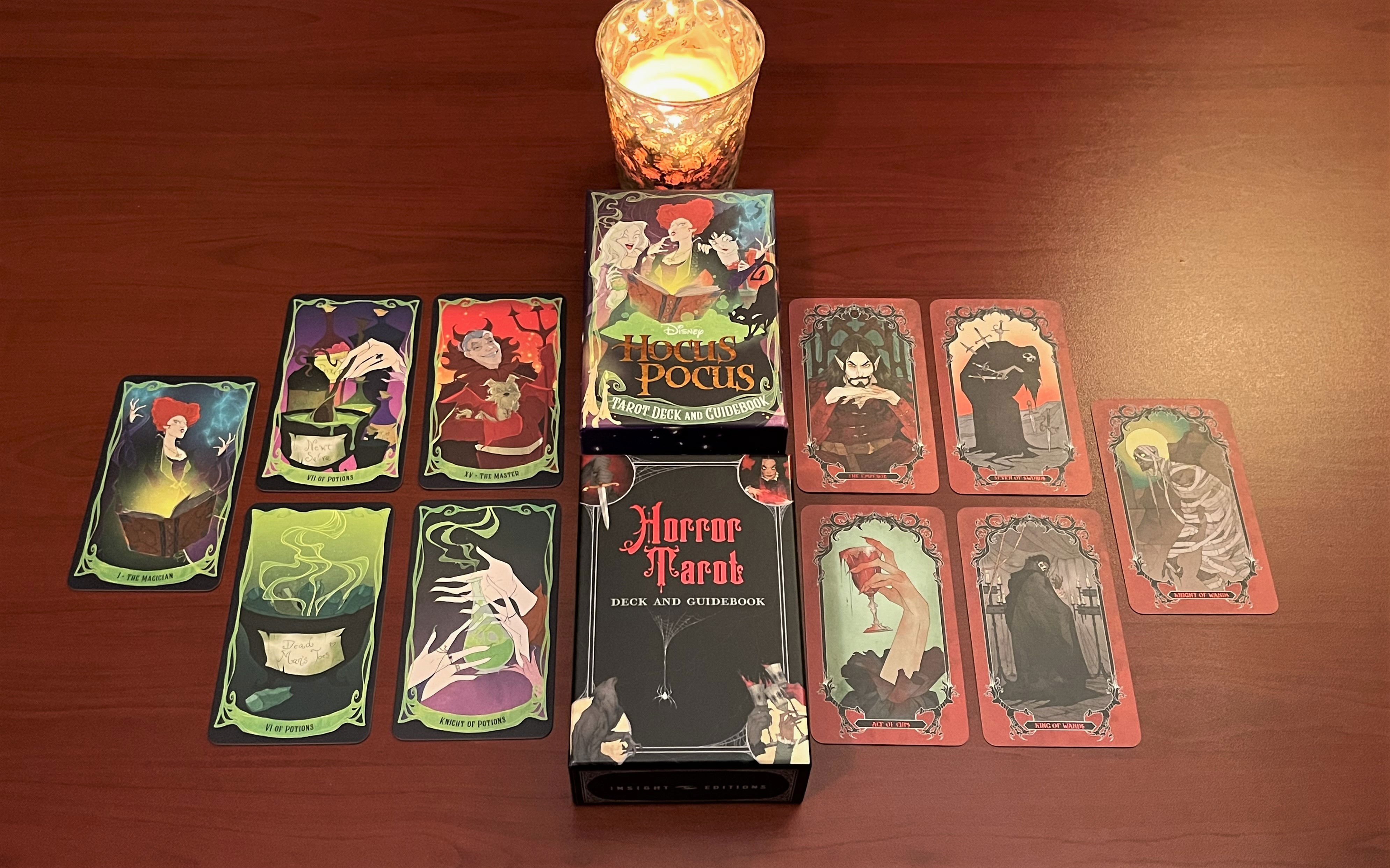 Hocus Pocus Tarot Deck Review
Insight Editions sent over the Hocus Pocus Tarot for review. Just like all Insight Editions decks this one is gorgeous with vivid colors and magical elements. This is one of my favorite movies, and this deck does it justice! I LOVE this deck! It's fun, beautiful, magical, true to the movie, and very witchy — all things I love!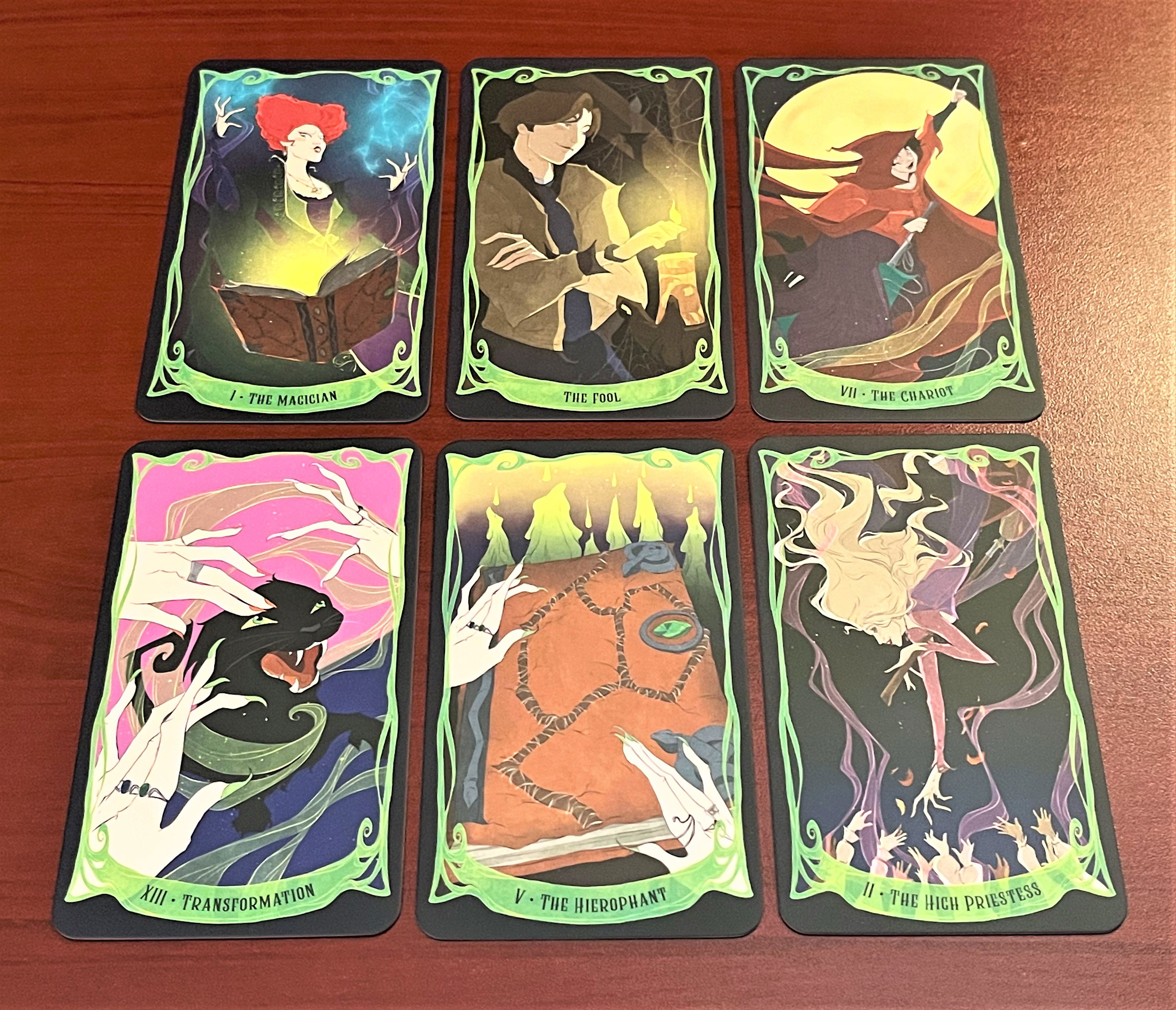 The witches were so present throughout the deck from Winifred asserting her magical skill as The Magician, Sarah enchanting the young children as The High Priestess with her song, and Mary straddling her vacuum as The Chariot - one of the funniest scenes in the film. The Justice card portrays the scene where the witches were hunted down with pitchforks and hanged in Salem in 1692 for killing Emily Binx, and The Sun card represents the rising sun turning Winnie to stone at the end of the movie after Max sacrificed himself to save his sister, Dani. We come full circle as we started the film with Thackery failing to save his sister, Emily.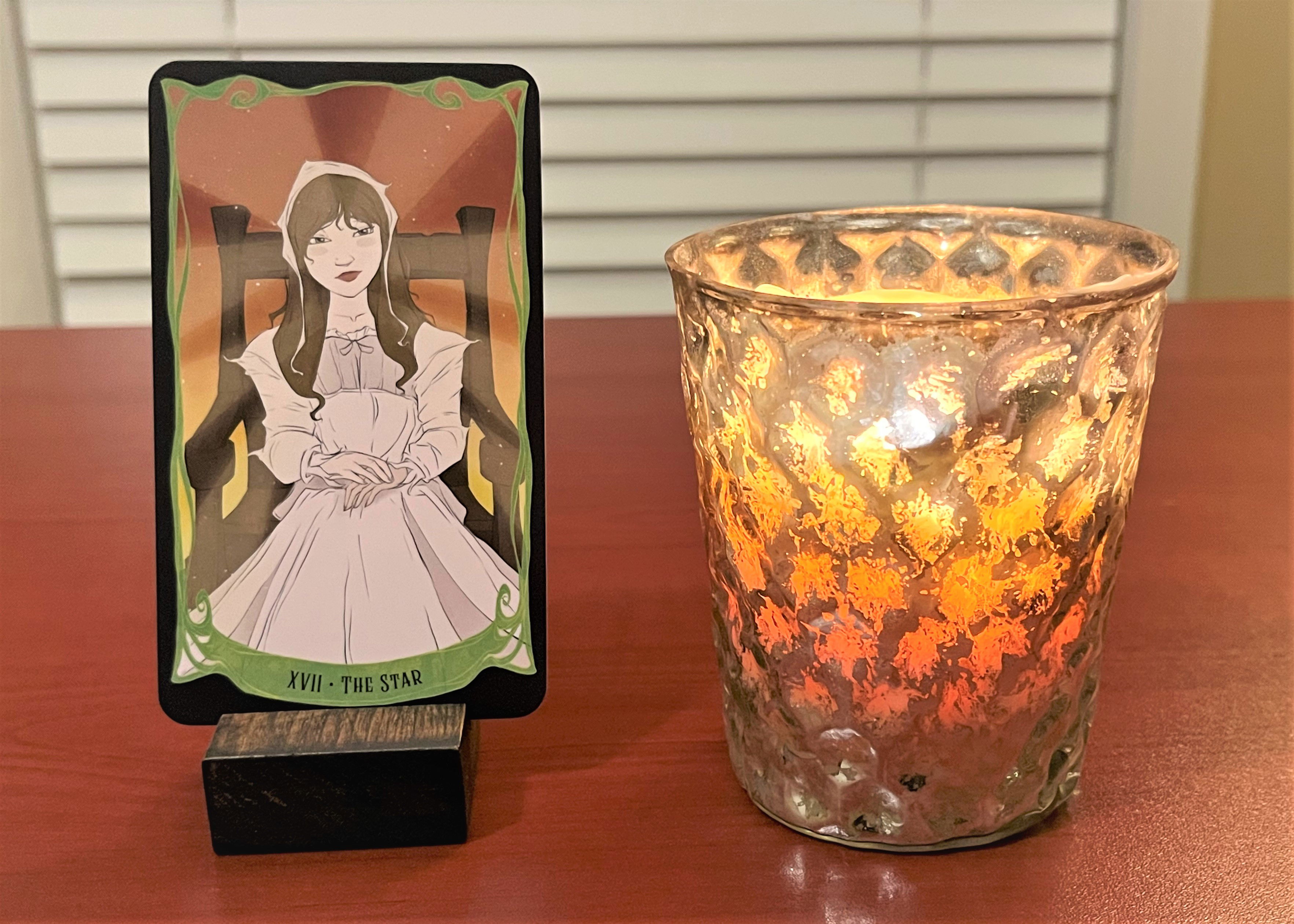 And it's sentimental and pulls at your heart with Emily as The Star and the reunion between Thackery Binx and his deceased younger sister, Emily, as The World card — perfection and heartwarming!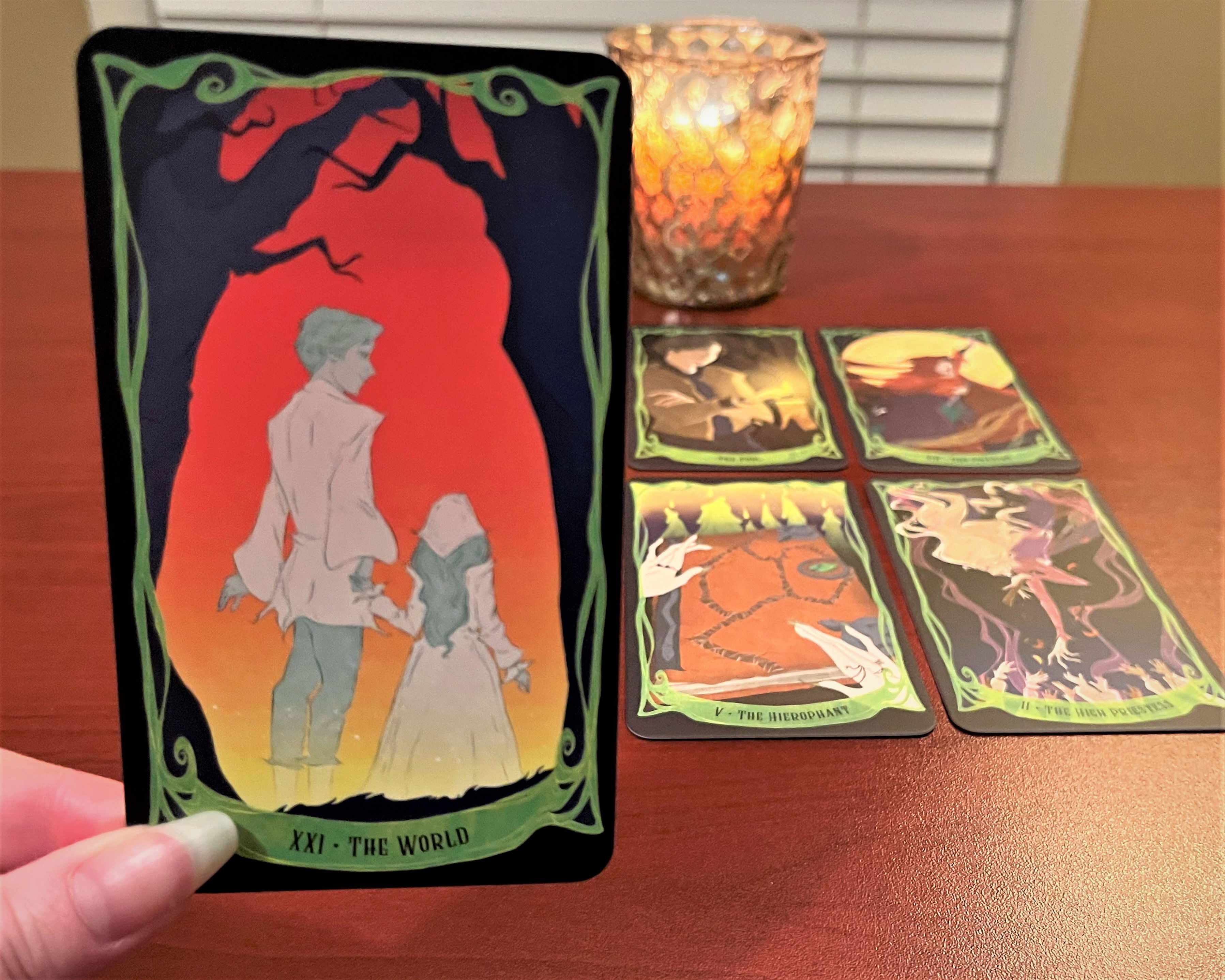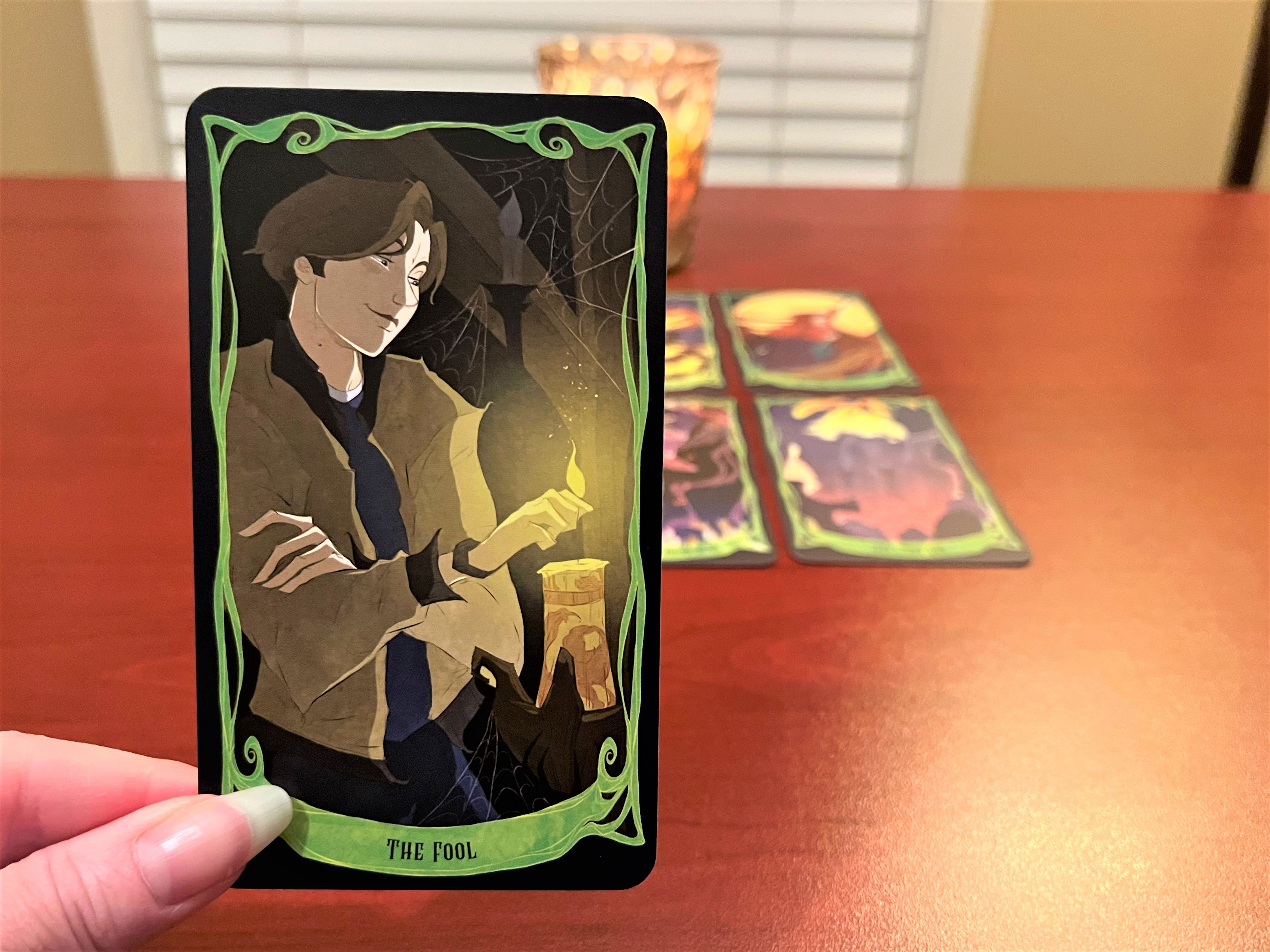 Our main characters are front and center with Max as The Fool and the King of Lightning as he lights the black flame candle, Dani is Strength, Allison is Temperance, Max's parents are The Empress and The Emperor, and Binx is Death (titled Transformation in this deck) when he is transformed into a black cat by the Sanderson sisters. That definitely represents a major rebirth.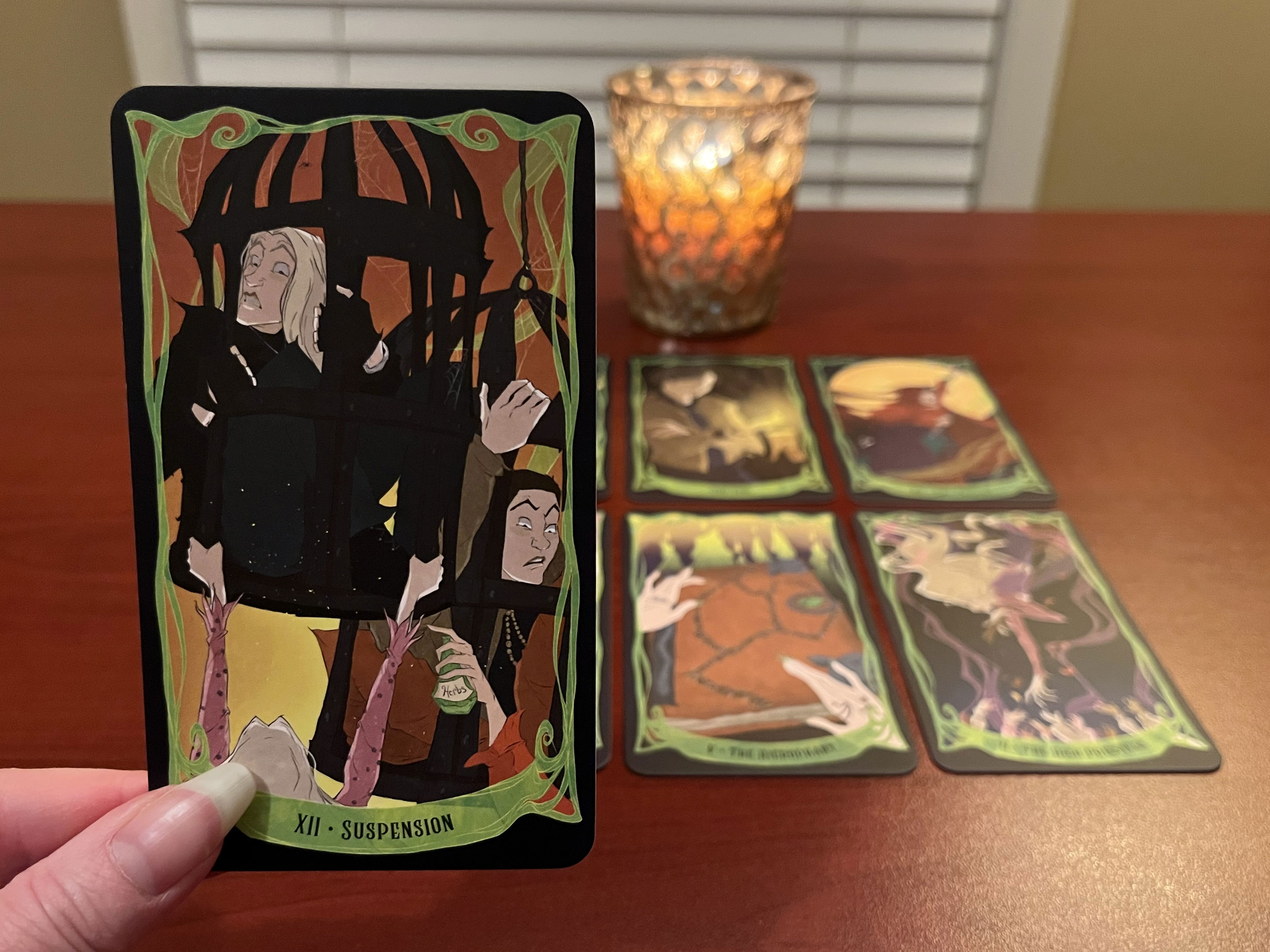 And all of our favorite minor characters from the film are very much represented from the sisters' "master" as the Devil, the Skeleton MC at the Halloween party as the King of Candles, Billy as the Hermit in the graveyard and as the King of Potions, the bus driver as the Knight of Lightning, and Ice and Jay (Max's bullies) as the Hanged Man when they are suspended in the Sanderson house over the cauldron (love this so much)!! Talk about getting a different perspective! They aren't so tough now are they?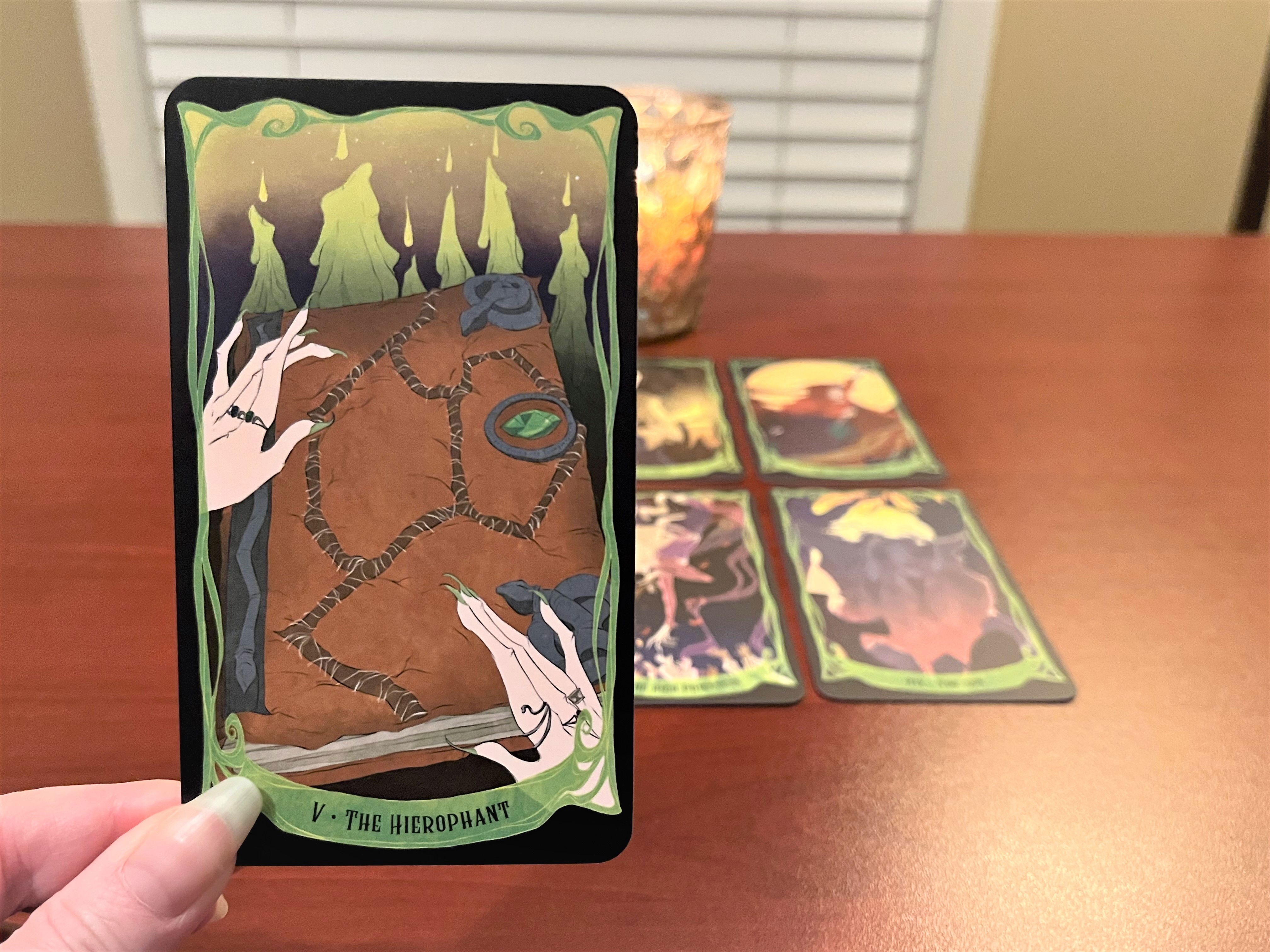 Some of the main and minor characters are used as other characters in the minor arcana as well so everyone gets plenty of love! And some of the most perfect cards are The Tower as the Sanderson sisters' house, the note with Max's phone number as The Lovers card to symbolize the budding relationship between Max and Allison, the graveyard as the Judgment card, Winnie's spellbook as The Hierophant card, and the circle of salt that Allison uses as protection against the witches as the Wheel of Fortune.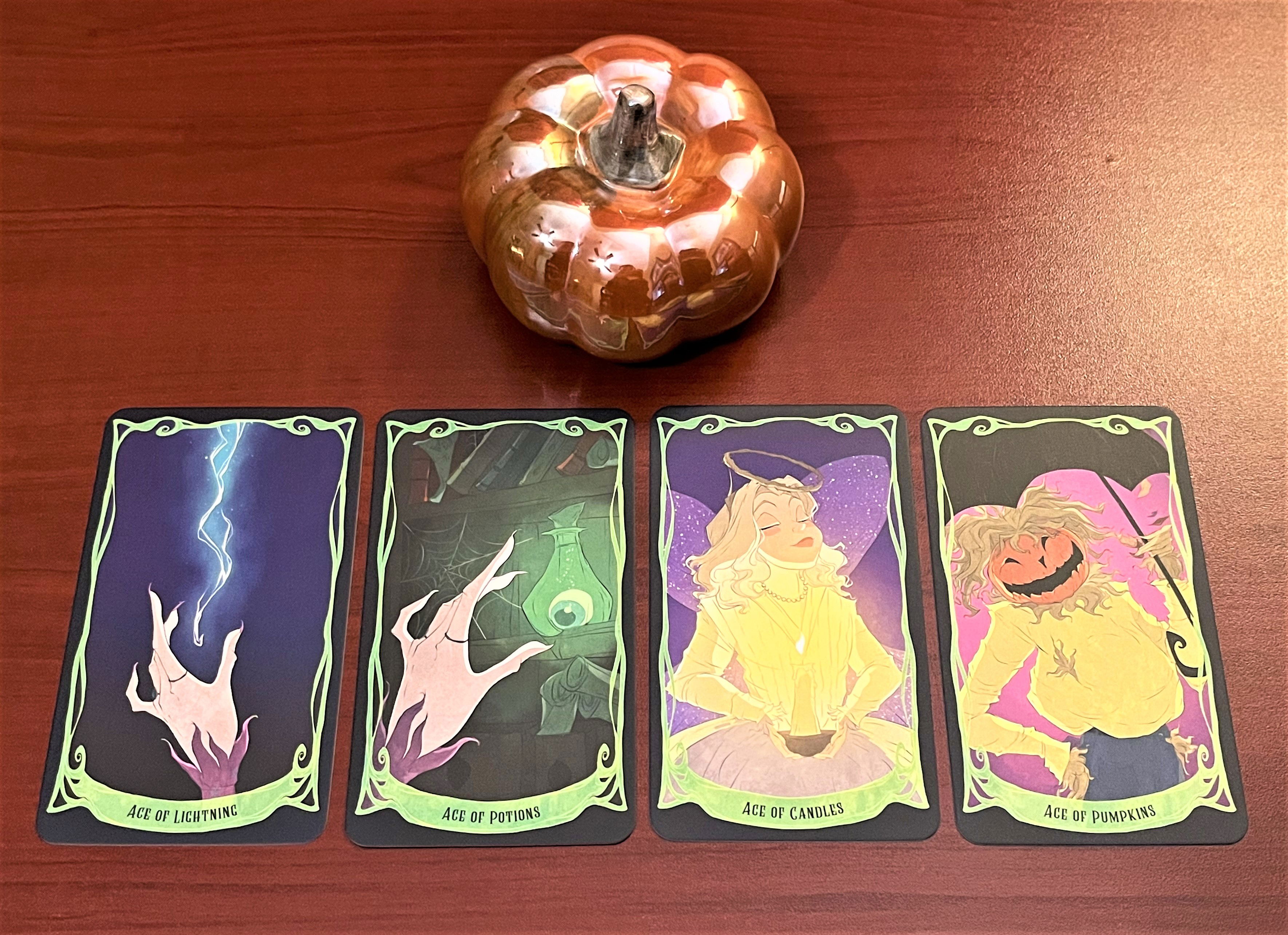 For the suits, potions are cups, lightning represents swords, candles are wands, and pumpkins are pentacles. The Ace of Lightning and Ace of Potions are stunning! Shown above. The first editions of the guidebook switched the meanings for the swords and wands so make sure you keep them straight. Just remember candles burn with fire (wands are fire signs) and lightning flies through the air (swords are air signs). Hope that helps. They may correct this in later prints.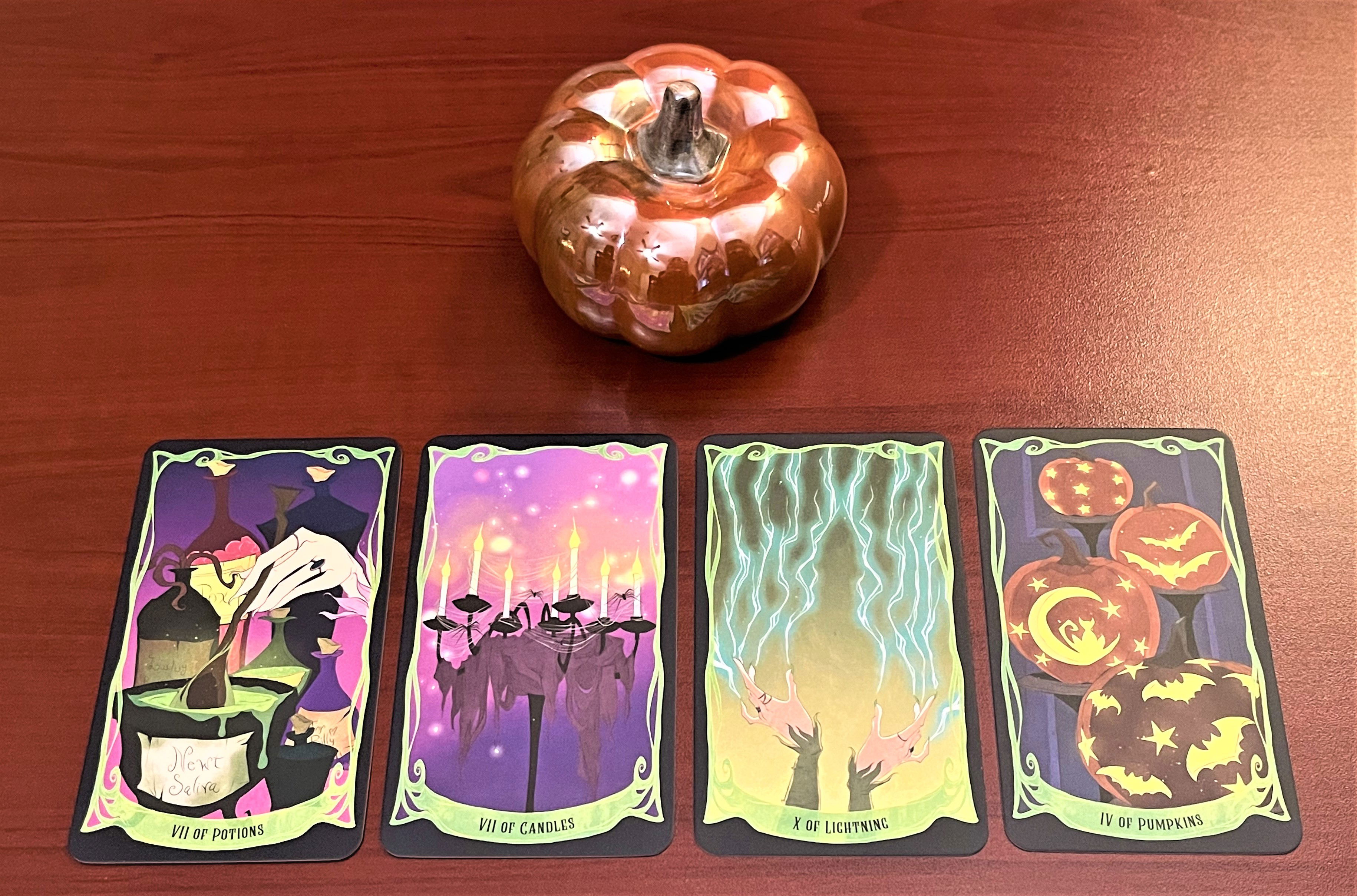 The suits are very halloweeny! The pumpkins are carved jack-o-lanterns and Halloween pumpkin treats (too freaking cute). And the potions cards are some of my favorites! It makes me want to brew up some witchy concoctions for the Hocus Pocus 2 release coming up.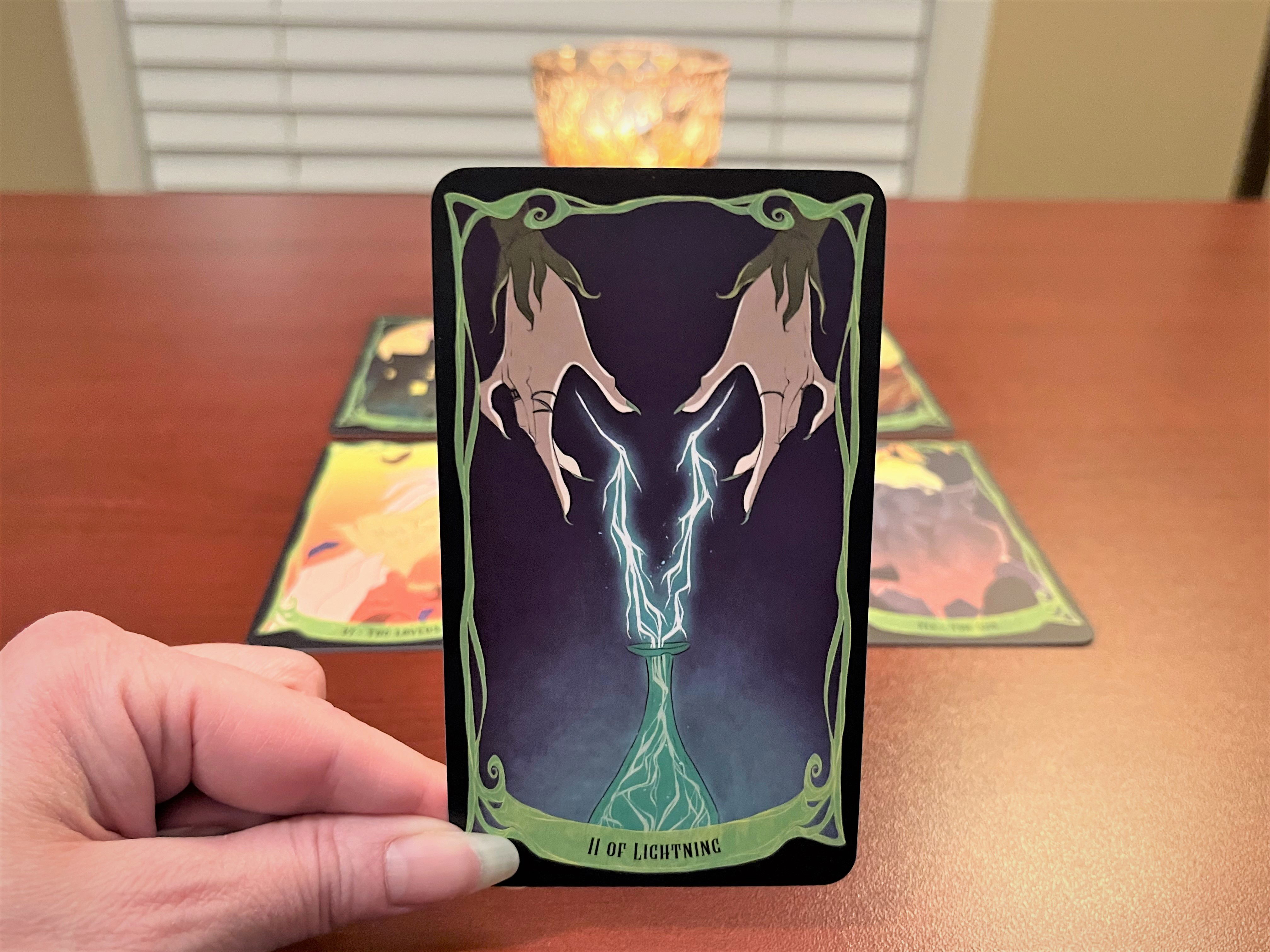 My hands tingle when I look at this card. I can feel the magic running through it! They knocked this deck out of the park. I didn't even mind it being a pip deck this time because the artwork by DreaD was so magnificent. The witchy hands, colorful potion bottles, and spellcasting (lightning cards) really put me in the mood for Halloween. This deck would be perfect for kids and teens. And is a must for readings at Halloween parties.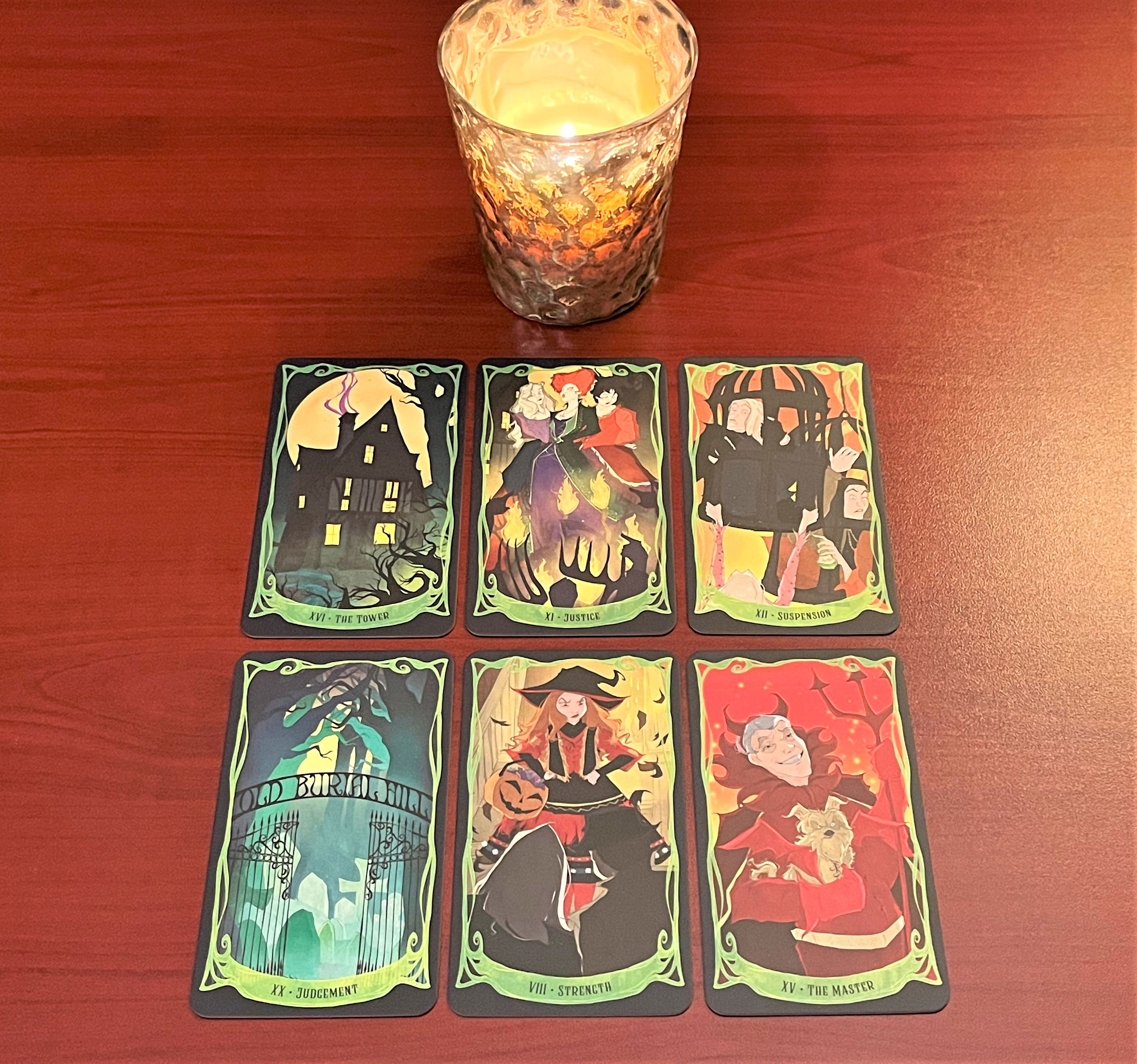 Minerva Siegel and Tori Schafer wrote a guidebook that's easy to read and follow and is in line with the themes of the film. Minerva always makes the card meanings accessible and always varies it enough with each deck that there's always something new to gain from reading the guidebook for these Insight Editions decks. By the way, I was wondering how Minerva Siegel is so prolific with these deck guidebooks and I did a deep dive on her instagram account after getting this deck. I'm blown away by her story and how resilient she is after what she's been through with her stroke. Sending her much love and healing energy!!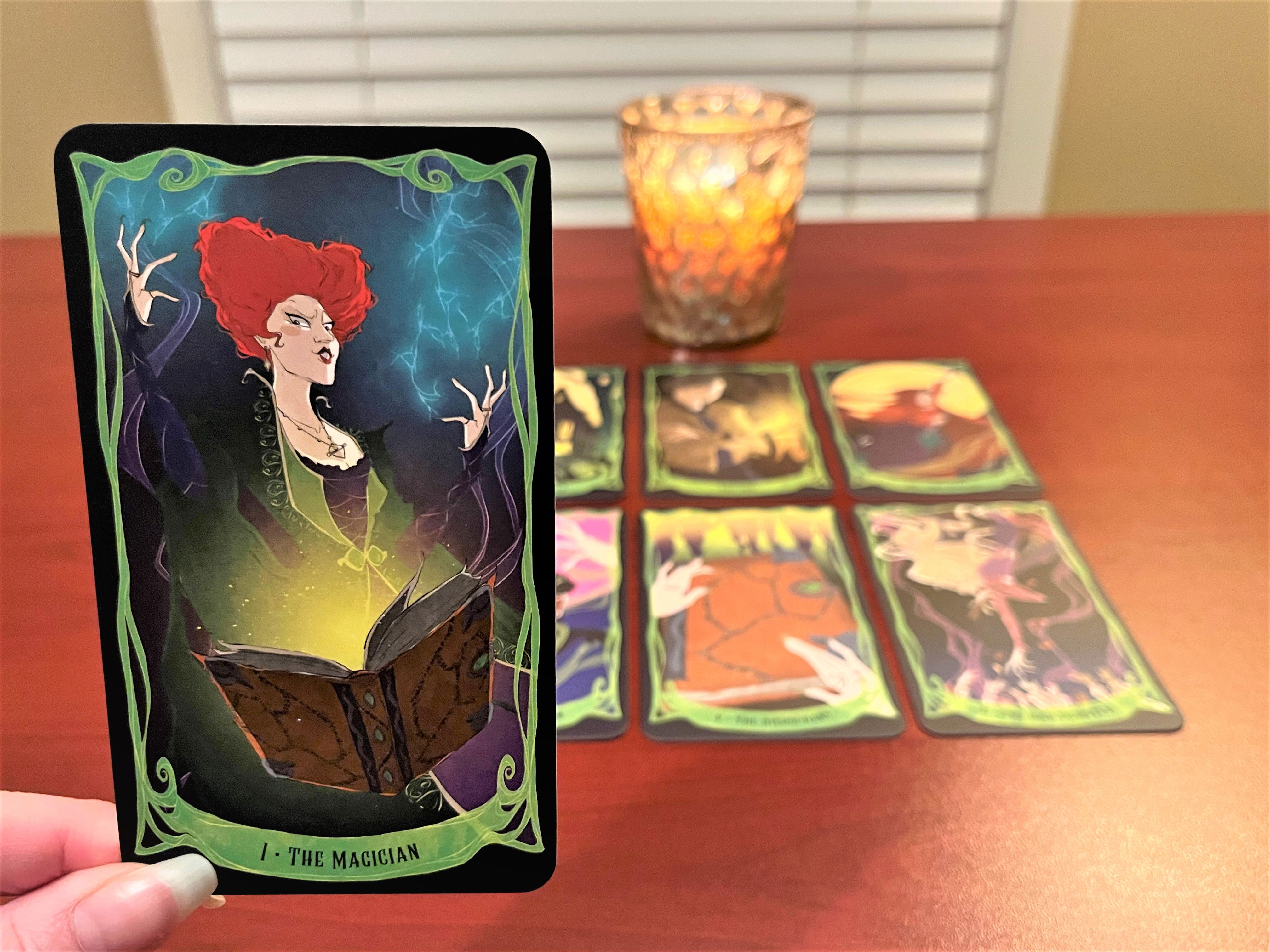 This deck is perfect for fans of the movie. I'm already having such fun with it and it makes me even more excited for the release of Hocus Pocus 2 on Disney+ on Sept. 30.
In case you haven't seen the trailer for Hocus Pocus 2 I've linked it below. I'm so freaking excited!! I've waited years for this sequel.
Thank you to Insight Editions. for sending this one to review. I'll cherish this one and bring it out every fall, especially when I watch Hocus Pocus every year.
The Horror Tarot Deck Review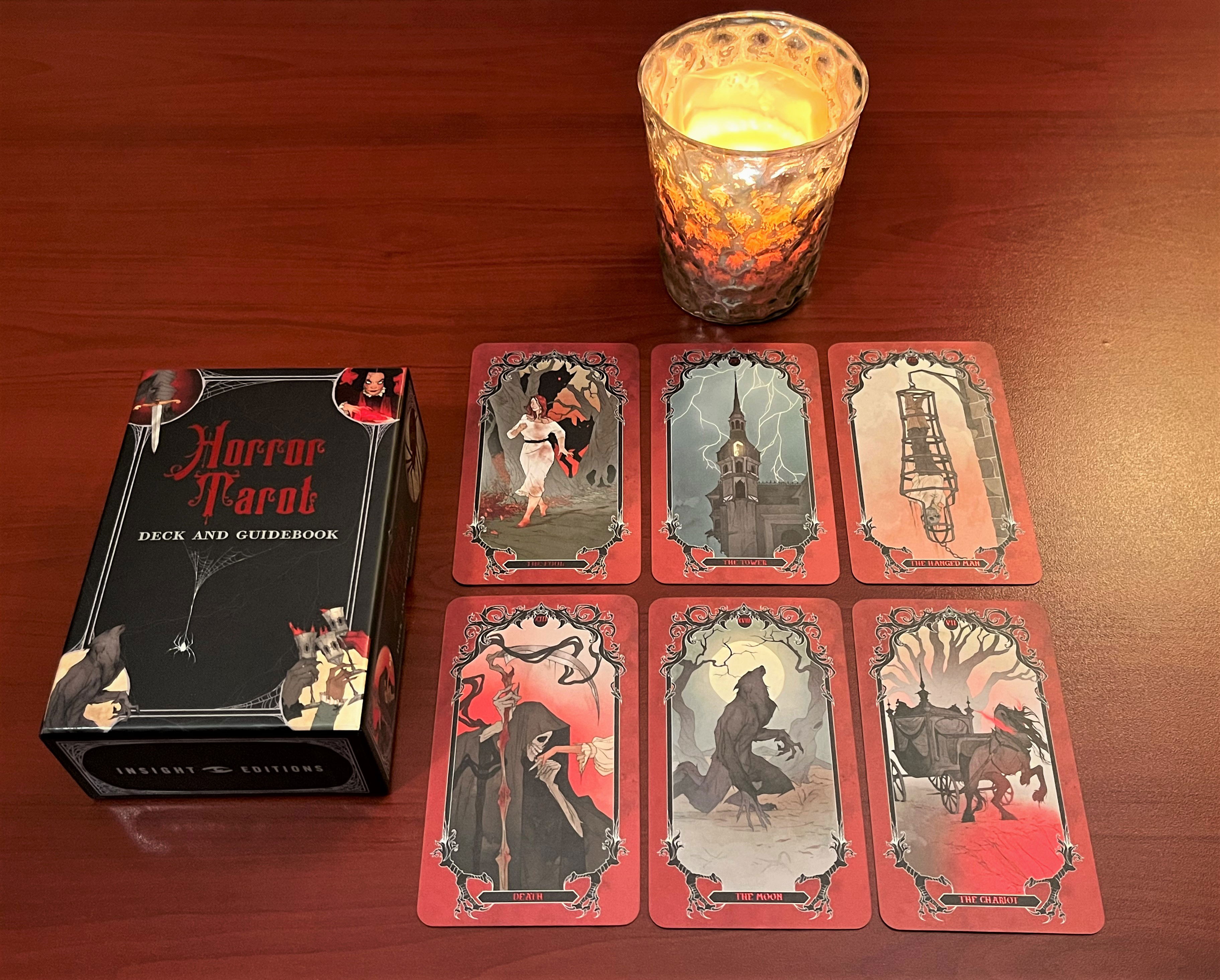 Insight Editions sent over The Horror Tarot for review, and holy cow! This deck blew me away. I can officially say that this is my favorite deck that I've added to my collection in 2022.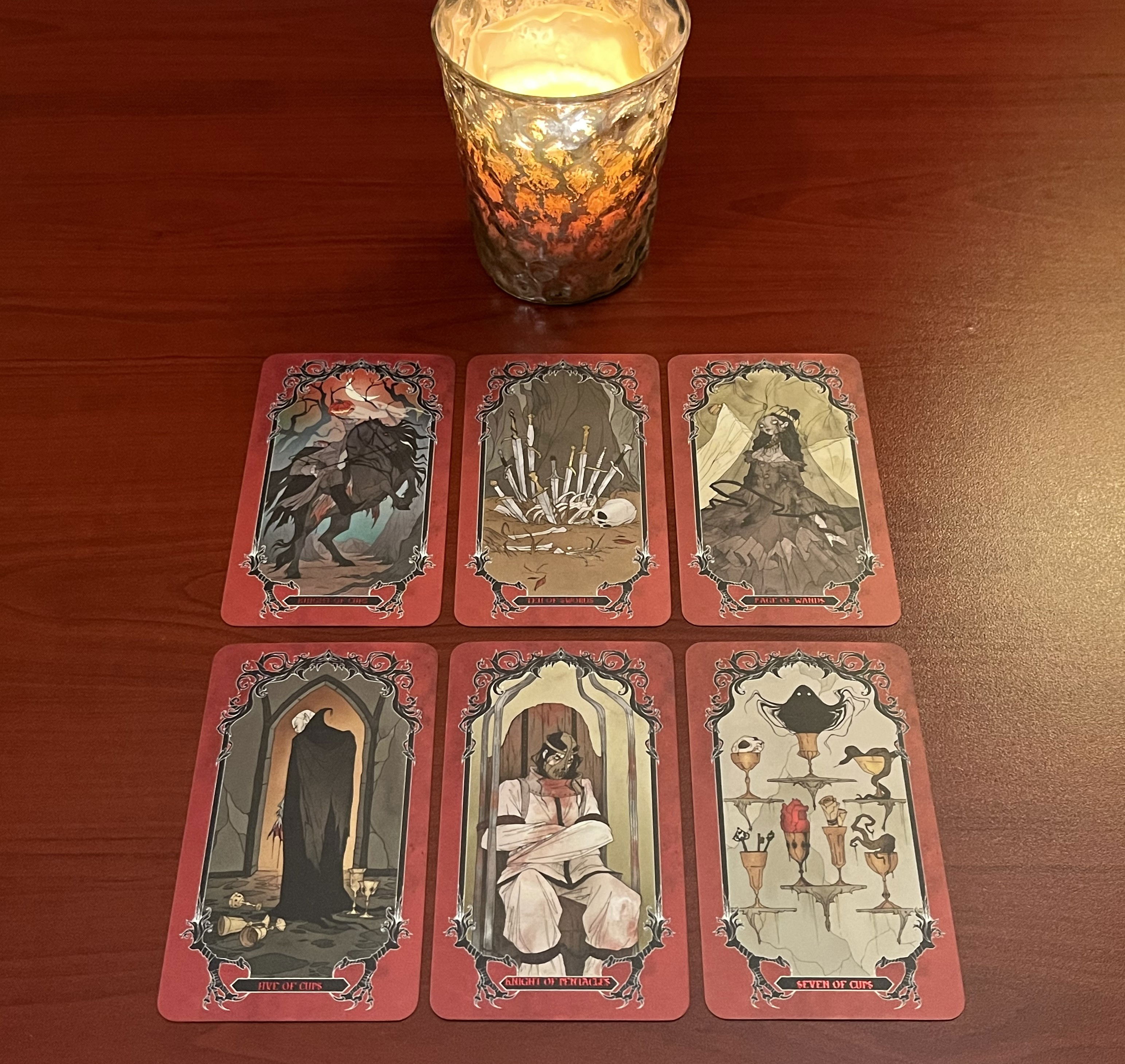 It's close between this and The Hocus Pocus Tarot, but this one edges it out because I am such a fan of Abigail Larson's artwork. I really wanted The Dark Wood Tarot but eventually passed on it due to reviews on the cardstock. This deck was perfect because I love the cardstock of all the Insight Editions decks, and the colors in this deck really draw me in. It was love at first sight!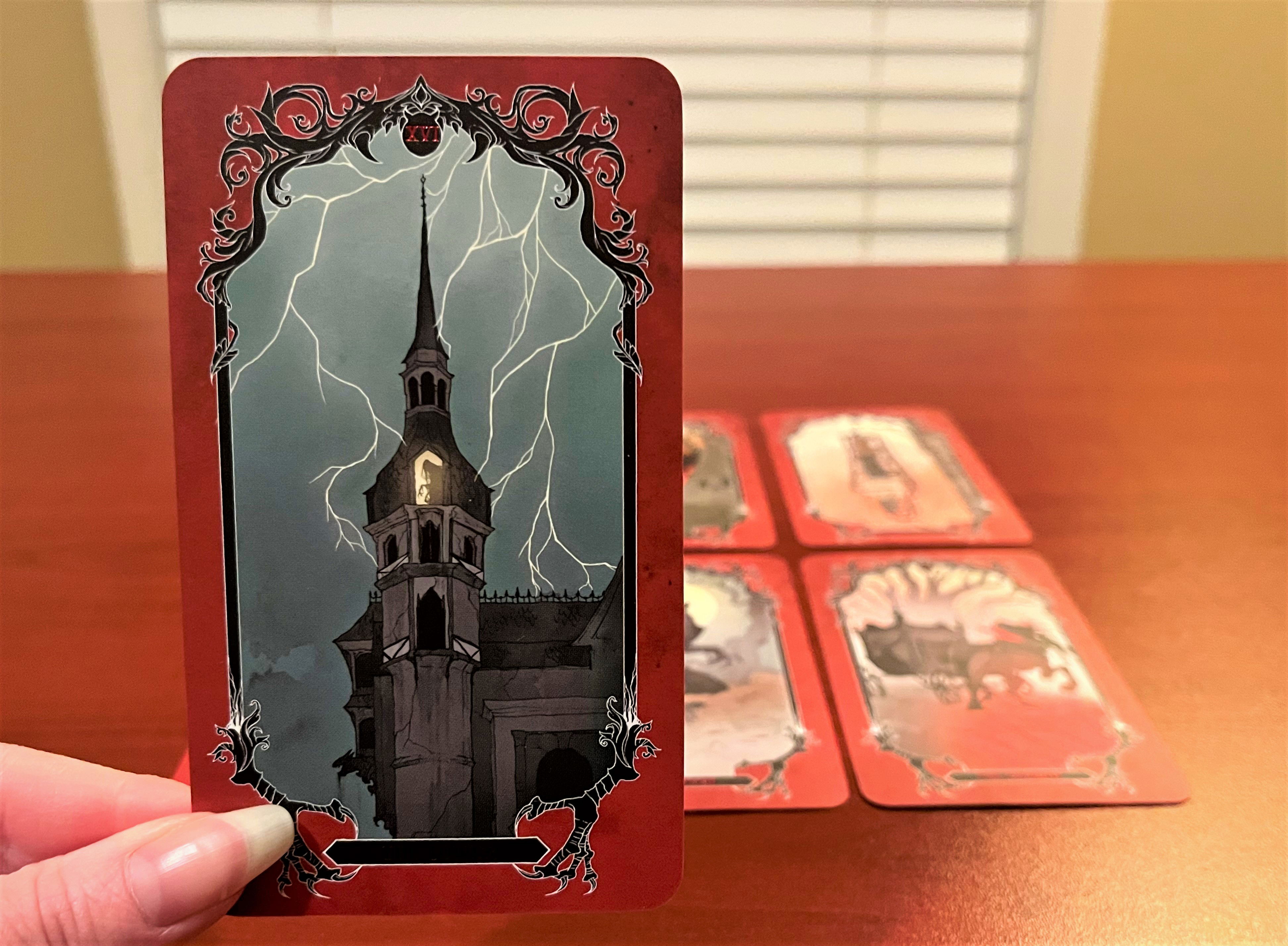 The Horror Tarot is haunting, spooky, and perfect for Autumn, especially Halloween. Some of the cards are creepy and downright disturbing, but it lends itself well to heaviness of the dark themes we like to explore this time of year. This is going to make a great shadow work deck. I'm so happy to be using this deck as part of my October Shadow Work Tarot Challenge in October. It arrived just in time.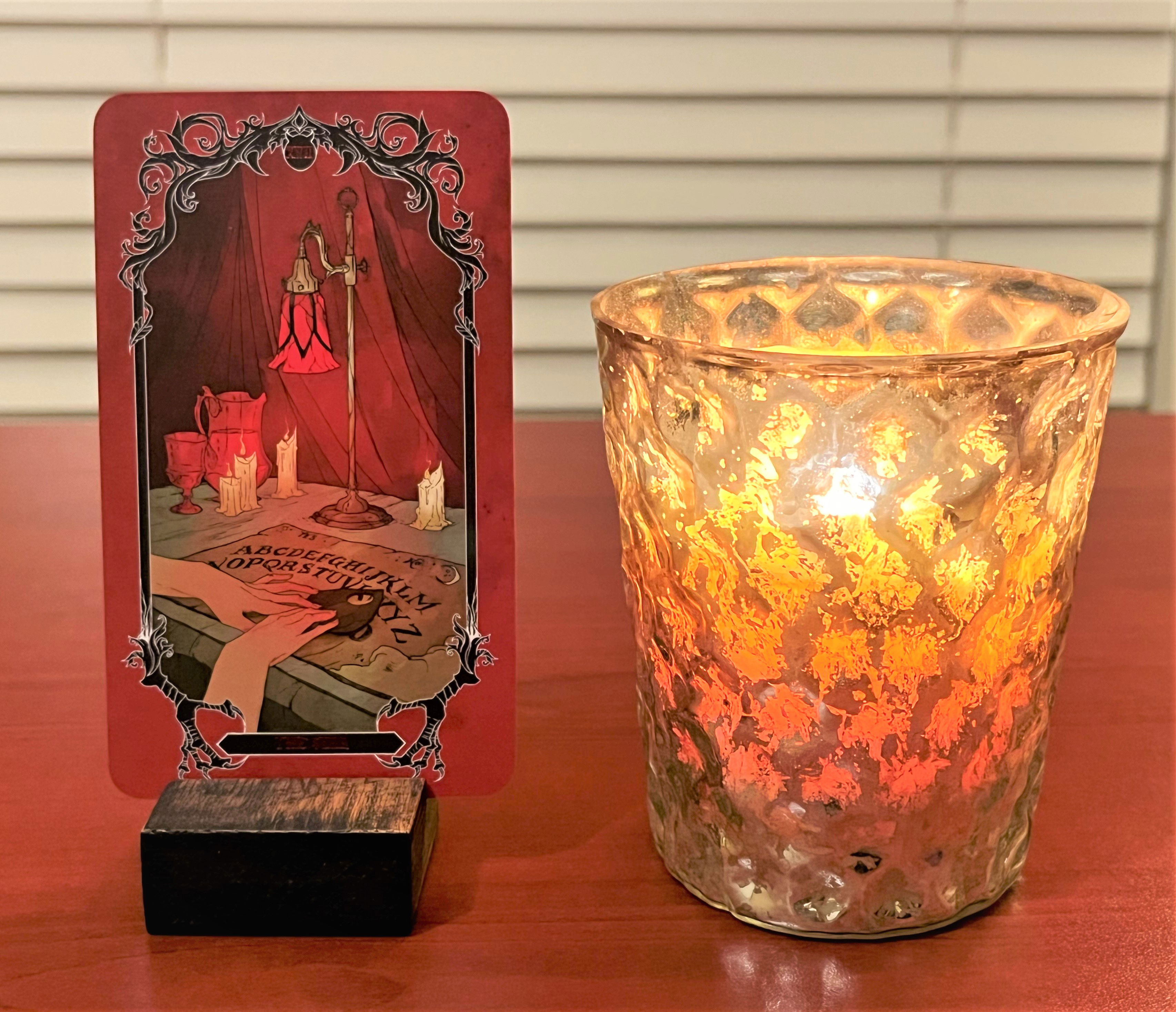 My favorite card in the entire deck is The Star card as the Ouija board (shown above). It's so striking and perfect. I see The Star as a reminder that we are tethered to our guides and loved ones on the other side and that we are not alone in this world. There's a vast universe out there, and we are just a small part of it. Sensitive souls know the feeling we get as we move through this life — that there's something out there beyond what we can see with our eyes. The Star card represents that vast universe for me and the soul family that watches over me and keeps me connected to my purpose. How fitting to use a Ouija board here to show that connection to the other side and to the unseen world. We often seek out answers from our guides and loved ones in the spiritual world through all forms of divination. I find that it helps me stay on my path when I can get answers about my purpose and the meaning of life. I just love this depiction so much and it's beautiful to boot!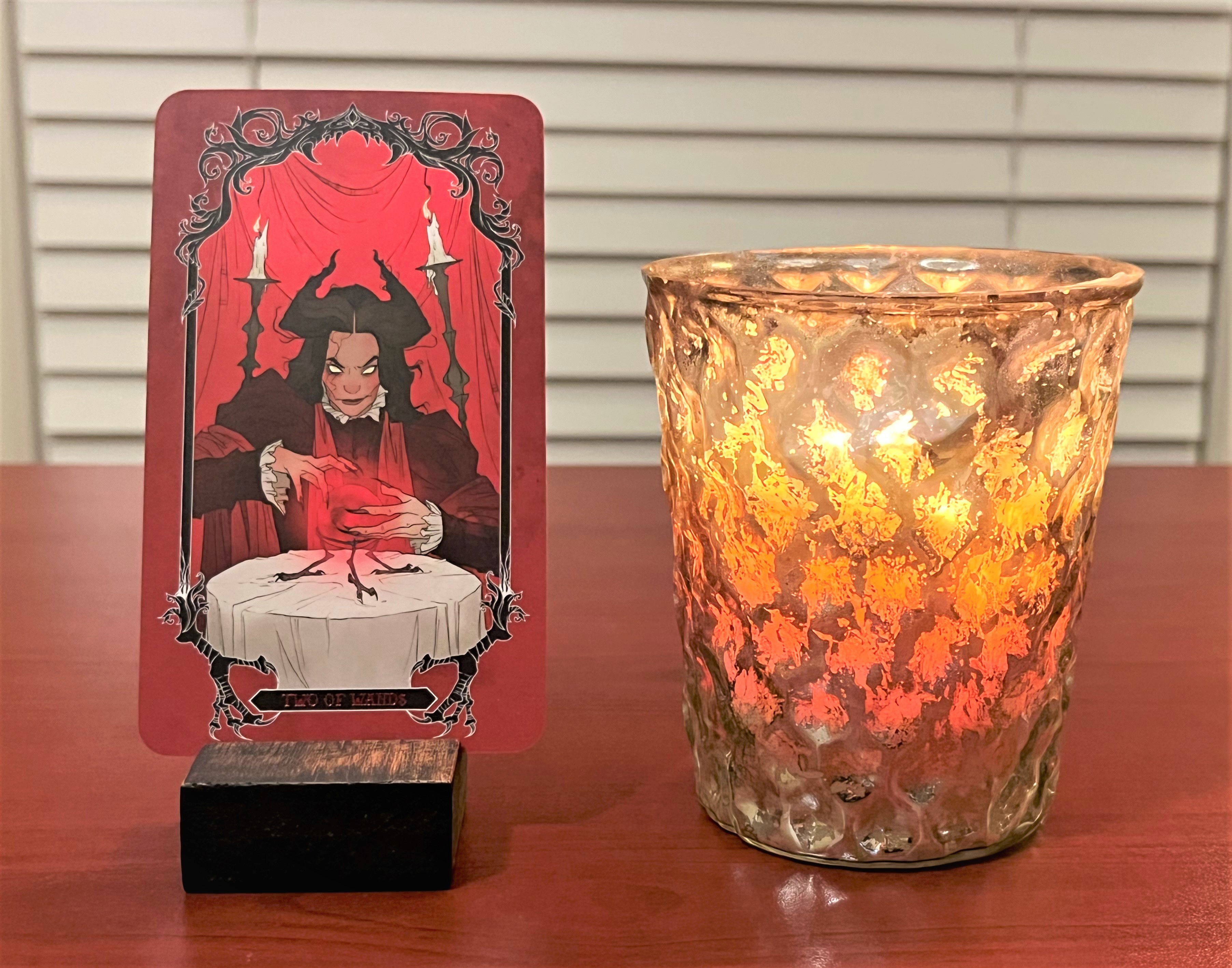 My second favorite card in this deck is the Two of Wands, which surprised me (shown above). Such power here for a minor arcana card. I love how she is using a crystal ball to make plans for her future adventures. And she's manipulating those plans to show how much control she has over her fate here. I haven't seen the Two of Wands depicted in this way before. Usually, the figure is passive, so this card gives me a lot to reflect on here, and that's the main reason I have so many different tarot decks. I love to see each artist's interpretation of the cards.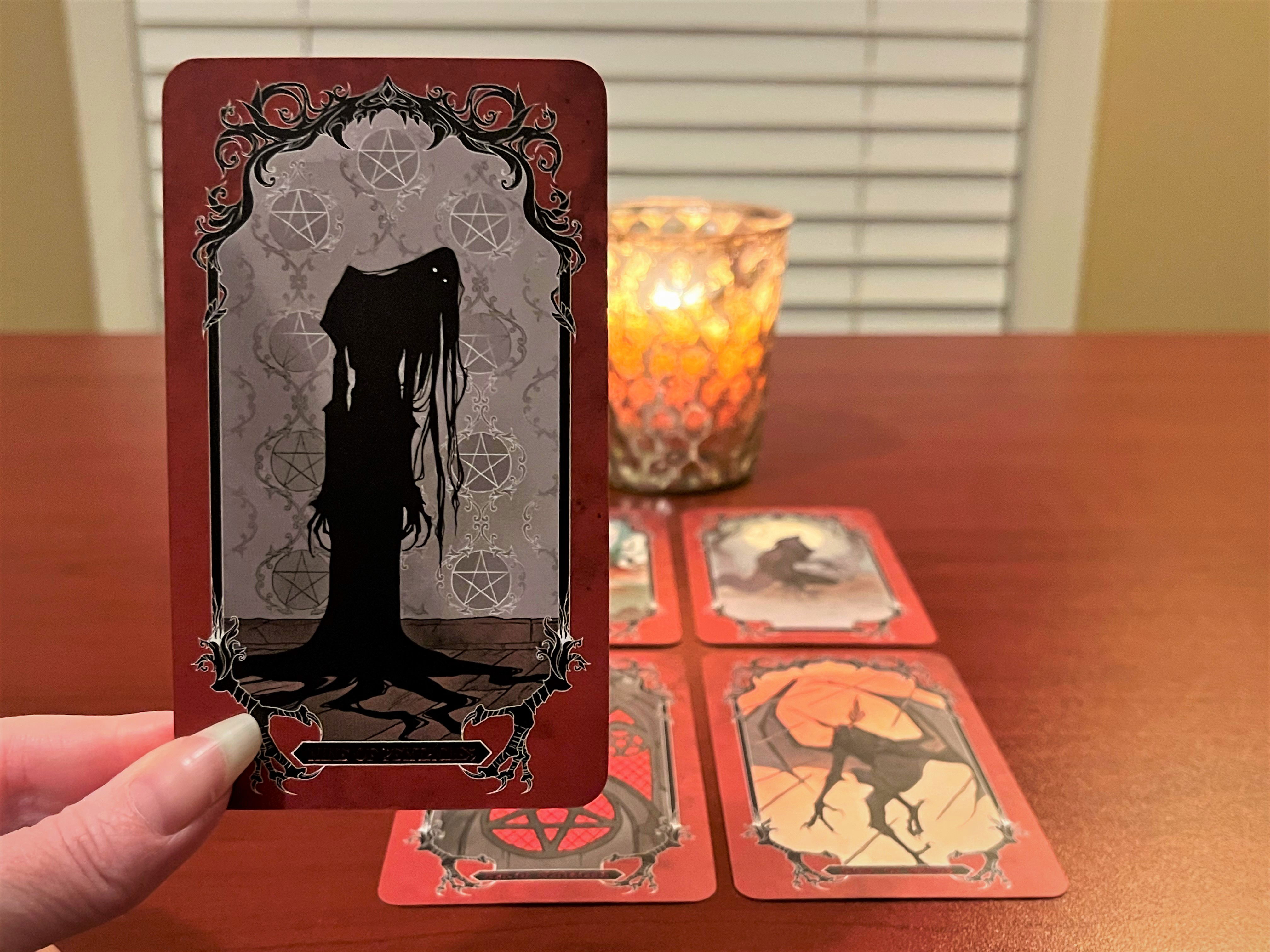 How creepy is this Nine of Pentacles above? Yikes!! This may be the creepiest image I've ever seen in a tarot deck. Just imagine pulling this card if you asked which card in the deck represented your shadow self. I might never sleep again.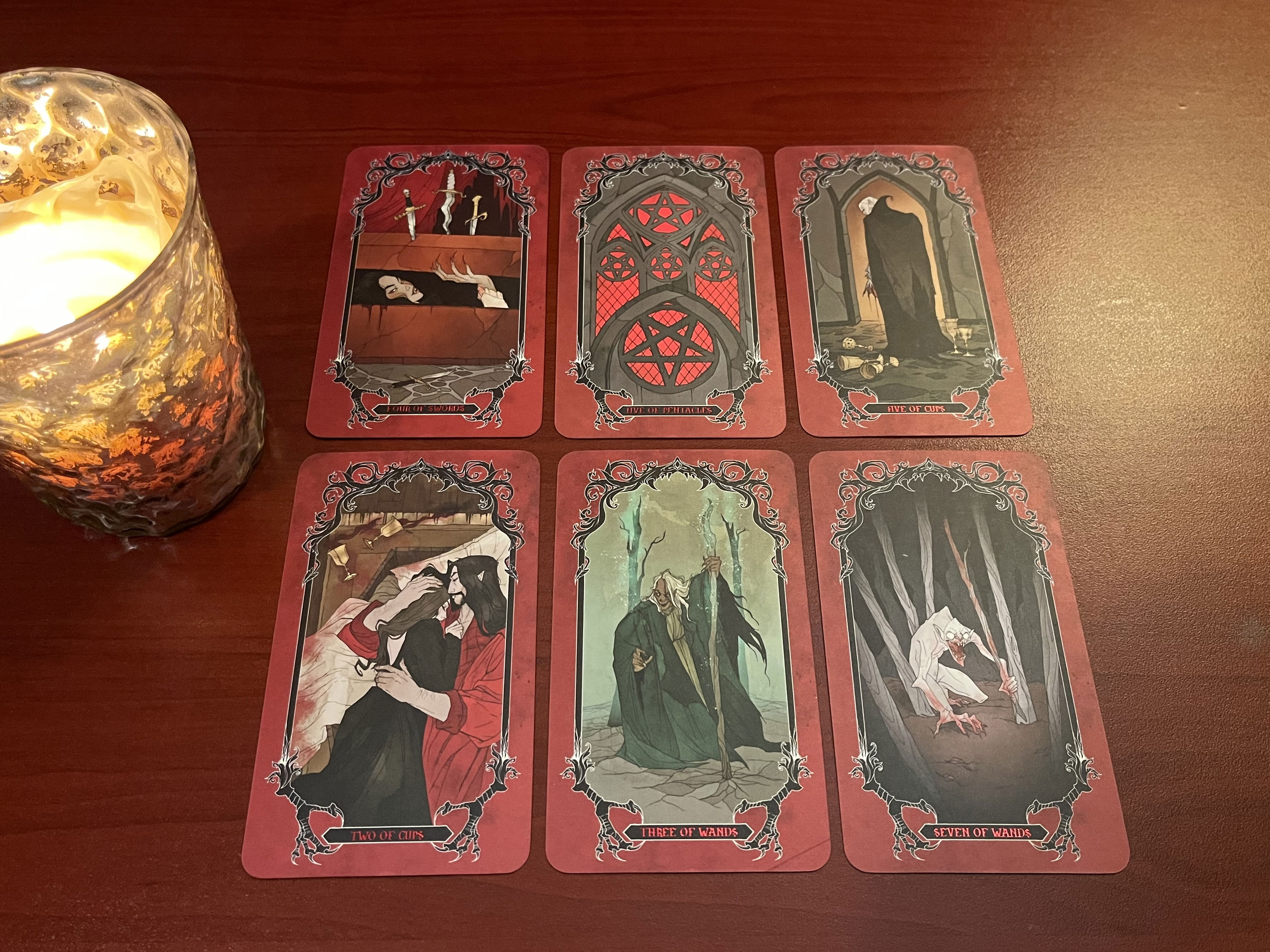 This deck is less pipish than the usual Insight Editions decks, so we have more to work with in these images. The Four of Swords (above) is a vampire resting in a coffin, the Five of Pentacles is a beautifully haunting, blood-red stained glass church window, and the Five of Cups shows a frightening creature grieving over spilt blood in the overturned goblets on the floor of his castle. So, the minors in this deck contain plenty of monsters, ghouls, shadowy figures, and blood thirsty creatures to haunt our nightmares for decades. I really hope this shows that Insight Editions has been listening to our feedback about making the minor arcana less pipish. Our readings are richer when we have detailed images to interpret as we study the patterns in our spreads, and Abigail certainly gives us plenty to feast our eyes on.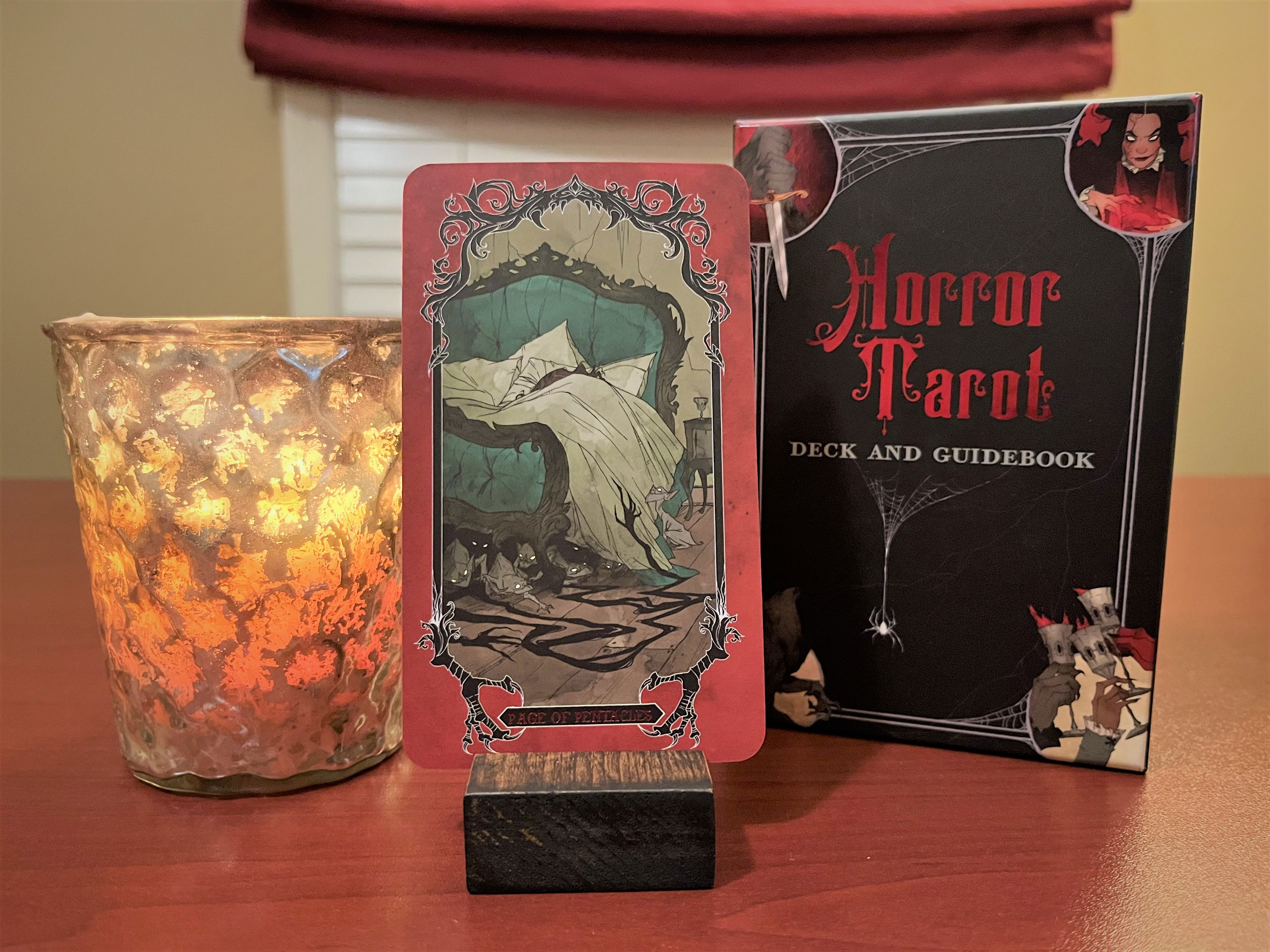 And I just love how the Page of Pentacles (above) portrays a young child hiding under the covers of his bed, terrified by the dark ghouls lurking underneath. This is how I felt growing up after watching Poltergeist. This deck offers many screams and haunts through the various shadow figures, mummies, gargoyles, axe murderers, headless horsemen, ghosts, mad scientists, haunted woods, werewolves, demented diviners, death-defying circus acts, and terrifying dolls — what else could you want for a horror deck?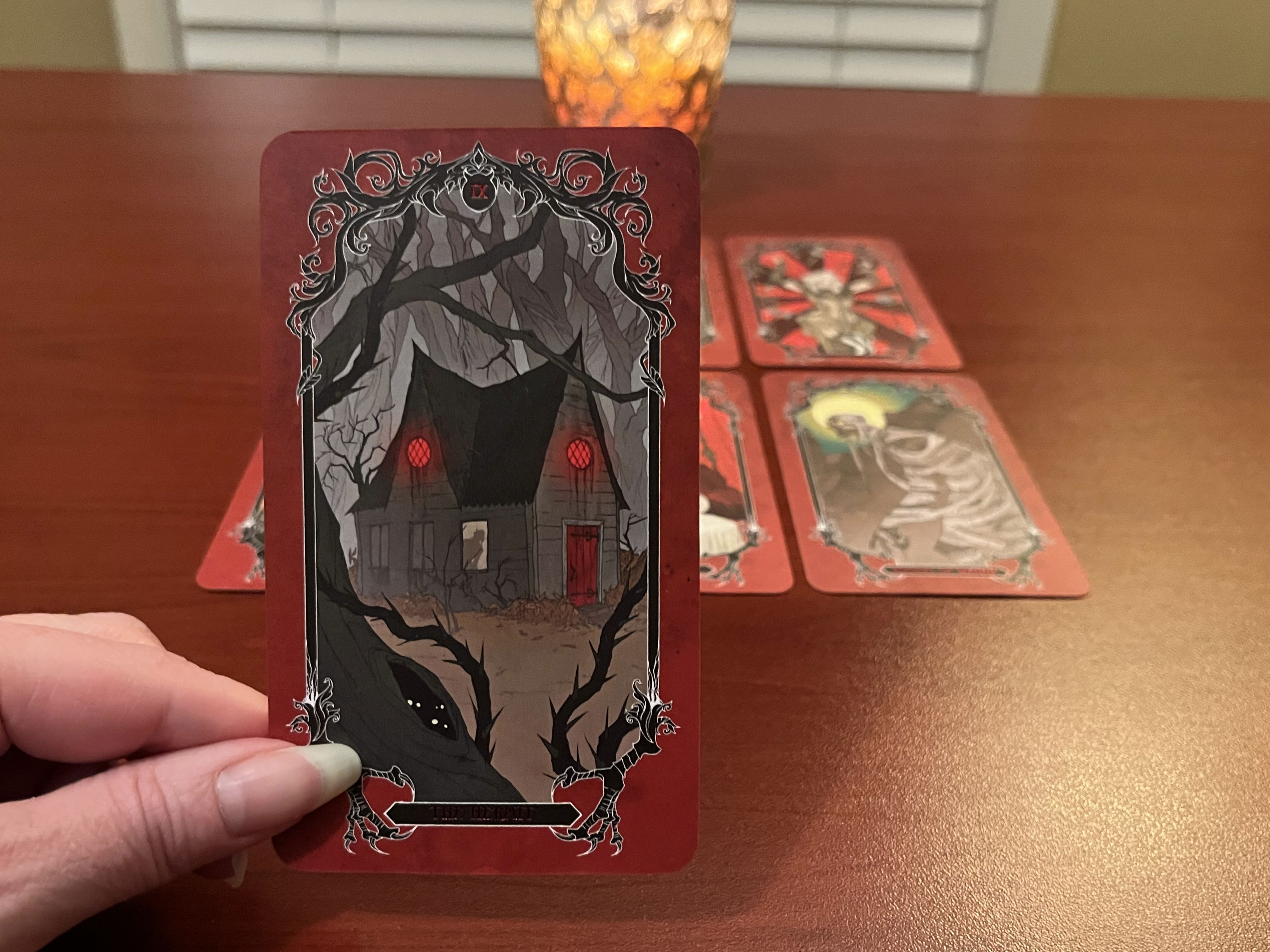 Abigail Larson's artwork is so recognizable at this point. I saw one card online and knew instantly that it was her artwork, and I knew I'd love this deck right away. But I loved it even more than I could've imagined. I have flipped through this deck so many times, marveling at the wonderfully beautiful gothic images. It draws me in and really speaks to me. I can't put it down.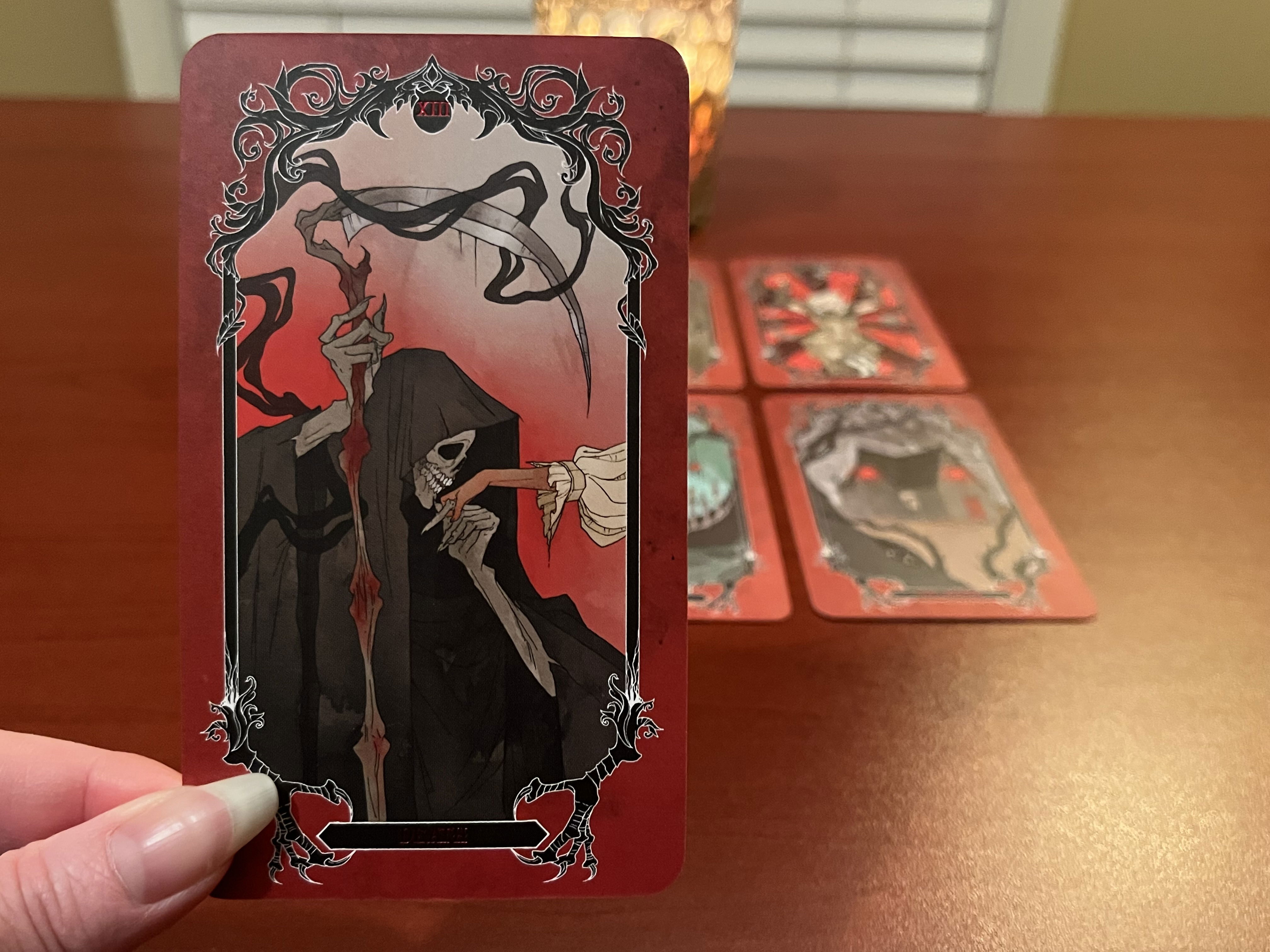 Aria Gmitter and Minerva Siegel wrote the guidebook. With a moniker of Spooky Fat Babe, you know Minerva is up to the task to twist the tarot meanings to perfectly fit these spine-chilling images. Each card has an upright and a reversed meaning and each taps into the spooky themes portrayed in this haunting deck.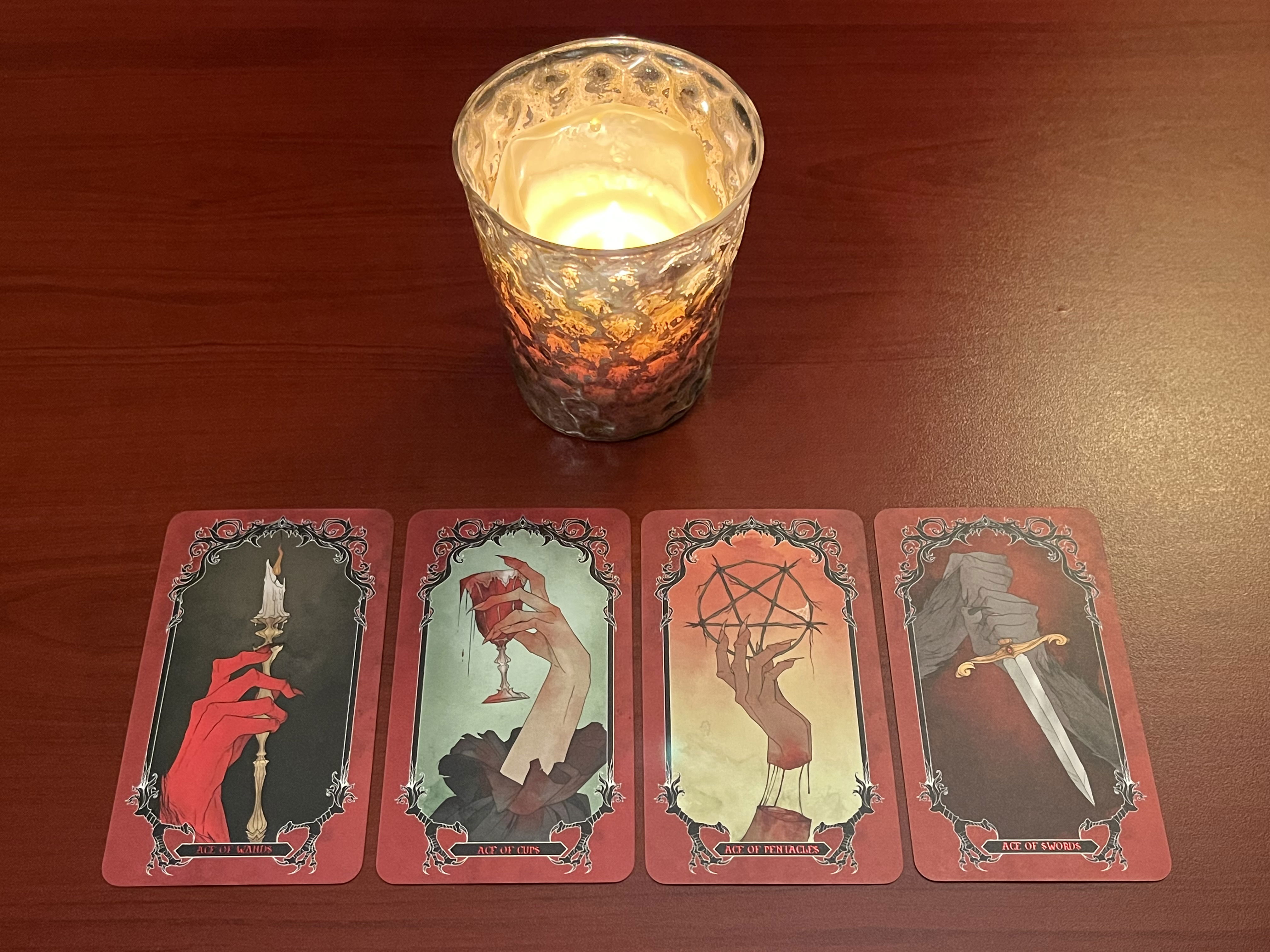 The little details of this deck made it even more impressive with the red foil titles on every card, full color guidebook, and the decorative inner box adorned with skulls, bloody axes and daggers, sythes, and spiders. It's hard to photograph the red foil well, but it is stunning in person! I'm blown away by the presentation of this deck.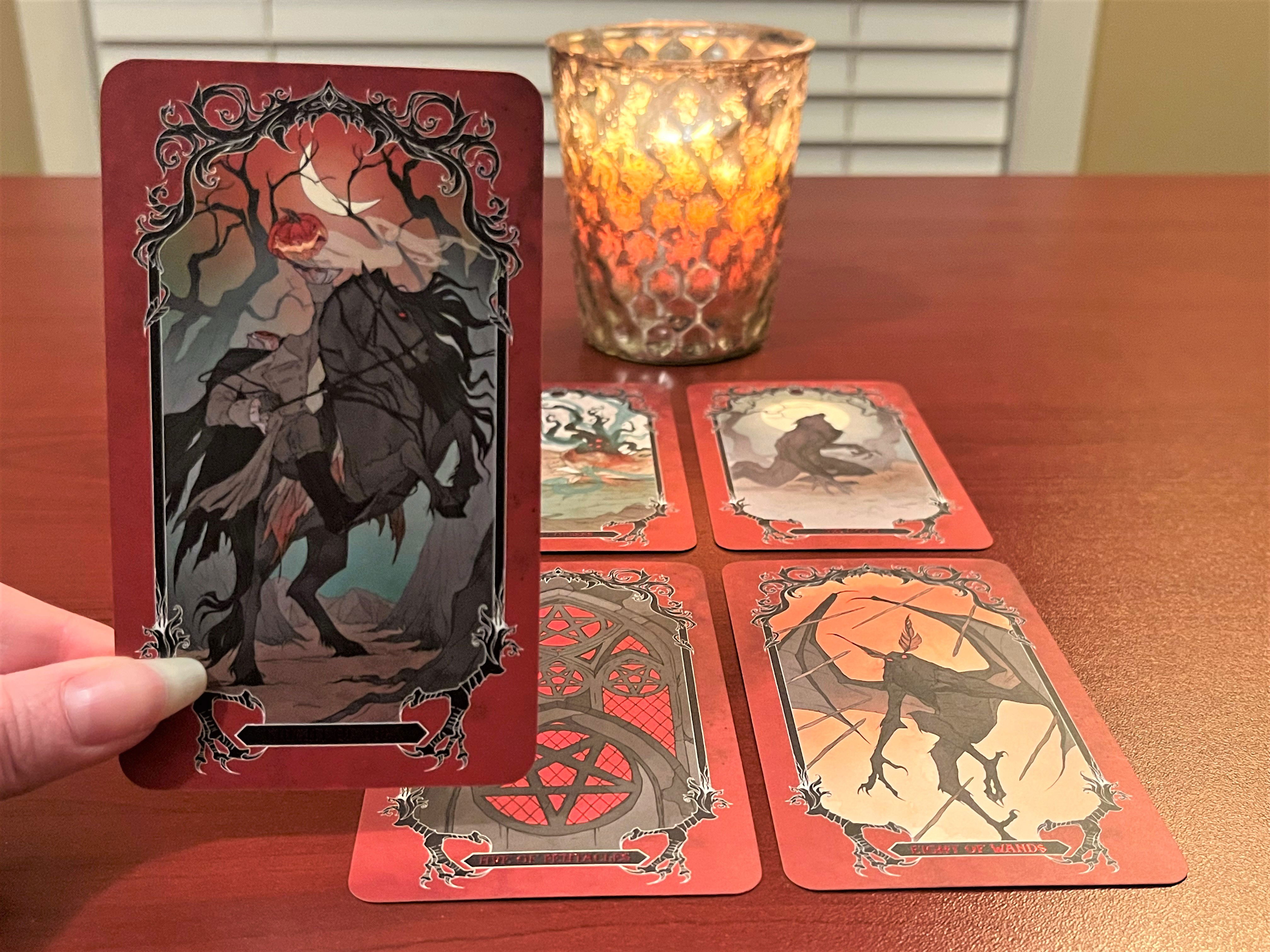 It's perfect for fans of horror or anyone wanting a new shadow work deck that challenges you to dive deeper into your shadow self. And it would make a great Halloween deck. Plan on bringing this with you to read at your next adult Halloween party.
Thank you to Insight Editions. for sending this one to review. It turned out to be my favorite deck of the year, which was a huge surprise to me!!
Books and Decks shown in this blog: The Hocus Pocus Tarot, The Horror Tarot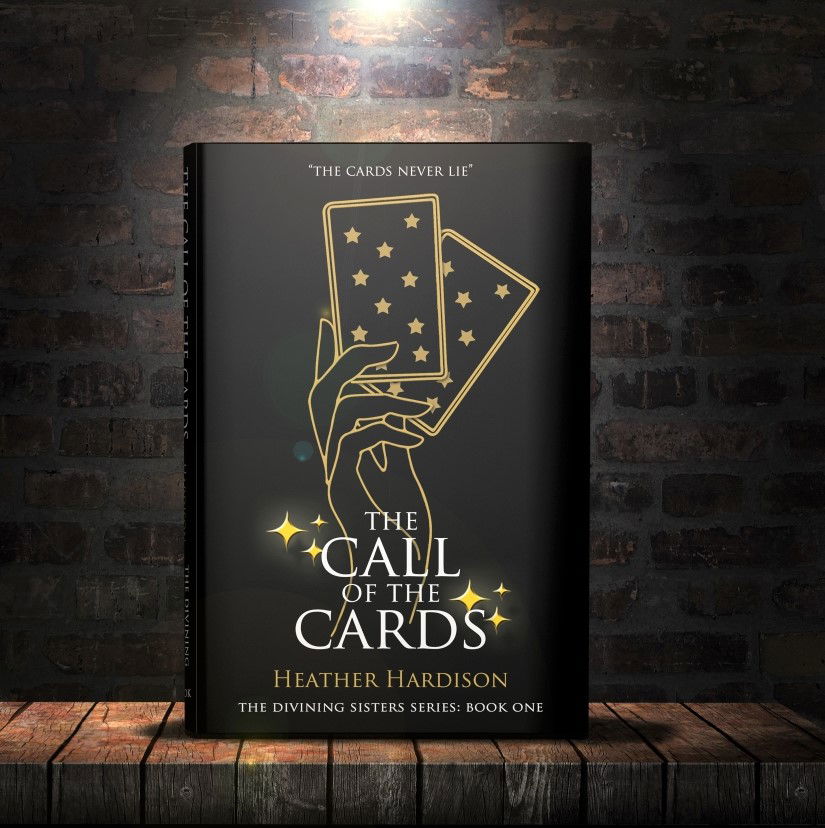 And if you are looking for a good witchy book for an autumn read, my new book series, The Divining Sisters, is perfect for this time of year. Book 1 in the series, The Call of the Cards, is available now as an ebook $4.99 and paperback $14.99 on Amazon and Barnes and Noble and as an ebook also on Apple Books, Google Play, and Kobo. Find out more details on my novels on my author website author.heatherhardison.com or purchase at your preferred vendor through this universal link https://books2read.com/thecallofthecards
Healing Thru Tarot's Spread Ebook Line
A Spread for All Seasons - 17 custom spreads
Healing and Mental Health Spreads Vol. 1 - 15 custom spreads
Healing and Mental Health Spreads Vol. 2- 15 9-card spreads
Shadow Work Spreads and Workbook - 20 spreads (coming Oct. 4th 2022)
Click here to purchase any of these spread ebooks
Other relevant Podcast Episodes -
Ep. 29: Favorite Halloween Decks and Witchy Book Recommendations
Ep. 9: Favorite Autumn Decks & How I Work With Decks Seasonally + Autumn Spread
Listener Support
*If you would like to support this podcast monthly, please consider signing up for a small pledge to help me be able to continue to produce these quality episodes every two weeks. Use the link below to sign up to support through anchor.
Much appreciated!
https://anchor.fm/healingthrutarot/support
Are you enjoying the Healing Thru Tarot podcast and companion blog? If so, now you can gift me a coffee or two to kept me fueled as I pull all-nighters writing the scripts and recording all the episodes. Help me keep this content flowing by sparking my inspiration! Just click here to gift me a caffeine fix.