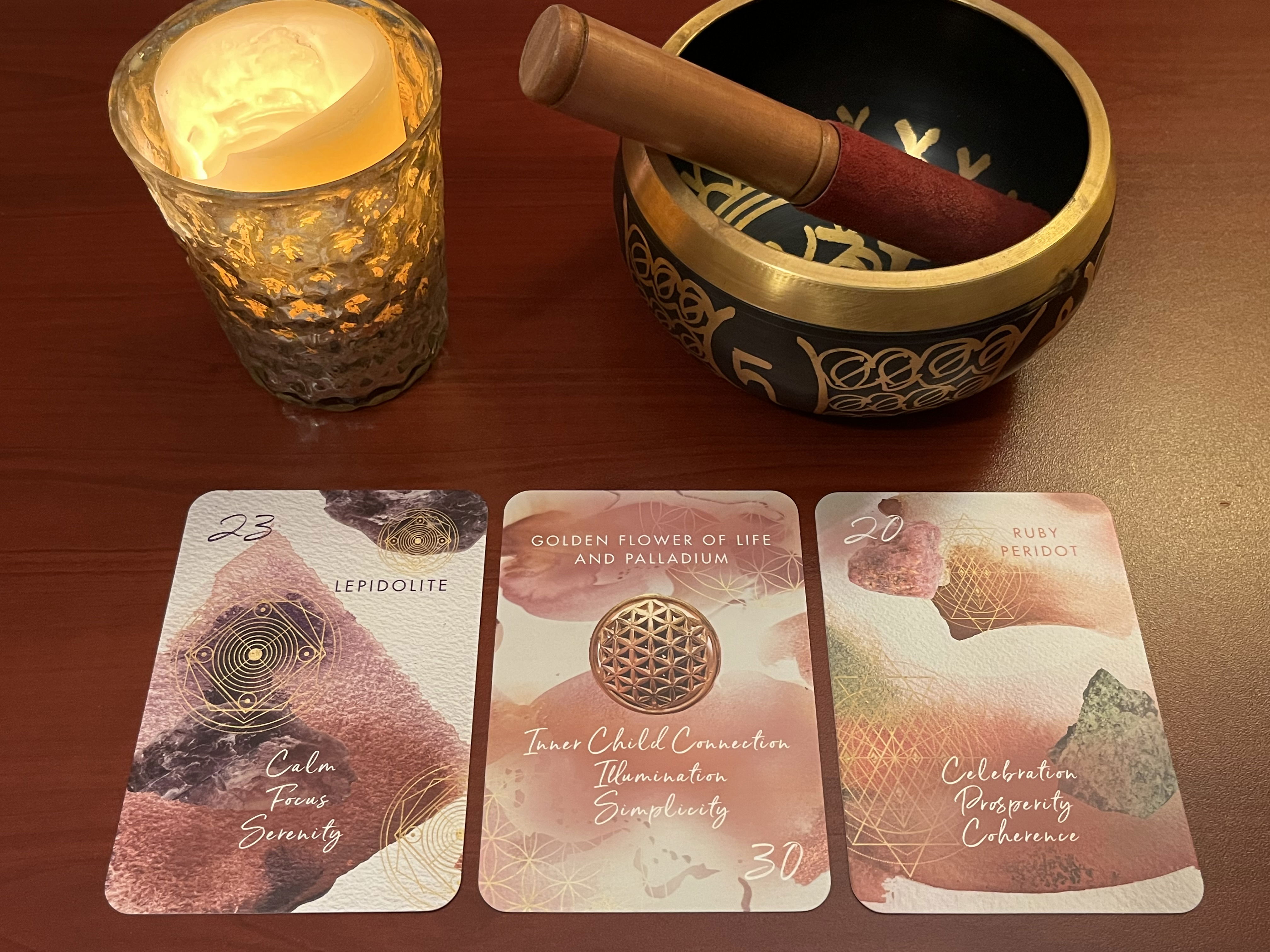 Crystal Sound Healing Oracle by Jeralyn Glass: A 48-Card Deck and Guidebook with 48 Singing Bowl Audios to Enhance Your Experience - shown above
"This deck is a living, breathing sound palette!"
I've never encountered a deck like this one. When Hayhouse reached out to me to see if I was interested in any of their 2023 releases, this deck jumped right out to me because of its uniqueness and because of my interest in the benefits of sound healing on the spiritual, emotional, and physical levels. The Crystal Sound Healing Oracle is in fact the first of its kind as the cards are linked to actual recordings of singing bowls that help the card reader integrate healing sound vibrations into their healing process. I love this interactive process of pulling a card, receiving a message, then accessing a healing sound recording to help me balance the area/chakra that needs work. It's a truly transformational and healing experience to work with these cards.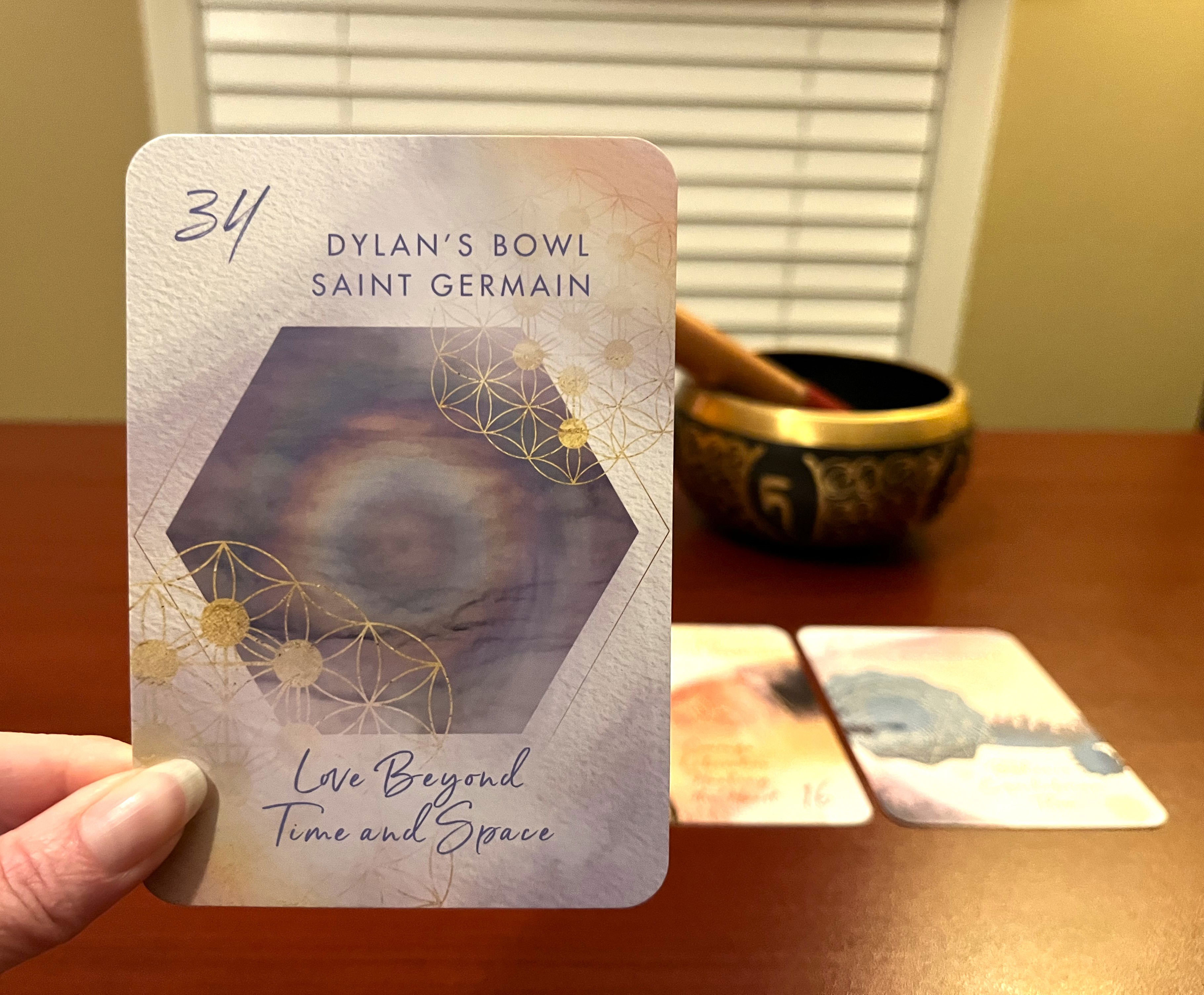 And it's very accurate! When I pulled the first card, the message was so specific to a problem I'd been struggling with for months. In seconds, it hit on the heart of the matter, which I was profoundly grateful for.
The creator, Jeralyn Glass, states that this deck "was conceived from a long-standing vision to support you by integrating healing sound vibration in an easy, playful, creative and fun way into your daily life. With this interactive first-of-its-kind deck, you can experience the magic of healing sound from wherever you are. Use the QR codes on the back of each card to hear and absorb the harmonics of the magnificent crystalline instruments. Choose your card and receive your alchemy message and mantra."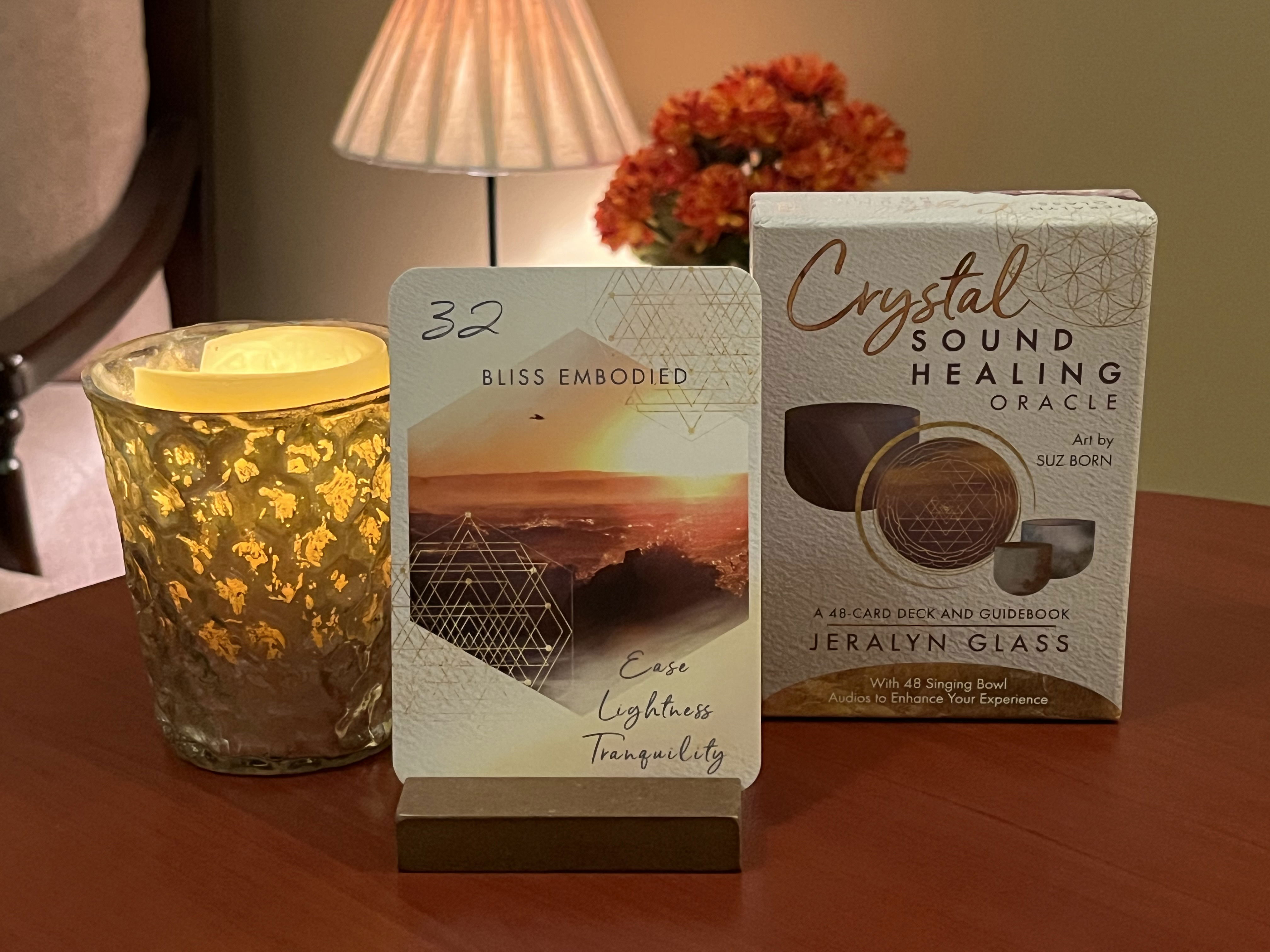 What's so great about this experience is that you can benefit from this type of sound healing without having to own a set of crystal sound bowls yourself. Jeralyn made sure to connect us with these beautiful, healing tones to boost our healing journey using her vast musical experience and personal work with these beautiful sound bowls.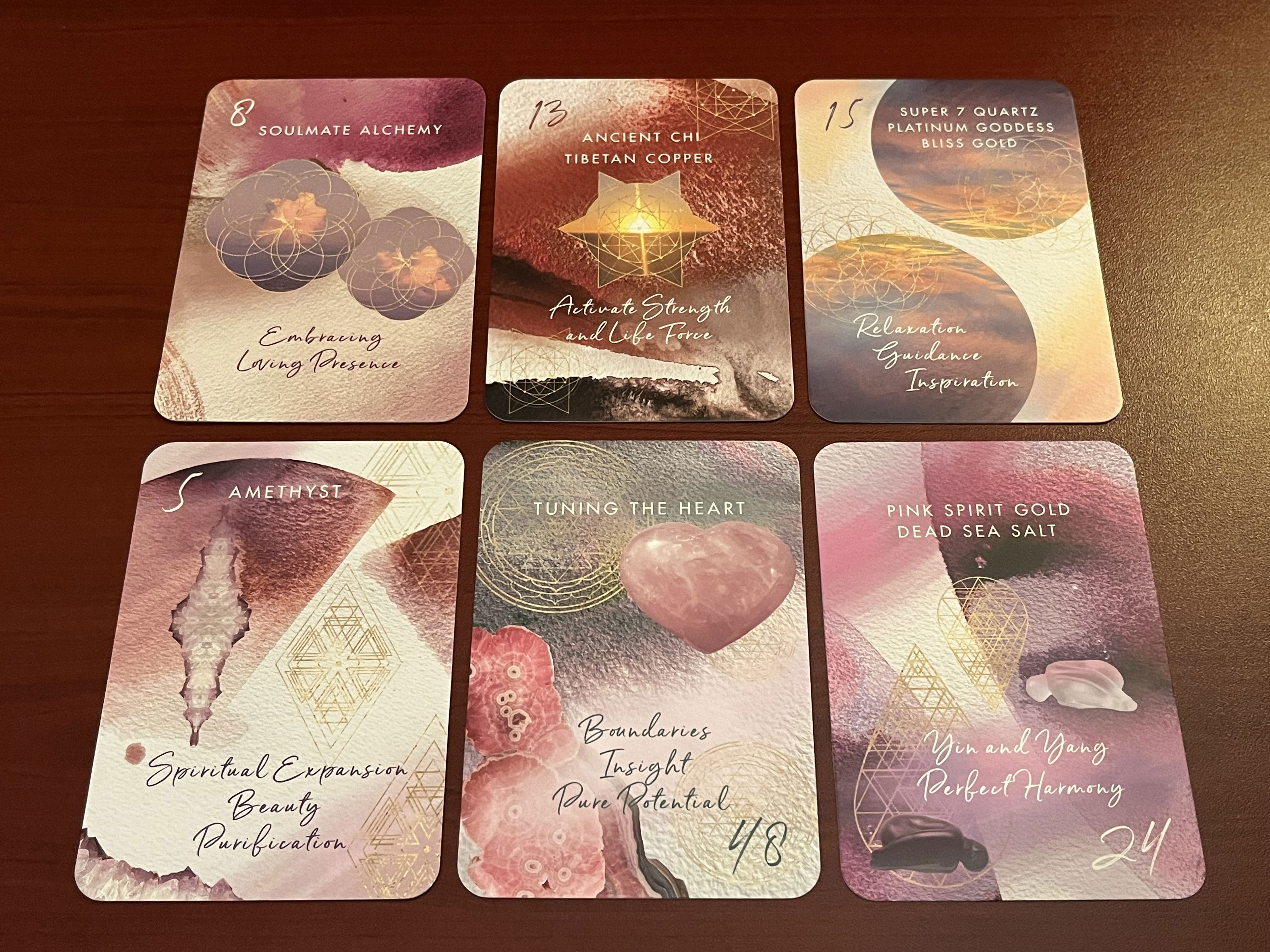 The deck is comprised of 48 cards, including 44 single bowl cards plus 4 cards with harmonic sets. Each single bowl card has a 44 second recording that accompanies the card. And the four harmonic sets have a 1:44 second accompanying sound bite. The QR codes on the cardbacks take you to the recordings, where you can easily experience the tones through your phone or iPad. These vibrations can help with centering, grounding, and balancing. Jeralyn says their frequencies "open the senses, helping release and transform stuck, long buried, or blocked energies. They ground, center, uplift and help you to sustain an elevated vibration!"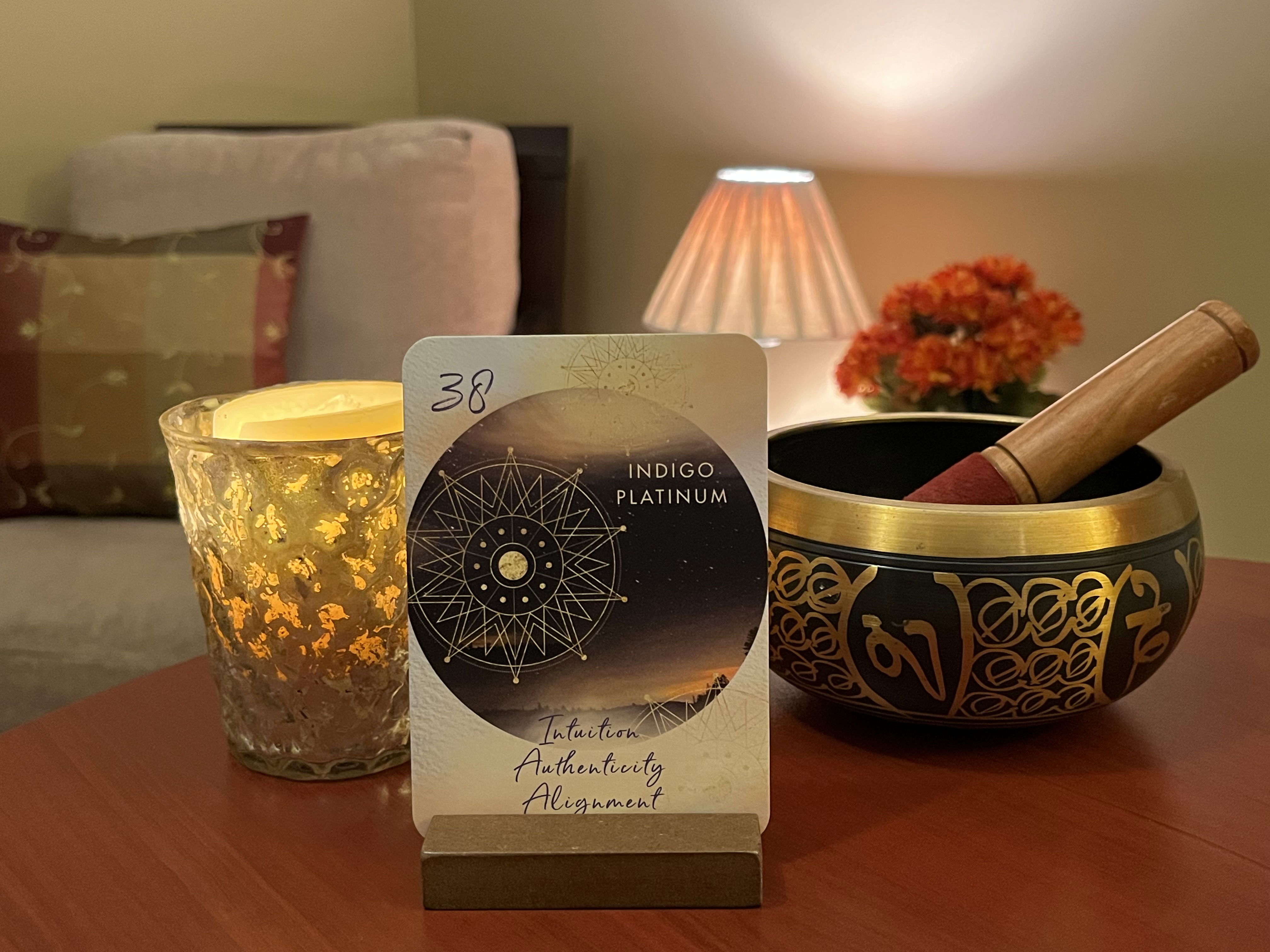 Sound healing energies and frequencies have been known to aid in promoting sleep, reducing anxiety, balancing emotions, reducing stress, relieving chronic pain, heightening creativity, enhancing intuition and psychic gifts and more. I've used sound healing frequencies for years. I started using them at night to sleep since I've suffered from chronic insomnia my whole life.
Over the past few years, I branched out to include binaural beats, sound baths, singing bowl sessions, and tuning fork videos to help with chronic pain, anxiety, chakra balancing, focusing, enhancing creativity during my writing sessions, and boosting immunity during the pandemic. I LOVE using these healing frequencies daily. And I'm a firm believer in their healing abilities.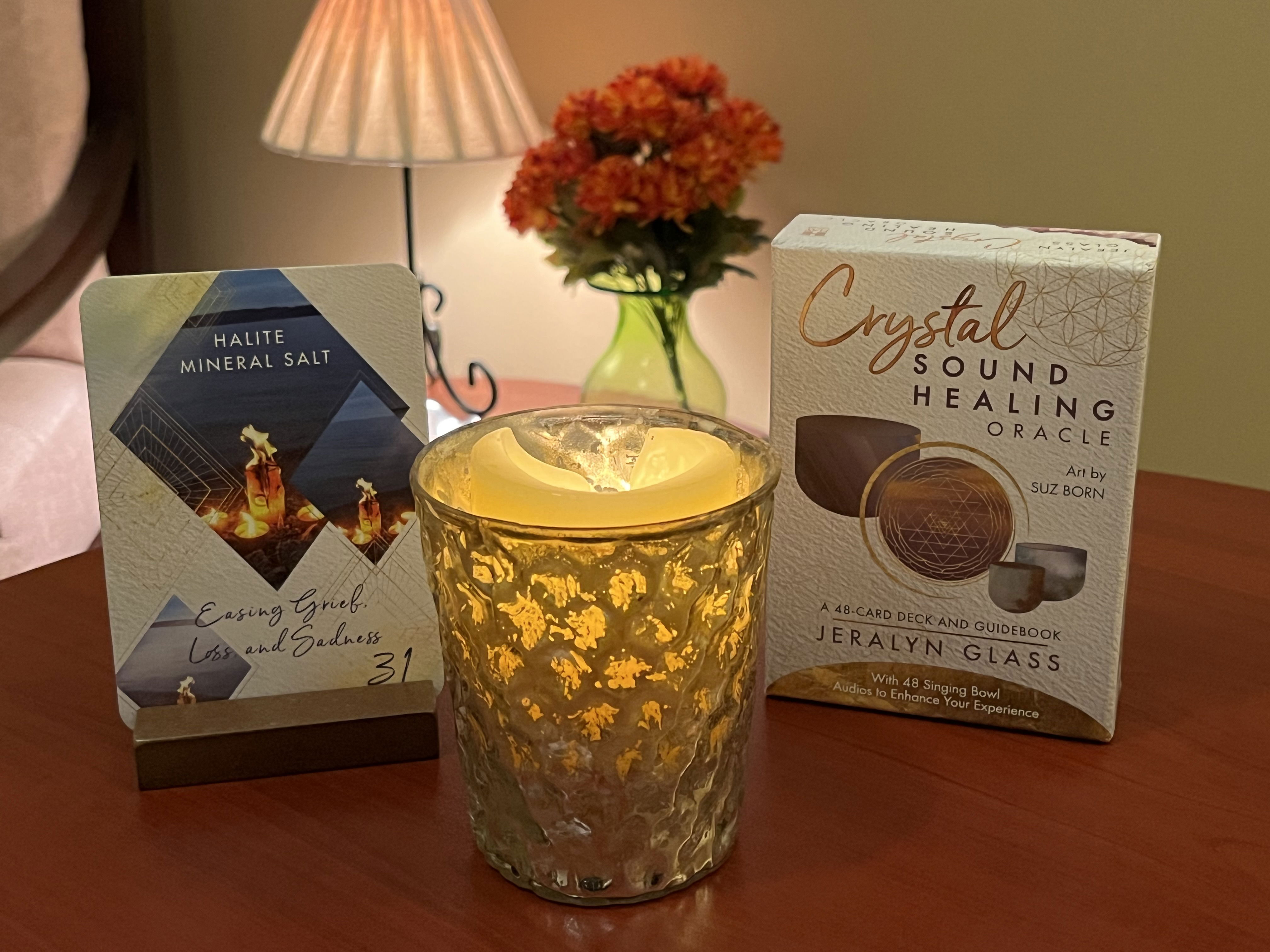 I've long believed that the future of healing will be through sound! I incorporate it into every facet of my healing journey whenever I can. And I'm always looking for more ways to utilize this fascinating healing modality. If you've been hearing more and more people talk about sound healing, there's a reason. I really do think there will be an explosion of sound healing teachers, classes, tools, and research coming our way over the next decade. So I was so intrigued when I came across this sound healing deck!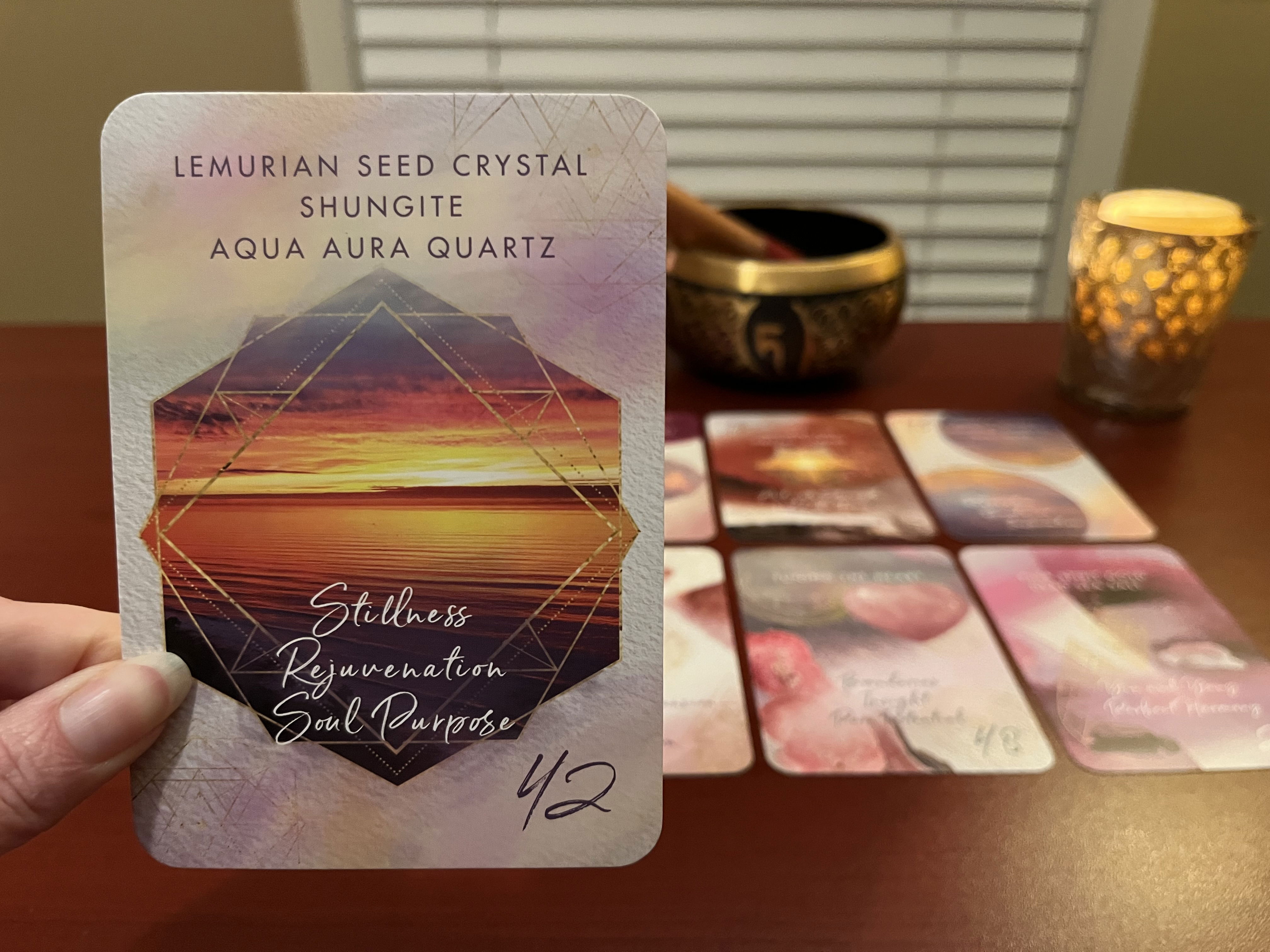 Here's a few cards that stood out to me, Lemurian Seed Crystal (shown above), Indigo, Moldavite, Rose Quartz infused with platinum, Labradorite, and Super 7 Quart. This is just a sampling of the more than 60 crystal alchemy singing bowls portrayed in the Crystal Sound Healing Oracle.
The bowls are "crystalline instruments made of quartz and then infused with 'alchemy,' powerful additions of gemstones, metals, earth substances, or minerals."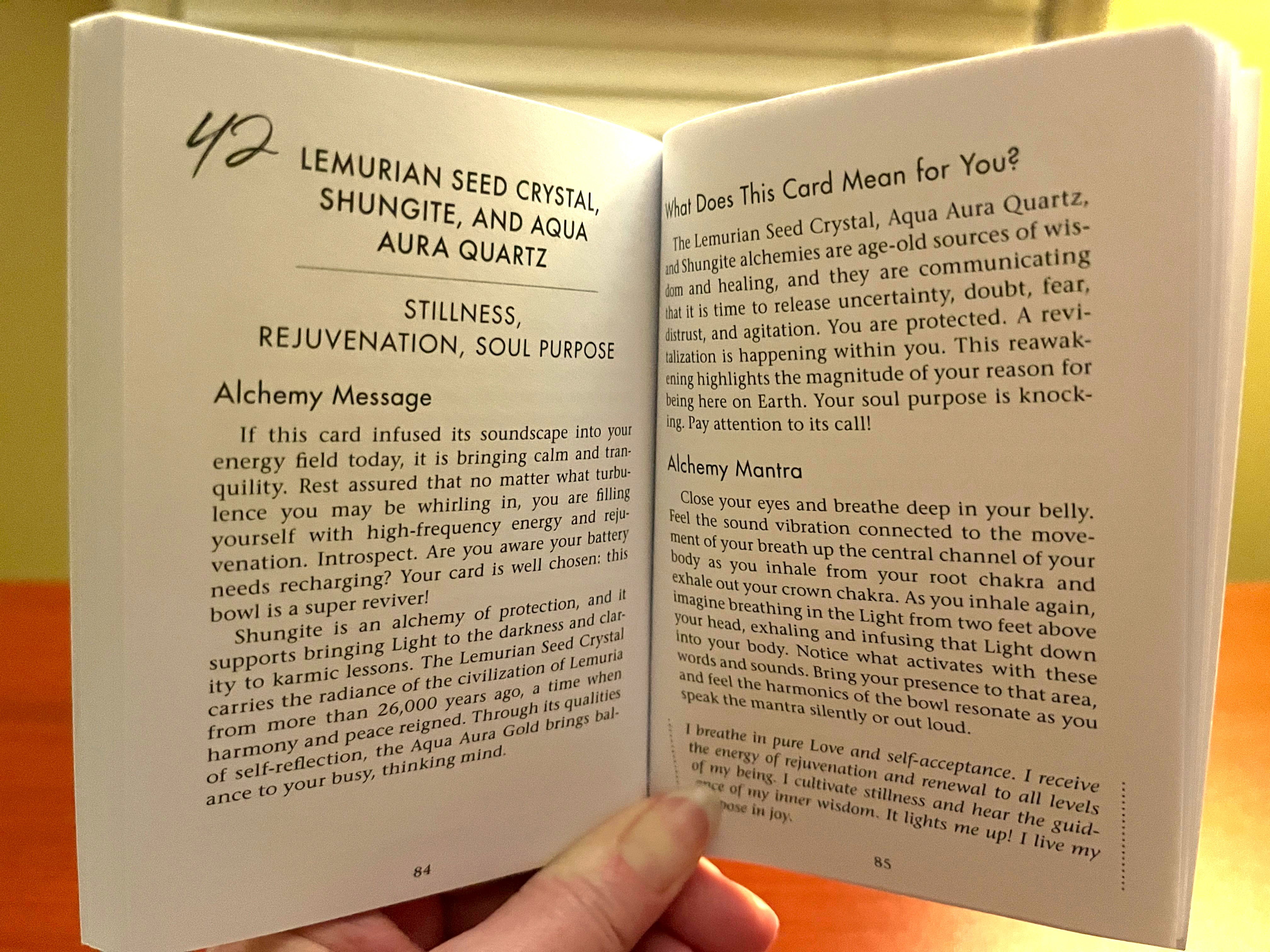 In the guidebook (shown above) each card has several keywords, an alchemy message that explains the alchemy of each bowl and what that represents, a section for what this card means for you, and an alchemy mantra to say before listening to the recording. The card itself portrays its own special healing message through the watercolor artwork and sacred geometry and on the back of each card you will find a QR code to scan that's linked to the unique individualized sound healing recording for the card you pulled for this session. You can see the QR code on the cardback in the image below. They are located in the bottom right corners of the cards. This is such a unique, creative idea!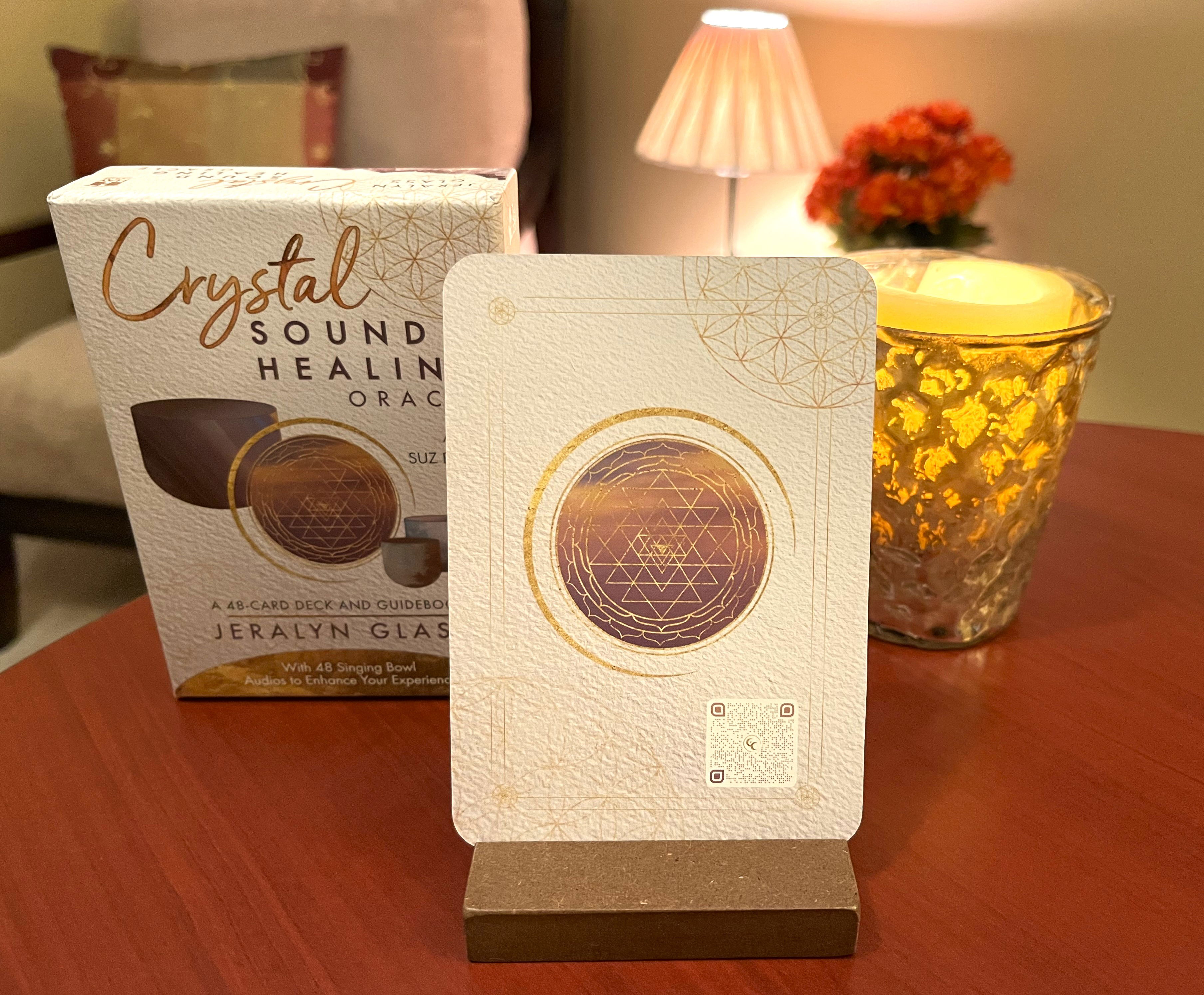 And all you need to do is download a QR code reader for free if you don't already have one on your phone or iPad. Scanning them is so easy. I pull a few cards a day and it only takes seconds to open the app and scan them to hear the healing messages. It feels so personal to get a tailored sound bath to meet whatever healing need I have for the day. And it's a quick adjustment to get me back in alignment and balanced for the day.
"It's a multi layered sound healing experience."
You are encouraged to read the mantra for the card in the guidebook before listening to the sound bowl recording.
"Breathe deeply and allow yourself to receive the profound and transforming vibrations. The higher notes of the bowls create a portal opening above the head, the middle octave notes establish a centering in the body, and the lower notes generate a grounding sensation below the body. We build a sublime connection of Heaven and Earth, manifesting Divinity and Light in human form."
The artwork on the cards include watercolor paintings, golden sacred geometry shapes, and powerful photography. It's a very visually stimulating deck. And it is one of the most harmonious decks I've worked with. Connect with your higher self and your body through the sound healing offered in this interactive deck. I'm so grateful that healers continue to find innovative new healing modalities to aid our healing journeys! It takes a lot to stay in alignment these days. I'm thankful for this kind of healing that helps to nudge me back into balance.
Perfect Pairing for this Deck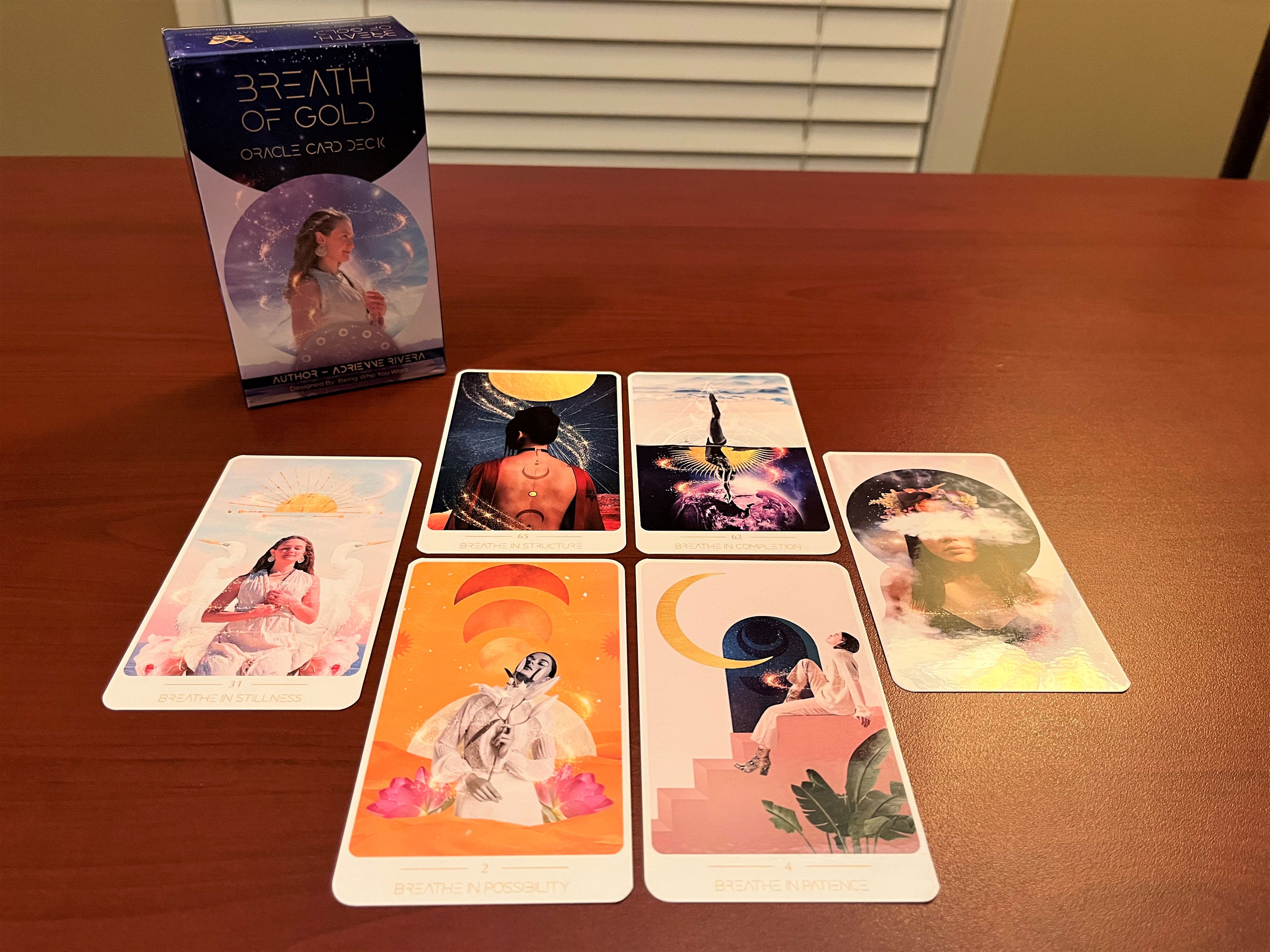 And since there is such an emphasis on breathing techniques with these cards, I suggest reading these cards alongside the Breath of Gold oracle by Adrienne Rivera. It's a gorgeous deck that helps us each connect to our breath each day. These cards focus on what to breathe in to help us stay grounded, aligned, confident in our power, and in flow with the universe. This deck offers diversity guidance, and channeled messages for each card. I pull a card weekly to see what I need to breathe in to help me feel connected at the soul level. I'm an affiliate partner for this beautiful deck, so you can purchase this deck through my affiliate link here.
About the Creator
The creator of the Crystal Sound Healing Oracle, Jeralyn Glass, is a leader in the field of Sound Healing using Alchemy Crystal Singing Bowls. She is an internationally acclaimed singer whose career began on Broadway and took her to the opera and concert stages of the world. She has been sharing the gift of musical medicine with the world for decades, performing alongside New Thought Leaders and best-selling authors. Merging quantum science, bioenergetics, and crystalline sound vibration, Jeralyn helps people facilitate healing and transformation with the power of music and sacred frequencies that nourish our bodies, connect us with our hearts, and awaken our consciousness. She created The Sacred Science of Sound educational platform and Crystal Cadence Sound Healing Studio and Temple of Alchemy, and she offers her internationally acclaimed Crystal Singing Bowl Trainings and consultations personally curating your bowl "mates". Her book on crystalline sound healing is scheduled to release in early 2024. Passionate about Music and Sound as tools of self discovery and healing, Jeralyn founded www.crystalcadence.com where you can find her music. IG@crystalcadencela
Here's where you can find her on social media and on all her websites
About the Illustrator
The illustrator of the Crystal Sound Healing Oracle, Suz Born, is trained in psychology and interior design, and her understanding of environments and relational connection inform all her artistic pursuits, from painting to graphics to photography. Her aim is to create work that captures a glimpse of the subject's true essence. She works from her home studio in Los Angeles and has an endocrine crystal alchemy singing bowl set that she uses in her personal life and for small groups. Captivated by the essence of the bowls' colors and properties, Suz brings them to life when she photographs them in natural light. "The guiding principle of my work is adoration of the Divine in nature. It's the most natural thing in the world to respond to beauty, to seek it out and reflect it. I desire to create a glimpse of the beauty that surrounds me." You can find her at Suzborn.com
Hayhouse Card Deck Club Subscription Box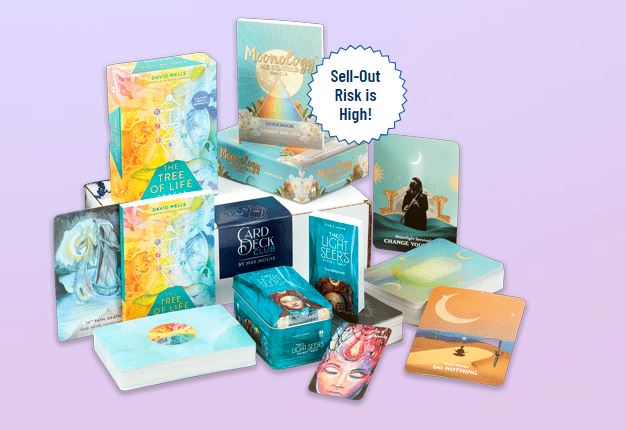 Hayhouse now has a deck subscription box called "the Card Deck Club Subscription Box." Each spiritual toolbox arrives every three months with new tarot and oracle decks. In each shipment, you'll receive three beautiful products handpicked for each box, four times a year, including brand-new card deck releases coming to you first! A bonus gift ships in each box. Each shipment will help you expand your awareness, tap into your intuition, and enhance your self-care and spiritual practice. After your cards are in hand, you'll be invited to join members-only webinars hosted by deck creators to deepen your understanding of your new decks. And receive exclusive deals, discounts, and promotions in your inbox each month. Save up to 55% off retail by paying only $29.99 + $7 shipping Sign up with this link here.
Past box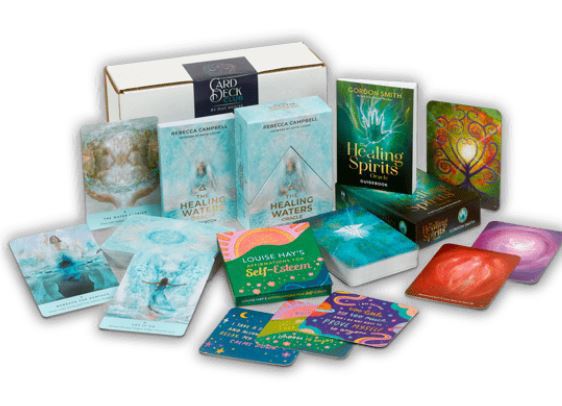 Decks shown in this blog:
The Divining Sisters Series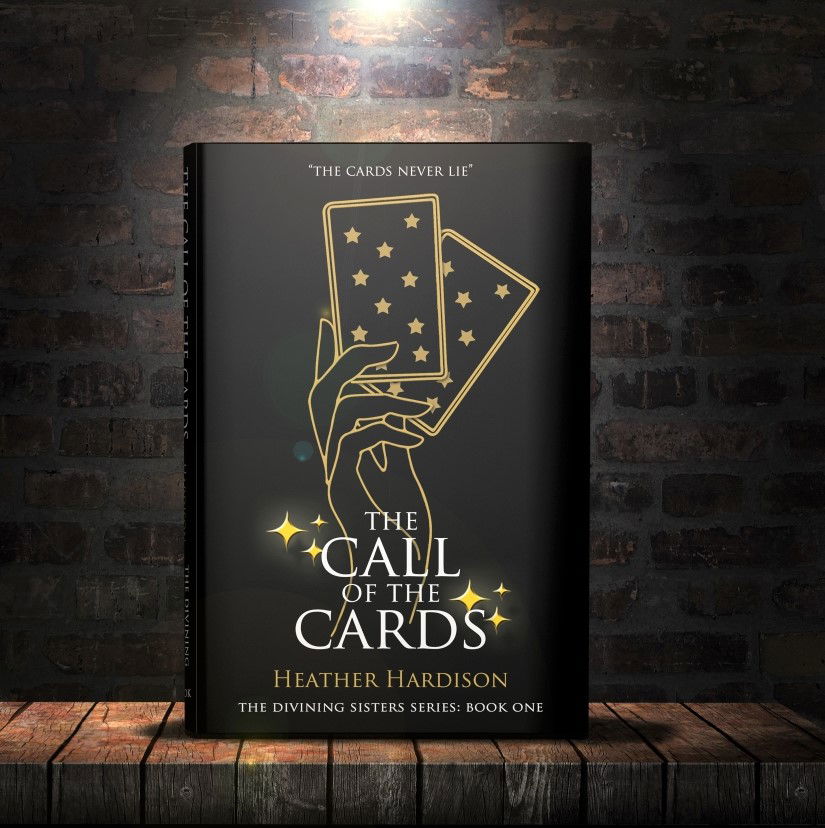 And if you are looking for a good witchy book for autumn, my fictional divination book series, The Divining Sisters, is perfect for this time of year. Book 1 in the series, The Call of the Cards, and book 2, We Divine Three, are out now. Book 3, The Threads of Fate, drops 9/26/23.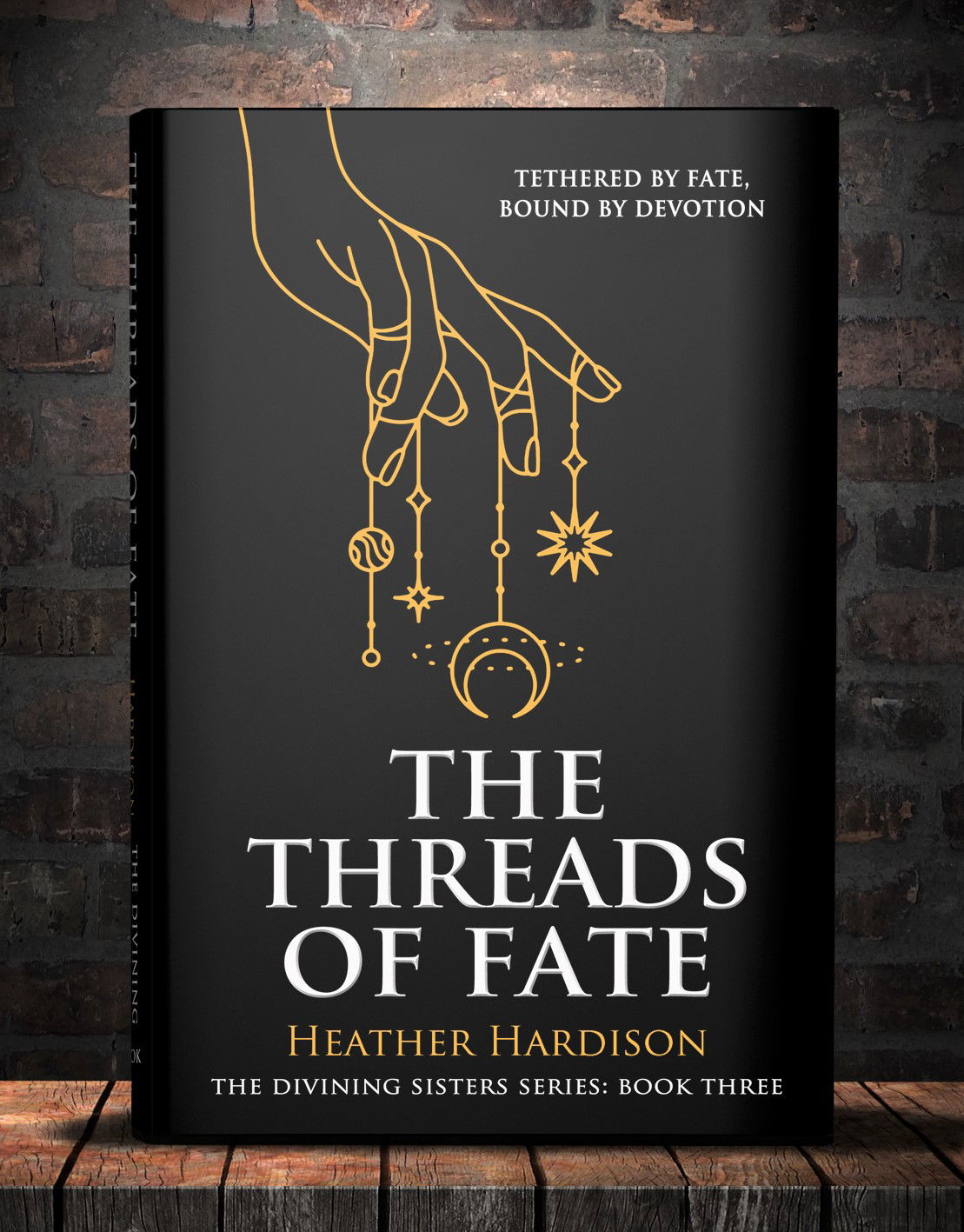 They're available as ebooks $4.99 and paperbacks $14.99 on Amazon. And the eBooks are also on Barnes and Noble, Apple Books, Google Play, Kobo, Scribd, Smash words, and more.
Find out more details on my novels on my author website author.heatherhardison.com - where I post updates on book releases, book blurbs and quotes, book covers, links to purchase, and fun things like my Spotify playlists for each book. I carefully curate those to express the energy of each book.
Readers are raving about the series like these 5 star amazon and google play reviews of The Call of the Cards and We Divine Three:
"Absolutely Unique! Resonated so much!"
"Life-changing. I felt seen. I don't think I've had this experience with any other book."
"The metaphysical series I've been waiting for! I was hooked from the beginning and even found myself slowing down because I want it to last. The characters are so relatable and genuine, and the explanations of tarot readings and past life stories is spot on! I'm eagerly awaiting the next ones. Please please, Heather, keep writing."
"Harry Potter for adults."
If you get a copy, please leave a book review on whatever platform you buy it on if you enjoy it. That really helps me out and can help get my book in front of more readers. And if you love it please also review it on good reads.
If you follow me on Instagram, you'll see updates on the book releases there. I have 2 instagram accounts My tarot and podcast account - healingthrutarot My author account heatherhardisonauthor
Watch the book trailer for The Divining Sisters Series
Time to pre-order the 2024 Writual Tarot Planner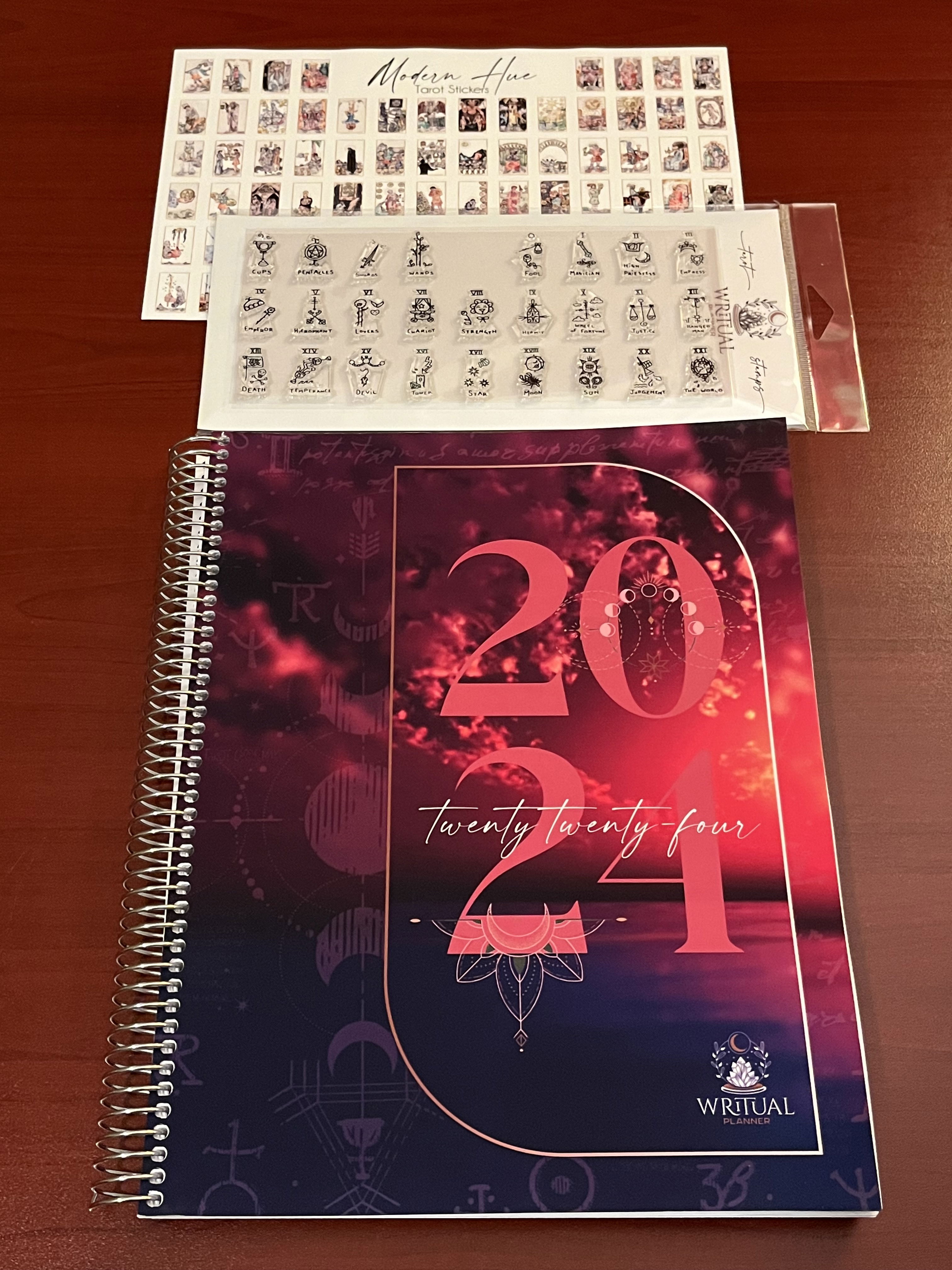 And it's that time of year when we need to order another tarot journal. It's out now! I always order a new Writual Tarot Planner around this time. If you want one before the new year, remember you can use my writual discount code at checkout. Use my Writual ambassador link here along with my discount code HEALING (all caps), which gets you 15% off your Writual purchases when you use that affiliate link and code. Writual has tarot stamps and stickers, dated and undated tarot journals and planners, including one for kids, tarot decks and tarot-themed mugs, candles, and jewelry so check them out using my link!
Healing Thru Tarot's Spread Ebook Line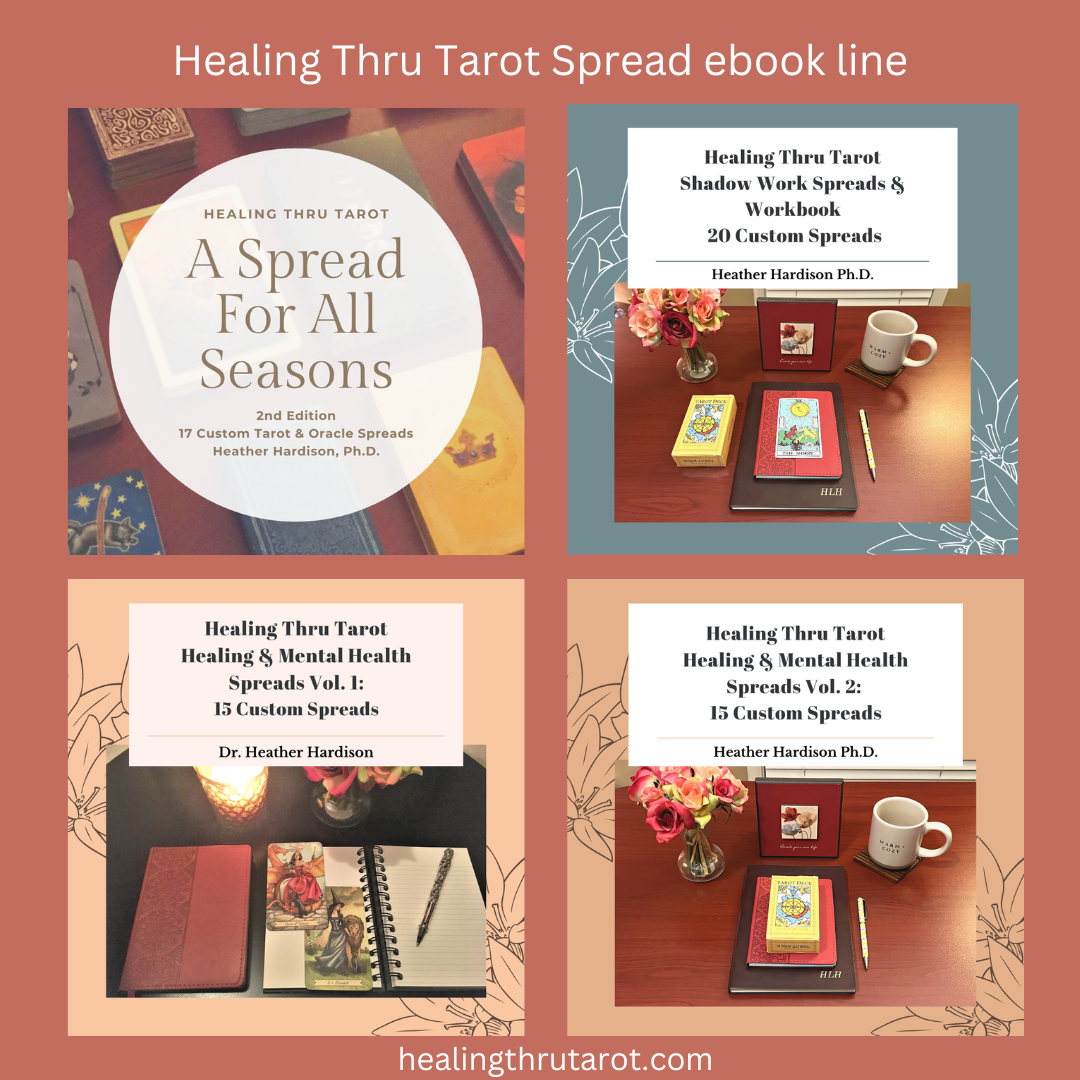 A Spread for All Seasons - 17 custom spreads
Healing and Mental Health Spreads Vol. 1 - 15 custom spreads
Healing and Mental Health Spreads Vol. 2- 15 9-card spreads
Shadow Work Spreads and Workbook - 20 spreads
* (Newest) Healing Thru Tarot's Life Path and Life Purpose spread ebook includes 15 custom spreads I've created to help you identify and align with your life path and sail to success. Spreads like the life path alignment spread, lightwork path guidance spread, conquering obstacles on my path spread, advice from my future self-spread and karmic healing path spread will help you position yourself to step into your full power and achieve the purpose you incarnated to fulfill. Plus many more spreads offering guidance and advice to get on path and stay on track. $12
Click here to purchase any of these spread ebooks
Listener Support
Are you enjoying the Healing Thru Tarot podcast and companion blog? If so, now you can gift me a coffee or two to kept me fueled as I pull all-nighters writing the scripts and recording all the episodes. Help me keep this content flowing by sparking my inspiration! Just click here to gift me a caffeine fix.