In this companion blog to podcast Ep. 29, I will be discussing my favorite Halloween decks and a few witchy themed books I've read recently that are perfect for this time of year. So, grab a warm beverage and cozy up because this blog is all about one of my favorite holidays, All Hallows Eve!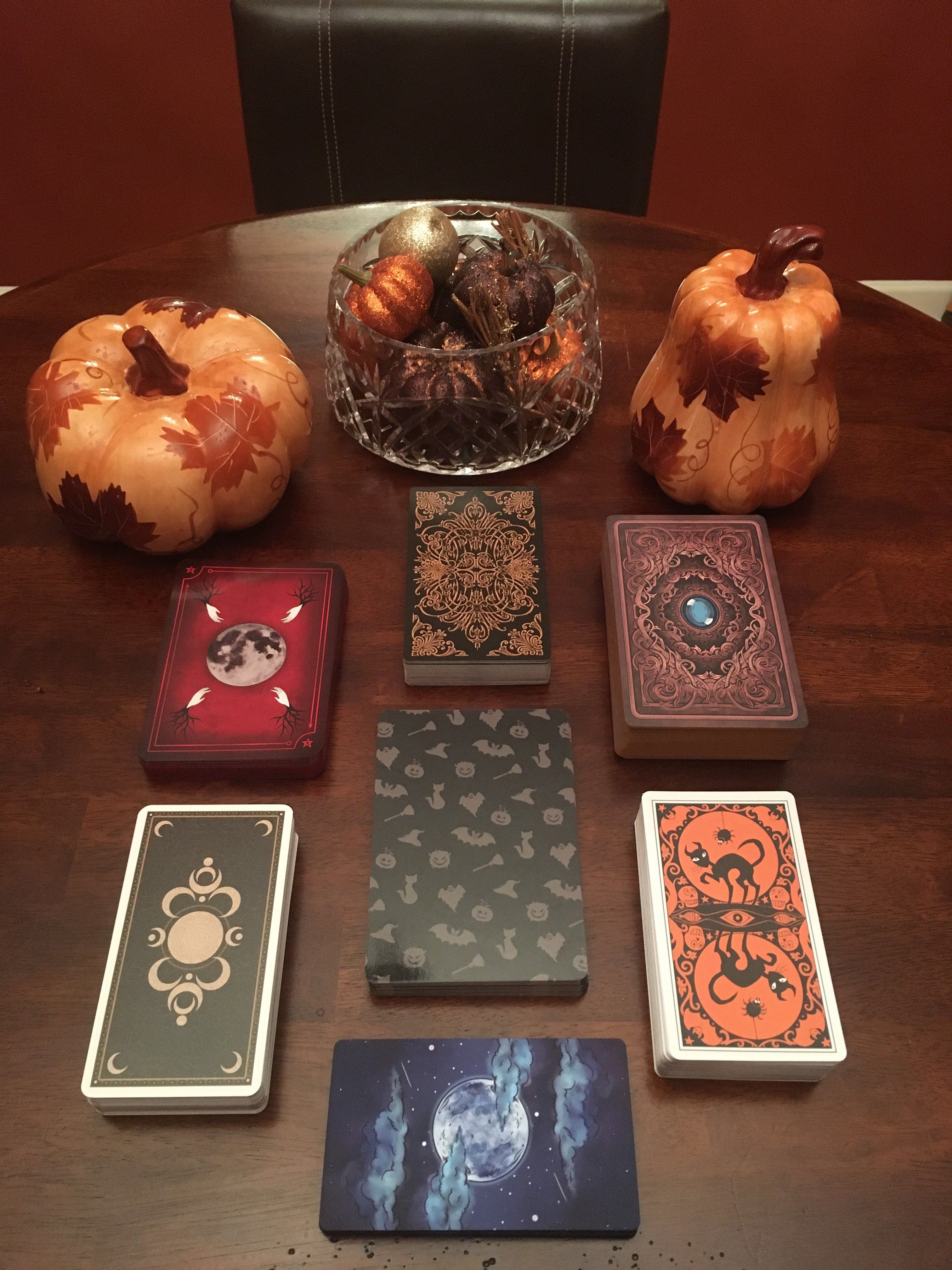 I will be exploring 4 decks that were donated to me for me to review: The Halloween Tarot and Deviant Moon Tarot by US GAMES Inc., The Night Before Christmas by Insight Editions, and The Zombie Tarot by Quirk Books. And I promise I am going to give you my honest opinion as always.
The Halloween Tarot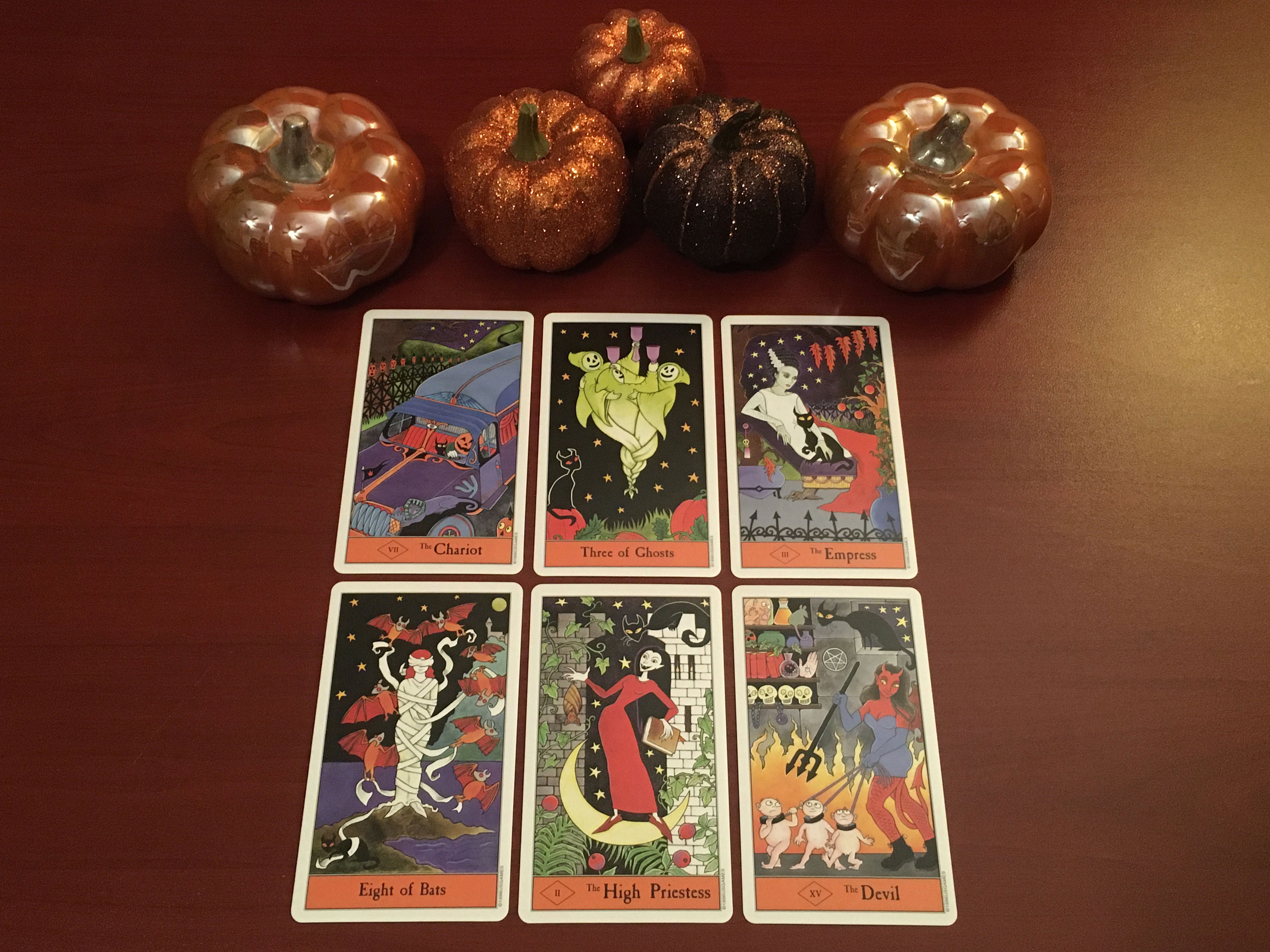 Let's start with The Halloween Tarot because this one has been on my list the longest. The artist of The Halloween Tarot is Kipling West, and I have to tell you that this deck is so freaking adorable. If you have kids, this deck is an absolute must for October readings. It would be so fun at a Halloween party for kids. And I can see this being a great first deck for young readers. It is so festive and carefree with a major trick or treating vibe. It is impossible to read with this deck and not have a smile plastered on your face. It reminds me of Halloween as a child, and I would have loved this deck had I been into divination at that age.
Along with The Halloween Tarot Deck, you get 140 page illustrated book if you buy the deck and guidebook set that I have linked in the shownotes. In this guidebook Karin Lee infuses the images with the thrills of Halloween. The guidebook shares the inspiration for the cards like The Hermit as the Mad Scientist. The book provides upright and reversed meanings. And we are escorted by a black cat with glowing eyes on our tarot journey. You will find this cat in every single card in the deck. The guidebook pulls in characters from not only Halloween themed stories but also the horror genre in general. Frankenstein and his bride are the Emperor and the Empress cards, and Dracula appears in the Lovers card climbing in the bedroom of a potential victim.
The creator does change the suits in the deck which can be confusing in some decks, but for this deck it really works. They use Pumpkins for pentacles, Imps for wands, Ghosts for cups, and Bats for swords. I think the pumpkins are my favorite suit in this deck, but the ghosts are pretty cute as well.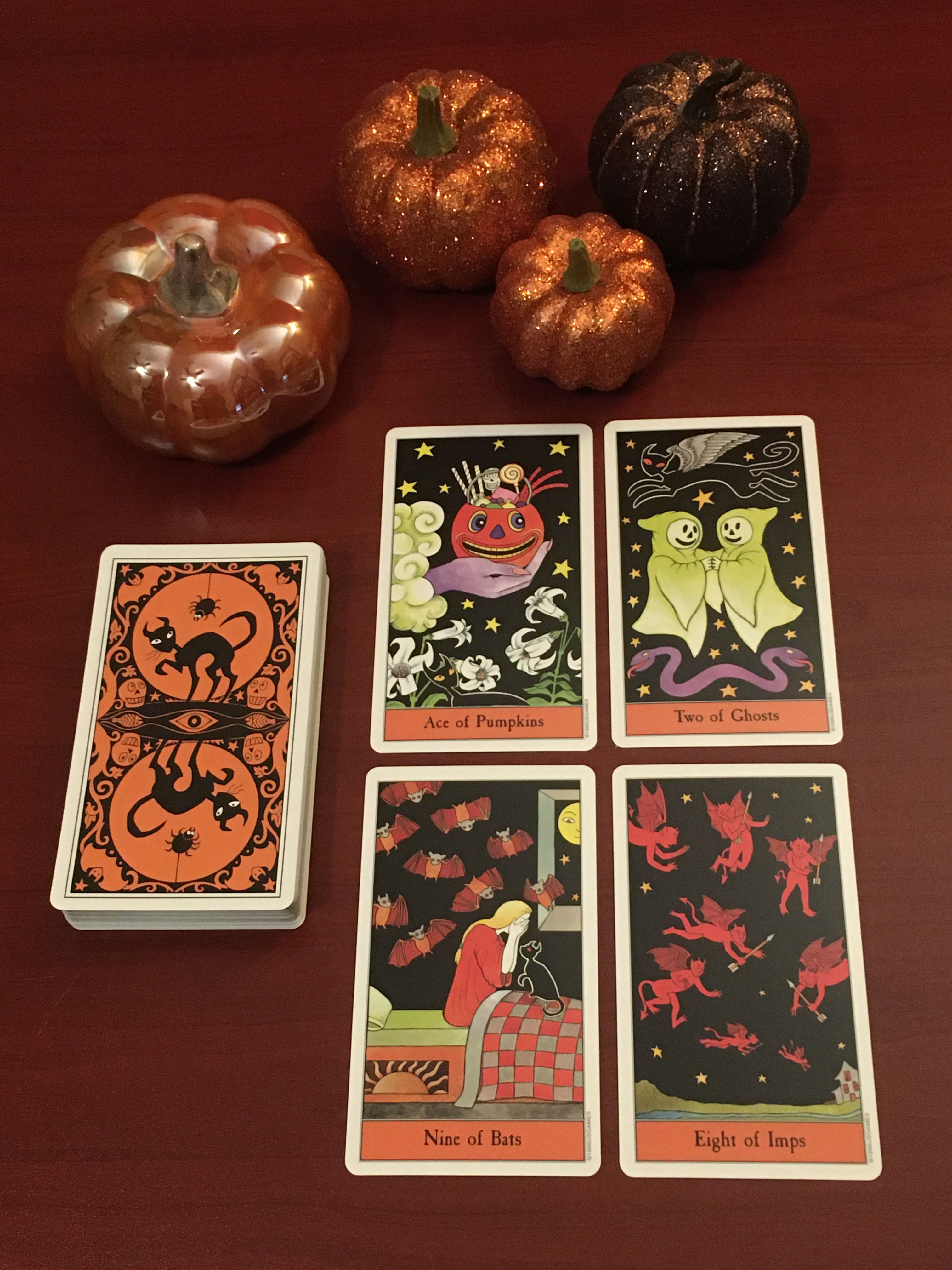 You could use this deck year-round if you want to keep this festive energy alive and well throughout all seasons. I personally love to work with my decks seasonally and change them out every 3 months. For me, it keeps my tarot practice fresh and exciting. I can't grow tired of any of my decks that way, and I always find myself looking forward to the time when I can unpack some of my favorite decks.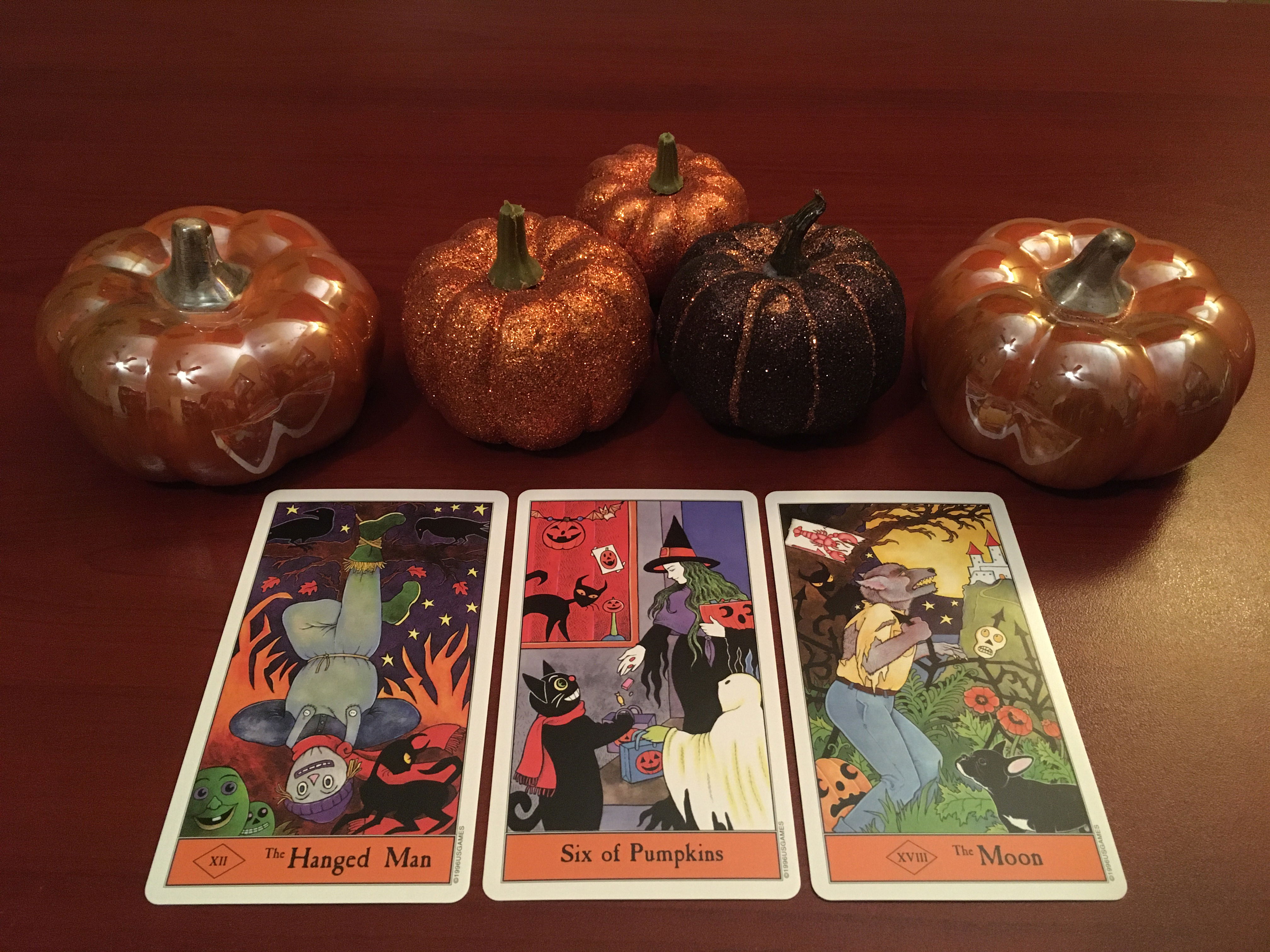 In this deck you get witches, mummies, clowns, black cats, monsters, and all sorts of creatures. Some of my favorite cards are the tower as the spooky haunted house, the ace of pumpkins as a full trick or treat vessel filled with delectable candies, the six of pumpkins with a witch handing out treats to the trick or treaters, and the Magician pulling a rabbit out of his hat. The readings with this deck are light and fun. I'm using this deck for daily card pulls and simple 3 card spreads every day this October. It's a fun way to integrate this deck with my other Halloween decks.
The Halloween Tarot is perfect for lighthearted readings. Not every spread we throw has to be so serious. Especially this time of year it is great to just have a treat for the day to keep things light and carefree. This will be the second Halloween during this Covid-19 pandemic, so these times call for hobbies where we can escape from some of the difficult times we are facing and try to find some enjoyment in our day to bring our energetic vibrations up.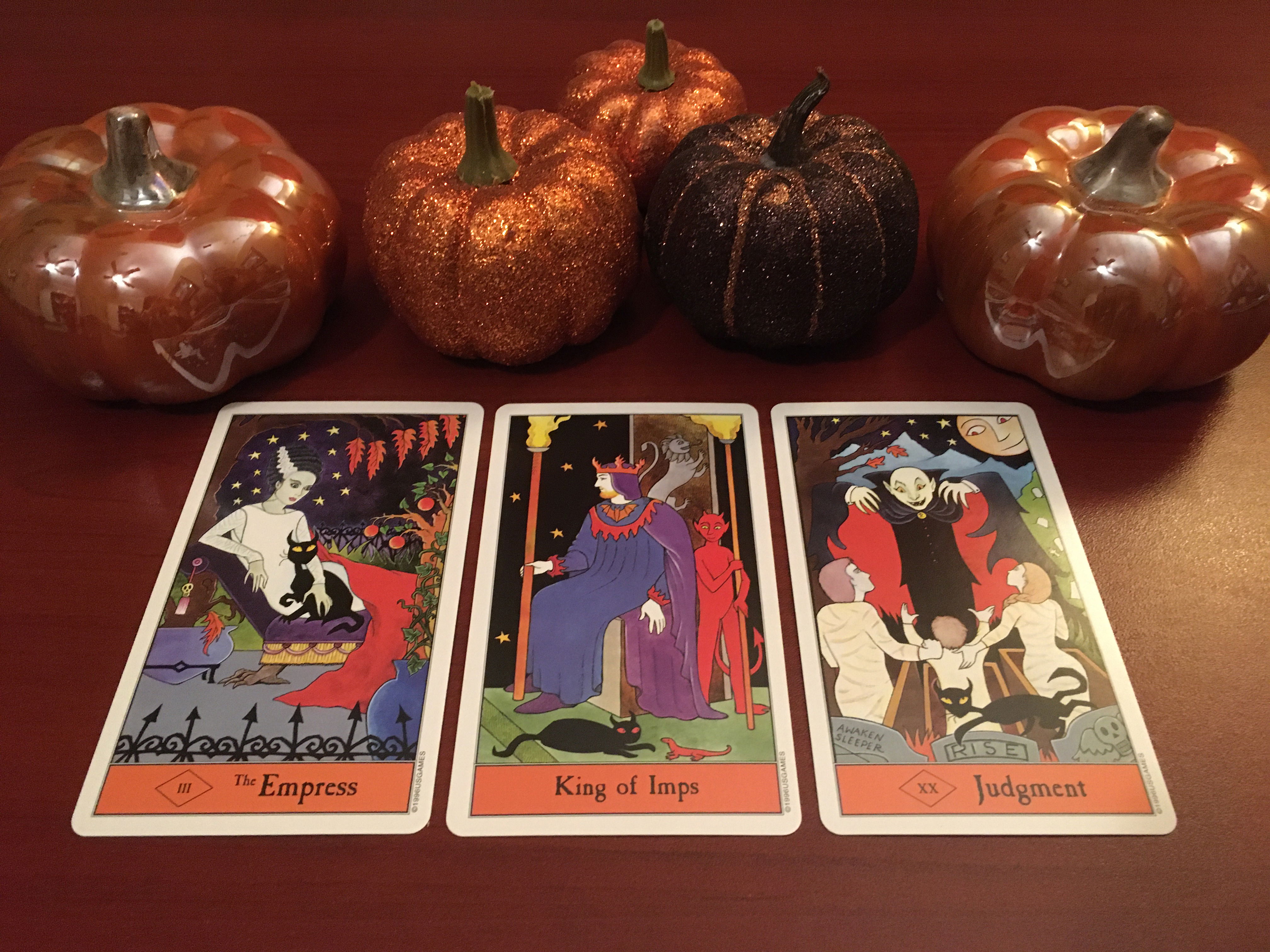 This has been the perfect pick me up for that. The Halloween Tarot was something I really needed in my life this year to bring that party vibe even during a homebound Halloween. I'm all about finding joy however I can. And this hit the spot for me. It takes me back to those years of being a trick or treater and picking out the perfect costume and hoping for my favorite candy as we went from house to house for hours.
Trick or treating used to be an all-night event when I was growing up in the 80's. We walked for hours and had overflowing pumpkins filled to the brim with all sorts of candy. It was a whole thing that we planned at least a month for every year. And we always had a sleep over with friends, so we watched scary movies after hours of trick or treating, and this deck brings back all those nostalgic memories for me so it really is a walk down memory lane. And it is hours worth of entertainment for kids and teens.
The guidebook adds to the festiveness of this deck. It showcases the historical associations with the card images and traditions of Halloween throughout history. My favorite thing to do this month is to put on my custom Halloween playlist and pull cards from the Halloween Tarot as we get closer to All Hallow's Eve. I knew I would love this deck, because how could you not, but I ended up falling more in love with it than I realized I would. I think it is because this deck evokes so many emotional memories from childhood when we lived in easier times, so it is such a stress relief to pull cards and take a walk down memory lane with these images that represent fun and frivolity.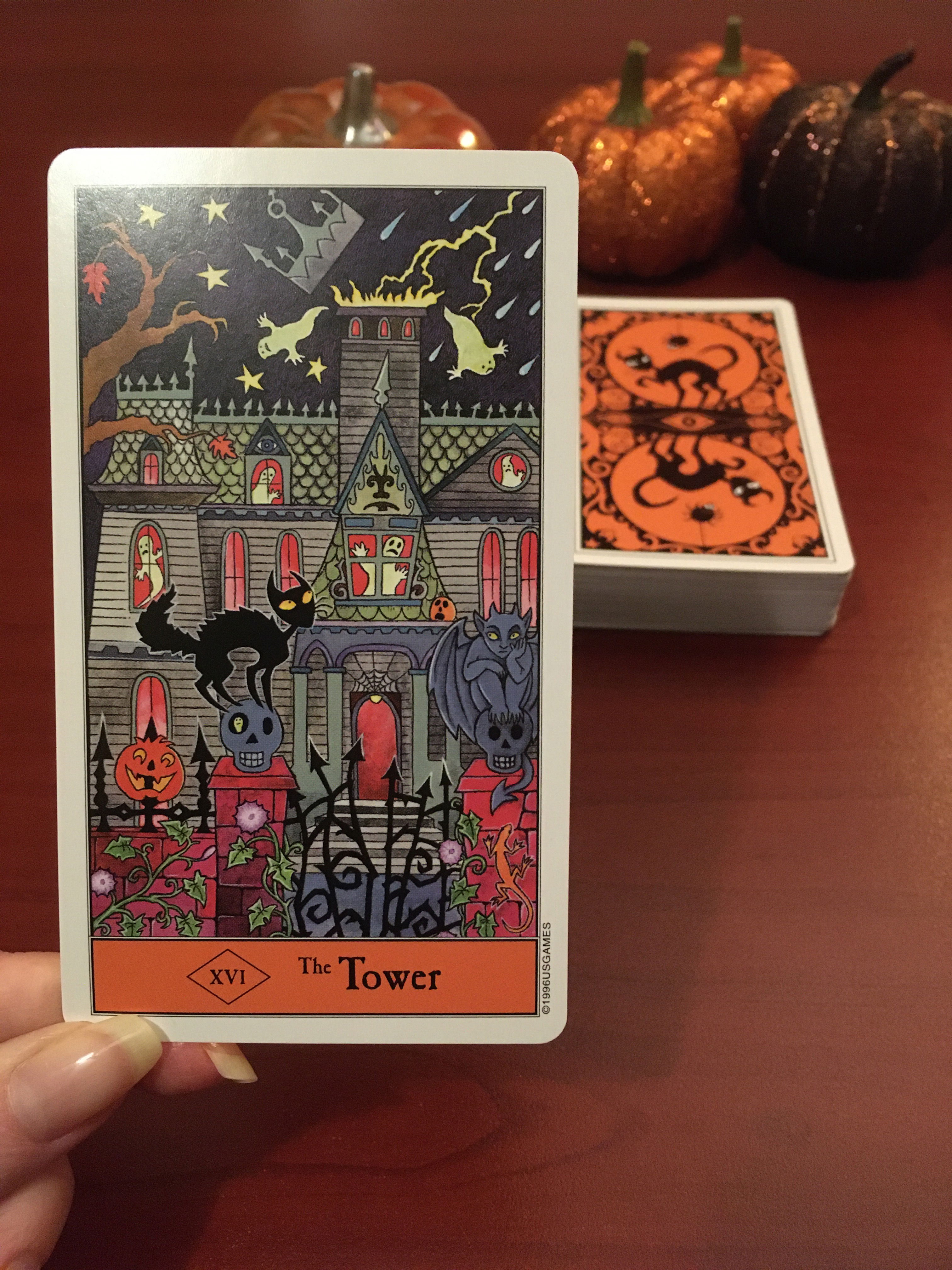 I don't have a lot of decks in my collection that evoke these feelings, and I think it is important to have a few decks that are more easy going and light hearted. This deck is perfect for inner child play. That's exactly what it feels like to me. As soon as I reach for the deck, my inner child wants to come bounding in to shuffle the cards and delight in the divinatory messages that these festive cards deliver. If you love Halloween, this is a must for your collection. Thank you to US Games Inc. for sending this one to review. I absolutely adore it!
The Terror Tarot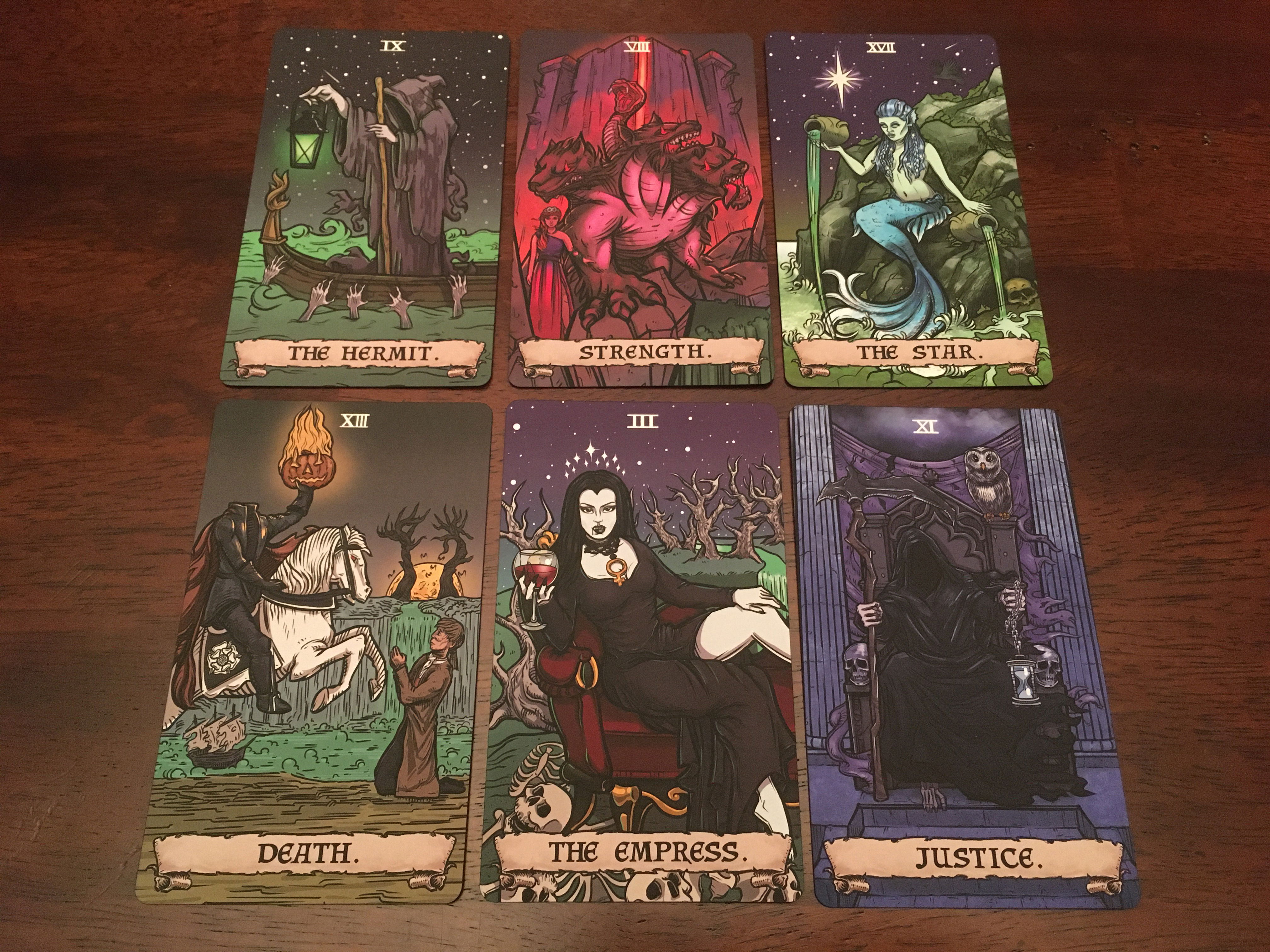 Now for my favorite Halloween deck this year! This one has been on my list from the very first time I laid eyes on it - The Terror Tarot by The Ghoulish Garb. This is a majors only deck so it just includes the 22 major arcana cards. But this deck is STUNNING!! The colors are so vivid and pop right off the cards. I was blown away by the quality of these cards. It is very similar to the Dark Mansion Tarot in its artwork, vivid colors, and quality.
These cards are a sturdy black card stock with the most gorgeous full moon card backs with blue overtones. It is borderless, and the artwork is to die for. They even have a rose petal finish, and they are wonderful to handle. If this was a full 78 card deck, it would rival the Dark Mansion Tarot for me. And if you have been following me, you know how much I love the Dark Mansion Tarot. It is always in my top 5 tarot decks.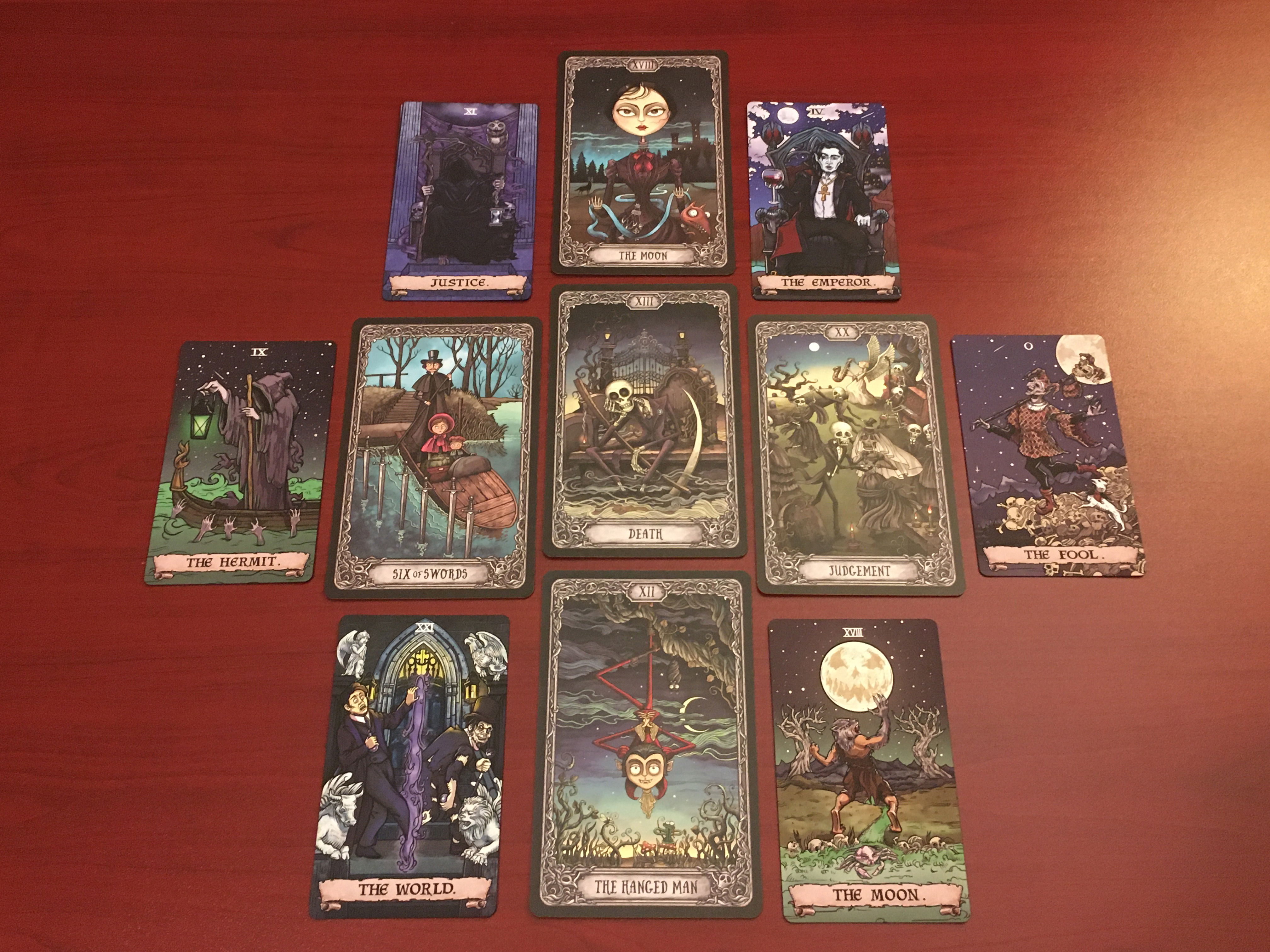 Sadly, I heard that they have said they have no plans for making a full deck, BUT I will still hold out hope because if they do I think I have a new favorite. This is my first majors only deck and boy did I pick a great one to treat myself with for this Halloween. It has the perfect vibe for October. I actually like to pair this with my Dark Mansion Tarot, and they work perfectly together (shown above). I love the thought that went into the choices for each card.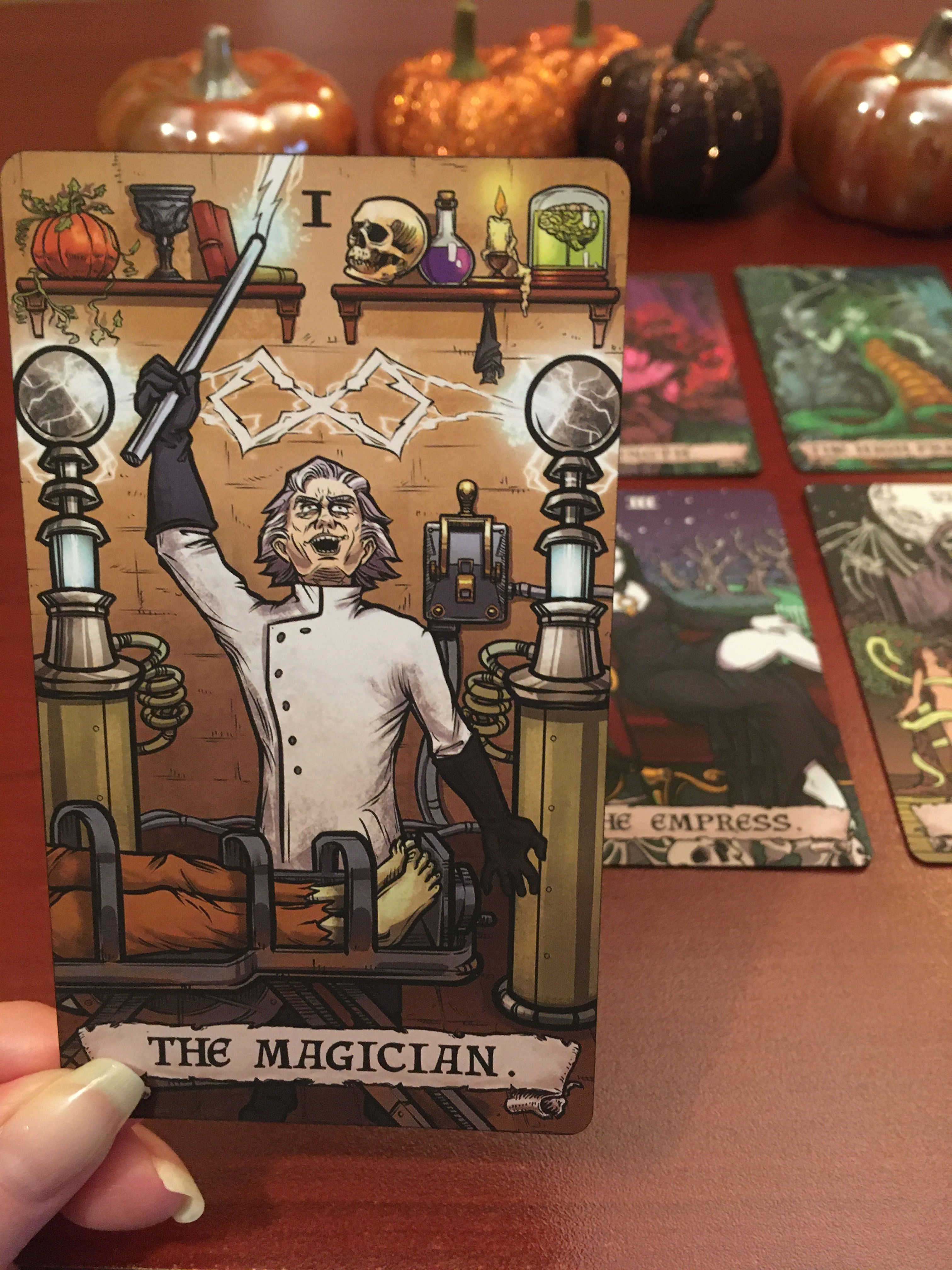 The Magician is represented by Dr. Frankenstein, which I love because this representation shows both manifestation and manipulation. This is perfect because the character manipulates the natural laws of science and morality to bend the will of life and death to his own design. In this card he is standing in his laboratory with his lifeless monster in front of him. Behind them are Tesla coils creating an electrical current in the shape of the Infinity symbol. This represents the doctor's unlimited potential. On the shelves behind him are the four representations of the four elements. Here we have a bat symbolizing the element of air, a pumpkin for earth, a goblet for water, and a candle for fire. One of the magician's arms extends toward the heavens while the other directs our attention to the monster beneath him. This is to represent as above so below, which is the relationship between the metaphysical realms. So much detail in these cards.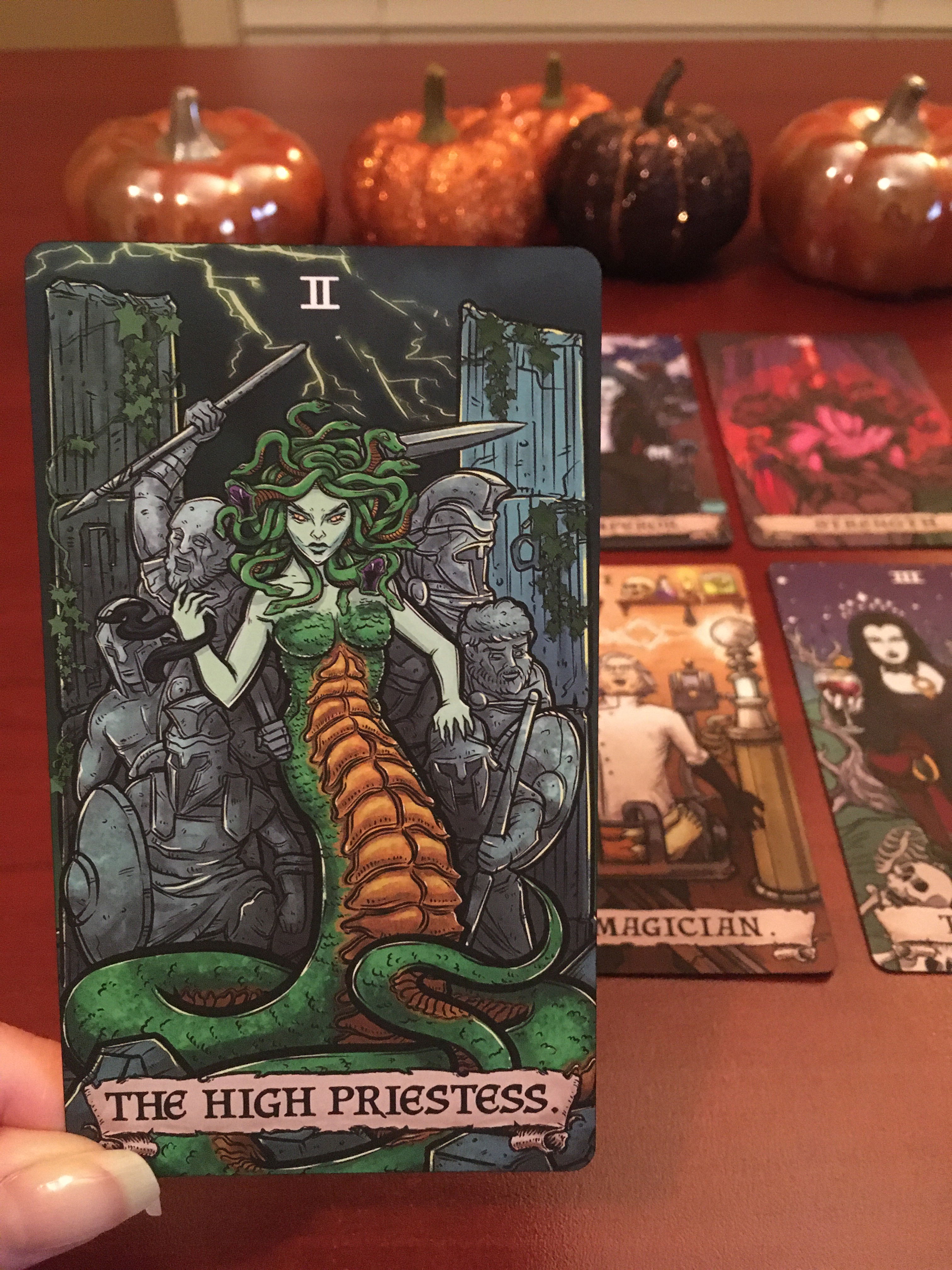 The High Priestess in this deck is Medusa. She sits on a throne made of the stony corpses of her fallen foes. Her tail curls into a crescent shape similar to the waxing crescent moon to further symbolize her relation to the feminine natural cycles of the moon. By picking Medusa as the High Priestess, the artists are emphasizing her power as a feminine figure within the major arcana. This also highlights the mystery of the High Priestess. It's a very striking card.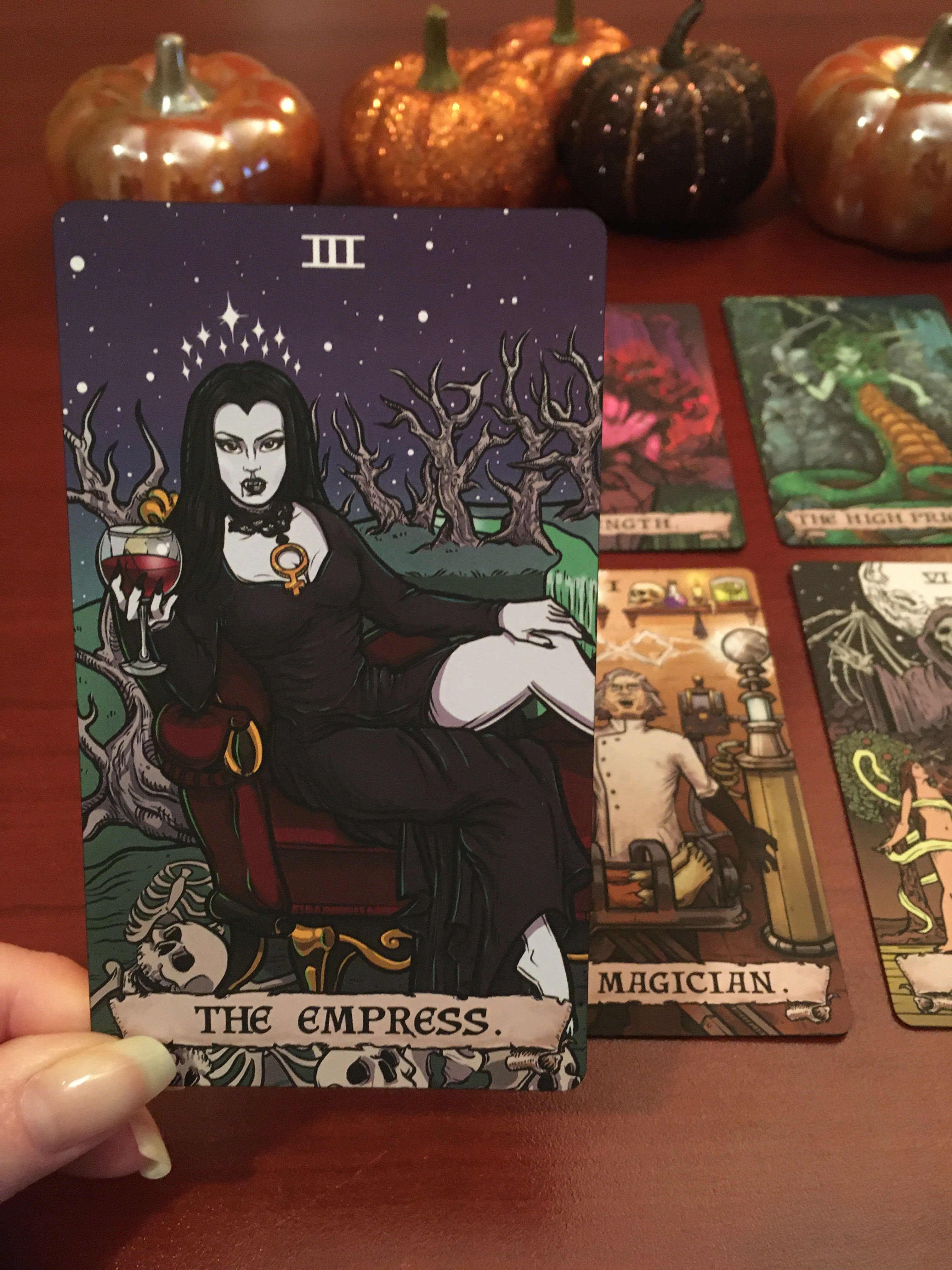 For the Empress, they have chosen a sexy seductive vampiress; however, when I first looked at this card, I thought it was Elvira. Any child of the 80's will know who Elvira is, and in my mind that's who this will always be. They have her sitting on a chaise lounge for her throne surrounded by 12 stars in the sky to form her crown. In the background you see the river and twisted trees, and the blood of her enemies. Around her neck, she wears the symbol of Venus to bring attention to the characteristics of femininity, fertility, and sexuality. In her goblet is the blood from her most recent victim, which gives her vitality and power.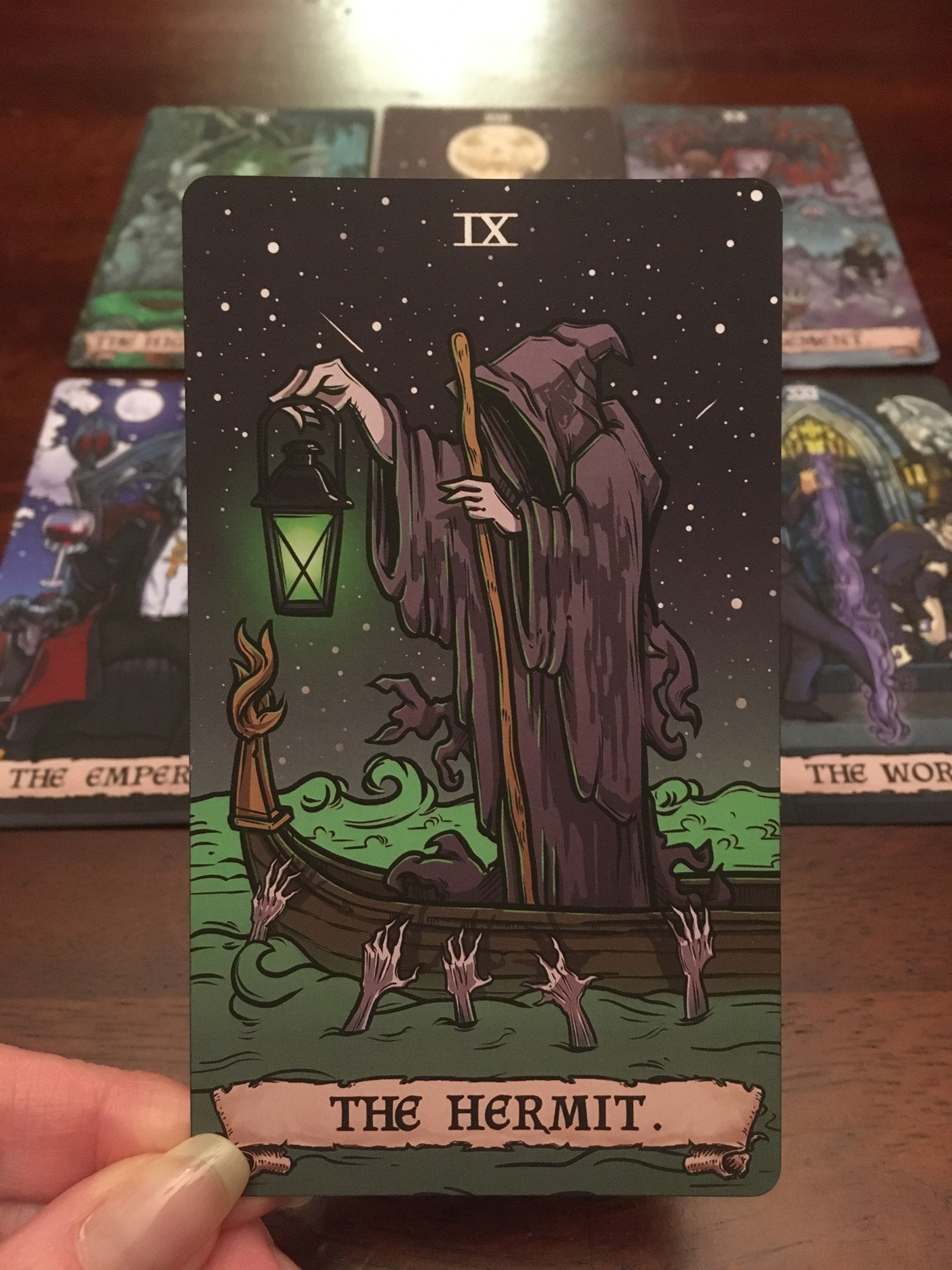 The Hermit card in this deck has to be my favorite. He stands alone in a boat as he glides across the green river. He is seen as a guide the afterlife. He has achieved spiritual mastery and acts as a guide to higher knowledge on this plane. His right hand represents the conscious mind, and here he holds a glowing green lantern symbolizing wisdom and forethought. His left hand represents the subconscious mind, and there he holds his staff symbolizing inner strength. This is a sign of his power, authority, and dependability, which he uses to balance himself through the rough water of his journey even though the current may shift and change. Skeletal hands rising above the water belong to those who have been lost to the river that lies between the world of the living and the dead. As they reach for his assistance and guidance, he remains unwavering on his journey. This guidebook is deep!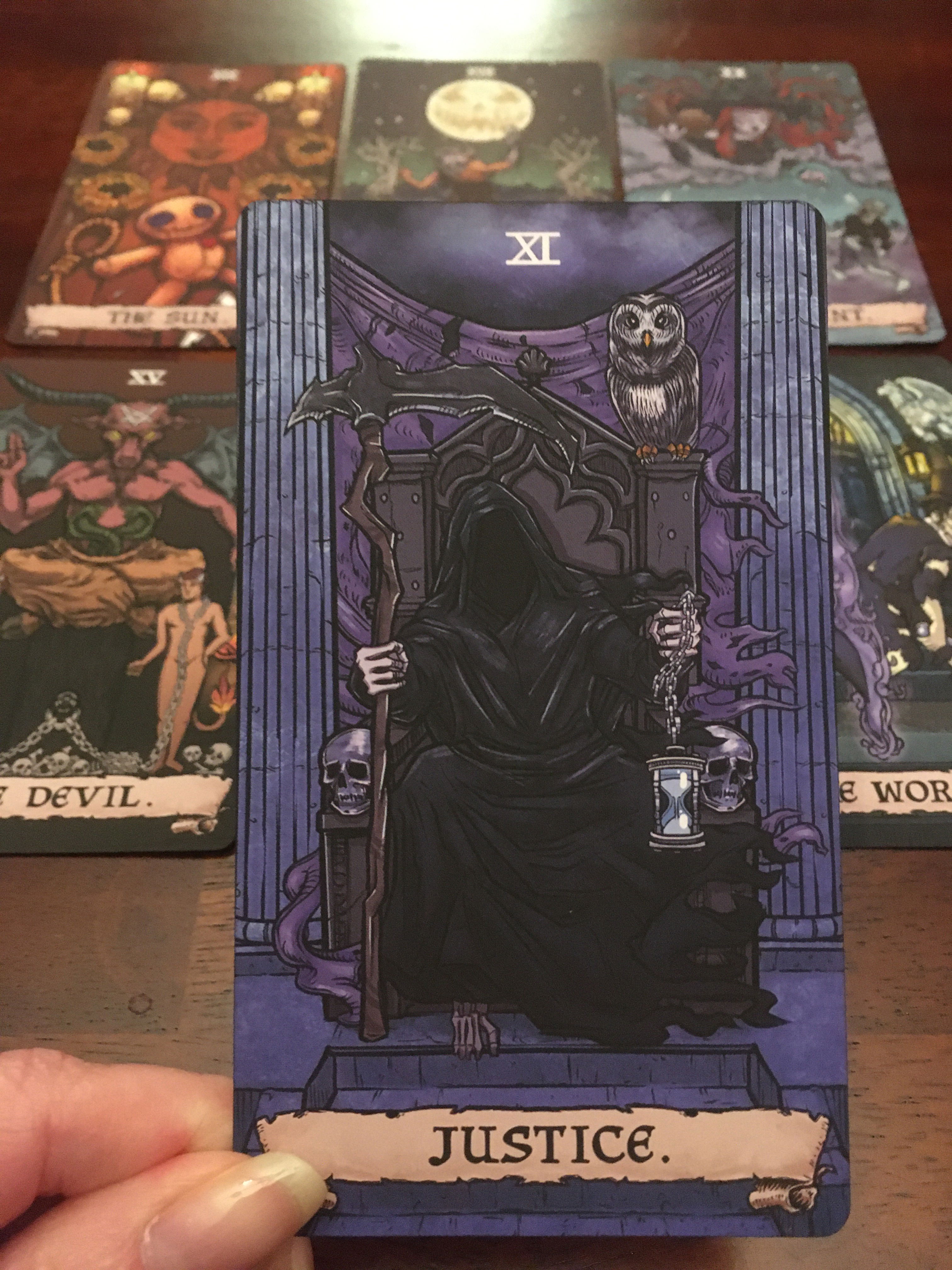 Justice is the grim reaper who is a symbol of death. This choice is perfect because death comes to us all, and all scales will be balanced in the end. Justice, karma, and death cannot be escaped. It is universal law at play here. In one hand he holds his scythe to express finality, and in his left hand he holds an hourglass as a reminder that time is fleeting and precious and should not be wasted. This card depiction reminds us that there are consequences to all of our actions so we must choose them very carefully because the reaper is watching and recording all. Balance will be restored in the end. Those are some of my favorite depictions in this deck. I'm so glad I decided to treat myself with this deck even if it is a majors only deck. The stunning artwork and quality make this a perfect complement to the Dark Mansion Tarot, and it will be one I really enjoy experimenting with.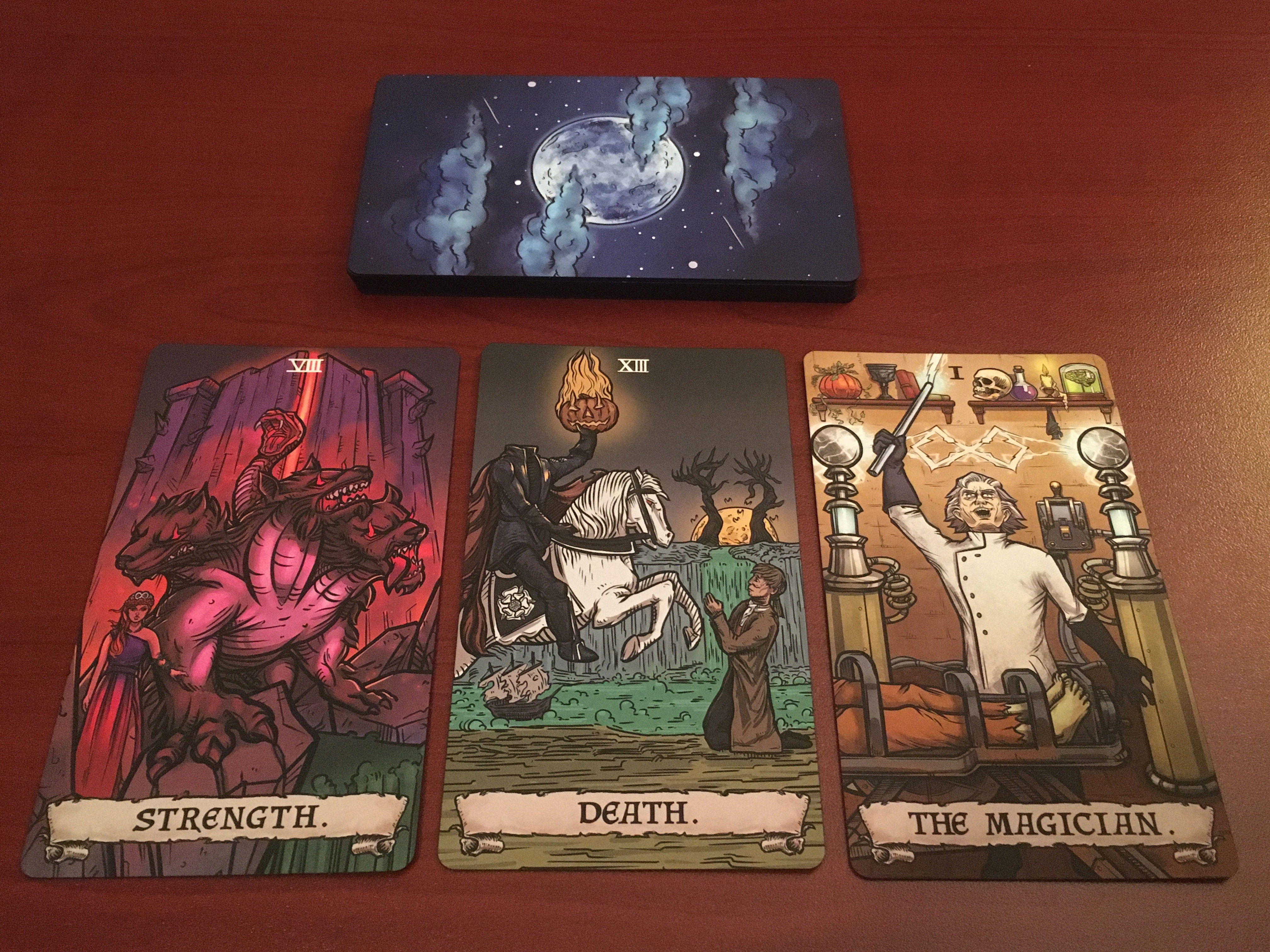 If you don't have any majors only tarot decks, you may be wondering how to use this smaller deck. So, let me give you some ideas. I use it as a deck for daily card pulls, an opening and closing message in spreads and for a card pull to signify the major energies at play currently in a reading. I use this with 3 card spreads, messages related to the major karmic energies at play, and shadow work. I love using just the majors to get an idea of the big picture of what's going on.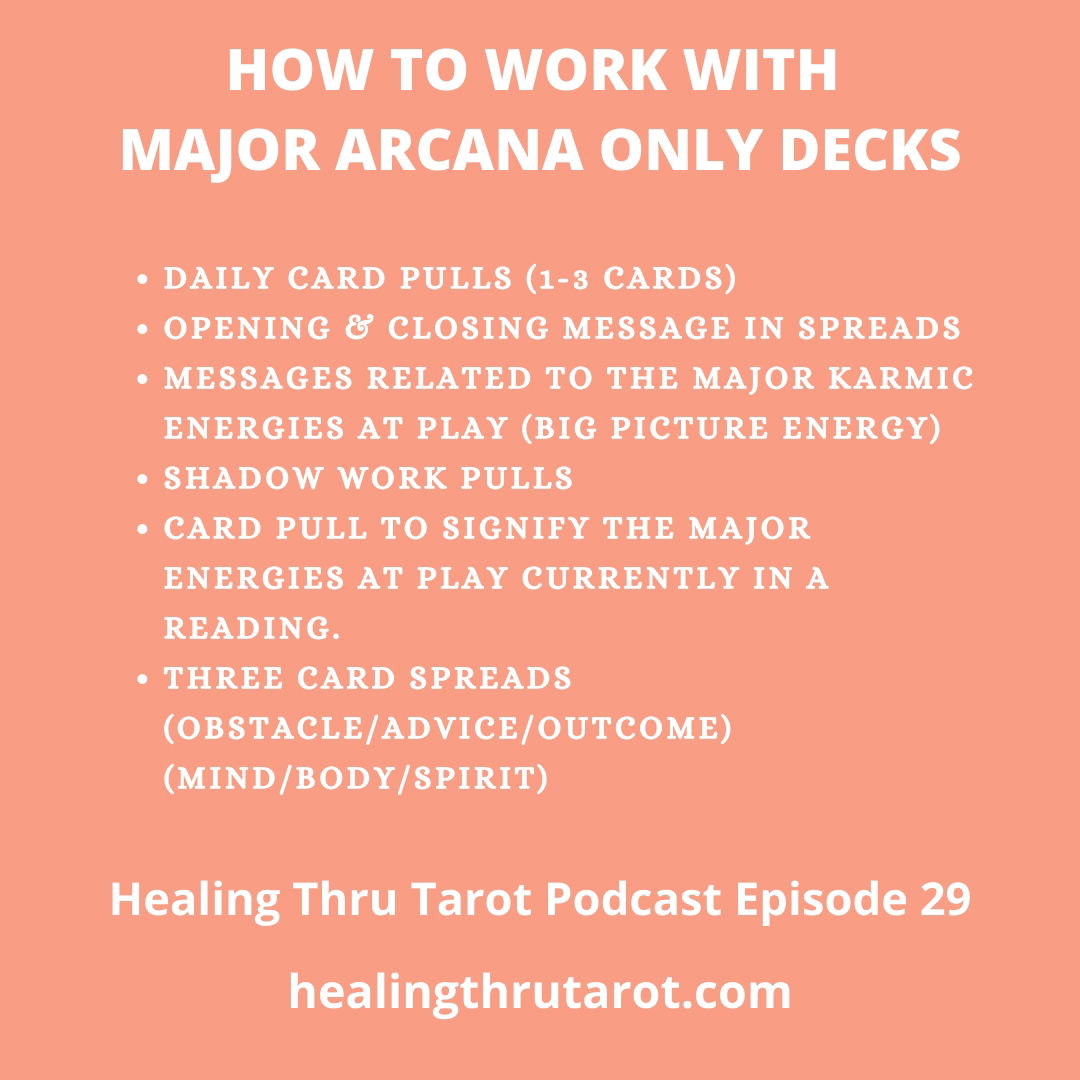 If you love Halloween, the Terror Tarot is a must, and it is on amazon so I got it super quick. You can have it by Halloween if you order now. I have links for all of the decks in the blog and show notes for your convenience.
The Deviant Moon Tarot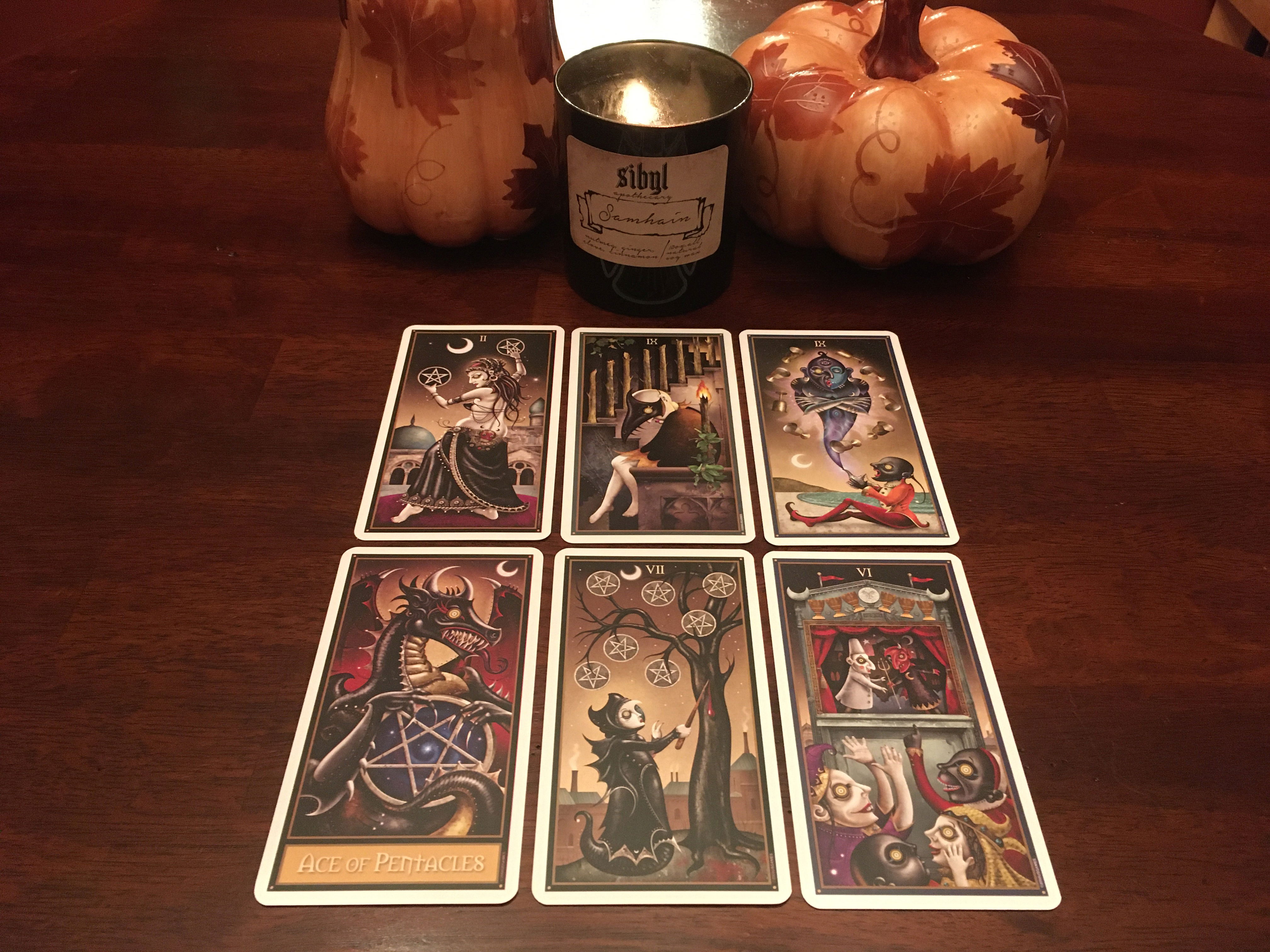 US Games, Inc. also sent me the Deviant Moon Tarot to review. I want to briefly talk about it here since I think it is a great deck for Halloween given it's artwork, BUT I will be diving deeply into this deck for an upcoming shadow work episode because this deck is a perfect one for that type of inner psychological work.
The Deviant Moon Tarot is the brainchild of Patrick Valenza. This deck is so recognizable because it doesn't look like any other deck out there. The artwork can be triggering and disturbing so that may be off-putting at first, but that is what makes this deck so great for shadow work.
Patrick's stylized characters and moonlit dreamscapes draw you into the luminescent world of the Deviant Moon Tarot. Even if you think Valenza's artwork is difficult to look at or work with, you probably can still appreciate it as absolutely stunning art. I think it is effective at pushing readers to come face to face with deep inner shadows with his evocative imagery, and I feel lucky to have this deck to further explore those depths of the subconscious. It was so fascinating to learn that many of the images in this deck came from Patrick's dreams throughout his childhood. He drew the images that danced in his mind throughout each night.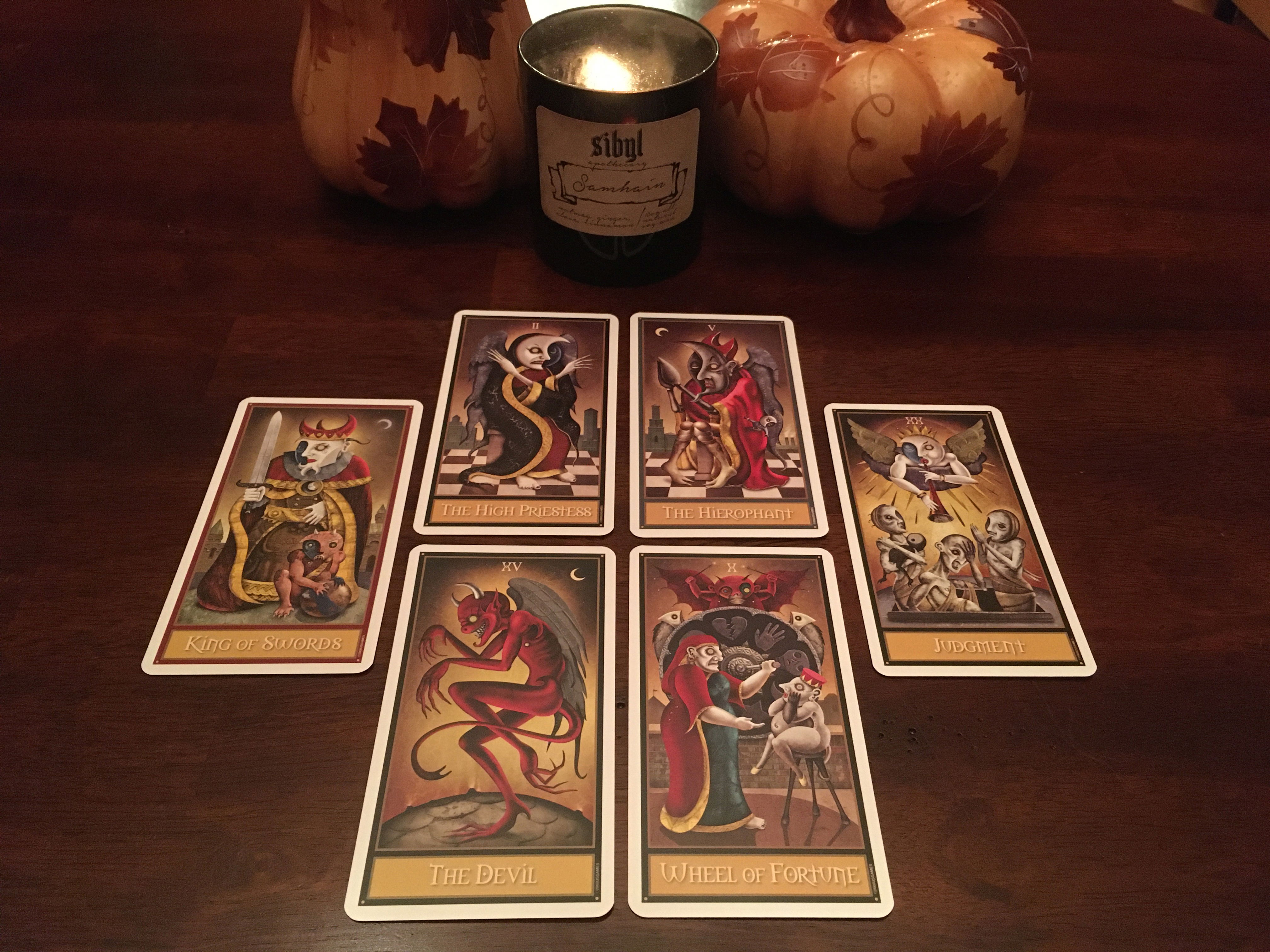 I will admit that I was hesitant to purchase this deck for years. Every time I saw photos of it on social media, I struggled with the dark imagery, but now that I have this deck in my hands to flip through up close, it really isn't that off-putting. It is really growing on me, which I hear from a lot of readers that work with this deck.
I think it is actually a great deck for this time of year. Several of the cards actually looked like elaborate colorful Halloween costumes so working with this as Halloween approaches feels natural. This world they live in is actually like a darker Halloweentown, if you are familiar with that fun Disney original film shown every Halloween.
The Deviant Moon Tarot deck comes with a 48-page booklet, BUT there is also a much larger hardcover book that delves into Patrick's journey with his artwork through his childhood. This book gives us a peak into his inner world to see why he chose the images for each card. This behind the scenes book gives us a deeper understanding of each image and this world that he created that he invites us into for this confronting but healing inner work.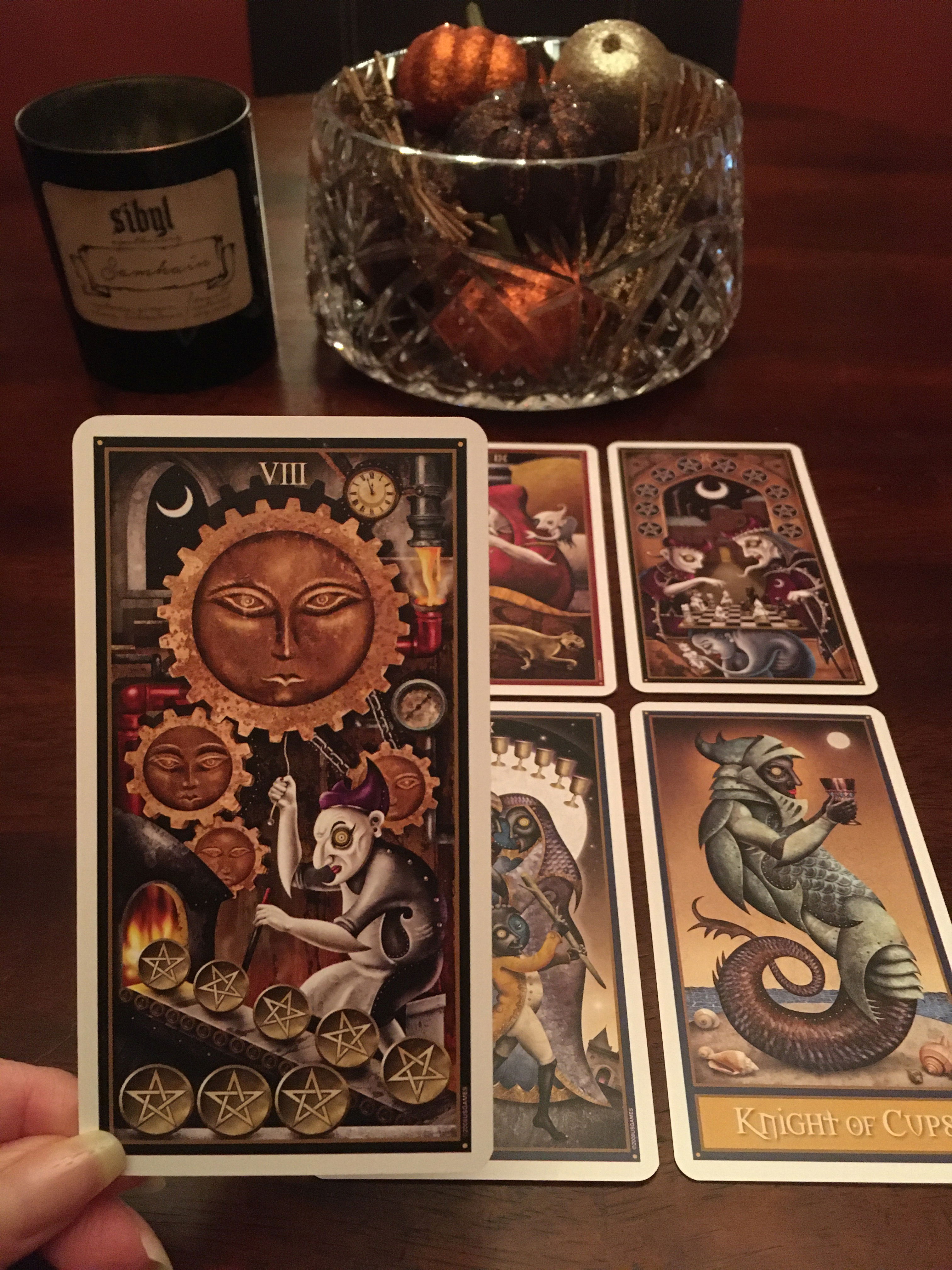 Reading Patrick's descriptions of the images in his Deviant Moon Tarot hardback book helped me connect with the energy of this deck and the characters of this world. I urge everyone to try and look past their initial feelings of this deck and give it a try. I recommend getting this hardback book detailing Patrick's journey of creating the deck from childhood. It helped me connect with the cards. Once you read Patrick's backstory and views of these characters, it is hard to see any darkness in this deck. I think this deck has a lot to teach me. I can't wait to walk through it for a future shadow work episode.
The Zombie Tarot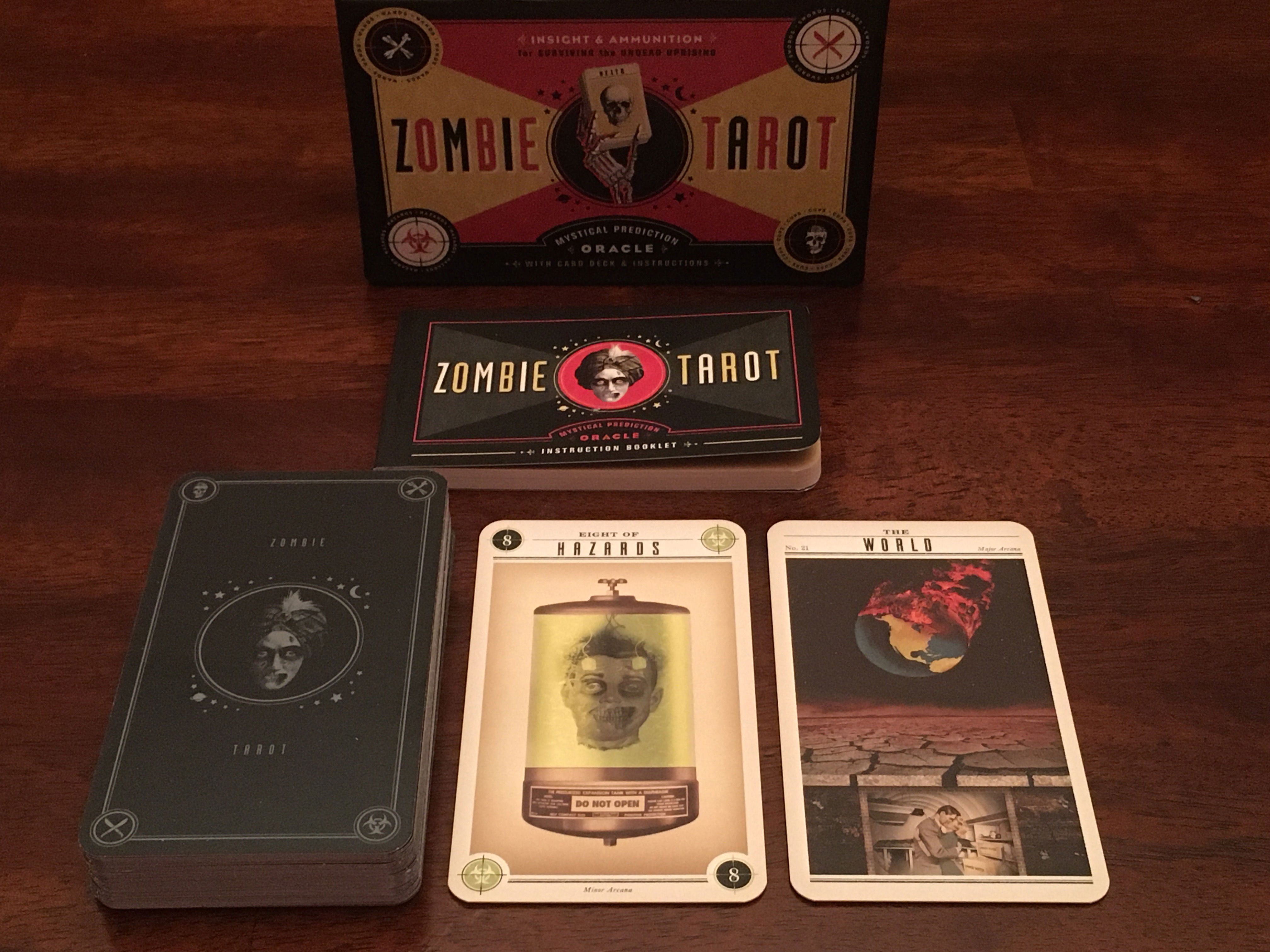 The Zombie Tarot by Quirk Books has a 50s horror vibe. The guidebook written by Stacey Graham adds a retro feel to the creepy images with rustic antique coloring to really set the horror genre mood. The book is really well done with color images of the cards and a short description for each card. It has a 50s magazine aesthetic, which helps to transport you to another place and time. It's a surreal experience to read with this deck. The card backs show a zombified fortune teller – perfect choice here. The suits in The Zombie Tarot are wands, swords, cups, and hazards for pentacles, which is the only suit name they changed.
We start off with The Fool card (shown in spread below), which shows a man starting his journey through a cemetery with a picnic basket and wreath, and it's clear he's completely oblivious to the zombie apocalypse that has already begun (but in the very early stages). I love this depiction of The Fool because it shows how naïve these humans were before the crisis unfolded. Kind of like us in January 2020 before the Covid-19 pandemic was on any of our radars. We were blissfully living our normal lives without any inkling of what was looming in the distance. I've really connected to the apocalyptic vibe of this deck having already lived 19 months in a global pandemic - it changes how you view everything. These illustrations by Paul Kepple and Ralph Geroni really hit the mark for creepy but campy.
We see The Magician (below) in his lab trying to find a cure for the zombies. Death shows the transformation from human to zombie, which is clever. For The Hierophant, we see a news station providing breaking news to give you the knowledge you need to protect yourself during this emergency.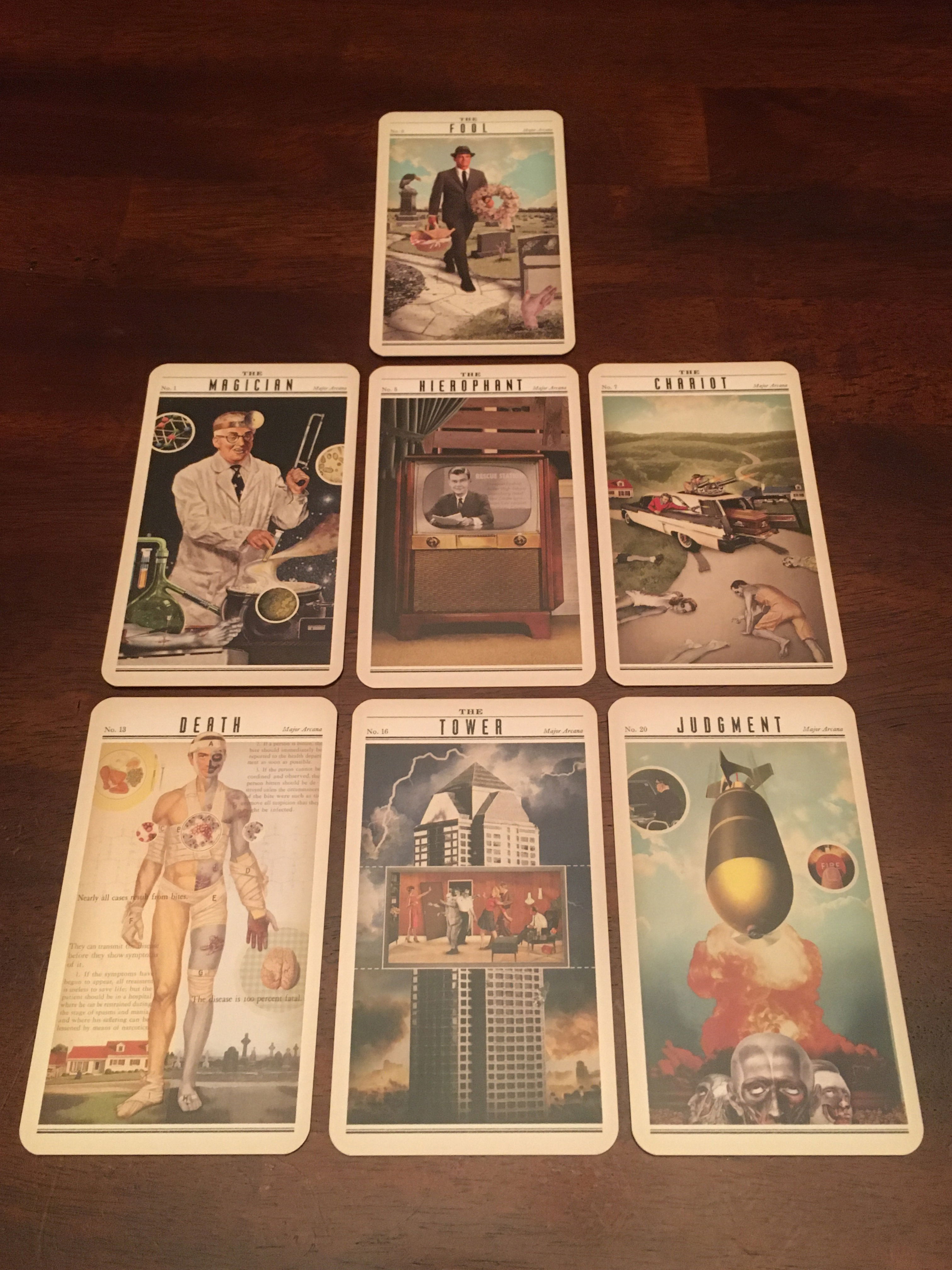 The Chariot (above) is a hearse with a casket and a machine gun rifle on top to take out massive amounts of zombies that chase after the humans. The Tower is a high-rise apartment building that looks fine on the outside, but in the image, they zoom in and give us a peek at what is going on inside the building. And it is total chaos. Judgment is a nuke, and we have our thumb on the button. So, there are major consequences for our decisions and actions here.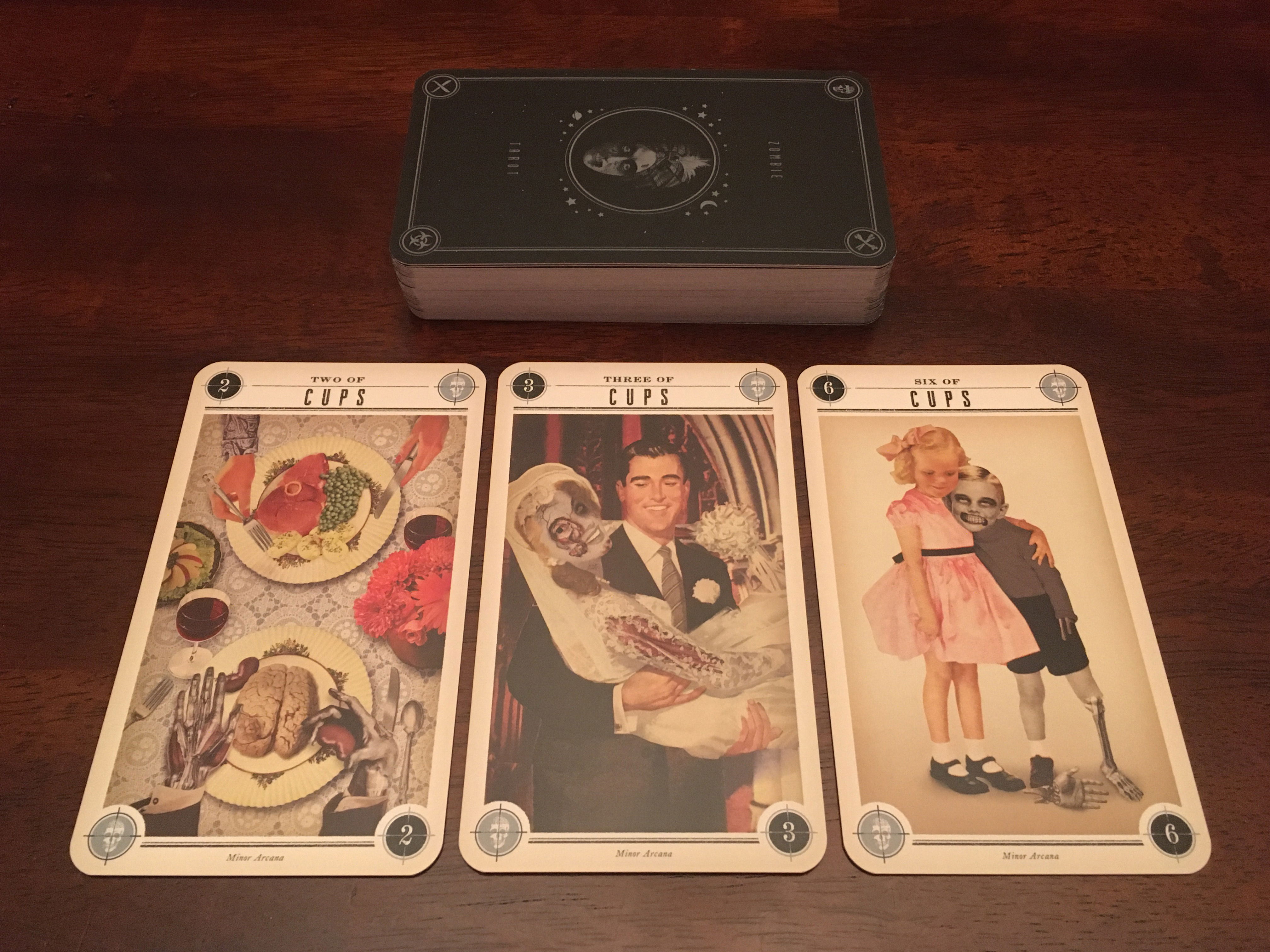 The cups suit (above) portrays the relationship between the humans and the zombies, which is quite a thought-provoking perspective. For example, in the 2 of Cups, we see a human with their plate sitting across from the table with a zombie and their plate of rotten food and a human brain. And we see a loving human-zombie couple at their wedding along with a human child and zombie child embracing. So, the cups suit is a softer suit and presents images we aren't used to seeing with zombies.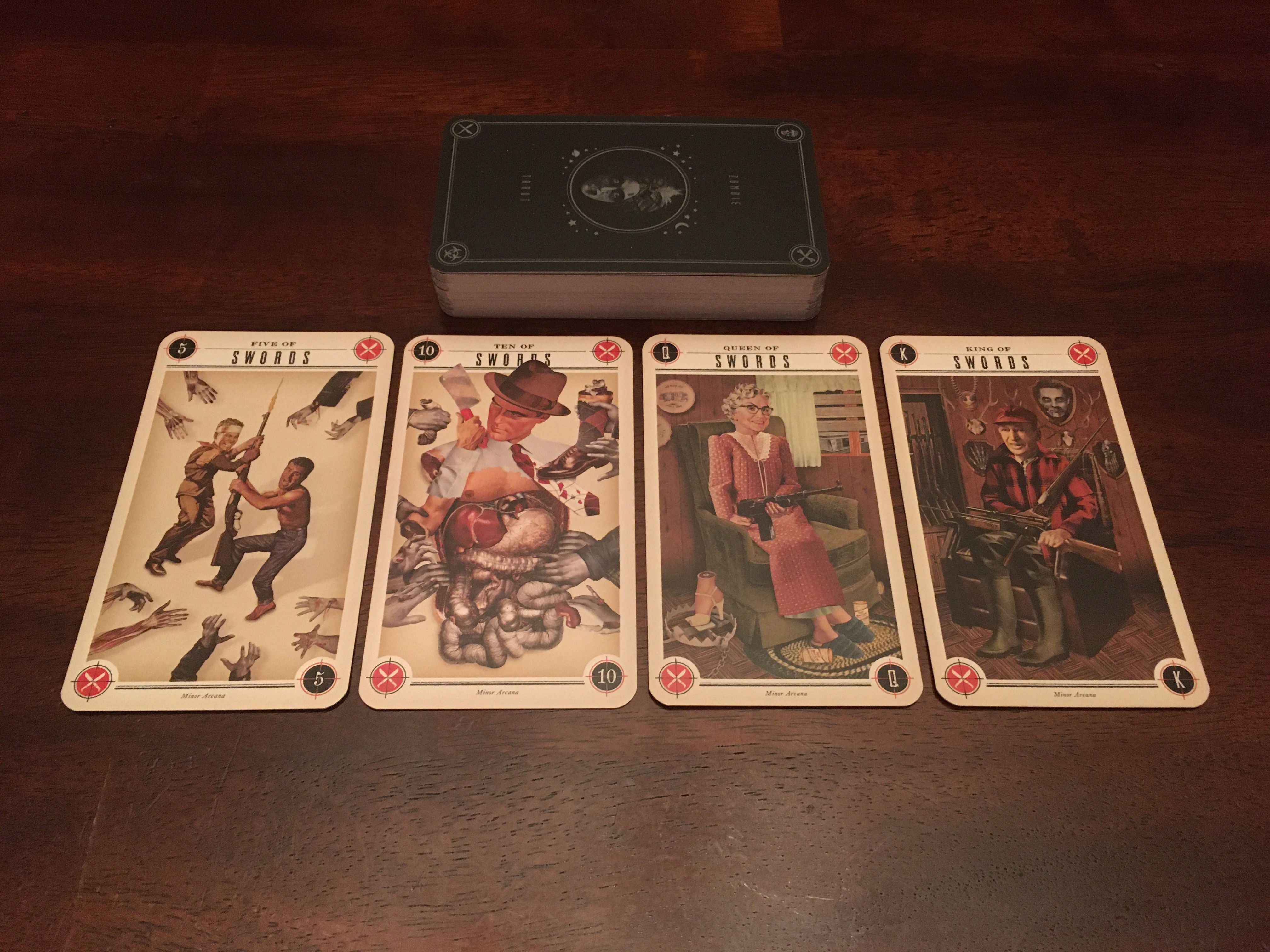 The 5 of Swords (above) shows two humans fighting when they should be working together to fight the zombies surrounding them. The 10 of Swords shows someone being disemboweled. That's even more gruesome than the original 10 of Swords we are used to in the RWS tarot. The Queen of Swords is maybe my favorite card showing a granny ready to blast the zombies away with an automatic machine gun in her double-wide trailer, and the King of Swords is an elderly hunter also heavily armed and ready to fire.
The wands suit is very interesting because it looks like the zombies are winning. So, we may be viewing this from the perspective of the zombies and how they see things playing out or maybe we are supposed to relate to the zombies and secretly root for them to win. I thought that was an interesting take. The 2 of Wands shows that the zombie has two paths to take, and on each there are humans he can run down for dinner. Which will he choose? The 6 of Wands shows the zombies are victorious in the war in the newspaper headlines.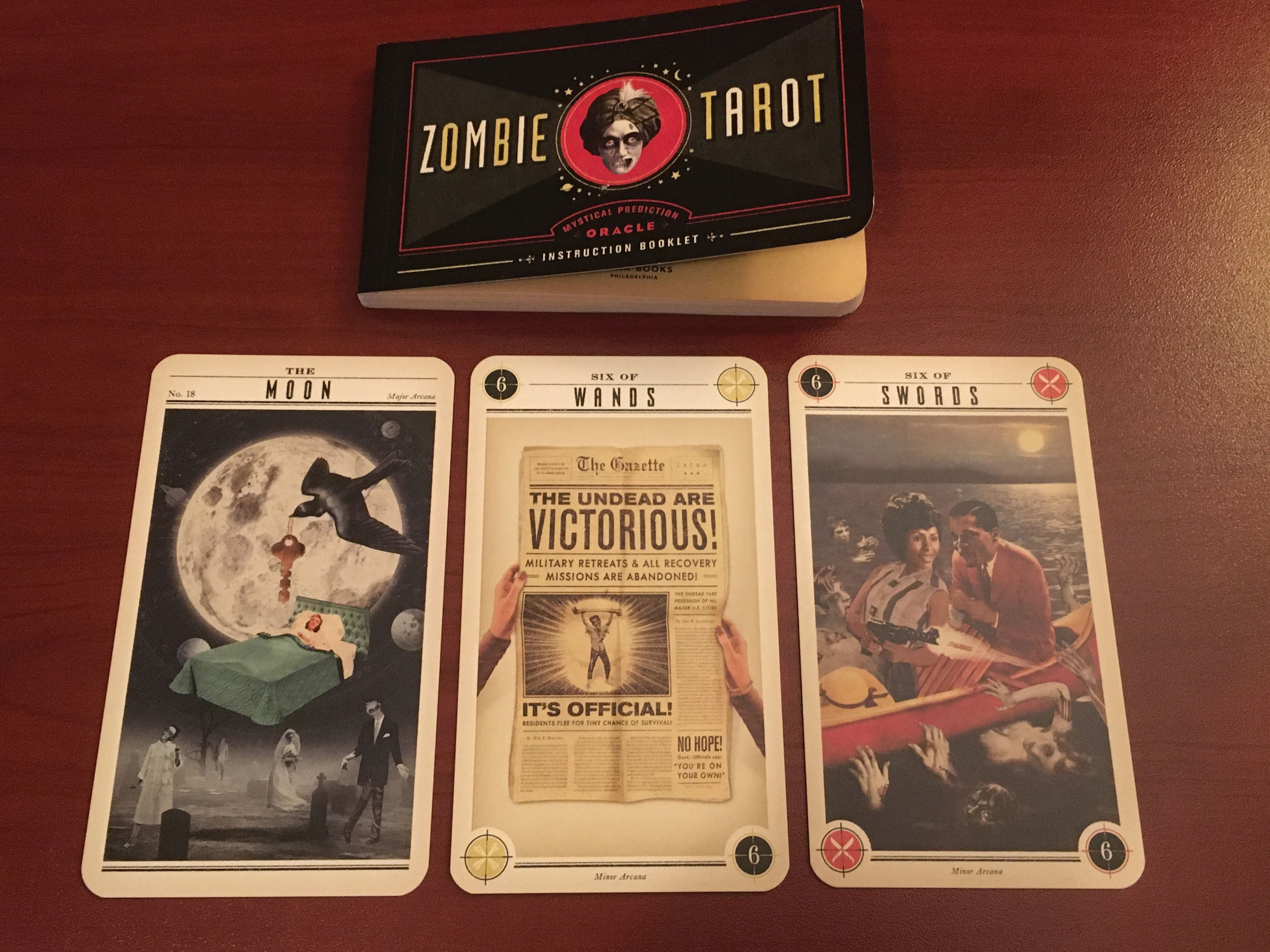 It looks like the hazards suit (below) shows how the humans are trying to use the zombies in innovative ways like having the zombies wait on them and clean their houses. The 6 of Hazards has a homeowner luring a zombie to mow the lawn by dangling a steak on a fishing pole. This is one of my favorite suits here.
I like the dark humor in this deck, and the vibe and artwork is unlike any other deck out there. It's not as gory as I thought it would be. I pick up the humor much more than the gore. This wouldn't be a good deck for a starter deck since it strays away from the RWS system a good bit. But for a themed deck or seasonal deck, I think it is perfect. I've found this deck helpful during quarantine and lockdown because it helps me not take everything so seriously.
If you love zombies, gore, and horror movies and have a healthy sense of humor check out this cheeky deck. I love it. While we are in this Covid-19 pandemic, this is the perfect time to bond with this deck because while we aren't battling zombies, we certainly have many hazards we have to maneuver that can feel like we are in the end of times and stuck in an apocalypse.
The Nightmare Before Christmas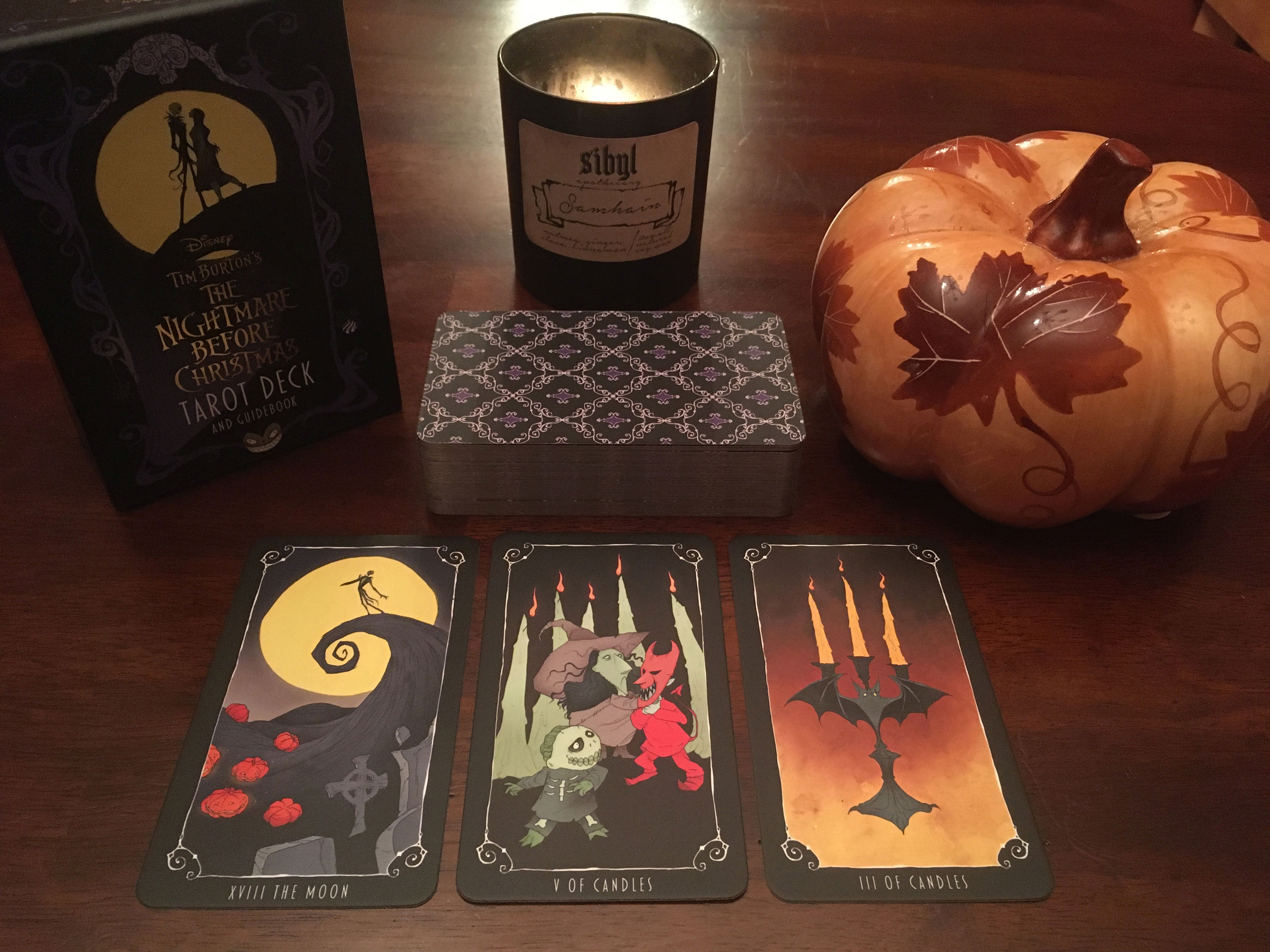 The Nightmare Before Christmas Tarot deck by Insight Editions Publishing is perfect for Halloween. I was so excited to receive this deck! I LOVE Tim Burton's movies, and one of the reasons I love the Dark Mansion Tarot so much is that I think the artwork is reminiscent of Tim Burton's style. If you love this movie, you will love this deck. It is illustrated by the talented Abigail Larson who also illustrated the Dark Wood Tarot, and the guidebook is written by Minerva Siegel. I had seen a few cards online, but those images didn't do this deck justice. It's so beautiful in person. The colors are gorgeous and really portray the energy of the film. It transports me right back to the early 90s.
The colors are beautiful, and the film scenes from this Disney classic bring back nostalgic memories from many holidays watching this film between Halloween and Christmas every year. This tarot deck comes in a gorgeous box with a beautiful purple and black pattern on the card backs (shown above). So overall this is an impressive presentation when you unbox the deck.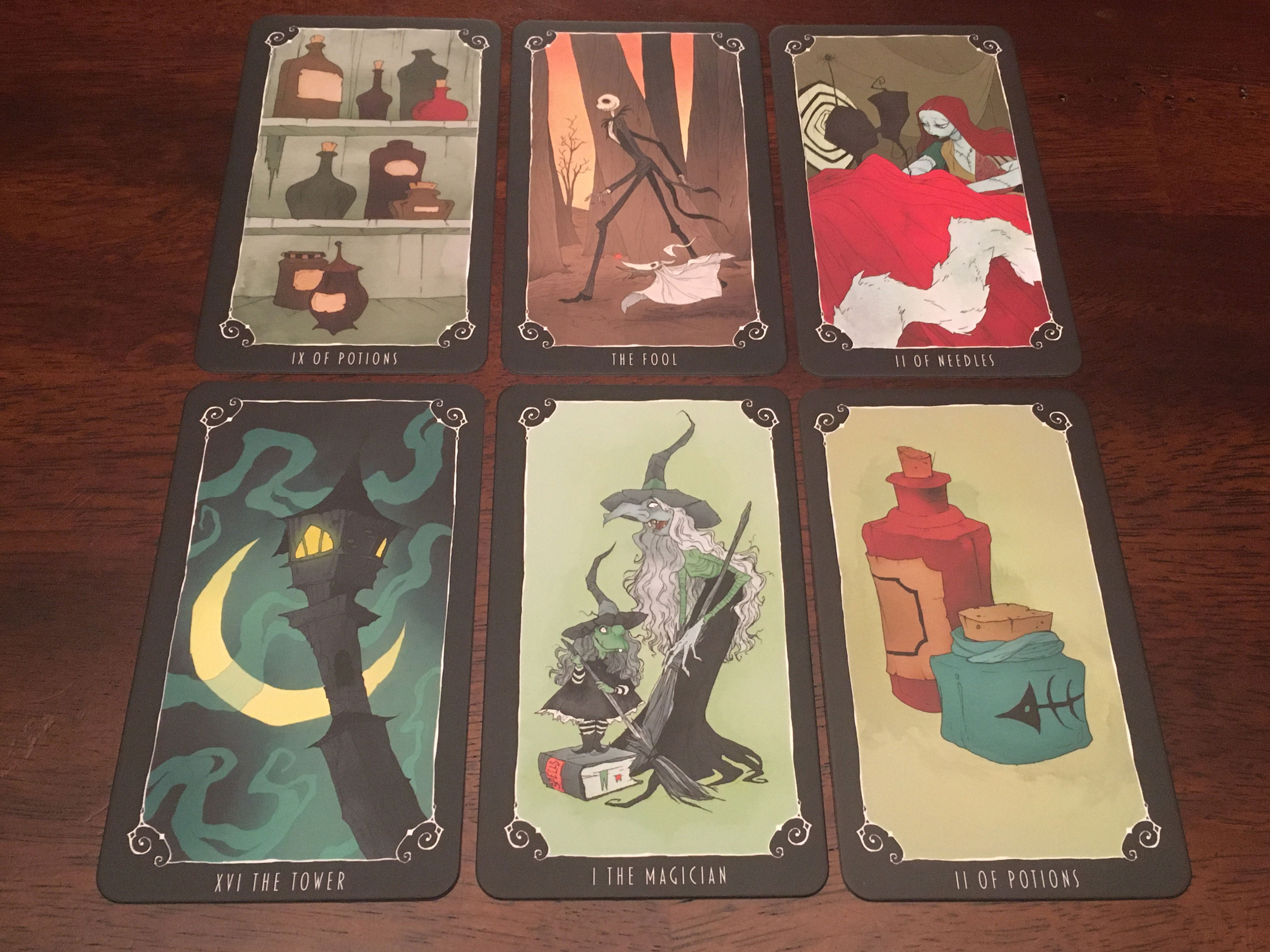 Jack Skellington is of course The Fool because he is the main character in the film that takes us on a journey from his hometown Halloween Town to Christmas Town. We also see Zero at his feet just like the dog in the original Fool Card. I adore the Magician card as Big Witch from the movie. I personally love it when decks change the Magician to a witch like in the Green Witch Tarot. Sally is the High Priestess, which is appropriate since she is very intuitive.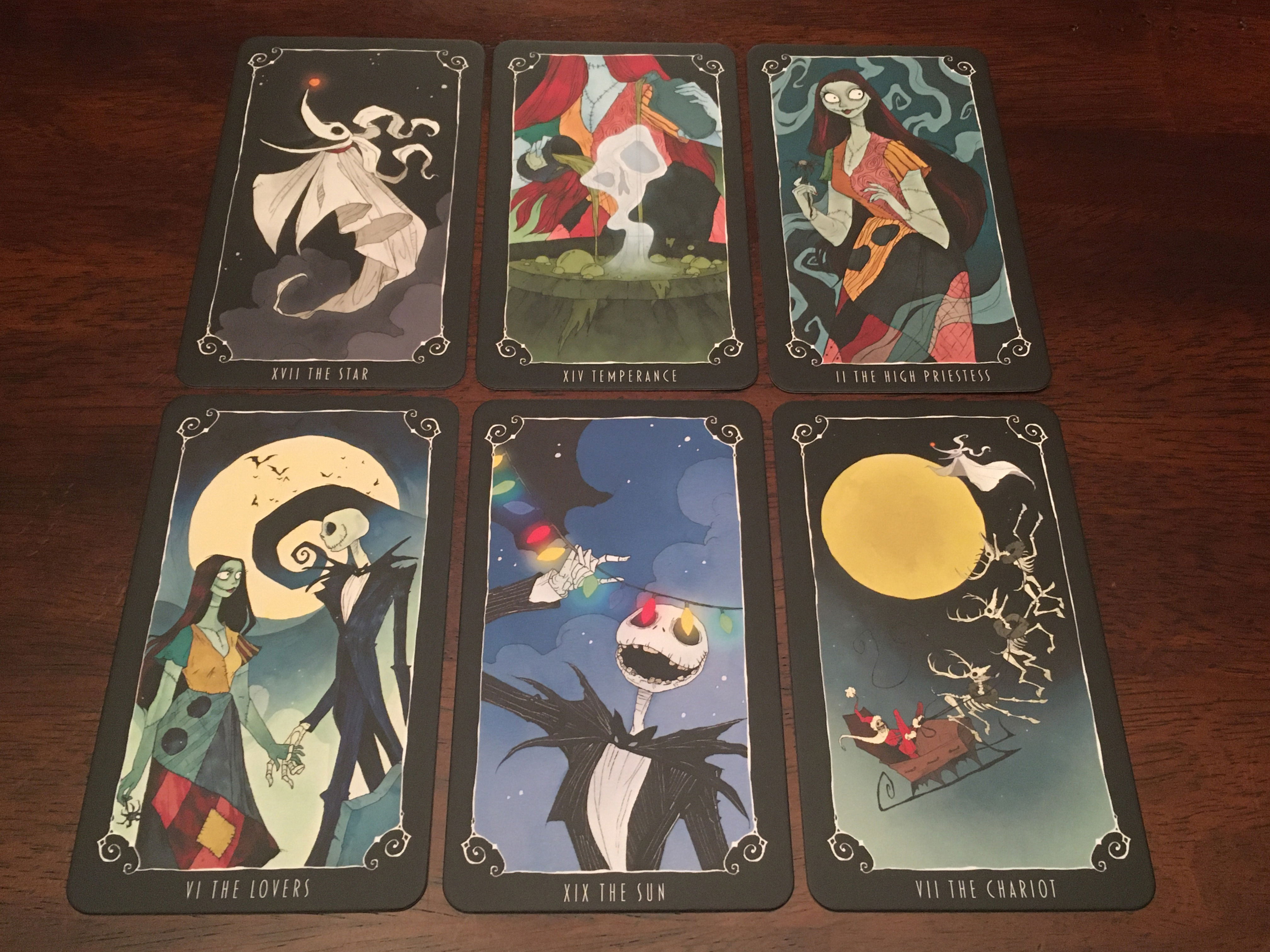 We see Sally is mixing a bubbling green potion from two bottles in the Temperance card. Temperance is one of my favorite cards in the tarot since I love alchemy, and this one is a perfect representation. The Lovers are of course Jack and Sally, and Zero is the star in this deck with his glowing orange jack o' lantern nose like Rudolph giving us faith that he will safely guide the sleigh to deliver the toys on Christmas Eve.
The Emperor is naturally Santa Clause or as Jack calls him Sandy Claws. The Mayor of Halloween Town is the Hierophant, which fits perfectly given he is a government official. With the Chariot we have Santa's sleigh being pulled by Jack's dog, Zero, one of the most iconic images from the film.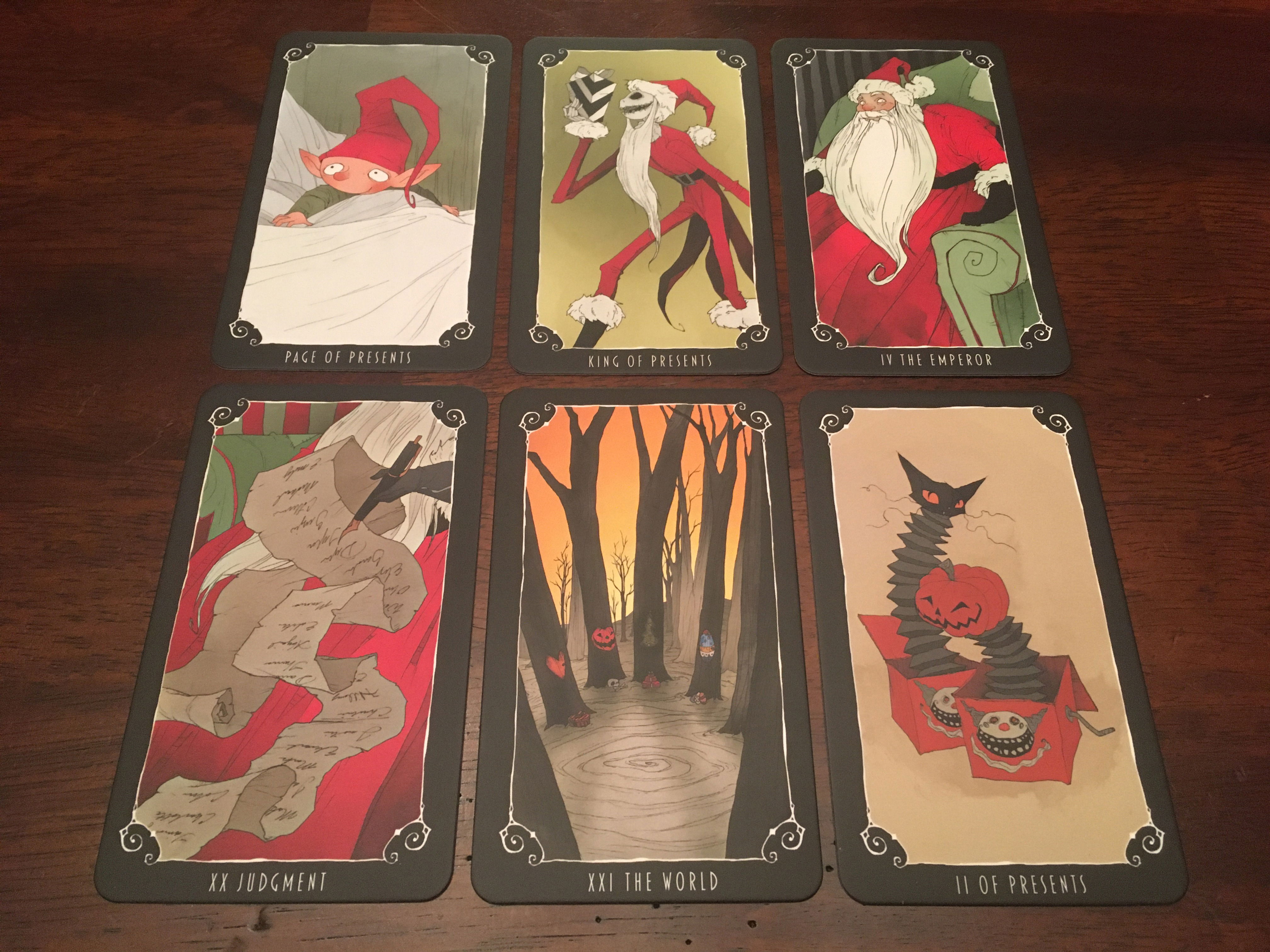 Some of my favorite majors are the naughty and nice Christmas list as the Judgment card, the wooded area in front of all the holiday trees that represent the magical portals that lead to the different holiday towns as The World Card, and Jack holding a string of Christmas lights for the Sun.
The suits in this deck are candles for wands, presents for pentacles, potions for cups, and needles for swords. They chose to use sewing needles that Sally uses for her sewing in most of her scenes in the movie. The minors are pipish, but some do have scenes from the movie. For the presents suit (pentacles) they show wrapped presents under the Christmas tree, which is a nice touch and works really well if you read with this deck at Christmas time, which I plan to do. And the Page of Presents is a child in bed waiting to fall asleep on the eve of Christmas. I love this so much. And Jack is dressed as Santa delivering presents as the King of Presents - perfection!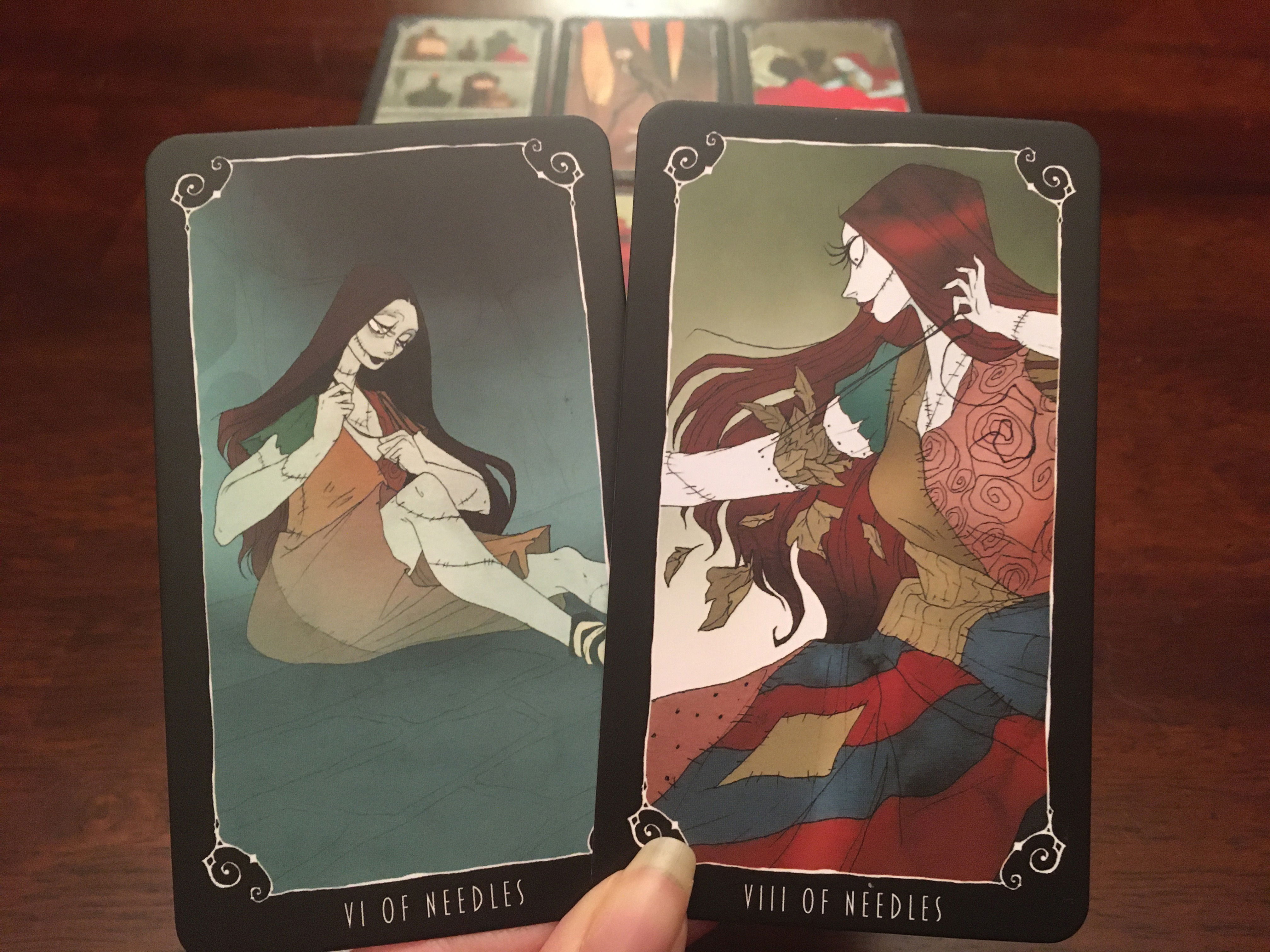 In the 6 of Swords, Sally is shown sewing herself back together just as the individuals in the traditional 6 of Swords have pulled themselves together after a trauma to make the emotional journey from rough waters to smoother waters. The 8 of Swords also shows Sally stitching her arm back on. The message here is if you feel trapped or unraveling at the seams you can free yourself from what was holding you back and stitch yourself back together. I found these 2 cards to be the most poetic in the deck.
The guidebook offers some custom-themed spreads including the Eureka spread, A peek behind Cyclops Eyes, and Blown to Smithereens. This deck is perfect for Halloween but of course could be used October through December due to its Christmas theme as well. I'm going to use it for Halloween and Christmas. Right now, I only have the Winter Waite Tarot for a winter deck and a Christmas deck, so I really needed another holiday deck. I love this addition to my holiday themed decks!!
Madame Endora's Fortune Cards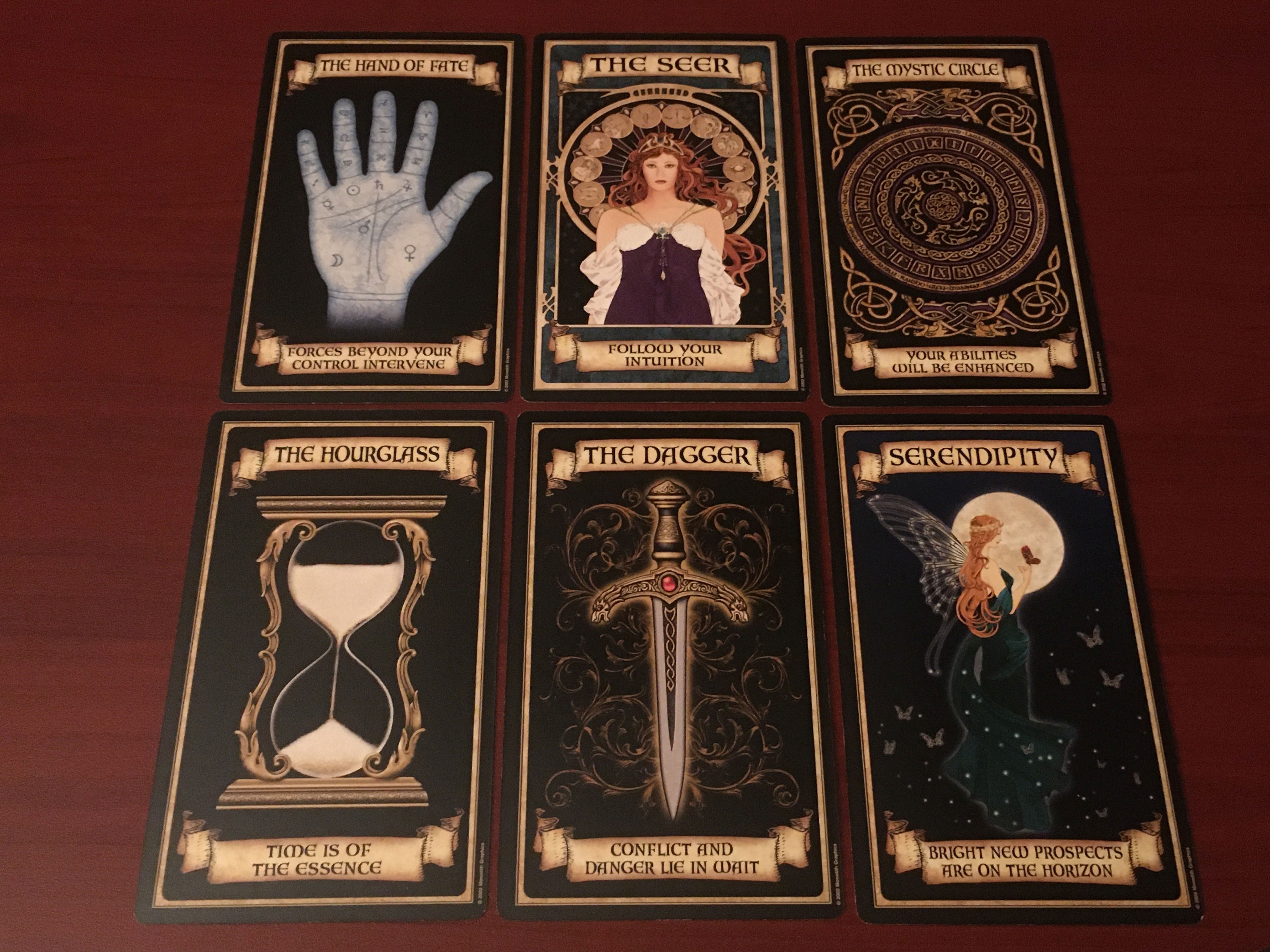 If you are looking for a mysterious mystical deck to use in October to ramp up the fortune teller's vibe, I recommend Madame Endora's Fortune cards. This is a 48 card deck that has an old world feel with a mix of Celtic and Egyptian vibes in the artwork. This is perfect for Halloween because how many spooky films or supernatural shows have you watched showcasing a foreboding fortune reading filled with omens and predictions full of ominous warnings. Personally, I love this vibe this time of year.
This deck comes with a very easy to read instruction booklet of only 32 pages. Spreads with this deck feel like you are sitting down for a reading with a wise old sage. Questions that work with this deck would be those related to money matters, relationships, destined paths, and words of warning. This is a great deck for teens and young readers because they are so easy to read with phrases and keywords on the front of the card. You have The Key, which tells you that locked doors can now be opened. The Sphinx warns you to choose your words carefully. The Dagger gives you a heads up regarding conflict and danger up ahead. The Serpent advises to use a sly and subtle approach, and the Hand of Fate reveals that there are divining forces beyond your control that are intervening in your situation currently. Pull these cards out for a more mystical vibe this Halloween season.
Halloween Oracle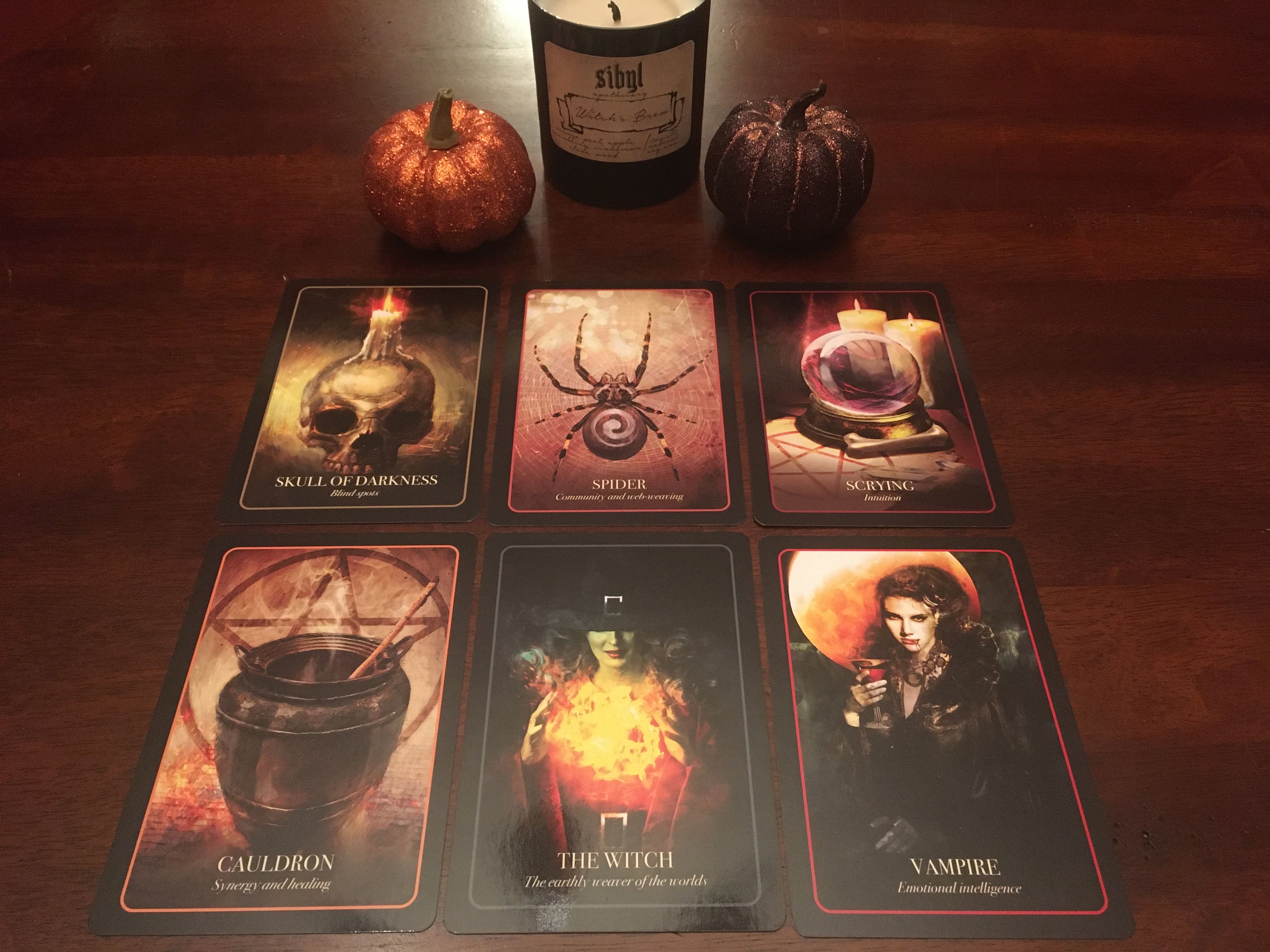 Of course, the Halloween Oracle and Seasons of the Witch: Samhain Oracle are two of my favorite decks to use in October and in my Halloween reading on that day. The Halloween Oracle is a 36 card deck by Stacey Graham, and I look forward to getting this deck out every year. I usually incorporate these cards in my Halloween display and use for them for a daily draw each day in October. I love so many of these cards like the witch, werewolf, the veil, the cauldron, the vampire, and the scrying card, which is my favorite! The Halloween Oracle is a MUST have deck for Halloween hands down. When I get this deck out, I really get in the mood for Halloween.
The Seasons of the Witch: Samhain Oracle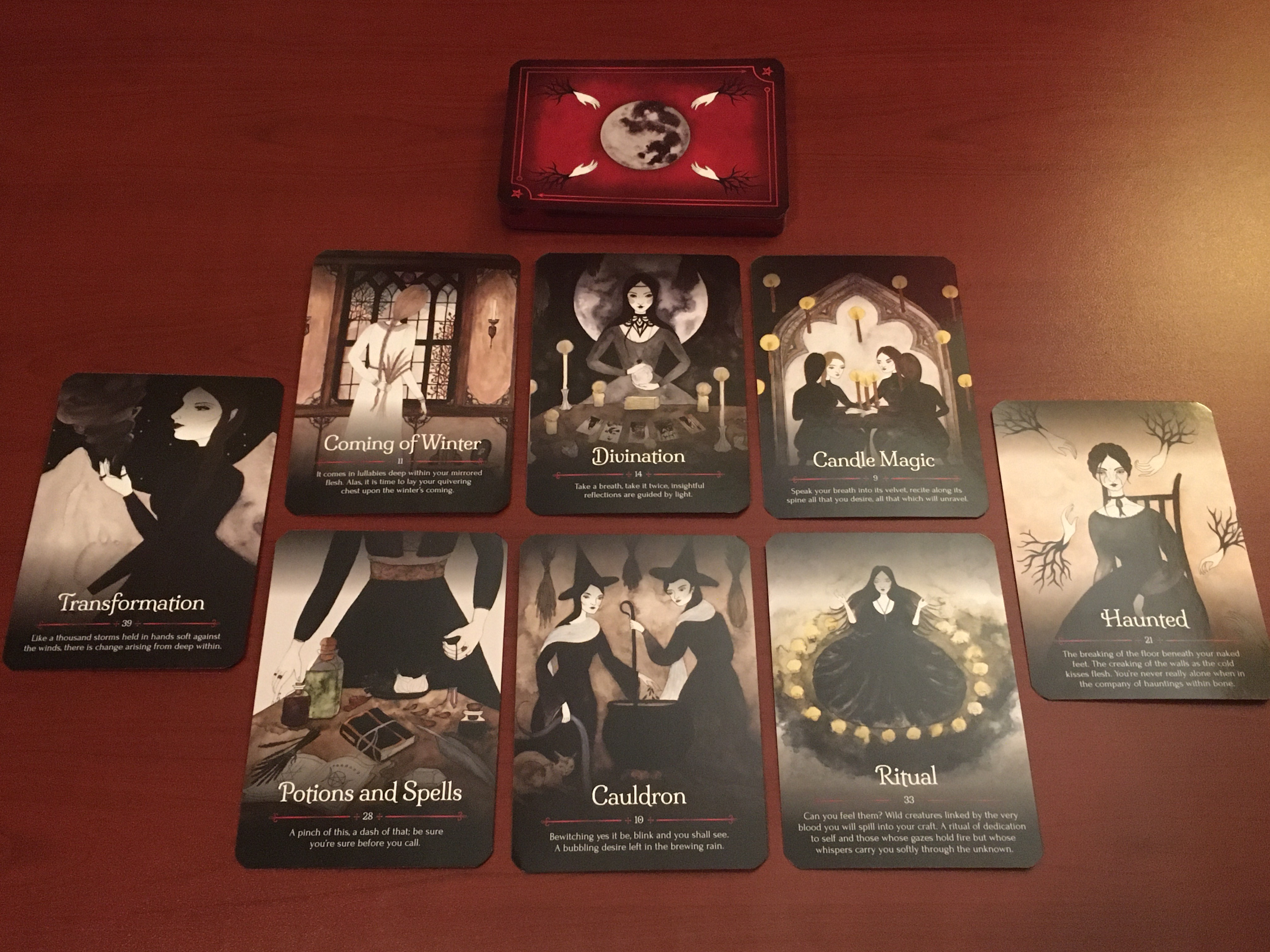 The Seasons of the Witch: Samhain Oracle has powerful witch energy and is my favorite to work with the week of Samhain. I love to work with this deck all Autumn but especially in October. I find witchy decks to be powerfully healing and empowering. I plan on reviewing this deck in more depth when I receive the Seasons of the Witch: Yule Oracle which came out in September. These decks are illustrated by Giada Rose and the guidebooks are written by Lorriane Anderson and Juliet Diaz. It appears that they might make an oracle for each of the 8 sabbats so that is exciting. I love that these decks have a strong association to the natural world, elements, moon energy, magic, and tons of witchy energy with cards like dark moon, candle magic, divination, elders, nature spirits, potions and spells, and All Hallows Eve just to name a few from the Samhain oracle.
There are a lot of autumn decks that I work with from August through November that I didn't mention here because I recorded an episode in fall of 2020 detailing those favorite autumn decks including the Dark Mansion Tarot, The Everyday Witch Tarot and Oracle, Magick and Mediums Oracle, Halloween Oracle, Oracle of Shadows and Light, Green Witch Tarot, Earthly Souls and Spirits Oracle Deck, Raven's Prophecy Tarot, and Magikal Spell Cards. Make sure to check out Ep 9 of Healing Thru Tarot where I walk you through all those favorites – that episode is titled Favorite Autumn Decks. I didn't want to repeat all those reviews here, and I wanted a chance to focus on just Halloween decks this time around.
Witchy Book Recommendations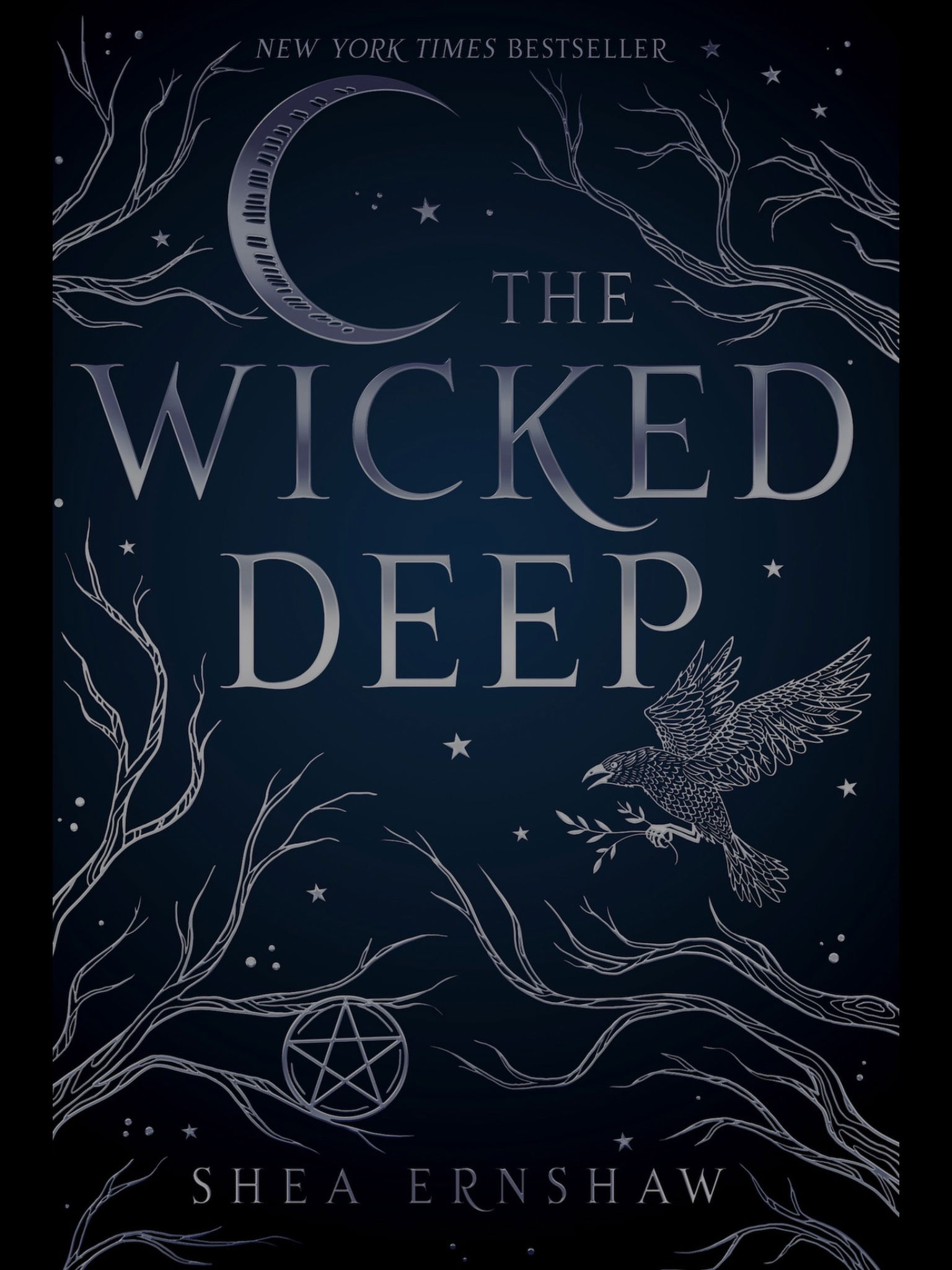 This time of year, I love to read witchy books, so I thought I would share a few recommendations of books I've recently finished that fit this description. The Wicked Deep by Shea Ernshaw was the absolute perfect book for this time of year. If you are looking for a good novel for Autumn this is a good contender. I'll definitely read it again.
The setting for this story is a cursed town called Sparrow off the coast of Oregon. Three sisters were drowned for suspected witchcraft in the 1800s, and two centuries later they still return yearly for a few weeks in the summer when they take over the bodies of three teenage girls, and they lure young teenage boys into the harbor, pulling them under to their deaths to enact revenge for their tragic deaths.
But this year, on the eve of the sisters' return, a boy named Bo Carter arrives in town; unaware of the danger of the curse.
Let me tell you, I was blown away by this book. It's not scary, but the story is beautifully haunting. This is one of the best fictional books I've read in years.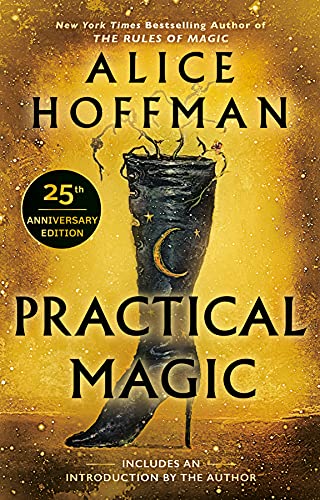 I also decided to read the Practical Magic series for the first time this year since I love the movie. So far, I have finished three of the four books in the series. Practical Magic, which is the book the film is based on, is the first book in the series. It is very different from the movie. The book goes into much more detail regarding the sisterly relationship with Gillian and Sally Owens, their aunts, and Sally's daughters.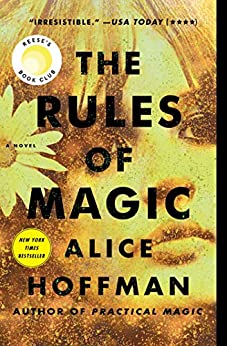 Next, I read the prequel to that book called The Rules of Magic, and this book was amazing. Alice Hoffman's writing style changed dramatically in the 20 years between Practical Magic and this prequel. I enjoyed it much more. The prequel tells the tale of the aunts, Jet and Franny, and their brother Vincent Owens. We see their journey through childhood and adolescence as they discover who they are and the gifts they possess. This book is full of intrigue, mystery, heartbreak, and of course magic and witchcraft!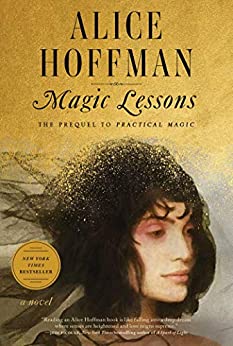 Next up I read Hoffman's 3rd book in the series about the Owens family called Magic Lessons – this book takes us all the way to the late 1600s to follow the story of Maria Owens who was accused of witchcraft in Salem. This book shows the origins of the curse that has followed the Owens family for centuries. So good!!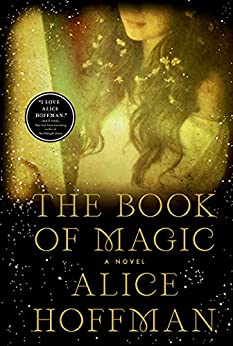 Then the last book in the series will be The Book of Magic that was just released in early October 2021. This will be the final book in the Practical Magic series, and it takes place in time after Practical Magic, so we will see what happens to Sally and Gillian and Sally's daughters. I'm excited to see how this series concludes after the 300-year-old curse is broken and to see how Sally's daughters' magical gifts unfold and blossom.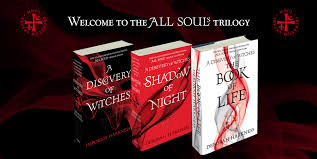 And lastly I recommend A Discovery of Witches. I first started watching this witchy show this spring and I binged the first 2 seasons in a month and watched each season 3 times. It's so addictive. I've read the first 2 books since watching the show, but I'm holding off on the 3rd book because I prefer to watch the last season of the show knowing nothing about the ending. I highly, highly recommend this witchy series. I prefer the tv show but the books are amazing as well. This has become my favorite witch series so far.
Book 1: A Discovery of Witches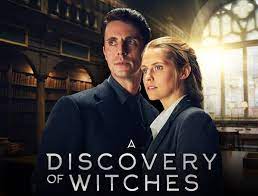 My Fictional Divination Book Series Release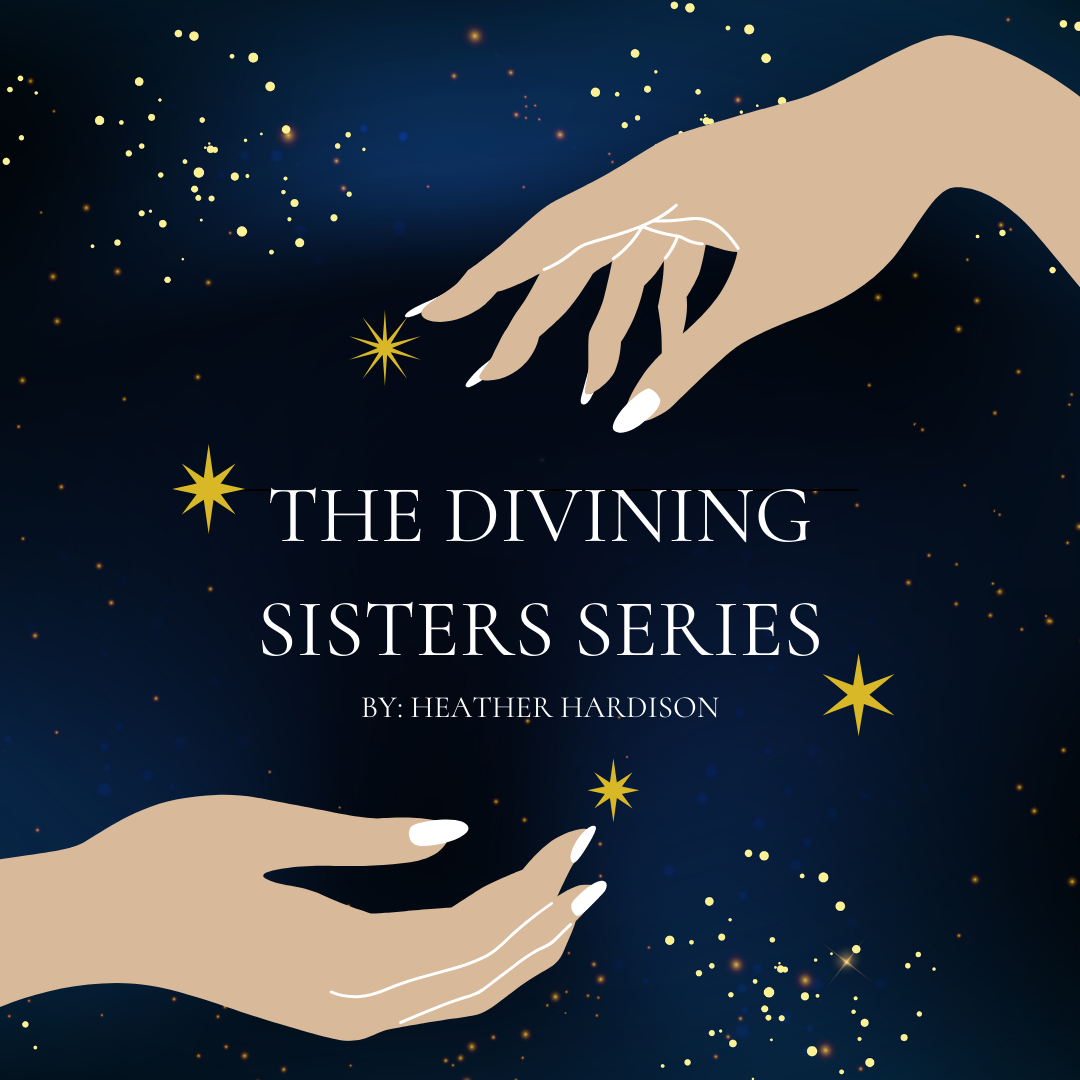 I've updated this witchy book list now that my novel just launched this summer. It's definitely witchy!
Book 1 of The Divining Sisters Series: The Call of the Cards released over the summer. You can buy my new book on Amazon, Barnes and Noble, Apple Books, Google Play Books, etc. Click here to purchase. Find out all the details on my site author.heatherhardison.com
The Call of the Cards Book Blurb
Alexandra Steele, a clinical psychologist, stumbles upon a mystical store in downtown, Memphis, TN, where she encounters tarot cards for the first time. She doesn't realize it at the time, but this simple encounter will leave her life forever changed as she uncovers a world of past life connections to the cards and the craft of divination. This sparks an awakening that opens door after door of a long line of mystic and witch incarnations that run throughout her history. As she reconnects to these deep mystical ties, she begins to learn about her destiny, which is revealed as she starts to encounter coven sisters and foes from previous incarnations. Will her tendency to hide in the shadows and play small continue to hold her back or will the call of the cards lure her onto her destined path of a life full of magic and sisterhood?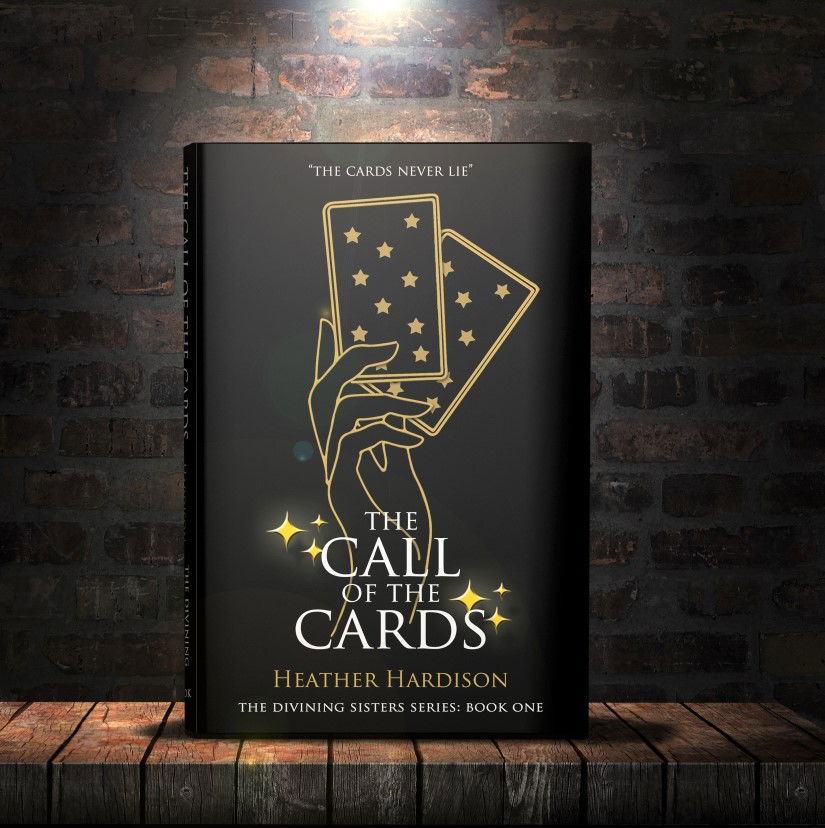 Links to all of these witchy books are below at the end of the blog
Halloween Spread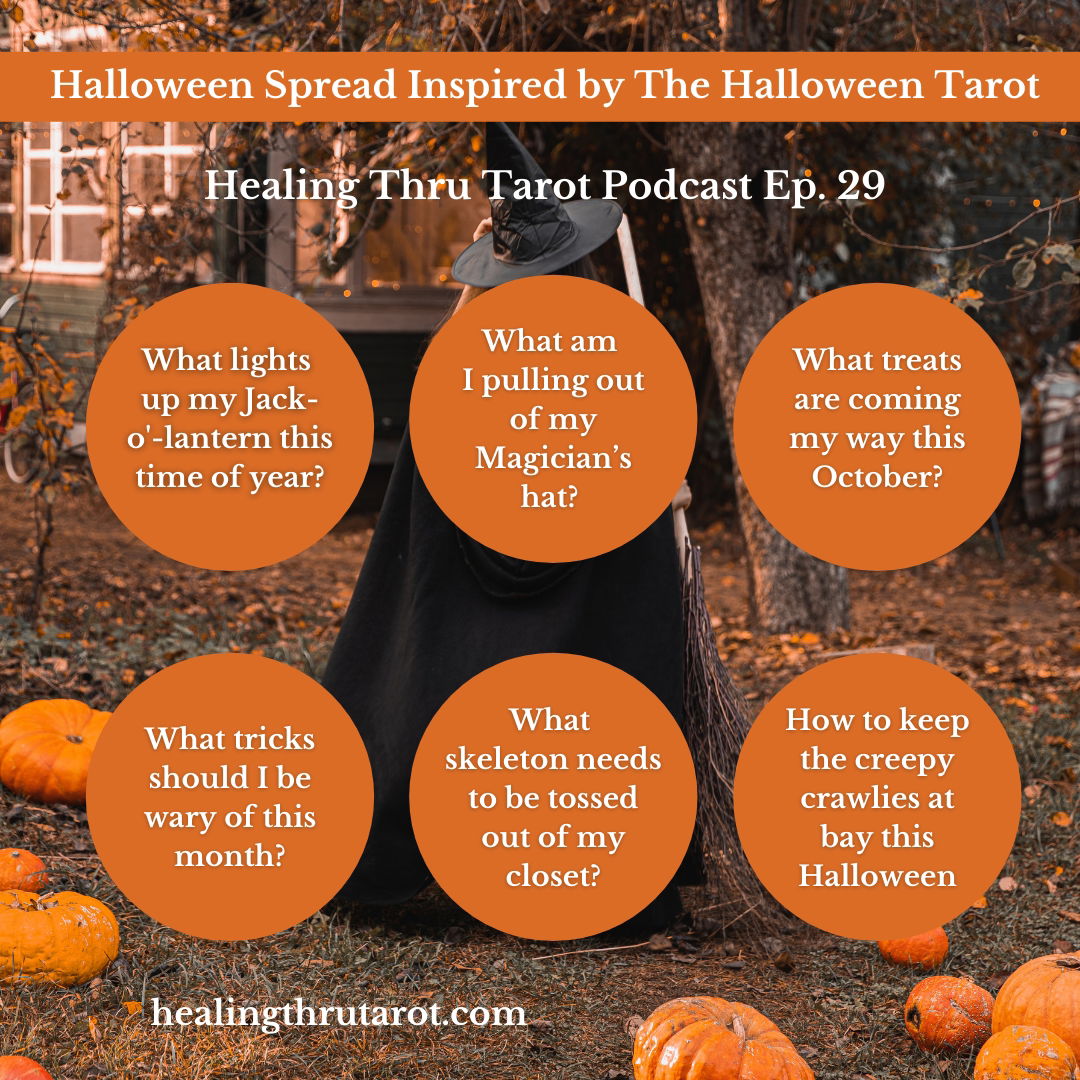 I have a Halloween spread in my ebook, A Spread for All Seasons that is more of a magical Halloween spread, but for this podcast episode, I created a lighthearted and fun Halloween spread inspired by The Halloween Tarot deck. So this will be a great spread to use if you have the Halloween Tarot because the prompts are going to be geared toward the festive, playful energies of that deck. And this one is very kid friendly so encourage your kids and teens to pull cards for themselves as well using these prompts.
I would love to see the photo of your spreads. Please tag me on Instagram @healingthrutarot and please use #healingthrutarothalloween2021spread
A Spread For All Seasons Ebook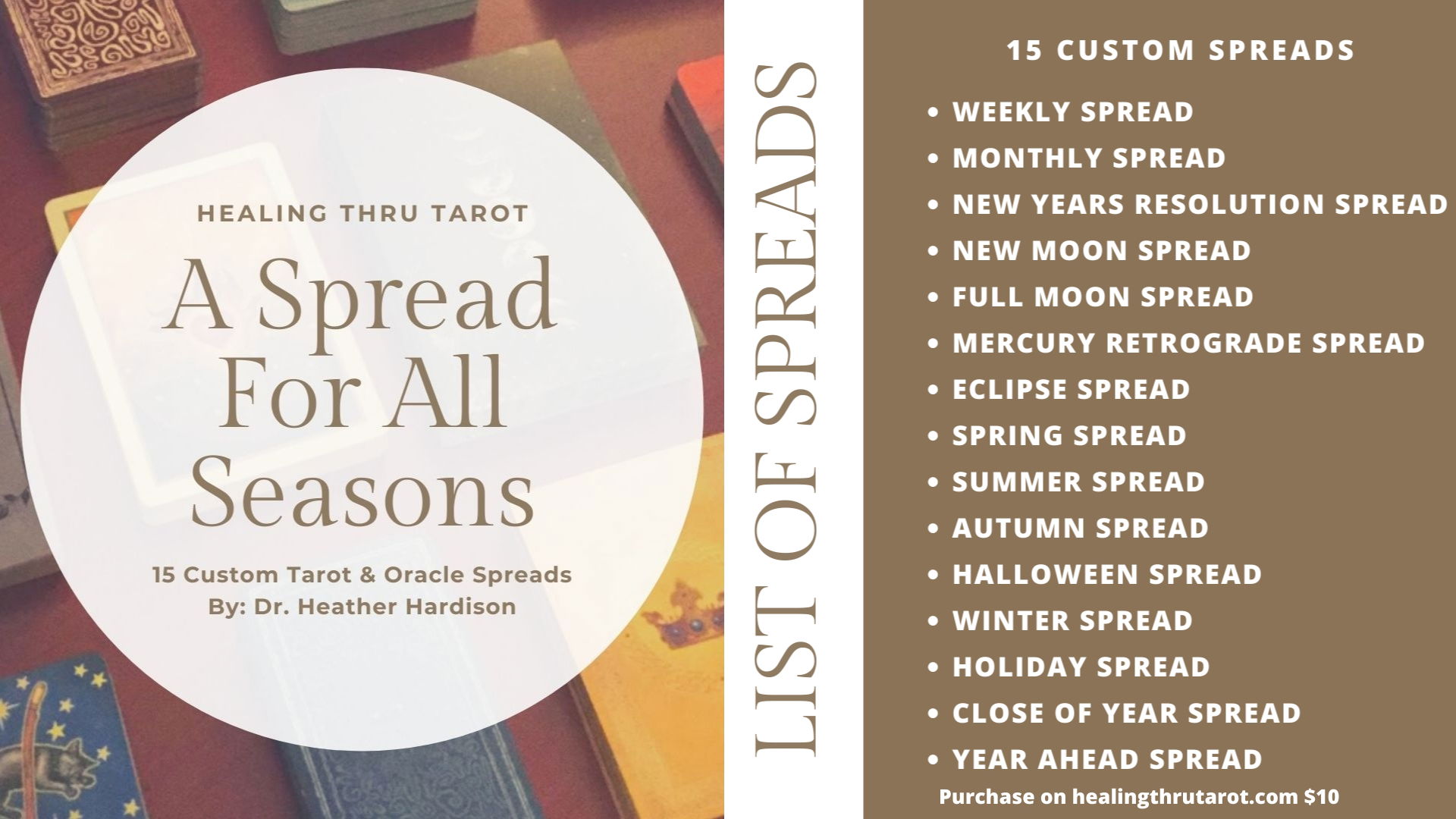 My spread ebook, A Spread For All Seasons, contains 15 custom tarot/oracle spreads designed to guide you through the seasons of any year. It covers holidays, full and new moons, mercury retrogrades, seasonal spreads, year end and year ahead spreads, and eclipses with weekly and monthly spreads that you can reuse again and again year after year. You can find this spread ebook on my website healingthrutarot.com for $10 or click here to purchase
A huge thank you to US Games, Inc for sending over The Halloween Tarot and The Deviant Moon Tarot, Insight Editions Publishing for donating The Nightmare Before Christmas Tarot, and Quirk Books for sending over The Zombie Tarot. I appreciate these companies for sending the decks so I could work with each of these decks and offer an honest opinion on them!
I'm hosting a tarot challenge for October on Instagram. I created 31 prompts related to Halloween and Autumn. You can pull a tarot or oracle card for each prompt. Feel free to tag me on instagram @healingthrutarot if you pull cards. Here are the prompts below. Use #HTTOctoberTarotChallenge2021 to follow the challenge.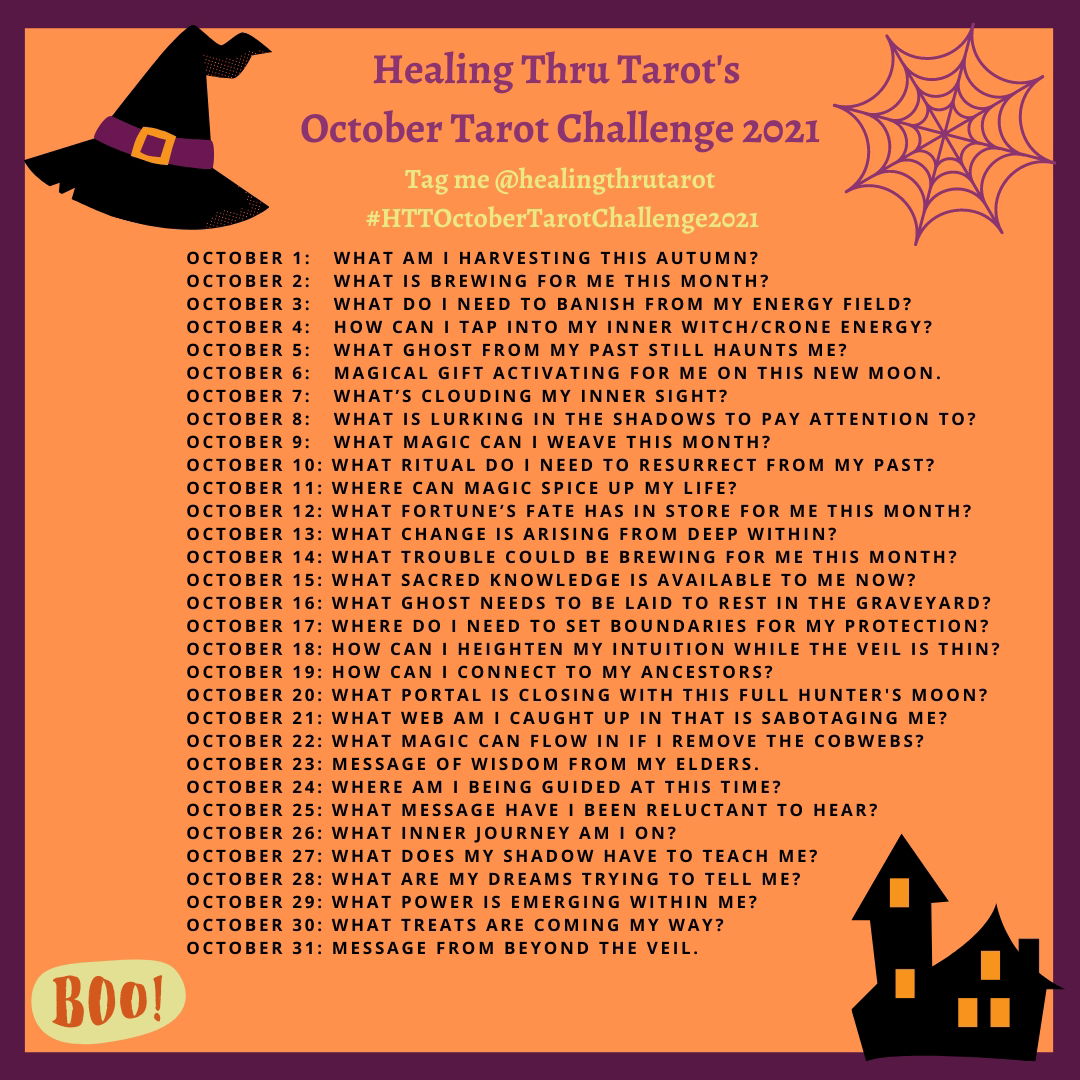 Link to Podcast Episode 29 on Anchor click here
Other relevant Podcast Episodes - Ep. 9: Favorite Autumn Decks and How I Work with Decks Seasonally + Autumn Spread
Books and Decks shown in this blog or recommended are below: click on title to go to the product. Some of these are amazon affiliate links and it helps me out if you use these links. Thanks for your support.
The Dark Mansion Tarot, The Deviant Moon Tarot, Everyday Witch Tarot, The Halloween Tarot, The Halloween Oracle, Madame Endora's Fortune Cards, Magick and Mediums Oracle, Monstarot, The Nightmare Before Christmas, The Terror Tarot, Seasons of the Witch: Samhain Oracle, Seasons of the Witch: Yule Oracle, The Zombie Tarot
Witchy Books recommended: A Discovery of Witches, Book of Life, The Book of Magic, The Call of the Cards, The Divining Sisters Series, Magic Lessons, Practical Magic, The Rules of Magic, The Wicked Deep, Shadow of Night
FTC Disclosure: In accordance with Title 16 of the U.S. Code of Federal Regulations Part 255, "Guides Concerning Use of Endorsements and Testimonials in Advertising," I received the following decks from these publishers for prospective review. The Halloween Tarot and Deviant Moon Tarot from US GAMES Inc., The Night Before Christmas from Insight Editions, and The Zombie Tarot from Quirk Books. Everything I've said here is sincere and accurately reflects my opinion of the deck.
*If you would like to support this podcast monthly, please consider signing up for a small pledge to help me be able to continue to produce these quality episodes every two weeks. Use the link below to sign up to support through anchor.
Much appreciated!