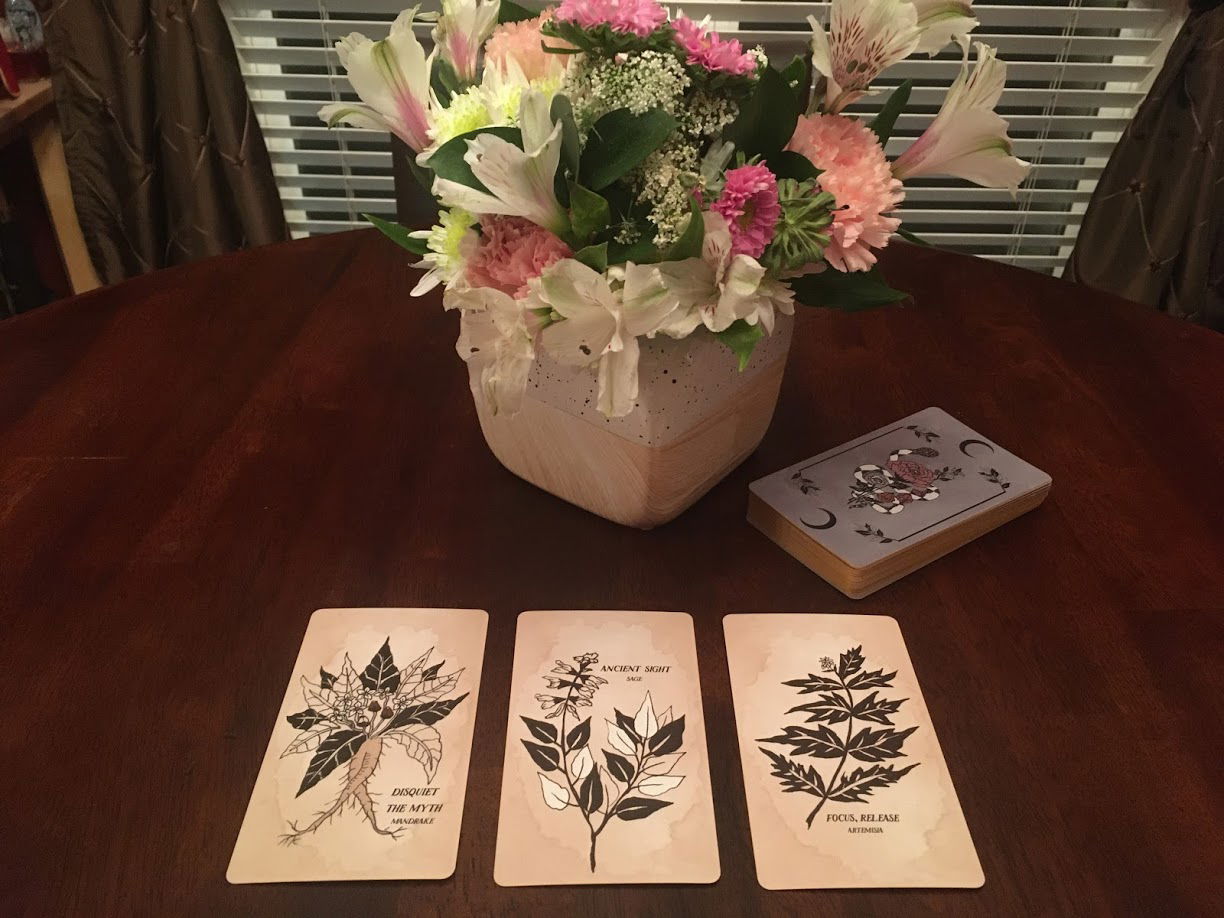 In this blog, which is a companion blog to Healing Thru Tarot Podcast Episode 21, I will be sharing my favorite spring decks, and I will walk you through the healing work I focus on in the springtime. At the end of the episode, I will share with you a custom spring spread that I created to help us usher in this new spring season.
Spring is upon us, and I have been feeling my energy shifting from fatigue and the need to isolate to a more active, creative, and inspired energy. I have noticed that I am very creative and productive in the springtime. Right when spring approaches it never fails that I have an internal urging to declutter the house and undertake a deep spring cleaning to clear out stagnant energy. Decluttering helps to clear my mind and energy. Once I start ticking off every room and throwing out or donating unnecessary items that were just taking up precious space, everything starts to feel lighter and brighter in my environment. Sometimes we paint in the springtime because it feels fresher once adding a clean new coat of paint in the most used rooms of the house. Small changes like this can go a long way with shifting energy.
My energy is probably the highest this time of year. It can be such a drastic change after coming out of the slow, dark winter spent mostly reading, reflecting, and reassessing. Now is the time that I am ready to get active again and make a fresh start with a new set of goals and projects. Spring is the time of year I create the most. I have so many ideas percolating this time of year, and I try to journal and capture them all as soon as I can before they float out of my consciousness. I've noticed that in spring my imagination seems to run free, I feel clearer mentally, I'm focused and ready to explore and experiment with new approaches, new endeavors, and even new tools. Winter can be stagnant, and I tend to pull inward and reflect a great deal of the time over the winter months. But my energy perks up as my creativity soars and as the days grow longer.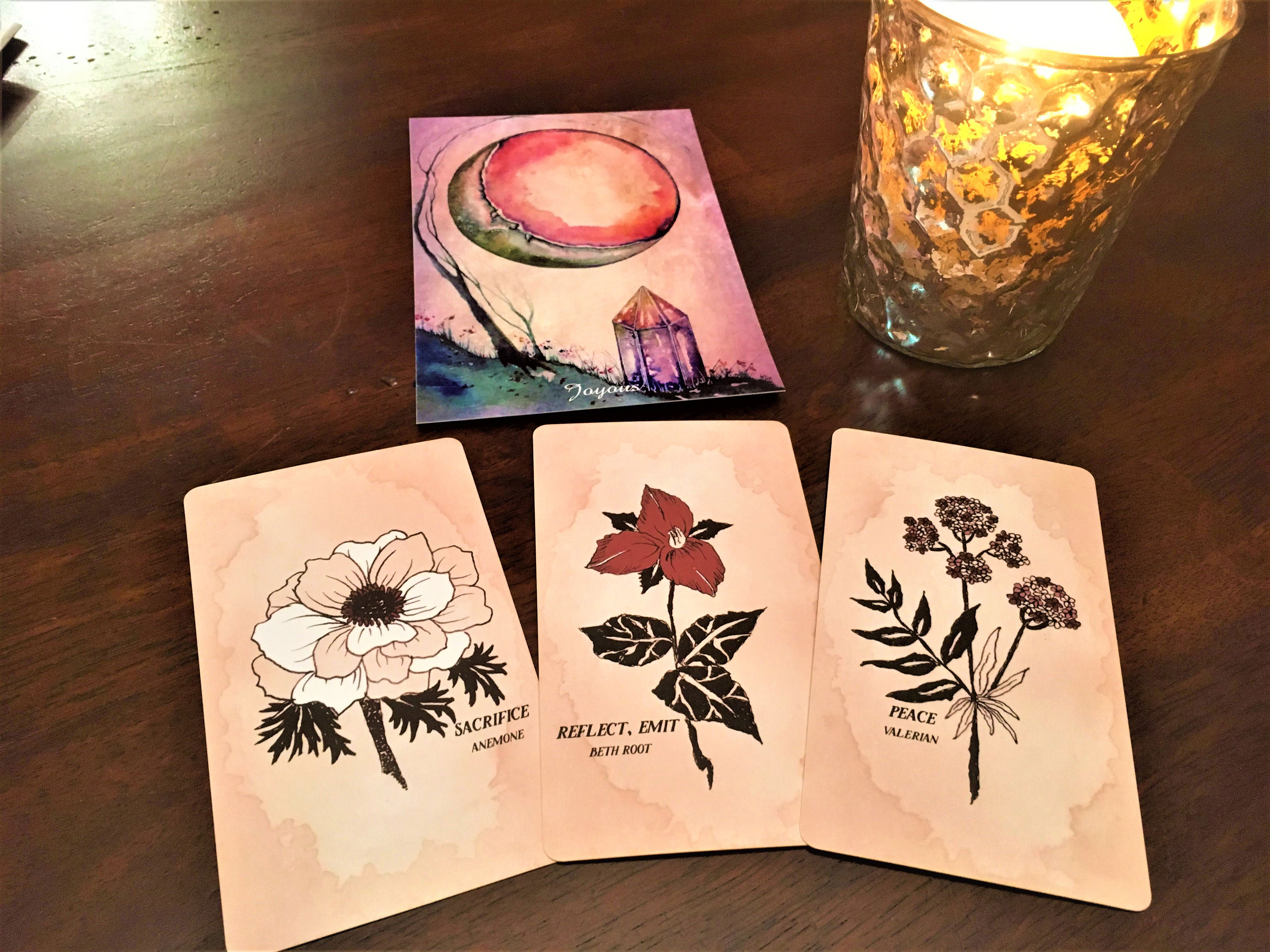 In the springtime, I use my creativity to heal. Letting myself dream and create heals those wounds of wasted time, stolen dreams, and a lost childhood. This is the time when my inner child gets to come out and play more often. I let her write more, dream more, and play more with color, artistic endeavors, and sense-oriented therapy like aroma therapy and color therapy. I tend to work with my sacral chakra more this time of year. The sacral chakra is your creative center, and I use carnelian to increase my creative spark as well as citrine, my golden healer crystal, and fire agate. I am drawn to the yellow, orange, and red crystals this time of year.
I notice my sacral chakra is at play when I feel inspired and expressive. I wrote a lot as a child and teen – mostly poetry and short stories. My inner child has been coming out a lot lately to help write the fictional divination series I am working on. I tend to pull the Sun card, the 6 of Cups, and the Page of Cups this time of year, and those are my inner child cards. I notice that I daydream more thinking of the possibilities that are within my grasp, but it is productive daydreaming as it helps me with manifestation and goal setting. I tend to consider dreams now that I wouldn't have thought possible the rest of the year. It is almost like the heavy scales of winter fall off my eyes in the spring, and I am seeing the world and my future with fresher eyes. And it can feel exhilarating. Our dreams and aspirations seem more reachable this time of year.
I associate growth, creation, and birthing new projects and ideas in the spring. In the winter we talked about letting go of what was dying and starting to reflect on new possibilities that we could devote our time and effort to. Now, that it is spring, we can plant those new seeds and spend the next few months watering them, tending to them, nurturing them along the way, and we should start to see new flowers start to blossom before the season is over. This is an exciting time to imagine all of the possibilities that lie ahead of you now that you have released what was holding you back in the winter. If you completed the winter healing work, we discussed in Ep. 18, you have now committed to new endeavors, and this switch in your attention should bring a new and fresh energy with it. You might start to feel yourself truly blossom.
Light Seers Tarot Empress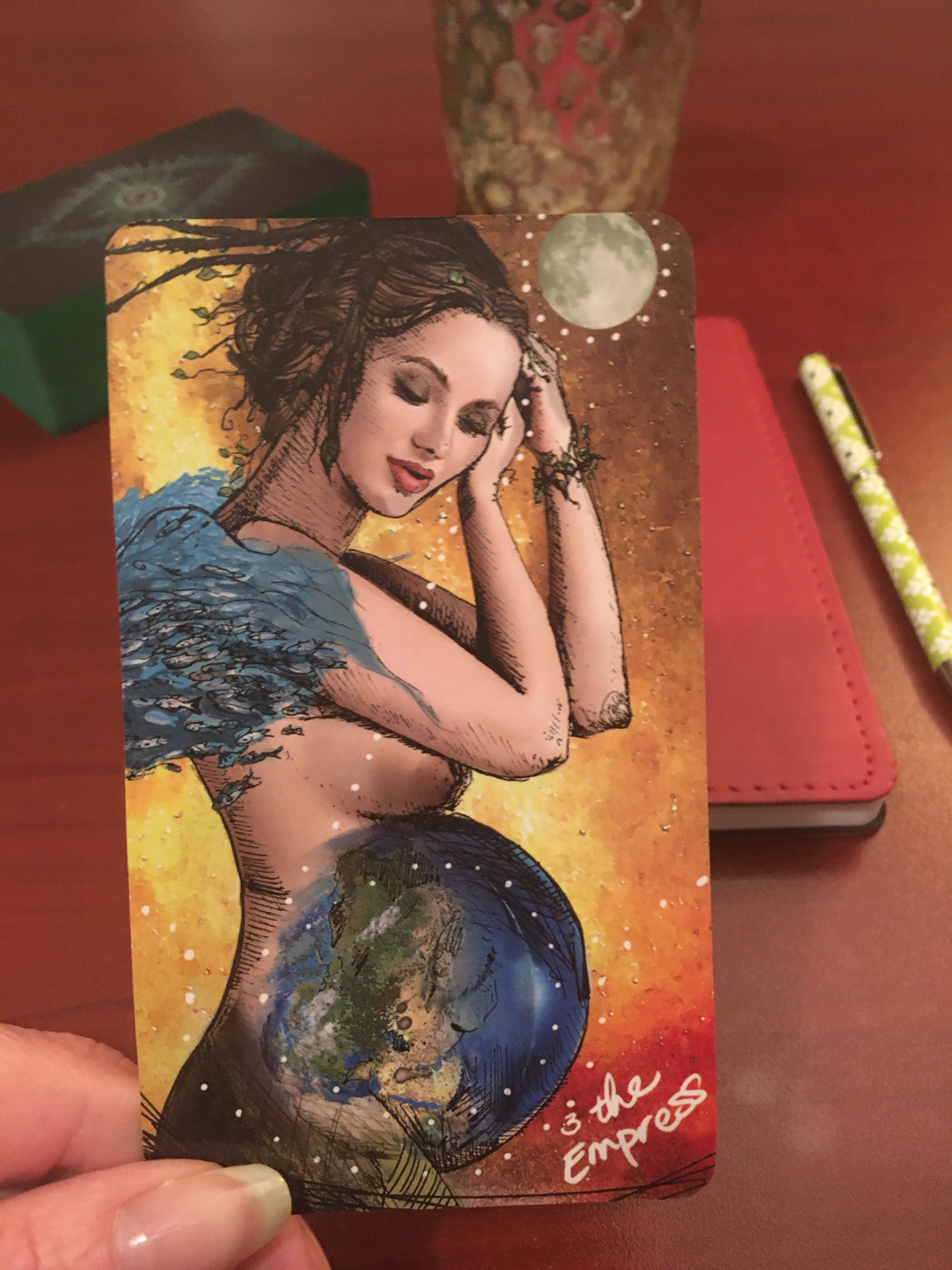 The Empress in the tarot conjures up emotions and energy-related to spring for me. She is nurturing and mothers everyone and everything around her. She is one with nature. She is birthing new creations. She is fertile in every way including creative pursuits. The Empress comes up for me in times of creativity and when the time is fertile for birthing new creations.
Spring is probably the most stimulating season and the most sensual. Everything seems brighter and more engaging and the air is active with the sounds of birds and cicadas. I notice different smells in the spring. I can always smell the honeysuckle on walks in the spring, and it has such a sweet smell that instantly brings back childhood memories of when I was spending time out in nature carefree. Even the sun seems brighter and more inviting. The air smells fresher. More people come out of their houses and start to stroll in the afternoon to enjoy the weather. Everyone seems more optimistic now that we can go outside with the warming temperatures and before the heat gets too hot in the summer. So as we can see Spring is the complete opposite of winter.
Keywords for spring would be creation, growth, inspiration, imagination, dreaming, creativity, exploration, renewal, and rebirth. Meditate on these words during the spring months and journal about the thoughts that percolate up from your subconscious mind.
By the time spring arrives, I am ready to usher in the sunshine and surround myself with vibrant colors and flowers. This time of year I tend to gravitate to my tarot and oracle decks that are the most colorful and floral. My favorite floral deck is one of the first oracle decks that called out to me only a few months after I bought my first tarot deck. This deck is the gorgeous Pythia Botanica Oracle (shown below). The color palette is a tea-stained background with white, pink, and brown tones for the plant or flower images. The card backs are a pewter grey tone with a snake coiled around freshly picked flowers. The deck consists of 48 gorgeous cards with noteworthy flowers and plants with medicinal or healing properties. So plant magic is the main theme of this deck.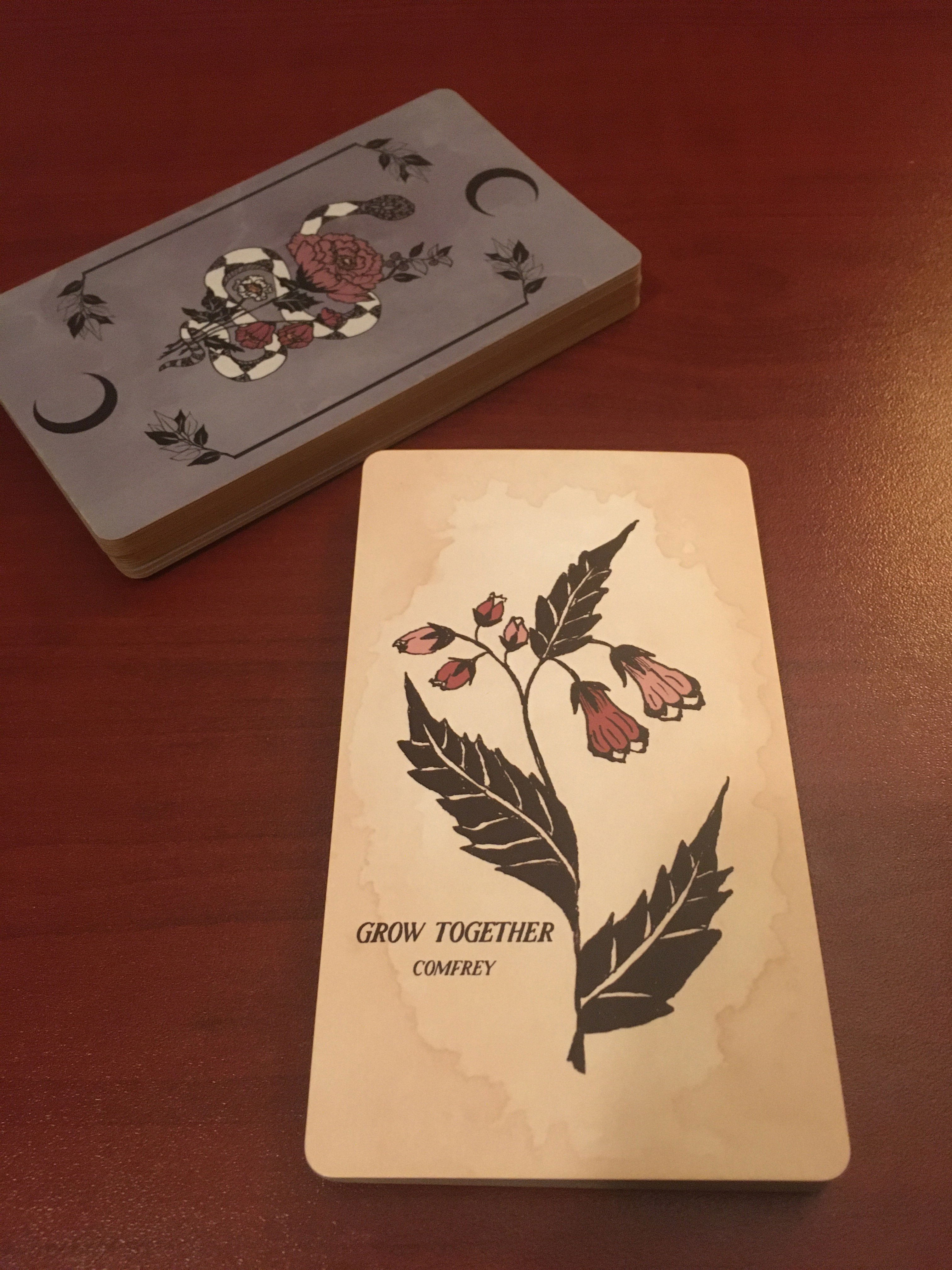 The creator, Nicole Rallis, based this deck on Pythia who was an ancient priestess whose visions channeled prophecies from Hellenic gods. She was also known as the Oracle of Delphi. The meanings of the cards are rooted in mythology associated with these herbs and flowers. The booklet of card meanings consists of short prose about each card, and the rest is left up to your intuitive impressions sparked by the beautiful floral image on the card. I find these cards calming, healing, and inspiring. They are simple and comforting. I pull these cards in the spring because the color palette and the floral theme pairs perfectly with the natural world surrounding me. I also pull these cards when feeling low, sad, or sick as I find these images healing and uplifting.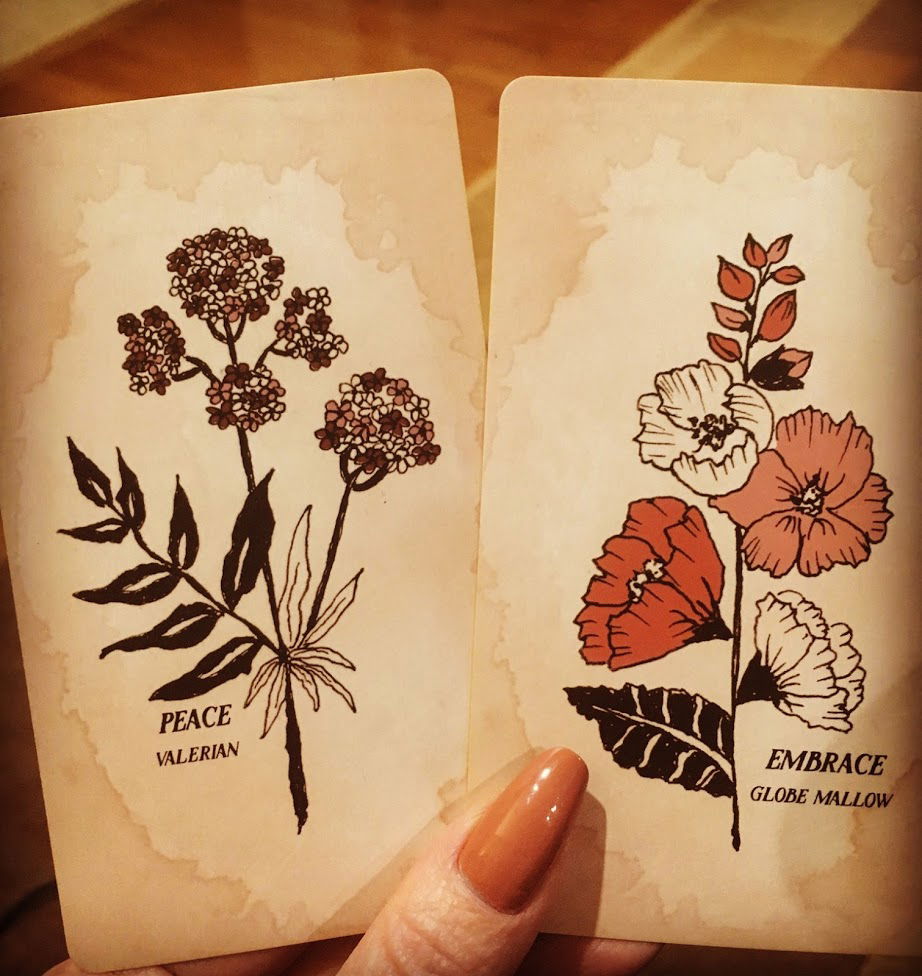 The messages are short and to the point and leave a lot of room for you to explore the message from your subconscious. Just pull a card and sit with the beautiful image to see what dances to the forefront of your mind. Occasionally, I can smell certain fragrances with these card pulls which gives me more information to work with regarding intuitive messages. This is a very intuitive deck and has a gentle, encouraging energy. It is a great deck to pull one or two cards from to meditate or journal on. I love to keep these cards displayed around my office to draw from the positive and calming energy of the card images. If I had a garden this is the deck I would pull cards from surrounded by my flowers to start the day since it is so naturalistic.
Monstarot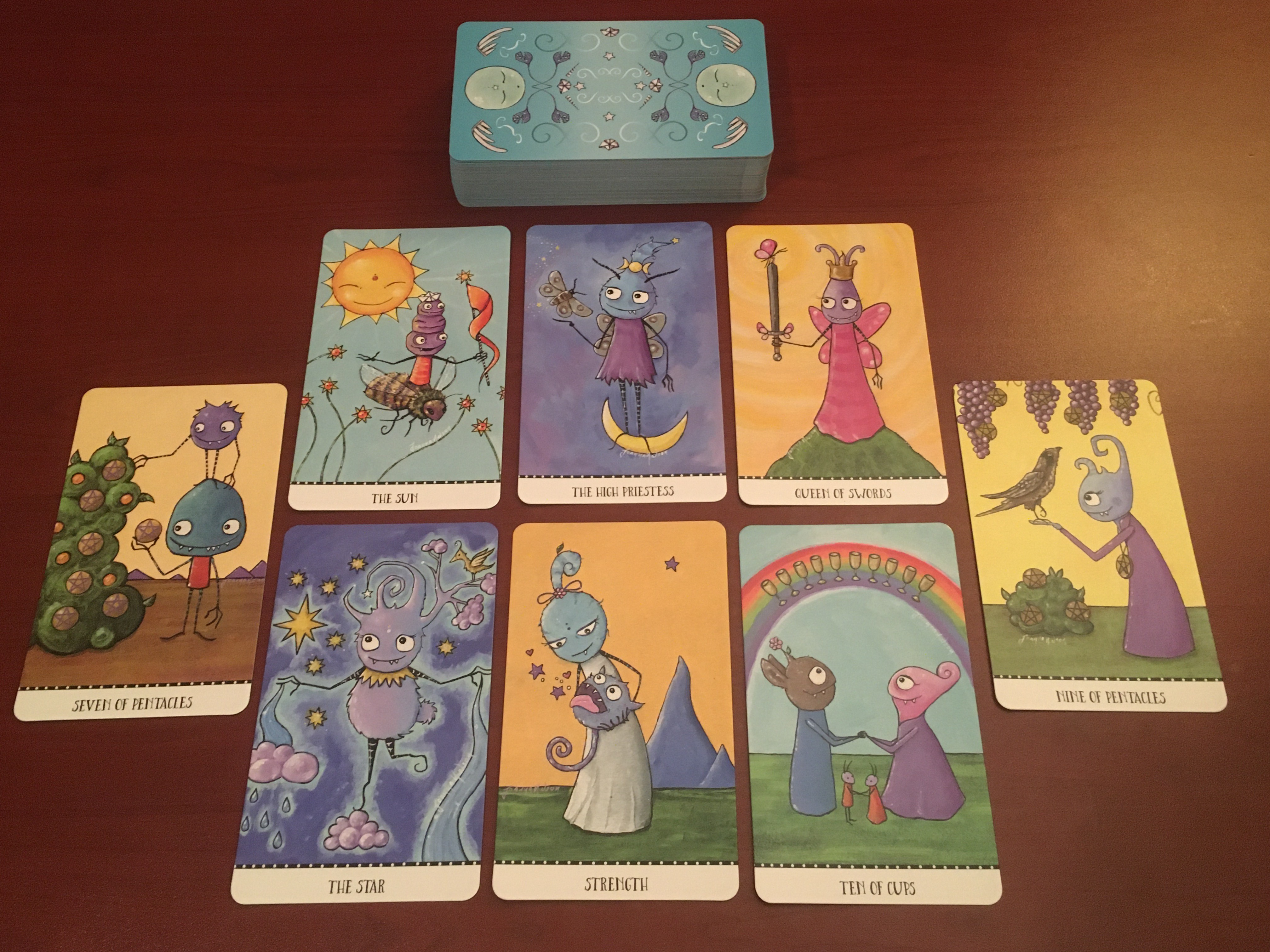 The Monstarot is such a cute, colorful, energetic deck, and I LOVE working with this deck in spring due to the rich yellows, oranges, pinks, blues, and purples. This has a very uplifting, light, humorous energy. It is playful, fun, and carefree. The artist does an amazing job of creating these adorable creatures in this fantastical world.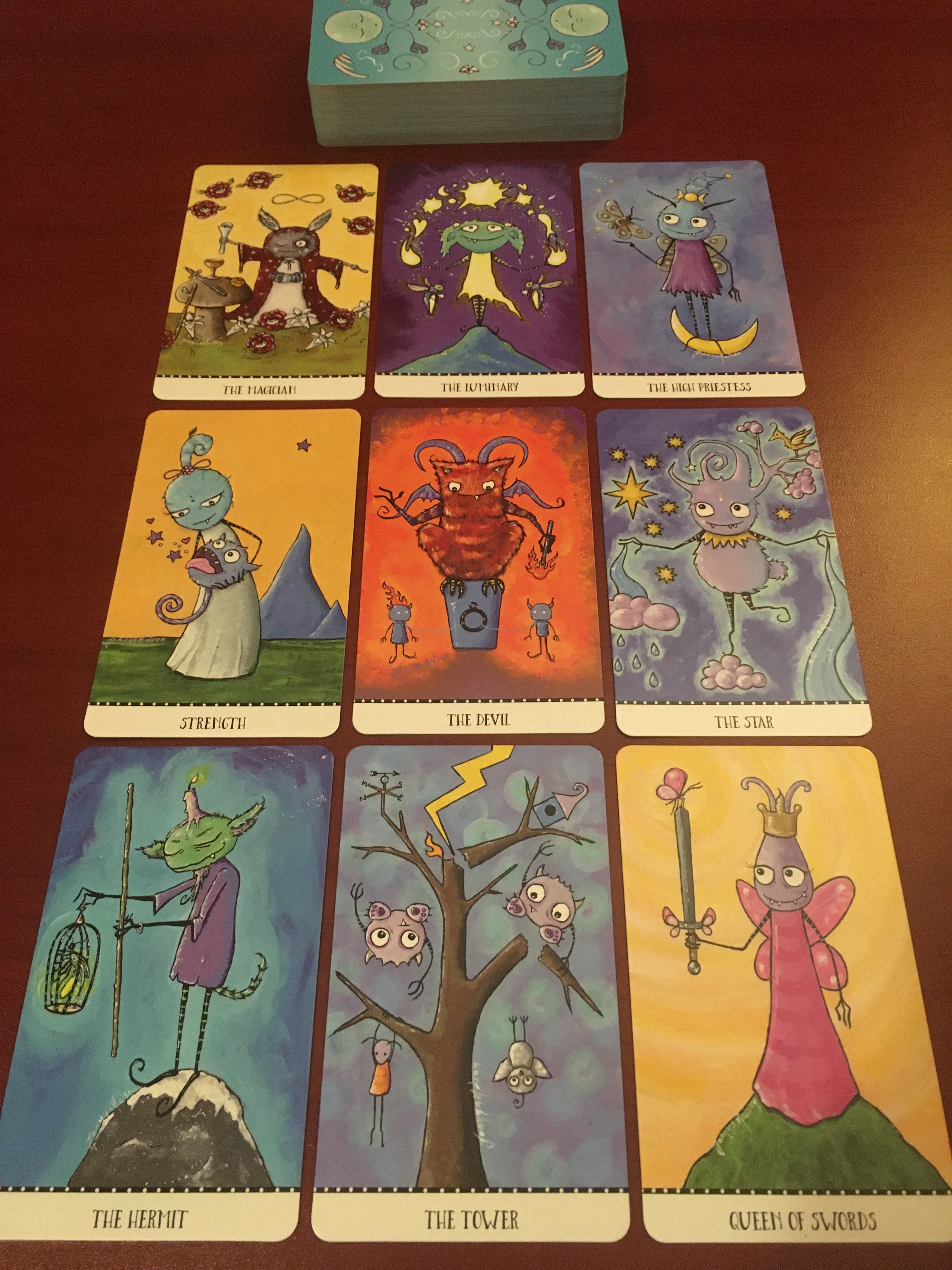 This is the deck I use for most of my inner child healing work, and since this time of year is the time I cater to my inner child the most I imagine this deck will get a lot of use. I have the 2nd edition of the Monstarot and didn't receive my copy until mid-June 2020. I chose it to work with this spring due to the colors in the images and the feeling of being carefree. I am thinking it will become a regular springtime deck. You get an extra card with this deck, and the edition I have includes the Luminary card. The images from this deck are gentle enough that I don't have to worry about getting any readings that are too heavy or overly critical. So if I am feeling particularly vulnerable and skittish about pulling cards at the moment, I know this is a safe deck to use. The images look to me to be what you would think a child's imagination would create because it is such a lively and fun deck. Very positive energy!
Prisma Visions Tarot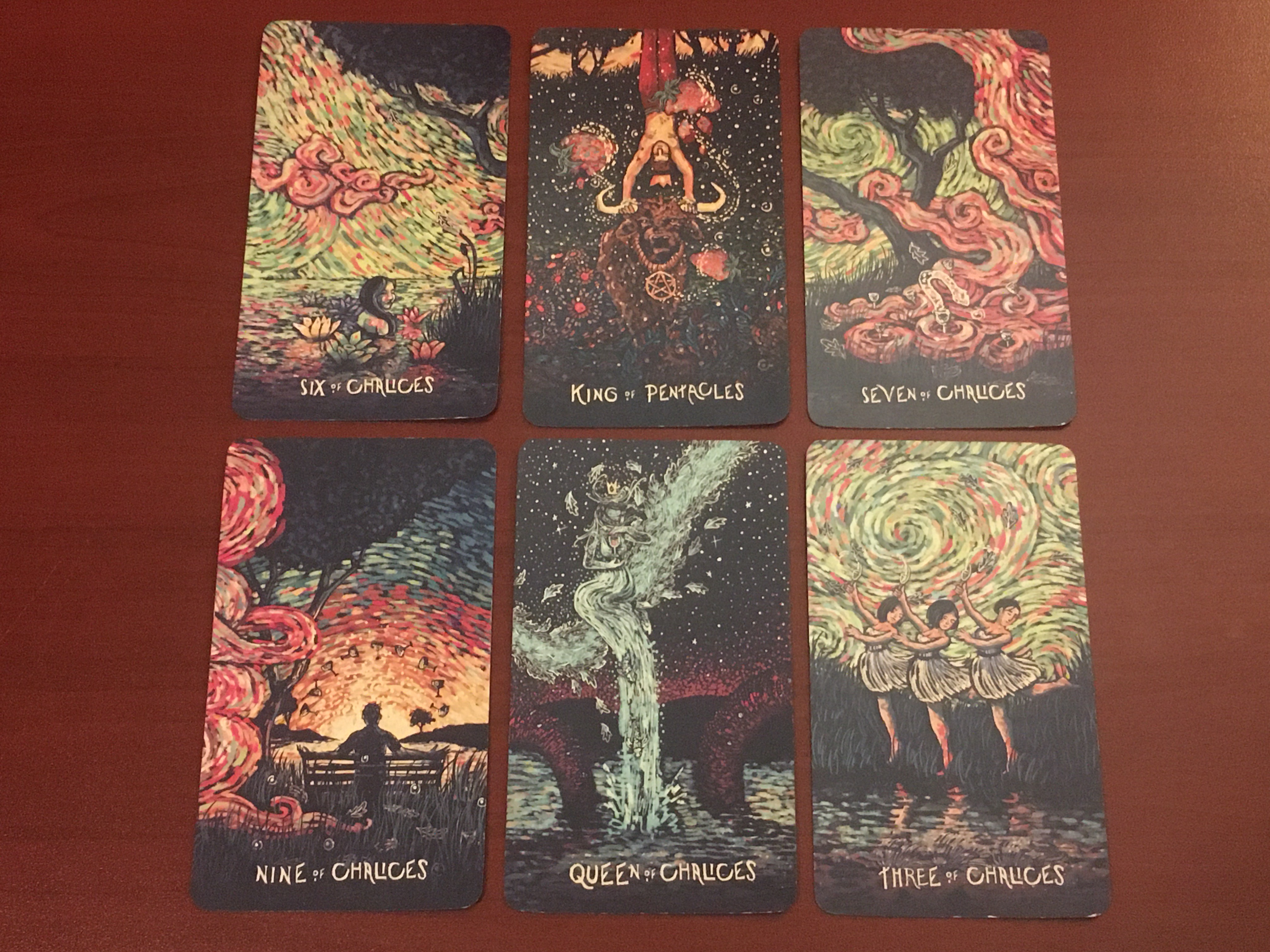 Next, is the Prisma Visions Tarot. This was the very first tarot deck that called out to me. I got into tarot in March 2018, and by April I had purchased an affordable Rider Waite Smith Tarot deck to learn card meanings with. Soon I started to see images from tarot decks that caught my eye that were very artistic and visually appealing. One deck stood out above the rest at that time. It was the Prisma Visions Tarot by James Eads. I was constantly flicking through Pinterest pinning card images from this deck. I eventually caved and purchased the Prisma Visions Tarot and the Light Visions version of this deck. They are identical images except one deck is a simple dark purple and cream combination and the other is a vividly radiant - almost impressionistic style of art. The cold snowy scenes of the swords suit and the snow-filled night skies both pop as if glistening under the moonlight. The pentacles suit includes fields with an abundant crop of strawberries to signify prosperity and wealth. A rainbow of colors dance and sway in the cups suit, and the images in the wands suit capture the active motion that aptly embodies the energy of the wands.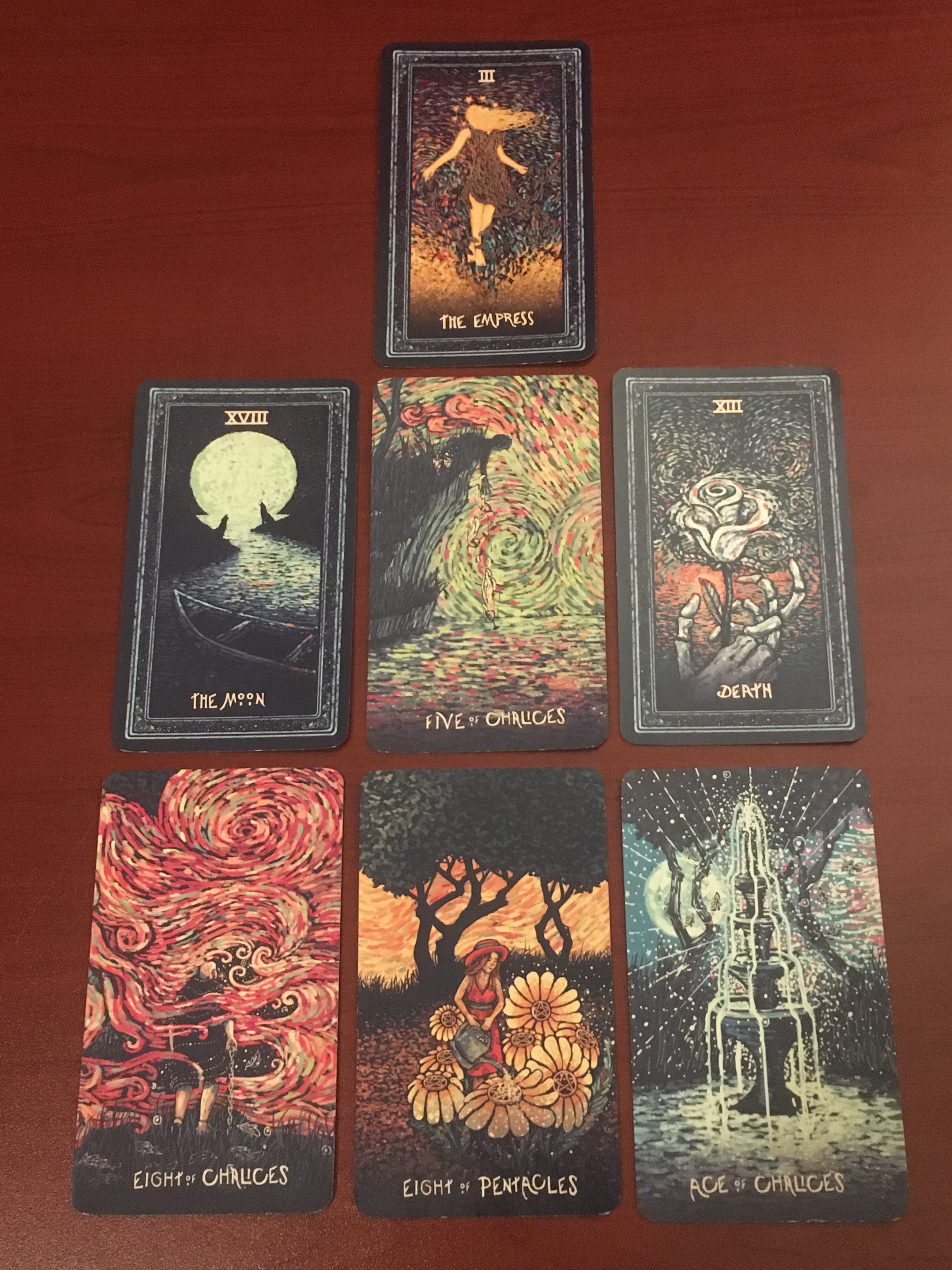 The colors in the Prisma Vision are the most striking I've seen in a tarot deck. In some of the cards like The Sun the colors fade as if they are melting and mixing together. The unique aspect of the Prisma Visions and Light Visions decks is that the suits create one long panoramic scene if you line the 14 minors and court cards up from each suit. This is probably the most unique tarot deck I own. Truly one of a kind. I feel like I have stepped into an impressionistic painting when I use these cards. The Prisma Visions Tarot is perfect for spring. The card backs and backgrounds are a vibrant blue adorned with hot pinks, flashy yellows, golds, and reds. Such a treat!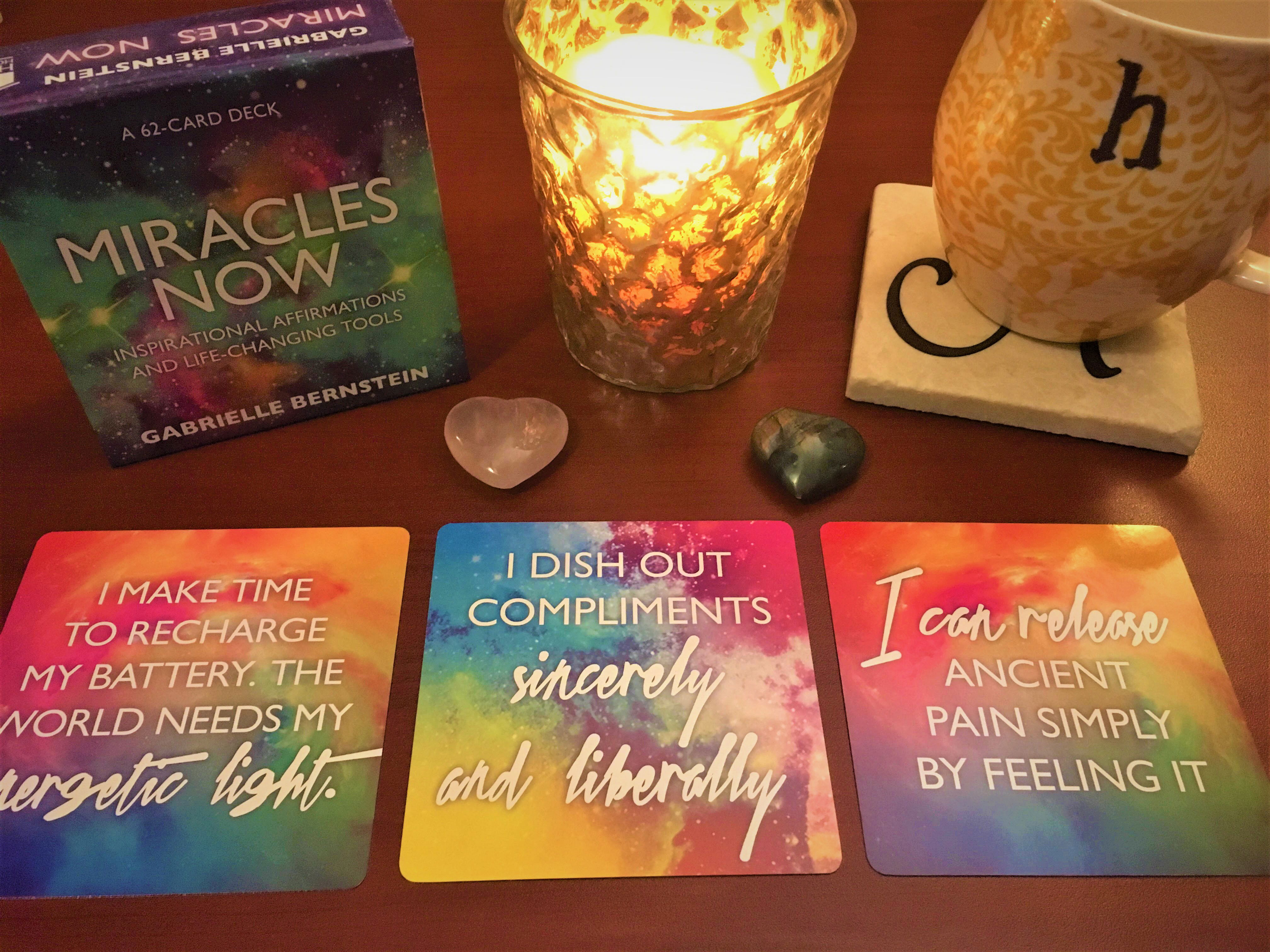 I have a few colorful affirmation decks that I pull out this time of year just for a quick pick me up. The Notes from the Universe on Abundance deck (shown below) and the Miracles Now deck (shown above) are extremely vibrant and lift my spirits. Miracles Now is a very simple oracle with short affirmations with a backdrop of vibrant watercolors. It is the perfect deck for a one-card pull to start the day or to shift energy or your mood.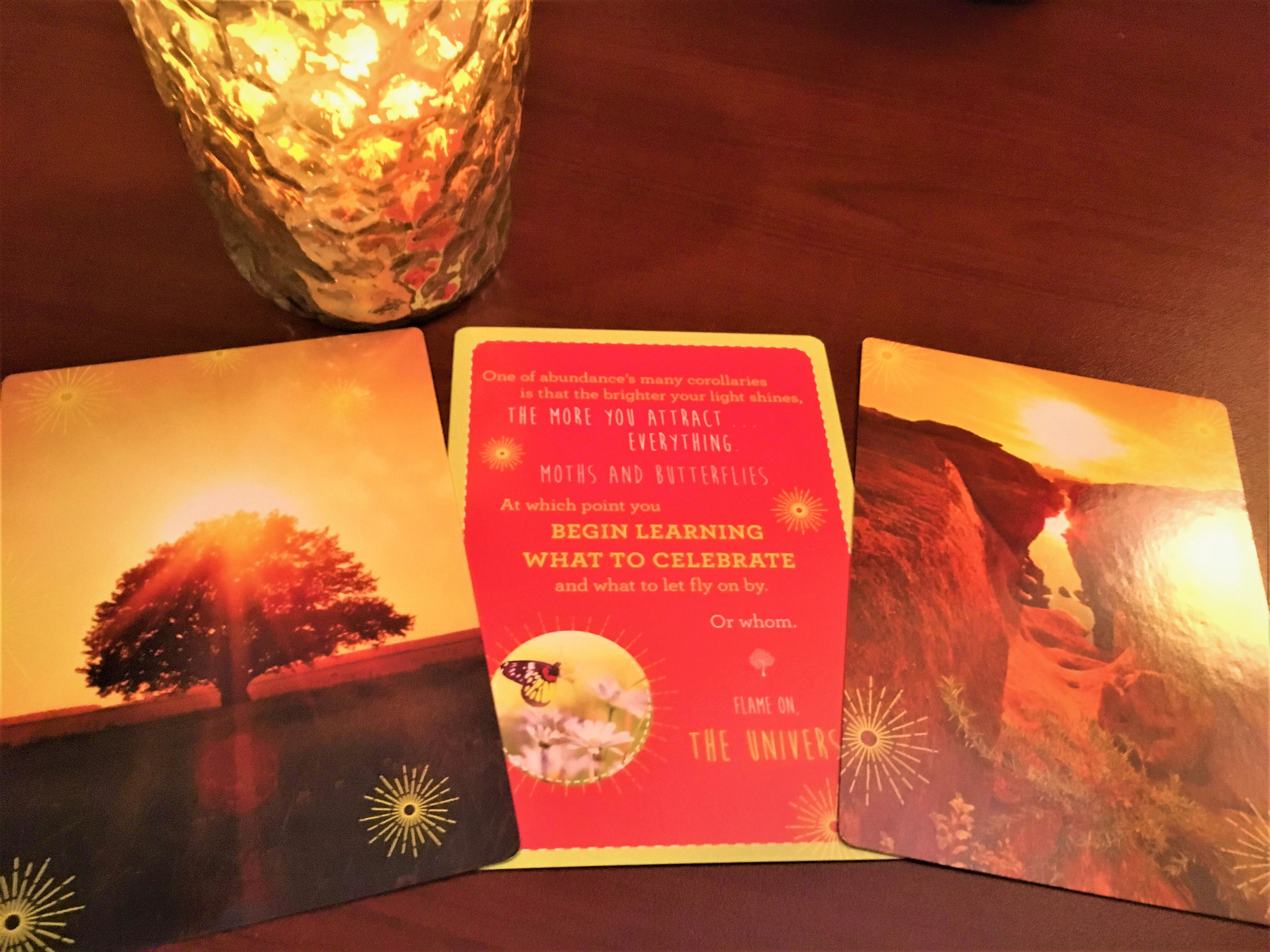 Notes from the Universe on Abundance consists (shown above) of beautiful natural scenic landscapes of snowy mountains, bright beaches, striking sunflower fields, and flower-filled meadows. I love to pull a card for the day and read the short note from the universe on the back for a quick message of universal support. These scenic images can transport you anywhere on the globe, and they help to inject a dose of happiness and positive energy into your day if you are yearning for a change of scenery.
Light Seers Tarot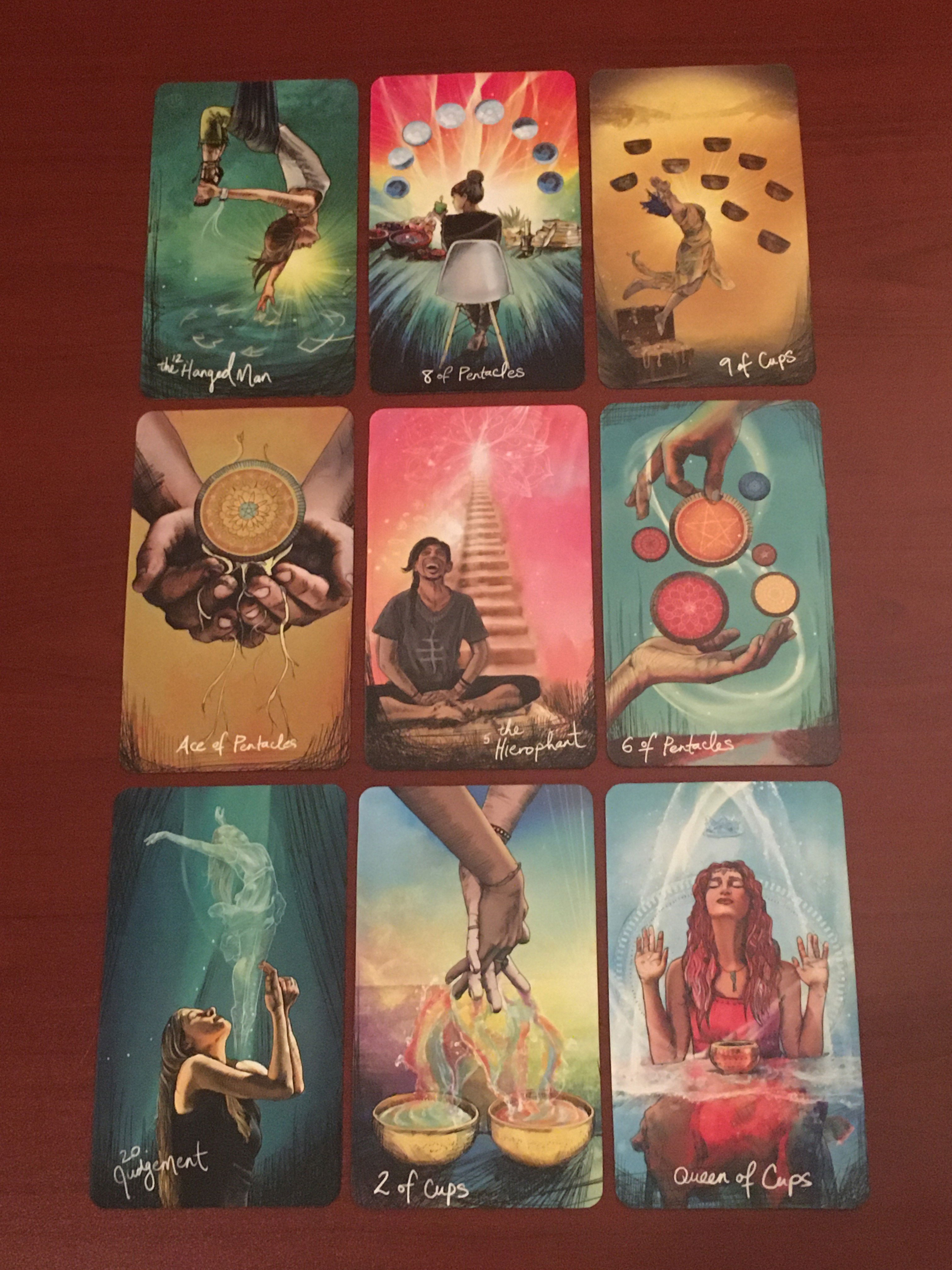 My Light Seers Tarot (shown above) is another stunning and powerful multi-colored deck that is perfect for spring. The Light Seers Tarot is my soul deck so I use it all year round, but it is an excellent choice if you are looking for a deck full of radiant vibrant colors. The artwork is jaw-dropping, and the use of light and shadow always takes my breath away. Chris-Anne has created a truly dazzling deck with the Light Seers.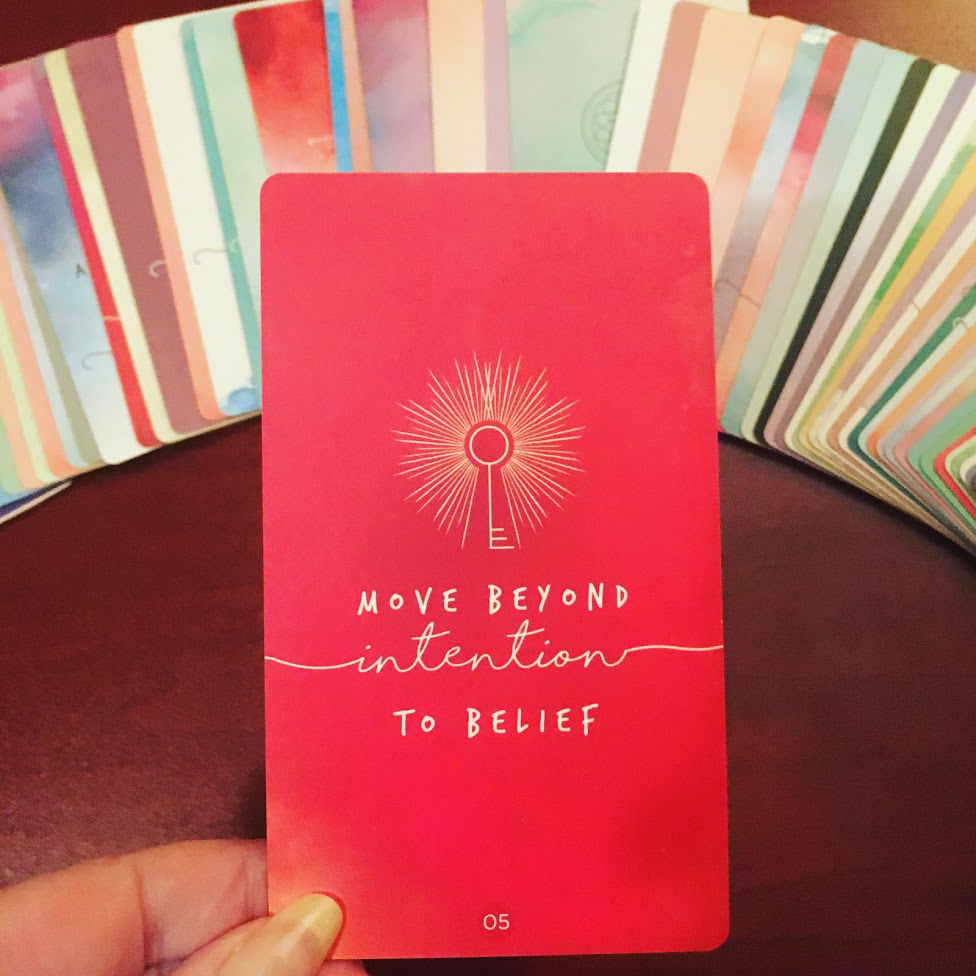 A perfect complement to the Light Seers is the Sacred Creator Oracle (shown above) filled with an array of hues ranging from pastels to bright pinks, yellows, aqua blues, indigo, and oranges. This is another deck from Chris-Anne Donnelly. I find it stimulating and inspiring. It is one of the decks that I use the most for sparking creative expression and inspiration. I have the indie version, which has an excellent guidebook filled with insightful creative guidance on creating a soul or spirit-based business. Recently, this deck has been mass-produced by Hayhouse at a very affordable price. It is one of the oracle decks I recommend the most, especially for creators. This deck has a magical energy to it. It is perfect for sparking new ideas, ushering in inspired thought, and breathing intentions to life.
Wisdom of the Oracle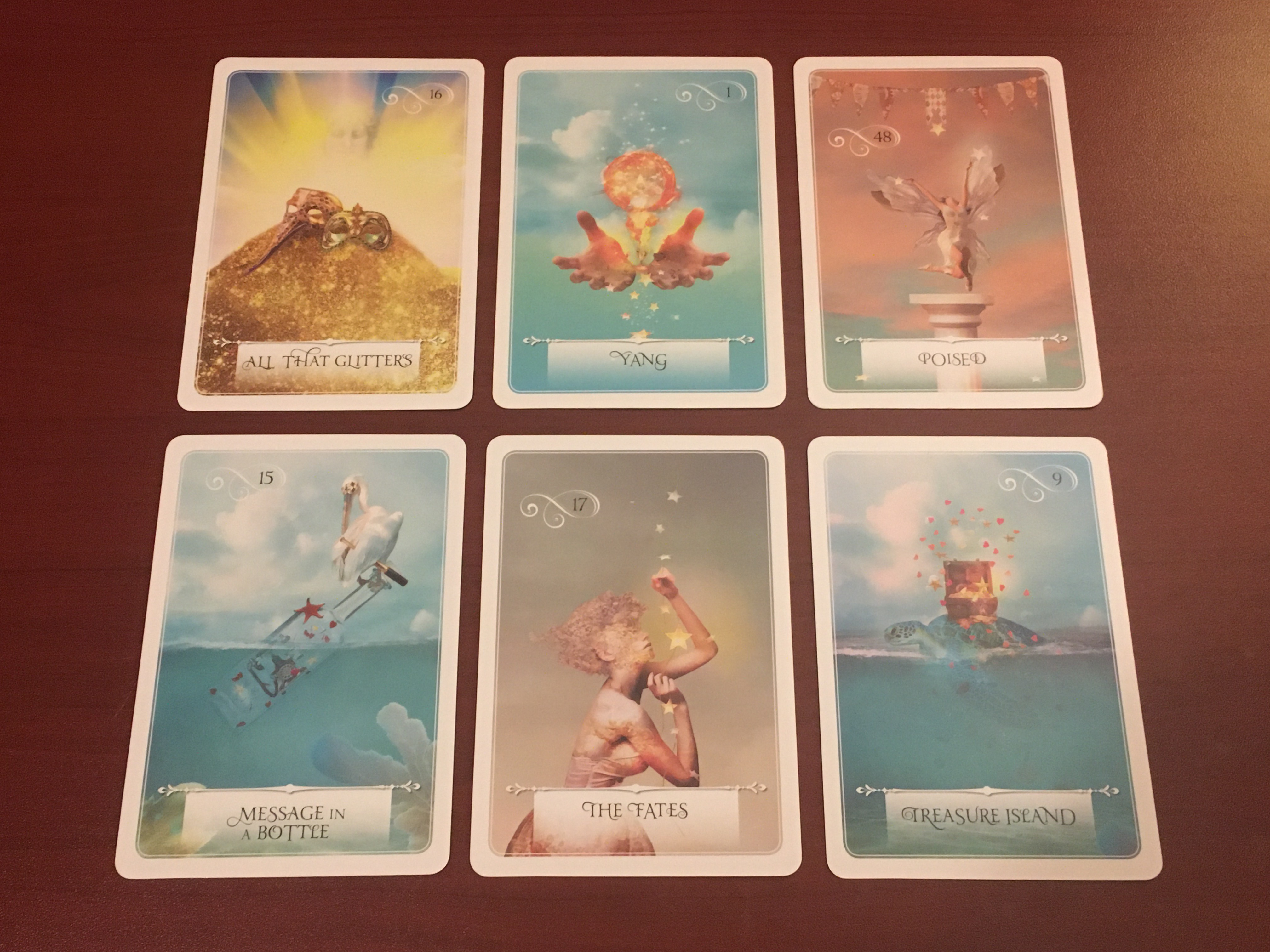 Wisdom of the Oracle (shown above) by Colette Baron- Reid is another whimsical, stirring deck. It is perfect for spring. Each card looks like an ethereal work of art. The advice from this deck is shockingly accurate and offers messages and guidance for relationships, work, or general advice. I love the versatility and precision of this deck. It's easy to get lost in these dreamy images. This deck also has sentimental value to me as this was the first deck my husband bought for me on his travels on his own. He picked a good one as it is one of the most accurate decks I own.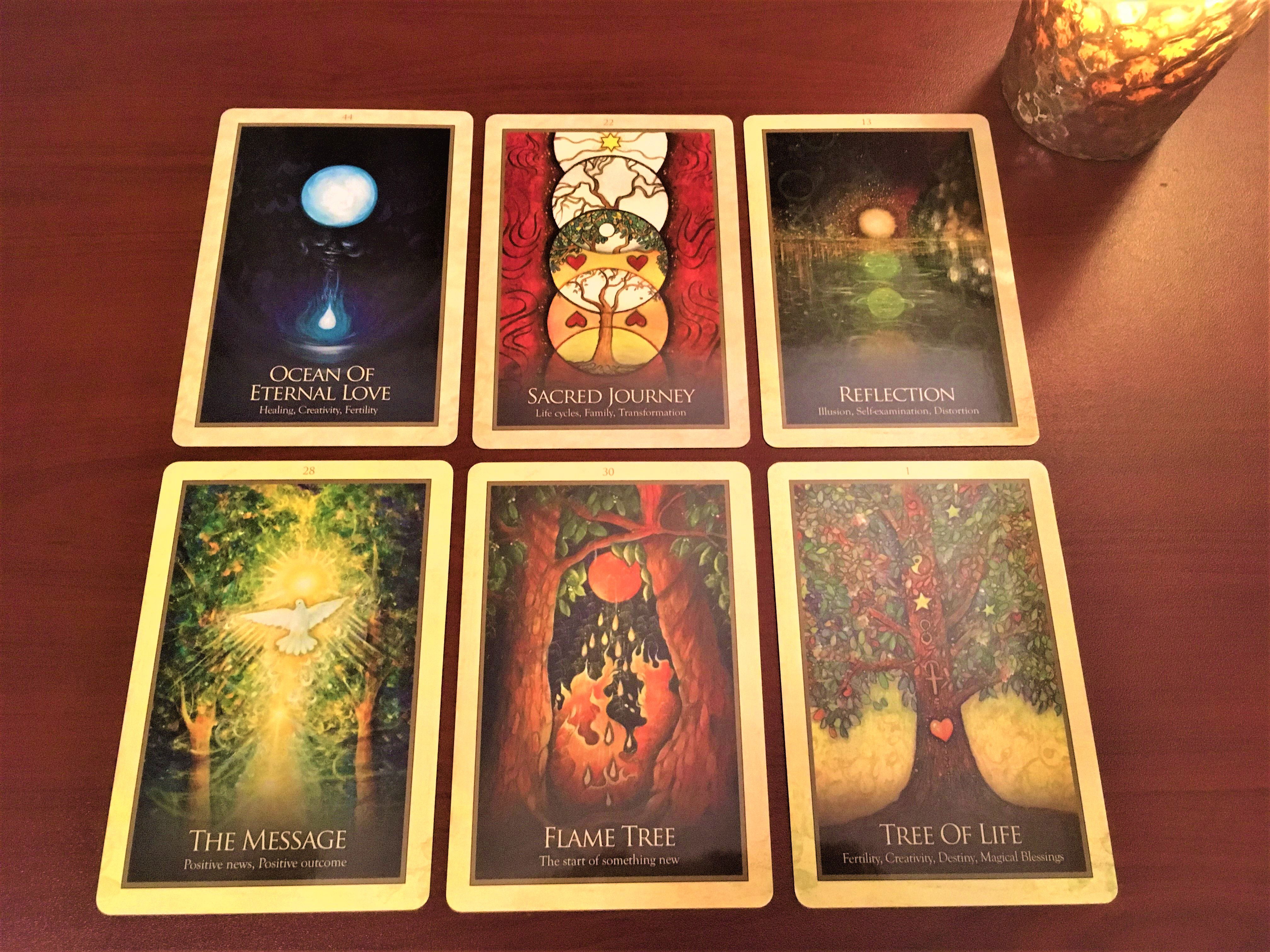 The last deck I would recommend for springtime is the Gaia Oracle (shown above) by Toni Carmine Salerno. These cards offer rich and vivid artistic portrayals of Mother Earth and her ability to heal us and offer us shelter, peace, and a place to grow on our spiritual journeys. The radiant blues and lush greens highlight the nurturing aspect of our earthly surroundings and inspire us to seek out the healing properties of our natural world. This would be another deck that would be great to read with on trips to the park or in a garden. Links for all the decks are included at the end of this blog.
Spring Spread
Here is the 6 card custom spread I created to help us usher in spring. I would love to see the photo of your spread. Please tag me on Instagram @healingthrutarot and please use the hashtag #healingthrutarotspringspread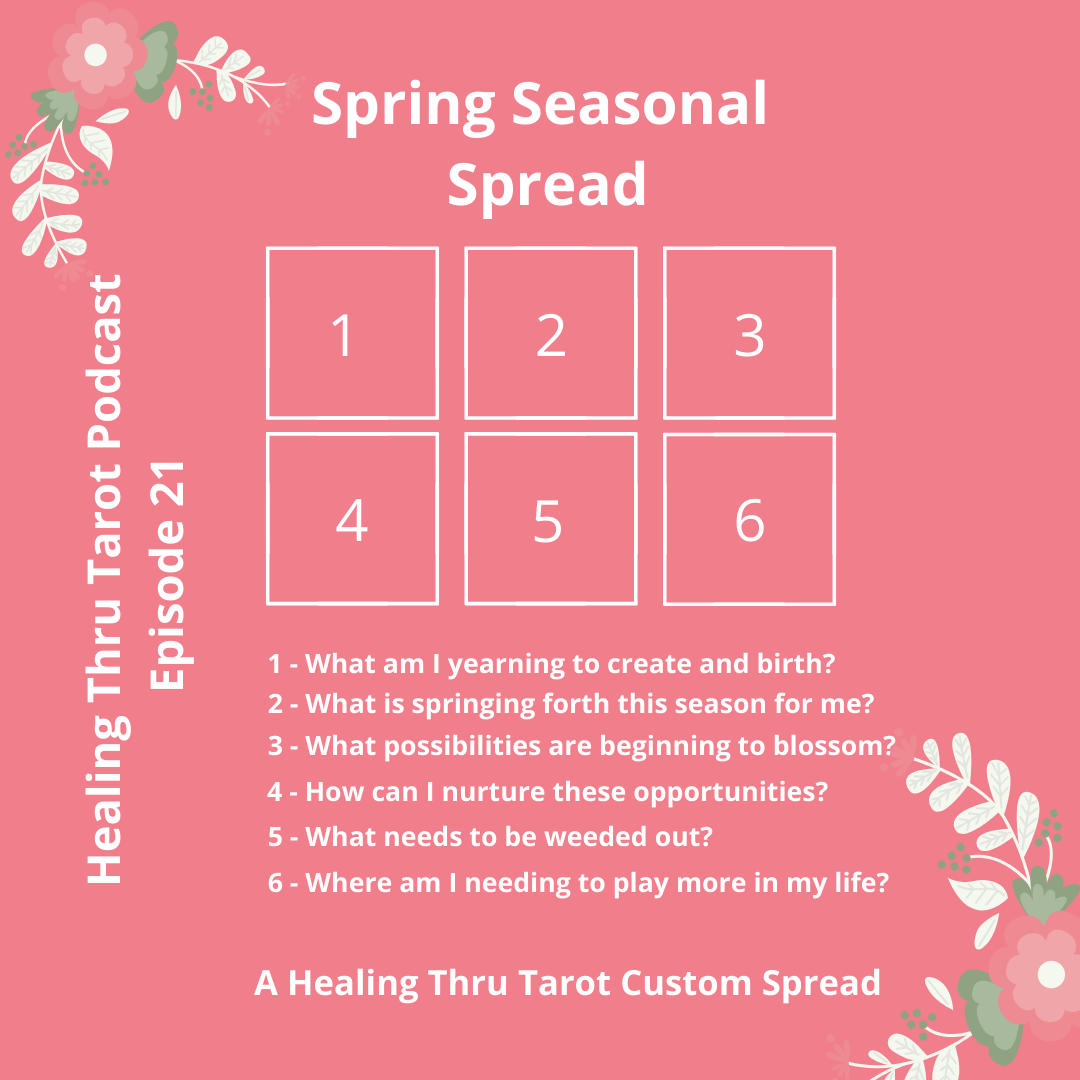 This year I have been working with the book The Seasonal Soul: A Mystic's Guide to Inner Transformation by Lauren Aletta, and some of the content I have been sharing with you in this blog was inspired by my work with her book over the past several months. I have enjoyed working with this book this year so far. This book has great exercises and content related to the changing seasons of our lives, not just the changes that occur every few months throughout the year.
Books and Decks shown in this blog or recommended are below: click on title to go to the product. Some of these are amazon affiliate links and it helps me out if you use these links. Thanks for your support.
Notes from the Universe on Abundance
The Seasonal Soul: A Mystic's Guide to Inner Transformation by Lauren Aletta
Decks shown in this blog: The Light Seers Tarot, The Sacred Creators Oracle, Monstarot, Wisdom of the Oracle, Gaia Oracle, Miracles Now, Notes from the Universe on Abundace, Prisma Visions Tarot, Earthly Souls and Spirits, Pythia Botanica Oracle
Link to Podcast Episode 21 on Anchor click here
Listener Support
If you would like to support this podcast monthly, please consider signing up for a small pledge to help me be able to continue to produce these quality episodes every two weeks. Use the link below to sign up to support through anchor.
Much appreciated!
https://anchor.fm/healingthrutarot/support
Are you enjoying the Healing Thru Tarot podcast and companion blog? If so, now you can gift me a coffee or two to kept me fueled as I pull all-nighters writing the scripts and recording all the episodes. Help me keep this content flowing by sparking my inspiration! Just click here to gift me a caffeine fix.