In this blog, I will be sharing my favorite winter tarot and oracle decks and discussing the themes I work with during winter months on my healing journey. I also created a custom winter spread for us to explore the lessons of this winter season.
Once mid-November hits I start decorating for the holidays, and my Christmas tree goes up. This is the time I change out my decks from my autumn decks to winter decks. I work with decks on a seasonal basis to keep my practice fresh. This way I never tire of the decks I have, and it helps give me time to really work with all the decks I have so no decks get neglected.
I only have one Christmas themed tarot deck – the Winter Waite Tarot (shown below). I purchased this deck in 2018, so I believe it is the 1st edition of this deck. There have since been 3 editions with a few card changes. This deck is created by James Abrams and Christine Aquiar. I enjoy this deck in the winter months because they have reimagined the Rider Waite Smith tarot with snowy landscapes, winter coats, sledding scenes, and cheer filled holiday vibes.
Winter Waite Tarot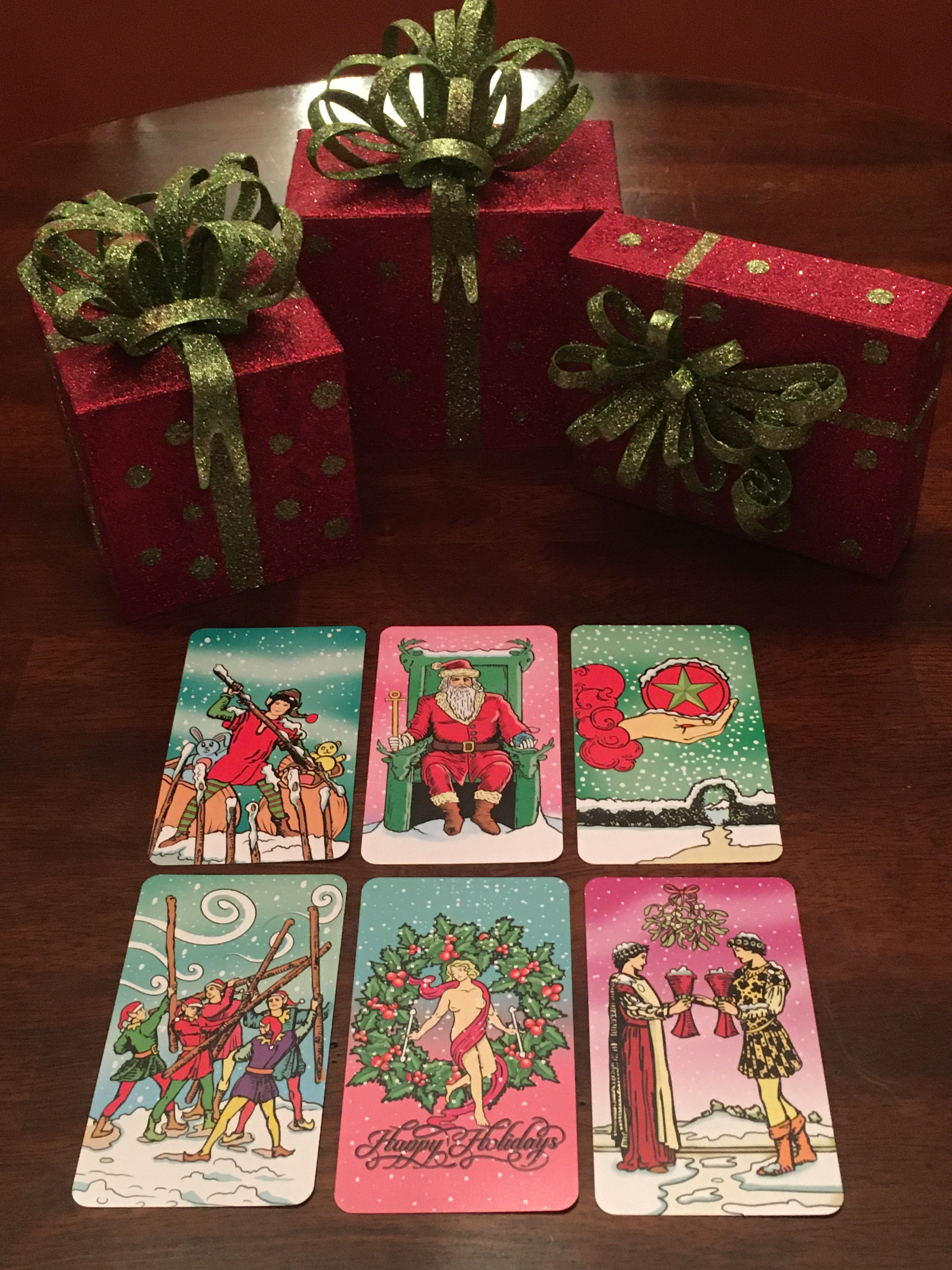 There are a few card changes that the artist took that I really love. The Emperor is Santa Clause which is perfect. Justice has the naughty or nice list that results in a judgment of coal or a treat. There are turkeys at the feet of the Queen of Pentacles since she is most likely to be making that Thanksgiving meal for the whole family. See, it's the little details that I love here. It's so thoughtful. The stars in the sky are bright and enlarged, which might be a nod to the Christmas star that guided the wise men to Jesus – at least that is what I think of when I see these images. Those stars stand out in the 8 of Cups, 6 of Swords, and the 9 of Wands. The World card is a wreath that says Happy Holidays, and the 7 of Wands has several bags of toys behind the warrior defending his stash of gifts. The apprentice working hard in the 8 of Pentacles is an elf dressed in red and green as he pounds away at the task he has been assigned for the Christmas list.
The pentacles are a vibrant red and green, which really pop. The change in color scheme makes such a huge difference when you read with these cards. The entire vibe changes with these holiday colors. In some of the winter scenes, the artist uses a light purple, blue, and pink to denote the cold snowy, windy atmosphere. It is easy to get in the holiday spirit with these colors, and the snowy vibes. I love working with this deck on a quiet, cold winter night under a thick blanket while drinking hot cider or cocoa. It creates such a cozy feeling, especially when reading cards by the lights of my Christmas tree.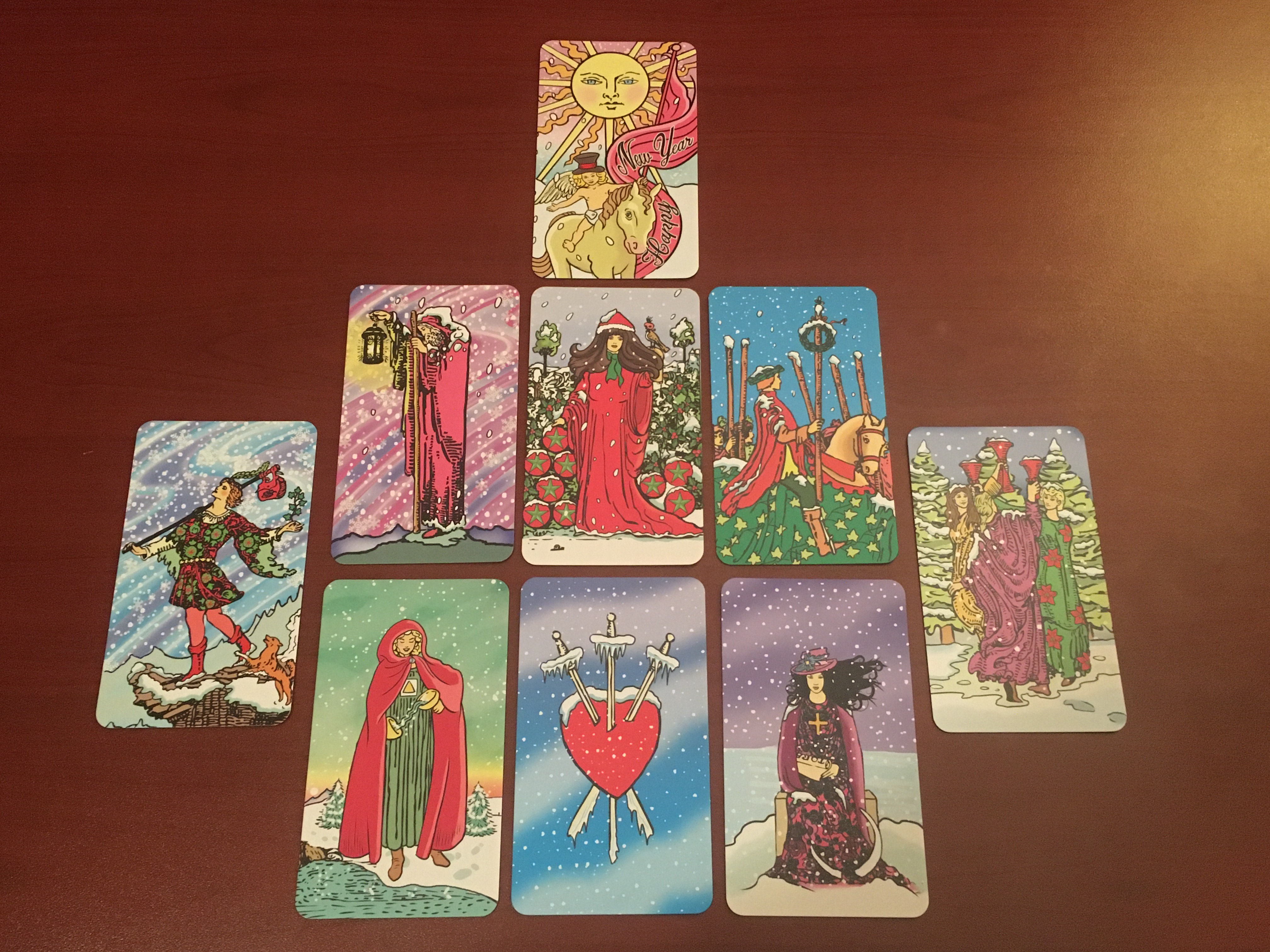 There are some fabulous choices in here with this holiday theme. The Devil looks like Krampus, and he has given the children coal for Christmas, the 7 of Cups offers choices of a wreath, toys, gingerbread cookies, a Christmas hat, or candy canes. It's very festive. The artist used a reindeer in the Strength card to substitute for the lion.
The artist uses a vibrant Christmas red and green throughout for the coats or robes of the figures in the images and for the pentacle suit. These colors actually match perfectly with the red and green ornaments and bows on my Christmas tree and mantle, which helps complete the holiday mood for me. It's perfect. Everything about this deck screams the holiday season. I just love it!! I work with this deck from mid-November thru March, so it works for all the winter months, not just at the holidays. It helps that a lot of the cards are more of a wintery mix and not just Christmas themed. That is why it is called the Winter Waite Deck.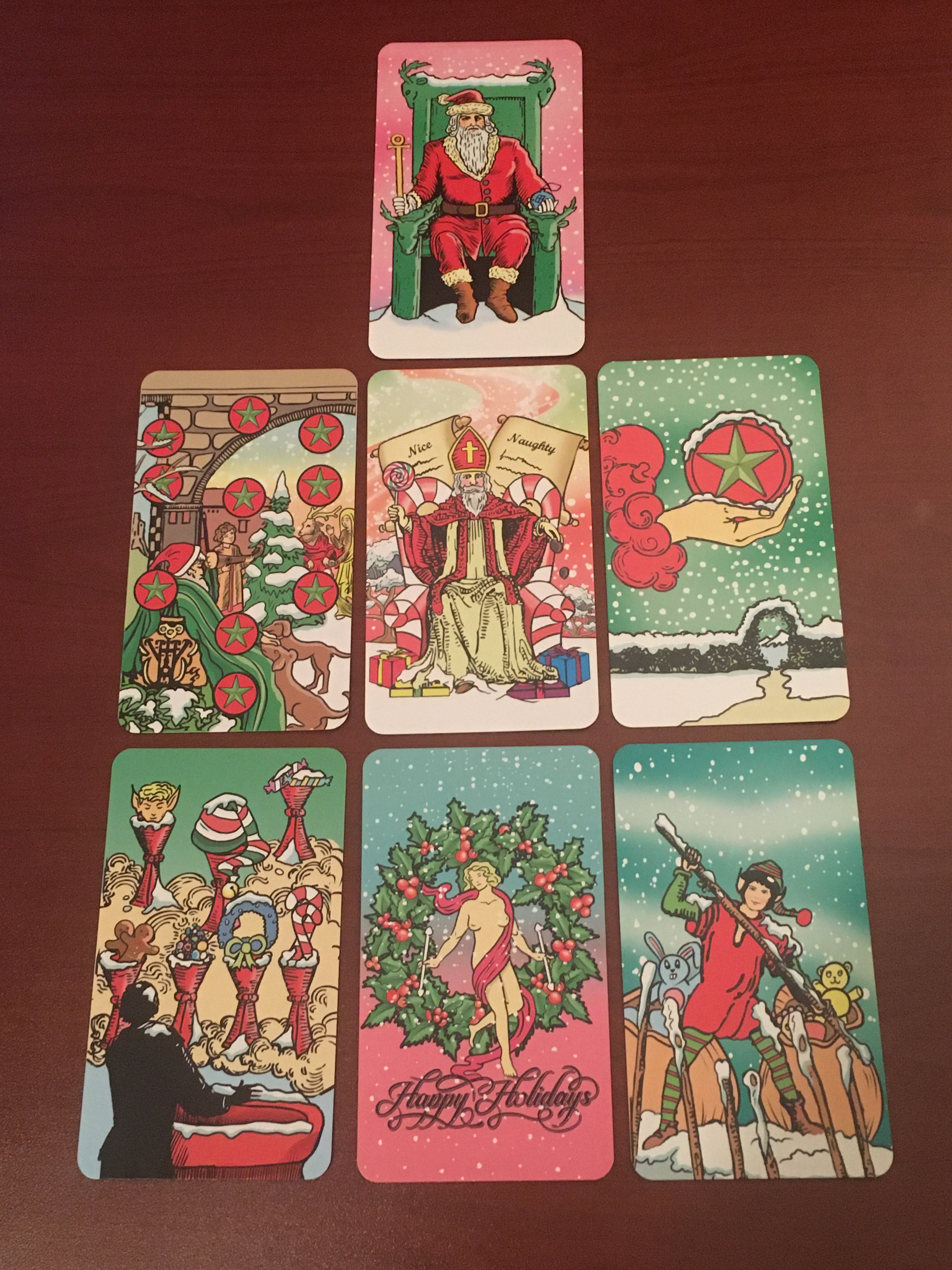 I will note here that they don't provide numbers or titles on the cards, which means you have to be very familiar with the cards to be able to recognize them without those prompts. Most of the cards were easy for me to figure out though. I didn't get a guidebook with this deck, and I don't know if they added one to later editions or if there is an online version.
I like the look of all the Tarot Collectible decks. They do a Groovy Waite with a 70's theme, the Dead Waite with zombies, and the new Black Light Tarot with crazy vivid colors. I highly recommend the Winter Waite, but take a look at all the decks in the collection. They are fabulous. Links for all the decks I talk about in this episode are in the show notes and in my blog on my website healingthrutarot.com, and I include photos of all these decks in the blog.
Game of Thrones Tarot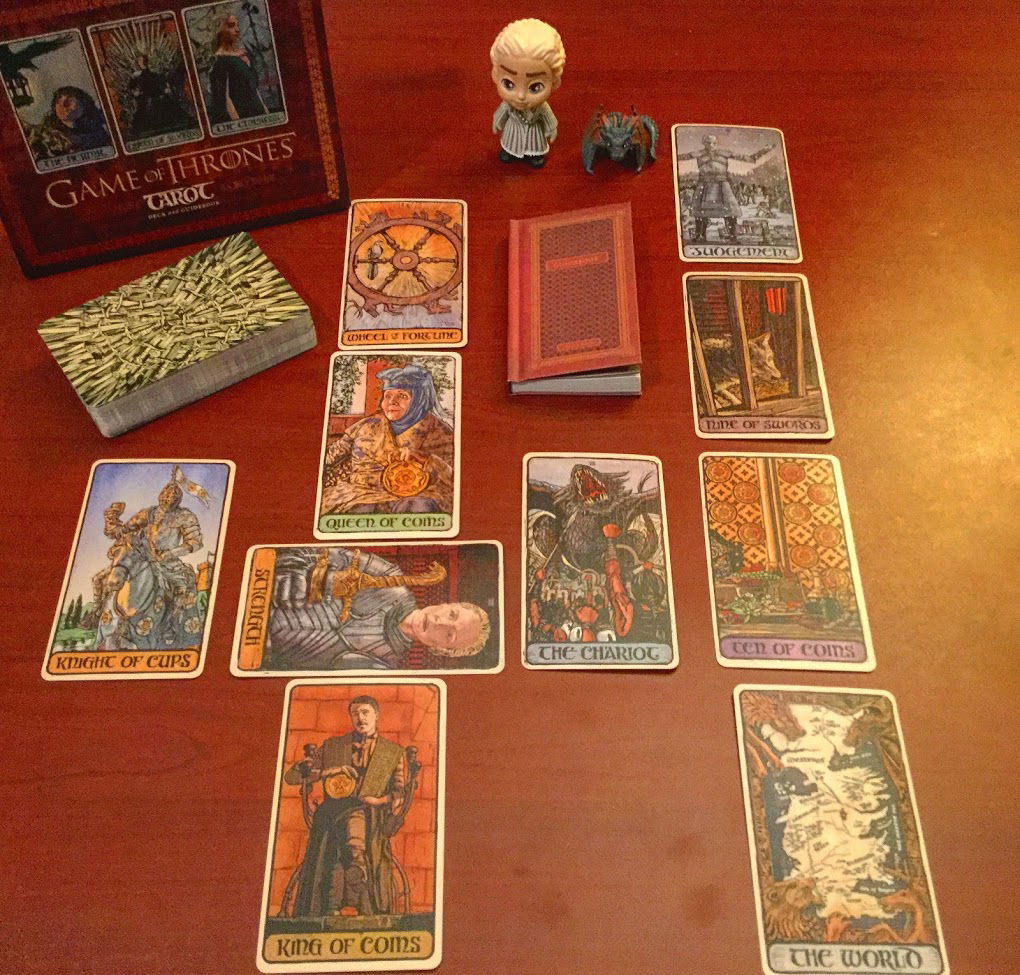 Moving on to my next winter favorite. The Game of Thrones Tarot (shown above) is the only entertainment-themed deck that I own. I probably wouldn't have bought this deck for myself since it is themed for only one tv show, even though it is my favorite show of all time. I just usually don't buy decks that are that narrow in theme. BUT my husband surprised me with this deck after the show ended since I was feeling bummed about it being over and upset about the way the show ended like a lot of fans. So, he bought it to cheer me up along with a little Daenerys figure and one of her dragons, Drogon. After having worked with it for 2 winters now, I am very happy that I have it. I use it during the winter months due to the colors and tones of the deck and of course because so much of the show teases that "Winter is coming." The color scheme uses a lot of gold, rust, brown, black and blue-grey tones. It works nicely for this time of year.
I would say that this is a deck for those people that loved the show and that know tarot well because the deck is not based on the usual images or symbology of the Rider Waite Smith tarot system. The creator of the deck chose characters and scenes from the show that would fit as closely as they could to the cards that already exist. Some of the cards can be a bit of a stretch, so it helps to know the characters well. If you don't know the show it might be very confusing to try and read with these images without any context. Luckily they do include the titles on the cards for you to follow, but they change the "wands" suit to "spears" and "pentacles" to "coins," although that isn't hard to figure out.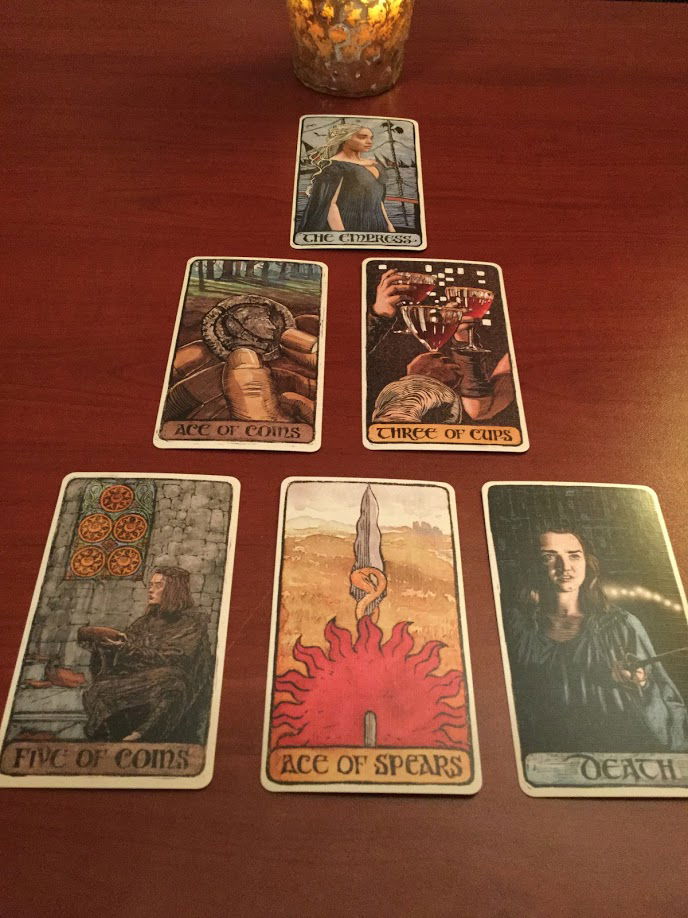 Being a fan of the show, I do love many of the choices they made for the cards. Arya Stark as Death is probably my favorite choice along with Ramsay Bolton as the Devil. I howled with laughter when I first saw that card. So fitting for his sadistic character. Of course, Jon Snow and Ygritte are the Lovers, and Littlefinger is the Magician, which suits him well since he is a master manipulator and strategizes and creates chaos the entire series. Obviously, he embodies most of the negative meanings from the Magician. They repeat characters on the cards, so Daenerys Targaryen is the Queen of Spears of course, and also the Empress since she is the Mother of Dragons.
Tyrion is the Page of Coins for his common phrase that "Lannisters always pay their debts," and he is also the Fool, which I loved because Tyrion travels the most mileage over the entire series visiting almost every location on the show from King's Landing to The Wall to Winterfell to Essos and back. He is such a common thread through all of the characters' side stories outside of King's Landing where his sister rarely strays. We follow Tyrion on his epic journey spanning the entire series and see through his eyes much of the time. This mirrors the Fool's Journey through the tarot as he does transform more than most of the other characters. Some card choices were spot on – the Moon as the moon door at the Eyrie, Melisandre as the High Priestess, and Drogon as the Chariot. He literally flew Dany over the seas on her mission to take back the throne.
Working with this deck helped me let go of some of the post-show blues. This deck has a very masculine feel to it, so I also use this when reading for male querents. I use this and the Wild Unknown Tarot for the spreads I throw for my husband. This is one of the few decks I have modified. I edged it in black, which goes well with the card backs consisting of dozens of swords to represent the Iron Throne made out of thousands of broken swords surrendered by the enemies of Aegon Targaryen. Overall, this deck has great winter energy and can be used for spreads dealing with heavier subjects that we all tend to read on during the cold winter months.
Light Visions Tarot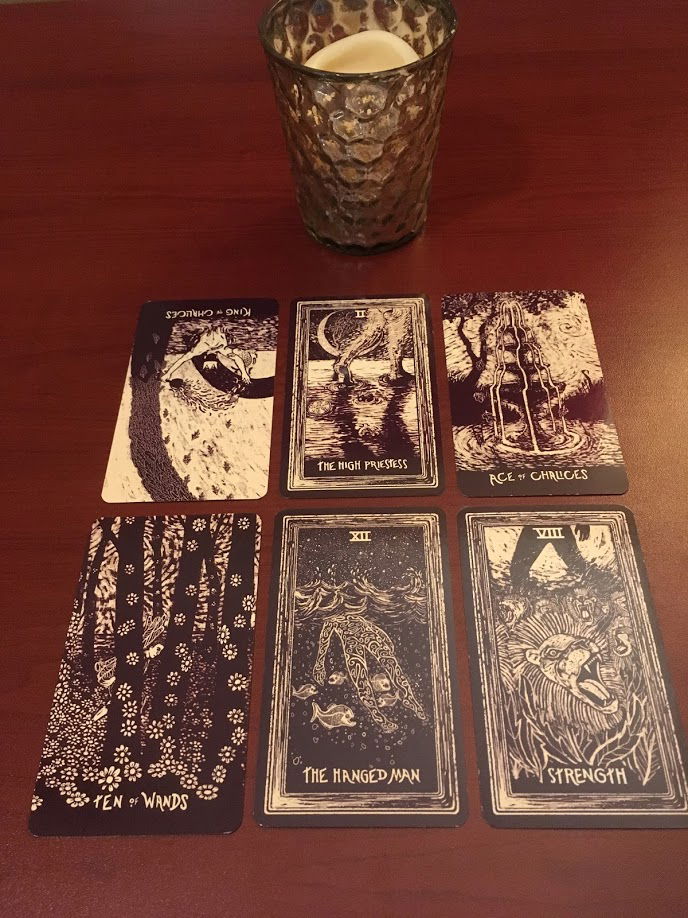 One of my only 2 tone decks is the Light Visions Tarot by James Eads (shown above). This deck is deep purple and light cream, but the purple is so dark that it really looks brown to me when I work with it. For that reason, I use this deck a lot in the winter months and for most of my new moon and full moon readings because it gives me that moonlight look, especially since the version I have is plastic and shiny. They now have a later edition of this that is matte and not plastic and instead of the gold gilding, there is a gold shimmering edging. It probably is easier to shuffle. It took a lot of practice to learn to shuffle the plastic cards.
I have the multi-colored version of this deck too, which is called the Prisma Visions Tarot. The cards are the exact same images, but it feels completely different working with the 2 different color schemes. And the Light Visions Tarot feels thinner to me when shuffling than the Prisma Visions. The snowy scenes stand out for me more in the Light Visions Tarot due to the two-tone color scheme, so this is perfect for cold winter months. I use the multicolor version for spring and summertime and the darker tone in the winter months. What I love about this deck is that each suit shows a storyline if you lay all the cards out side by side in order. It is gorgeous to see all 78 cards laid out on a tabletop. Truly one of a kind. There is always an extra 79th card, and it is unique for each version. For the version I have, the extra card is the Illumination card, and I love it when it comes up in a spread.
Mystical Shaman Oracle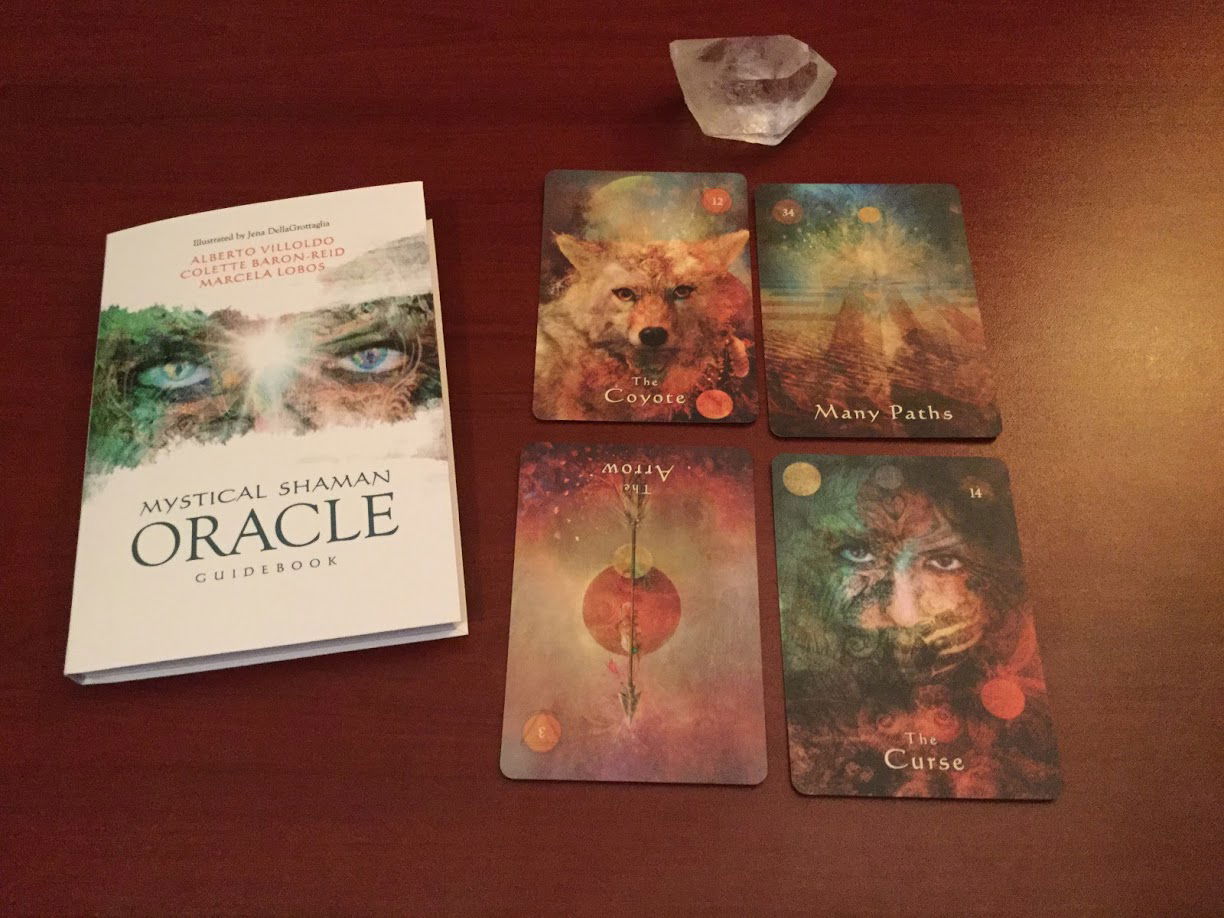 I have several oracle decks that I use mainly in the winter months too. The Mystical Shaman Oracle (shown above) is wonderful to work with during winter. The tones are really earthly and muted, which works well at this time of year. The oracle meanings are broken down into the essence of the card, the initiation for upright meanings, and the medicine for reversals. I equate colder months to be the cold and flu season, so medicine is associated with those months for me. This deck has great advice for how to treat certain situations with snake medicine and traveling through the underworld and spiritual realms – perfect for the time of year that we do more reflection, meditation and deep dives into the subconscious mind.
Postcards from the Liminal Space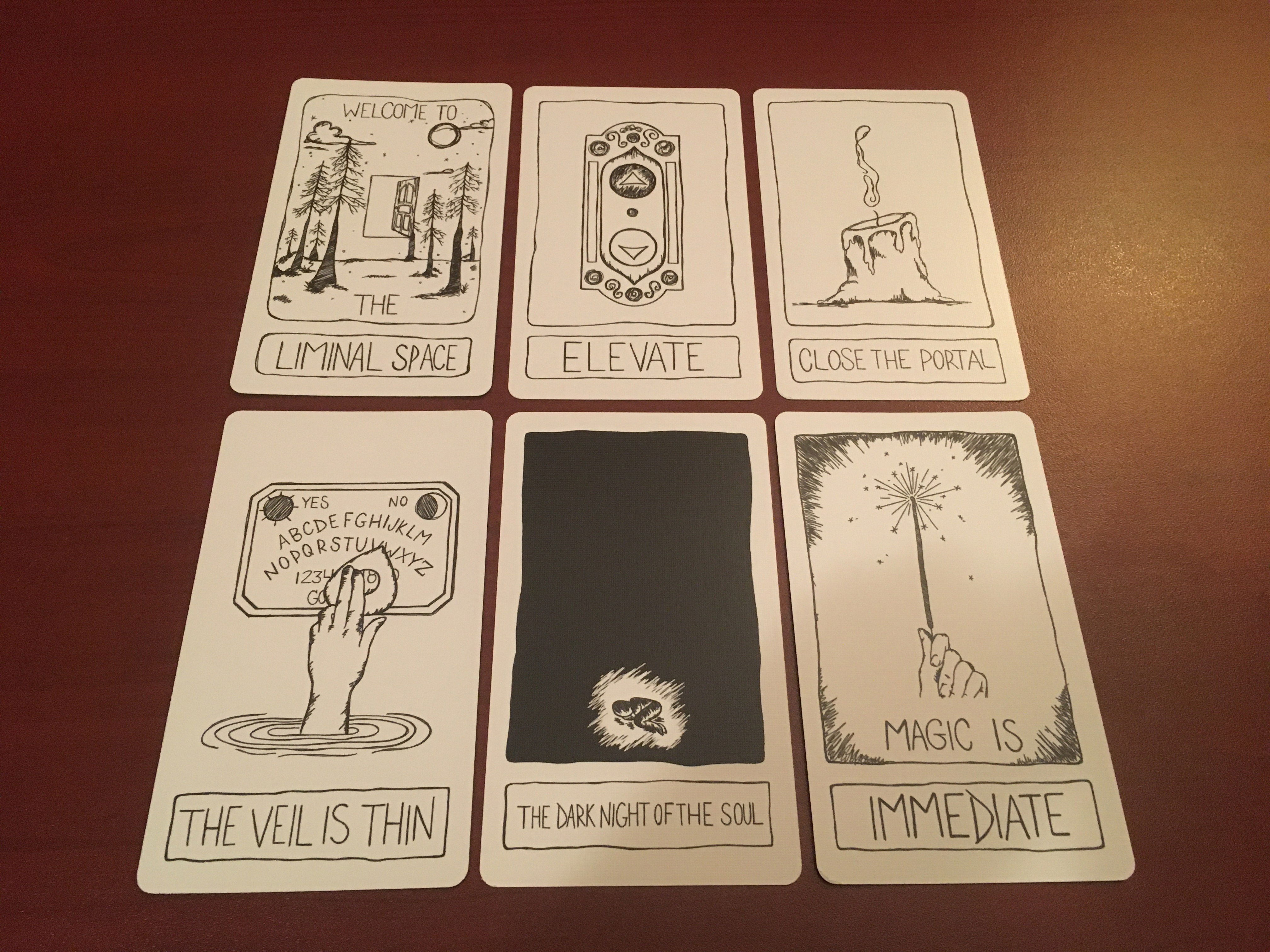 Postcards from the Liminal Space (shown above) is an oracle created by Bakara Wintner and Christian Berry and Illustrated by: Kaylee Christenson. This is one of my only black and white decks. This deck is perfect for winter due to the color scheme, and the use of negative space in the cards. The images are simplistic but powerful. And they are very straightforward. They get right to the point. They also deal with darker themes like the dark night of the soul, the liminal space, and exploring the void we often find ourselves in when we are in the middle of our self-exploration journey. This deck helps lift me up when feeling low because it reminds me that I am not alone on this journey and that we all go through much of the same process to get to the area of peace and understanding. There is darkness before the light. This deck is now retired, but Bakara is working on another version that will be out sometime in the spring of 2021, so watch the Everyday Magic site for those announcements. I plan on buying that version as well. The cards she has shared online as teasers look phenomenal.
The Season of the Witch: Samhain Oracle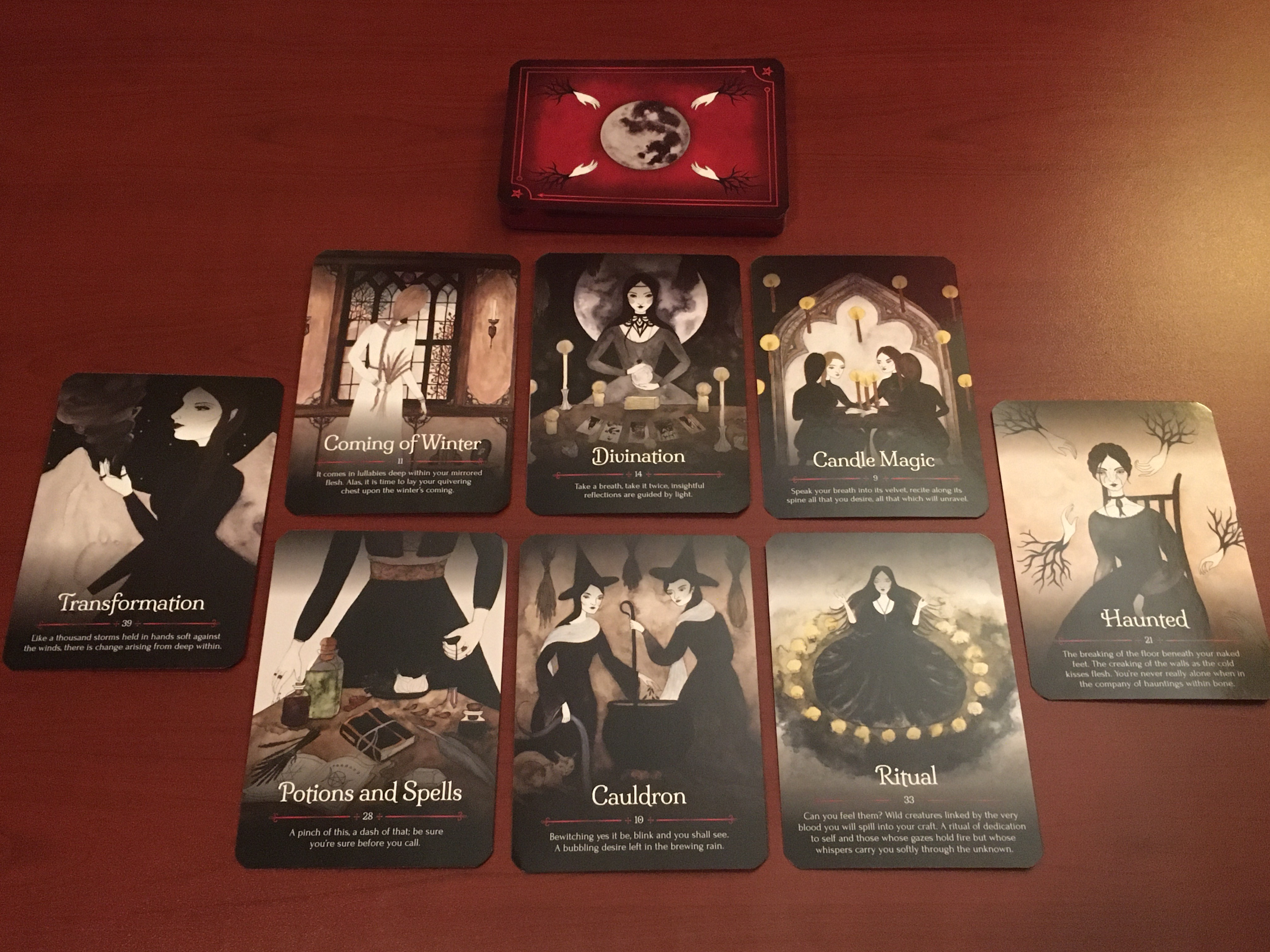 At the very end of October 2020, I finally received an oracle deck I have been wanting for a while. They just put out another print of The Season of the Witch: Samhain Oracle (shown above). I will be adding this deck to my autumn seasonal rotation, but I got it late this year and I am working with it now. The energy does deal with some heavier messages like grief, transformation, ancestors, the underworld, and the color palette is black, brown and grey with red gilding, so I am thinking that I may use it for both the autumn and winter months going forward.
It has a very witchy, magical feel to it. It reads well with my Magick and Mediums oracle, which I am also rolling over from autumn to winter. I talked about that oracle in depth in Episode 9 when I covered my favorite autumn decks. The witchy vibe of these 2 decks work well for both seasons for me. I still feel very witchy during the winter months. I don't put those decks away usually until spring, so there is some overlap from autumn to winter for me. The Dark Mansion Tarot and the Oracle of Shadows and Light are 2 other decks that work for both autumn and winter. Those are discussed at length in Ep 9 as well, so I won't repeat my reviews of those decks here.
The Bonestone and Earthflesh Tarot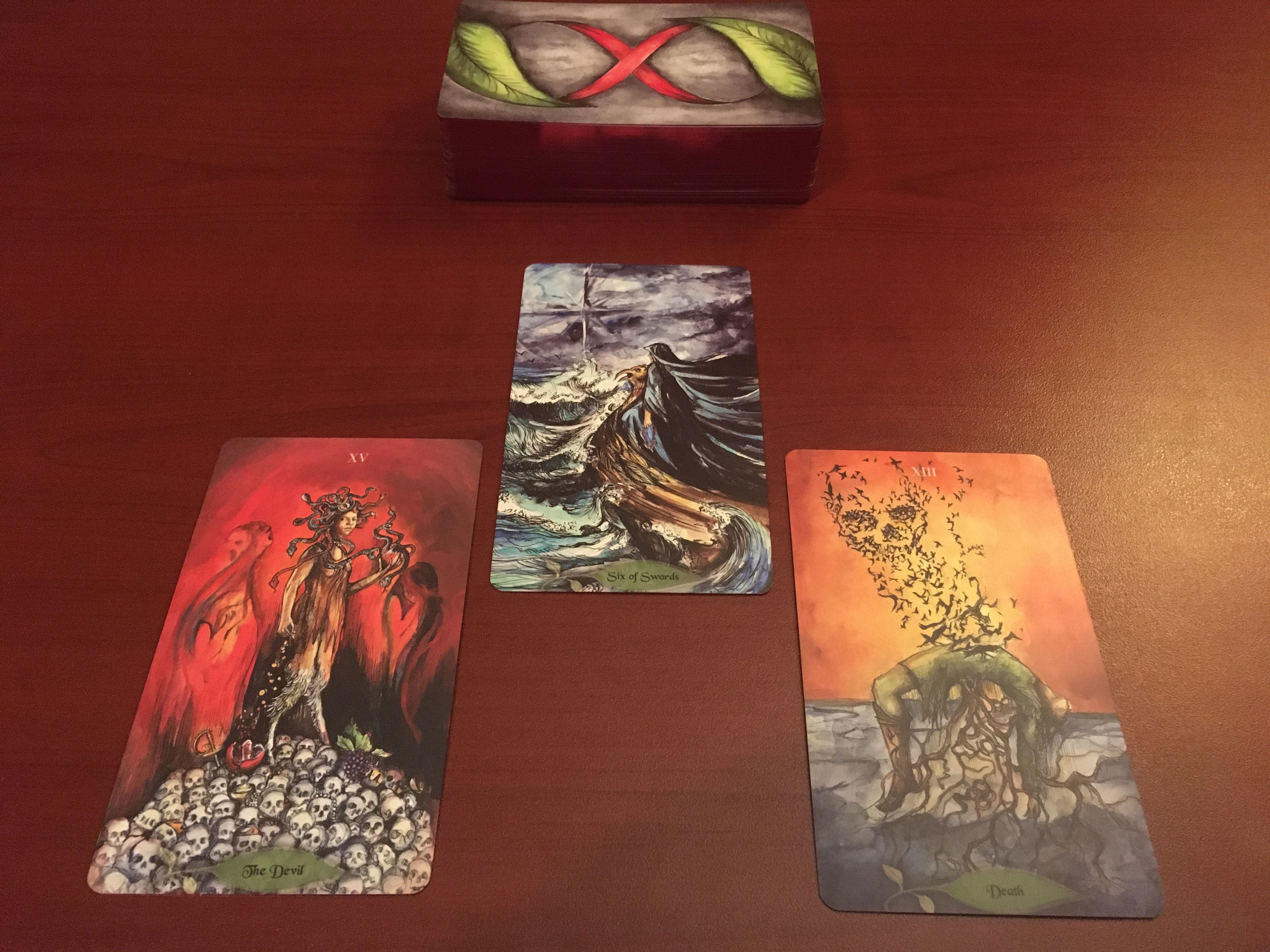 I just received the Bonestone and Earthflesh Tarot (shown above) in October, and I have been working with it this winter, which is fitting because this deck has a very ancestral vibe for me. For that reason, I have dedicated this deck for ancestral work, ancestral healing, ancestral guidance and karmic clearing. This is a stunning deck with very earthy tones hence the name Bonestone and Earthflesh. The imagery of this deck feels tribal and ancient. I feel ancient wisdom flow through me when working with these cards. I bonded with this deck from the very first time I shuffled the cards. The messages are clear and deeply resonate with me. It feels like I am channeling guidance directly from my ancestors every time. There is strong crone energy in these cards. There are no superficial readings with this deck. The messages are deeply meaningful and wise. Messages in these spreads are not to be taken lightly. I mull over the these messages long after the reading is over.
Spread using Bonestone and Earthflesh Tarot and Oracle of Echoes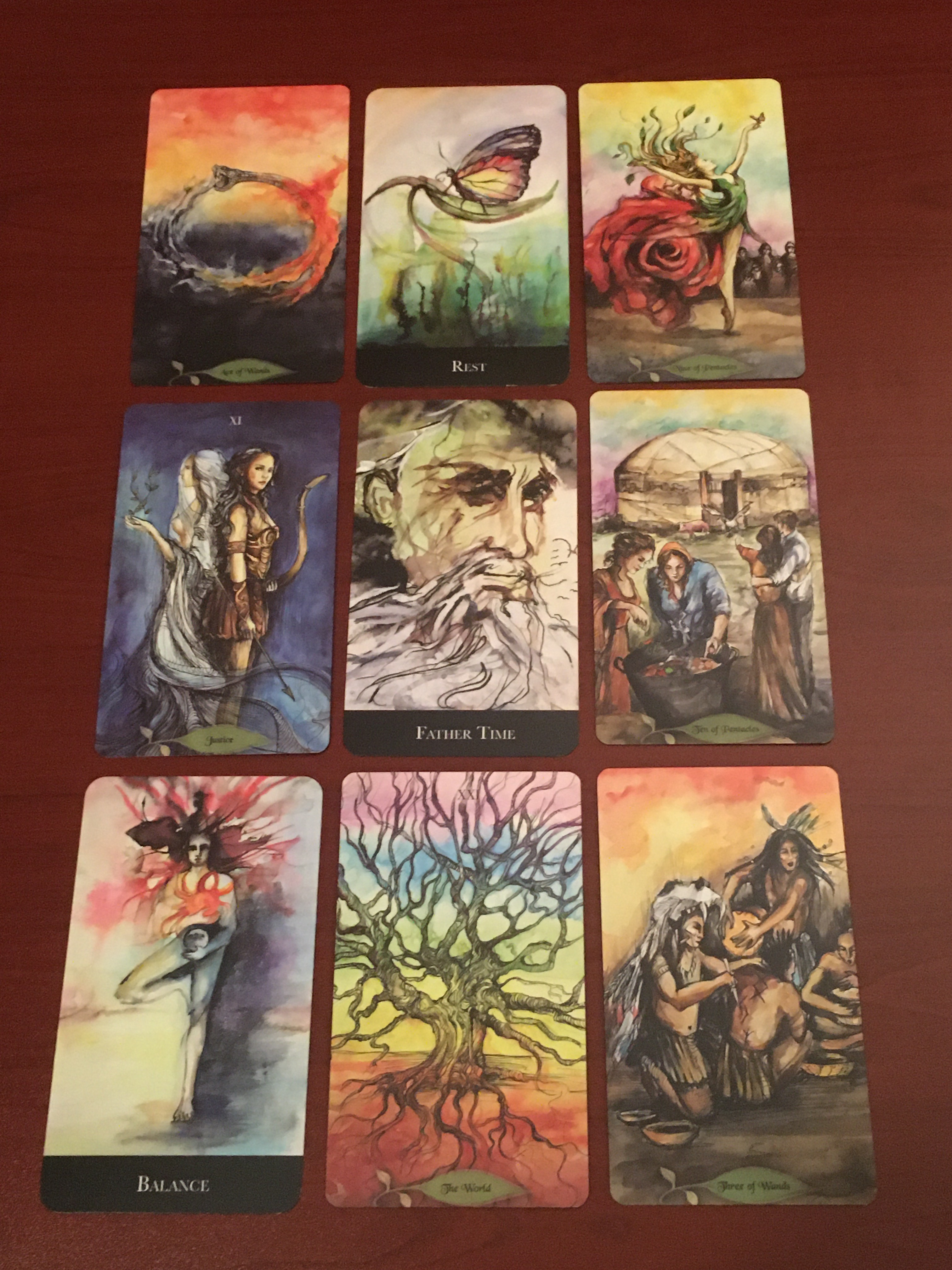 I use this deck with the Oracle of Echoes deck because Ana Tourian is the artist for both. I bought the Oracle of Echoes about a year and a half ago with the intention of reading with these 2 decks as a pair. I consider them sister decks. Spreads with both decks are seamless. They blend beautifully to weave ancient wisdom into a narrative that feels like a fireside chat with tribal elders.
The Bonestone Tarot is sold out, as it was only a limited run. Avalon may do a 2nd edition way in the future, but she has said publicly that she is not thinking about that now, as she needed a break after this deck dropped. If she does decide to do another run of it, she said she would change several of the cards, so this edition stays special. You can still order the Oracle of Echoes though, and the link to that deck and all the other decks I am reviewing are in the shownotes for this episode and in my blog.
The Wild Unknown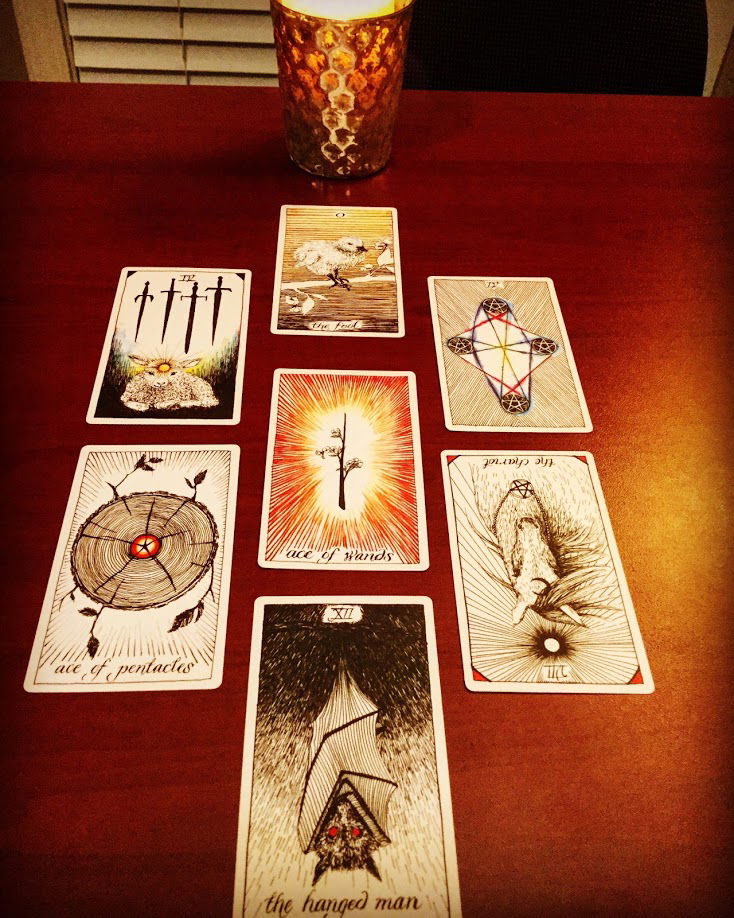 I'm going to end my winter deck list with a very powerful trio. The Wild Unknown Tarot (shown above), The Wild Unknown Animal Spirit deck, and The Wild Unknown Archetypes deck - all by Kim Krans. The Wild Unknown Tarot is probably the most photographed deck, and no doubt you have seen this deck all over social media the past several years. I didn't get into tarot until well after this deck hit the market, but I still heard about the massive craze over it. I've heard several people criticize the popularity of the Wild Unknown because it is so mainstream and the fact that people drool all over it. I actually didn't even think I would buy this deck at first when I initially got into tarot. I was drawn to the colorful decks that were visually stunning and emotionally evocative, and while I liked the look of this deck I passed on it many times for more colorful decks. This deck is sketch-based, so the images look drawn with a black pen with limited use of color. Most of the cards are black and white and use sparse color on a few cards, but it really works. It is also an animal and nature-based deck. There are no people in the cards. The aesthetic is what draws me to use this deck during the winter.
I told myself I wouldn't buy it out of FOMO or just because it was so popular. By the time winter hit after the first year that I had gotten into tarot, this deck started to call to me. If I saw photos of it I would feel a tug. I would shrug it off at first and say to myself, "No don't be lured in," and then again later it would pull me in once again. So I put it on my Christmas list that year with the Wild Unknown Animal Spirit deck. My husband got them both for me at the same time, and I started reading with the tarot and oracle together. And the readings were PHENOMENAL. I couldn't believe how clear the messages were. Then a year later I felt drawn to the Wild Unknown Archetypes deck at Christmas right after it first came out, and once I had that deck I added that to the readings of the other Wild Unknown decks.
The readings really resonate with me when using all 3 decks. Now, I always read with them as a set. I usually start with a celtic cross with the tarot cards, then add clarifier cards with the Animal Spirit Oracle, and I either start or end the reading with 3 cards from the archetype deck for overall energy or messages from my guides. And for some reason, I always want to use my tiger eye runes with these decks. I cast the runes over the cards, and the whole reading flows together with clear guidance that feels like it comes from my animal guides and my nature-loving guides.
Tarot Spread Using All 3 Wild Unknown Decks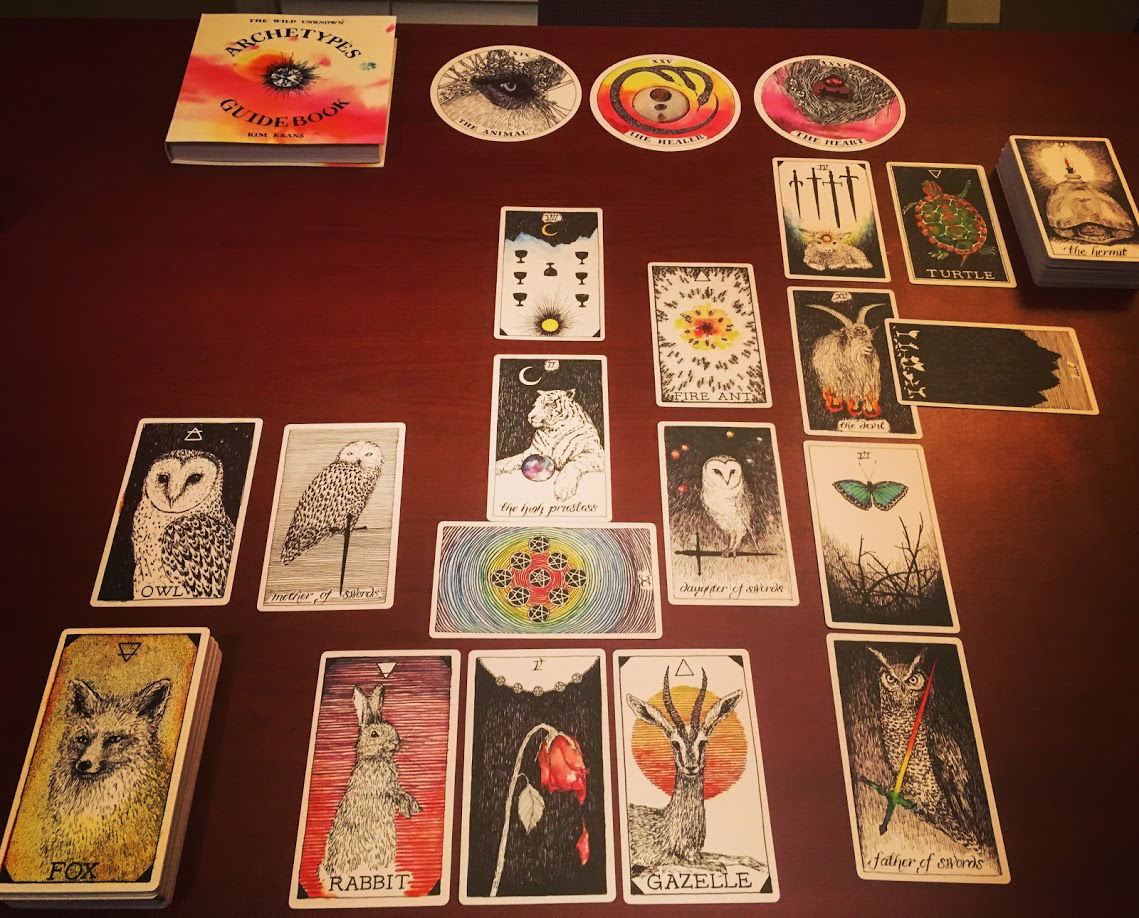 Also, the archetype messages feel like they come from my subconscious mind using my psychological knowledge of those archetypes to steer me in the direction of shadow work and deep soul searching. Winter is when I do a lot of my shadow work, and this trio is one of my favorites to use for those darker, heavier reads. You can dive deep with the archetype cards, and they are always so on point when I pull them. It never fails to amaze me how precise they can be in relation to the question I asked or the problem I am facing.
If you are hesitant about working with the Wild Unknown because of its popularity in the mainstream, my advice would be to not buy it until you feel called by the deck. If I ever question whether I need or truly want a deck I wait a few months to see how I feel after the fear of missing out has worn off. I did this with the Dark Mansion Tarot too. It was so popular that I worried I would be buying it based on that hype. Eventually, if the call becomes really intense then I know I am meant to have that deck. It usually means that the deck has something to teach me or that there are certain messages in the guidebook that I need to hear. There is ALWAYS a valid reason why a deck calls out to me. It is unmistakable when this happens. And I always trust my gut. And I have never regretted buying a deck when I felt that pull. The ones I regret buying are the decks I bought impulsively because Hayhouse was having a 50% sale, and I could buy the deck for under $10. I have several that I could live without for that reason. Those decks never resonated, so now I wait until the call of the cards.
Winter Healing Themes
Winter is an ideal time to let go of what needs to be released, for shadow work, ancestoral work, and inner healing. It is a time for reflection, rest, and recovery. It is a great time to turn inward to assess your life and to identify changes needed to move you forward out of any ruts you find yourself in. I also use this time to declutter my mind and my environment and to prepare for the unfolding inner transformation that will ultimately lead to a much needed energetic rebirth. Winter is a natural time of hibernation. It invites you to go within and to dive deep into self-discovery.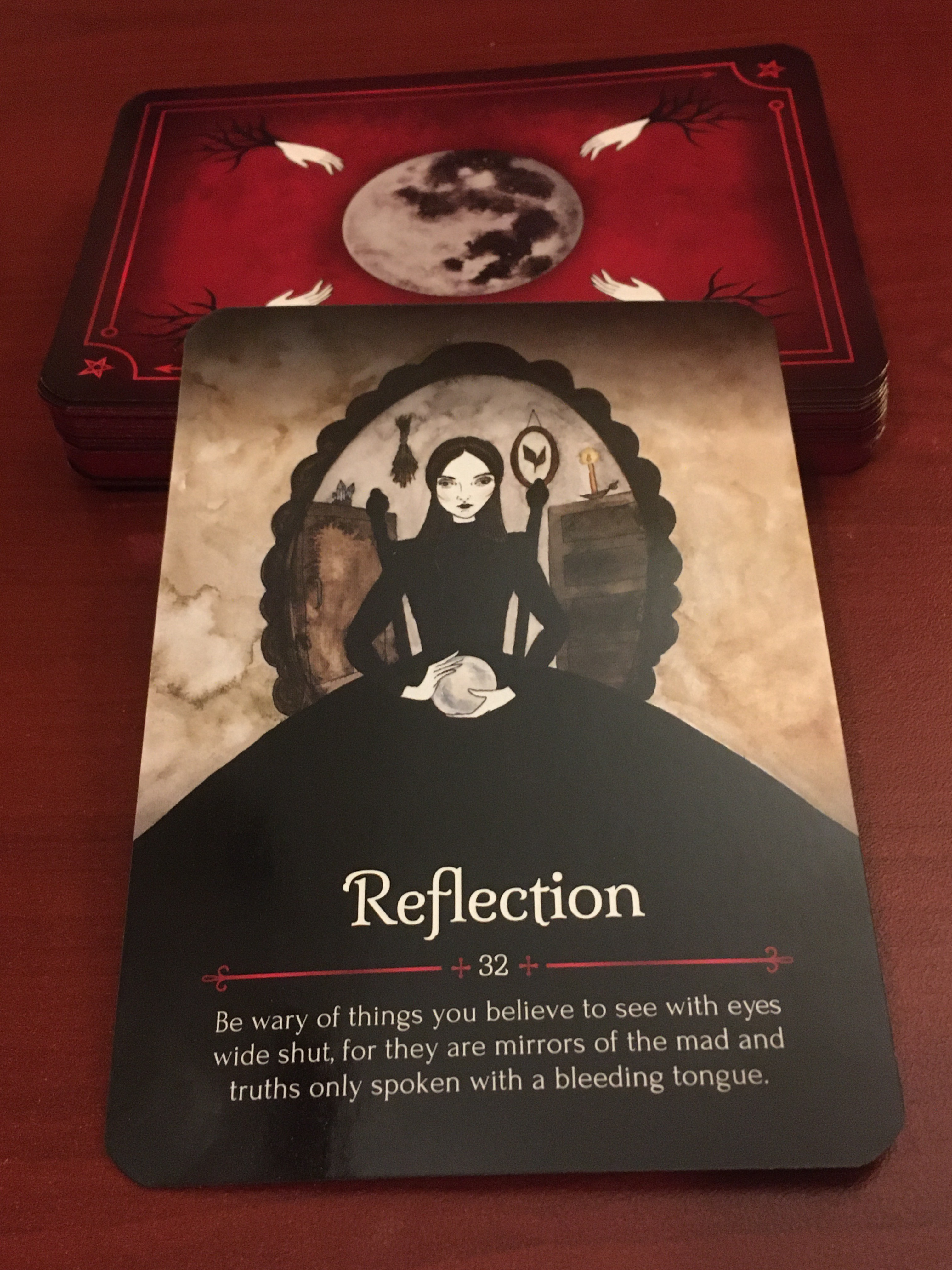 Our core beliefs and most authentic selves can be found in the darkest depths of our psyche, but we don't always have the time or space to devote to the time-consuming process it takes to reach that core self. But winter provides us the perfect opportunity for deep personal transformation if we explore the stillness and reflect on the lessons we've learned over the year. I find this the perfect time to retreat and conduct a life assessment to evaluate the challenges I faced and conquered over the other seasons of the year and to take stock of the lessons I haven't quite completed yet that need more work.
It can be uncomfortable at first to sit in the stillness and face the aspects of ourselves that contain our shadow. But it is necessary work to evolve. And we are constantly called to evolve and transform. Depression can set in if we are stagnant for too long. Even though it is uncomfortable to take on this shadow work at first, the unsettling feeling subsides after you start to discover the power in self-discovery and self-mastery that comes with integration. Diving into the unknown can be scary, but it is also exhilarating and fulfilling to take that plunge and know that you could breakthrough obstacles that have blocked your progress for far too long.
Winter time is also a time to reconnect with your self and realign to your goals. Take this time to assess whether you have gotten off your path and renew your commitments to the goals you still desire to work toward. Listen to your inner voice. What is your soul whispering to you that you haven't been hearing during the busy, chaotic energy of the other seasons?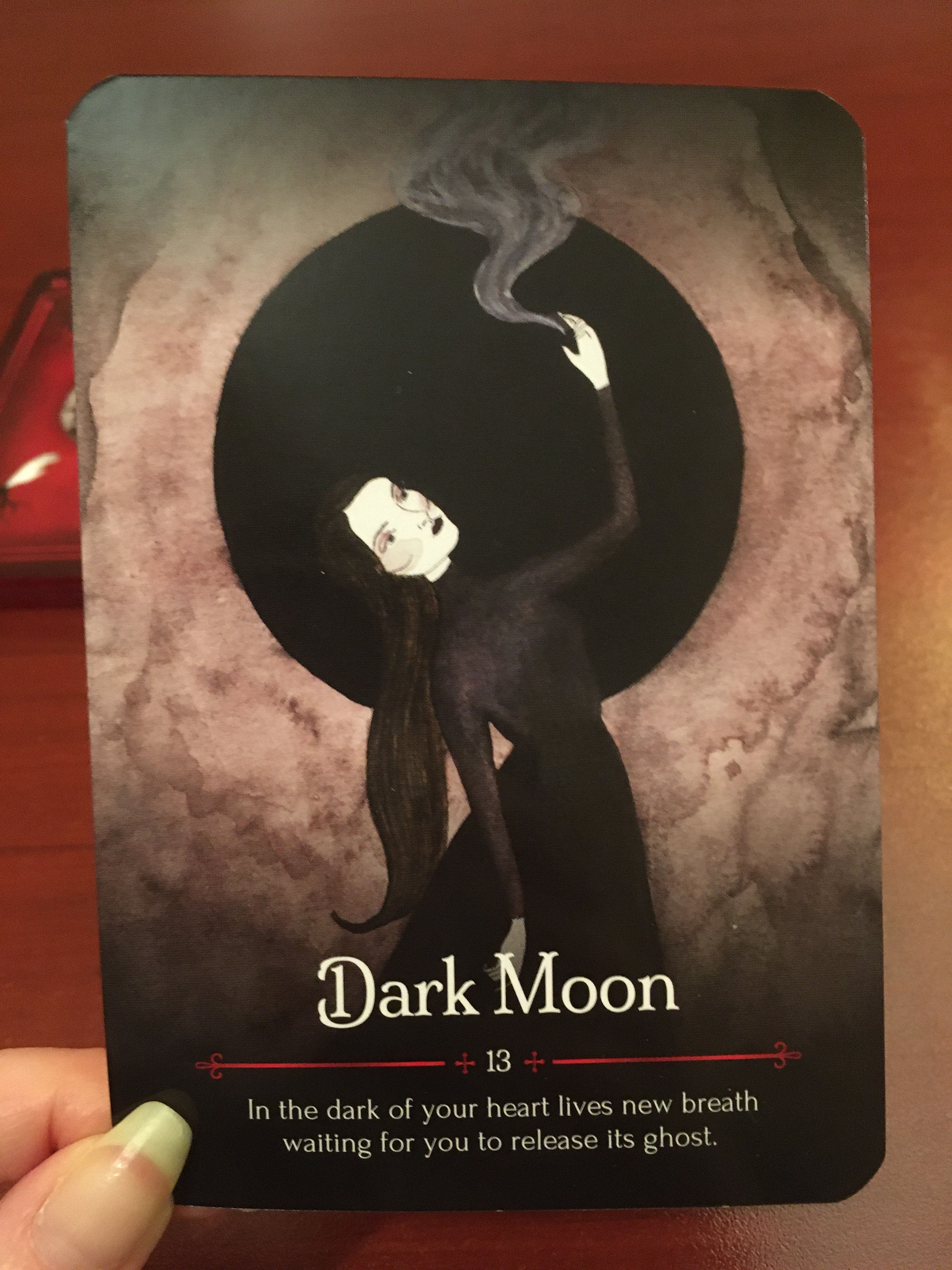 Winter calls for rest, recovery and renewal. We can't grow without periods of rest to renew our energy supply. Much of the year we are forced to run on fumes due to our overprogrammed schedules and busy lives. This all leads to exhaustion, and winter is our time to refuel. We also can't grow if we don't cut off the decaying aspects of our life. Winter is the ideal time to release relationships that are draining, goals that don't align with our purpose anymore, habits that harm us, and anything that no longer serves us. Think of it like pruning a plant. The flowers can't bloom when dead ends continue to weigh them down. Pruning helps to cut away the decaying parts, so it may bloom fresh shoots again making way for new life to burst forth. At this time, let die what is dying, don't hold onto it. Don't try to resuscitate it. Let it go and allow new energy to come in.
I use winter for healing areas that have been buried the rest of the year when I didn't have the time to fully work through and process those areas. The slower pace of winter provides that opportunity to go within and devote time to the release and rebirth process. The veil is thin at this time, and it is a perfect time to do ancestor work, which helps me with my inner healing work.
Ancestral healing and karmic clearing aides me with my own healing and helps me release stagnant energy that has been holding me back. This healing work also heals those around us, so it is important work. I covered these issues in Healing Thru Tarot Podcast Ep. 11 and 12 if you want to know more about ancestral healing, karmic clearing and collective healing.
The work you do during winter can help set you up with new fresh energy for your next phase of life. This clearing and release can open up new avenues of creativity.
Keywords for winter would be retreat, surrender, shedding, release, renewal, rebirth, and transformation. Meditate on these words during the winter months and journal about the thoughts that percolate up from your subconscious mind.
Where is your soul nudging you?
What change can you feel approaching?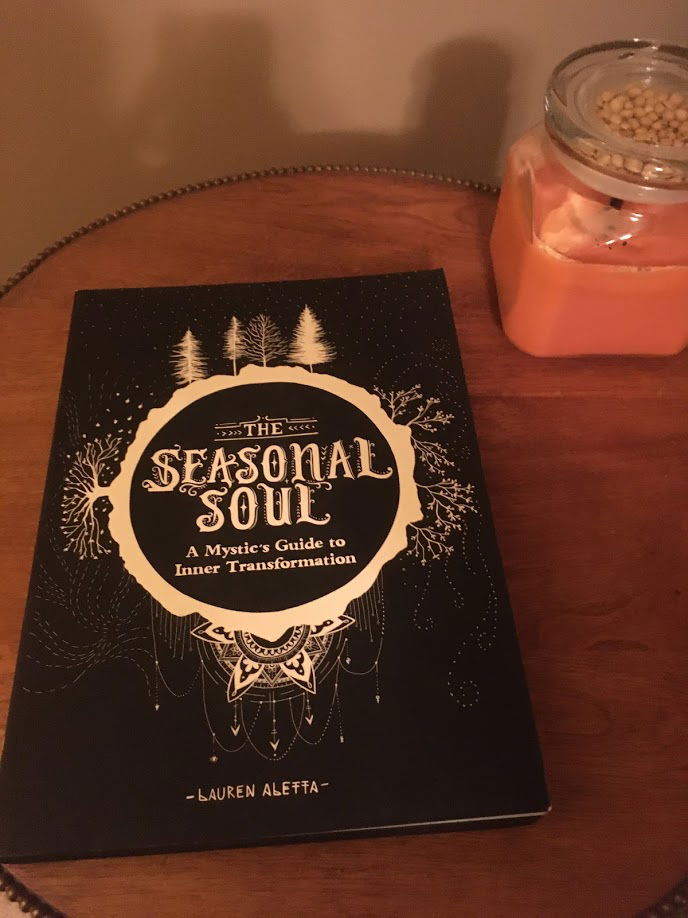 This year I have been working with the book The Seasonal Soul: A Mystic's Guide to Inner Transformation by Lauren Aletta (shown above), and some of the content I have been sharing with you in this episode was inspired by my work with her book over the past few winter months. There is a link for this book in the show notes. I have enjoyed working with this book over autumn and winter so far. I will continue through spring and summer to complete the journey. This book has great exercises and content related to the changing seasons of our lives, not just the changes that occur every few months throughout the year.
Here is the 5 card spread I created for us to explore the lessons that this winter has to offer us. If you throw this spread, I would love to see the photo of your spread. Please tag me on Instagram @healingthrutarot and please use the hashtag #healingthrutarotwinterspread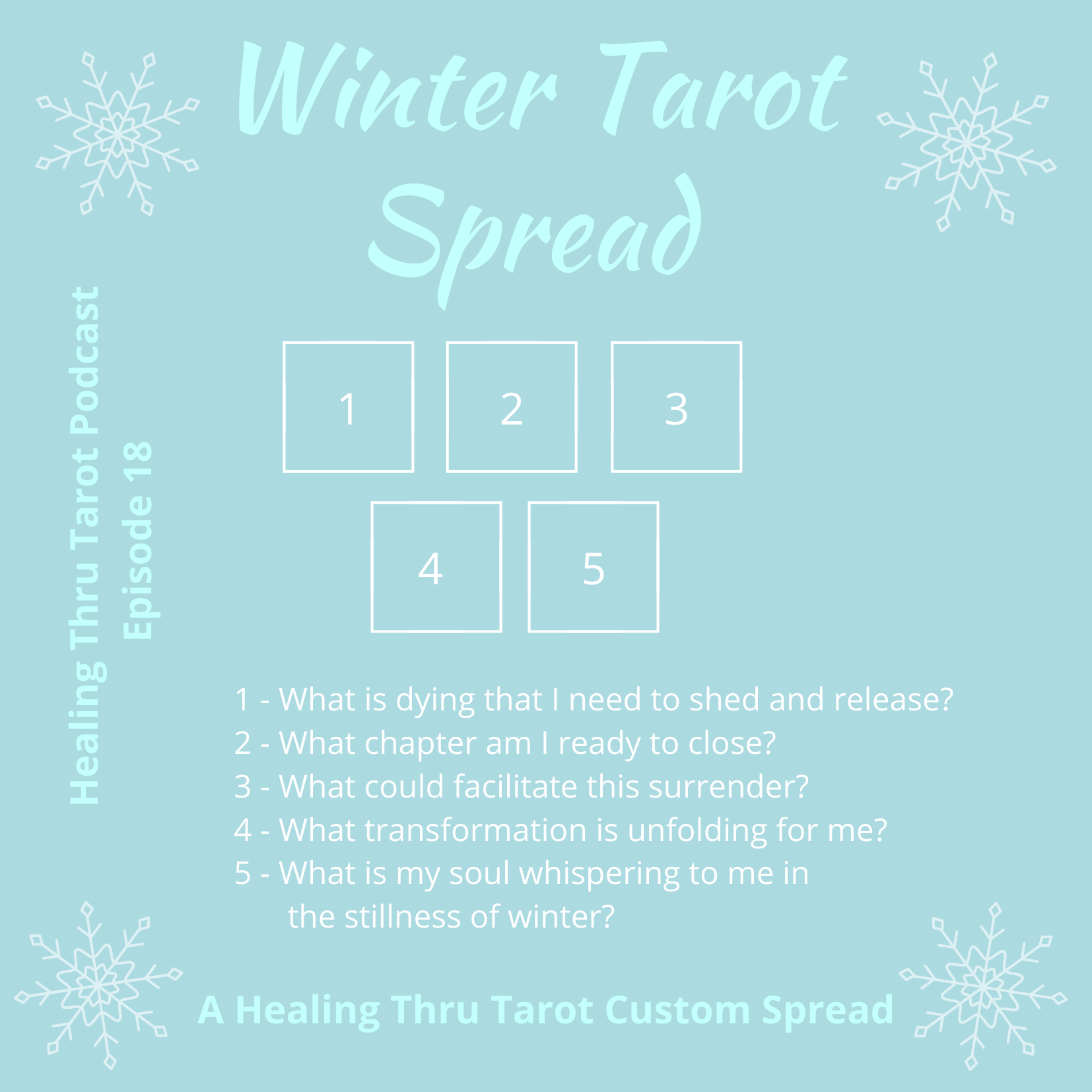 Also, you can find me on the Goodpods app under Healing Thru Tarot. I would love to connect on that app if you are a goodpods user. It is a great place for us all to see which podcasts we are listening to and enjoying at the moment, and you can rate different podcast episodes you listen to and share your favorites with those that you are connected with. Find me on there and I will follow you back.
Books and Decks shown in this blog or recommended are below: click on title to go to the product. Some of these are amazon affiliate links and it helps me out if you use these links. Thanks for your support.
Season of the Witch: Samhain Oracle
Wild Unknown Animal Spirit Oracle
*The Bonestone and Earthflesh tarot and Postcards from the Liminal Space decks are sold out.
Link to Podcast Episode 18 on Anchor click here
Related Podcast Episodes 11 (Personal and Collective Healing) and 12 (Ancestral Healing and Karmic Cleansing)
Listener Support
*If you would like to support this podcast monthly, please consider signing up for a small pledge to help me be able to continue to produce these quality episodes every two weeks. Use the link below to sign up to support through anchor.
Much appreciated!
https://anchor.fm/healingthrutarot/support
Are you enjoying the Healing Thru Tarot podcast and companion blog? If so, now you can gift me a coffee or two to kept me fueled as I pull all-nighters writing the scripts and recording all the episodes. Help me keep this content flowing by sparking my inspiration! Just click here to gift me a caffeine fix.