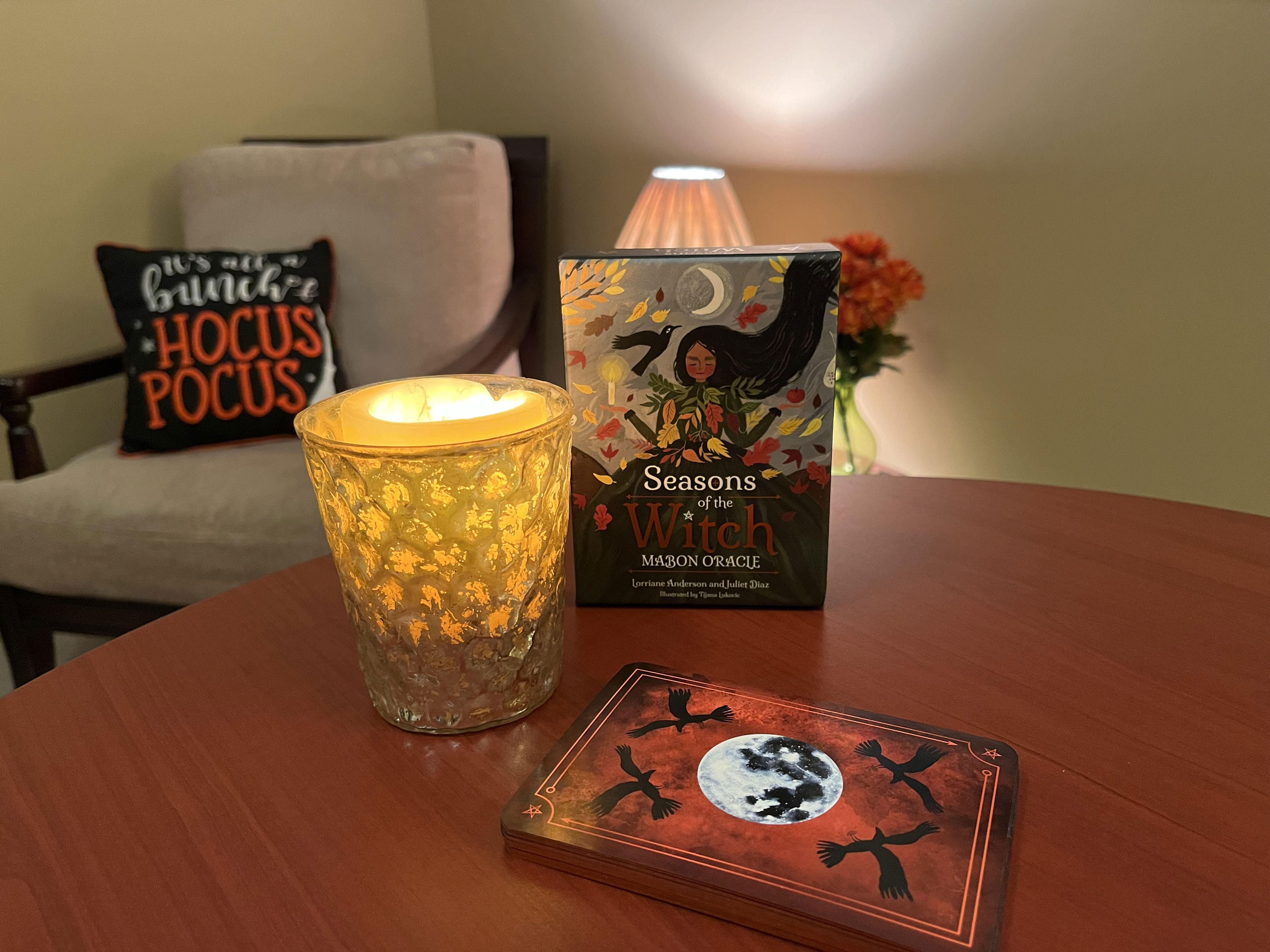 Rockpool Publishing sent over the Seasons of the Witch: Mabon Oracle for me to review and share with you. And I think I have a new favorite oracle!!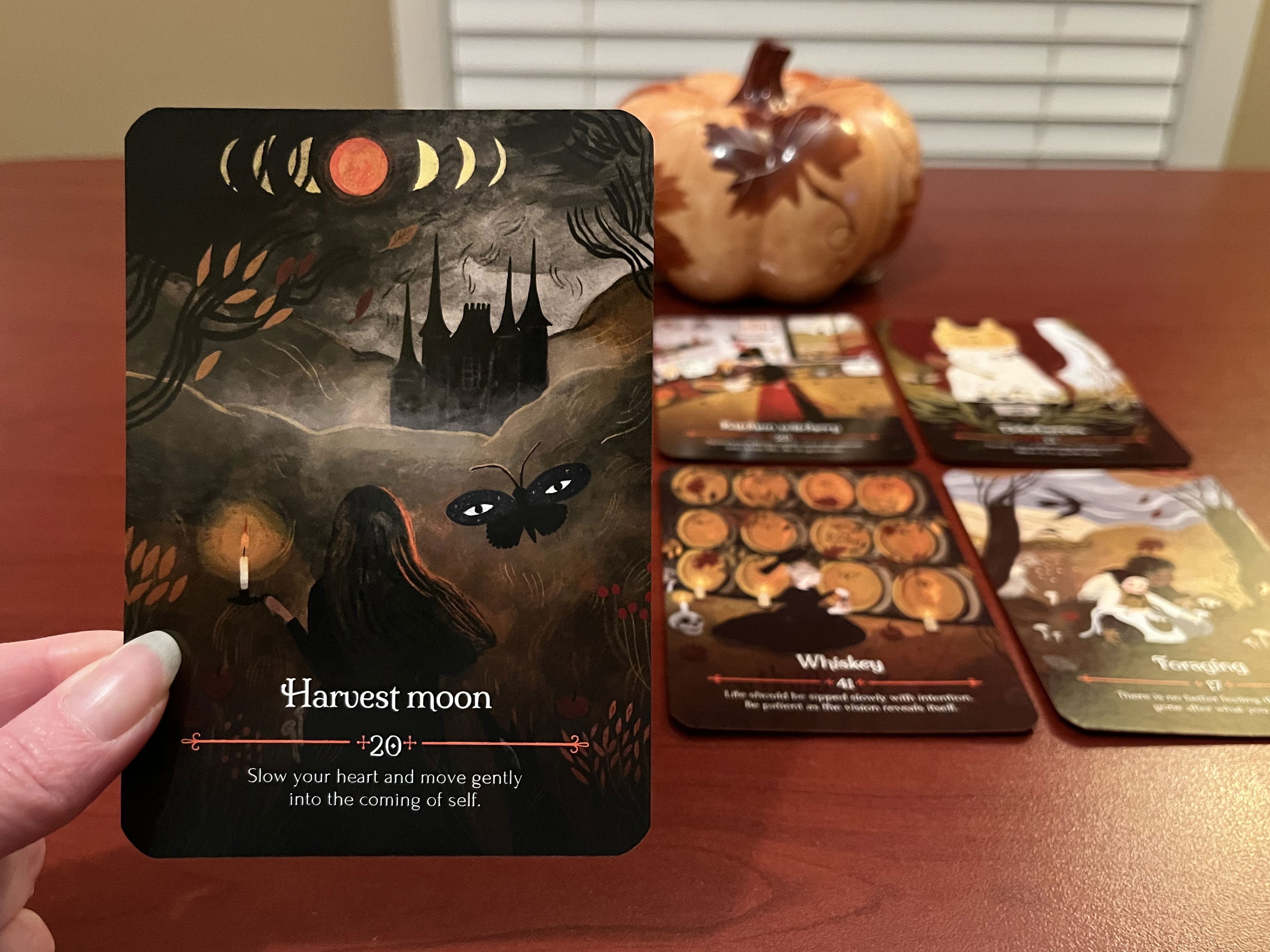 Autumn is my favorite time of year, and this deck is infused with all those autumnal oranges, yellows, reds, and browns that light my soul up. I didn't think any deck could top the Seasons of the Witch: Samhain Oracle, but I think this one does. At the very least they're tied. Luckily, I don't really have to choose. I get to use both this time of year.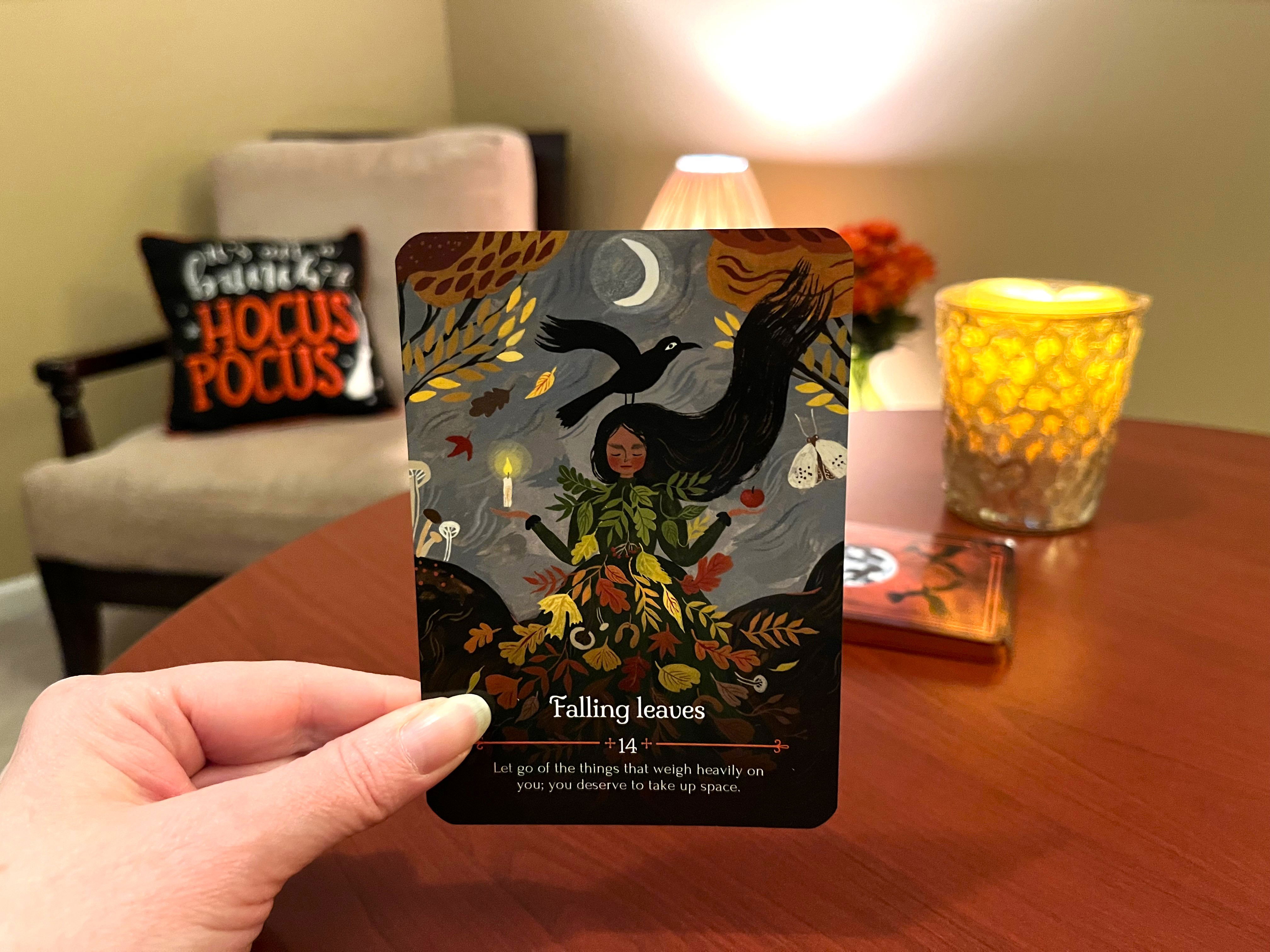 I'm so excited that it's finally time to pull out my autumn décor and all my favorite fall tarot and oracle decks. This year I get to add this cozy deck to my huge autumn collection. It makes me so happy! The creators really knocked this one out of the park! Creators: Lorriane Anderson (Author), Juliet Diaz (Author), and Tijana Lukovic (Illustrator)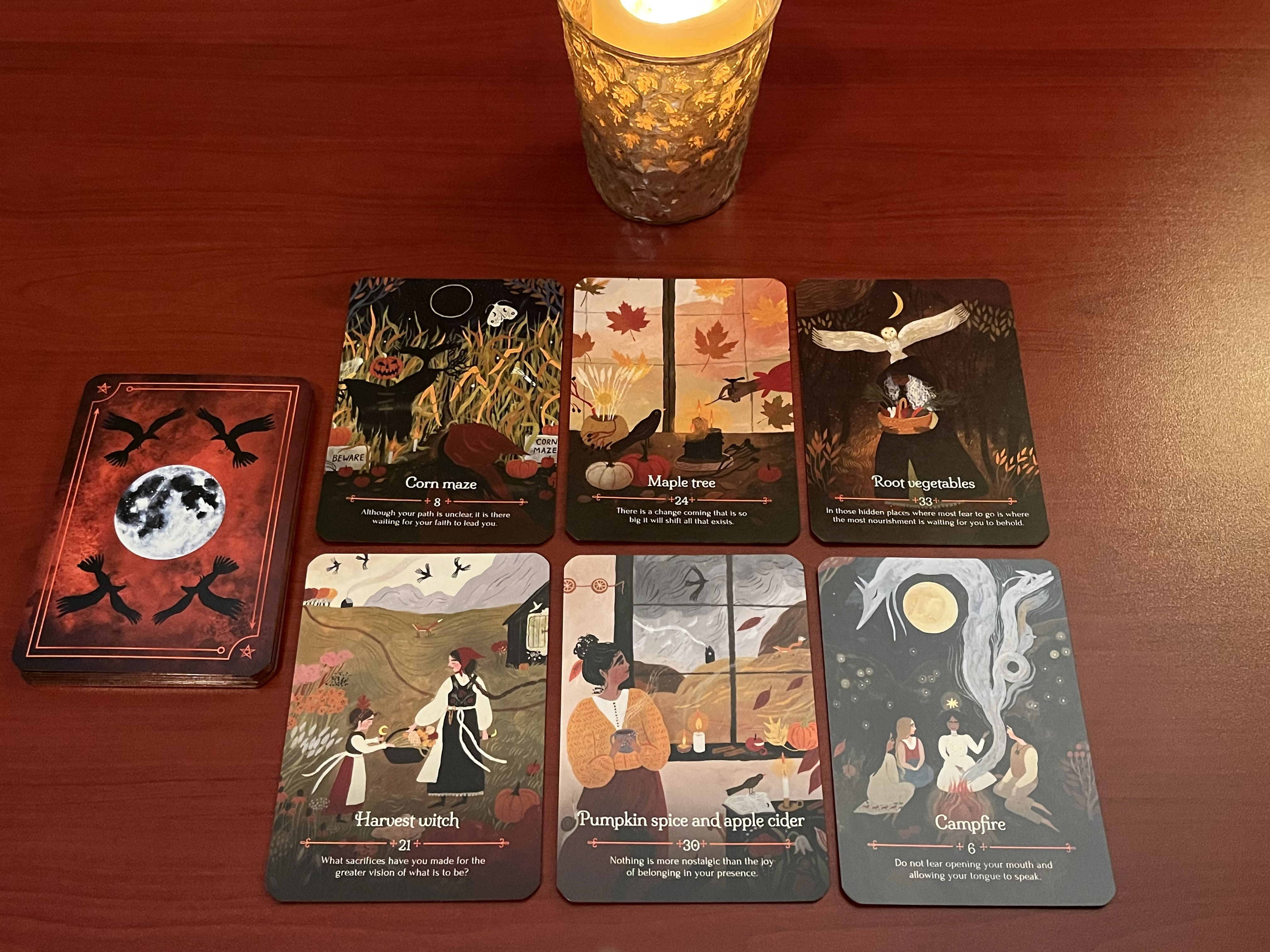 There's just something about autumn that makes me feel like I'm coming home. It's the time I feel most alive and most like myself. And during September, October, and November there's a peace within my soul that I wish I could extend through the rest of the year. As the brutal Memphis heat drags on and on during July and August, I start to crave that first dip in temps when I know that autumn is on its way. Flipping through these cards calls up the giddiness I feel at the first hint of a crisp morning breeze. That's the moment I can finally escape the unbearable summer heat and relax into autumn's chilly embrace. I crave that moment all summer long!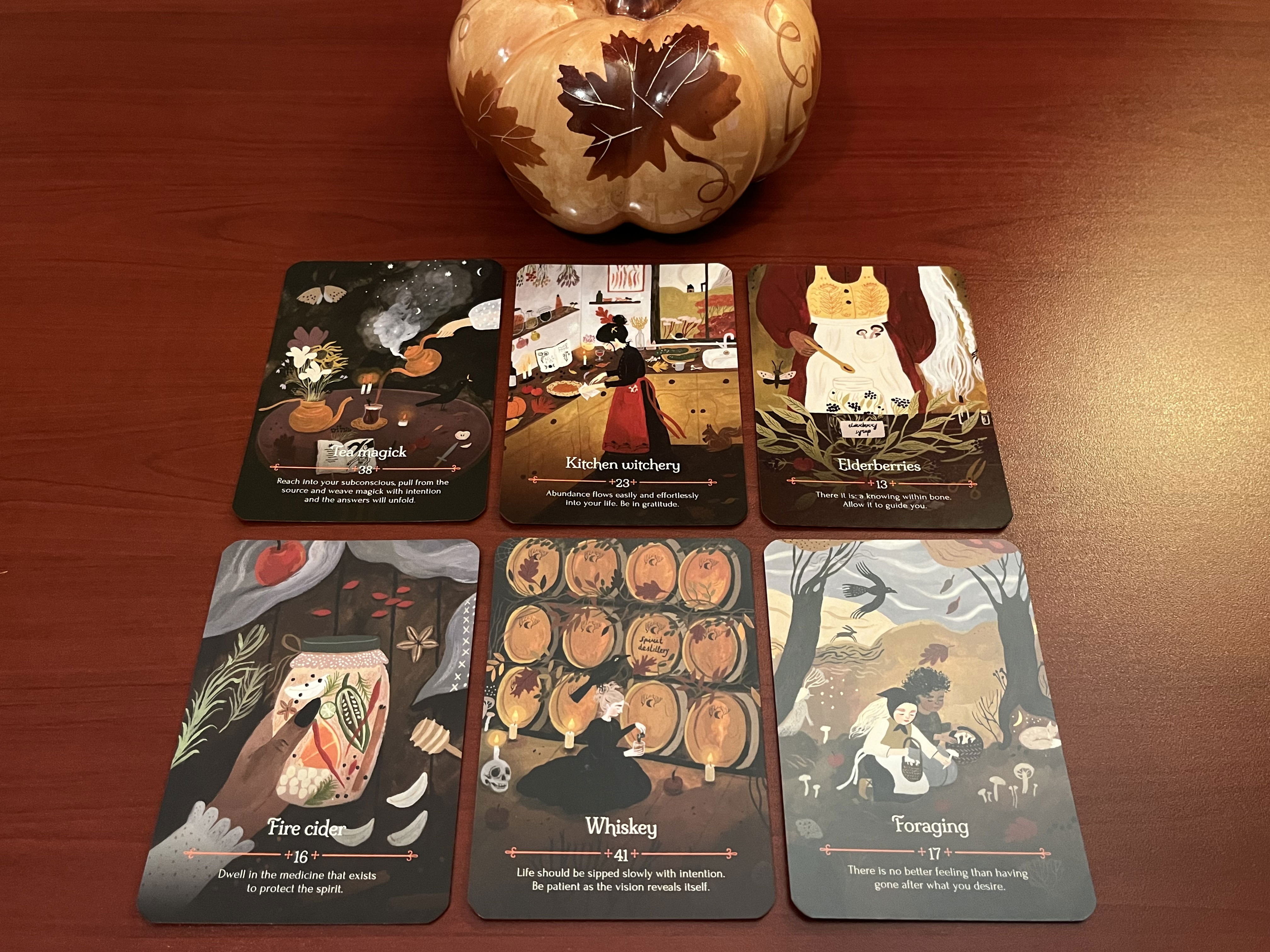 The rich, golden tones of these cards conjure up the coziness of autumn that I love so much. This is everything I've ever wanted in an autumn oracle! The autumn vibes are a 10/10 with the Mabon oracle! We've got cards like Tea Magick, Corn Maze, Foraging, Harvest Witch, Pumpkin Spice and Apple Cider, and even a Whiskey card! What's not to love?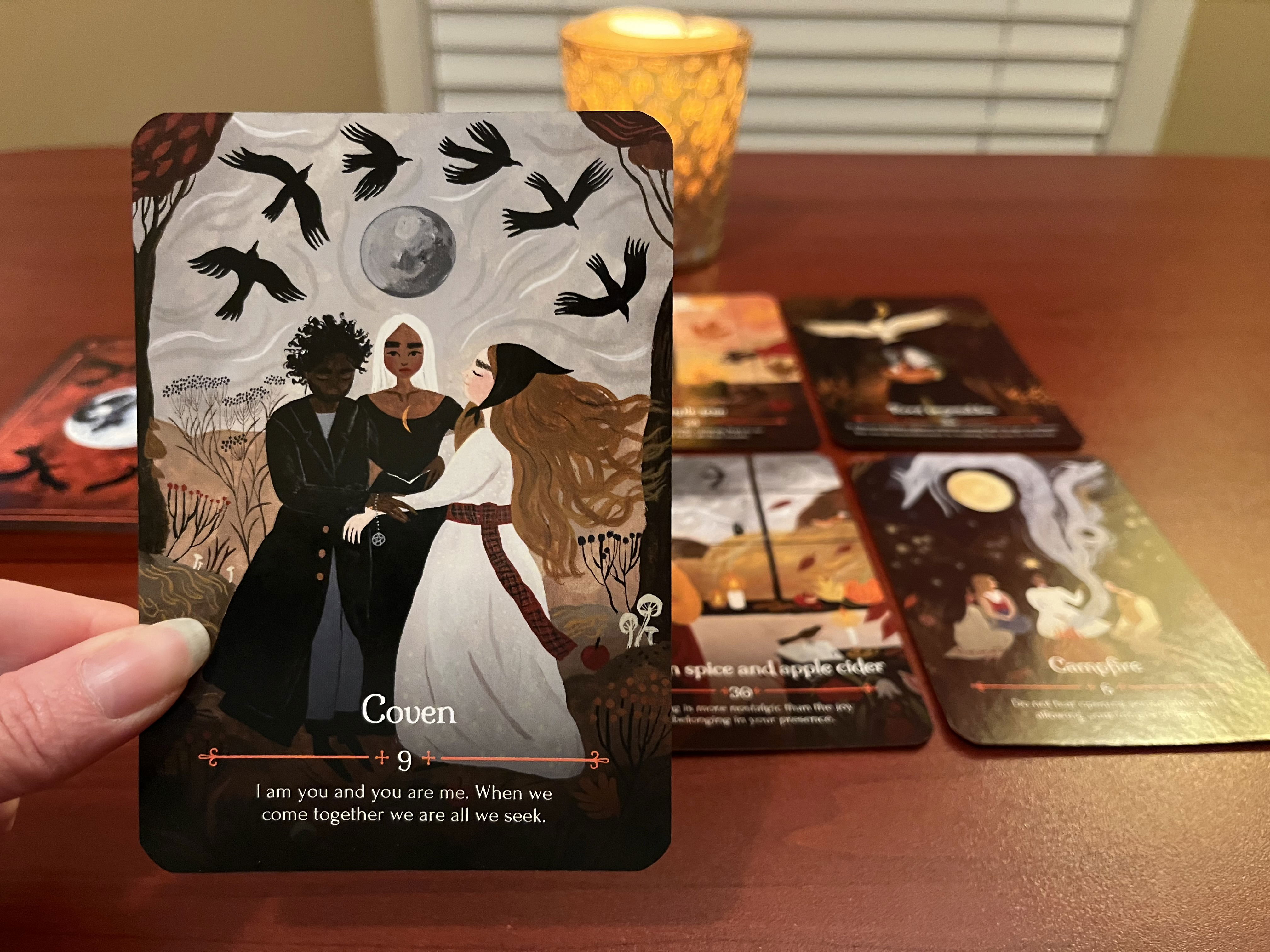 Mabon represents the beginning of autumn when the days become shorter, and the darkness grows with each passing day. Mabon occurs at the autumn equinox and has long been celebrated by ancient celts and pagans as a harvest festival where thanks were given for a good harvest and prayers were offered that the crop would get them through the upcoming winter. So, Mabon is a time for gathering as a community to express gratitude, offer thanks for blessings, and to begin preparations for the cold harsh winter months approaching. The 44 cards in this deck touch on each of those themes beautifully whether it's preparing for the colder months or celebrating as a community or coven for this year's harvest bounty.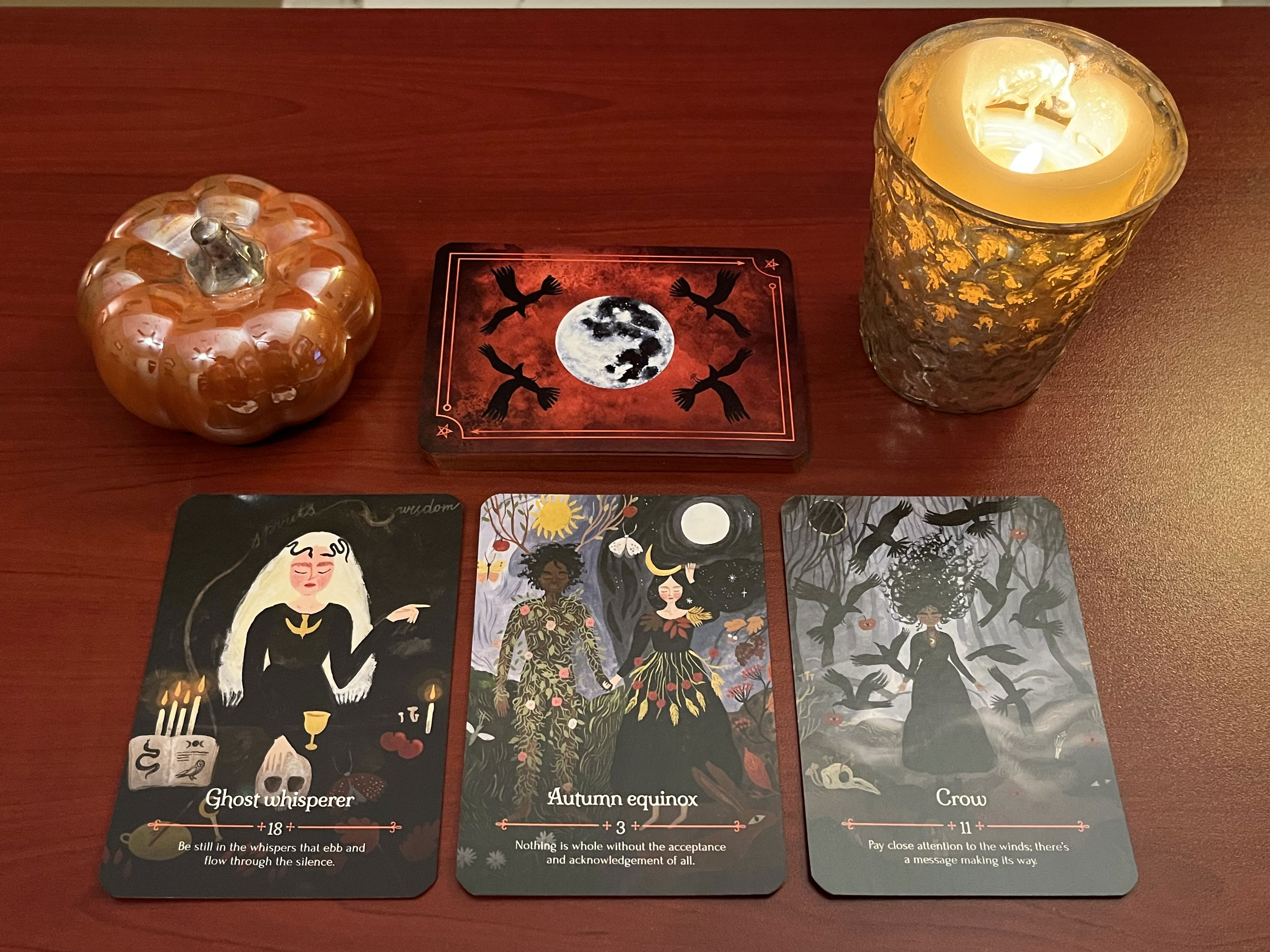 Mabon is a time when everything around us begins to slow, and we start to turn inward to assess our progress over the year and begin our shadow work for the season. The Mabon season invites us to embrace change, prioritize balance and harmony, surrender what is no longer serving us, and focus on any healing needed as the challenges of winter creep up just as the leaves are turning and falling to the ground, representing the death and rebirth occurring in the natural world around us. This mirrors the internal transitions taking place as we release burdens we no longer wish to carry and embrace the transformation beginning to unfold, offering us another opportunity to evolve on this everchanging journey as the wheel of life turns for yet another season.
Mabon's themes and areas of focus include:
Ancestral healing
Balance and transitions
Counting blessings/Gratitude
Celebrating the harvest and the season's bounty
Endings and mourning
Gathering as a community
Preparing for the winter
Self-care
Sharing wisdom
Taking stock of inventory
Taking time for introspection and self-assessment
Of course, you can use this deck during Mabon season, but really you can pull it out whenever these themes call to you.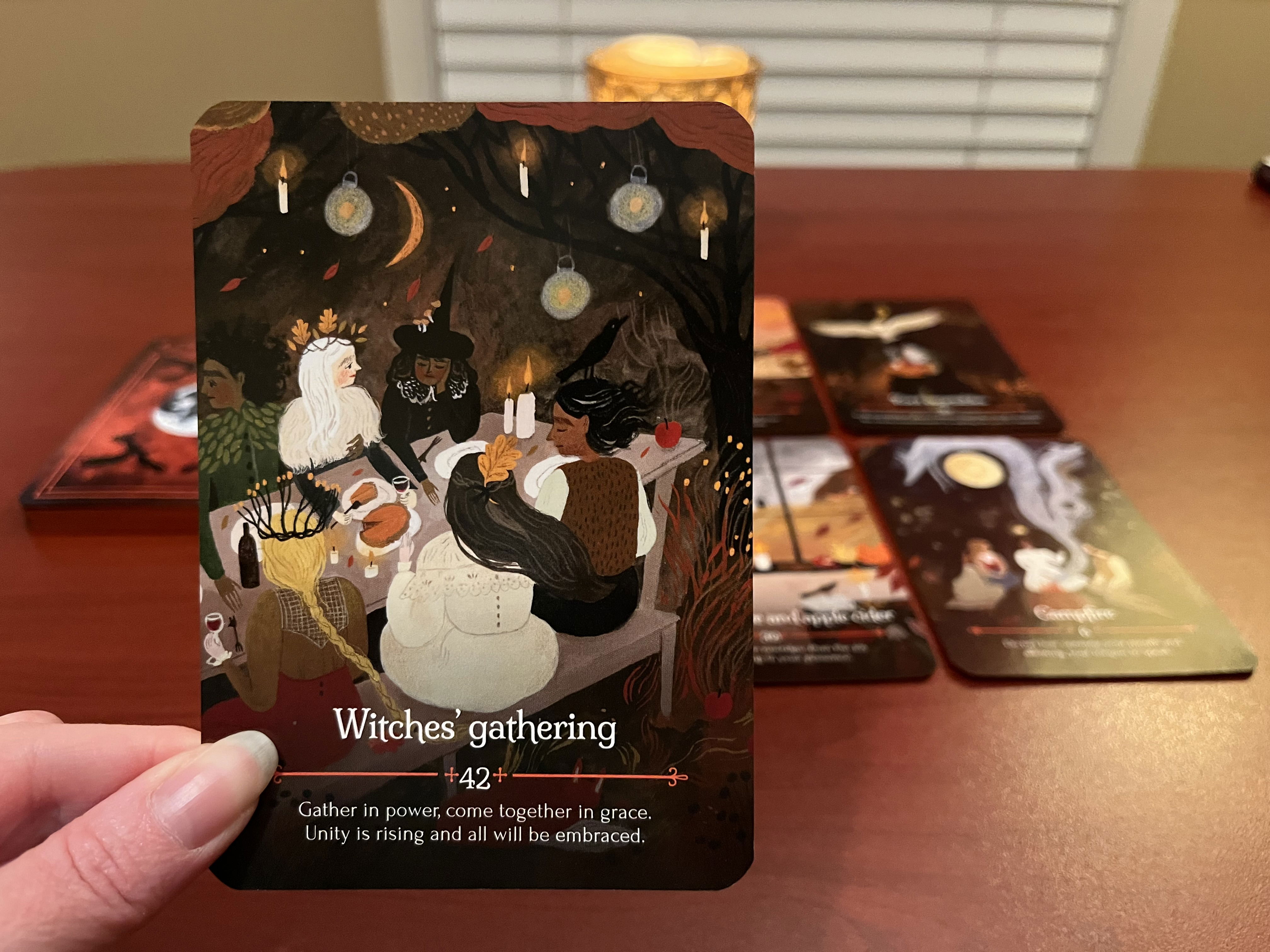 Natural times to work with this deck include:
When evaluating toxic relationships
When feeling stagnant or out of alignment
When needing peace of mind or calmness in your life
When seeking balance and harmony
When preparing to let go of what no longer serves you
When needing to focus on the blessings in your life
When needing to tap into gratitude and abundance
or You just need to usher in Autumn vibes early!
How to Use These Cards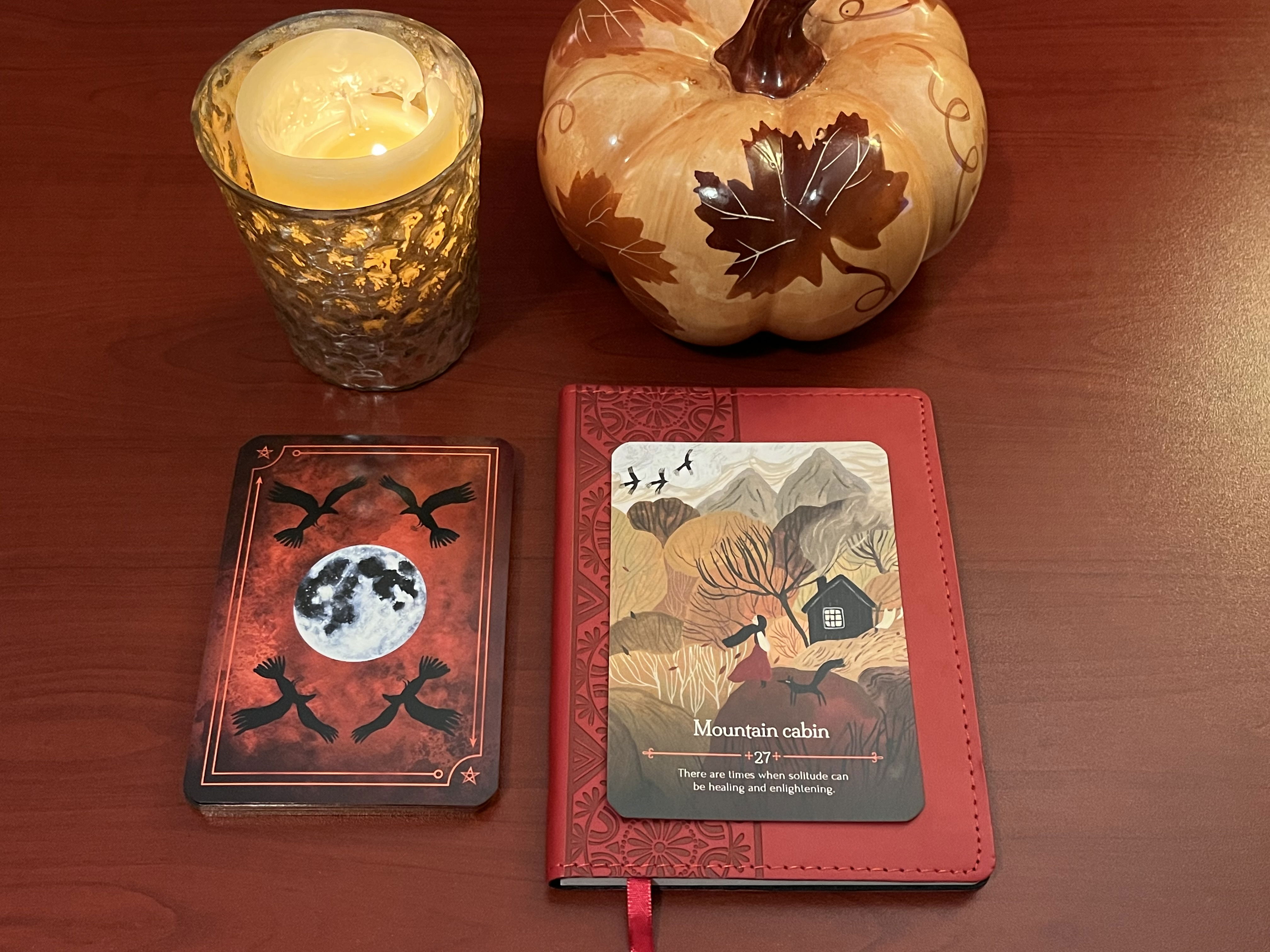 There are many ways you can work with these cards. You could use them for a daily 2 or 3 card spread. Or just pull 1 card a day to assess where you currently are and to hear the message you most need to hear that day. You could pick out a card and display it in your home or office or carry it with you for the day to usher in that energy or to use it for manifesting something you desire. These cards are also perfect to display on altars during the season of Mabon or in spellwork.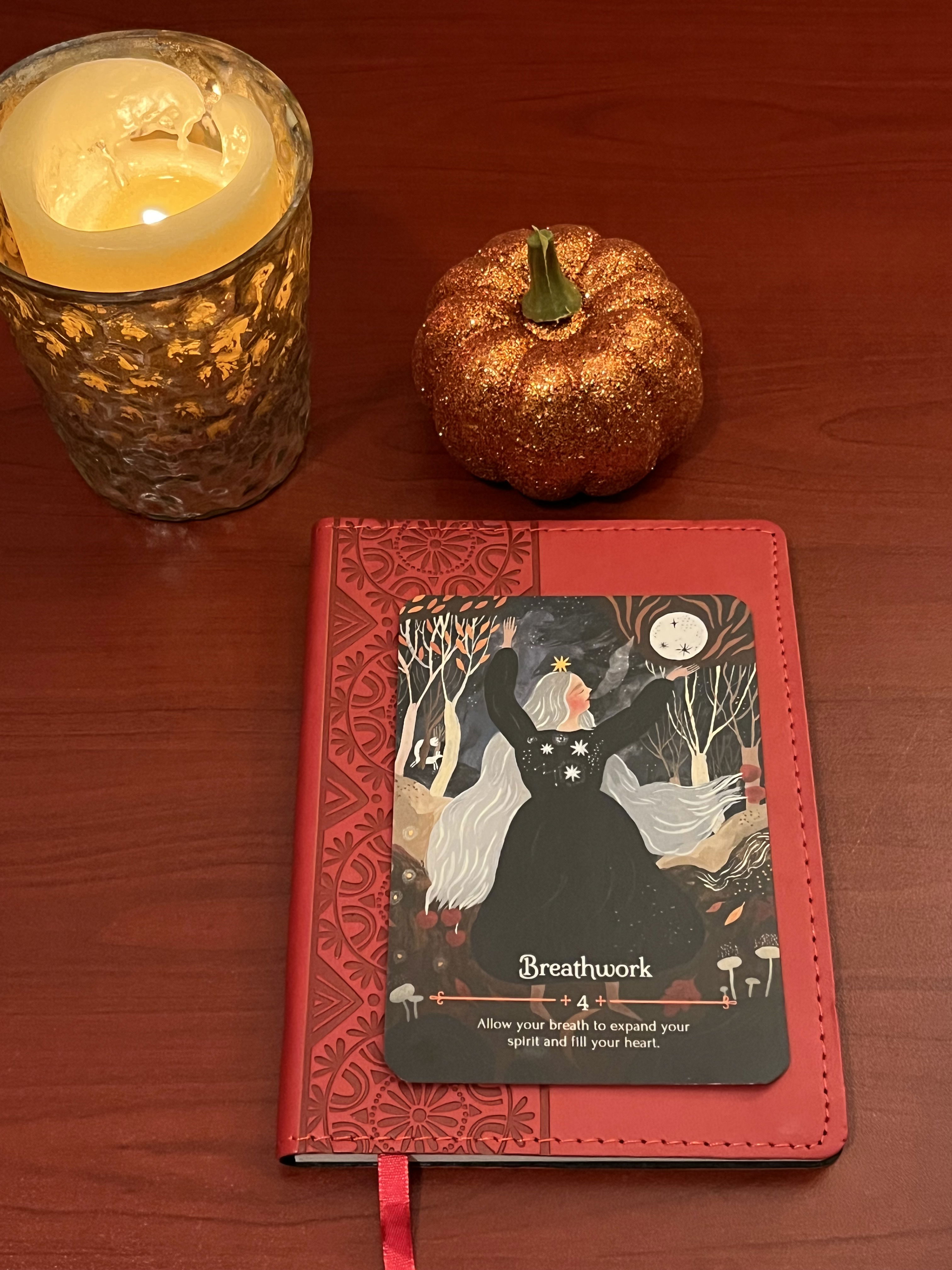 The creators made some changes with this edition that I want to point out. They've included more modern themes to reflect activities that many of us engage in during the autumn months to make them more relatable to modern day readers. And there aren't as many cards with a pagan focus like some of their past decks. This was an intentional change to embrace more modern times and to allow them to emphasize the importance of self-care, prioritizing boundaries, releasing burdens, and inviting in more time for self-compassion and focusing on our wellness. These changes could result in a broader appeal if the pagan themes in past editions didn't speak to some individuals. Personally, I like both approaches and I see a use for each in my divinatory and healing practice. The Mabon oracle could be used to connect with autumn's arrival and ease us from the summer to the fall, helping us to shift energies and indulge in all the cozy creature comforts that makes all of us crave this time of year.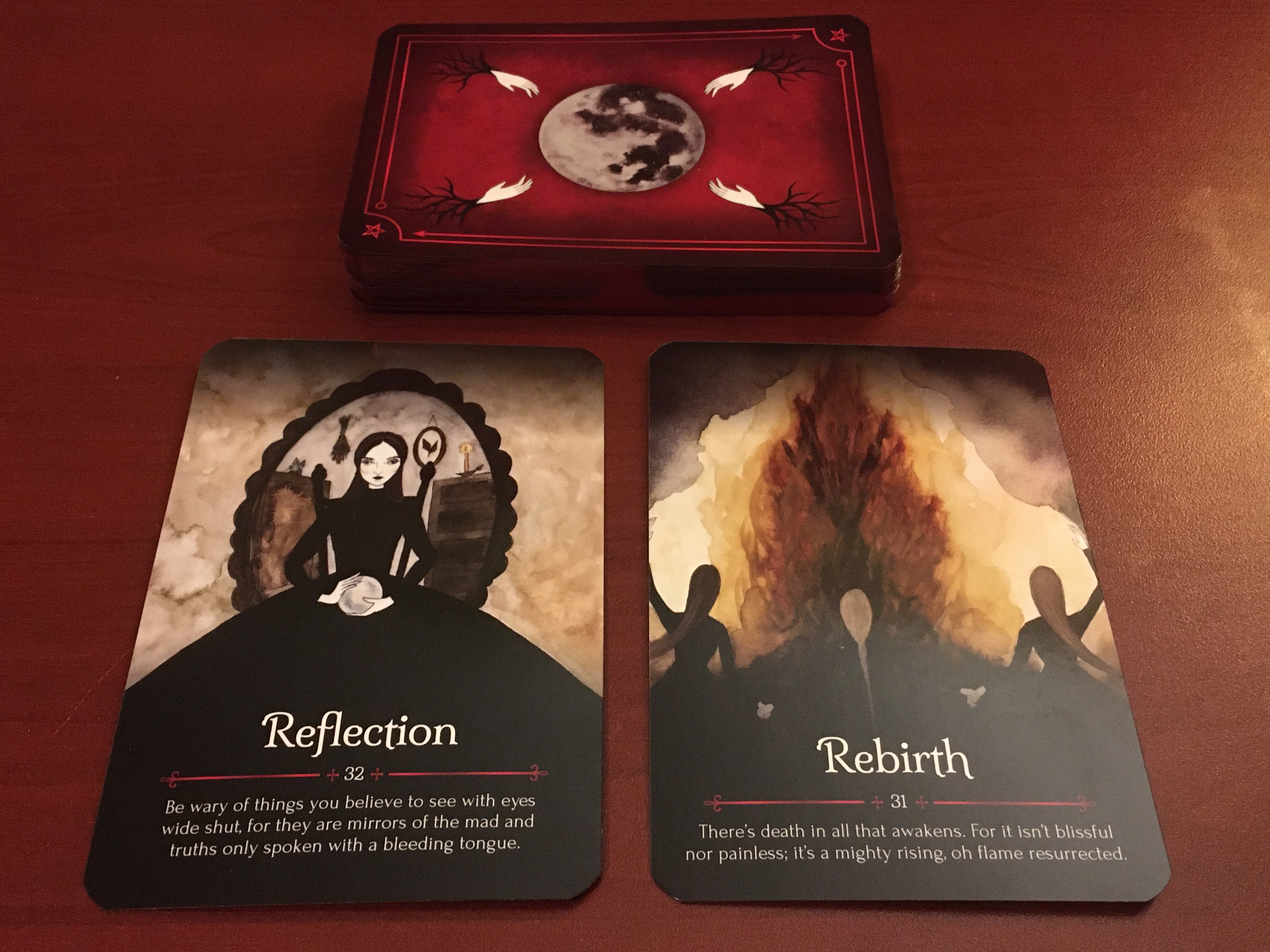 The Samhain oracle is a bit darker in the imagery and topics (shown above) but is amazing for shadow work and helps us turn inward to assess what shadow aspects need more reflection as we slow our pace the further we get into the fall months. If you want to work with ancestral energy and the old ways when our magic was done behind closed doors, then the Samhain edition would fit best. If you're wanting to revel in the blissful energy of autumn where we spend time picking apples, strolling through pumpkin patches, sipping on hot cider, and wandering through corn mazes, then the Mabon oracle will be your new best friend.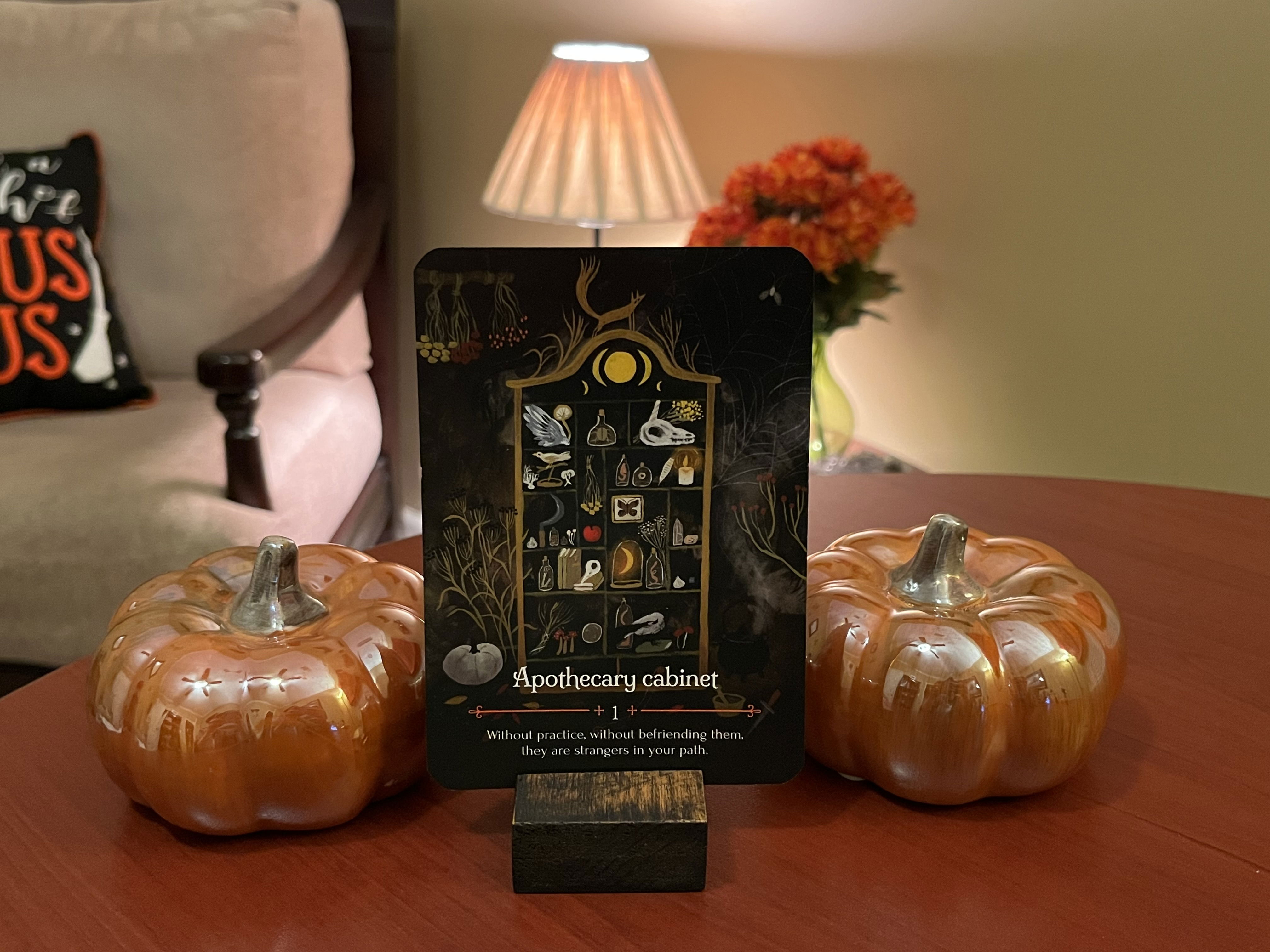 I adore the format of these oracle decks. On the card image, they always offer a poetic mini message written by Juilet Diaz that captures the energy and themes of the seasonal artwork. This allows readers the option to read intuitively if they prefer. You can see the message on my favorite card in the deck above. They also provide a more detailed message in the guidebook for others who want to dig further into the message this card conveys. I read both ways. When I first get a deck, I love to read the messages in the guidebook to familiarize myself with the vision the creators had for each card.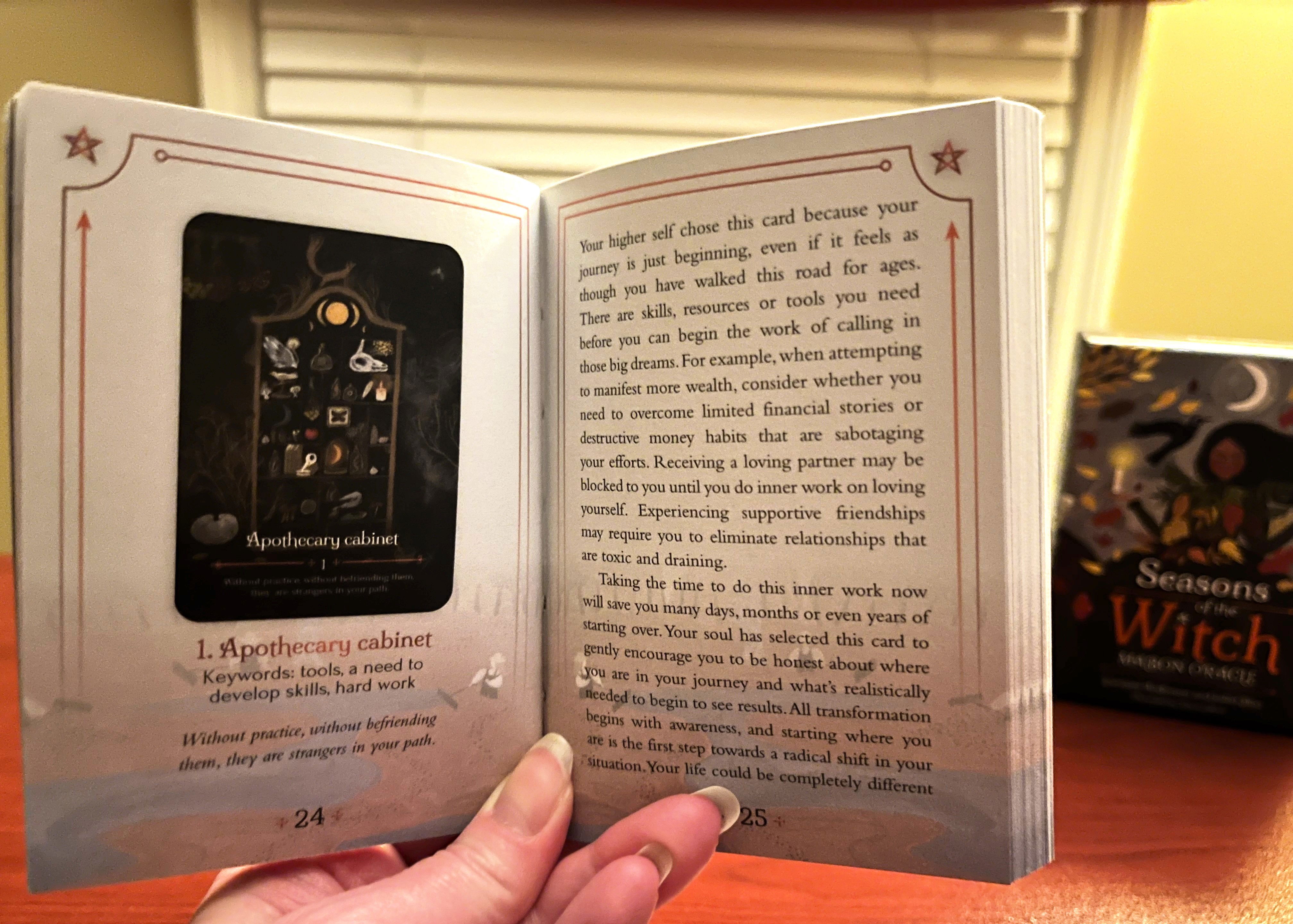 Being a writer myself, it's important to hear from the creators themselves as I soak up all the inspiration for the artwork and the prose written to coincide with each card. But as I connect with the cards and use them more regularly, those messages stick with me and there's not as much of a desire to pull out the guidebook with each spread. I just always go with what I'm led to do for that reading. Each spread for me unfolds differently depending on the messages that need to come through. So, I love that these oracle decks in this Seasons of the Witch series allow for both ways of reading, giving readers more options. Every reader approaches their divinatory practice uniquely, so the more flexible the cards are the easier it is for us to integrate them into our daily routines.
Mabon Oracle Spreads
With each installment of the Seasons of the Witch oracle series, the creators have provided some custom spreads to help us get the most out of these cards by tapping into the themes that each deck focuses on. For the Mabon oracle, they offer us 6 custom spreads including the Apple of My Eye Cross Spread, Falling Leaves Spread, Darkness Falls Spread, Molasses Spread, Elderberries Spread, and the Maple Tree Spread.
These spreads allow us to explore these themes further and show us how we can work with the natural energy of this season. I love seasonal work as it allows us to rotate the areas of our life and self-care that we put our focus on, keeping our healing practice fresh and always moving us forward to a more whole version of ourselves.
I love that the Molasses Spread says that you can throw this spread weekly until you see movement out of the rut that has kept you stagnant for some time. The Darkness Falls spread helps you identify a weakness and guides you on turning that shortcoming into an advantage and the Falling Leaves Spread helps you understand your spiritual blocks and how to overcome them so that you can experience growth and success.
Falling Leaves Spread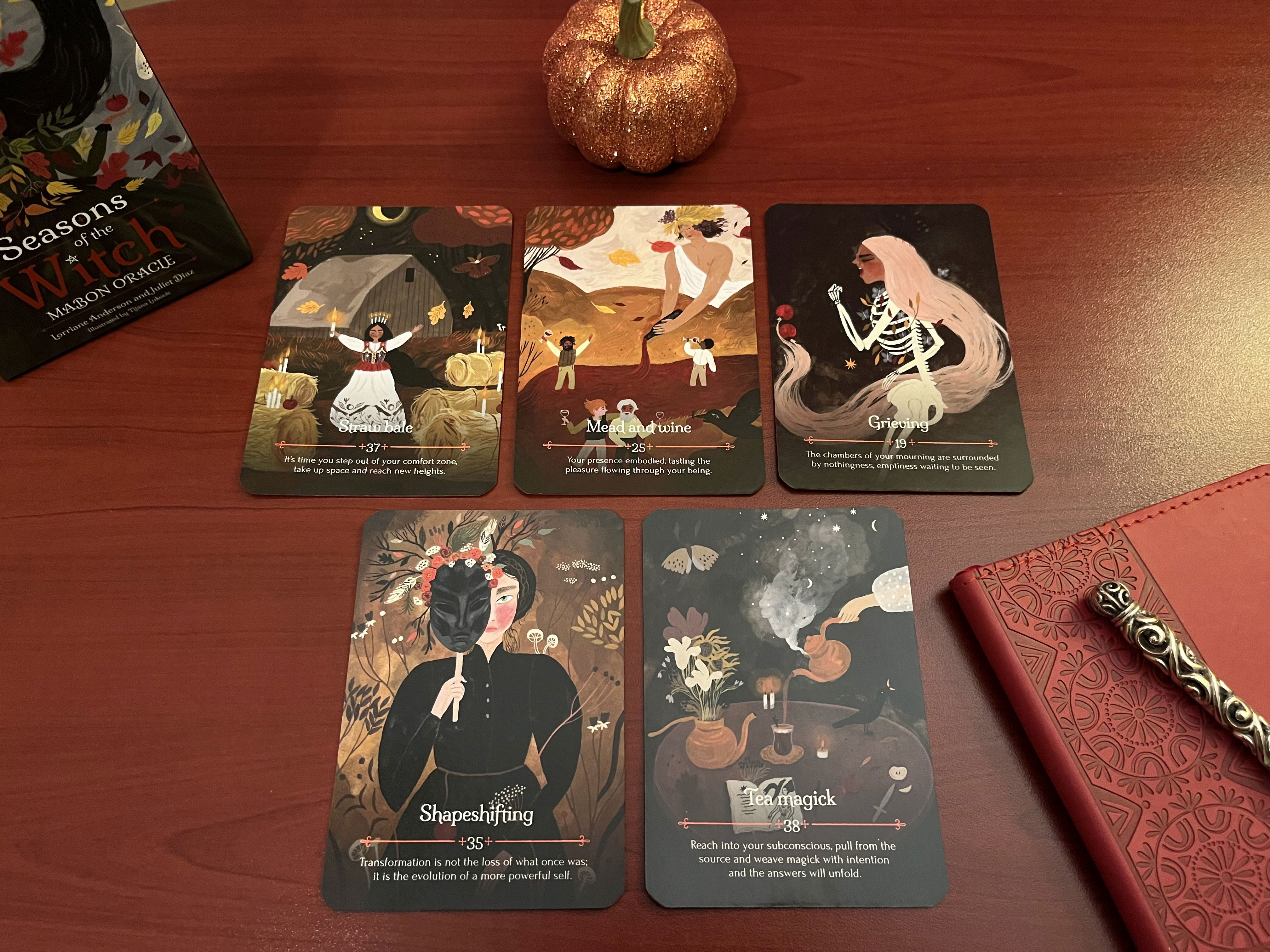 I just had to throw the Falling Leaves Spread first (see above). Here, the cards call me out for playing it safe and urge me to dream bigger, reach for more, and utilize my gifts more without fear. My lack of "fun and play" is standing in the way of success because I'm so ingrained in the hustle life that I'm not enjoying time away from work.
This block is teaching me that the sadness and grief I feel is okay to acknowledge and process. Locking it away or ignoring it could be holding me back more than I realize. I can overcome this block by transforming out of the sadness and evolving into a more empowered person who was made stronger by this experience.
My hardships have shaped me into the person I am today and helped to prepare me for this next stage. I'm being urged to shift my focus from what I've lost to what is to come while celebrating what I've gained. If I do this successfully, then the Tea Magick card says I'll find the answers I seek and see the truth.
I can't wait to throw more spreads from this guidebook!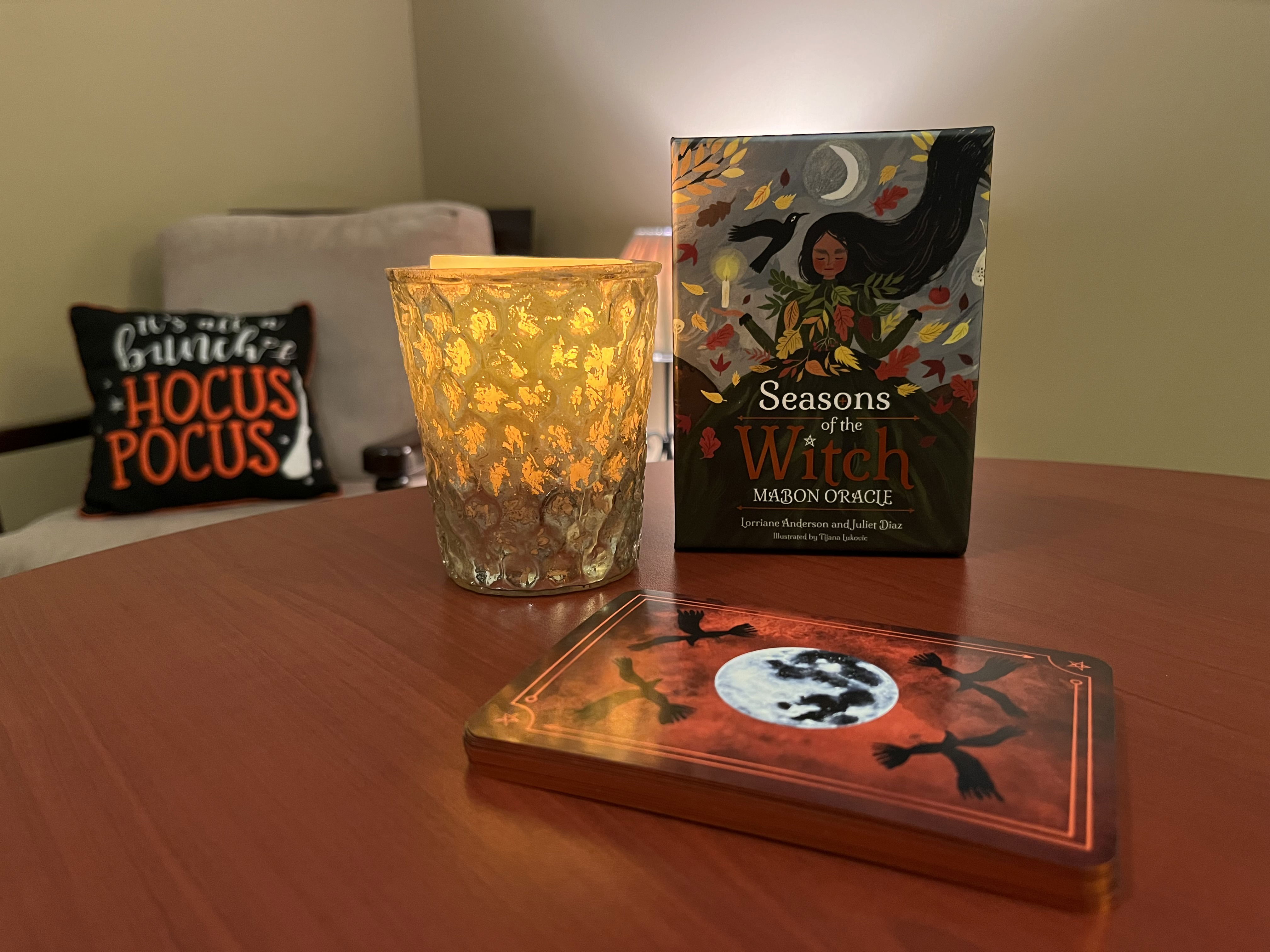 Thanks to Rockpool Publishing for sending this Mabon Oracle! This is the deck I've been most excited about this year and so far it has exceeded my expectations. I highly recommend this deck if you love autumn as much as I do. You can purchase this cozy little deck here! Now that September has arrived, it's the perfect time to crack this deck open and add it to your collection of autumn decks.
Let's put this deck to use!
This Mabon Oracle is perfect to use for daily card pulls for my upcoming Healing Thru Tarot October Tarot Challenge.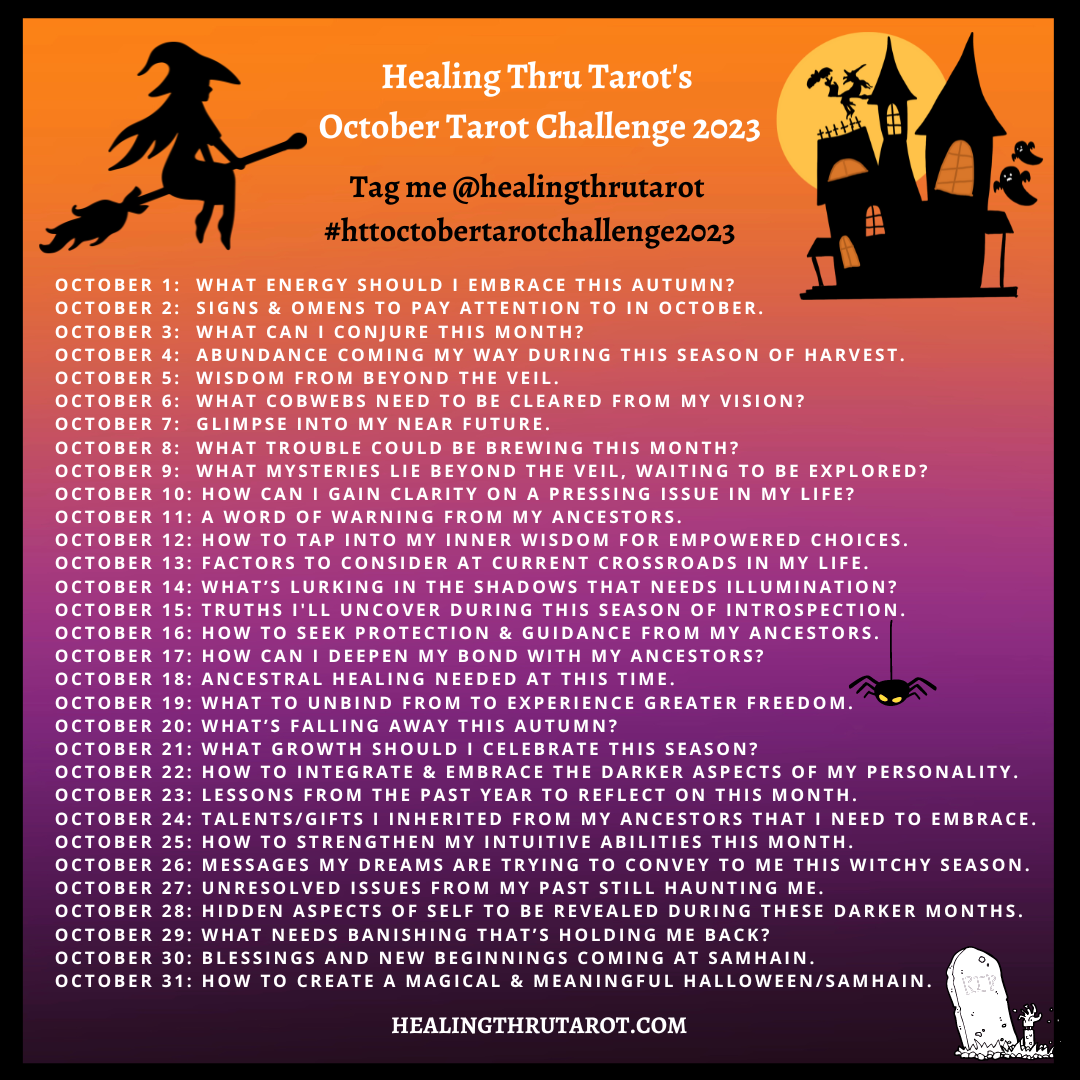 I created prompts for each of the 31 days in October and linked them to themes of Autumn, Mabon, Halloween and Samhain to make it festive but also introspective for this magical time of year! These prompts aim to delve deeper into personal growth, self-awareness, and intuitive decision-making. Tarot or oracle cards can be used for daily pulls using these prompts. I will be pulling at least one tarot and one oracle card a day. Follow the challenge using #httoctobertarotchallenge2023 and feel free to tag me in your card pulls @healingthrutarot on Instagram
Coming Next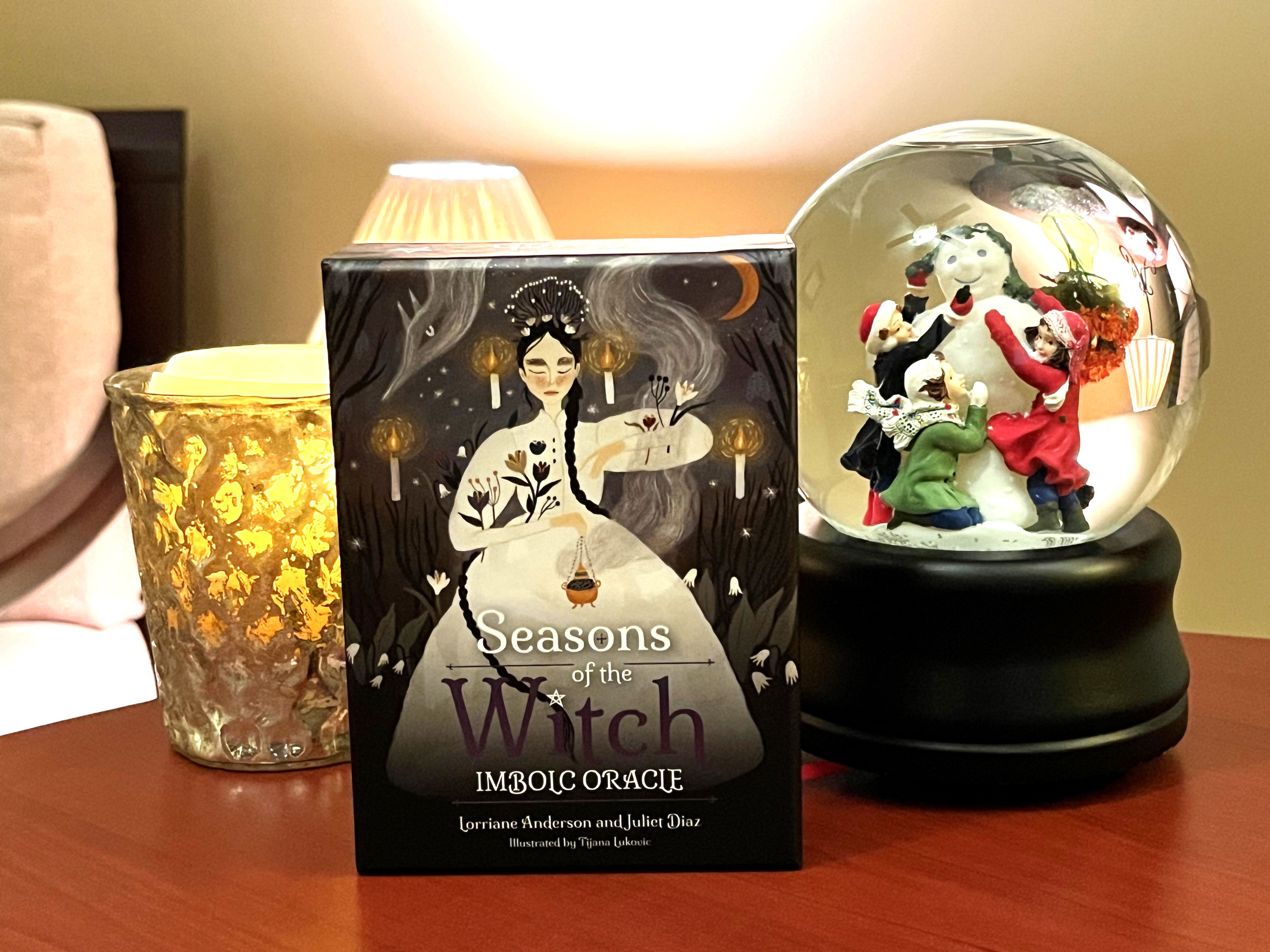 The next installment in this Seasons of the Witch oracle series will be the Imbolc Oracle that releases on Nov. 29, 2023. I've just received my copy and will be posting a review in the next few weeks! They plan to release a deck for all 8 sabbats so we have several more to look forward to. This is by far my favorite oracle series out there, and I plan to collect all 8 and rotate them into my divination practice with the change of each season every year!
And Don't Miss Their Samhain Journal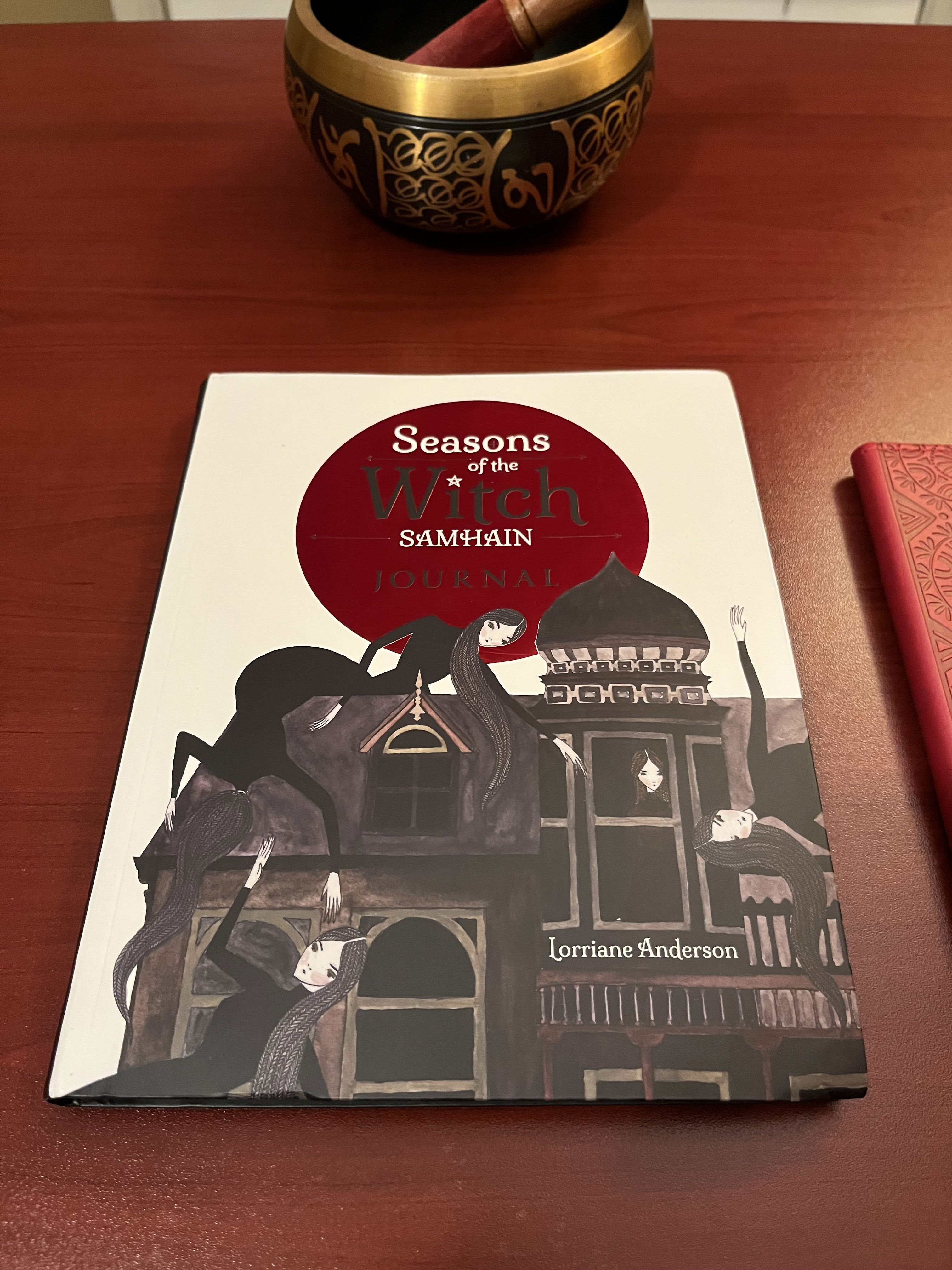 Also, Rockpool recently released a Seasons of the Witch Samhain Journal featuring artwork from the Samhain Oracle. Perfect for card pulls with that deck and perfect for autumn journaling with some ruled and unruled pages! You can purchase that journal here.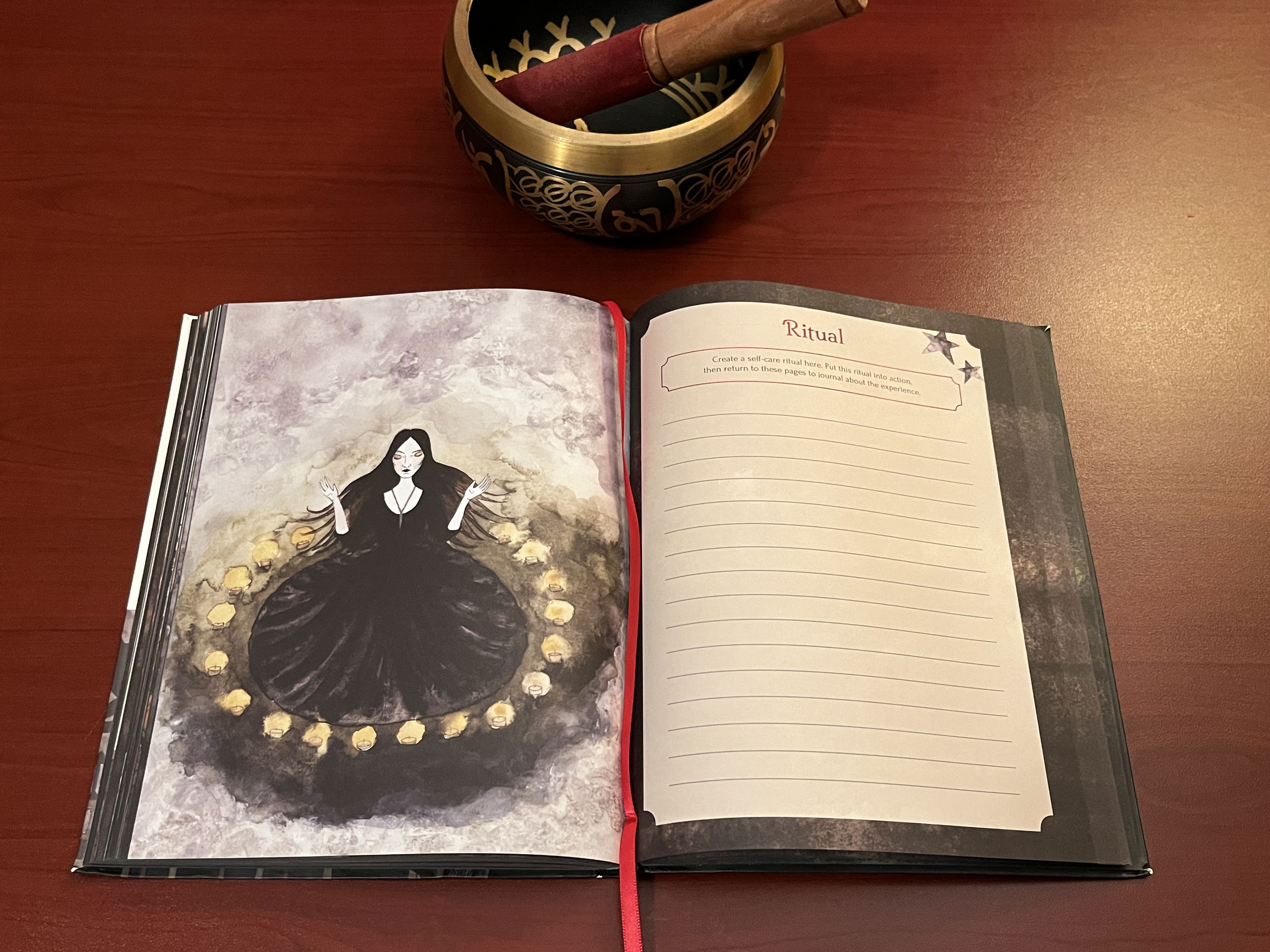 Check out my other Seasons of the Witch oracle reviews
Healing Thru Tarot Podcast Ep. 32: Healing with the Witch Archetype + Review of the Seasons of the Witch Samhain and Yule Oracles
Seasons of the Witch: Beltane Oracle Review
FTC Disclosure: In accordance with Title 16 of the U.S. Code of Federal Regulations Part 255, "Guides Concerning Use of Endorsements and Testimonials in Advertising," I received the Seasons of the Witch Mabon Oracle and Samhain Journal from Rockpool Publishing for prospective review. Everything I've said here is sincere and accurately reflects my opinion of this deck and journal.
Decks shown in this blog:
These are my amazon affiliate links and it helps me out a tiny amount when you use them!
The Divining Sisters Series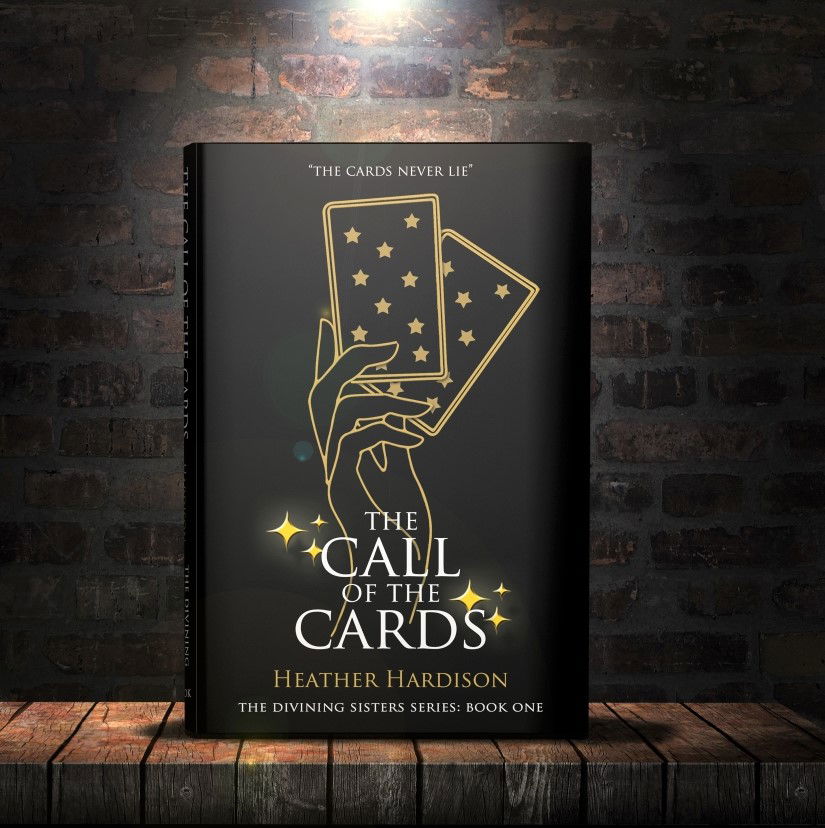 And if you are looking for a good witchy book for autumn, my fictional divination book series, The Divining Sisters, is perfect for this time of year. Book 1 in the series, The Call of the Cards, and book 2, We Divine Three, are out now. Book 3, The Threads of Fate, drops 9/26/23.
They're available as ebooks $4.99 and paperbacks $14.99 on Amazon. And the eBooks are also on Barnes and Noble, Apple Books, Google Play, Kobo, Scribd, Smash words, and more.
Find out more details on my novels on my author website author.heatherhardison.com - where I post updates on book releases, book blurbs and quotes, book covers, links to purchase, and fun things like my Spotify playlists for each book. I carefully curate those to express the energy of each book.
Readers are raving about the series like these 5 star amazon reviews of The Call of the Cards and We Divine Three:
"Absolutely Unique! Resonated so much!"
"Life-changing. I felt seen. I don't think I've had this experience with any other book."
"The metaphysical series I've been waiting for! I was hooked from the beginning and even found myself slowing down because I want it to last. The characters are so relatable and genuine, and the explanations of tarot readings and past life stories is spot on! I'm eagerly awaiting the next ones. Please please, Heather, keep writing."
Readers call it "Harry Potter for adults."
If you get a copy, please leave a book review on whatever platform you buy it on if you enjoy it. That really helps me out and can help get my book in front of more readers. And if you love it please also review it on good reads.
If you follow me on Instagram, you'll see updates on the book releases there. I have 2 instagram accounts My tarot and podcast account - healingthrutarot My author account heatherhardisonauthor
Watch the book trailer for The Divining Sisters Series
Time to pre-order the 2024 Writual Tarot Planner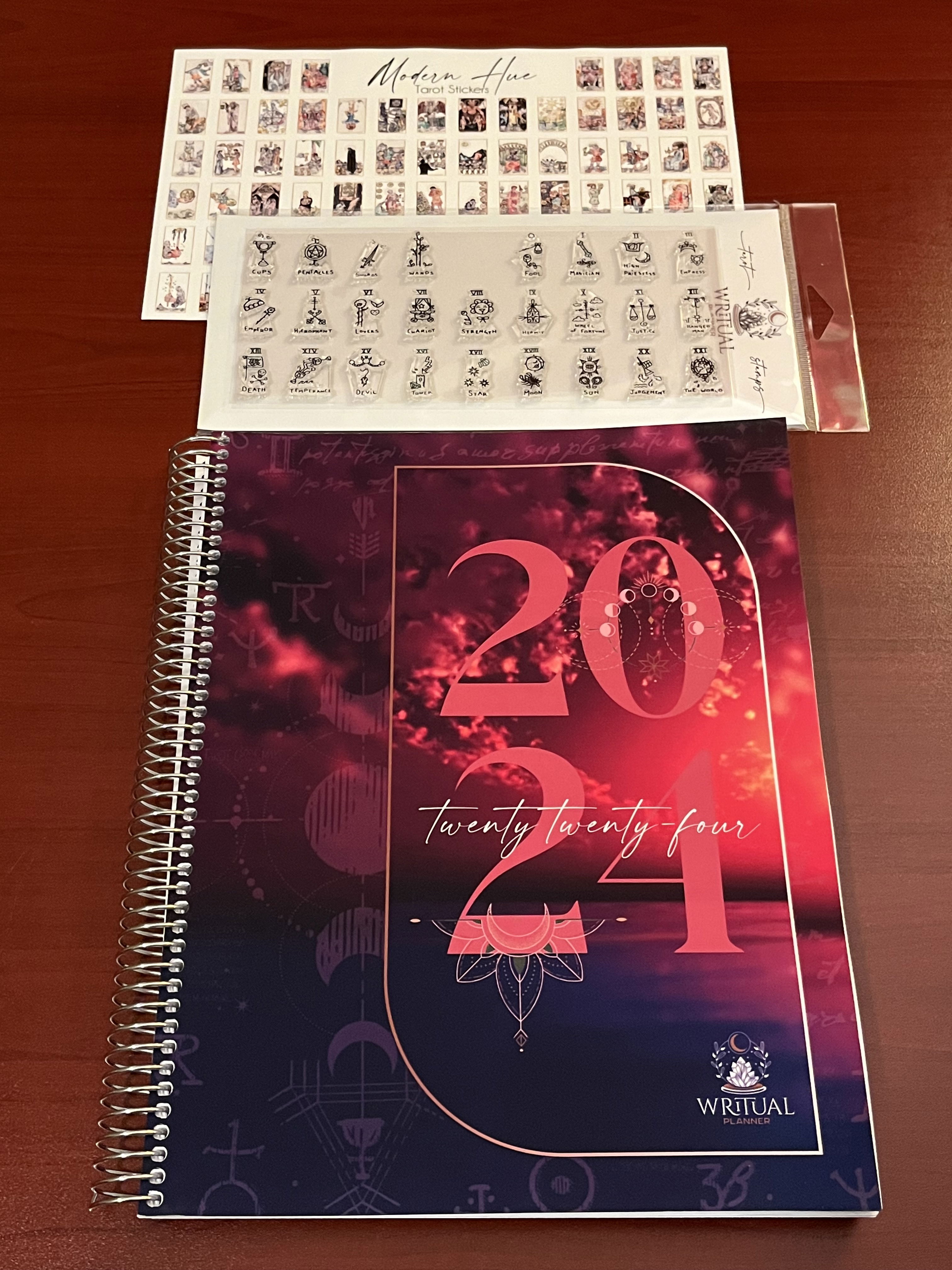 And it's that time of year when we need to order another tarot journal. It's out now! I always order a new Writual Tarot Planner around this time. If you want one before the new year, remember you can use my writual discount code at checkout. Use my Writual ambassador link here along with my discount code HEATHER (all caps), which gets you 15% off ALL your Writual purchases when you use that affiliate link and code. Writual has tarot stamps and stickers, dated and undated tarot journals and planners, including one for kids, tarot decks and tarot-themed mugs, candles, and jewelry so check them out using my link!
Healing Thru Tarot's Spread Ebook Line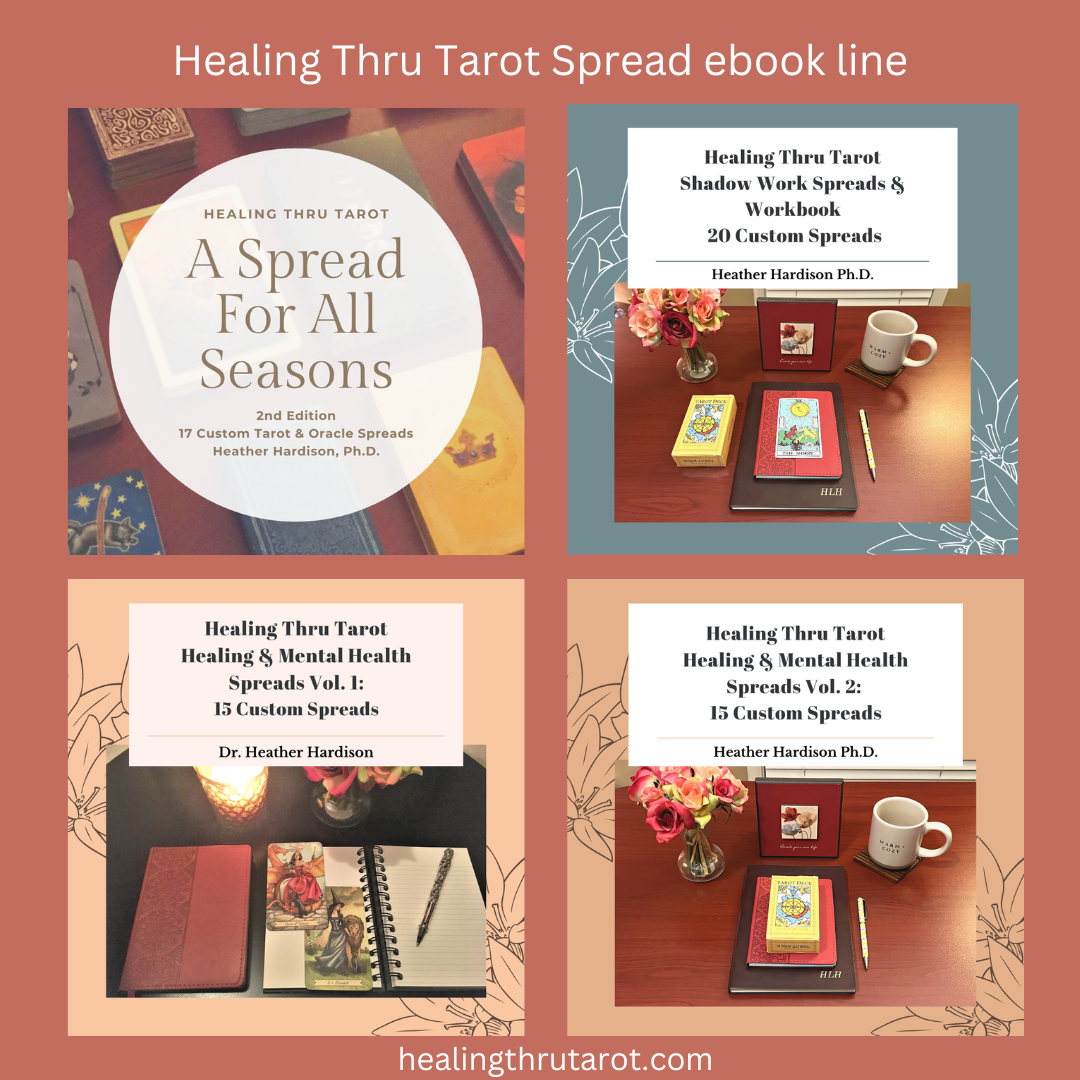 A Spread for All Seasons - 17 custom spreads
Healing and Mental Health Spreads Vol. 1 - 15 custom spreads
Healing and Mental Health Spreads Vol. 2- 15 9-card spreads
Shadow Work Spreads and Workbook - 20 spreads
* (Newest) Healing Thru Tarot's Life Path and Life Purpose spread ebook includes 15 custom spreads I've created to help you identify and align with your life path and sail to success. Spreads like the life path alignment spread, lightwork path guidance spread, conquering obstacles on my path spread, advice from my future self-spread and karmic healing path spread will help you position yourself to step into your full power and achieve the purpose you incarnated to fulfill. Plus many more spreads offering guidance and advice to get on path and stay on track. $12
Click here to purchase any of these spread ebooks
Listener Support
Are you enjoying the Healing Thru Tarot podcast and companion blog? If so, now you can gift me a coffee or two to kept me fueled as I pull all-nighters writing the scripts and recording all the episodes. Help me keep this content flowing by sparking my inspiration! Just click here to gift me a caffeine fix.