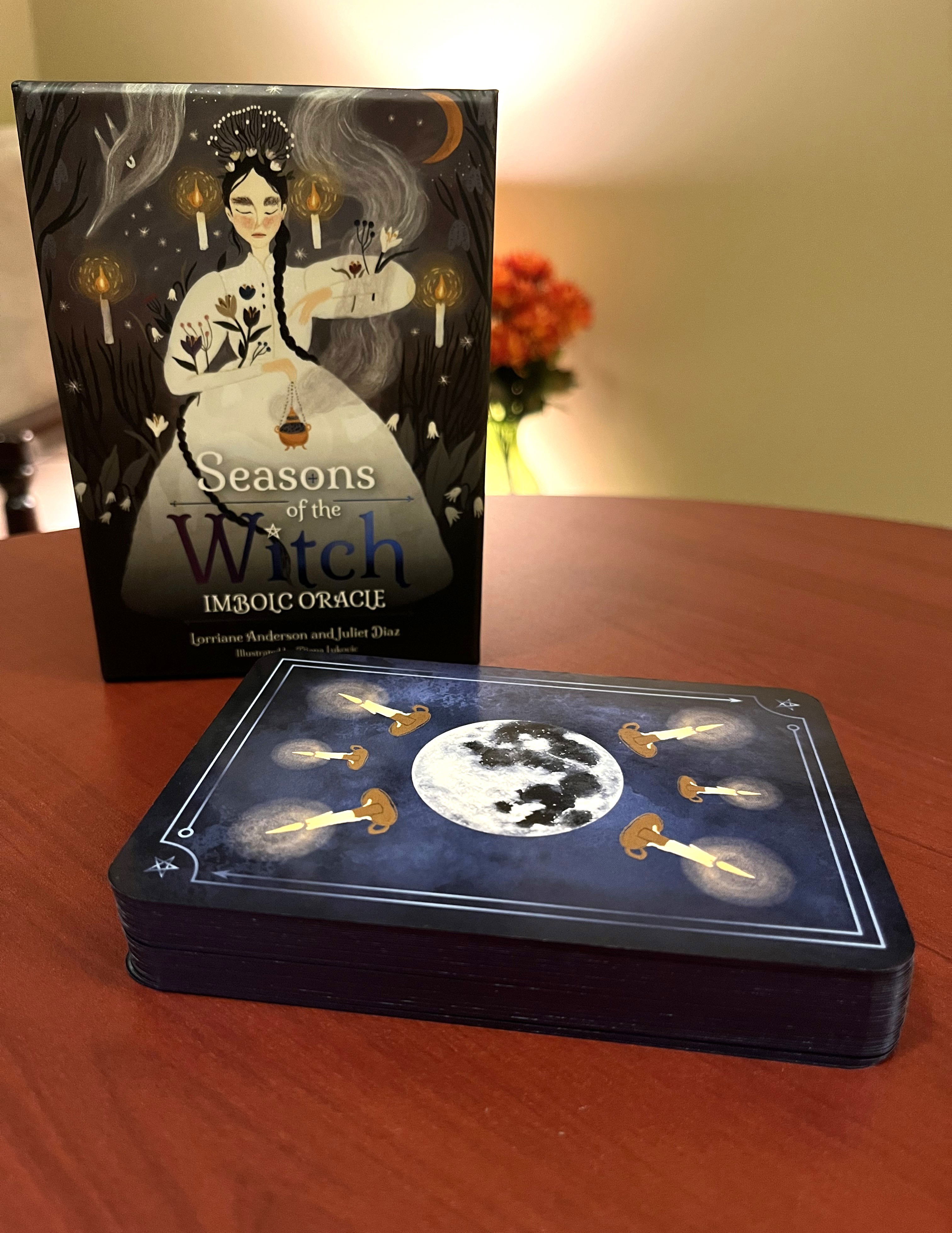 Rockpool Publishing sent over the Seasons of the Witch: Imbolc Oracle for me to review and share with you, and this one was an unexpected treat! It just released on November 1st. I got a sneak peak a few months ago. So I've been working with this deck this autumn.
Imbolc is often celebrated on February 1st or 2nd and marks the halfway point between the Winter Solstice and the Spring Equinox. And this Imbolc deck succeeds in striking a balance between these two very different seasons with a palette of whites, light and dark blues, and browns with touches of yellows and light greens sprinkled throughout to represent that time between those final weeks of winter before we reemerge into the light to welcome spring. The cards even have a subdued blue cardback with a calming array of lit candles and shiny icy-blue edging (shown above).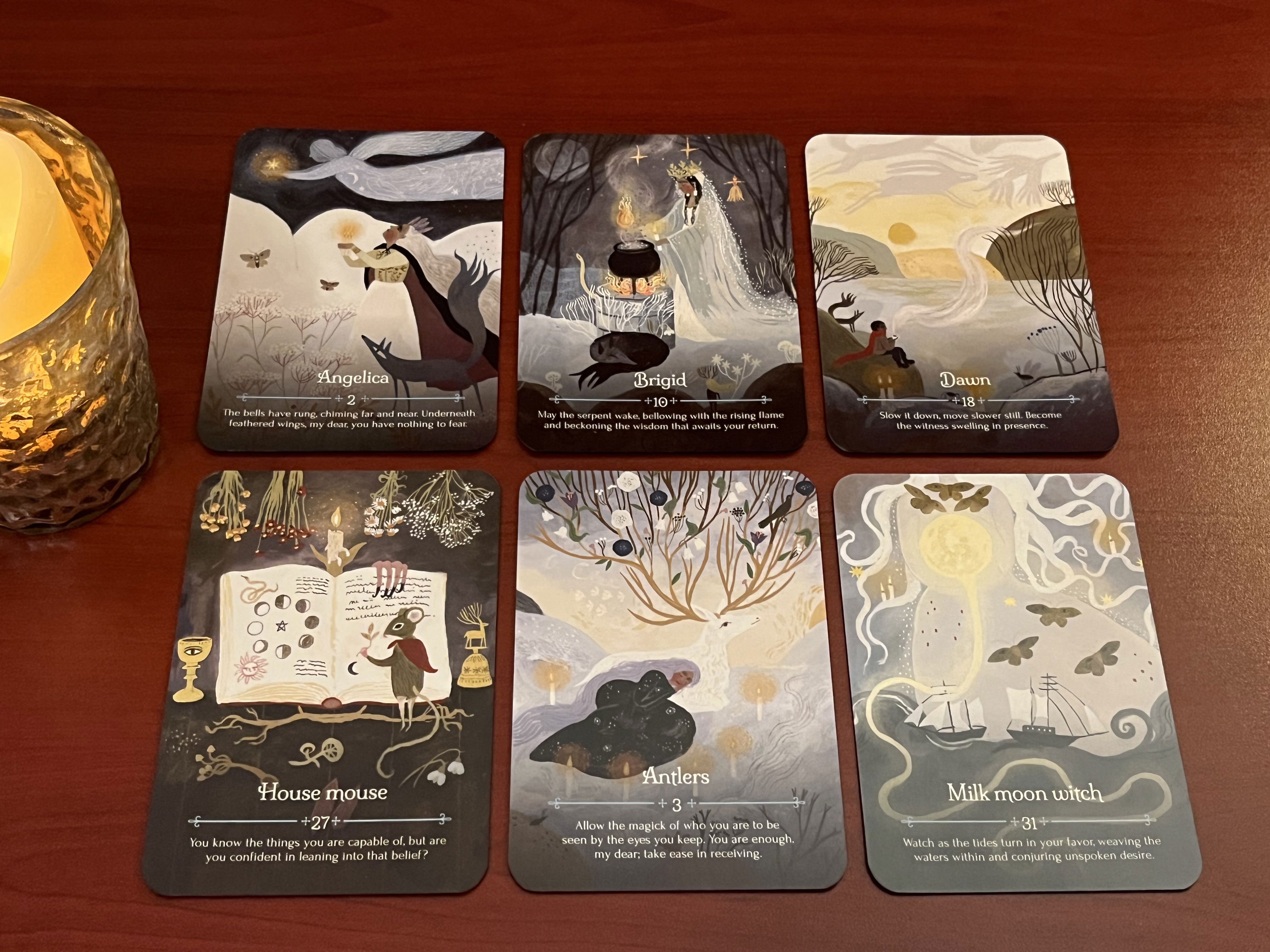 This color palette is much more muted than the vibrant Beltane Oracle where spring is in full force. So this is a deck that can help us transition from the colder, isolative and often lethargic winter days to the more energetic, vibrant, sunny spring days ahead. And what I really noticed is there remains a stillness and peaceful serenity to these Imbolc cards compared to the lively buzz that the Beltane Oracle offers. I love how each deck in this series has its own unique and discernable energy and voice. It's really helping me learn the different themes of each sabbat on the Wheel of the Year.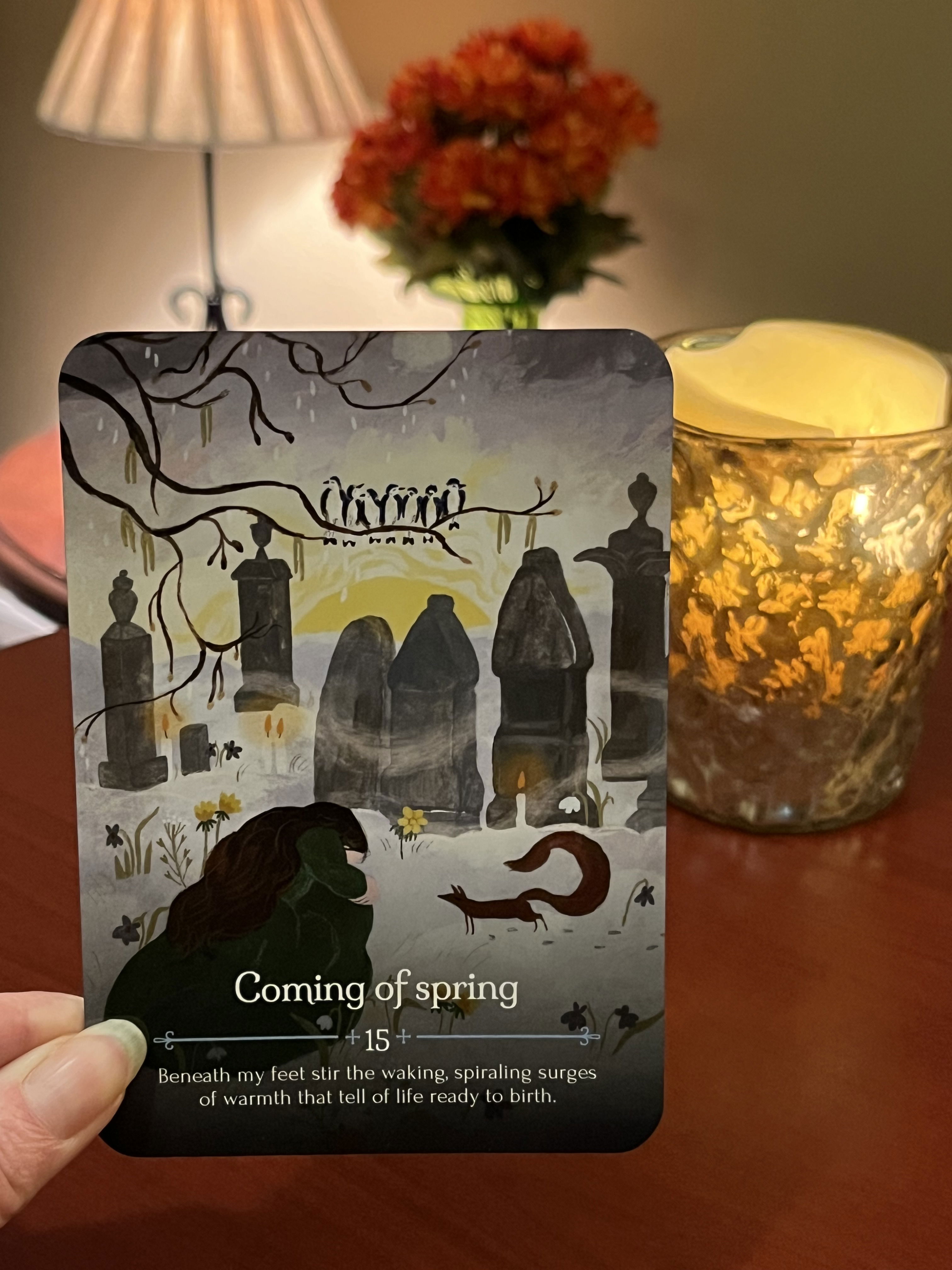 Imbolc is a time when the Earth begins to stir from its winter slumber, and the first signs of spring emerge. Central to its meaning is the celebration of the Celtic goddess Brigid, symbolizing creativity, inspiration, and the hearth. Themes of purification and cleansing are also prevalent as Imbolc invites individuals to rid themselves of the old and make way for the new. The lighting of candles and fires represents the returning warmth and light of the sun, while white and green decorations symbolize purity and the green shoots of life. Imbolc is a time for setting intentions, nurturing creativity, and anticipating the promise of the approaching spring, making it a festival that embodies the hope and resilience found in nature's cycles.
This is a great time of year to celebrate the self!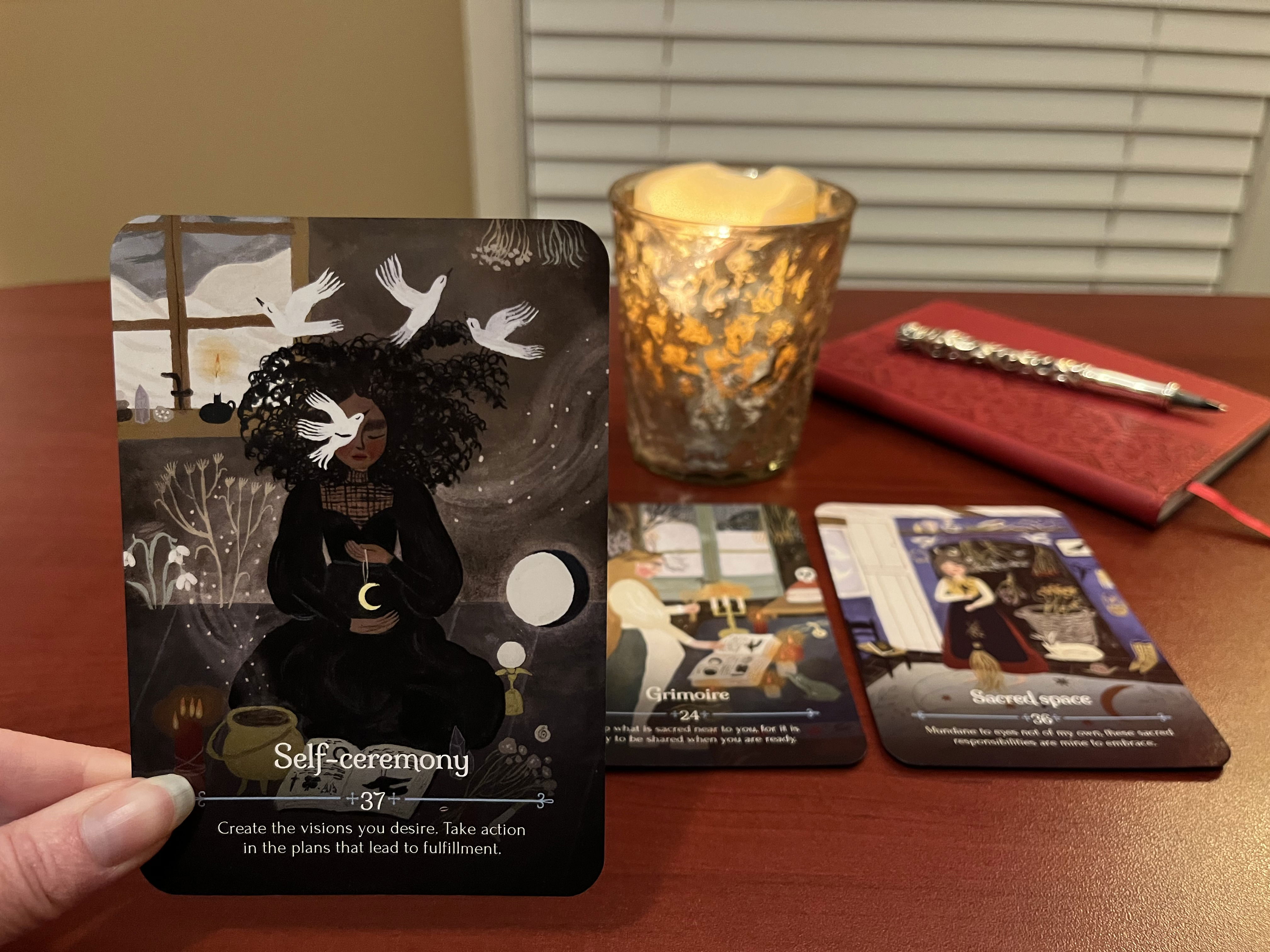 This is a deeply reflective deck, and the creators wanted these cards to support us during these darker months and serve as encouragement to continue on through this time of year that could leave us vulnerable, isolated, and maybe even a bit lost or confused. This sabbat can be a solitary time where we retreat from others and delve into the darker aspects of ourselves (which I love as an introvert). The candles that are prominent throughout the cards light our way back to our path and our hopes and dreams. The candles represent the return to the light and the inner light that shines within each of us, so even though this sabbat takes place during the darker months, there's a representation of light in these cards. Self-awareness is a key theme in this oracle as well as self-care.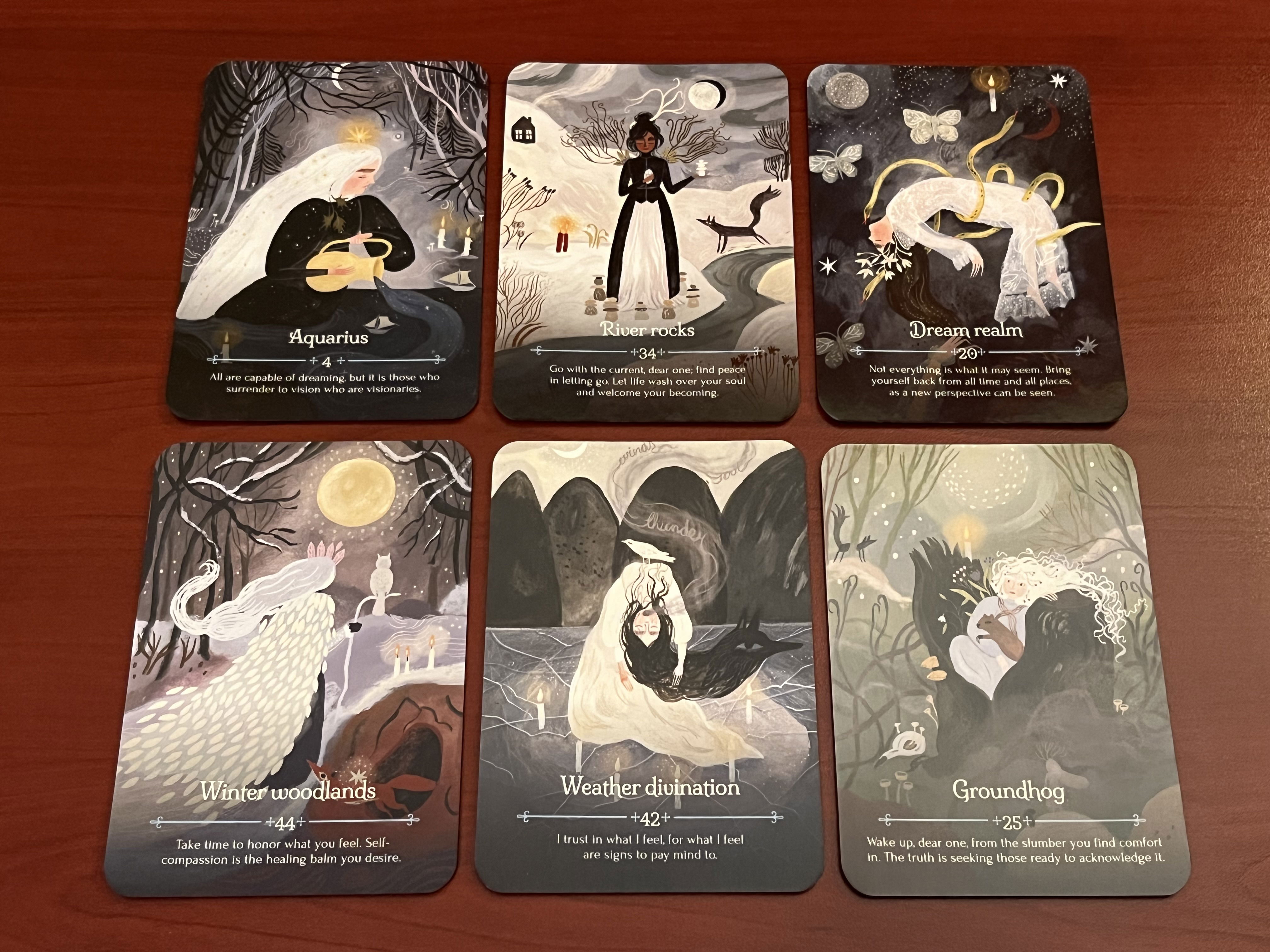 These wintery scenes depict our gradual shift from the colder temps to the light warmth of spring as it inches closer, but some of the darker, more reflective images remind us that there's still shadow work to be done before we depart winter for good.
Imbolc's themes and areas of focus include:
Awakening
Ascent back into the light after the darkness of winter
Celebrating Brigid, the Celtic goddess
Celebrating togetherness thru Family & Community Traditions
Cleansing, Renewal and Rebirth
Connecting with Nature
Home and Hearth
Hope
Illumination and Candle Magic
Innocence
New Growth/Sprouting
Nurturing our Creative Inspirations
Patience
Purification and New beginnings
Welcoming the First Signs of Spring
Of course, you can use this deck during Imbolc season, but really you can pull it out whenever these themes call to you.
Natural times to work with this deck include:
When you need direction in your life
When you need self-awareness
If you have been particularly self-critical recently
If you need hope for the future to continue on
You desire to reinvent yourself
You are in a moment of transition and need guidance
You are stuck in a challenging phase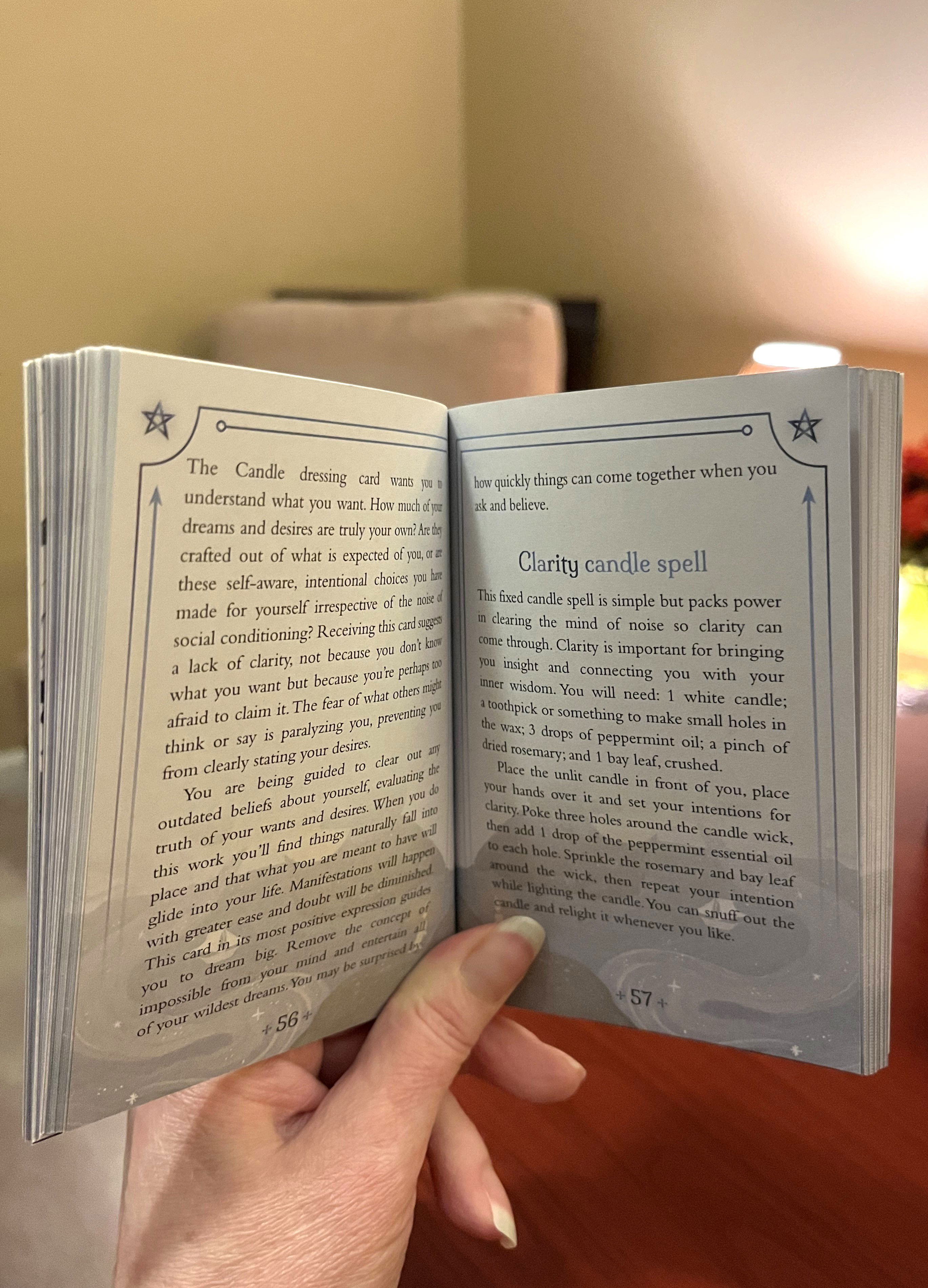 In the guidebook, along with the card meanings, you'll find recipes for incense or seasonal foods like rosemary bread, or directions for a spell like the clarity candle spell or the peppermint egg-clearing toxicity spell. That's what makes this deck so unique and versatile. I love how they've put so much thought into finding ways to help us infuse magic and seasonal rituals into our daily lives.
How to Use These Cards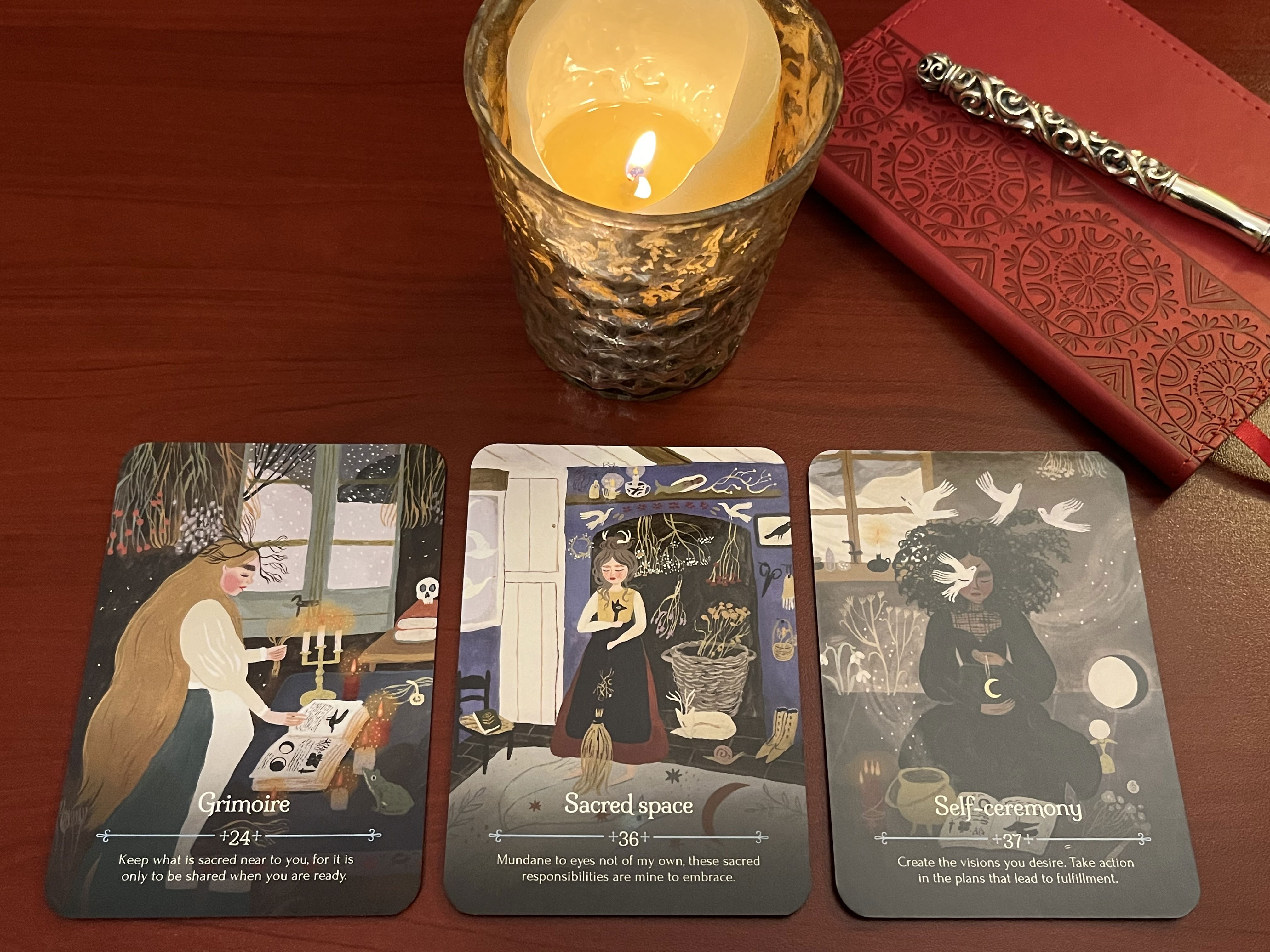 There are many ways you can work with these cards. You could use them for a daily 2 or 3 card spread. Or just pull 1 card a day to assess where you currently are and to hear the message you most need to hear that day. You could pick out a card and display it in your home or office or carry it with you for the day to usher in that energy or to use it for manifesting something you desire. These cards are also perfect to display on altars during the season of Imbolc or in spellwork.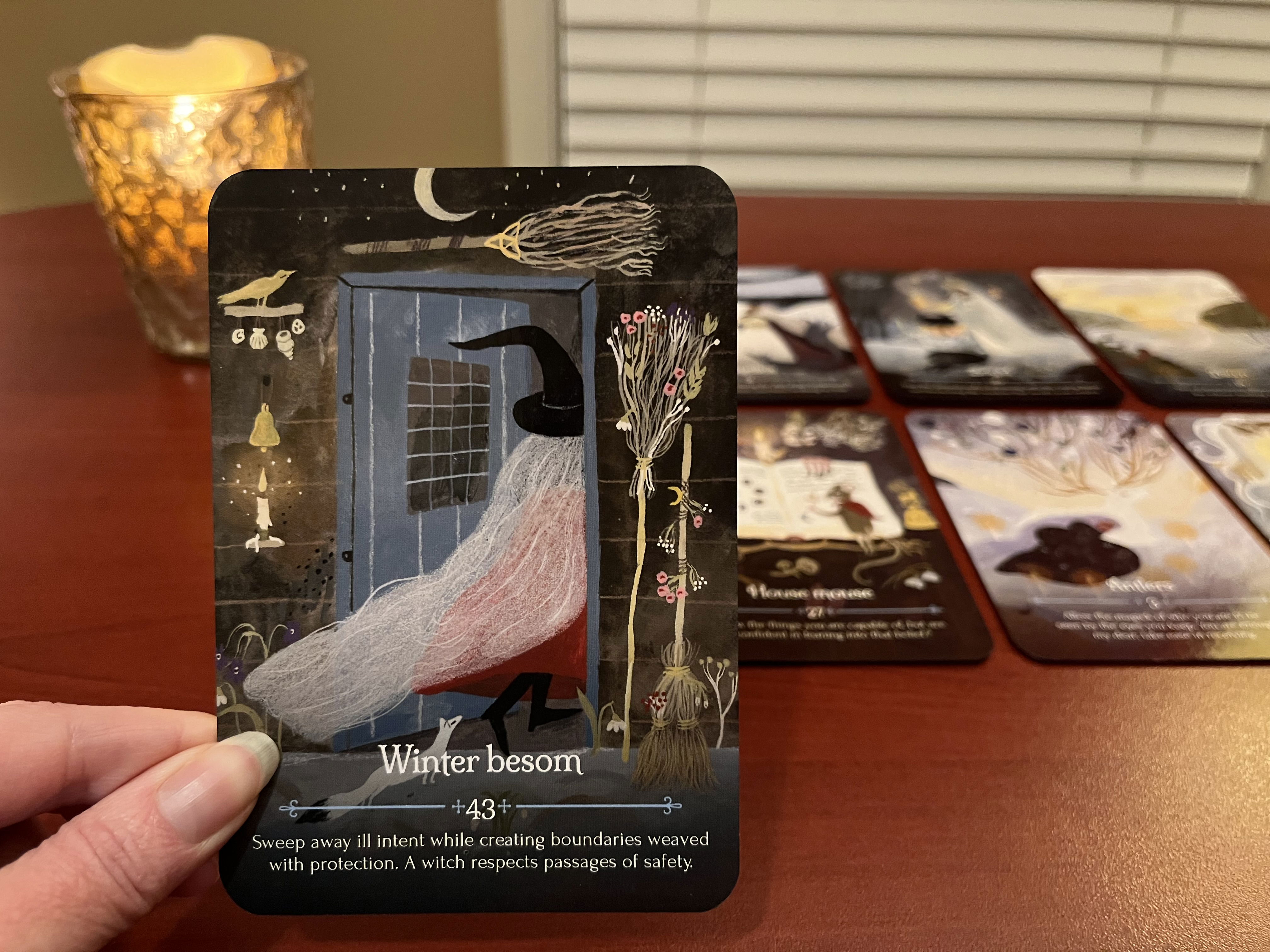 On the card image, they offer a poetic mini message written by Juilet Diaz that captures the energy and themes of the seasonal artwork as shown above. This allows readers the option to read intuitively if they prefer. They also provide a more detailed message in the guidebook for others who want to dig further into the message this card conveys. I read both ways depending on what type of spread I'm pulling at that moment. These are great for quick spreads if I don't have a lot of time but also if I want to dive deeper into the meanings of this season I can opt to spend a lot of time learning about each card and each tradition associated with this time of year. I'm learning so much about all the different sabbats on the Wheel of the Year and the more I learn, the more in tune I feel with the changing of the seasons.
I love that these oracles in this Seasons of the Witch series allow for both ways of reading, giving readers more options. Every reader approaches their divinatory practice uniquely, so the more flexible the cards are, the easier it is for us to integrate them into our daily routines.
Imbolc Spreads
With each installment of the Seasons of the Witch oracle series, the creators have provided some custom spreads to help us get the most out of these cards by tapping into the themes that each deck focuses on. For the Imbolc Oracle, they offer us 7 custom spreads including the Imbolc Cross Spread, Aquarius Spread, Candle-dressing Spread, Coming of Spring Spread, Rosemary Bread Spread, Sacred Space Spread, and Self Ceremony Spread
These spreads allow us to explore these themes further and show us how we can work with the natural energy of this season. I love seasonal work as it allows us to rotate the areas of our life and self-care that we put our focus on, keeping our healing practice fresh and always moving us forward to a more whole version of ourselves.
Use the Candle-dressing Spread to gain clarity on an issue that's confusing currently or that you desire to change. Use the Coming of Spring Spread during a transition period to identify where your current energy is and how to know that spring has sprung so that you could welcome the season's hope and sense of rebirth. And use the Sacred Space Spread monthly to check in on things you may have been ignoring so you can bring them to your awareness and get back on track.
Let's put the cards to use!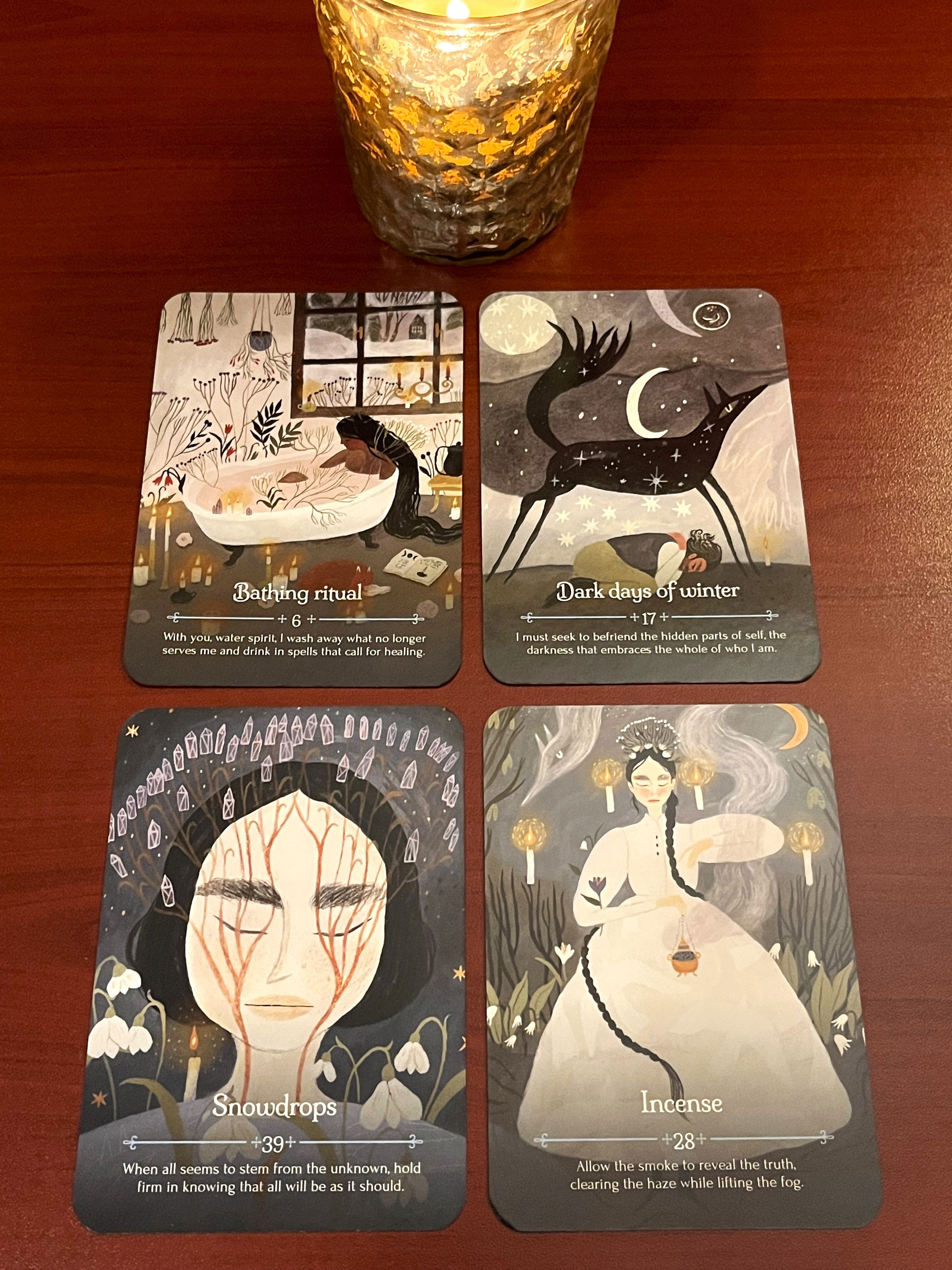 I threw the Candle-dressing Spread and I'd like to share that with you along with my interpretation of this very insightful reading that really helped me work out an issue that had been dampening my spirit.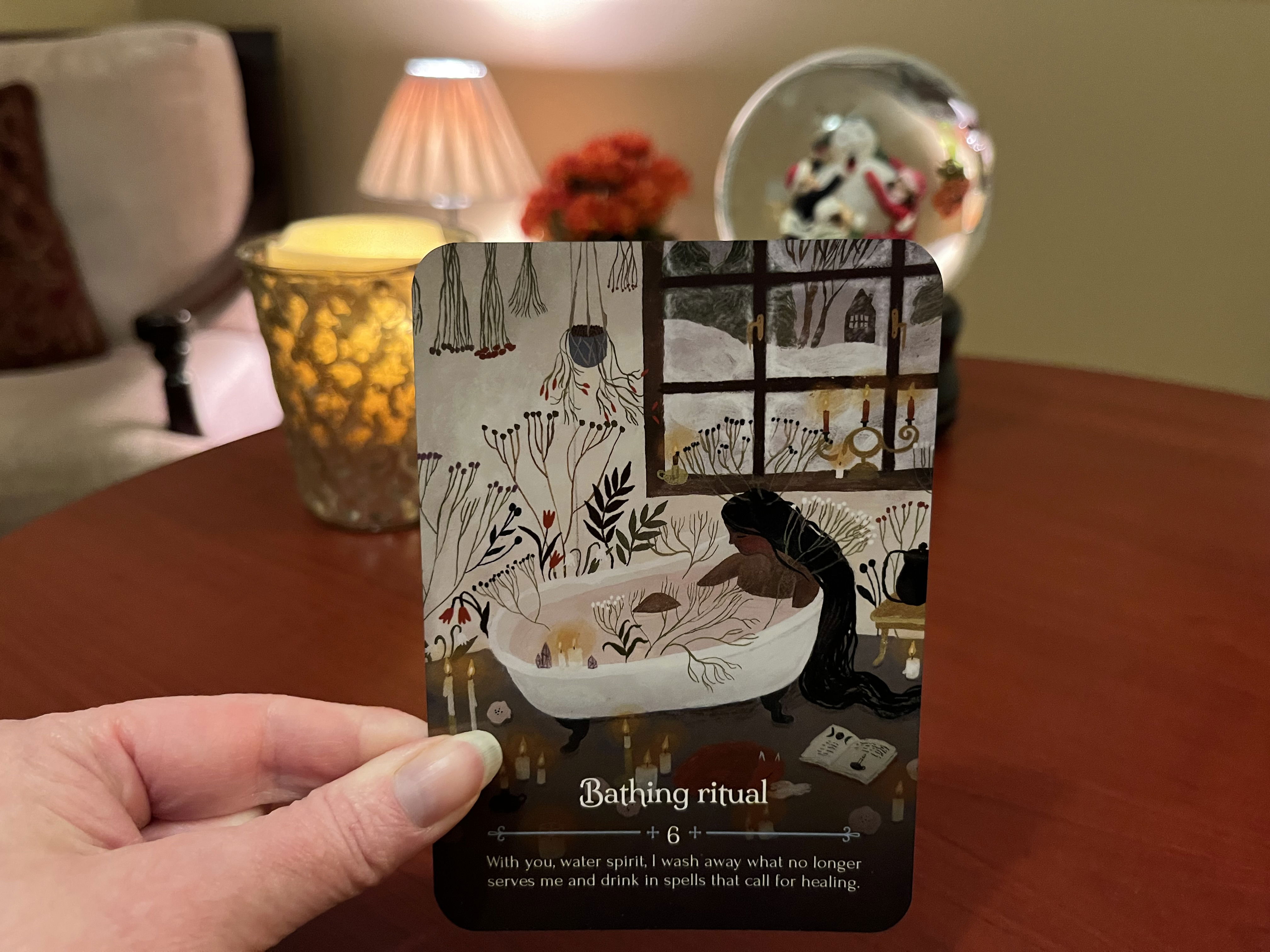 The Candle-dressing Spread helped me to see where I was lacking clarity. The cards say that there's still some healing left to do that I can't see (Bathing Ritual) and there's still more that's not serving me that must be released. Rushing means I'd be skipping over steps, and healing isn't something that can be rushed.
I knew exactly what it meant as soon as I saw the card description. I've been worried about the timeline of the book releases for my book series, but I'm being nudged to understand that this process can't be rushed because the writing of these books IS the healing process I'm meant to experience at this time.
It's sad how much hustle culture has made us feel that we need to be in a hurry 24/7. I've wanted to be able to savor the writing process more along the way, but it's hard when you feel pressure to speed things up. This card says to take the time necessary to let it unfold in the way it's meant to because that's the point.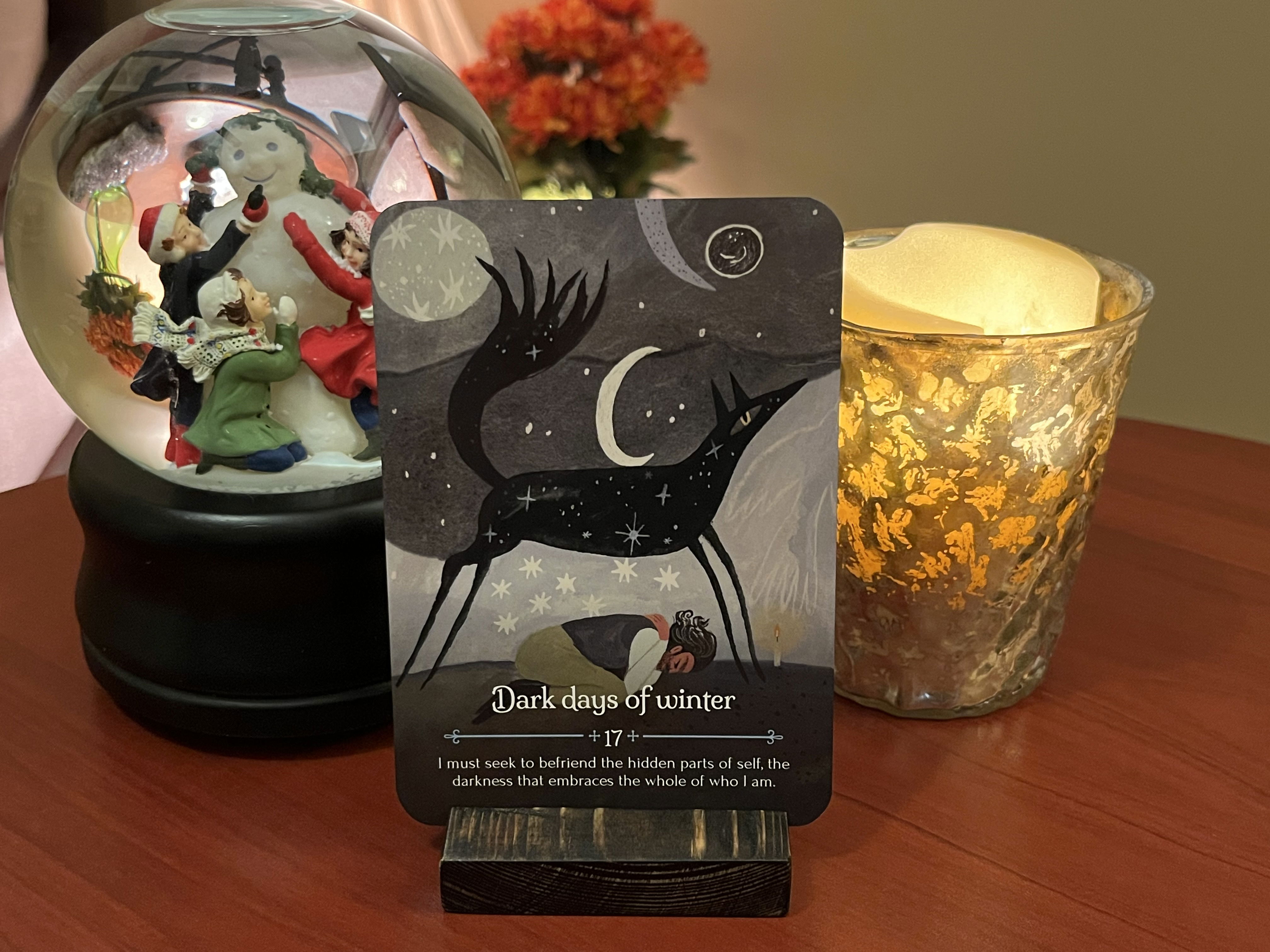 I've said from the beginning that I'm writing this series to heal my own past wounds (Dark Days of Winter) more than any other reason. So the cards just called me on that. The Snowdrops card says to overcome this block by staying the course that's meant for me because all will be well if I do. And it assures success due to all my efforts. To prevent losing clarity going forward, the Incense card says to allow the smoke to clear so the truth can be revealed. Stepping back from the expectations of others and tuning in to the whispers of my soul can help me see the path I'm meant to be on and that will come in its own time, not anyone else's.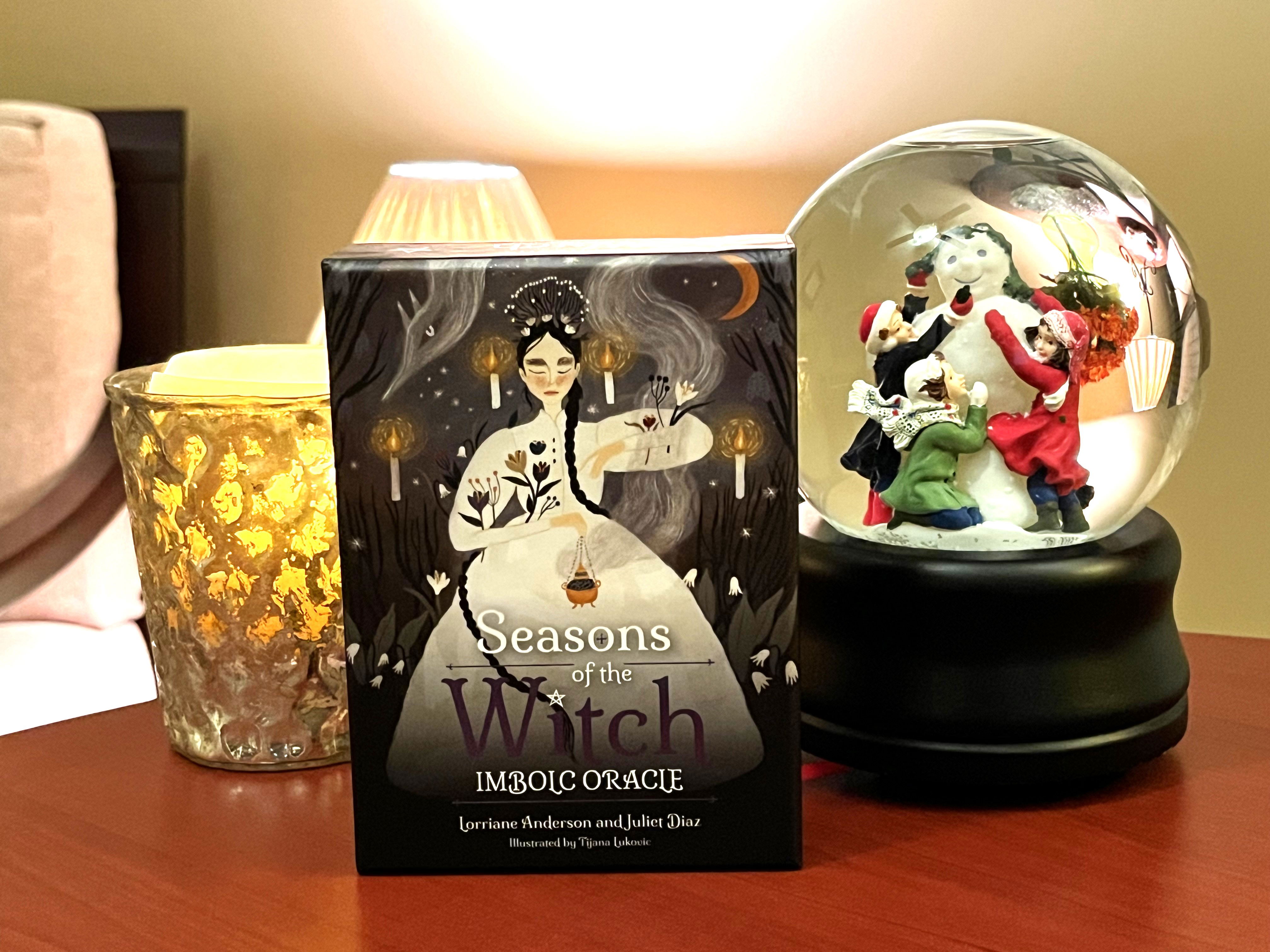 I highly recommend this deck if you need a deep reflective deck for the later months of winter. I pull out the Seasons of the Witch: Yule Oracle to kick off the holiday season in November. But once the holiday cheer has passed, this is a great deck to help us settle into a deep analysis of where the colder months are directing us before we're ready to emerge from hibernation and embrace the warmth of spring. Since December is such a hustle and bustle month, January, February, and March are great months to dive deeply into our psyche to finish up the shadow work needed during this time of year.
Thanks to Rockpool for sending this Imbolc Oracle! I'm already getting so much out of it! You can purchase this deck here!
And we can expect more in this Seasons of the Witch oracle series. They plan to release a deck for all 8 sabbats, so we have several more to look forward to. This is by far my favorite oracle series out there, and I plan to collect all 8 and rotate them into my divination practice with the change of each season every year!
Kudos to these creators for continuing to up the game with each new installment in this series - Lorriane Anderson (Author), Juliet Diaz (Author), and Tijana Lukovic (Illustrator)
Next up will be the Litha Oracle releasing in May 2024.
And Don't Miss Their Samhain Journal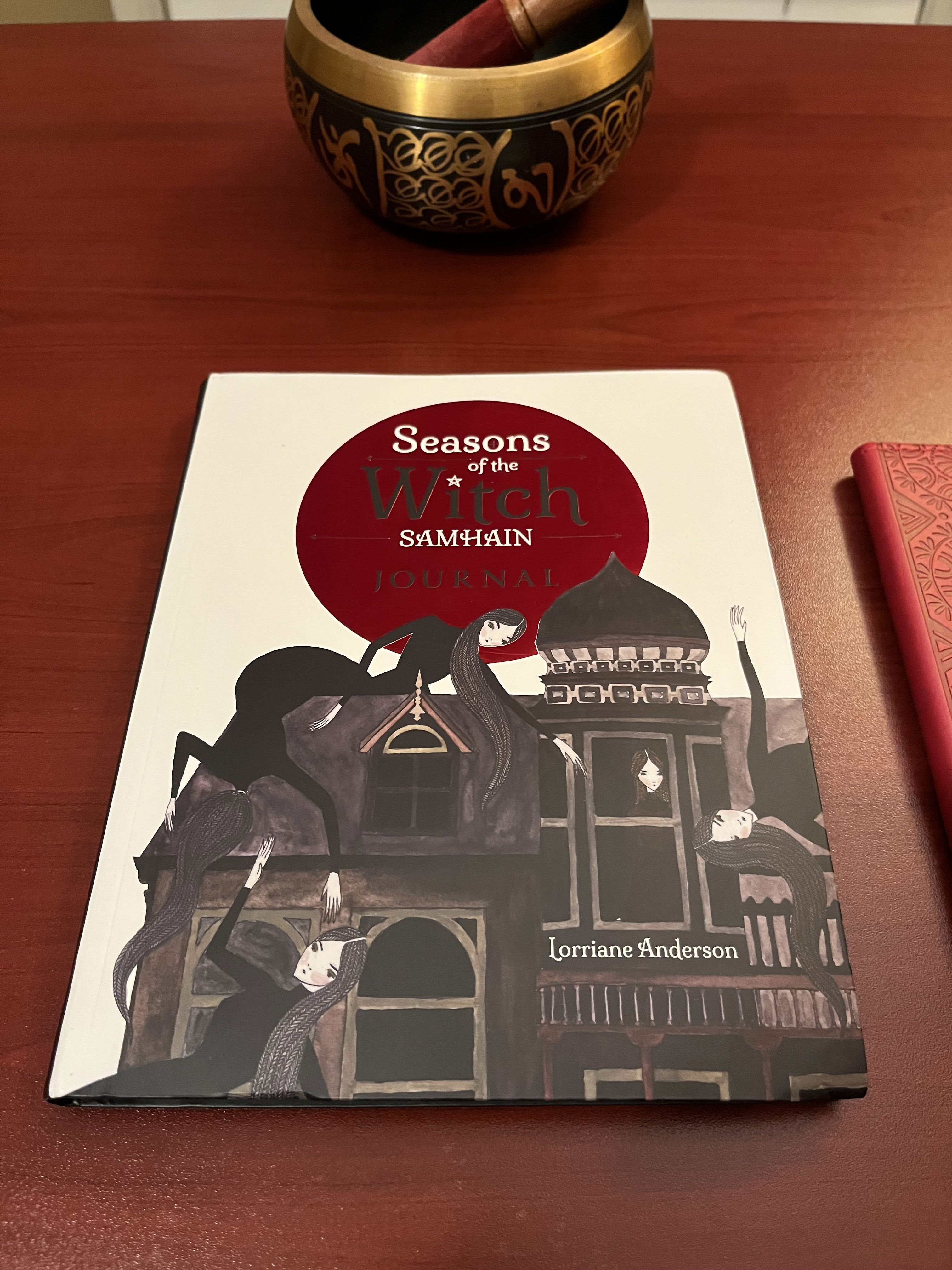 Also, Rockpool recently released a Seasons of the Witch Samhain Journal featuring artwork from the Samhain Oracle. Perfect for card pulls with that deck and perfect for autumn journaling with some ruled and unruled pages! You can purchase that journal here.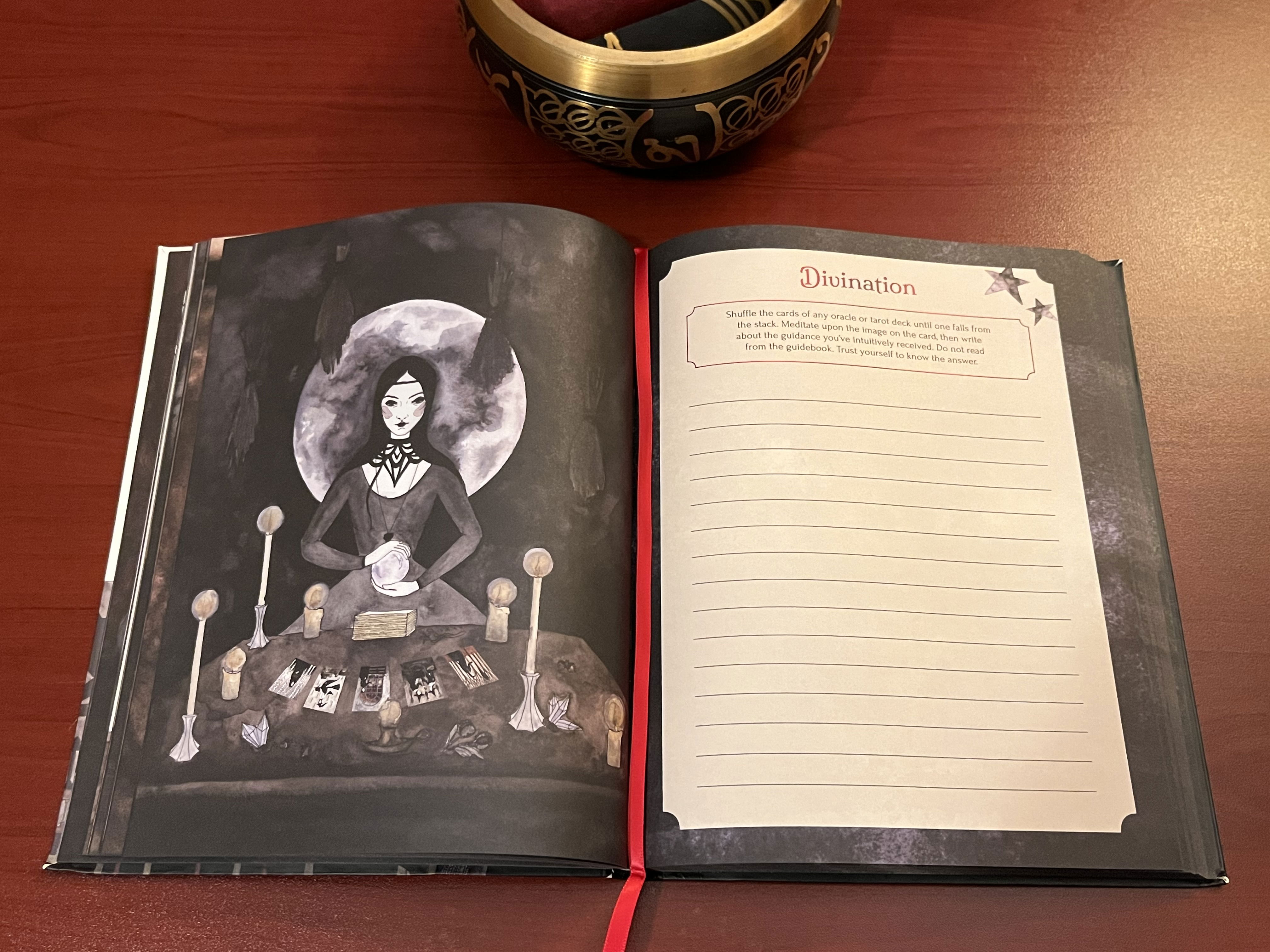 Check out my other Seasons of the Witch oracle reviews
Healing Thru Tarot Podcast Ep. 32: Healing with the Witch Archetype + Review of the Seasons of the Witch Samhain and Yule Oracles
Seasons of the Witch: Beltane Oracle Review
FTC Disclosure: In accordance with Title 16 of the U.S. Code of Federal Regulations Part 255, "Guides Concerning Use of Endorsements and Testimonials in Advertising," I received the Seasons of the Witch Imbolc Oracle and Samhain Journal from Rockpool Publishing for prospective review. Everything I've said here is sincere and accurately reflects my opinion of this deck and journal.
Decks shown in this blog:
These are my amazon affiliate links and it helps me out a tiny amount when you use them!
The Divining Sisters Series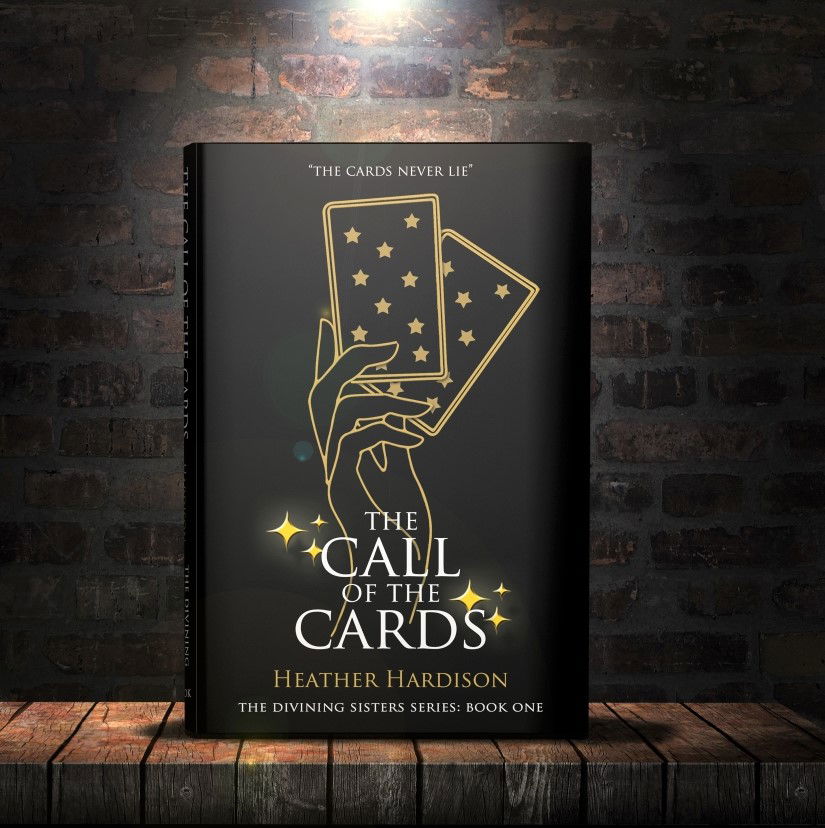 And if you're looking for a good witchy book, my fictional divination book series, The Divining Sisters, is perfect for this time of year. Start with book 1 in the series, The Call of the Cards, and then catch up to book 2, We Divine Three and book 3, The Threads of Fate, that just released in Sept. 2023.
They're available as ebooks $4.99 and paperbacks $14.99 on Amazon. And the eBooks are also on Barnes and Noble, Apple Books, Google Play, Kobo, Scribd, Smash words, and more.
Find out more details on my novels on my author website author.heatherhardison.com - where I post updates on book releases, video book trailers, book blurbs and quotes, as well as fun things like my Spotify playlists for each book. I carefully curate those to express the energy of each book.
Readers are raving about the series like these 5 star amazon reviews of The Call of the Cards and We Divine Three:
"Absolutely Unique! Resonated so much!"
"Life-changing. I felt seen. I don't think I've had this experience with any other book."
"The metaphysical series I've been waiting for! I was hooked from the beginning and even found myself slowing down because I want it to last. The characters are so relatable and genuine, and the explanations of tarot readings and past life stories is spot on! I'm eagerly awaiting the next ones. Please please, Heather, keep writing."
Readers call it "Harry Potter for adults."
If you get a copy, please leave a book review on whatever platform you buy it on if you enjoy it. That really helps me out and can help get my book in front of more readers. And if you love it please also review it on good reads.
If you follow me on Instagram, you'll see updates on the book releases there. I have 2 instagram accounts My tarot and podcast account - healingthrutarot My author account heatherhardisonauthor
Watch the book trailer for The Divining Sisters Series
Time to pre-order the 2024 Writual Tarot Planner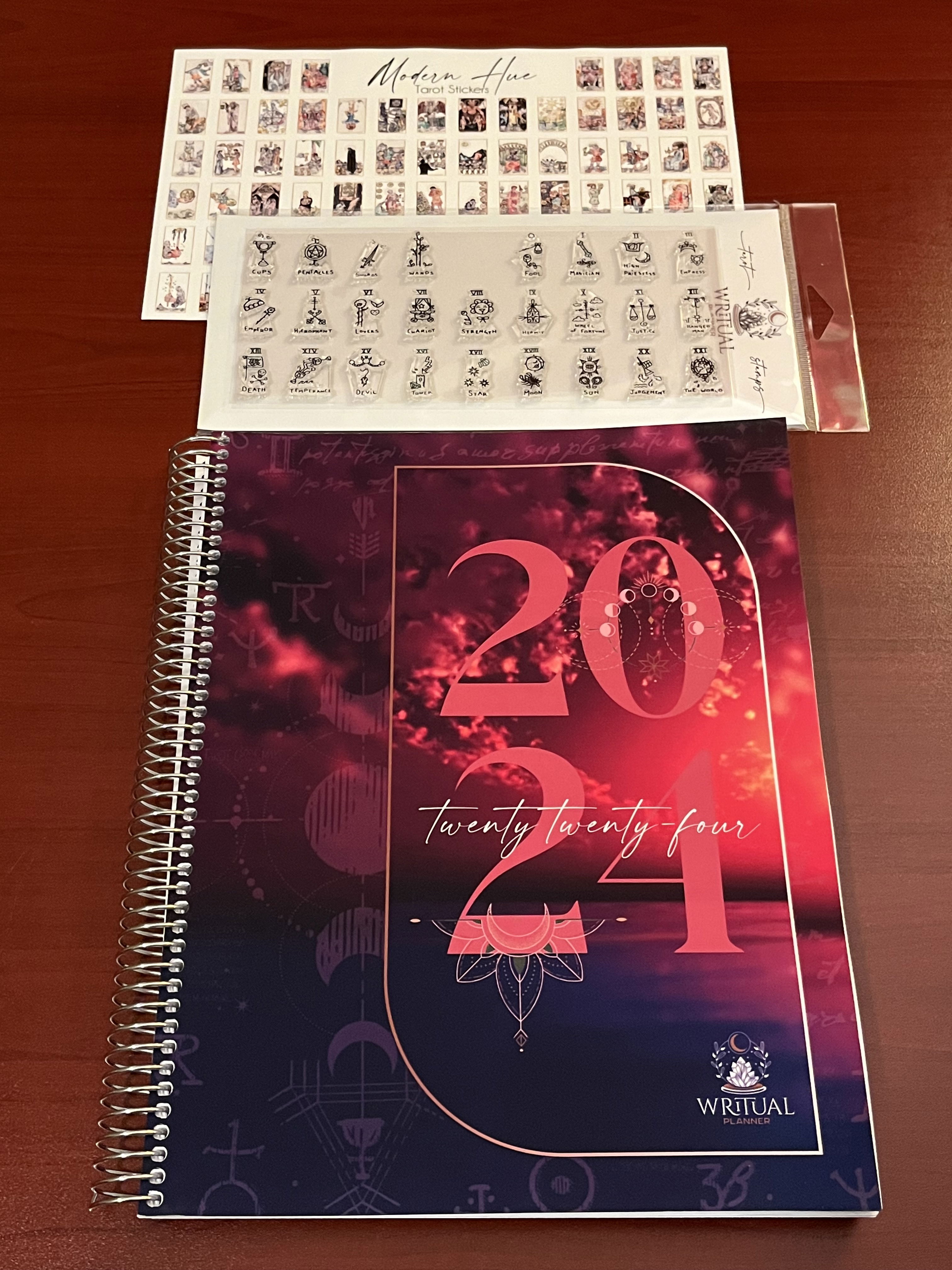 And it's that time of year when we need to order another tarot journal. It's out now! I always order a new Writual Tarot Planner around this time. If you want one before the new year, remember you can use my writual discount code at checkout. Use my Writual ambassador link here along with my discount code HEALING (all caps), which gets you 15% off your Writual purchases when you use that affiliate link and code. Writual has tarot stamps and stickers, dated and undated tarot journals and planners, including one for kids, tarot decks and tarot-themed mugs, candles, and jewelry so check them out using my link!
Healing Thru Tarot's Spread Ebook Line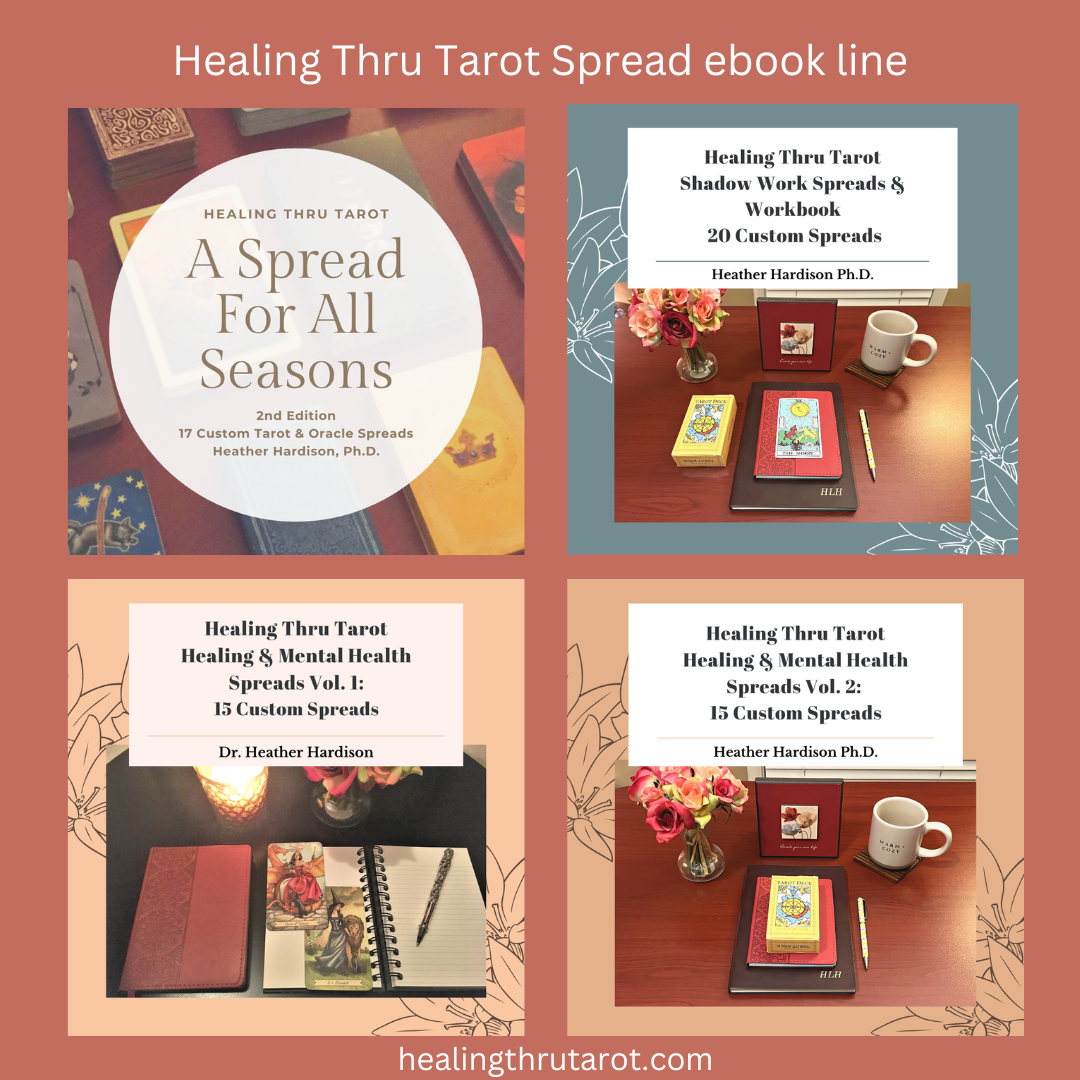 A Spread for All Seasons - 17 custom spreads
Healing and Mental Health Spreads Vol. 1 - 15 custom spreads
Healing and Mental Health Spreads Vol. 2- 15 9-card spreads
Shadow Work Spreads and Workbook - 20 spreads
* (Newest) Healing Thru Tarot's Life Path and Life Purpose spread ebook includes 15 custom spreads I've created to help you identify and align with your life path and sail to success. Spreads like the life path alignment spread, lightwork path guidance spread, conquering obstacles on my path spread, advice from my future self-spread and karmic healing path spread will help you position yourself to step into your full power and achieve the purpose you incarnated to fulfill. Plus many more spreads offering guidance and advice to get on path and stay on track. $12
Click here to purchase any of these spread ebooks
Listener Support
Are you enjoying the Healing Thru Tarot podcast and companion blog? If so, now you can gift me a coffee or two to kept me fueled as I pull all-nighters writing the scripts and recording all the episodes. Help me keep this content flowing by sparking my inspiration! Just click here to gift me a caffeine fix.