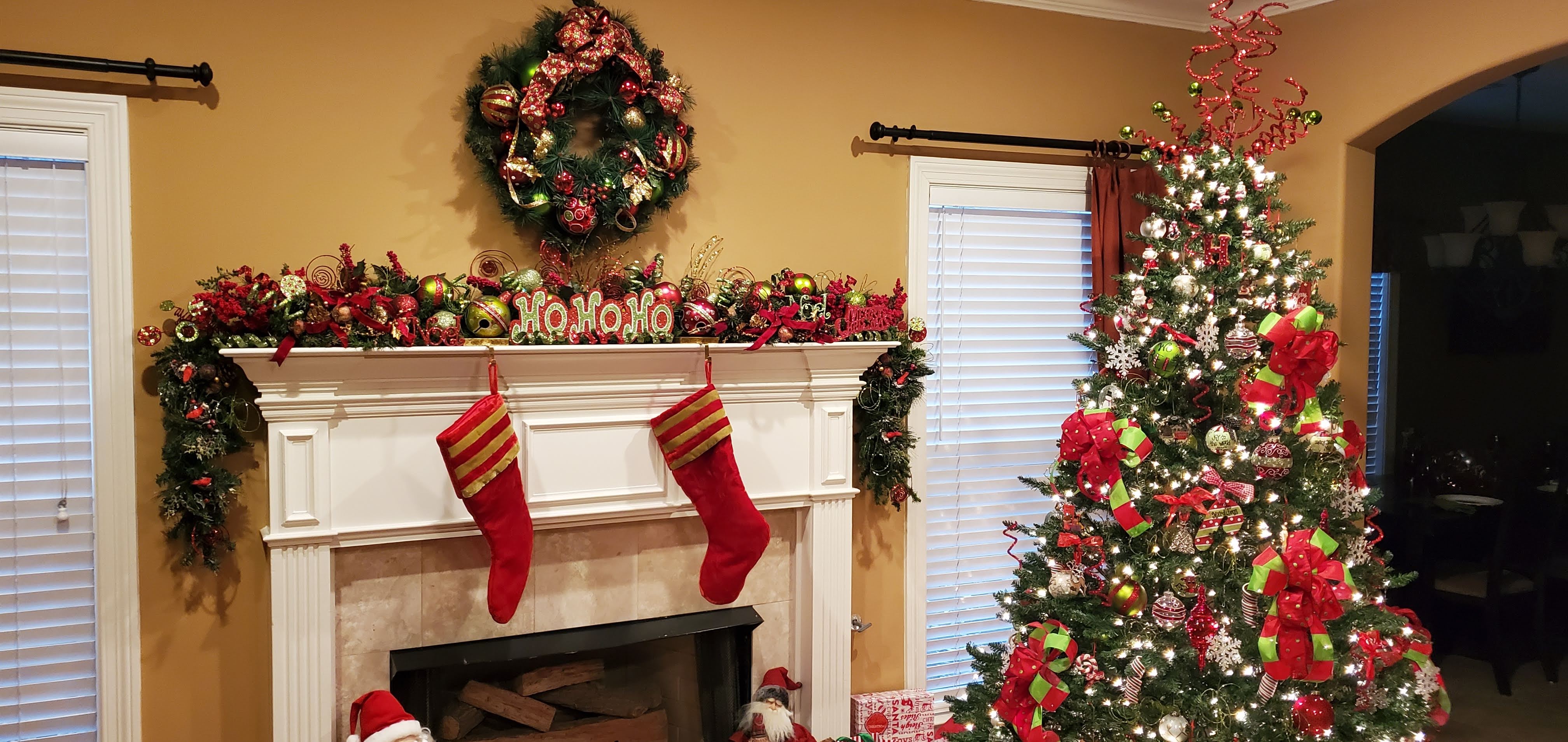 In this episode, I'll share my picks for some awesome stocking stuffers and holiday gifts for tarot lovers, and since this is the last episode in 2022, I'll discuss the universal tarot year card for 2023 and share a spread for that tarot card.
It's the most wonderful time of the year, and if you're like me you might love stuffing stockings but may struggle with what to get the adults in your life. If they're tarot lovers, I've put together a list of divinatory goodies for you that might make your shopping easier this year. And the best part, is that you can send this list to your loved ones so they can get ideas for what to buy you! It's a win win.
Let's dive in to my 2022 Holiday Tarot Gift Guide
Since stockings have limited space, I think the perfect stocking stuffer is a pocket-sized tarot deck, especially ones in those cute little tins. You would even have enough space to fit a few of these adorable tiny decks. These days there are so many pocket versions available. My favorites are the pocket-sized Everyday Witch Tarot, The Wild Unknown Tarot in tin, and the traditional Rider Waite Smith Tarot in a tin.
And the Cosma Visions oracle by James Eads is now available in a smaller version in a tin. I have the full-sized versions of his Prisma Visions and Light Visions decks which run around $45 each, but these pocket versions are $20, which is a great way to own a gorgeous indie deck for the price of a mass-market deck. Even if the person you're shopping for has these decks, everyone wants a pocket version of their favorite deck to carry with them on the go. So, do some probing and find out what their favorite decks are and see if they have a small version that you can slide into their stocking this year.
Writual Tarot Pouch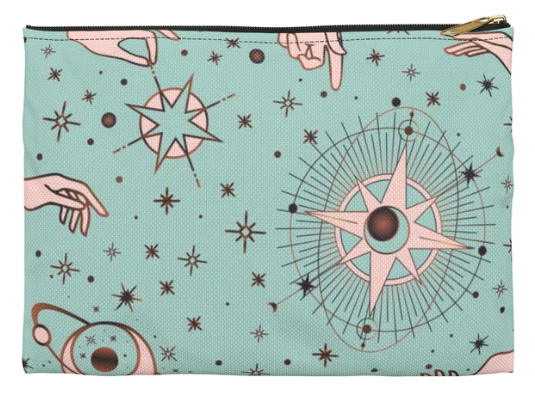 Next, I recommend tarot pouches and spread cloths because they fold so nicely and easily fit in any stocking. Tarot pouches are great for storing decks outside of their boxes, and you can personalize them based on personality. The one shown above is from Writual. Spread cloths are wonderful to lay out on tables and throw your spread onto. There are so many to choose from. If you know the person's favorite color or hobbies, you can find the perfect pattern that will make them feel extra special when they read.
Tarot dice are the perfect tiny stocking stuffer. Most readers probably don't have a set but would probably love one. They're growing in popularity and are a novel item that will show that you're thinking outside the box. They usually come with 13 dies with symbols for the tarot cards on 6 sides totaling the 78 tarot cards. So you can throw a spread in a matter of seconds. Plus, they're small enough to travel with and great for parties. Check out etsy for this special gift. And consider adding a pair of Astro dice to add an astrological element to the readings.
Along this same line, consider a set of tarot tiles. These tiles are so fun to work with and help to spice up routine readings. Simply shake up the bag of tiles and reach your hand in to pull out a few tiles for a spread. They're durable, and tactile learners will love how they feel.
Or consider gifting them a charm set to get them started on charm casting or a set of runes. There are all kinds of charm and rune sets to choose from on sites like etsy.
Writual Tarot Jewelry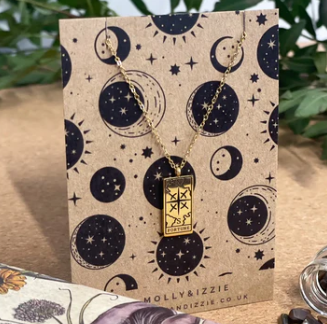 Other small items that go along with tarot and would slip into any stocking would be a small crystal, a pendulum, tarot themed jewelry (like a necklace from Writual above, a bracelet, or earrings depicting tarot cards), a box of incense, palo santo sticks, or a sage bundle for smudging before a reading. And essential oils are the perfect size for stockings and the one's that work best for divination would be frankincense and cleary. You can even tuck a certificate for a tarot reading into the top of the stocking.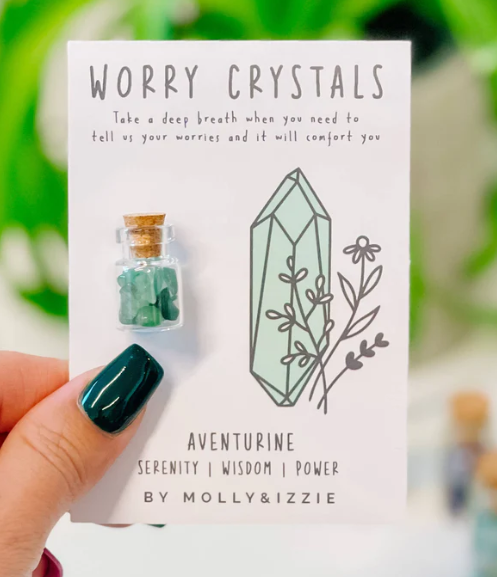 These worry crystals from Writual (shown above) are just $8 and are adorable! Slip these into a stocking to help soothe your loved one. Writual has a whole line to choose from for protection, calming your system, grounding, confidence, etc.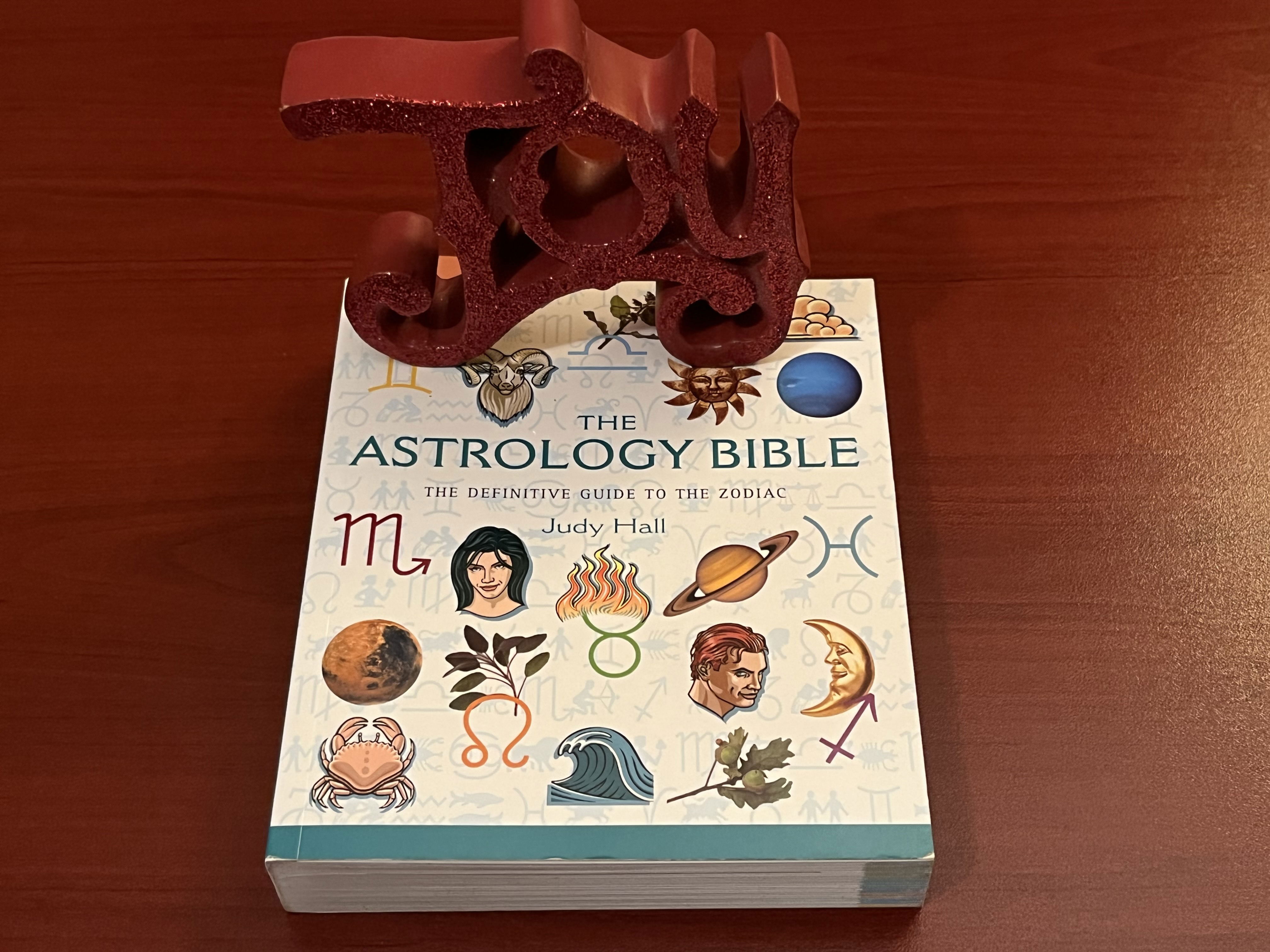 Most small tarot books can fit in a stocking as well, especially the tiny tarot bible that's the size of your hand and helps any beginner learn the basics of tarot. I love these little reference books. I have the tiny astrology bible (shown above), so if your tarot enthusiast loves astrology, get them this pair because tarot and astrology always go well together.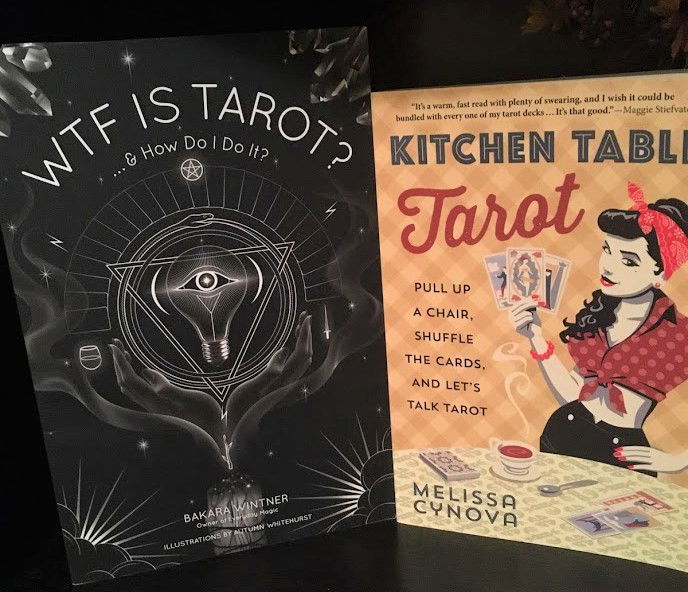 Also, books like Kitchen Table Tarot and WTF is Tarot (shown above) fit easily in a stocking. I would put these in last and have them sticking out of the stocking for an attractive presentation.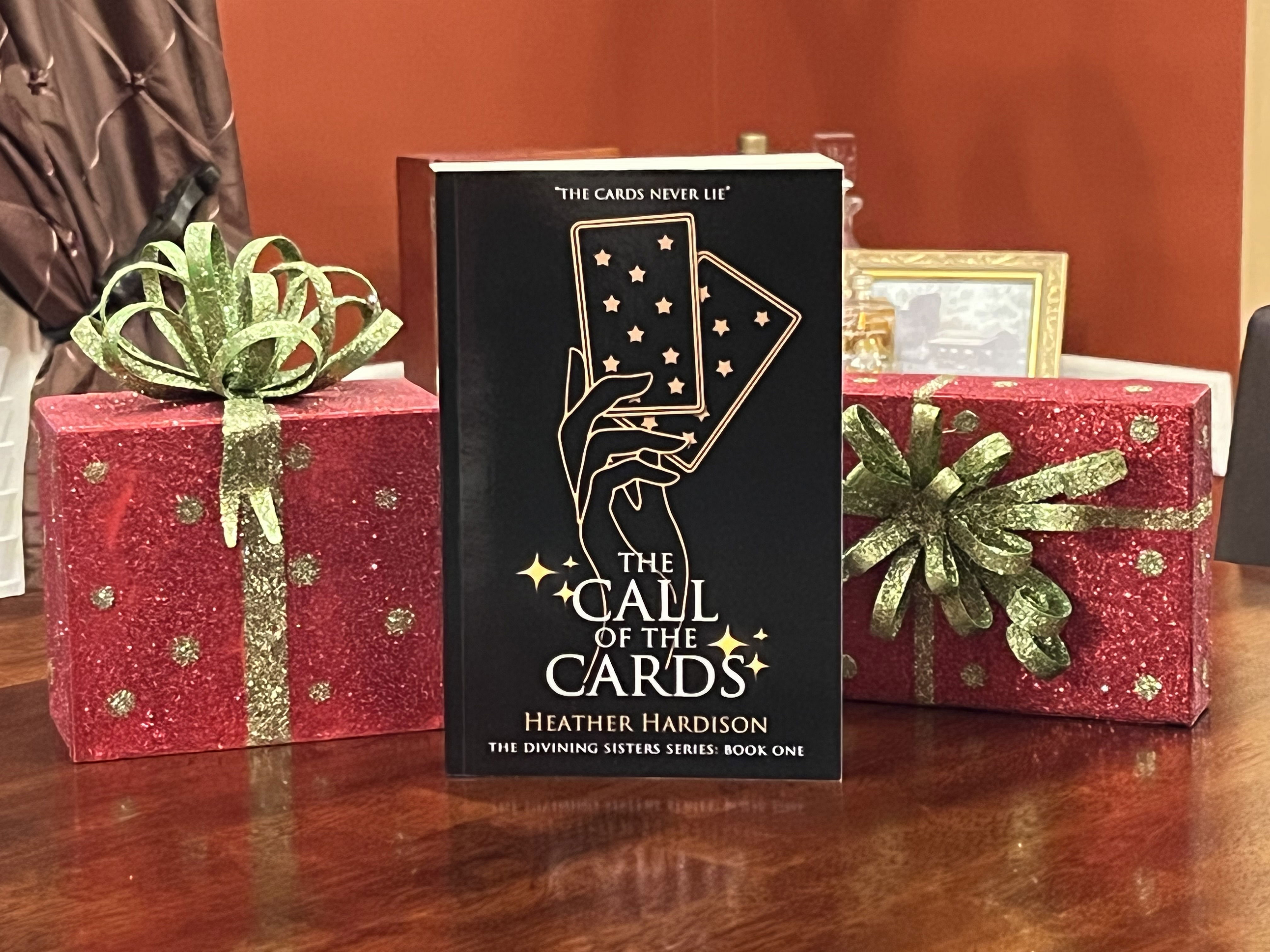 And how about gifting them a copy of my fictional divination book, The Call of the Cards that released this year. This novel features my favorite type of divination – tarot. This is book 1 in my series, The Divining Sisters. This series follows a group of witches, healers, and diviners who reincarnate lifetime after lifetime and reunite with their coven so they can fulfill a mission of keeping their craft of divination, healing, and magic alive for future generations. Perfect for any divination enthusiast. Available in paperback on amazon and barnes and noble and ebook as well. Universal link here to purchase the book on your preferred platform.
Writual Products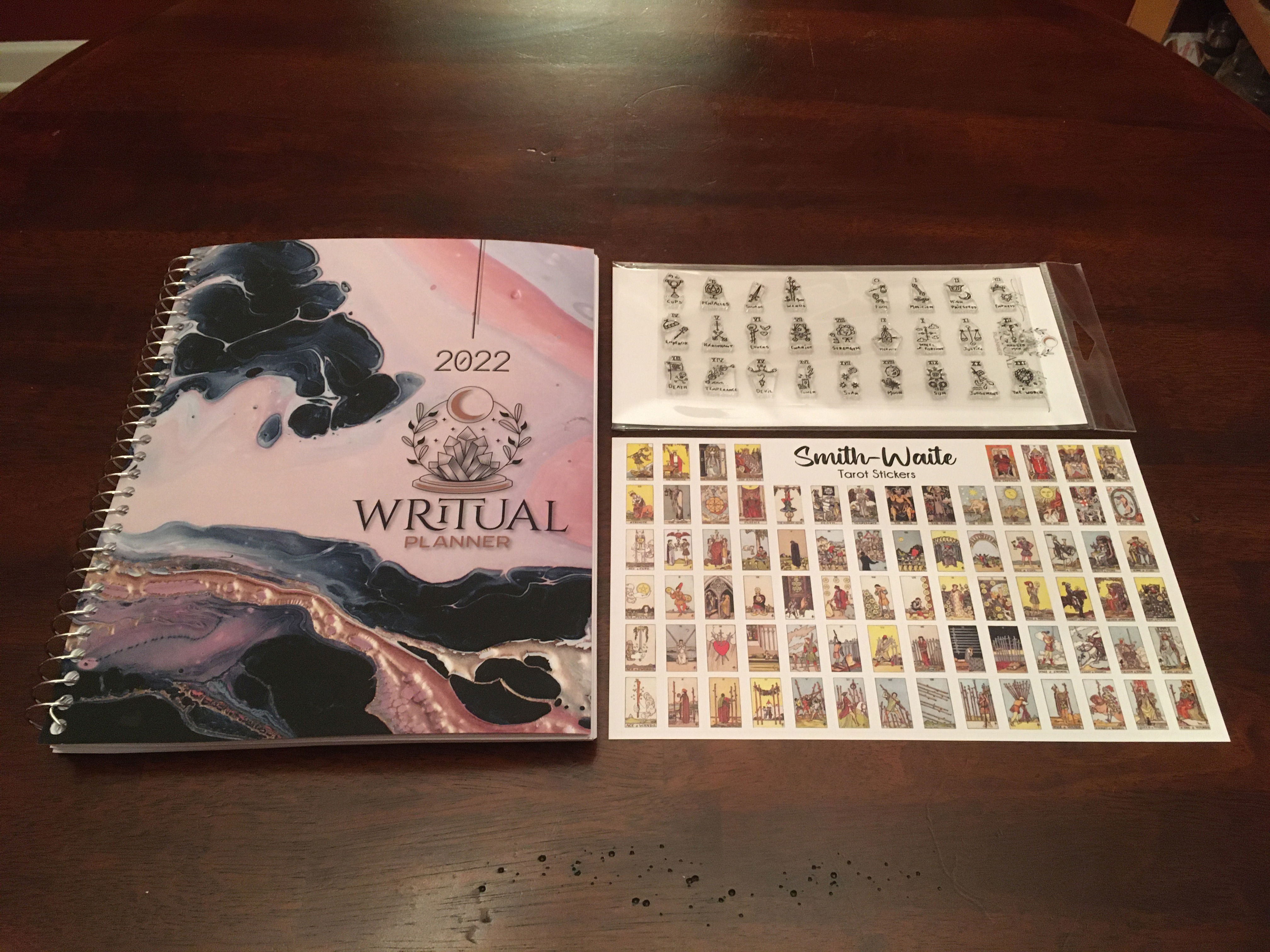 Writual's tarot stamps and tarot stickers would also fit in stockings and are exciting gifts to receive. What tarot reader doesn't love tools to help them document their daily or weekly tarot pulls? I recommend gifting them a Writual planner as well but those are not the right size for a stocking so that would be a gift to wrap and place beside the stocking. This planner includes astrological transits, dates for planetary retrogrades, and new and full moons as well as the void course moon times for the year. There's also space for a 3 card pull to be documented for every day of the year. You'd be setting your loved one up with a gift that will help them stay organized and motivated for the entire year. And now that I'm a Writual affiliate you can use my affiliate link here and the discount code HEALING in all caps for 15% off your writual purchases.
Writual Tarot Candle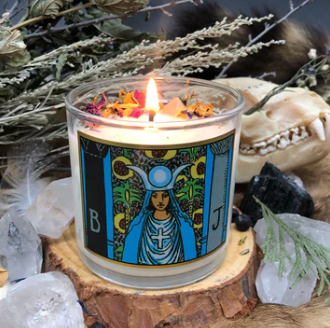 For larger gifts that need to be wrapped instead of tucked in a stocking, there are tons of goodies that I know I would love. Tarot themed mugs and tarot candles are such nice gifts that can be enjoyed all year long. Or pick out a nice card display or stand where they can display their card pulls to enjoy and reflect on throughout the week. There are so many options on Esty so choose something that matches their preferred aesthetic. OR buy them a beautiful wooden crystal grid where they can set up grids with their own crystals and set intentions that help with their healing and yearly goals.
Winter Decks for Gifts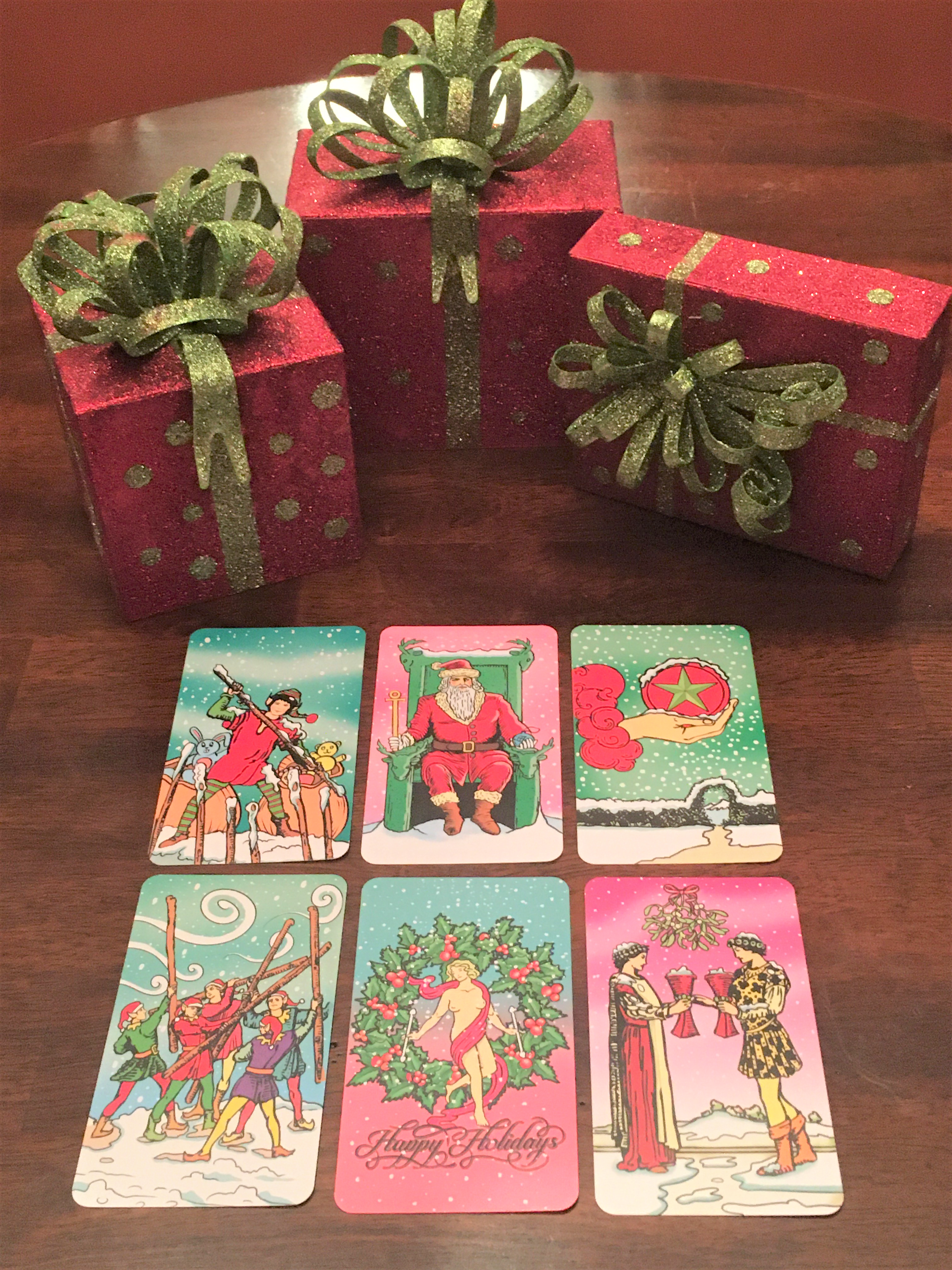 If you want to gift them a winter deck, I recommend The Nightmare before Christmas Tarot, The Winter Waite Tarot (shown above) and the Season of the Witch: Yule oracle. All of these have such beautiful winter scenes and vibes, which is sure to get anyone in the mood for the holidays. To hear more about those decks, check out Ep. 18 where I dive into my favorite winter decks, and I cover the Yule Oracle in detail in Ep. 32 which is the episode on Healing with the Witch Archetype where I also talk about the Samhain deck as well.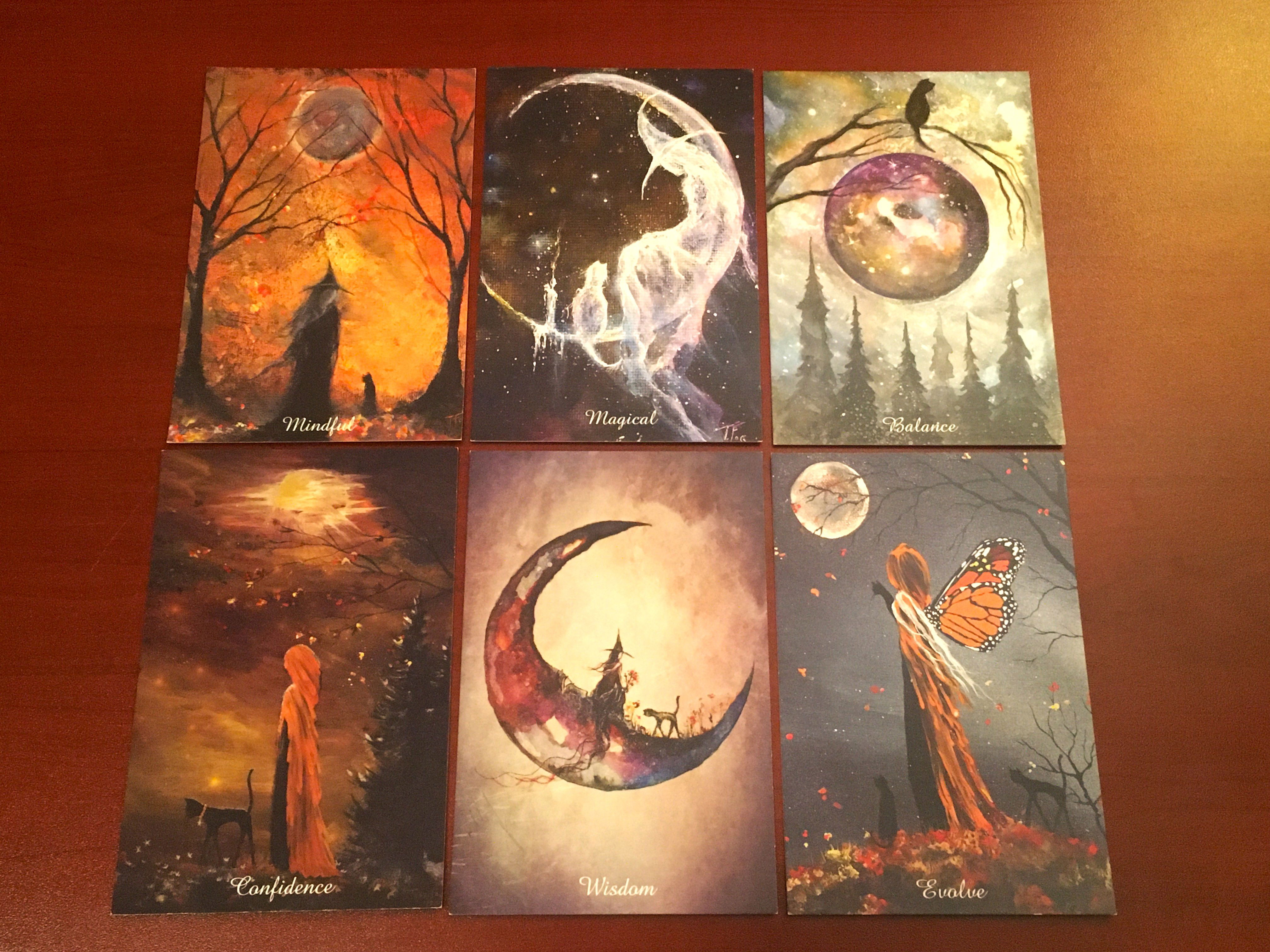 And Terri Foss' Earthly Souls and Spirits Oracle is being released as a mass-market deck for the first time. This deck has been a favorite of mine since I first found tarot and oracle back in 2018. This version is much smaller and easier to handle compared to the large version I have and is much more affordable. The version I bought was around $65, but this new US games version is $23. Photo above shows my larger version of this deck. This is a deck that most people will enjoy. It has such a witchy vibe. BUT there are wintery and celestial vibes and colors in the cards too, so it's not a stretch to see this is a holiday gift. It's such a treat!
Gifts for kids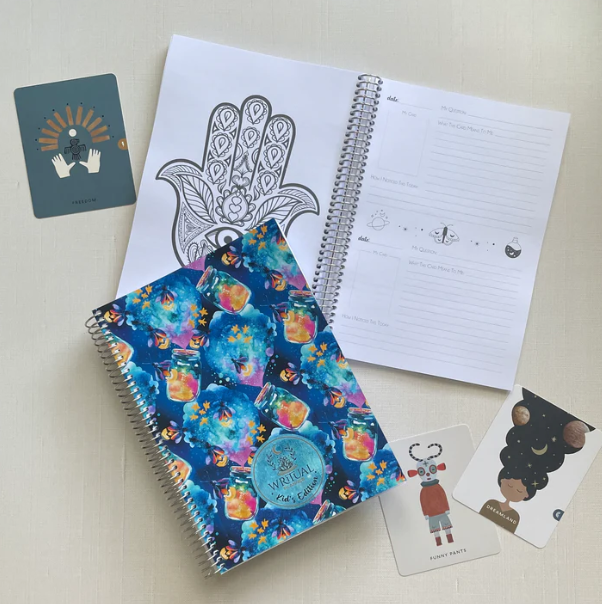 If you're shopping for kids, you can include a small charm set, a journal, and laminated tarot sheets for the tarot card meanings if they're into tarot. And Writual now has a Kid's Tarot Journal for just $28 (shown above)! It includes 186 pages for single-card draws, journaling, coloring pages, and tarot card meaning cheat sheets to help them learn the card meanings. Learning to identify and process emotions is such a valuable tool. Teach your kids how to journal about their feelings, which helps them learn how to cope with emotions when they feel upset, angry, sad, or lonely. I wish we taught this skill in schools.
My Top Pick For A Holiday Gift For Tarot Lovers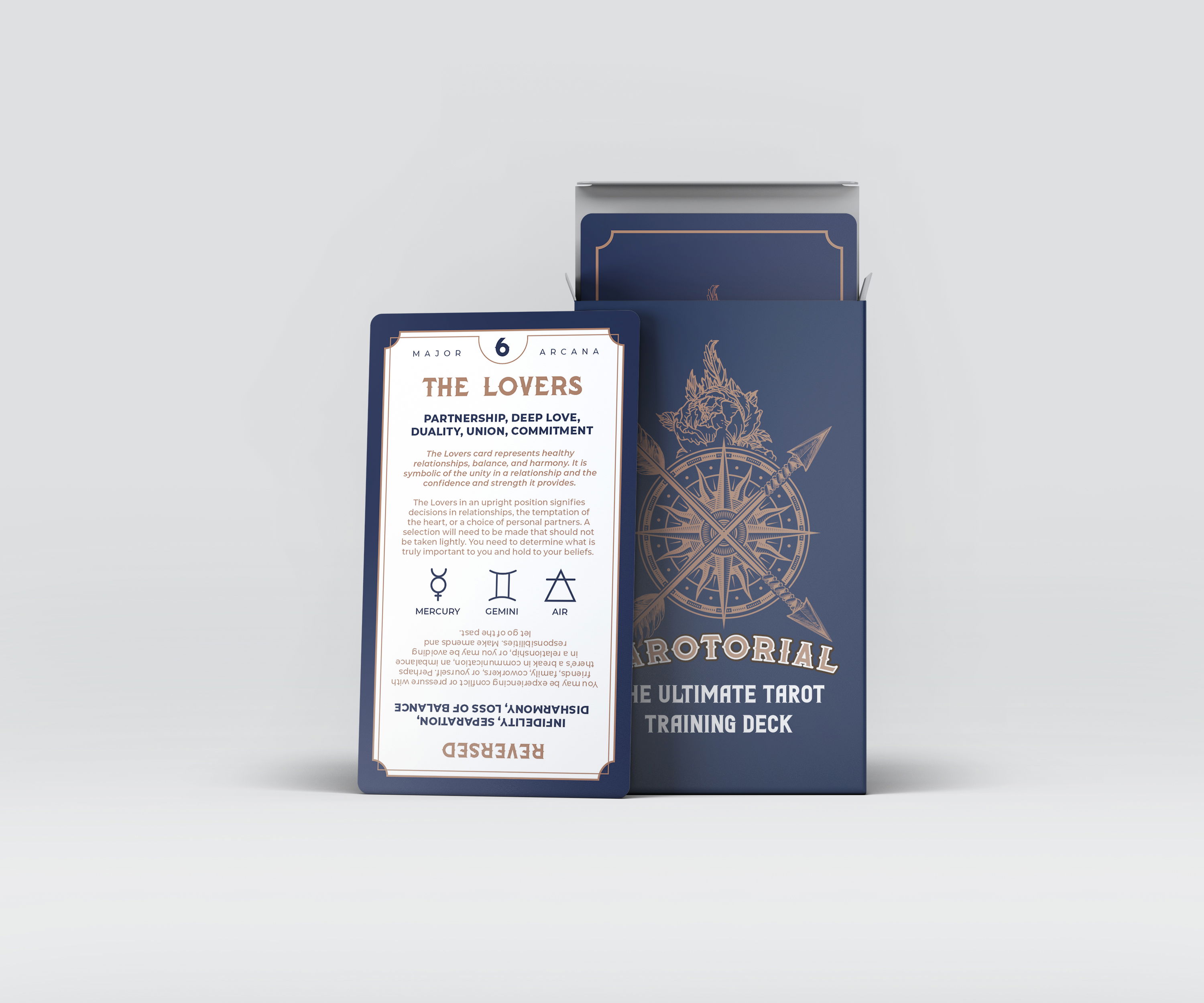 And now for my number 1 pick for a holiday gift for any tarot enthusiast - The Tarotorial Training Tarot Deck by Pamela Coe at Raven and Rogue. This is the ultimate tarot learning tool in my opinion. This is a training deck to help you learn all the key information needed for each of the 78 cards. As soon as I saw this deck, I reached out to Pamela, and she sent over a copy of this deck for me to work with and review. And I love it and highly recommend it!
Each card has meanings right on the card for upright pulls and reversals, as well as planetary, astrological, and elemental associations. Each card includes the description that we're used to seeing on the traditional Rider Waite Smith cards as well as the message if this card shows up in a reading. This helps you learn on the fly, and you can pull spreads with this deck. It's not just for learning.
I'll walk you through one of the cards to help you understand how the cards are laid out. Let's take the Temperance card as an example since it's one of my favorite cards. The planetary association is Jupiter, the zodiac sign is Sagittarius, and it's associated with the element of fire.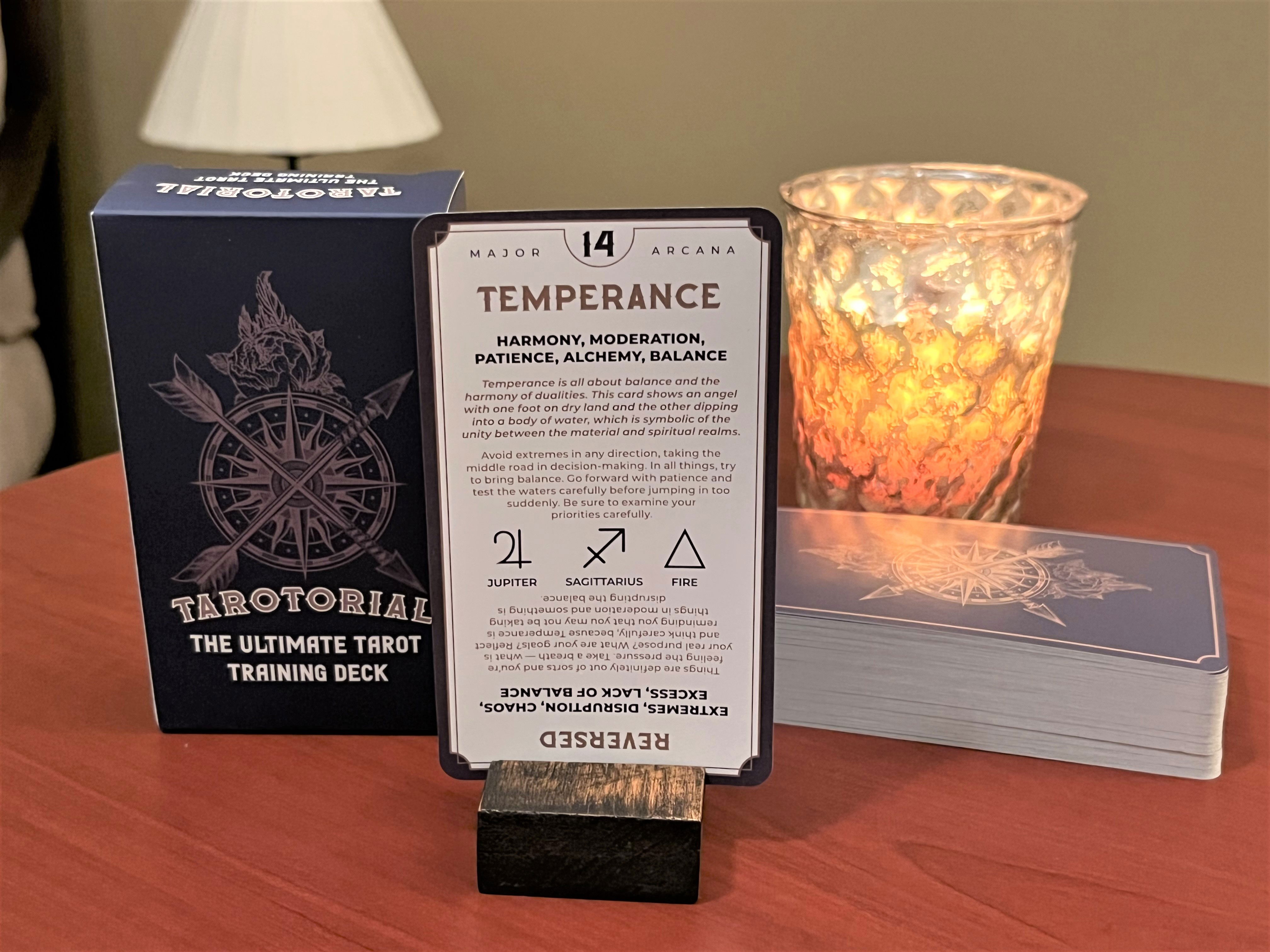 The upright keywords on the temperance card are harmony, moderation, patience, alchemy, and balance. The card description says "Temperance is all about balance and the harmony of dualities." This card shows an angel with one foot on dry land and the other dipping into a body of water, which is symbolic of the unity between the material and spiritual realms.
The upright meaning here is to avoid extremes in any direction and to take the middle road in decision making. In all things, try to bring balance. Go forward with patience and test the waters carefully before jumping in too suddenly. Be sure to examine your priorities carefully.
The reversed keywords are extremes, disruption, chaos, excess, and lack of balance. And the reversal meaning says "Things are definitely out of sorts and you're feeling the pressure. Take a breath. What is your real purpose? What are your goals? Reflect and think carefully because temperance is reminding you that you may not be taking things in moderation, and something is disrupting the balance."
So, this gives you an idea of all the handy details on each card. They highlight all the main points you would want to know from the cards when learning the meanings or reading with them in a spread. I love this way of learning because it is a lot like flashcards, and they are the same size as the average tarot deck if you get the full size. This is great for beginners trying to learn the card meanings, but I think it's a great tool for any reader no matter the level they're at. It's also great for those of us that teach tarot because they're wonderful visual aids.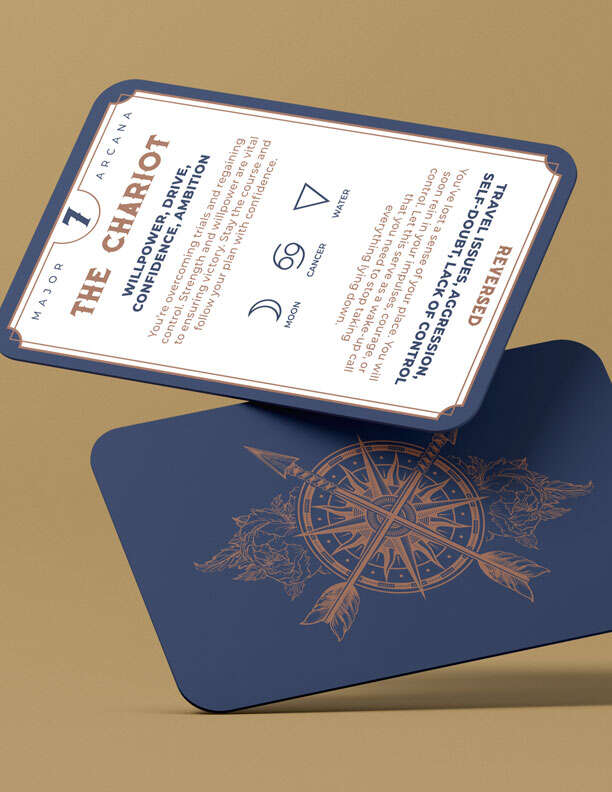 As a psychologist whose specialty is ADHD, I LOVE that the creator designed this deck with the neurodivergent brain in mind. I can't tell you how often I hear from people that struggle with memorizing all the card meanings and are on the verge of giving up on learning the tarot. But this deck changes all that. Pamela has made the tarot inclusive for all with this brilliant training deck. Not everyone learns in the same way, and this tool takes that into consideration and makes it so accessible. Kudos, Pamela on a great deck design that makes tarot more approachable and immersive for all readers.
There are several options for you if you want the deck.
The classic full size original tarotorial deck is currently $29.99 on ravenandrogue.com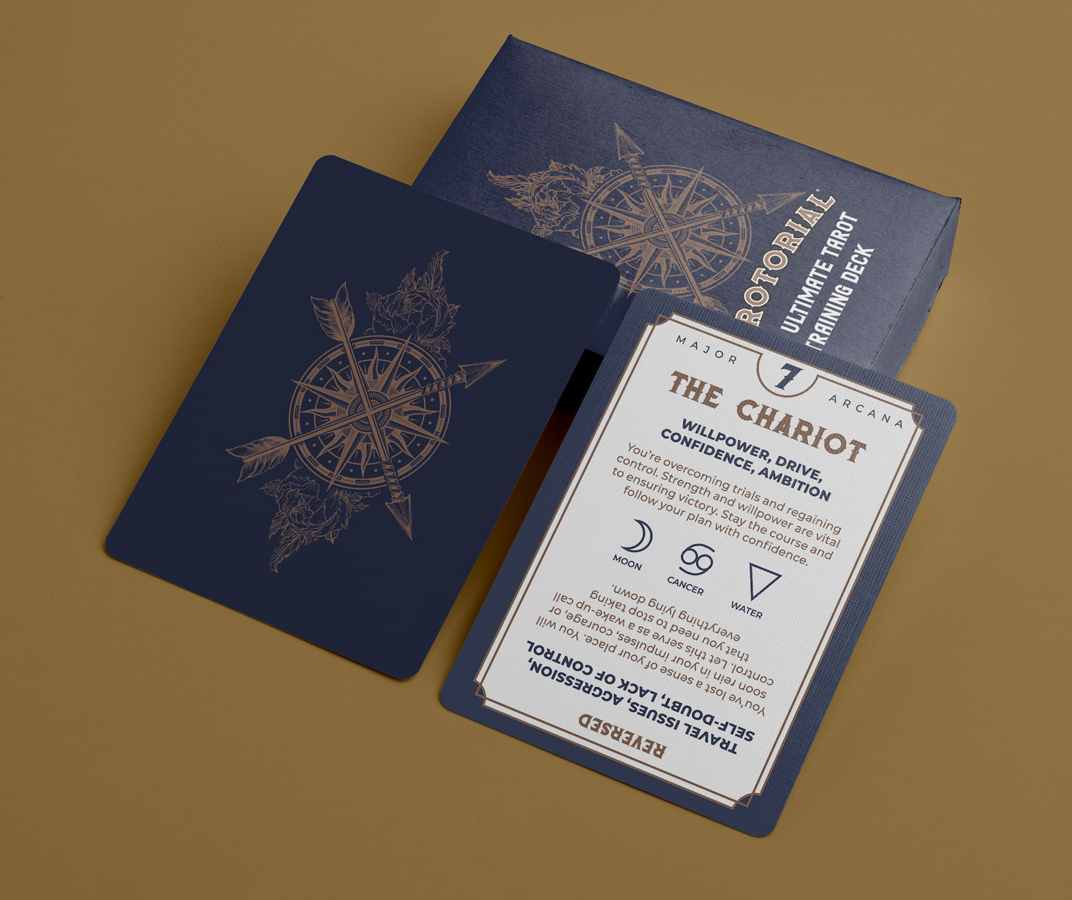 The mini version is $19.99 (shown above) AND I believe the only difference is the mini cards don't include the description of the artwork on the card.
There's a very affordable printable version for just $9.99, which allows you to print this deck at home. This PDF contains over 100 pages with all the cards, tarot guides for card meanings, journaling pages for each card with the artwork, and other tarot reading tips.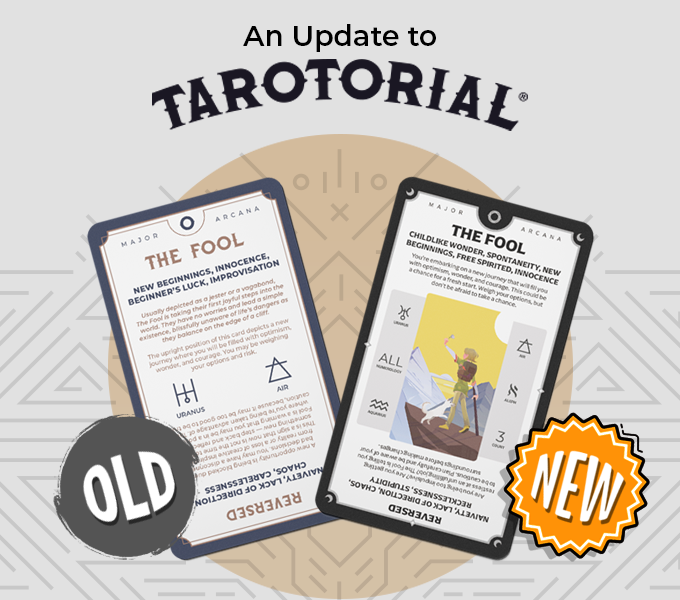 There's also a new expanded version coming with tarot images in the center of the card with all the keywords and associations as the original tarotorial version. Currently there's a kickstarter campaign for that tarotorial expanded deck but that campaign will be over by the time this episode airs. Look for this new version around March 2023. The artwork in those cards is based on the Rider Waite Smith imagery, but's it's updated to be more inclusive and modern looking. It looks very cool. so if you'd like the images on the cards this version is for you. And the guidebook that comes with that version looks amazing. This expanded deck comes with a magnetic box and a companion guide with 100 pages of information.
All the other versions can be found on ravenandrogue.com currently.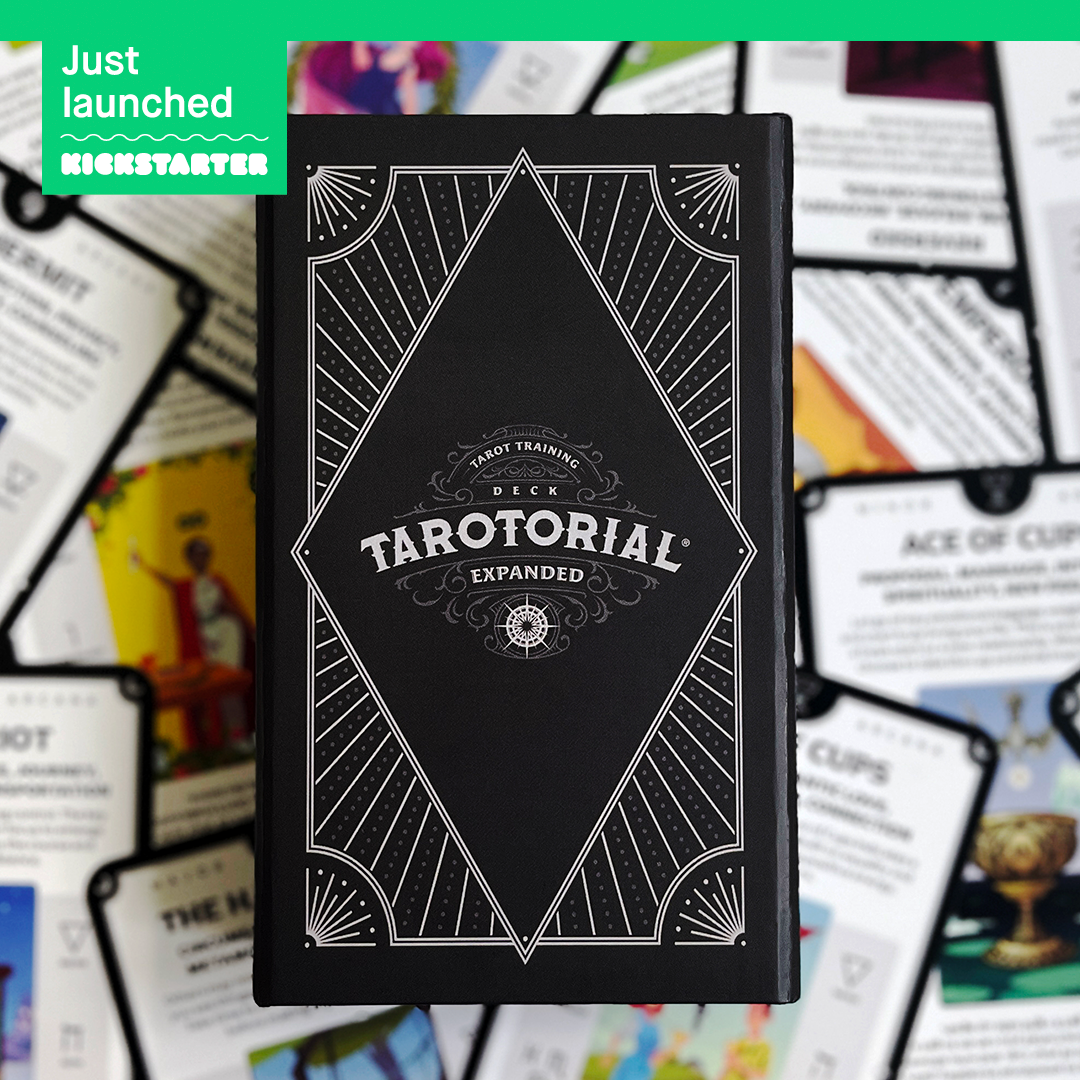 Thanks to Pamela at Raven and Rogue for designing this deck and sending over a copy of the full size and the mini version that I could share with my listeners. It's the ultimate gift for any tarot enthusiast. Even seasoned tarot readers would love these cards especially with these handy reversal keywords. And both the full size and miniature versions could fit in a stocking. You simply can't miss with this gift! Pamela was kind enough to extend a discount code for 15% off. Just use HEALINGTHRUTAROT - all caps when checking out on ravenandrogue.com
Wrapping up 2022
Now that we're nearing the end of 2022, it's a good time to look back over the year and review how the themes from your personal tarot year card played out throughout the past 12 months. Remember, we each have a personal tarot year card that changes every year that's based on our birthday, and there's a universal tarot year card for the world.
In 2022, it was the Lovers card for the global energy. Journal about the lessons you learned this year related to both the universal year card and your personal tarot year card and make a note of lessons and goals you're still working on. Some of those lessons will be wrapping up as the year draws to a close and a few may carry over into the new year.
Universal Tarot Year Card for 2023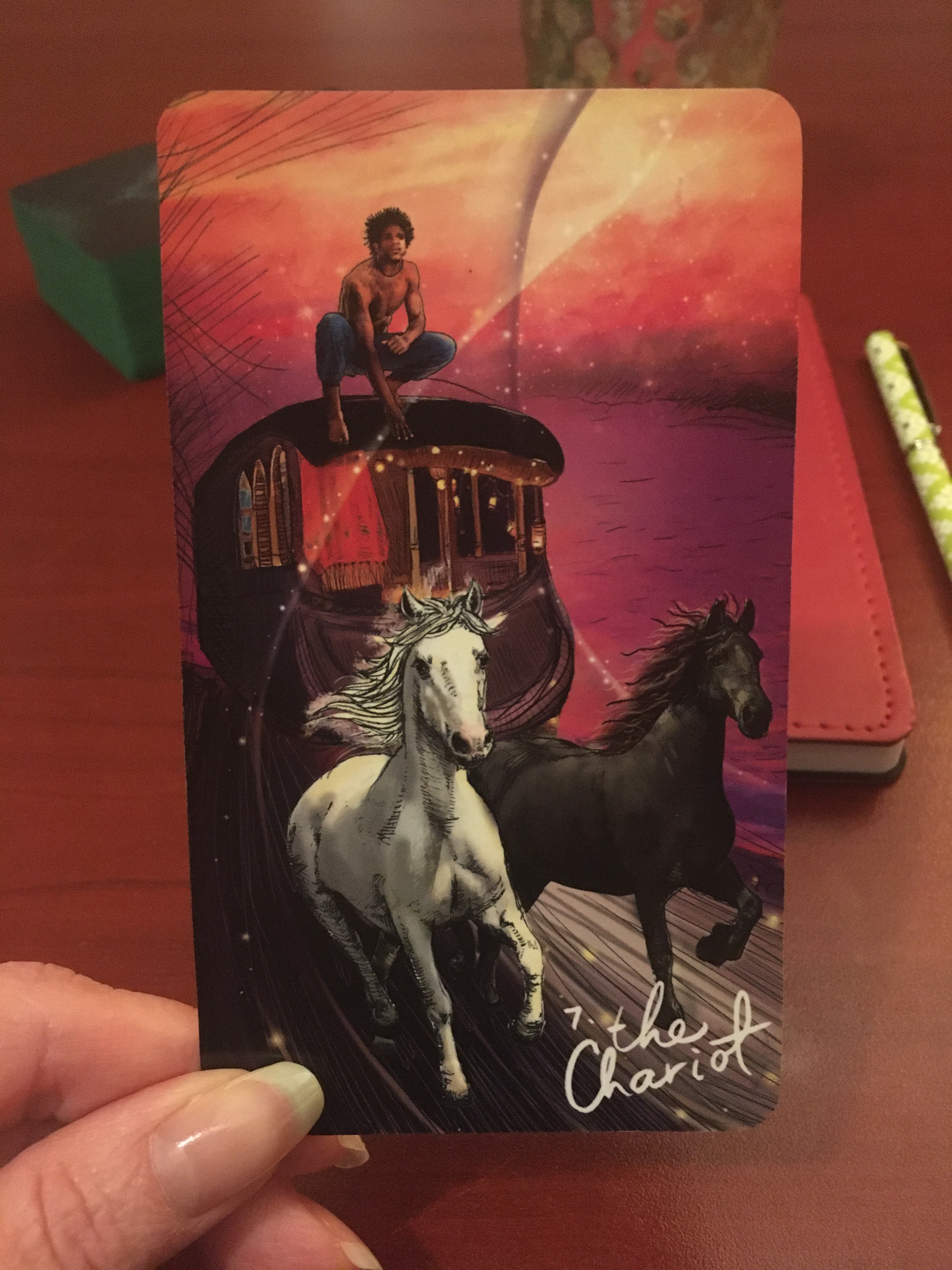 Since this is the last episode in 2022, I wanted to talk about The Universal Tarot Year Card for 2023. Since these numbers add up to 7, the global tarot year card will be The Chariot. So, in 2023, you'll be at your best when you're flexible and on the move, which could include travel and a lot of change. To tap into the potential of this energy, get in the flow and put in the work and effort, which will pay off in the end. Be fluid, determined, and focused on your goals. If you are, you'll be successful and victorious this year. So, 2023 could bring more movement, victories, and changes to your health routine. Reflect on these themes as we usher in 2023.
Chariot Spread for 2023 Universal Tarot Year Card
Below is the 9 card custom spread I created to explore the Chariot theme for our Universal 2023 Tarot Year Card. If you throw this spread for yourself, I'd love to see the photo of your spreads. Please tag me on Instagram @healingthrutarot and please use #healingthrutarotchariotspread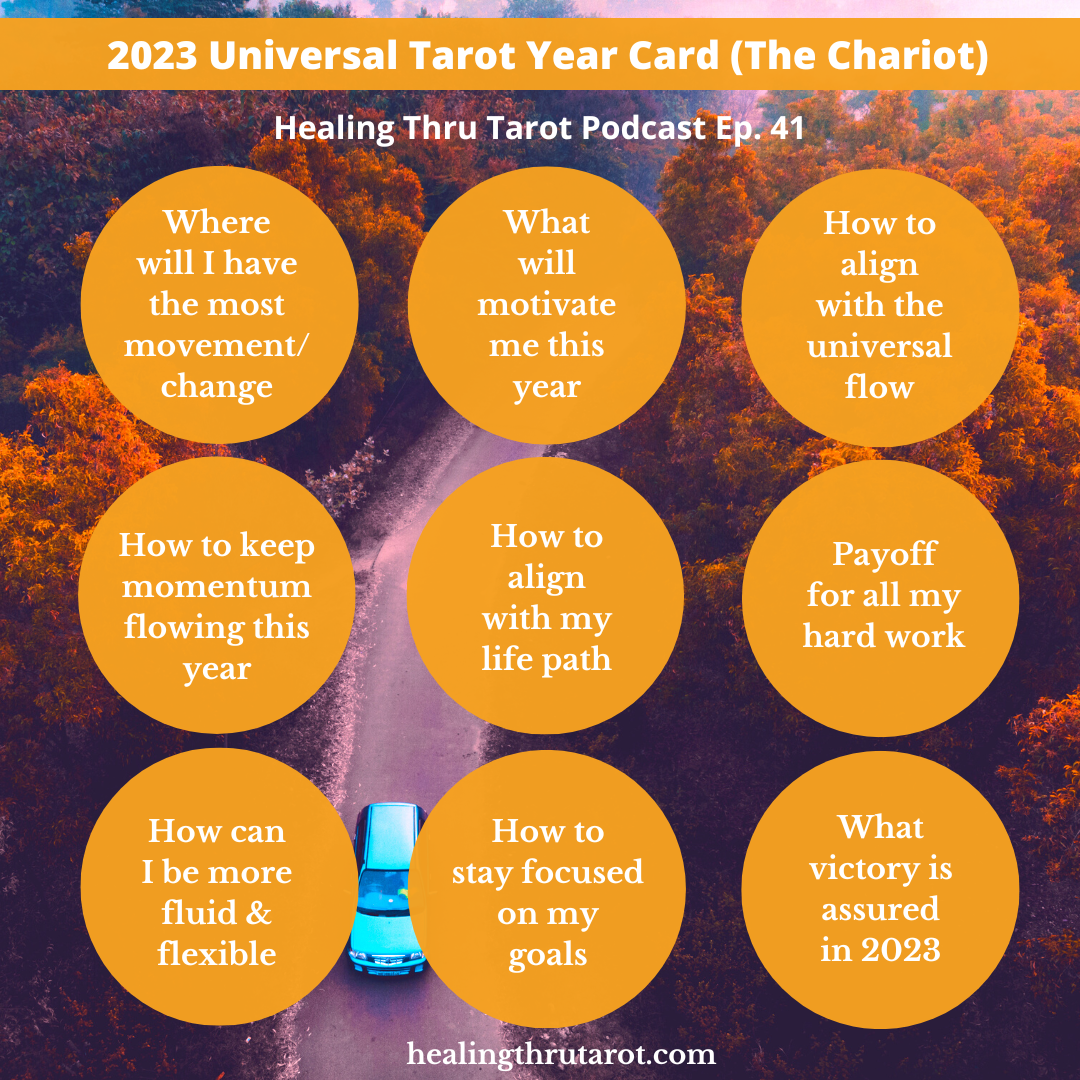 If you're looking for a spread book for next year, I wanted to remind you of my spread eBook called - A Spread For All Seasons which contains 17 custom spreads designed to guide you through the seasons of any year.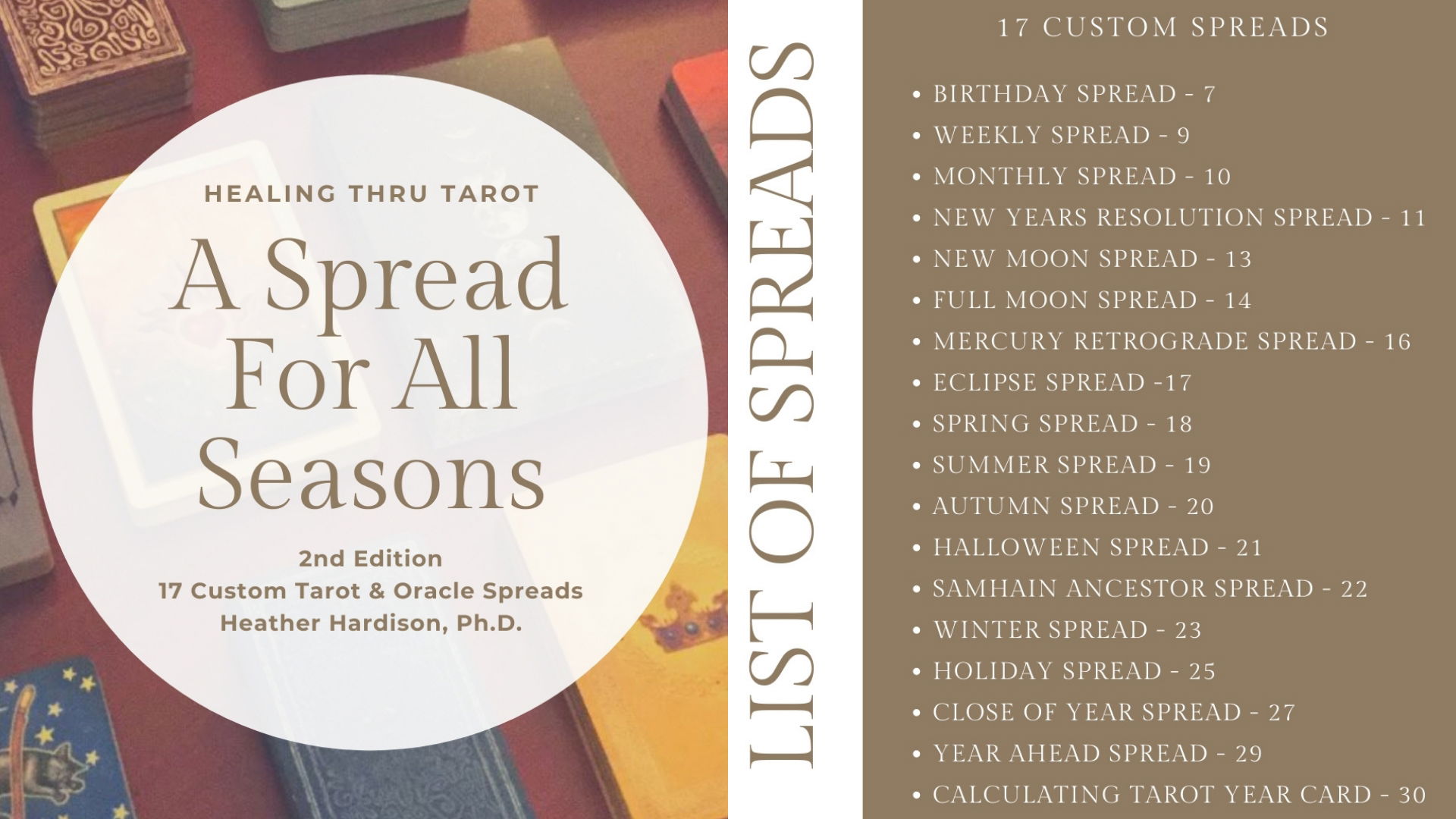 It covers holidays like Halloween, the New Year with a 9 card New Years Resolution Spread, and the 9 card Holiday Spread. I left it generic enough for all to enjoy no matter what you celebrate between November and January.
I have seasonal spreads and a full moon and new moon spread that you can use each month of the year. I particularly love the 7 card Mercury Retrograde Spread that can be used for each of the 3 mercury retrogrades we experience every year. I included an eclipse spread, year-end wrap up spread, and year ahead spread as well. And there's a 6 card weekly spread and a 9 card monthly spread that you can reuse and integrate into your tarot routine to help give you a heads up each month on what to expect and how to navigate through the week and month ahead. I made these spreads so that you can use them again and again, year after year.
You can find this spread eBook on my website healingthrutarot.com for $10, which is a bargain for 17 spreads that help you navigate a whole year at a time. If you purchase it now, you can use the 9 card Close Of Year Spread to help you wrap up 2022 and to see what lessons you've learned this year and what you may need to carry over into the next year to complete.
This is the last episode of 2022. I'll be taking a few months off to enjoy the holiday season and work on getting book 2 in my fictional divination book series ready to release. I'm hoping to release that book around early 2023. If you haven't checked the series out yet, now is a great time with book 2 coming out soon.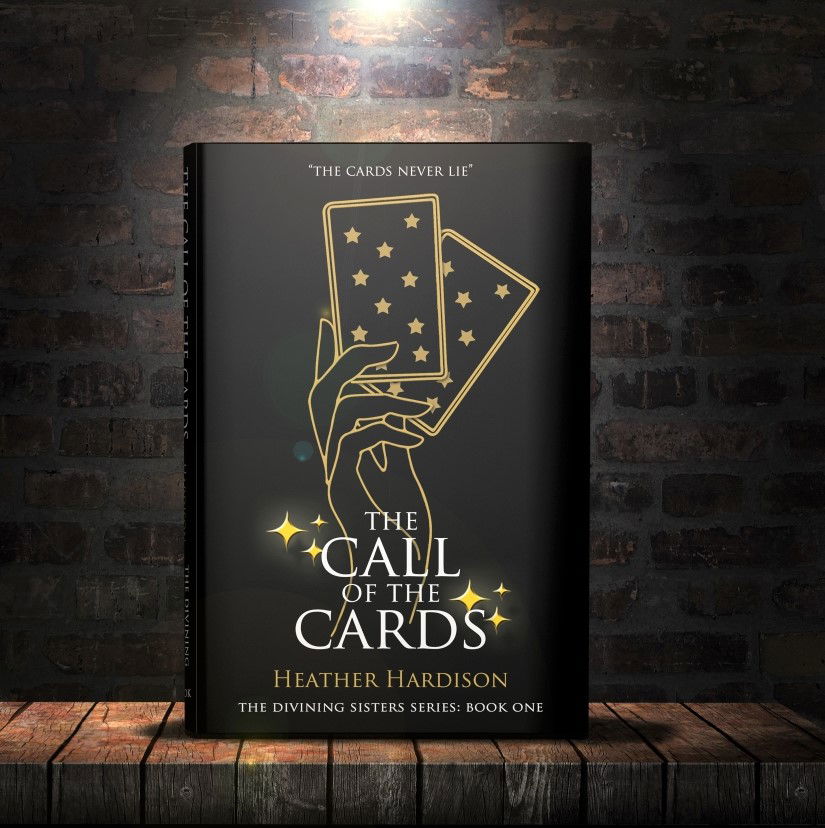 The series is called The Divining Sisters and Book 1, The Call of the Cards, is out in eBook and paperback on Amazon and Barnes and Noble and the eBook is also on apple books, google play, scribd, kobo, and more.
I plan on coming back with new episodes in late February or March 2023, depending on how the book release lines up. Lots going on at the beginning of the year for me. During this break, I suggest listening to Ep. 14 on Year Ahead Spreads and how to calculate your personal tarot year card as well as Ep. 15 for goal setting which includes a New Years Resolution spread.
Have a wonderful holiday season whatever you celebrate. As we close out one year and usher in brand new energy for 2023, make sure to take care of yourself, enjoy some down time, and spend some time reflecting on what you would like to manifest for an inspired, fulfilling life.
I'll talk to you next in 2023!
Books, decks, and all stocking stuffers and gift ideas shown or recommended in this blog: Astrology Bible, Astro dice, Charm set, Cosma Visions Oracle, Earthly Souls and Spirits Oracle, Everyday Witch Tarot, Kitchen Table Tarot, The Light Seers Tarot, Nightmare Before Christmas Tarot, Rider Waite Smith Tarot in a tin, Rune set, Season of the Witch: Yule Oracle, Tarot candle, Tarot Dice, Tarot mug, Tarotorial Training Tarot Deck, Tarot pouches, Tarot spread cloths, Tarot Tiles, Wild Unknown Tarot pocket version in a tin, Winter Waite Tarot, WTF is Tarot book
Links in this blog are mostly affiliate amazon links or Writual affiliate links. It helps me a small amount if you use these links. Thanks for your support!
Discount Codes for you!
To get 15% off all your Writual products use My Writual affiliate link and my discount code at checkout - HEALING in all caps
Discount code for Raven and Rogue HEALINGTHRUTAROT - all caps - to get 15% off your order - ravenandrogue.com
Link to Podcast Episode 41 on Anchor click here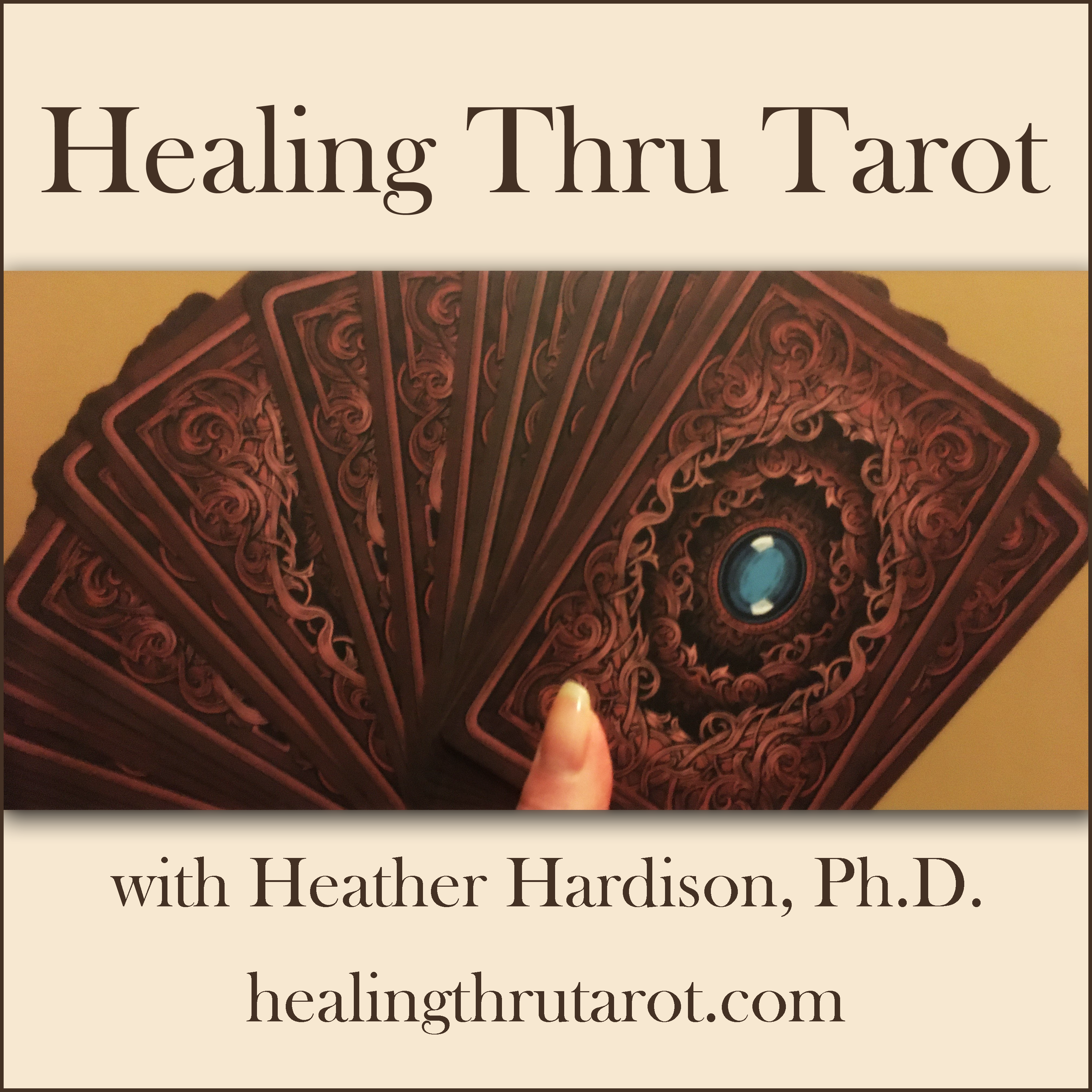 Other relevant Podcast Episodes - Click links below to listen
Ep. 14: Year Ahead Spreads + Calculating Your Personal Tarot Year Card
Ep. 15: Goal Setting with a Divided Tarot Deck (Majors, Minors, Court Cards) + New Years Resolution Spread
Ep. 18: Favorite Winter Decks + Winter Healing Work + Winter Seasonal Spread
Ep. 32: Healing with the Witch Archetype and Review of The Season of the Witch Samhain and Yule Oracle
Healing Thru Tarot's Spread Ebook Line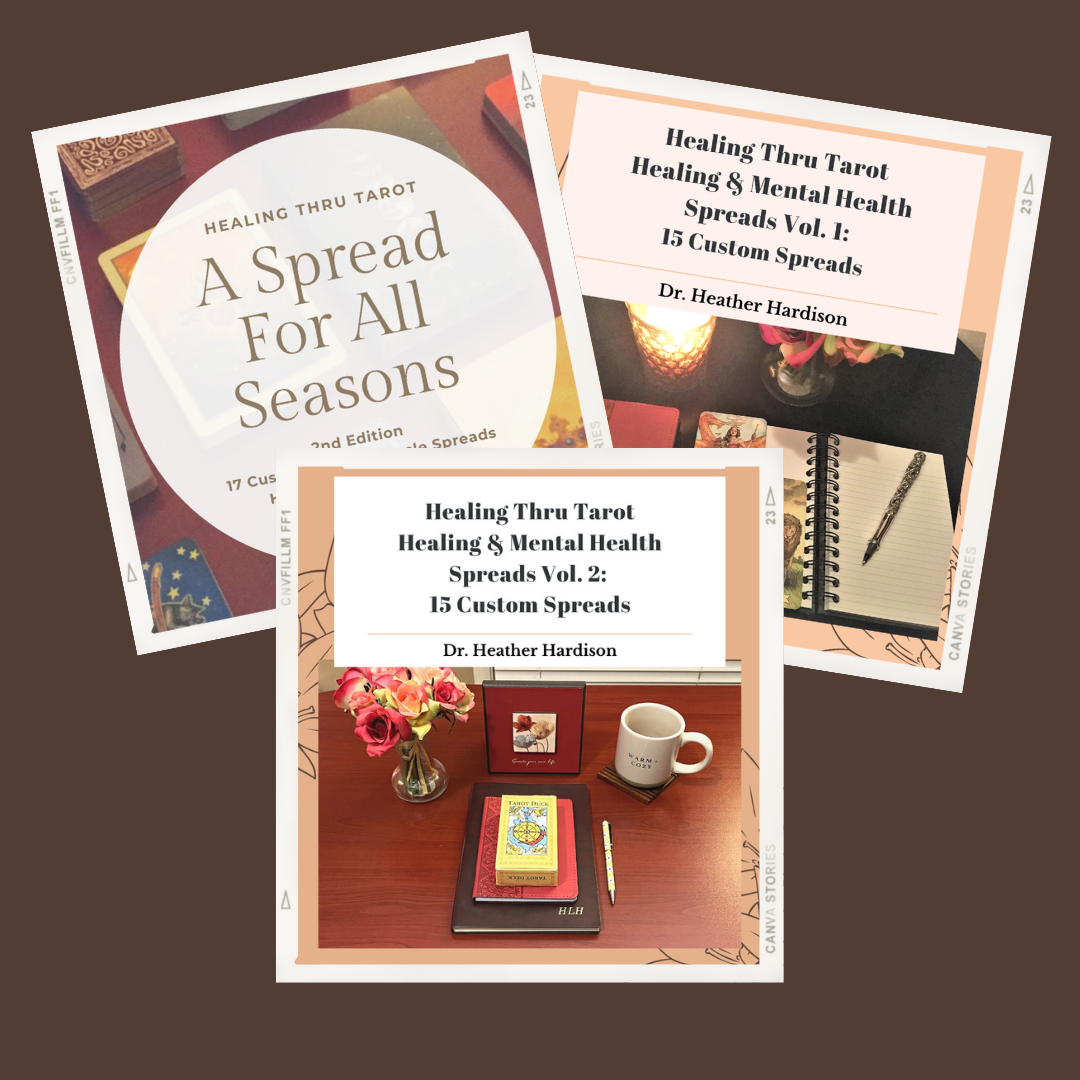 A Spread for All Seasons - 17 custom spreads
Healing and Mental Health Spreads Vol. 1 - 15 custom spreads
Healing and Mental Health Spreads Vol. 2- 15 9-card spreads
Shadow Work Spreads and Workbook - 20 spreads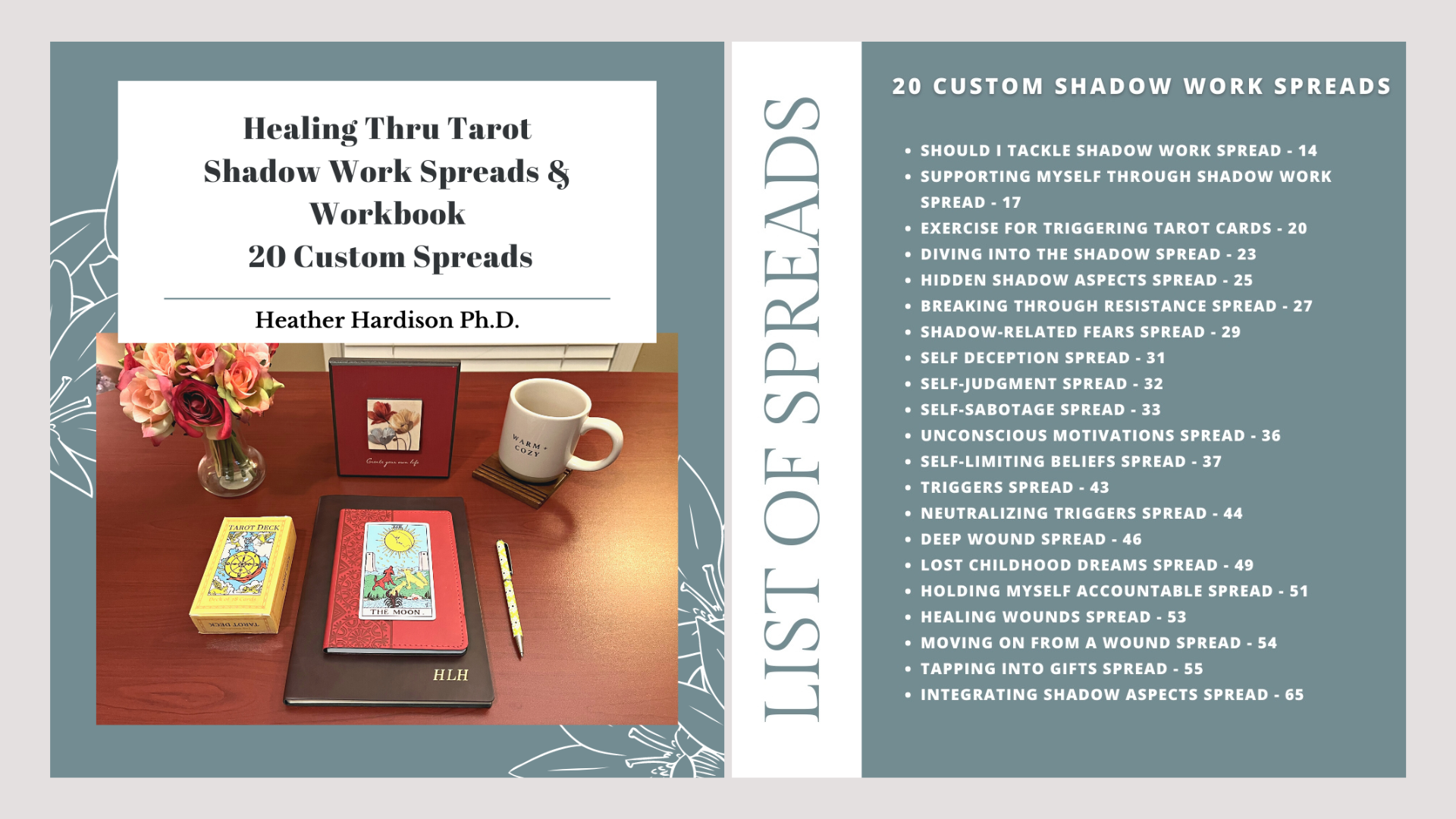 Click here to purchase any of these spread ebooks
Listener Support
*If you would like to support this podcast monthly, please consider signing up for a small pledge to help me be able to continue to produce these quality episodes every two weeks. Use the link below to sign up to support through anchor.
Much appreciated!
https://anchor.fm/healingthrutarot/support
Are you enjoying the Healing Thru Tarot podcast and companion blog? If so, now you can gift me a coffee or two to kept me fueled as I pull all-nighters writing the scripts and recording all the episodes. Help me keep this content flowing by sparking my inspiration! Just click here to gift me a caffeine fix.