The Tarot of The Abyss and Magick and Mediums Oracle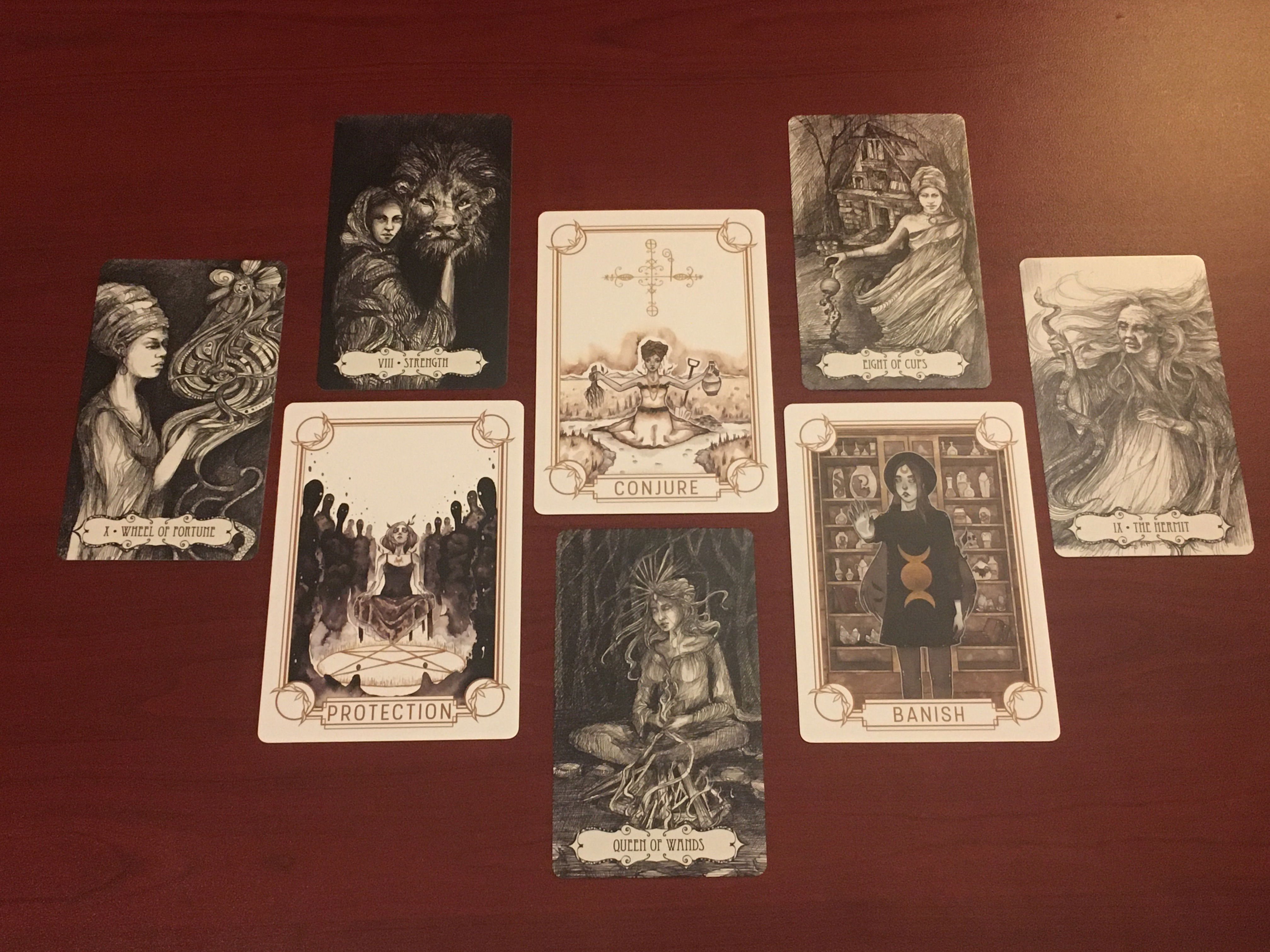 In this blog that goes with Healing Thru Tarot Podcast Episode 27, I will discuss which tarot and oracle decks pair well together now that we've tackled layering these divinatory systems in podcast episode 26. I will be discussing what types of readings and questions I use these pairs with the most. I will also cover deck interview spreads to help you get to know each of your decks so you can get the most use out of your deck collection.
I love pairing tarot and oracle decks. Most of the time, I add oracle cards to my tarot readings. And when I create spreads, I often have questions in mind where I will pull an oracle card or two to help give me more information about the situation.
Decks give off a certain energy through the style of the artwork, the themes they work with, and the messages they convey. If you don't know how to categorize the energy of your decks, you can throw a deck interview spread to help you determine what's the best use of this deck. I find that it is important to know if the deck is geared toward healing, teaching, deep innerwork, shadow work, relationships, career advice, or life purpose.
There are so many uses a deck can have. Learn to tap into the voice of your deck so you can best utilize it in your divinatory work. I will share my own version of a deck interview spread at the end of the blog and walk you through my recent deck interview with my newest tarot deck, The Tarot of the Abyss using the spread I include in this blog.
There are several ways you can pair tarot and oracle decks. I'll be walking you through several here and giving examples of those pairings from my personal practice with layered readings. When you start to think about deck pairings, there are several categories to work within like matching energies, themes, artwork, or purpose. I find that my deck pairings can even change based on the season or type of reading I am working on.
Deck Combinations By The Same Creator and/or Artist
Bonestone and Earthflesh Tarot and Oracle of Echoes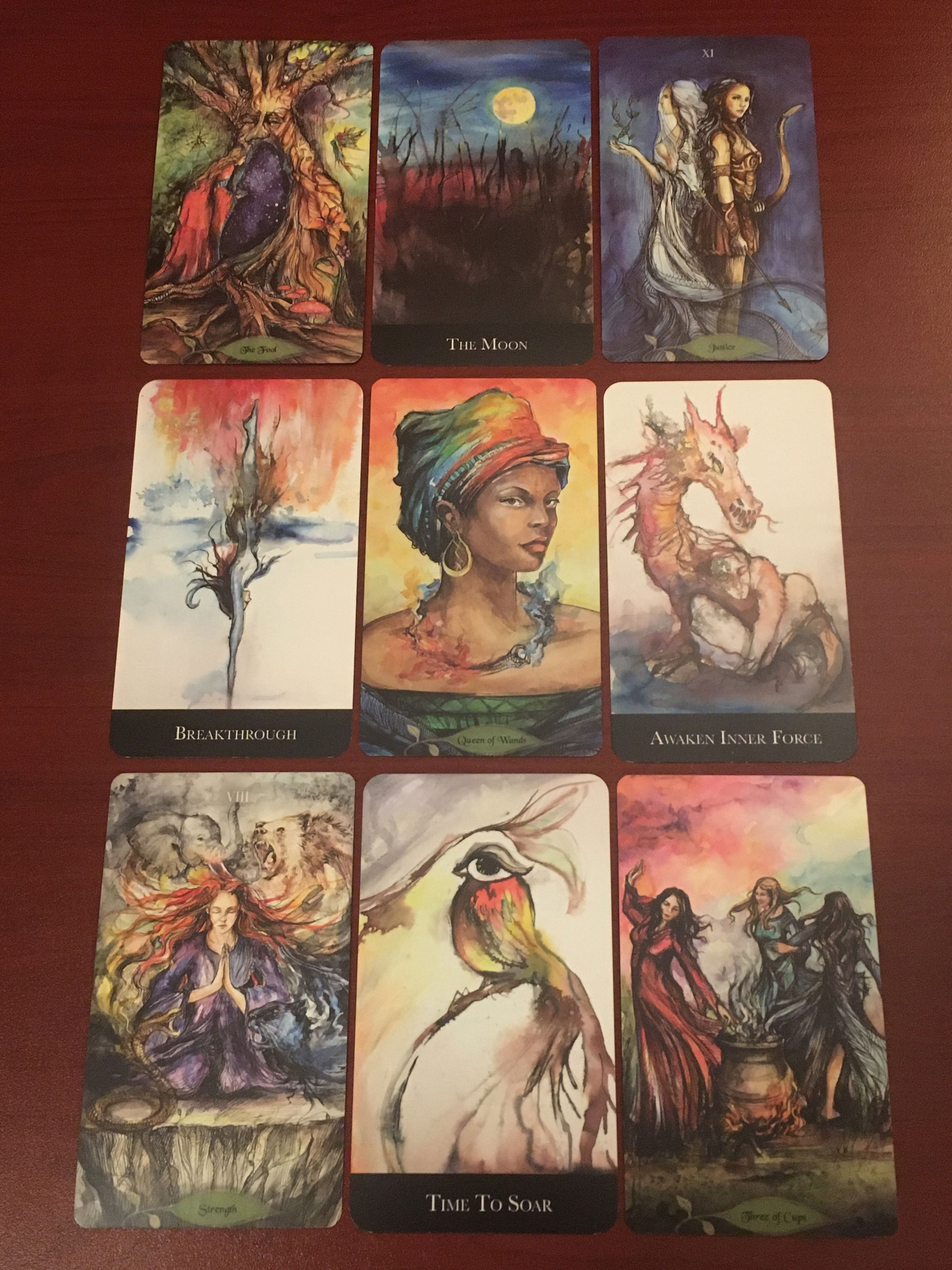 The easiest category for us to start with is blending decks created by the same creators or artists. Often decks made by the same creator, mix perfectly due to a similar style and aesthetic. I have several decks by the artist Ana Tourian, and it is beautiful to create spreads for her tarot and oracle decks that pair nicely together. It makes for a fluid energetic flow and interpretation of the cards. I often call these sister decks because it feels like the artist is tapping into the same creative flow for their inspiration.
For example, I pair her Oracle of Echoes with the Bonestone and Earthflesh Tarot that Ana created with Avalon Cameron (shown above). The artwork and colors match beautifully and feel like they were made at the same time for the purpose of being read together. These two decks hold a lot of crone energy for me, so I use this pairing for most of my ancestral and crone work. And runes pair nicely with this combination. I find runes are helpful for anchoring ancestral work as well. It's total magic when you get decks that can work this easily with each other.
Wild Unknown Decks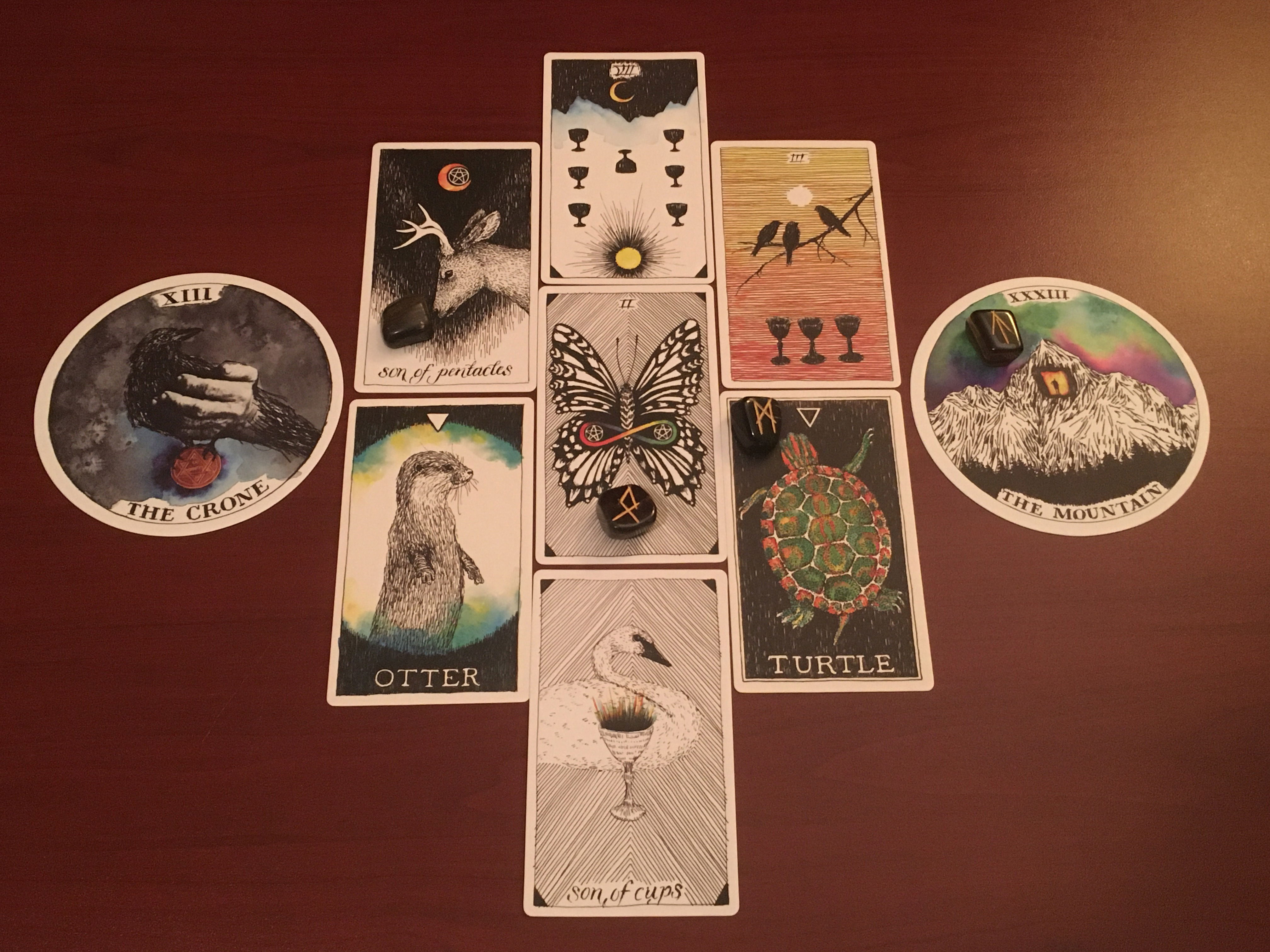 All of the Wild Unknown decks (shown above) the tarot, the animal spirit and the archetype deck have matching styles and energies due to the artwork and cohesive vision Kris Krans had while creating each of these decks. I love combining all three for an amazingly accurate and deep reading. These are some of my favorite decks to pair together especially for ancestral work, shadow work, and to pair with runes. There is something about this artwork that pulls messages out of me that other decks don't trigger.
The use of the archetypes with the tarot and oracle pull together all the perfect elements that make a dynamic reading. The archetypes in Kris Krans' archetype deck are phenomenal, and they pull out the depth from the archetypes in the major arcana in the tarot. This is a great combo for deep psychological work as well due to the archetypal element provided by both the tarot and archetype deck. The combination of these 3 Wild Unknown decks by Kris give me the clearest messages due to the seamlessness between the 3 decks. If you haven't done so, try pairing decks from the same artist if the artwork and colors seem to match.
Light Seers Tarot and Sacred Creators Oracle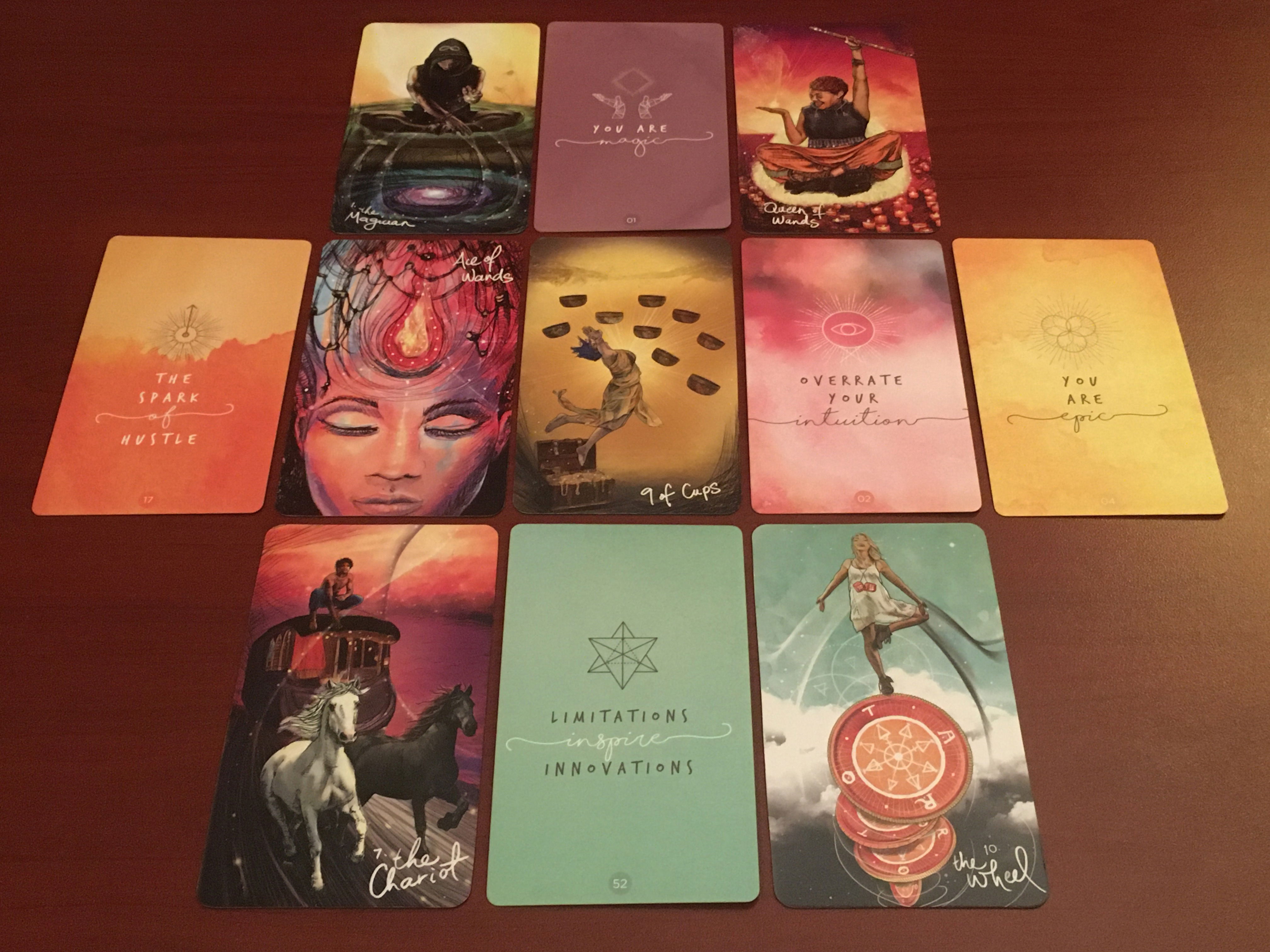 Chris Ann Donnelly's Light Seers Tarot and the Sacred Creators Oracle (shown above) pair perfectly together for me! The vibrant colors pop and make some of the best photos of layered tarot and oracle readings. I always recommend these two decks to artists because of their striking colors and use of light. This is my personal combination I use for myself, so these are the decks I resonate with the most artistically and energetically and they speak to me in a way that always deepens my personal growth and healing journey. I use this combination for inspiration and advice on how to build my business and start my creative projects. And if I ever run into blocks regarding my creative projects, this is the deck pairing I turn to for insight into those blocks and inspiration and advice on how to bust through those obstacles.
Everyday Witch Tarot and Everyday Witch Oracle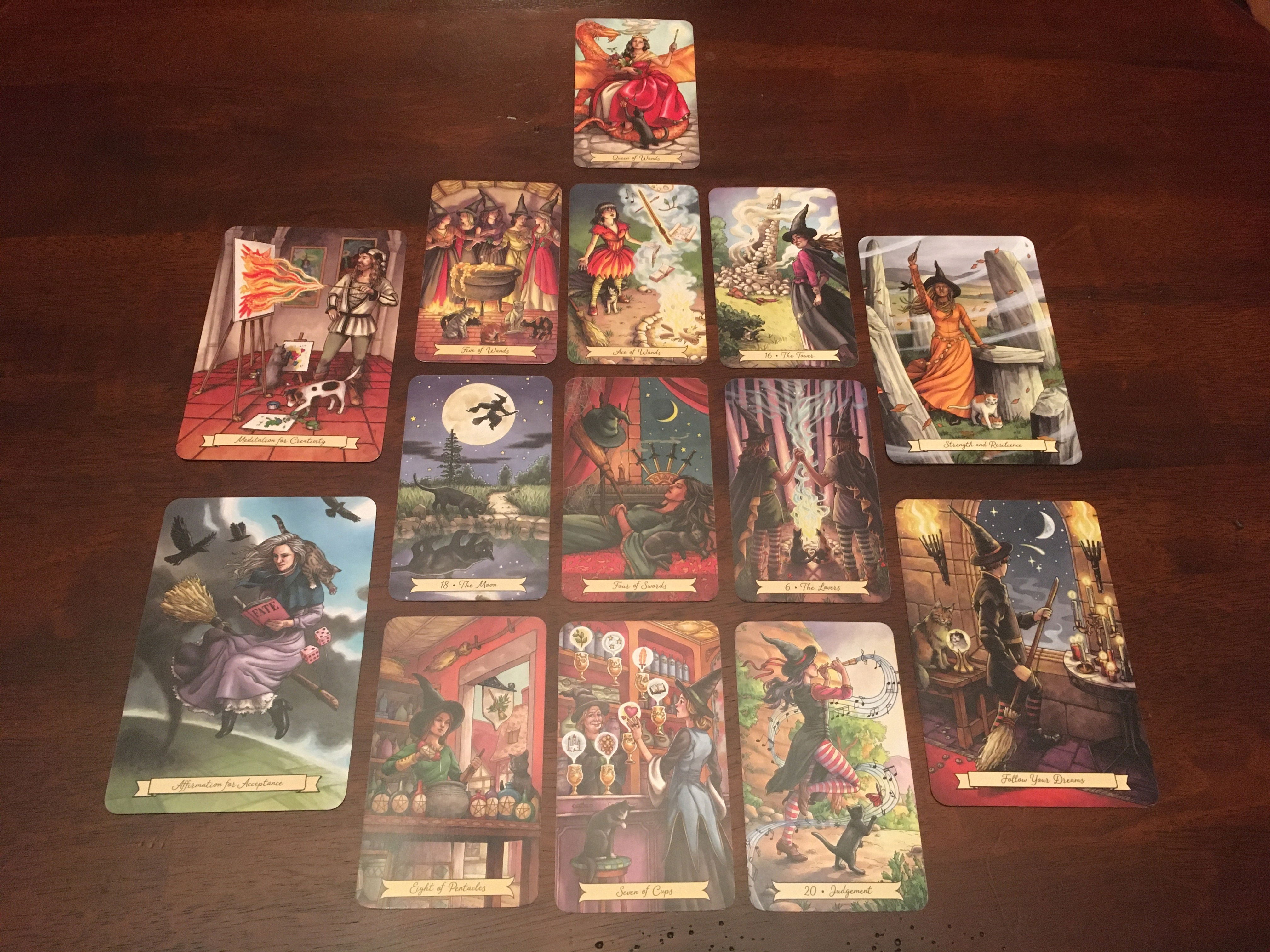 Another great example of deck pairs by the same artist is the Everyday Witch Tarot and Everyday Witch Oracle by Deborah Blake with the artwork by Elisabeth Alba. These blend so naturally. Perfect pairing here in my opinion. This combination is one I would recommend for young readers. So, it is great for teens, beginners to tarot, and anyone drawn to witch themed decks. I adore this pairing and pull these two decks out every September and use all throughout the Autumn months.
Way Home Tarot and Postcards from the Liminal Space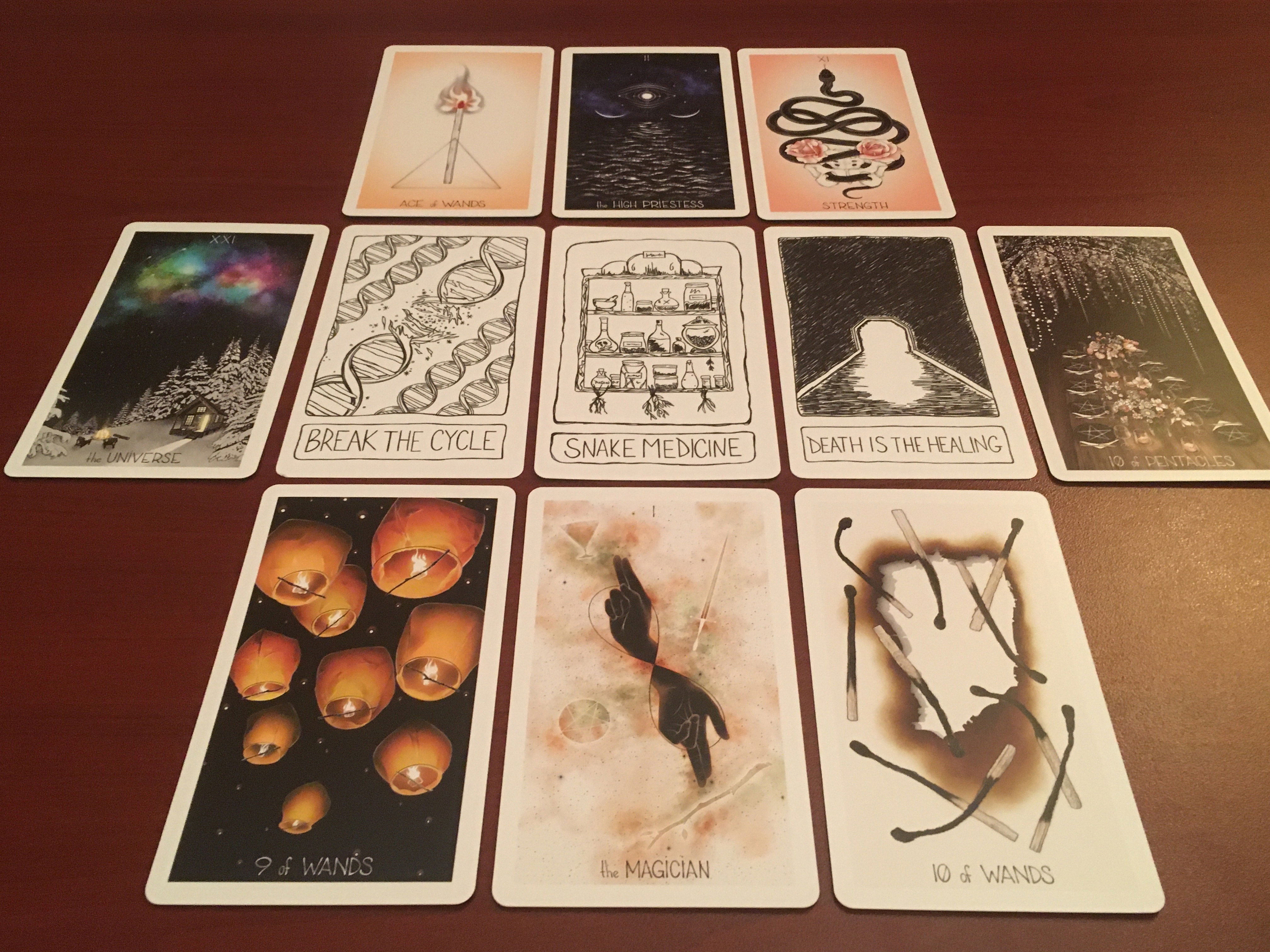 One of my favorite pairings by the same creator and artist is The Way Home Tarot and Postcards from the Liminal Space by Bakara Wintner and Autumn Whitehurst as the artist. The color palettes of these decks aren't similar as the Way Home Tarot is colorful and modern while Postcards from the Liminal Space is a very minimal black and white deck, but I almost always read with this combination because the messages that come through are so cohesive. That's credit to the energy of Autmn's artist expression and Bakara's wisdom that come through loud and clear when they are read together. Luckily, I bought these two decks together and started reading with them in a combined fashion from the get-go.
Deck Combinations with Matching Energies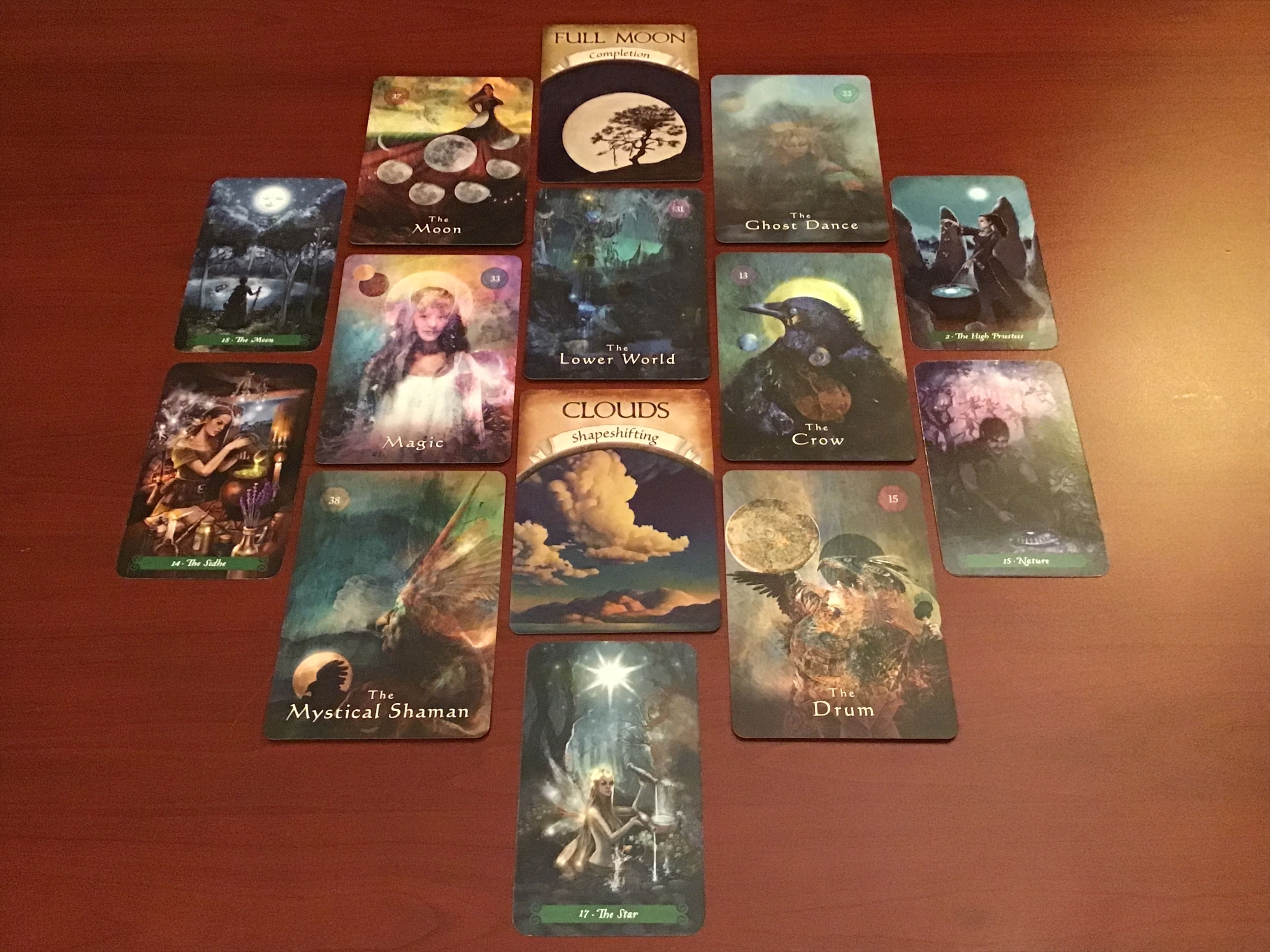 A common method is to pair decks with similar energies to help with cohesive and fluid interpretations. When you find the perfect energetic pairings, the cards play off each other easily and spark inspiration for intuitive messages to come through for deeper readings. An example of a combination for matched energies that you may not have thought of would be The Green Witch Tarot, Earth Magic Oracle, and Mystical Shaman Oracle. These are great for elemental readings due to their earthy tones and use of naturalistic scenes and imagery. I was surprised by how well these decks read together, but the energy really is aligned quite beautifully.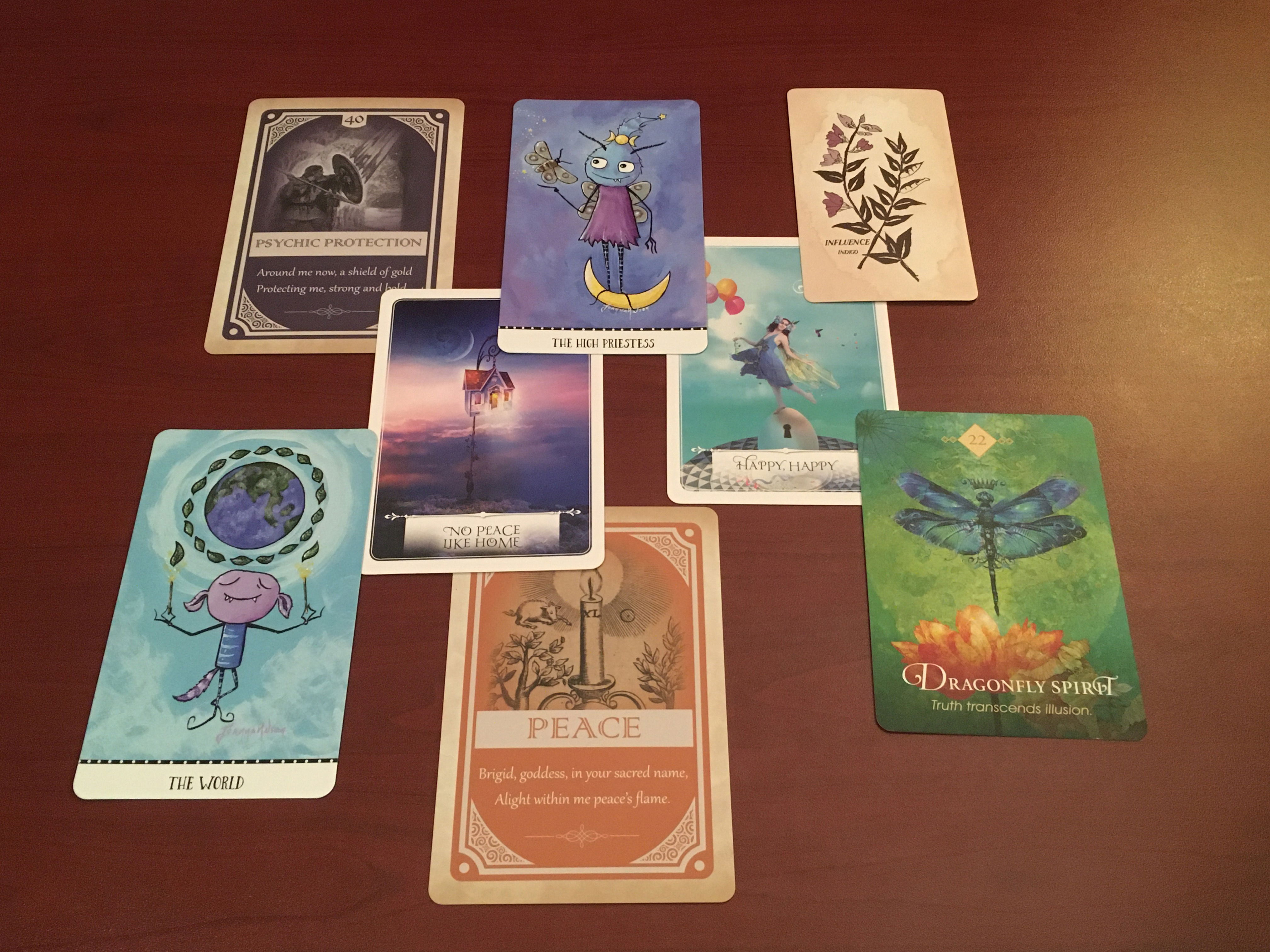 When looking at matching decks based on energy, you can easily pair together decks that all hold a gentle, comforting energy or that use soothing, gentle colors or themes to convey that calming energy. Here, as shown above, I use the pastel colored Monstarot, the gentle Wisdom of the Oracle, with the soft pastel colors of the Magickal Spell cards, the peaceful cream-colored Pythia Botanica Oracle, and Collette Baron Reid's Spirit Animal deck. You could even add the Gaia Oracle, which also has dreamy images and comforting colors. These are great decks for beginners and young readers, meaning children and teens.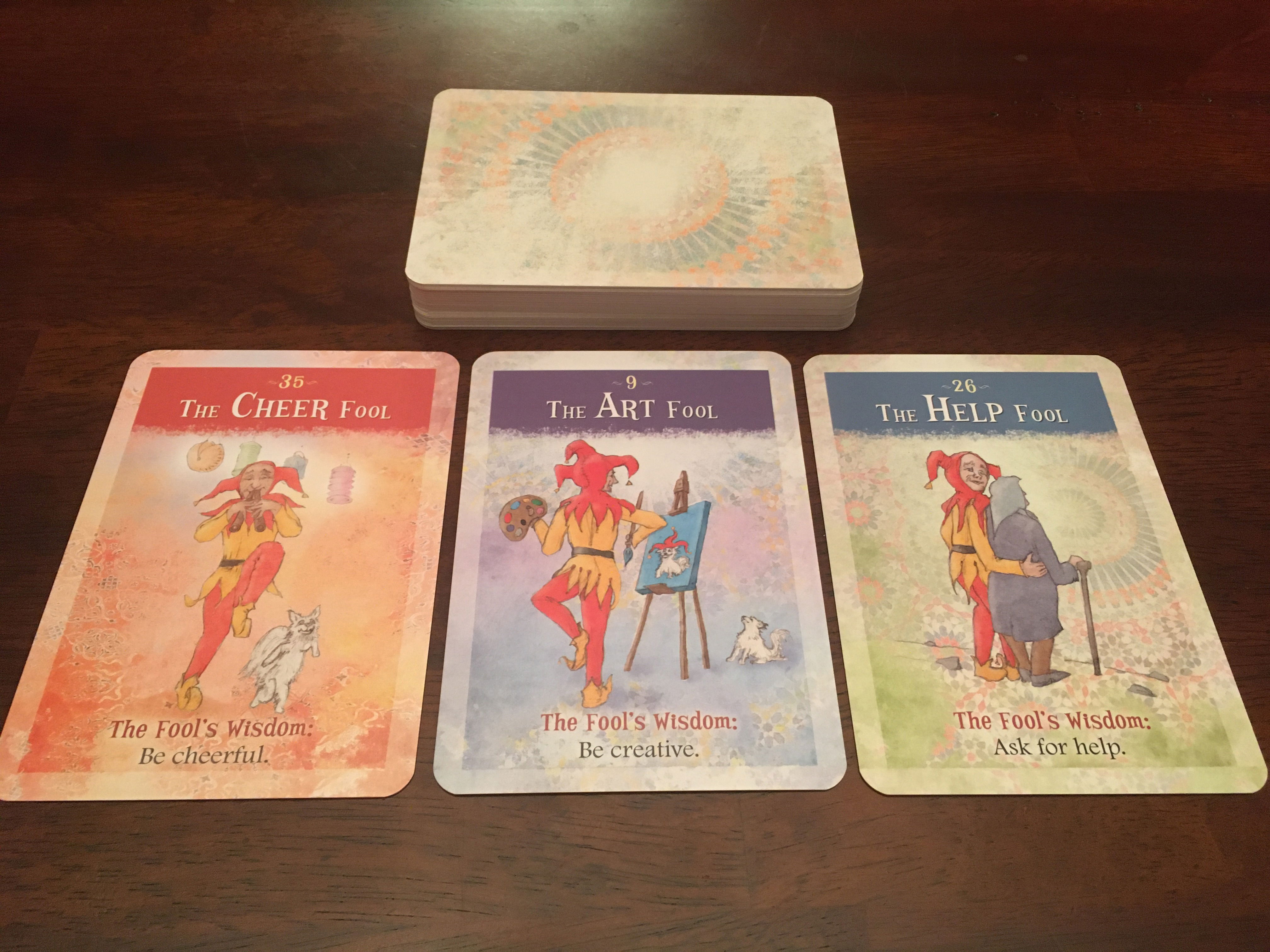 When working with kids, you can add the simple and fun Fool's Wisdom Oracle, which is based on the fool tarot card, using a play on the card titles like The Stress Fool with the advice to breathe or The Forget Fool advising to let it go. This is a gentle and cute oracle that would be great for kids. The Light Seers Tarot and The Sacred Creators Oracle combo fits this energy matching category as well. Not only are the by the same artist, but they carry very similar energy. So many deck combinations from the pairing list above would fit this category as well.
Pair Decks That Match Visually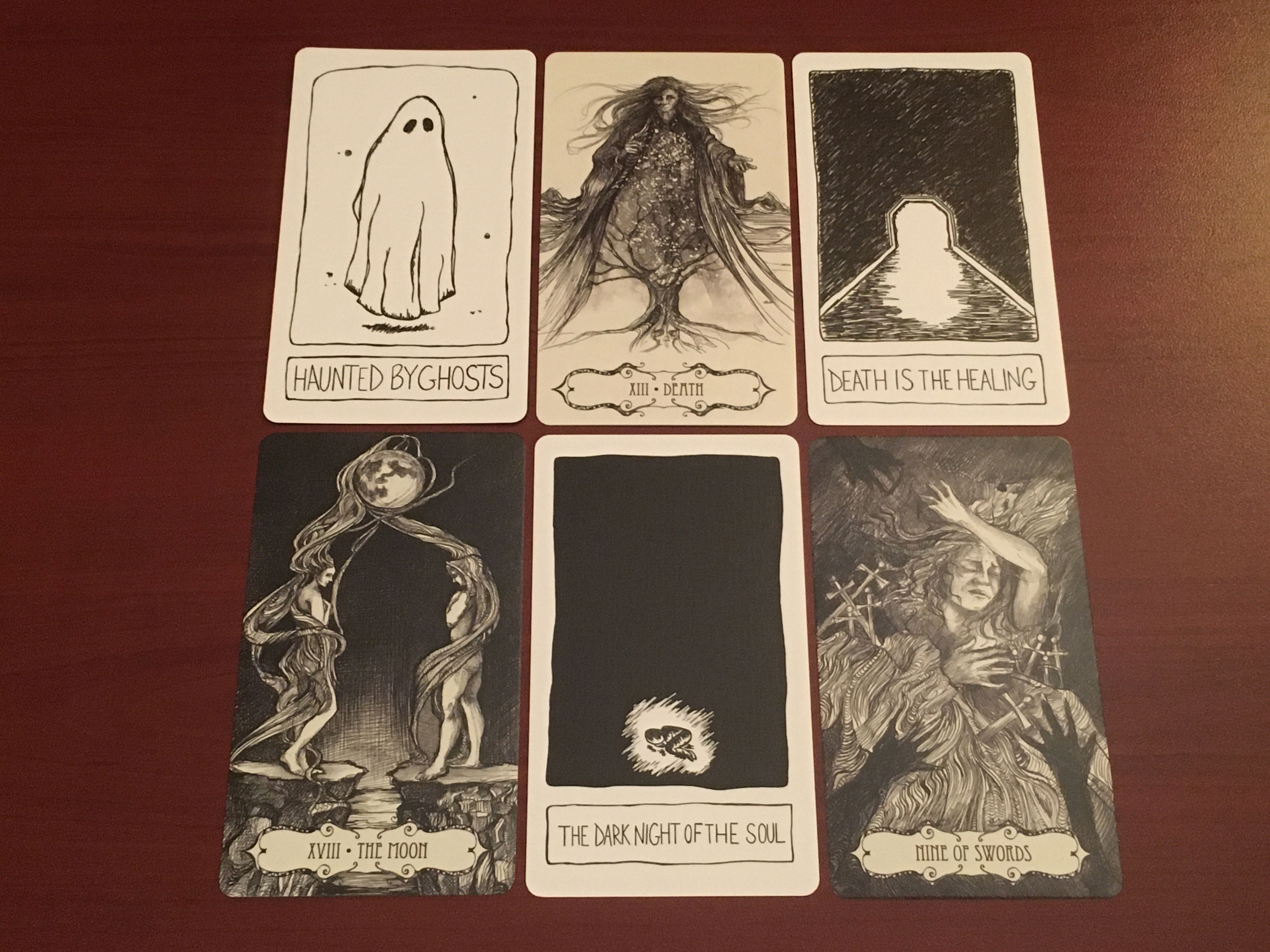 Another way to combine decks is to pair decks visually, so combining decks that have similar aesthetics, color palettes, and similar artistic mediums used. I often pair vibrantly colored decks together and muted decks with other decks that use less color, like shown above with The Tarot of the Abyss and Postcards from the Liminal Space. These give me completely different energies and readings. I combine decks that use sketch work together versus pairs that are watercolor based. I find this helps to keep the messages clear and fluid.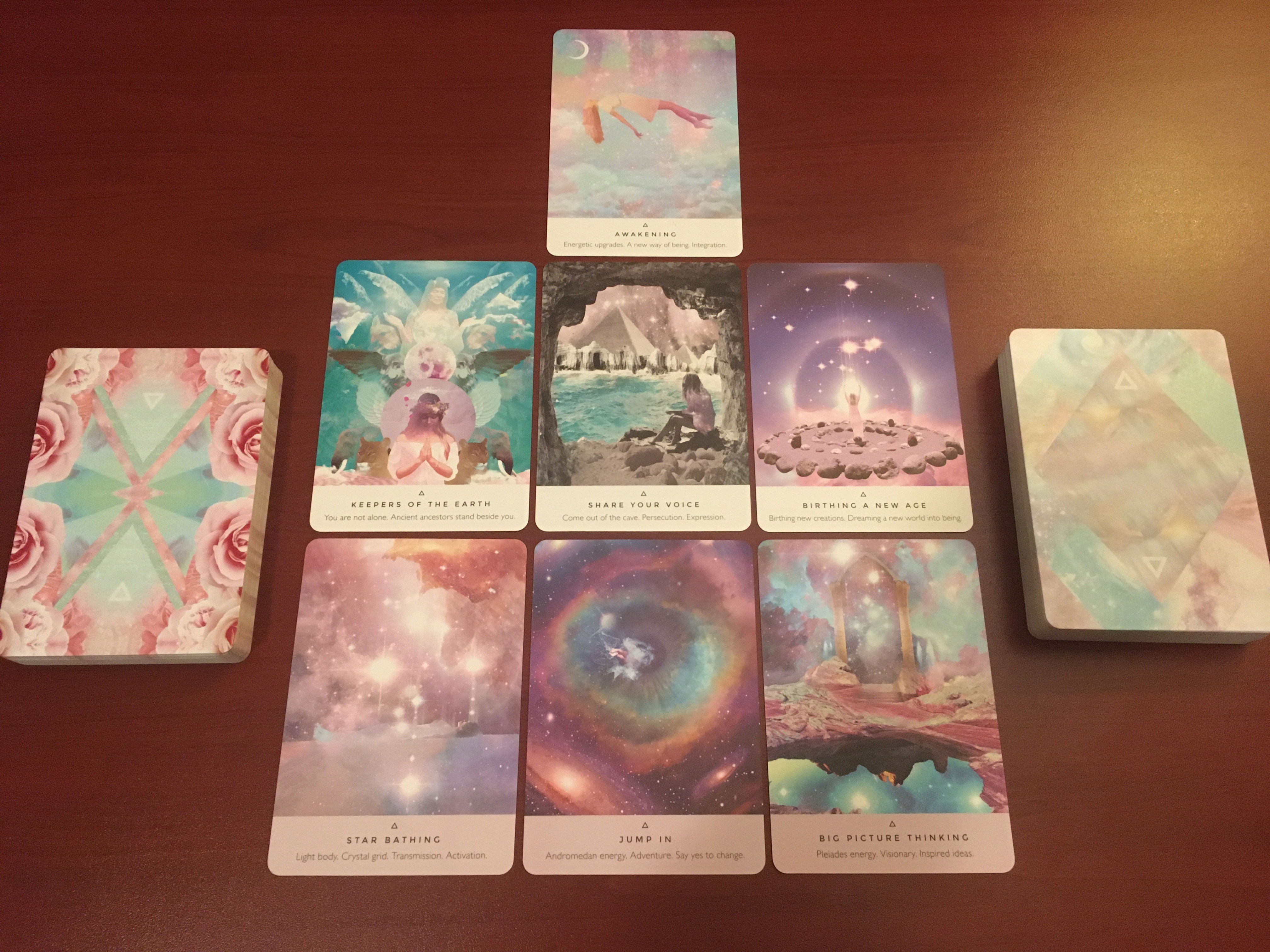 Often, I try to match energy and aesthetics for spreads that I will be posting online and in blogs because they make for gorgeous photos. The Light Worker Oracle and The Starseed oracle go so well together based on their use of color and cosmic imagery. And the Work Your Light Oracle and Starseed Oracle (both shown above) are so visually similar that you could combine them into one deck and always read them together.
Combine Decks With Seasonal Energy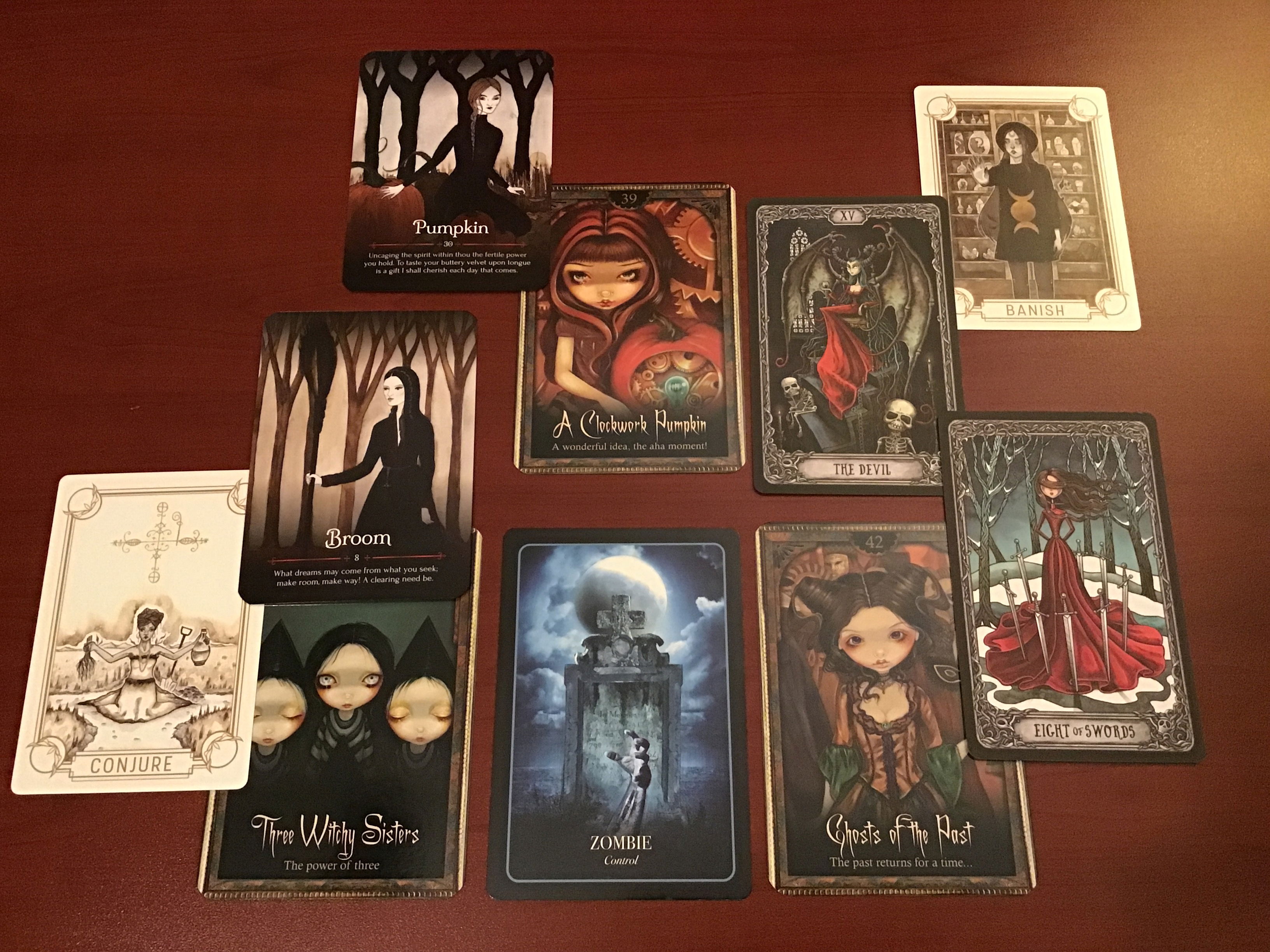 You can even combine decks related to certain times of year, holidays, and seasons. Some of my favorite decks to pair together in the autumn months are decks that are darker, and either witchy themed or have Halloween themes.
My favorite magical and Autumn deck combos (shown above) include The Dark Mansion Tarot, the Magick and Mediums Oracle, Oracle of Shadows and Light, Seasons of the Witch: Samhain Oracle, and The Halloween Oracle. You can even add the Raven's Prophecy. I start pulling these decks out in late August or early September and use them through November. Autumn is my favorite season to work with the tarot for obvious reasons.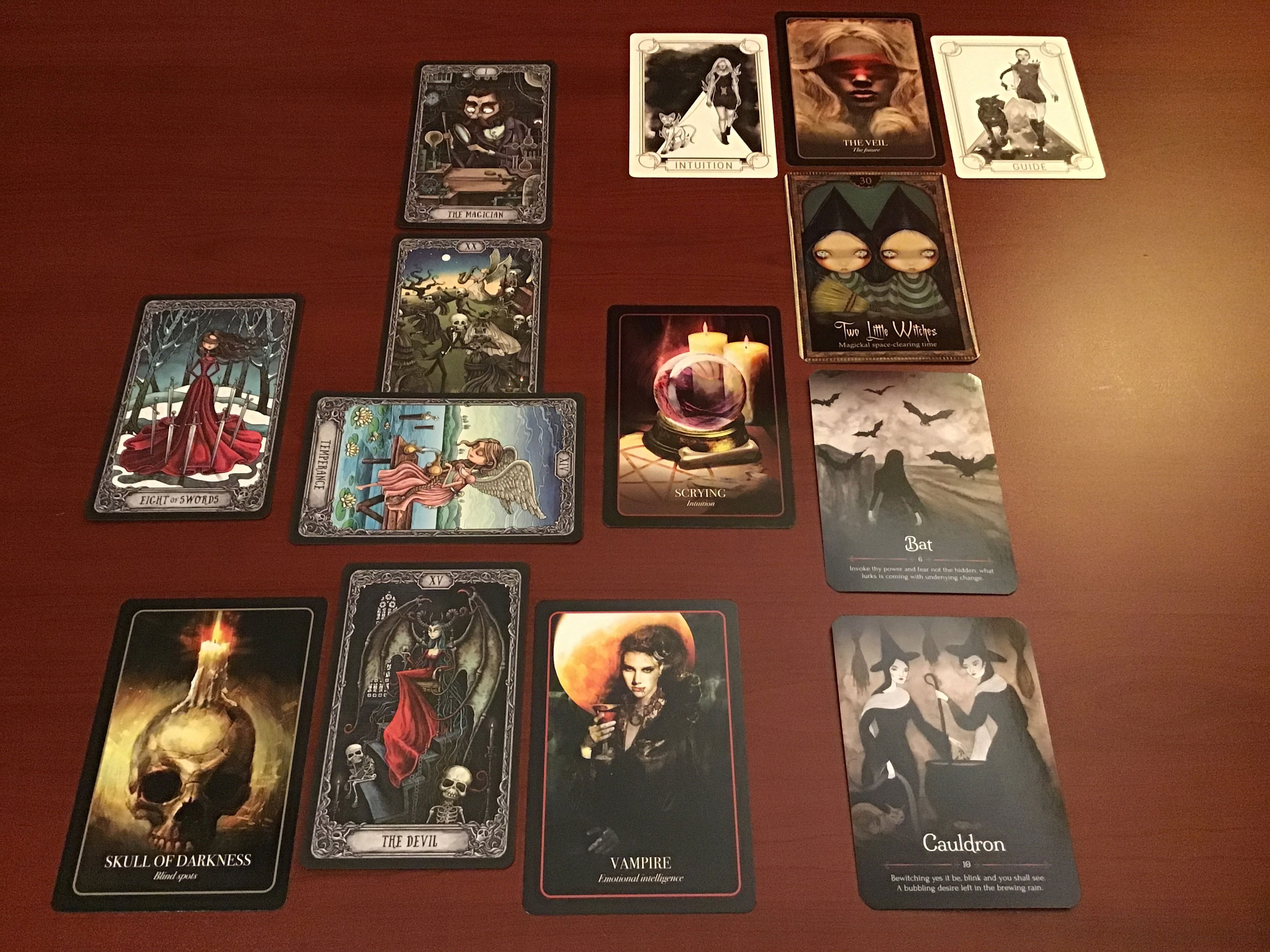 For Halloween or Samhain night, The Dark Mansion Tarot with the Halloween Oracle, Seasons of the Witch: Samhain Oracle, Magick and Mediums Oracle, and Oracle of Shadows and Light is the perfect combo for a magical reading. It sets the mystical mood perfectly. Above is my Halloween reading from 2020. Perfect witchy vibes for the most magical night of the year.
If you want a combination that is extra witchy in the autumn you can combine The Everyday Witch Tarot and The Everyday Witch Oracle with The Earthly Souls and Spirits Oracle by Terri Foss and even add in The Green Witch Tarot. Major witch vibes!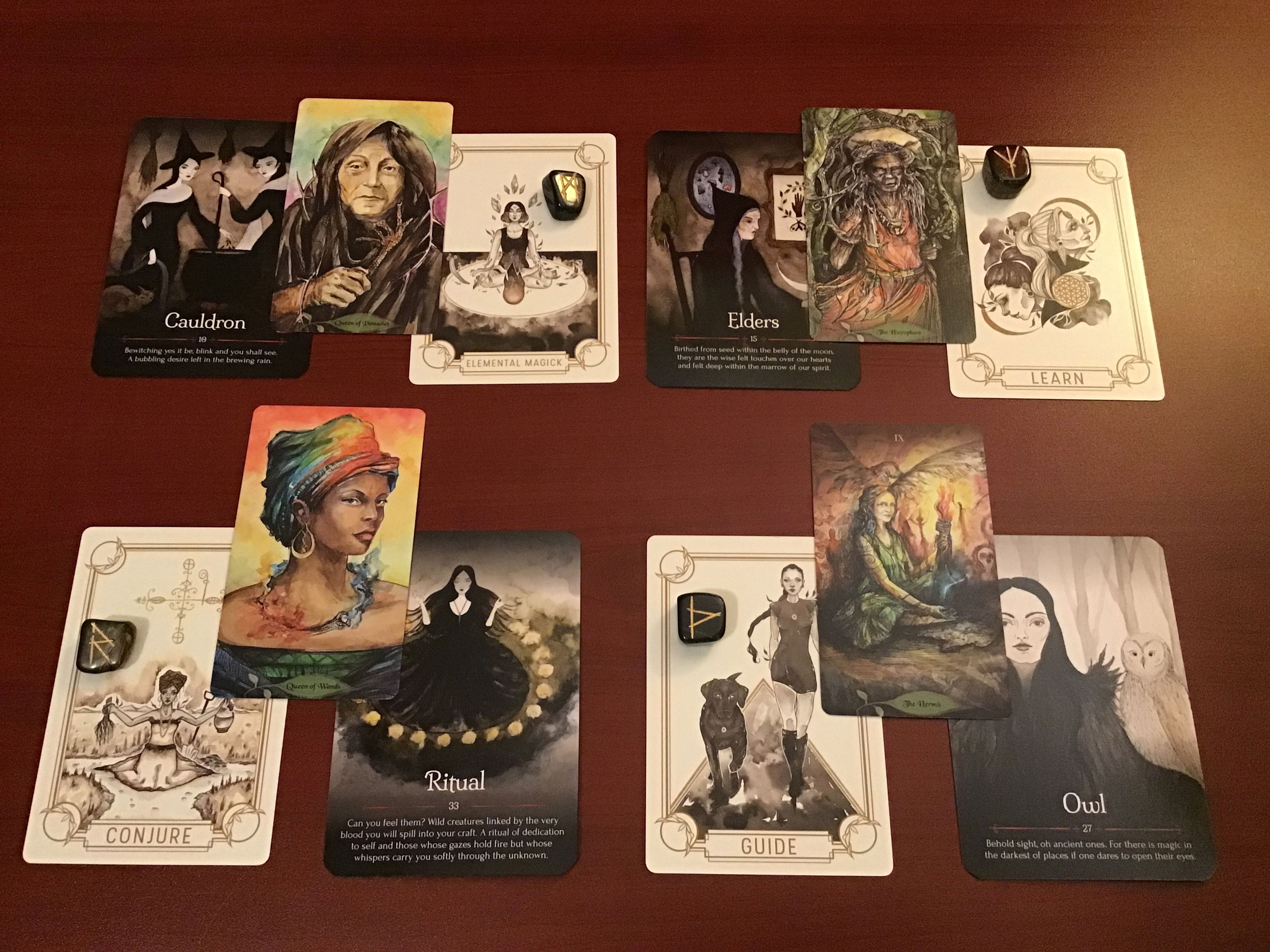 For crone specific energy (shown above), I combine The Bonestone and Earthflesh Tarot, The Magick and Mediums Oracle, and The Seasons of the Witch: Samhain Oracle and add runes for extra wisdom. This witchy grouping pack a more powerful punch! So, you have a few different combination methods here for autumn and witchy months. I usually pull a daily card from The Halloween Oracle every day of October, too, just to stay in that Halloween energy as long as I can.
For winter, I would pair my Winter Waite Tarot with a deck I don't have yet but will be getting soon and that is the Seasons of the Witch: Yule Oracle. This looks perfect to pair with my Winter Waite with all the cold snowy outdoors scenes. It is set to come out in late Sept. 2021 as of now. I can't wait to add that one to my collection for more winter spreads. The Light Visions Tarot is a great winter deck too with its dark imagery, and I use my Game of Thrones and Wild Unknown Tarot and Animal Spirit deck for most of the winter months, so it will be nice to have a winter based oracle to pair with these decks. The Nightmare Before Christmas Tarot is a new deck I've received and that is a perfect winter deck especially between Halloween and Christmas.
Combining Decks with the Same Genre
You can combine decks which address the same genre or themes. I have a large portion of healing decks that I often mix and match and these can address different areas of healing from chakras, to crystals to self-care techniques. So, keep in mind the type of reading or healing you want to achieve when eyeing which decks to combine.
For chakra healing, I pair The Wisdom Chakra Tarot and Chakra Reading Cards with the Crystal Spirits Oracle. These are powerful healing spreads and help to identify chakras and crystals to work with for healing. I covered this chakra pairing in depth in Ep. 22 if you need a refresher on chakra decks, pairings, and spreads for chakra work.
For deep healing readings with powerful messages and homework assignments, I use The Bonestone and Earthflesh Tarot, The Heal Yourself Reading Cards, and the Sacred Rebels Oracle by Alaina Fairchild (shown above). These decks plunge you deep into your inner self and evoke all kinds of emotions that need to be processed. For specific techniques to implement for this healing, add one or more of the following decks to this combination the Self-Care Cards, The Power of Surrender cards, and Gaia Oracle. They will give you added steps to work on along with the healing exercises provided in the Heal Yourself Reading guidebook and the lengthy Sacred Rebels Oracle book that offers healing exercises and specific healing invocations to read aloud.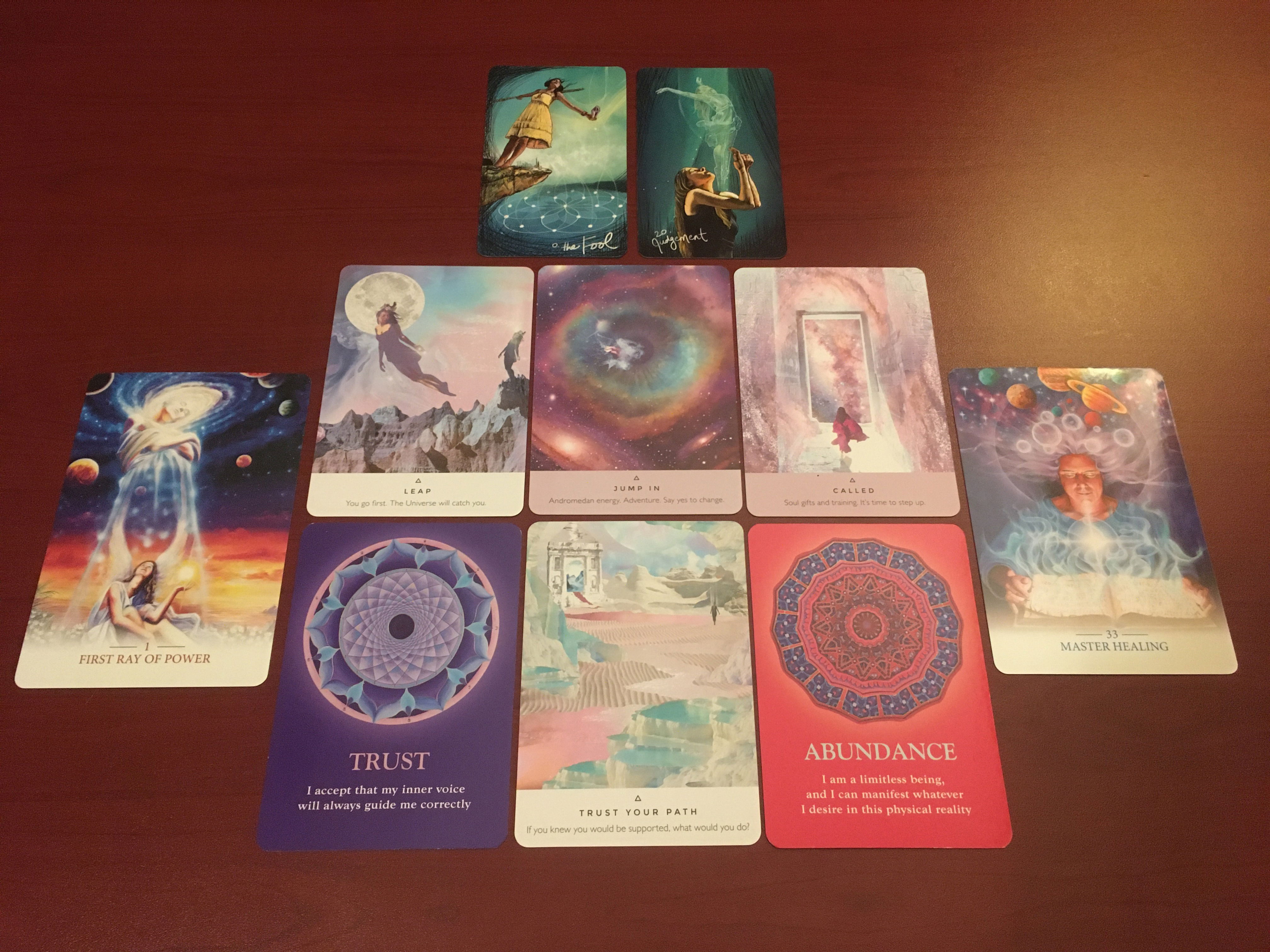 There are also deck combinations for certain groups of people. For instance, being a lightworker myself, I have many lightworker decks, and they happen to all go well together and create gorgeous, insightful, and healing spreads. My lightworker deck combination always includes the Light Seers Tarot, The Work Your Light Oracle, The Starseed Oracle, The Lightworker Oracle, and Soul Journey cards (shown above). These decks have similar colors of vibrant pinks, purples, and blues, cosmic imagery, and the messages and themes of the decks match perfectly.
I tend to create large spreads with these for life purpose or lightworker path spreads. They make stunning spreads like above. I love this lightworker deck combination!! You can also add in the Sacred Rebels Oracle and The Sacred Creators Oracle to this combination.
All of these decks offer guidance for lightworkers to help lift their vibration, to stay aligned on their life path, and to anchor them to the purpose of their light work. These spreads can offer immense support, encouragement, and comfort to those going through an awakening and struggling during their Dark Night of The Soul. These are some of my favorite readings to do because my lightwork purpose includes helping to support and guide other lightworkers. That's why my favorite decks are included in this lightworker combo pairing.
Monochromatic Colors/Muted Colors Deck Combos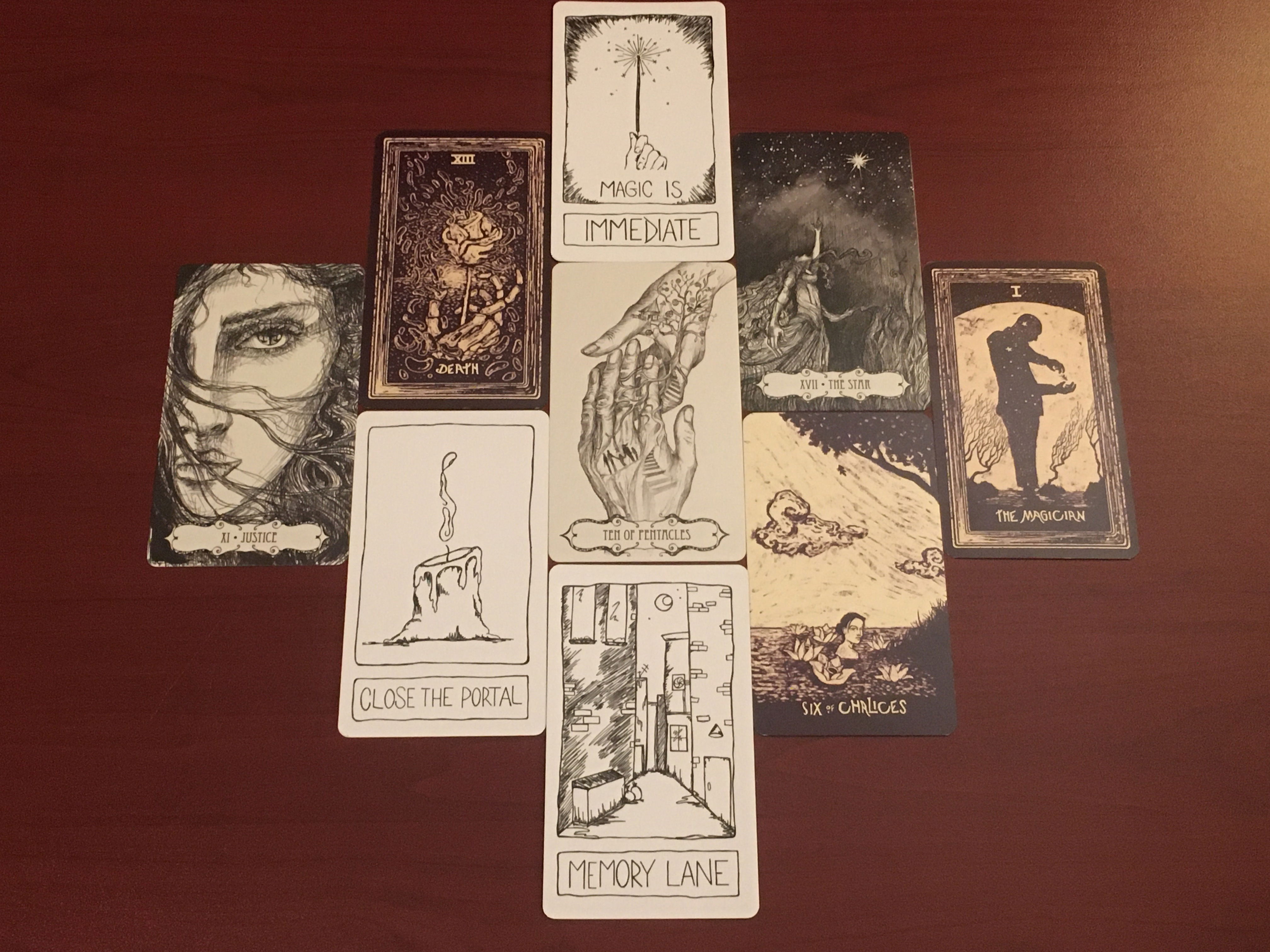 I love vibrantly colored decks and artistic decks, but there is just something so striking about minimal decks that are monochromatic. I don't have many, but when I use them especially in combinations with other subtle decks, the messages seem to be crystal clear. Some of my favorite muted or darker decks (shown above) would be the Light Visions Tarot, which is a dark purple and cream, The Tarot of the Abyss in black and cream, and the black and white Postcards from the Liminal Space. I also suggest adding in the muted Magick and Mediums Oracle, which is primarily gold and brown with minimal use of blush rose in a few cards.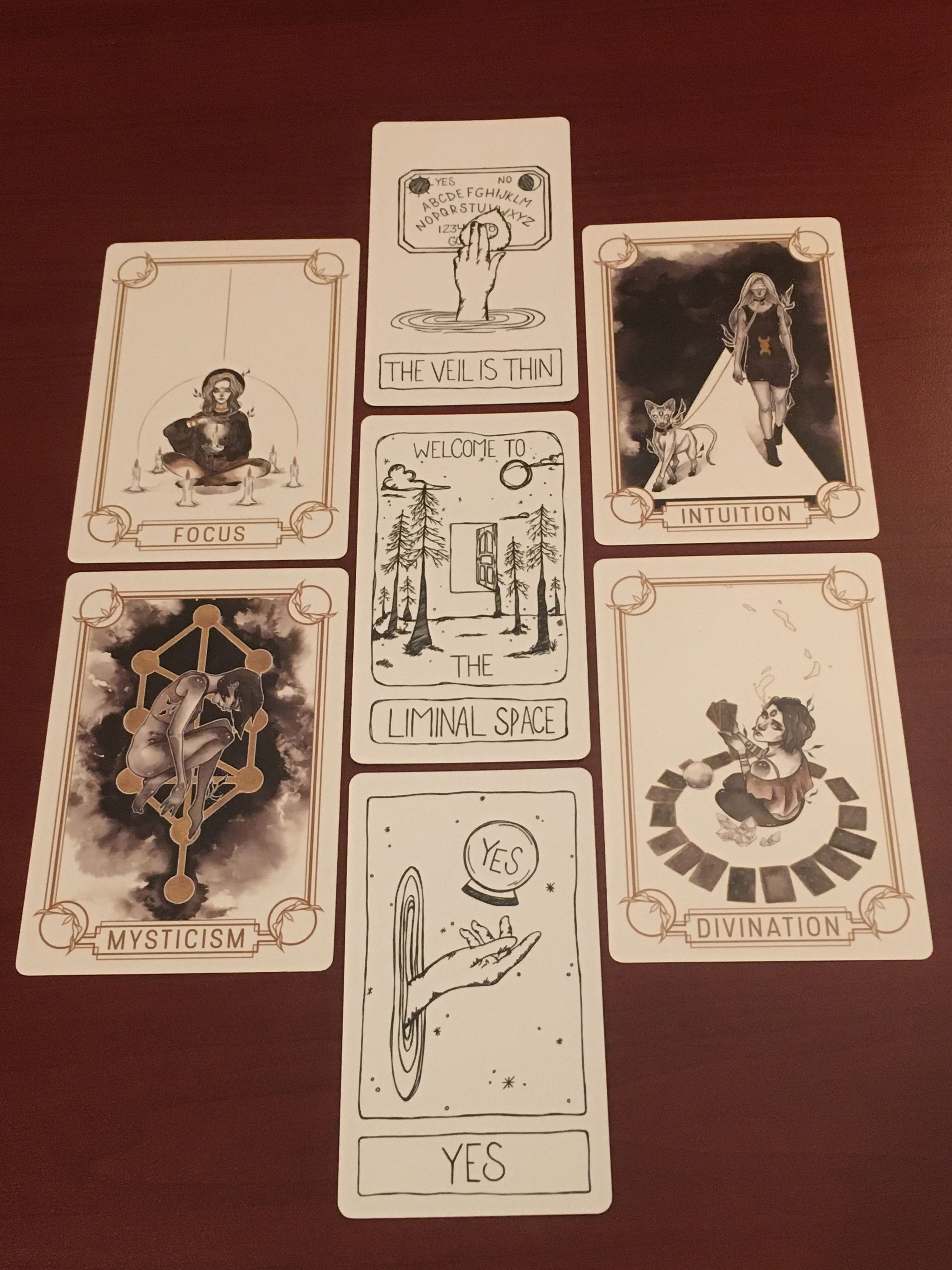 All of these decks work so well together because there is a lot of this empty space (either light or dark space) where the messages have room to form. So, this blank space offers you a chance to fill the void with what you need to hear from your subconscious at the moment. This is one of the reasons I have so many decks and change them out seasonally because it offers me variety in my reading methods and process.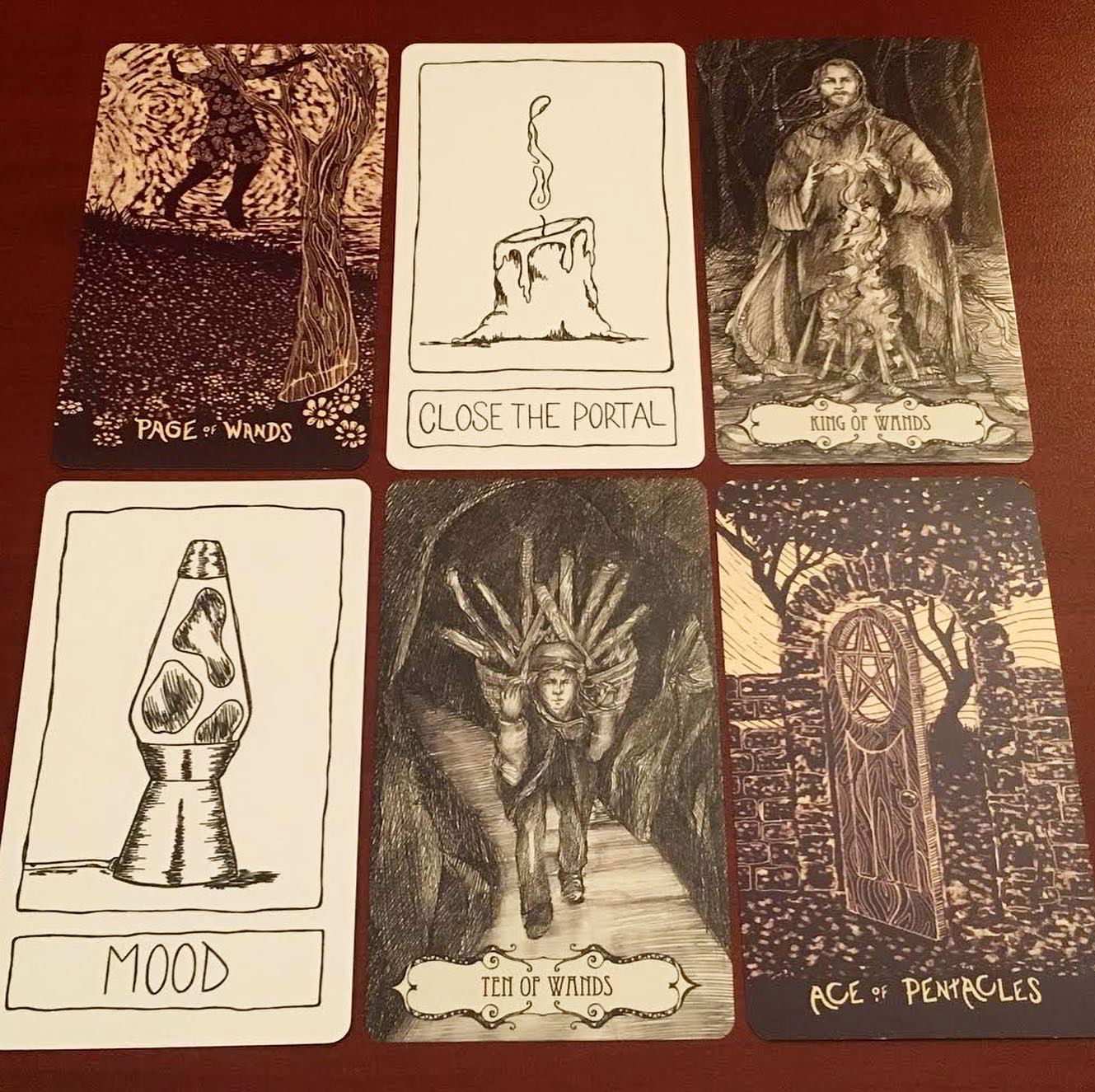 During the darker months of the year when I want to go inward for self-reflection and deeper inner work, I want the decks that use the darker colors and offer this empty space that gives me room to let my stream of consciousness flow pulling up messages from the depths of my subconscious. These decks aren't too cluttered or distracting like some of the vibrantly colored artistic decks can be. There is a time and place for all of these types of decks. Certainly, decks full of imagery can be great for stimulating ideas and to use for symbolic meanings based on what catches your eye in the image, but when you want to pull deeper from inside yourself, give the minimal decks a try and see what bubbles to the surface with the use of that empty space.
Tarot of The Abyss, Postcards from the Liminal Space, & The Light Visions Tarot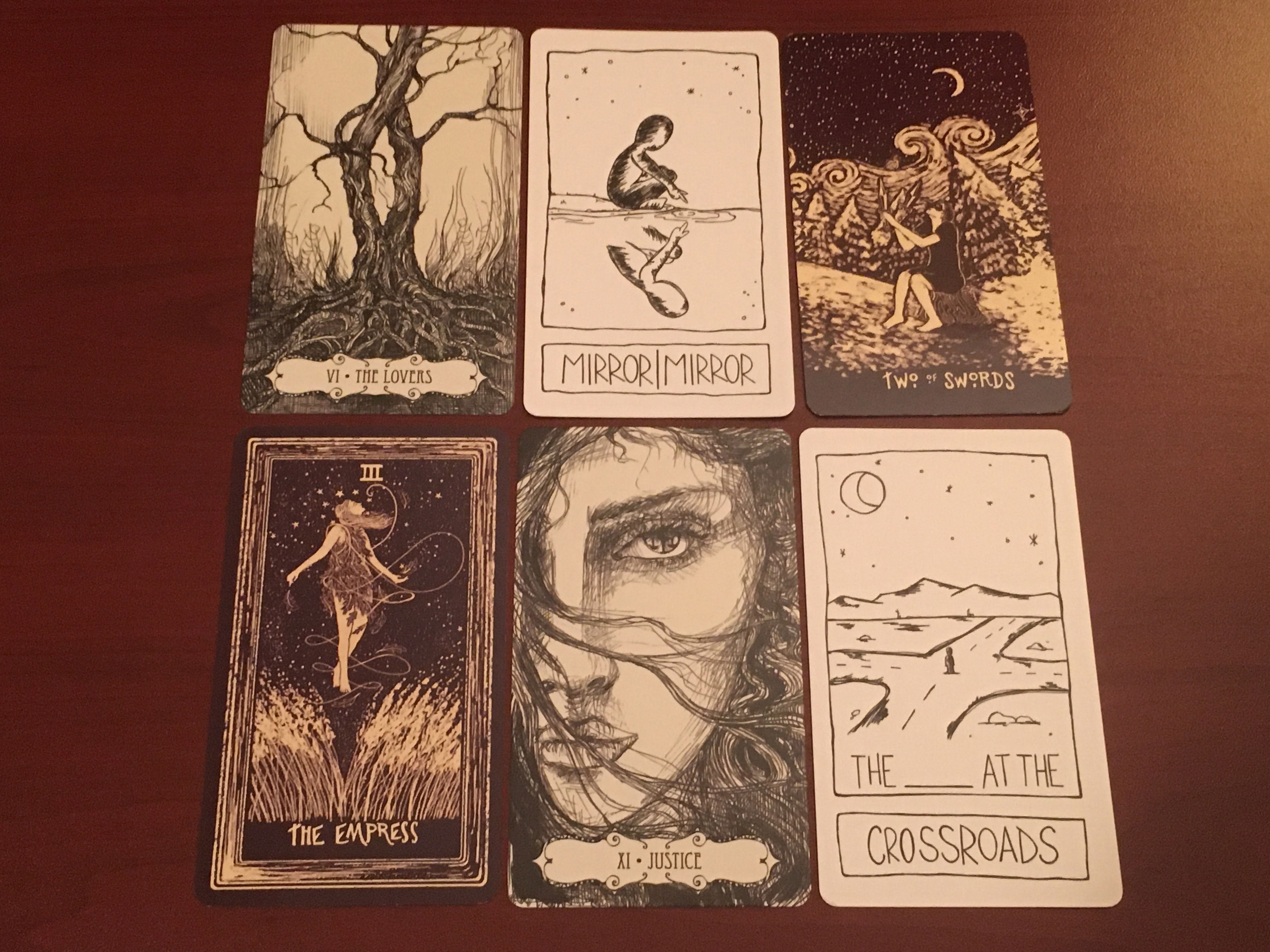 I use these minimal and black and white decks like the Light Visions Tarot and The Tarot of the Abyss for moon readings, moon rituals, deep personal healing, and shadow work. When I want to go deep within, these decks are the ones that work best for me. These tarot decks pair well with the Moonology Oracle for extra moon energy. You can also add the Black Moon Astrology Cards for more astrological guidance or Numerology Guidance Cards for an extra layer to these new and full moon spreads. Working with the darker colored decks for moon readings, helps me to draw on the energy of the night and pinpoint what needs to be illuminated in the darkness by the light of the moon.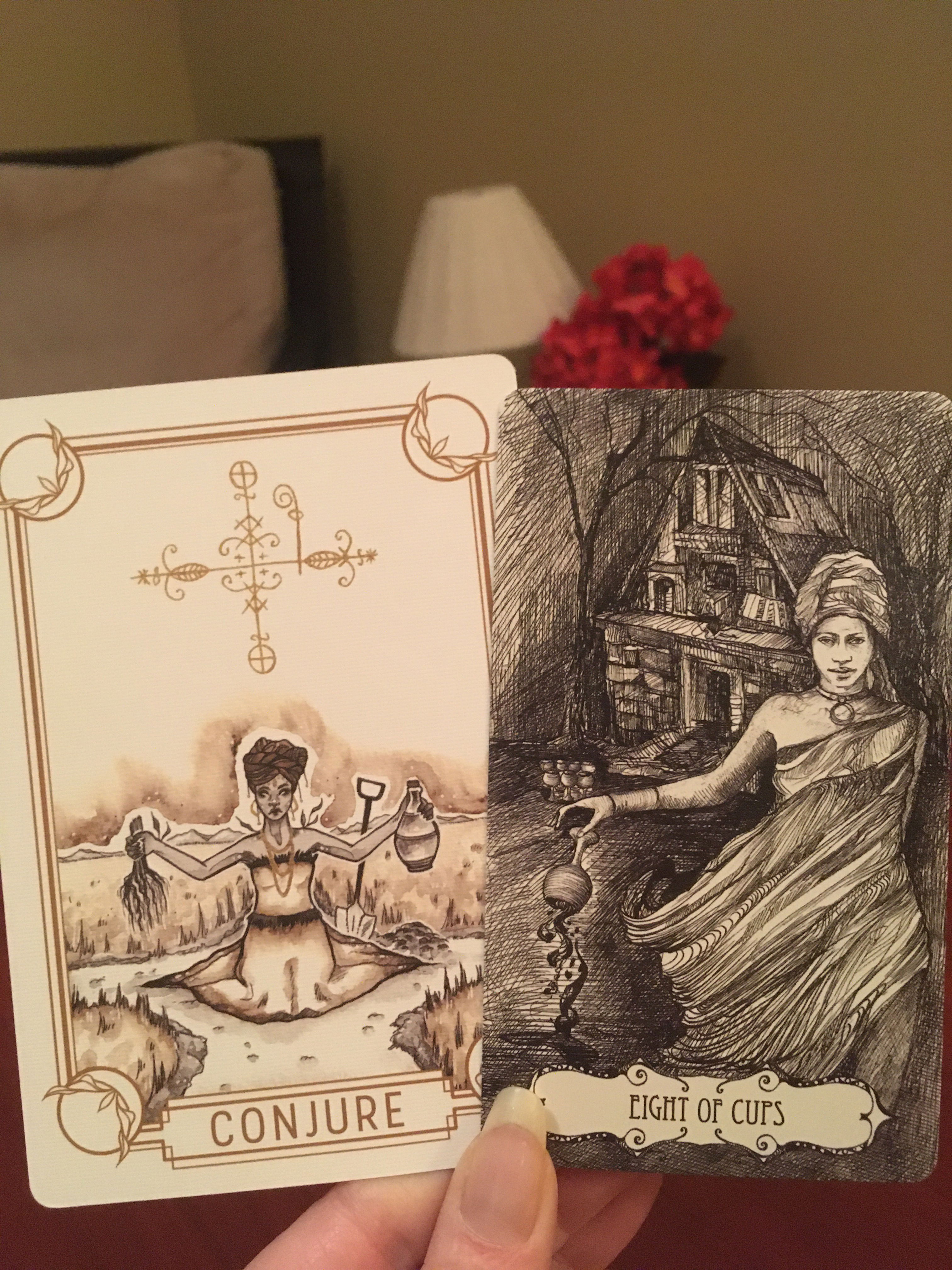 One of my favorite new minimal combos is the Tarot of the Abyss and The Magick and Mediums Oracle (shown above). The use of empty space and muted colors here really opens me up to intuitive hits with this pair. I'm currently in love with this deck pairing!
DECK COMBOS FOR RELATIONSHIP SPREADS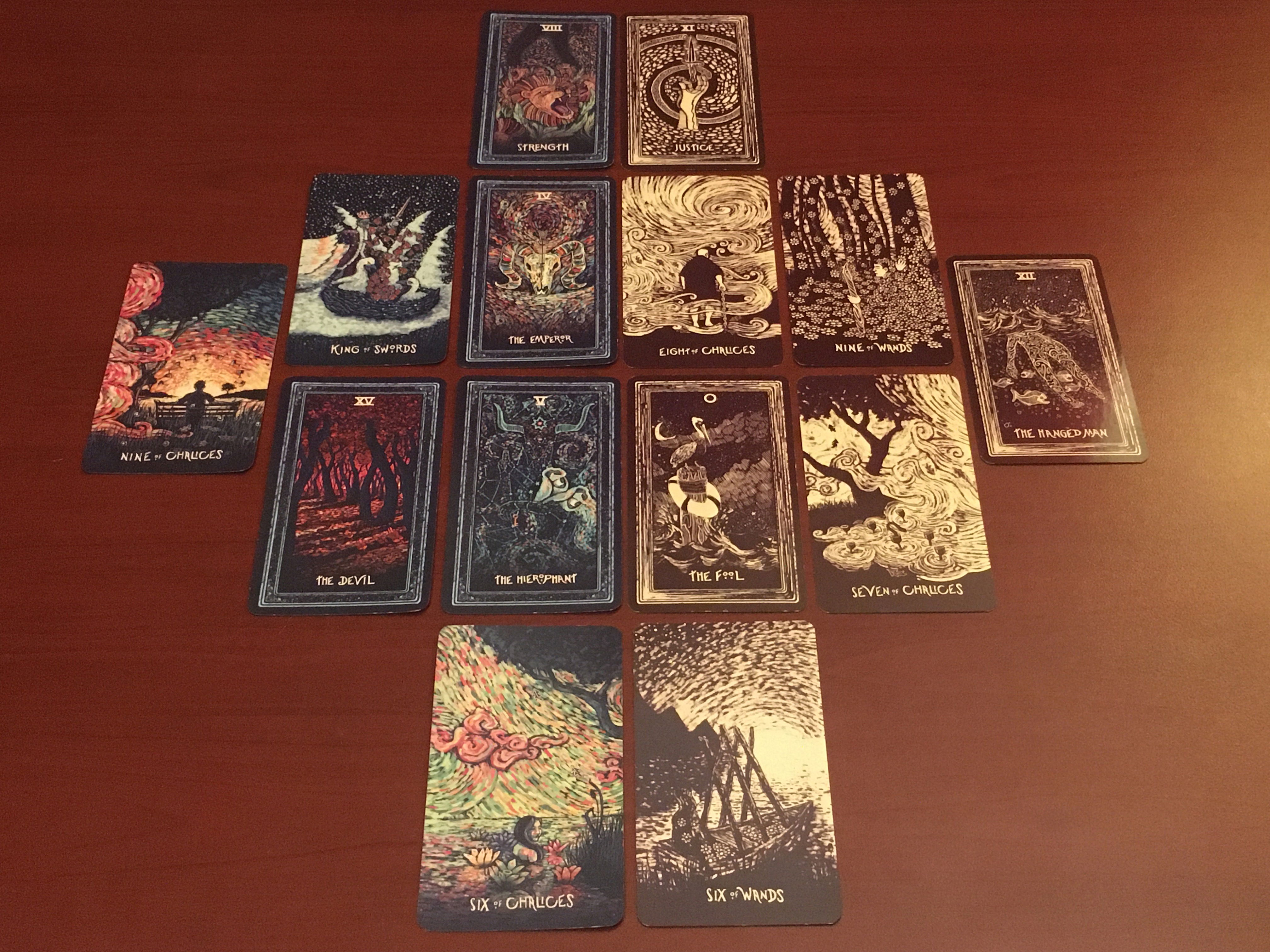 I love to pair 2 tarot decks together for relationship readings especially for soulmates and Twin flames. I always use 2 of James Eads decks (Prisma Visions and Light Visions Tarot). They are perfect because when reading for a couple, I will pull a card for each partner for each prompt, and the reading becomes a mirror image so I can easily distinguish between each individual and the partners in union. These two decks are perfect for mirrored readings because the Prisma Visions is vibrantly colored, and the Light Visions Tarot is a dark purple and cream, so the total spread looks like a photo and its negative, which pops so well visually, allowing me to read the couple perfectly.
This photo above shows a relationship spread using this mirror reading style. I use a full tarot deck for each partner because I want the full range of 78 cards to pull from for each partner, and this allows for repeating cards, which is very telling when it happens. So, you can even pair tarot decks. It doesn't have to be a tarot and oracle pairing. This pairing doesn't have to be for just a couple either, you could do this for any type of relationship you want to explore side by side such as siblings, parent and child, or boss and employee. You can even use this mirror method for choice questions and lay out the spread on one side to show what the outcome would be with Choice A and do the same with another deck for Choice B. This allows you to identify which option seems to be the best path for you to take at the crossroads.
You can also pair just oracle decks together.
For Divine Feminine Readings, I use the Women's Bodies, Women's Wisdom cards, the Divine Feminine Oracle, Self-Care cards, and the Goddess Guidance Cards. All of these oracle decks have strong feminine vibes and a focus on self care. If you wanted to add a tarot deck here, The Dame Darcy Mermaid Tarot would work well with these colors and themes.
For Divine Masculine Readings, you could pair these oracles: the Mystical Shaman Oracle, Earth Magic Oracle, Wisdom of the Hidden Realms, Postcards from the Liminal Space, The Wild Unknown Spirit Animal, Wild Unknown Archetype deck and the Dragon Oracle. If you wanted to add a tarot deck, I'd suggest using the Wild Unknown Tarot or the Game of Thrones Tarot.
Deck Bonding
If you find that there is a deck you aren't bonding with as well as you thought you would, try it out with a few other decks from your collection that have a similar energy or aesthetic and see if it changes how it feels. I've recommended this technique to so many people especially with the Work Your Light Oracle. I recommend combining the Work Your Light Oracle and The Starseed Oracle because they have the same energy and are by the same artist and creator. I've had many people tell me they had trouble connecting with the Work Your Light Oracle alone and that this pairing changed the whole dynamic for their readings. Sometimes, it just takes a little tweak to shift all the pieces into place. I find when combining decks that some decks come alive and show me just what they have to offer when paired with another deck. And I could have missed out on that magic, if I hadn't tried to mix and match. So, try this before rehoming a deck you haven't resonated with.
Deck Interview Spread
If you have decks you need to bond with more before you can get a good read on how they will pair with other decks, I suggest using a deck interview spread. This is a popular technique to use when you first work with a new deck. Here is my version of a Deck Interview Spread - all of my custom spreads can be found and pinned on Pinterest on the board - Healing Thru Tarot Custom Spreads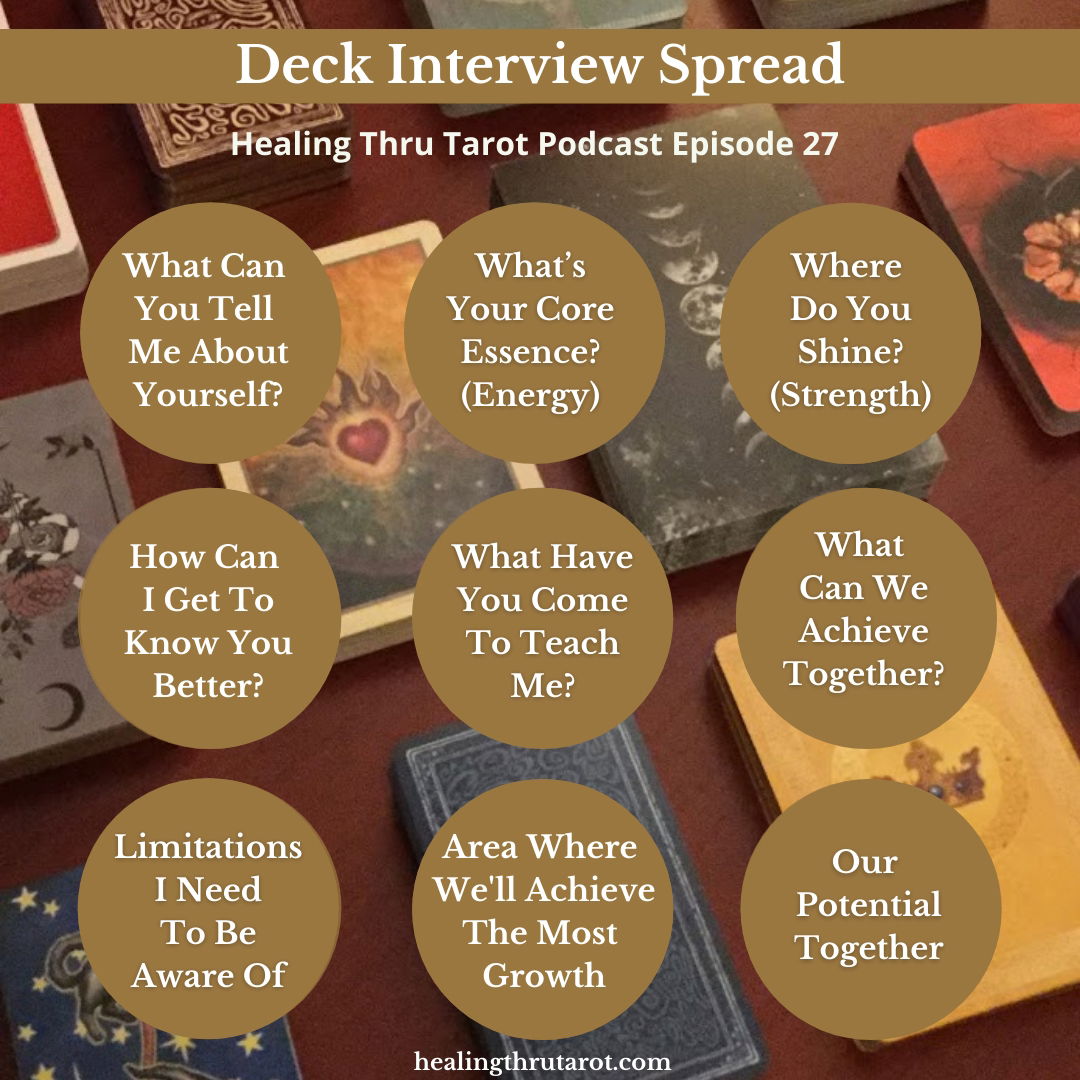 I will walk you through an example of a deck interview spread using one of my newest tarot decks – The Tarot of the Abyss by Ana Tourian. I pulled the 9 of Pentacles for What can you tell me about yourself. This tells me that the Tarot of the Abyss is a confident reader, accomplished, goal-oriented and self-reliant. I like to hear this because who doesn't want a deck you can rely on. I should have confidence in my card pulls with this deck.
The 8 of Swords came up for the deck's core essence. I will admit this threw me for a loop at first. After reading Ana's description in the guidebook, I think this deck is telling me that they are not as they appear. In the book, she explains her use of a top-down vantage point of the woman's situation. She does this to offer us an objective view from up above to show us this image is not as dire as it looks. She can just walk around the swords laying on the ground. She is not in the danger she thinks she is in. So, this deck can offer a way out from self-limiting beliefs, a change in perspective and an opportunity to break through perceived restraints.
My Deck Interview Spread Throw Using Ana Tourian's Tarot of the Abyss
For strengths, this deck says it shines as the Page of Cups, which is pure of heart with an inner child energy and offers a fresh pair of eyes. I connect this card with being an empath, and this tells me I will be able to connect with emotions, creativity, and artistic inspiration, creation, and skills, as well as my intuitive abilities.
When I asked how to get to know this deck better, I pulled the Page of Swords. This is telling me to stay curious in my search for truth, knowledge, and wisdom. I will have to rely on my wits and mental acuity because this deck will keep me on my toes. So, I better be sharp! I will need to ask good questions and be willing to dive into the depths to piece all of the insights together that this deck can offer me. I'm up for this challenge, and this reminds me of the 8 of Swords card we pulled for the core essence, so again it is telling me I will have to bend my view to see what truly lies underneath. This deck is intriguing me now! I will have to put in the work with this one.
I pulled the Ace of Wands for what this deck has come into my life to teach me. So here we have inspiration, fresh ideas, creativity, enthusiasm, and renewed energy. The phoenix in the image really speaks to me because it is my favorite mythical creature. So, my fire will be reignited, and I will be reborn and stronger from my work with this deck.
When I asked what we can achieve together, I got the Knight of Pentacles. So, we will have slow, steady progress. It will be a hardworking relationship where we will meticulously solve the questions we tackle together. Having a Capricorn stellium, the Knight of Pentacles represents me in many ways, so a deck that can match my meticulous, studious nature sounds like a good fit. We will accomplish whatever goals we tackle. And this reminds me of the 9 of Pentacles on that first card pull when it told me it was goal oriented, accomplished and reliable. Everything is aligning in the spread so far.
For limitations I pulled the King of Cups. I see this as saying it may not be and overly emotional, comforting, hold your hand type of deck, which may be a good thing. I plan to use this as a shadow work deck, so this makes sense that it may serve the purpose to be more confronting than comforting.
For the area where we will have the most growth, I pulled the Wheel of Fortune card. I see this as leveling up. So, it will help me navigate cycle changes on my life path. It will help guide me through ending karmic cycles that are no longer serving me and help me usher in lifecycles which can always be tricky to navigate. Those are the times where you need extra guidance and support when the wheel turns and your fortune can flip.
For the last card, what is our potential together. I pulled the Ace of Pentacles. The tree in this card image shows me that we will dig deep under the surface and grow strong roots that set the groundwork for a solid foundation. Our work together will help me ground myself and branch out in the areas of health, wealth, and work.
So now analyzing the whole spread, I see that we pulled two aces and two pages - interesting that's a lot of fresh energy, messages, and ushering in new cycles, especially with the Wheel of Fortune. I see that we have 3 Pentacle cards, 2 swords, 2 Cups, and 1 Wand so we have all of the elements, and one major arcana the Wheel of Fortune. I have one King, 1 Knight and 2 Pages but no queens. So again this tells me it may not be a very nurturing deck because there are no queens. Overall, this was a very detailed and surprising deck interview. I got more out of the spread than I usually do with new decks. This excites me because this deck has a lot to offer in the way of new perspectives, inspiration, support during cycle changes, and shadow work.
Try this with your decks to see what your deck has to offer you and see if you find any surprising insights about your decks in your collection. I would love to see the photo of your deck interview spreads. Please tag me on Instagram @healingthrutarot and please use #healingthrutarotdeckinterviewspread
I'm hosting a tarot challenge for October on Instagram. I created 31 prompts related to Halloween and Autumn. You can pull a tarot or oracle card for each prompt. Feel free to tag me on instagram @healingthrutarot if you pull cards. Here are the prompts below. Use #HTTOctoberTarotChallenge2021 to follow the challenge.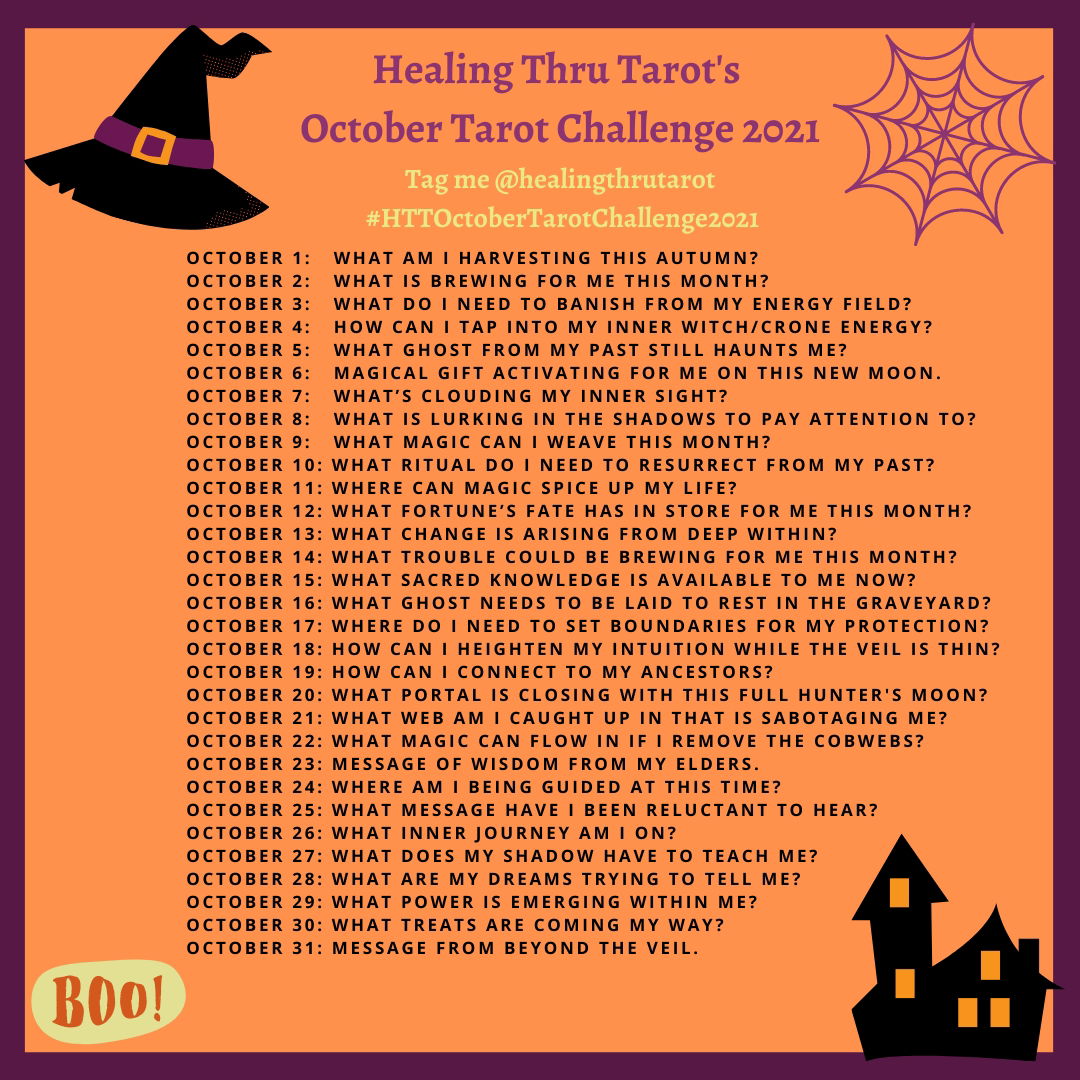 Decks shown in this blog or recommended are below: click on title to go to the product. Some of these are amazon affiliate links and it helps me out if you use these links. Thanks for your support.
Tarot Decks shown in this blog or recommended in alphabetical order (click title to purchase): Chakra Wisdom Tarot, The Dame Darcy Mermaid Tarot, The Dark Mansion Tarot, Everyday Witch Tarot, Game of Thrones Tarot, The Green Witch Tarot, The Light Seers Tarot, Light Visions Tarot, Monstarot, Prisma Visions Tarot, Tarot of the Abyss, The Way Home Tarot, and Wild Unknown Tarot
*Bonestone and Earthflesh Tarot and Postcards from the Liminal Space are sold out at this time.
Oracle Decks shown in this blog or recommended in alphabetical order (click title to purchase):
Black Moon Astrology Cards, Chakra Reading Cards, Crystal Spirits deck, the Divine Feminine Oracle, Dragon Oracle, Earth Magic Oracle, Earthly Souls and Spirits Oracle, The Everyday Witch Oracle, Fool's Wisdom Oracle, Gaia Oracle, Goddess Guidance Oracle, The Heal Yourself Reading Cards, The Lightworker Oracle, Magick and Mediums Oracle, Magickal Spell Cards, Moonology Oracle, Mystical Shaman Oracle, Numerology Guidance Cards, Oracle of Shadows and Light, The Power of Surrender cards, Pythia Botanica Oracle, Sacred Creators Oracle, Sacred Rebels Oracle, Seasons of the Witch: Samhain Oracle, Seasons of the Witch: Yule Oracle, Self-Care Cards, Soul Journey cards, Spirit Animal Oracle, Starseed Oracle, Wild Unknown Animal Spirit, Wild Unknown Archetypes, Wisdom of the Hidden Realms, Wisdom of the Oracle, Women's Bodies, Women's Wisdom cards, Work Your Light Oracle
Link to Podcast Episode 27 on Anchor click here
Other relevant Podcast Episodes - Click titles to listen.
Ep. 22: Chakra Spreads and Decks To Use With the Chakra System
Ep. 9: Favorite Autumn decks and how I work with decks seasonally + Autumn Spread
Listener Support
*If you would like to support this podcast monthly, please consider signing up for a small pledge to help me be able to continue to produce these quality episodes every two weeks. Use the link below to sign up to support through anchor.
Much appreciated!