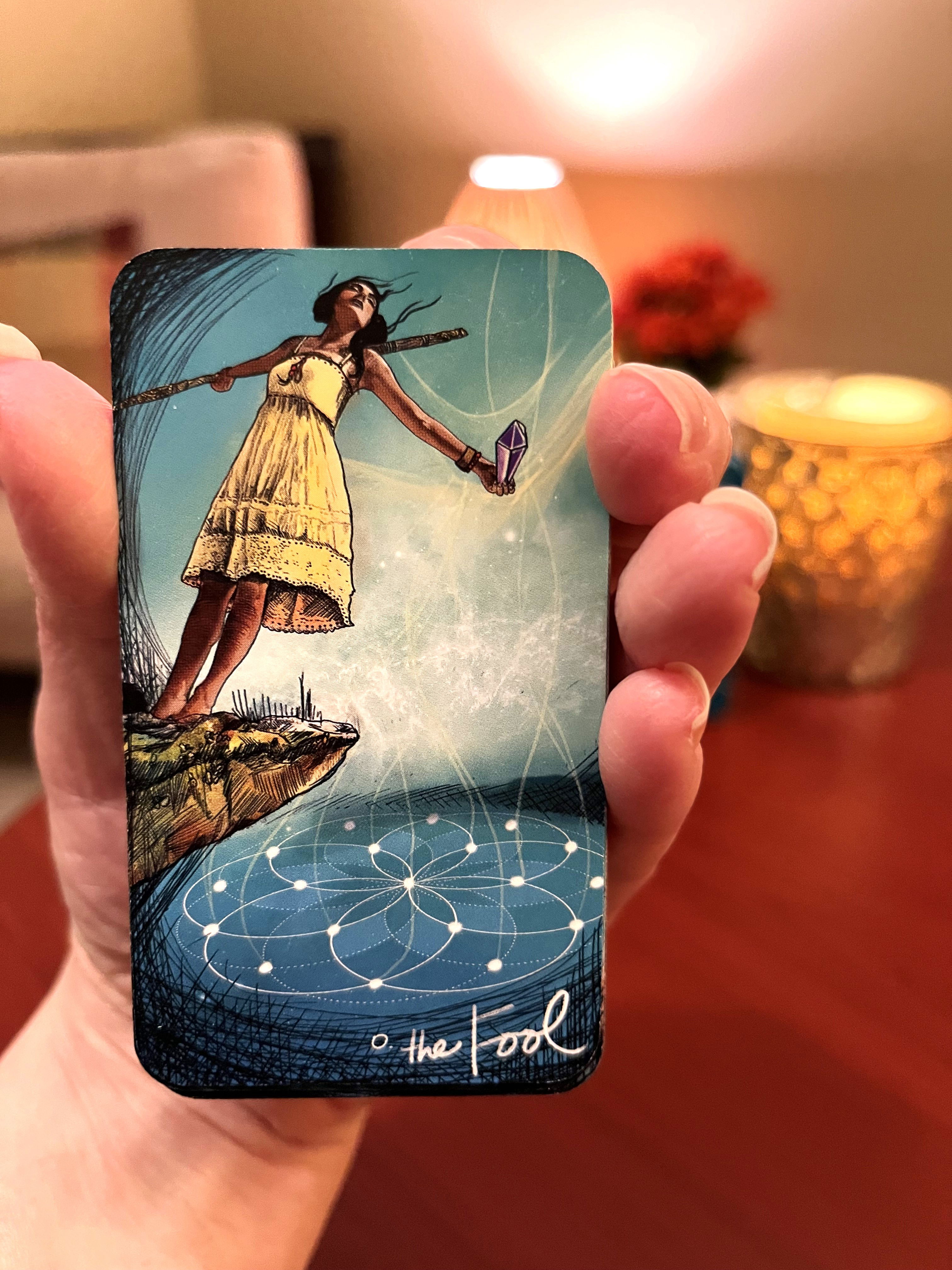 Look how cute it is!
Hayhouse sent over the brand new mini version of The Light Seers Tarot for me to review and share with you. And I'm SO EXCITED because The Light Seers Tarot has been my favorite deck of all time from the moment I first laid eyes on just a handful of cards that Chris Anne revealed on YouTube years ago. I was hooked right away. And now this pocket version in this cute little tin is stealing my heart all over again.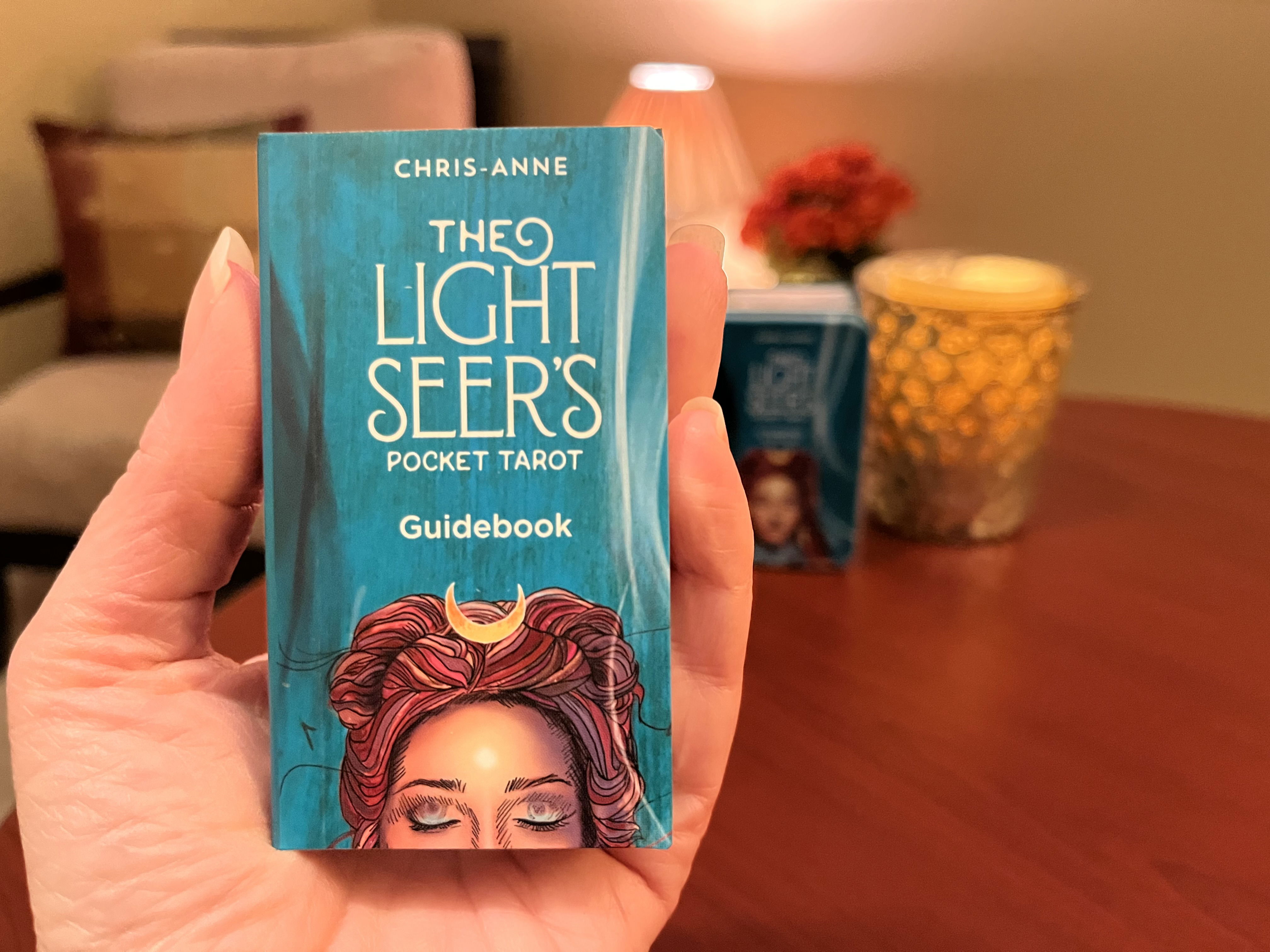 The Light Seers Tarot is the only deck I have more than one copy of. I bought the indie deck when it first came out so I'm one of the lucky few who has one of those very limited, coveted decks. I bought the mass market version as soon as Hayhouse published it and that's the copy I use daily because it's so much easier to handle and shuffle. And now I'm ecstatic to have the pocket version. I already love throwing big spreads and now I will have more room to throw even bigger spreads since the cards are significantly smaller — grand tableau anyone?
Card Size Comparison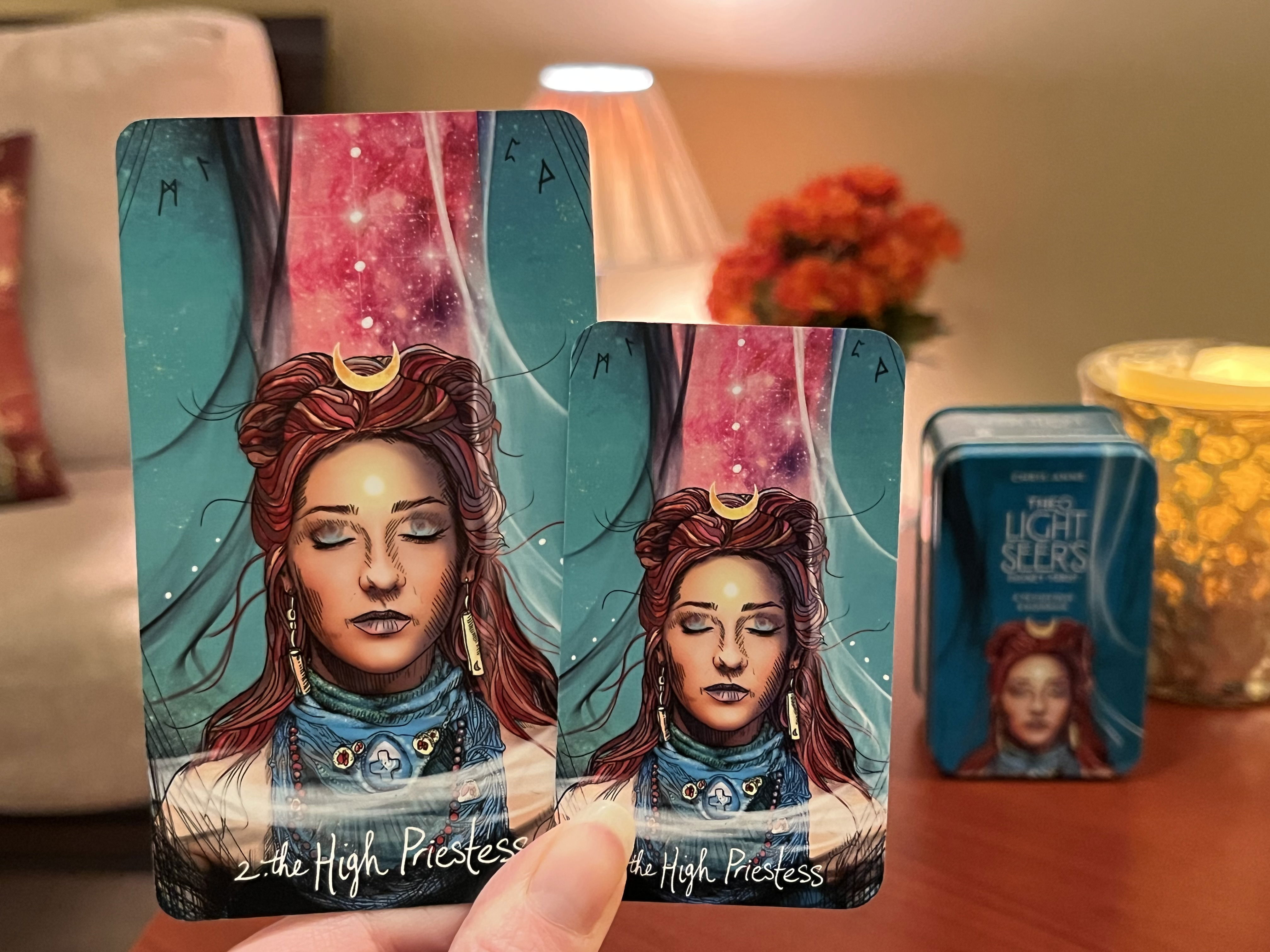 And it's small enough to throw into my purse and take with me everywhere. I'll never be without these cards again. See the size comparison above compared to the mass market full size card on the left - also released by Hayhouse. These are tiny! And it comes with a tiny guidebook. How freaking cute is this!
STOCKING STUFFER ALERT!
This is a must for stockings this year! So if you need a small gift to tuck into a tarot lover's stocking this holiday season this is THE GIFT! I have 2 versions of this deck already and still had to have it, so it doesn't matter if they already have this deck. Slip this cutie in anyway!
Tiny Guidebook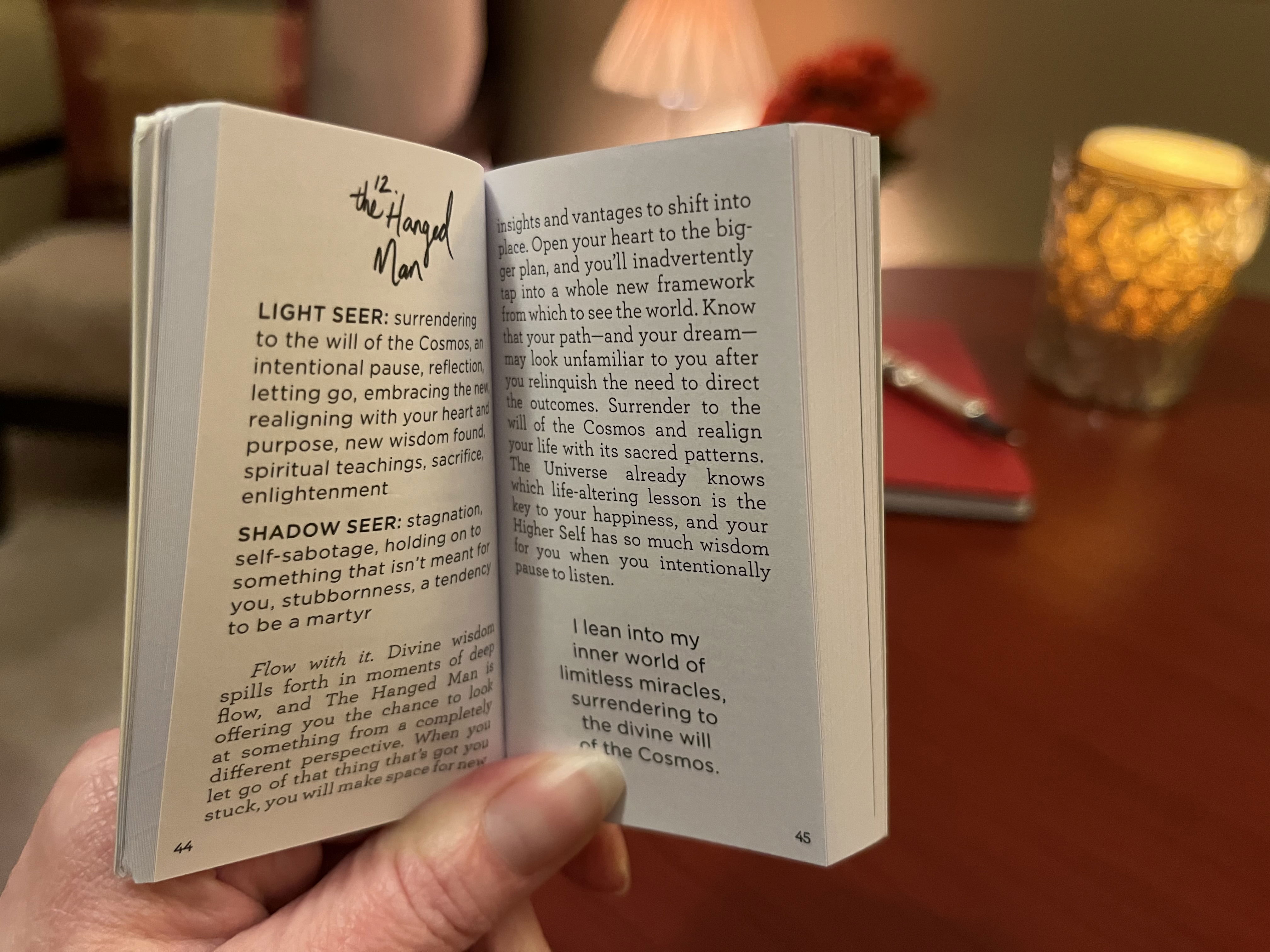 If you've followed me for long, you already know that The Light Seers Tarot is my soul deck because it sums up everything I feel about my soul path. The images speak to my soul and resonate on such a deep level. I love to read with this deck along with the Sacred Creator's Oracle also by Chris Anne Donnelly because they both help me get on track and stay there with soul guided messages on how to reach other lightworkers and how to shine as brightly as I can so others can find me. And Hayhouse also put out a mass market version of the Sacred Creators Oracle a few years ago. I have the indie version and use it all the time!
Mini Star Card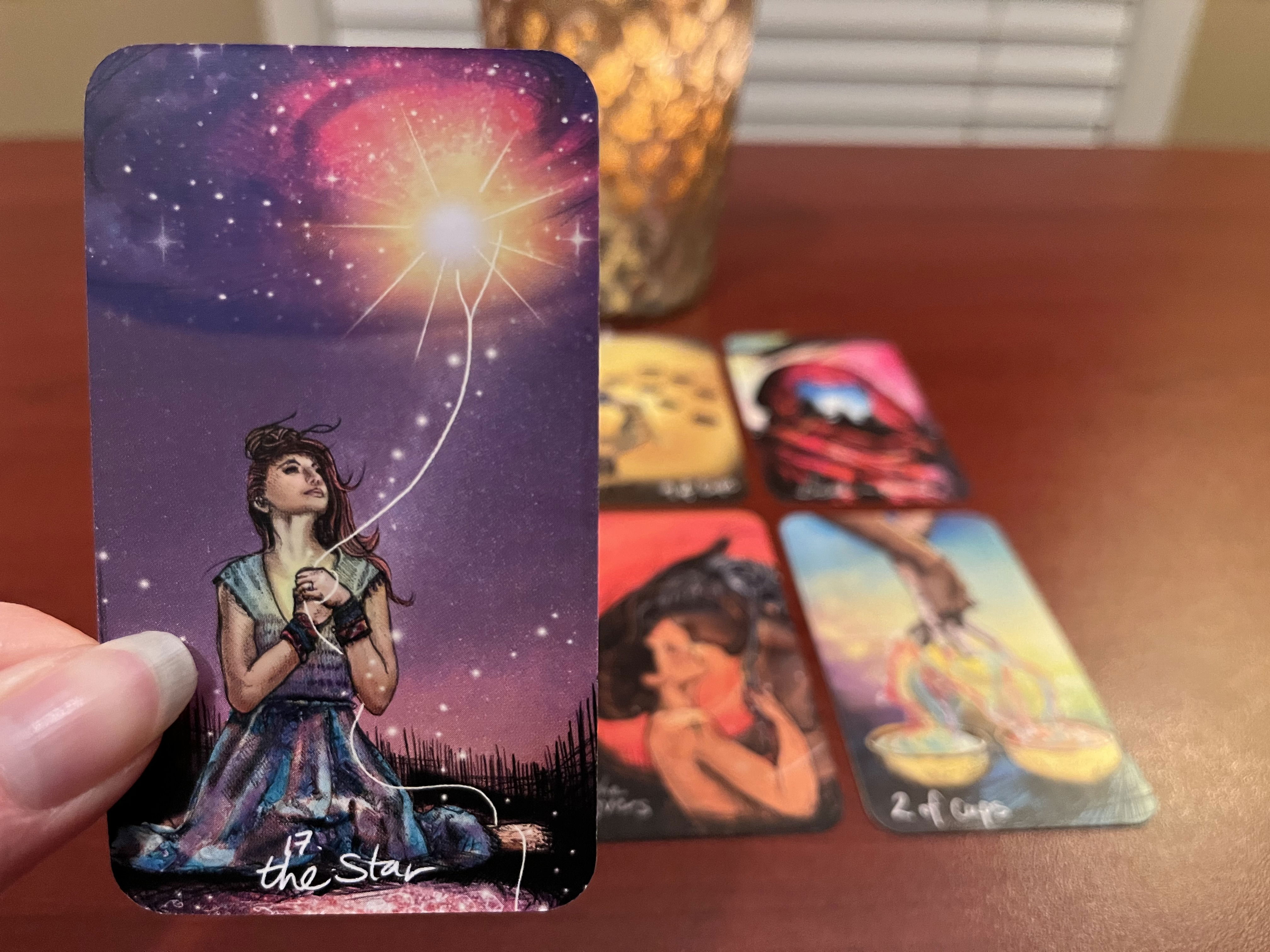 One of the things I love the most about the Light Seers Tarot is Chris Anne's use of light. It's so vibrant, colorful, and uplifting to work with. Even years after working with this deck on a daily basis I'm still so captivated by it. I never tire of working with it, and I love introducing new people to it. Whenever anyone asks for recommendations for decks to start with this deck is always my go to recommendation, and I've heard from so many people that bought it after that and fell totally in love just like I did.
Mini 8 of Swords and Judgment Cards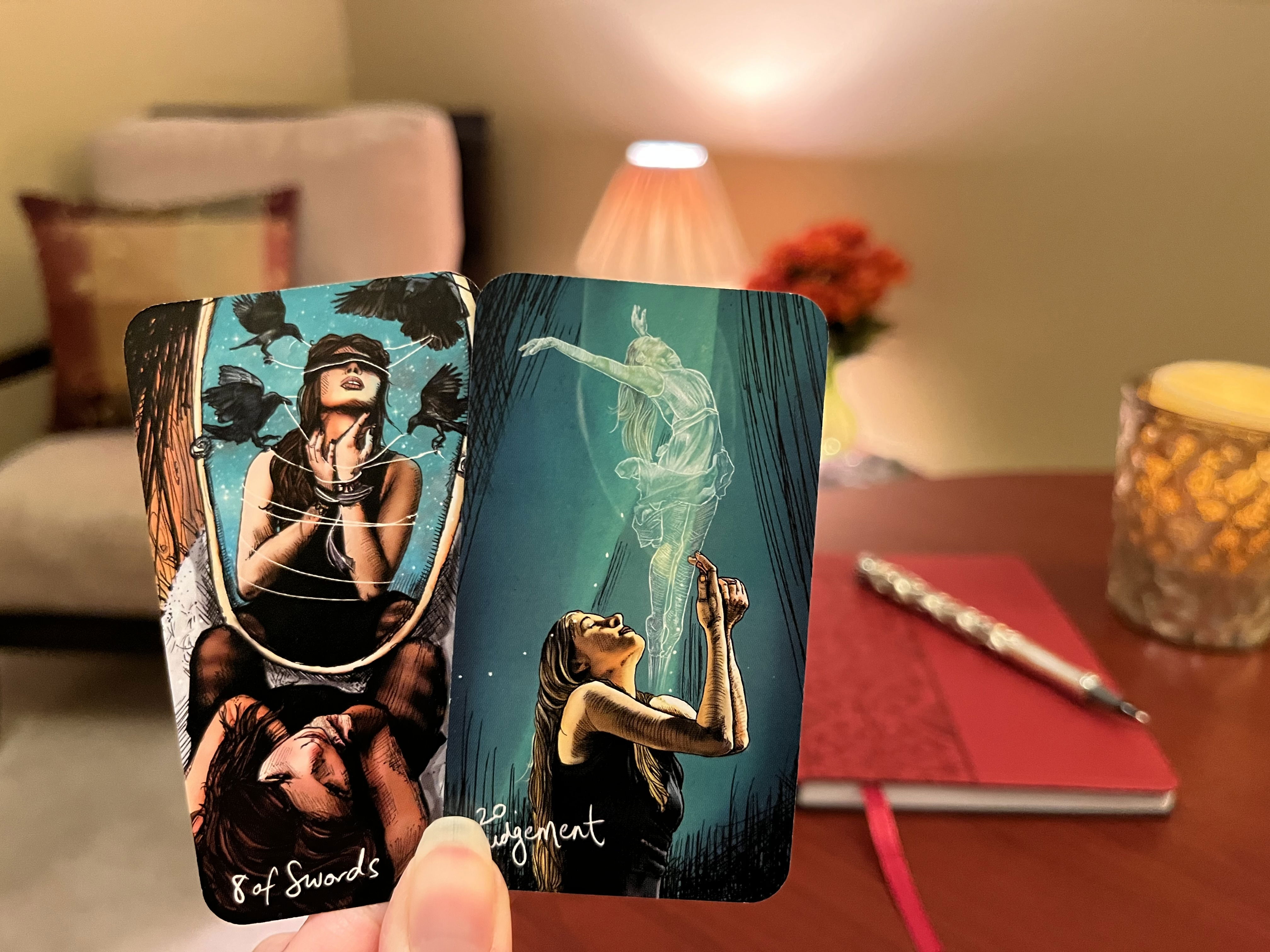 It's not only visually stunning but it's the most mystical tarot deck I have. Look closely at the images, and you'll find so many hidden symbols that add layer after layer to your readings. There's so much to take in with the stunning visuals that Chris Anne created. I see new things in these images each time I throw a spread because my eye will drift to a particular section of the card, and I'll notice a new hidden symbol that gives me a clue to the specific message for that spread. I love this about Chris Anne's decks because she gives us so much to work with. The more symbols you have in the image, the easier it is to get detailed messages rather than vague ones.
Mini Majors How Cute!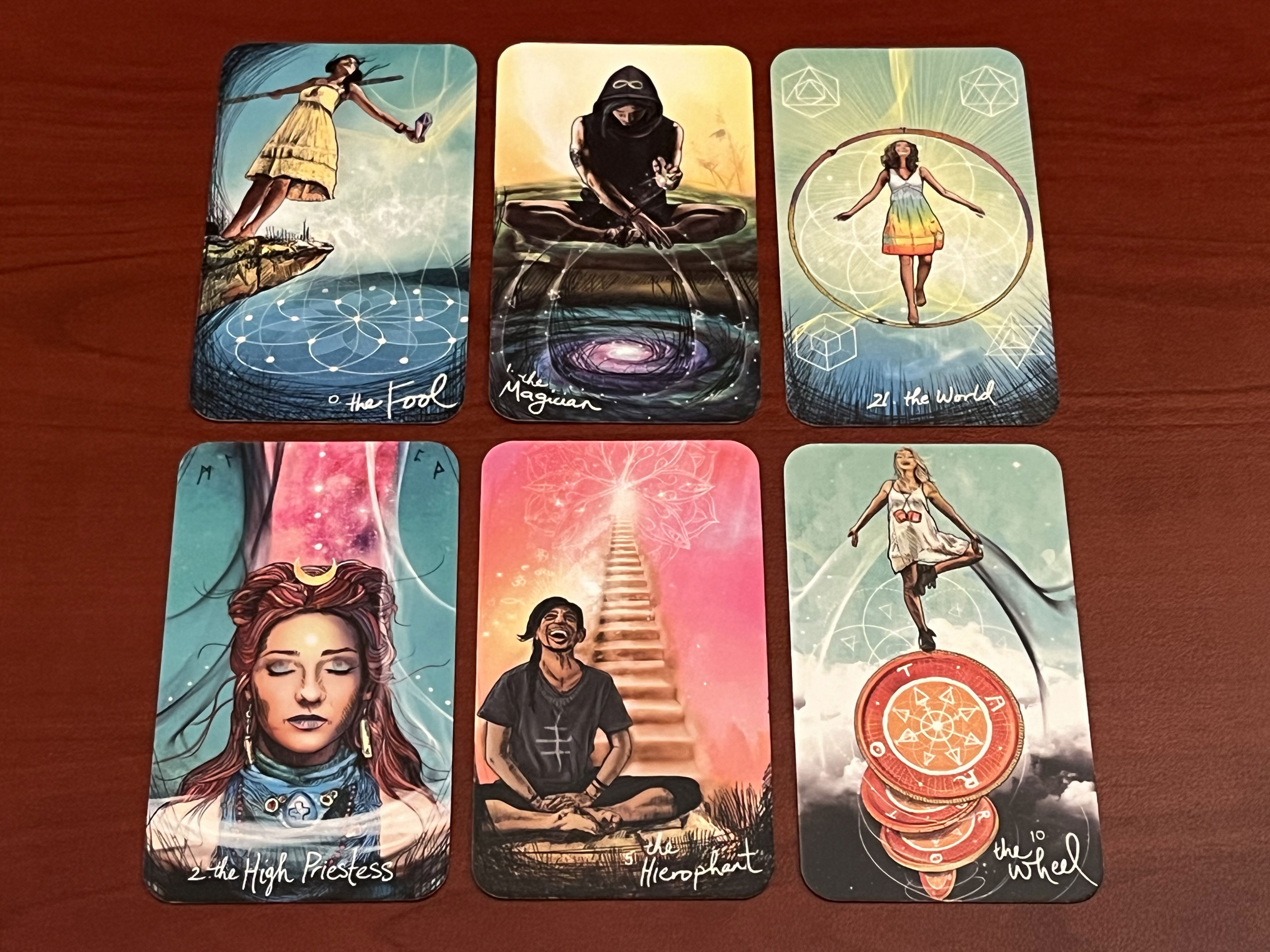 Take a glance at the cards. Chris Anne has placed runes, sacred geometry, zodiac symbols, and astrological and planetary symbols throughout the deck in cards like the World, the High Priestess, the Magician, The Hierophant, The Fool, The Wheel of Fortune, The Hanged Man, and the Ace of Swords. Even in the mini versions, you can see all the intricate details that help to provide rich readings.
Mini Hanged Man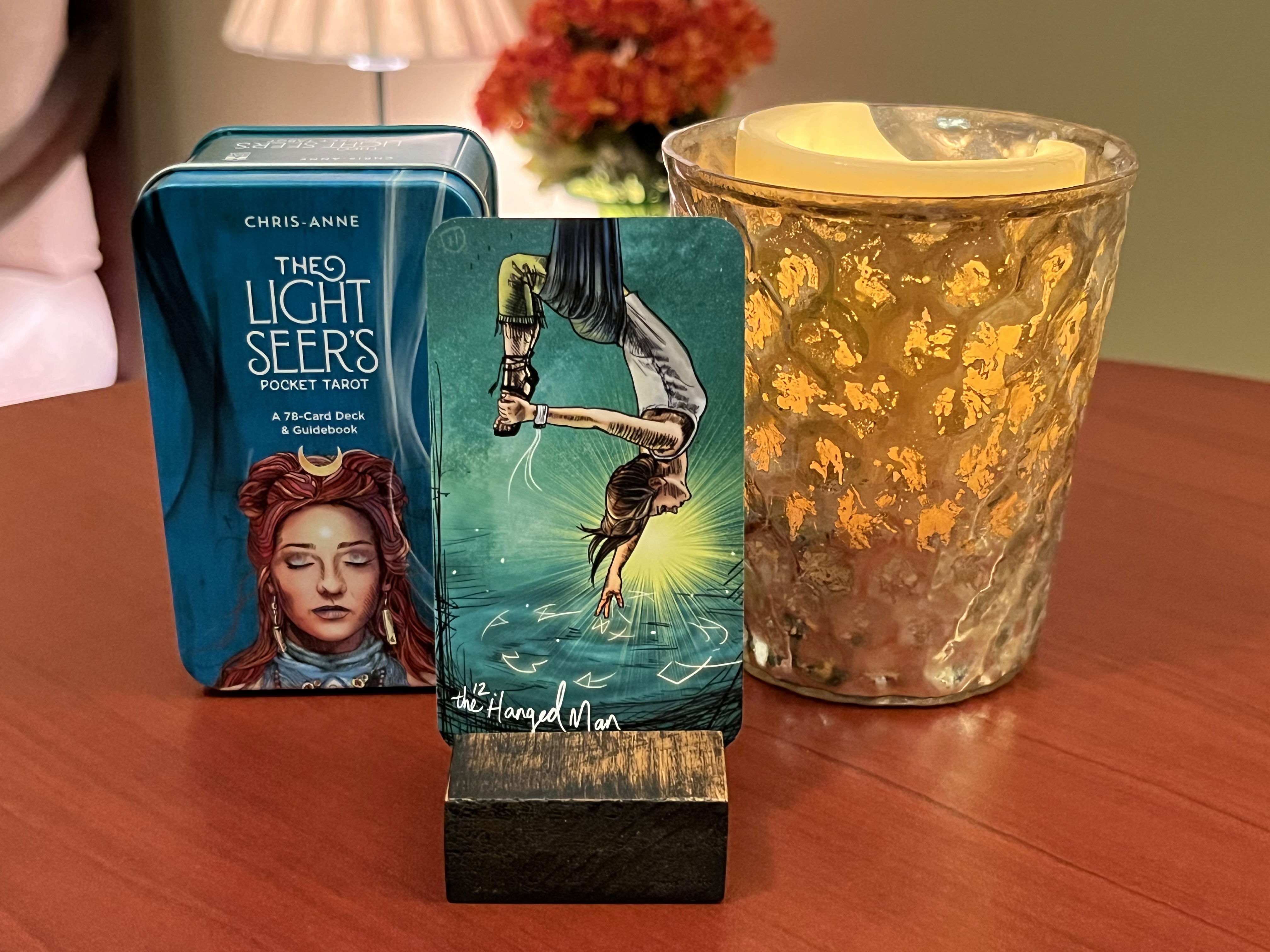 Here's a card that I just adore — The Hanged Man. Here, the woman is suspended upside down over water, and her hand is reaching out to the new symbols and runes floating below within her grasp, symbolizing the sacred knowledge that she has recently gained by switching her perspective. I'm always captivated by this image. It's an iconic one for sure.
Mini Magician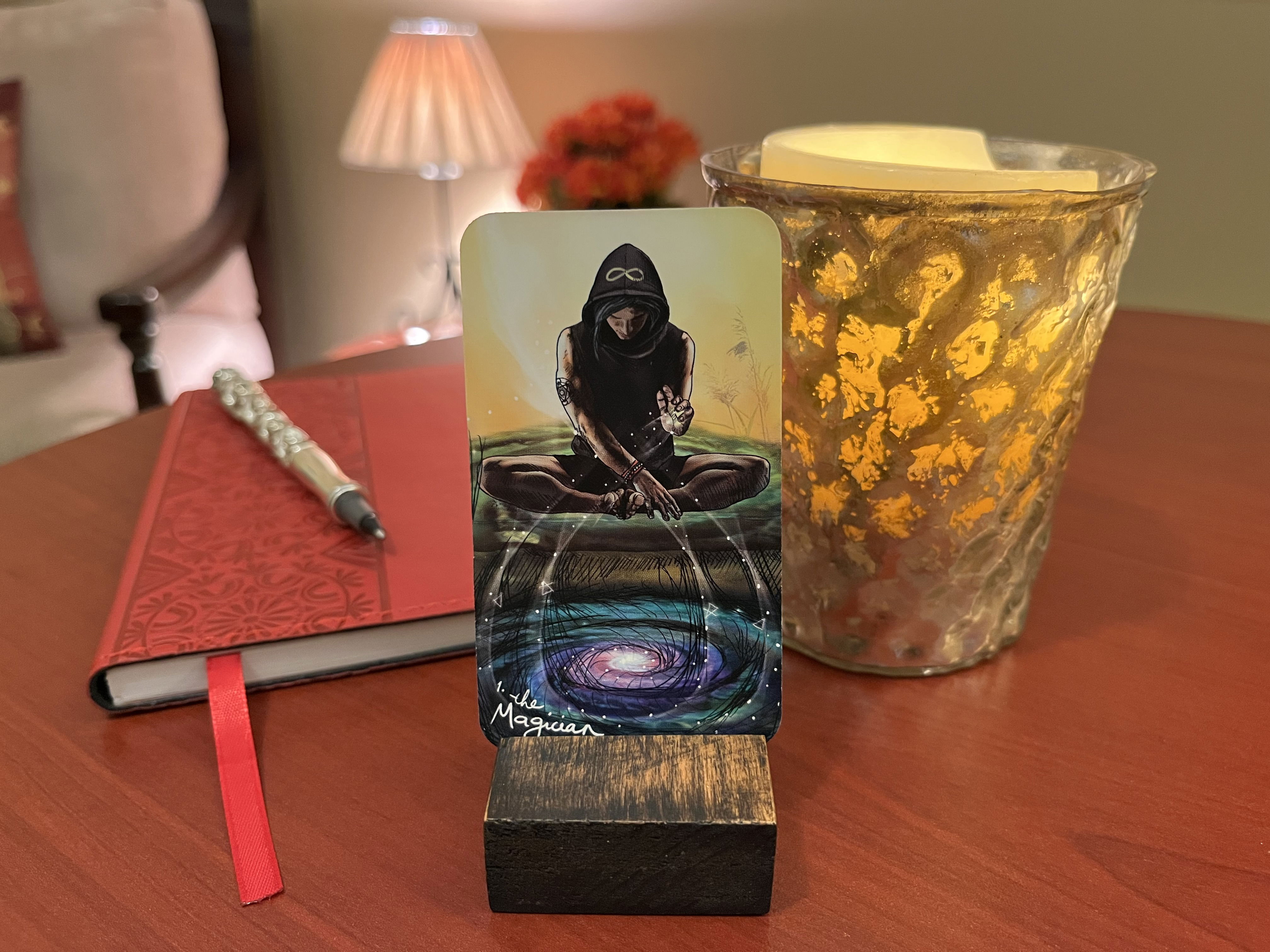 With her version of The Magician, shown above, symbols float on the currents of energy bursting out of his hands. This energetic stream swirls in front of him as he creates and manifests, showing us that he's one with universal flow and is directing it to his will. This is also one of my favorite cards in the deck and is probably my favorite version of any Magician card I've seen.
Mini Ace of Swords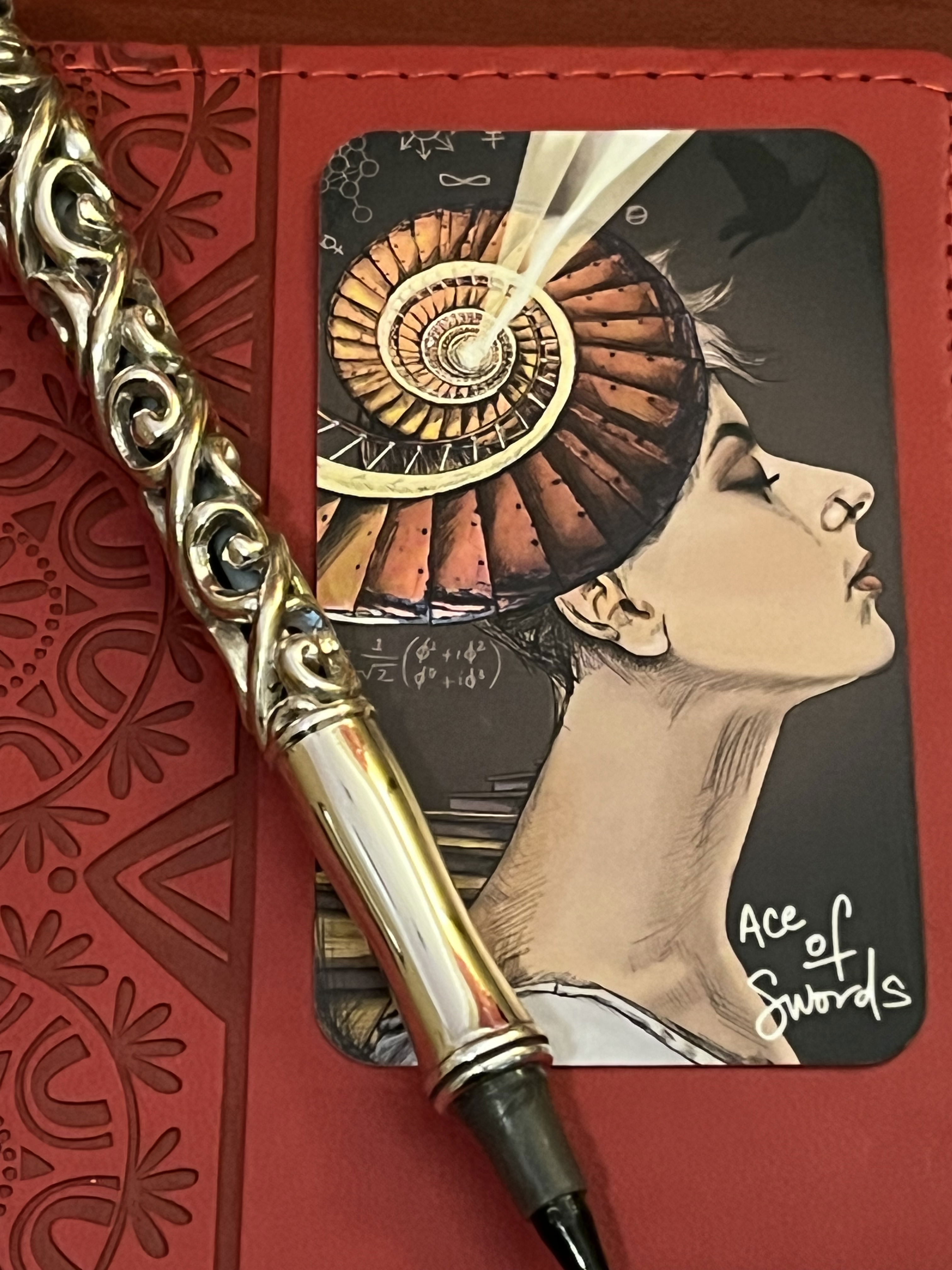 This Ace of Swords is probably my favorite version of this card where there's a staircase representing the woman's mind, and in the center of the staircase there's a divine light bursting forth to symbolize a new idea or new perspective. As your eyes glide up the staircase, you'll notice mathematical equations, astrological symbols, and representations of sacred geometry. Since this is an ace, we know that all this new information is now accessible for us through this shift in perspective. It's a new intellectual beginning for us, which could be through an epiphany, inspired thought, or stroke of genius out of the blue. I love how the card depicts the process of enlightenment, ascension, and reaching new academic and spiritual heights. A whole new world has opened up for the figure in the card, and this is what access to the Akashic records looks like to me. You can see how small the card is above - the pen helps to give perspective next to this mini Ace of Swords.
Mini Ace of Wands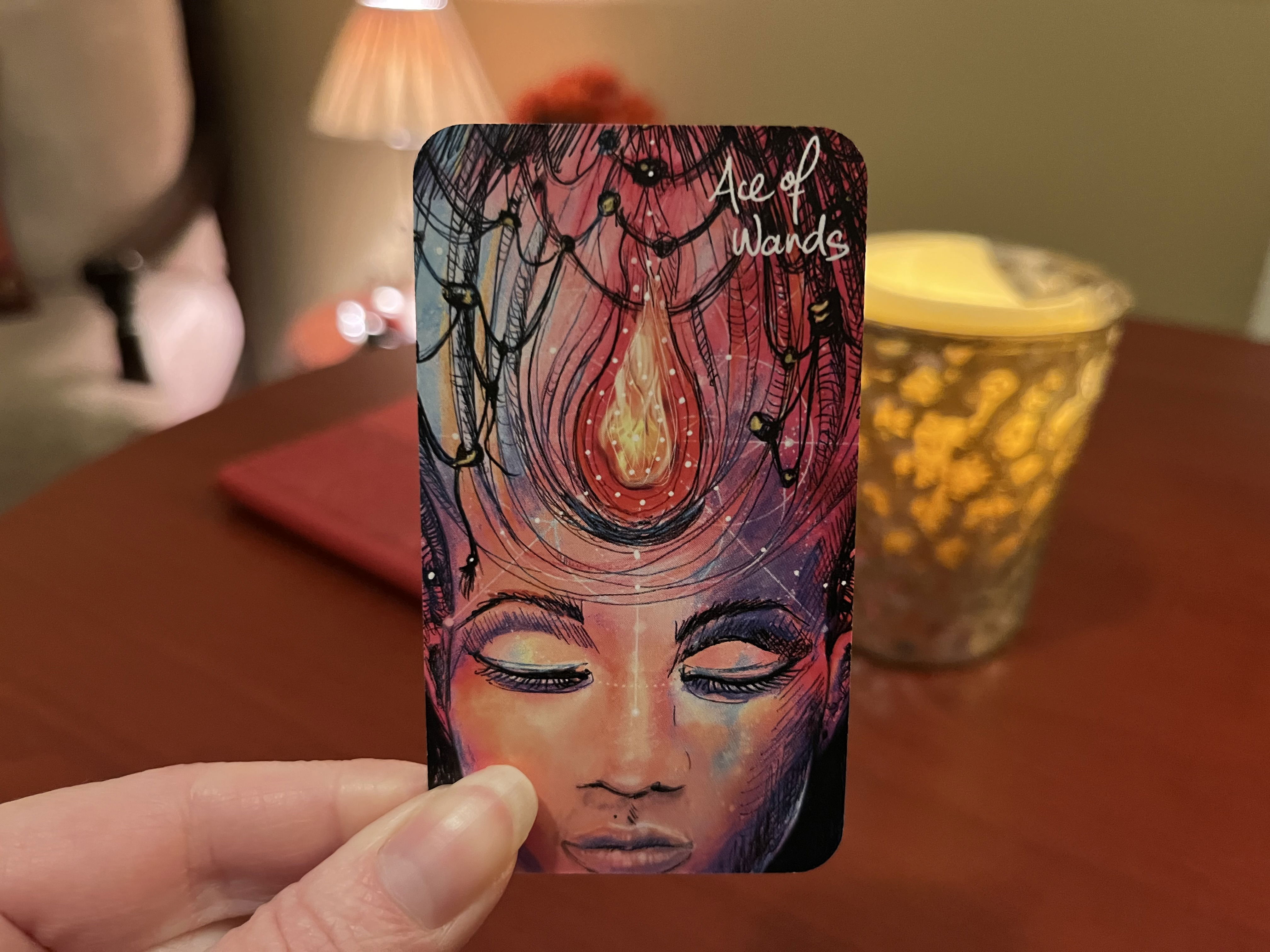 And how could you not love this Ace of Wands. It always reignites my inner fire when I pull it. I always think of the lyric in Hamilton, "Fan this spark into a flame" when it comes up in a reading. That bright spark burning inside this woman's mind right over her third eye chakra just epitomizes pure enthusiasm and passion! It's an instant surge of energy, adrenaline, and excitement.
Decks to Use with Any Version of The Light Seers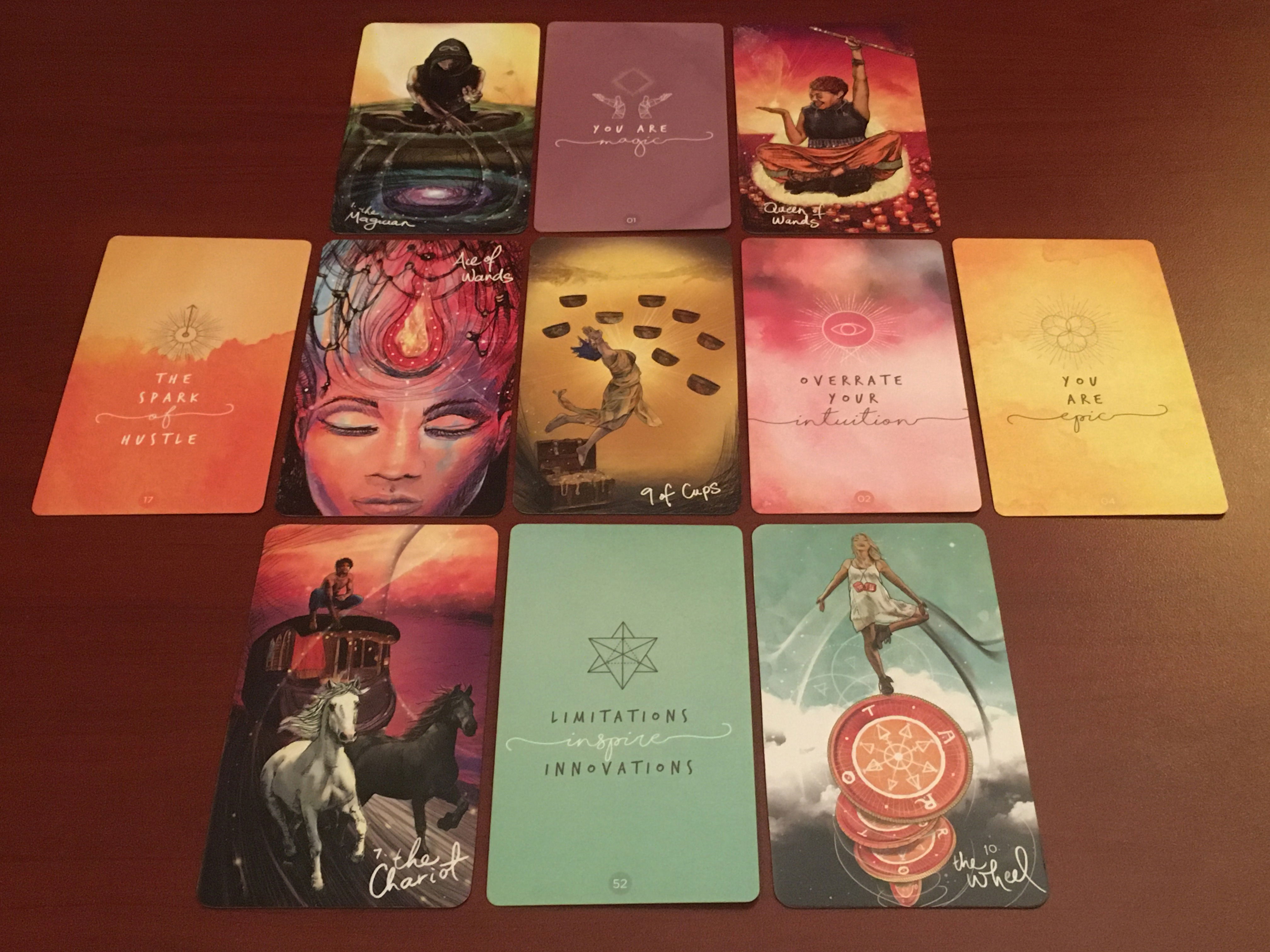 As I said I love pairing the Light Seers Tarot with the Sacred Creators Oracle also by Chris Anne (shown above using the full size versions of the decks). I've pulled countless spreads with this combination over the years. They are the perfect pairing for me! The vibrant colors of both decks pop and make some of the best photos of layered tarot and oracle readings. I always recommend these two decks to artists because of their striking colors and use of light for healing purposes. This is my personal combination I use for myself, so these are the decks I resonate with the most artistically and energetically and they speak to me in a way that always deepens my personal growth and healing journey. I use this combination for inspiration and advice on how to build my business, ignite my creative inspiration, stay connected to my creative muse, and fuel the passion for all of my creative projects. And if I ever run into blocks regarding my creative projects, this is the deck pairing I turn to for insight into those blocks and advice on how to bust through those obstacles to find inspiration to move forward.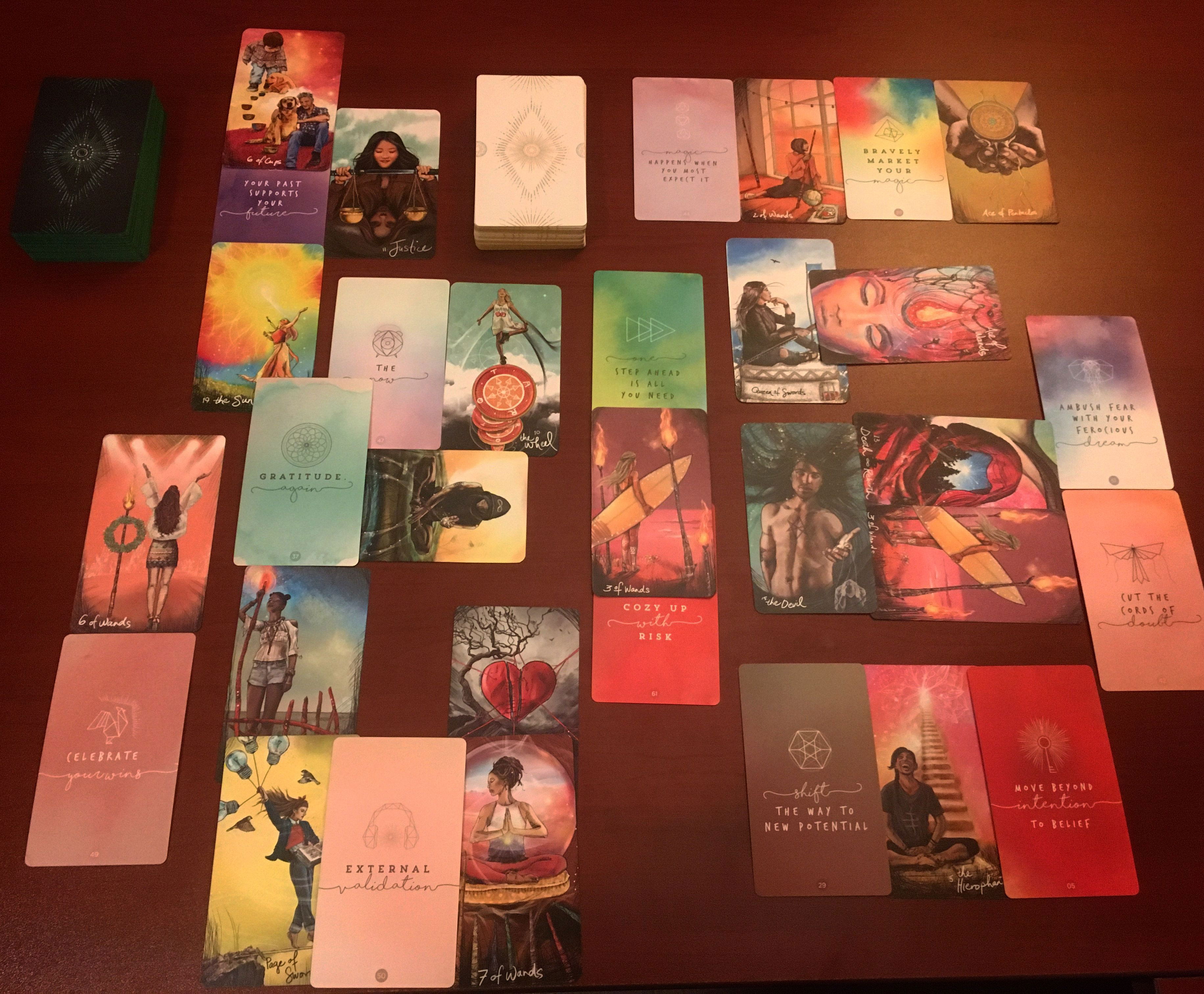 And both decks are perfect for lightworker readings, life purpose and life path spreads, and spreads on creative inspiration and expression. I have several decks I'd consider lightworker decks, and they all pair beautifully together.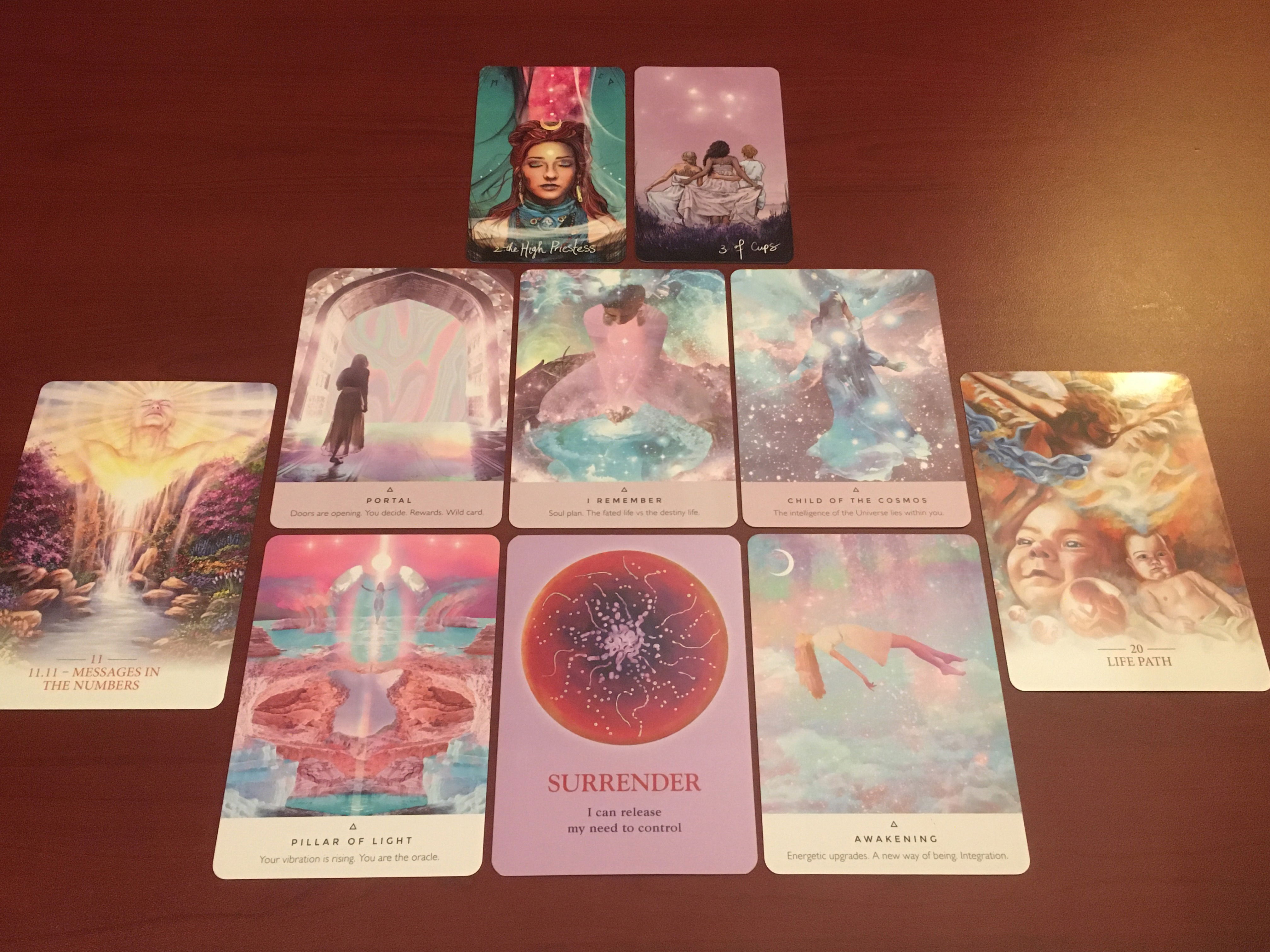 They create gorgeous, insightful, and healing spreads. My lightworker deck combination always includes the The Light Seers Tarot, Lightworkers Oracle, Work Your Light Oracle, Starseed Oracle, and The Soul's Journeys Cards (shown above). These decks have similar colors of vibrant pinks, purples, and blues, cosmic imagery, and the messages and themes of the decks match perfectly.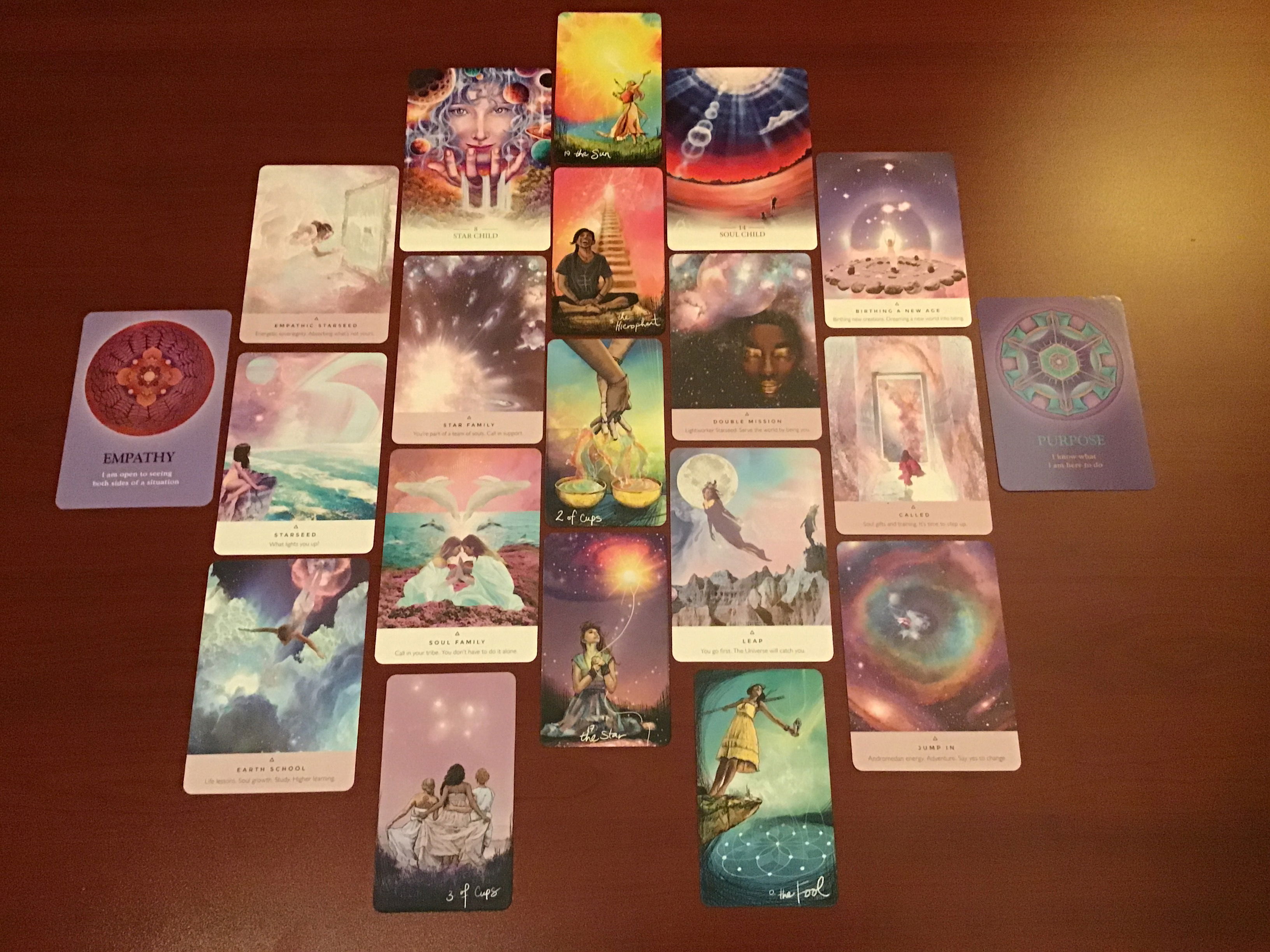 I tend to create large spreads with these decks for life purpose or lightworker path spreads. They make stunning spreads like above. I love this lightworker deck combination!! You can also add in the Sacred Rebels Oracle and Sacred Creators Oracle to this combination.
9 Card Spread with the Minis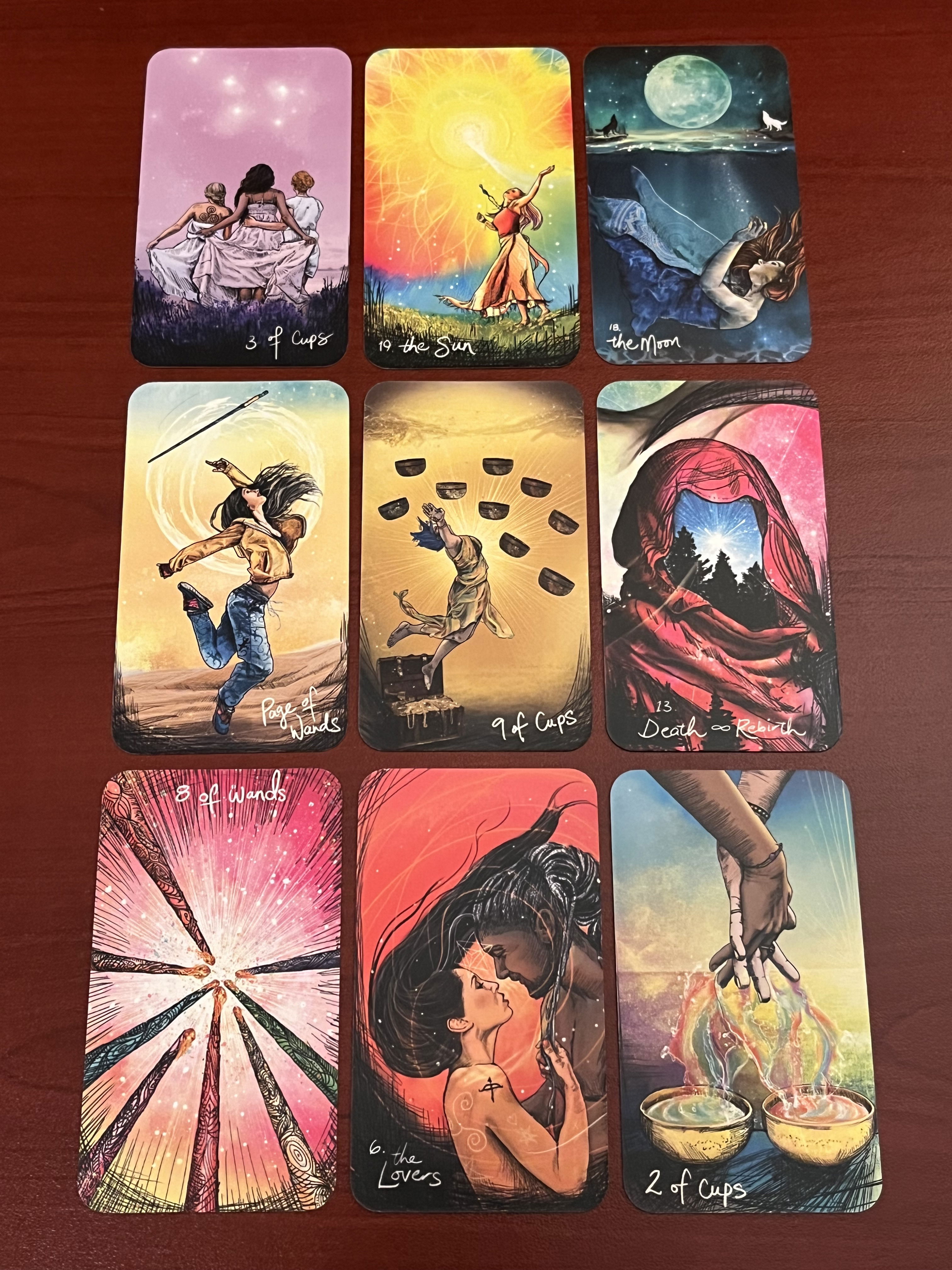 Just like all of these decks, the Light Seers Tarot offers guidance to help lift my vibration, to stay aligned on my life path, and to anchor me to the purpose of my light work. Hopefully, you can see now why the Light Seers Tarot is my soul deck, and why I'm so passionate about it!
Thanks to Hayhouse for sending this deck! I'll cherish it just as much as my other Light Seers versions, and I'll get so much use out of them!
Hayhouse Card Deck Club Subscription Box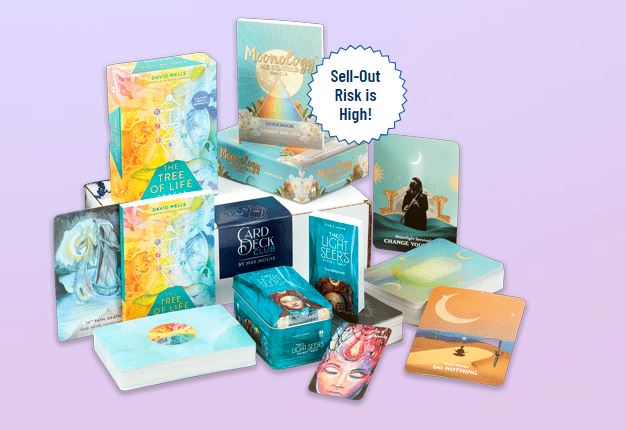 Hayhouse now has a deck subscription box called "the Card Deck Club Subscription Box." Each spiritual toolbox arrives every three months with new tarot and oracle decks. In each shipment, you'll receive three beautiful products handpicked for each box, four times a year, including brand-new card deck releases coming to you first! A bonus gift ships in each shipment. Each box will help you expand your awareness, tap into your intuition, and enhance your self-care and spiritual practice. After your cards are in hand, you'll be invited to join members-only webinars hosted by deck creators to deepen your understanding of your new decks. And receive exclusive deals, discounts, and promotions in your inbox each month. Save up to 55% off retail by paying only $29.99 + $7 shipping Sign up with this link here.
Past box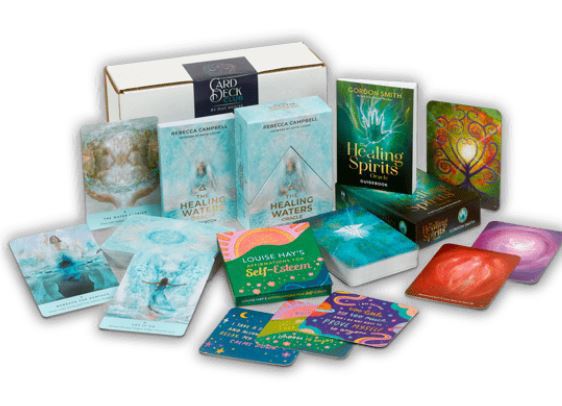 Decks shown in this blog:
The Divining Sisters Series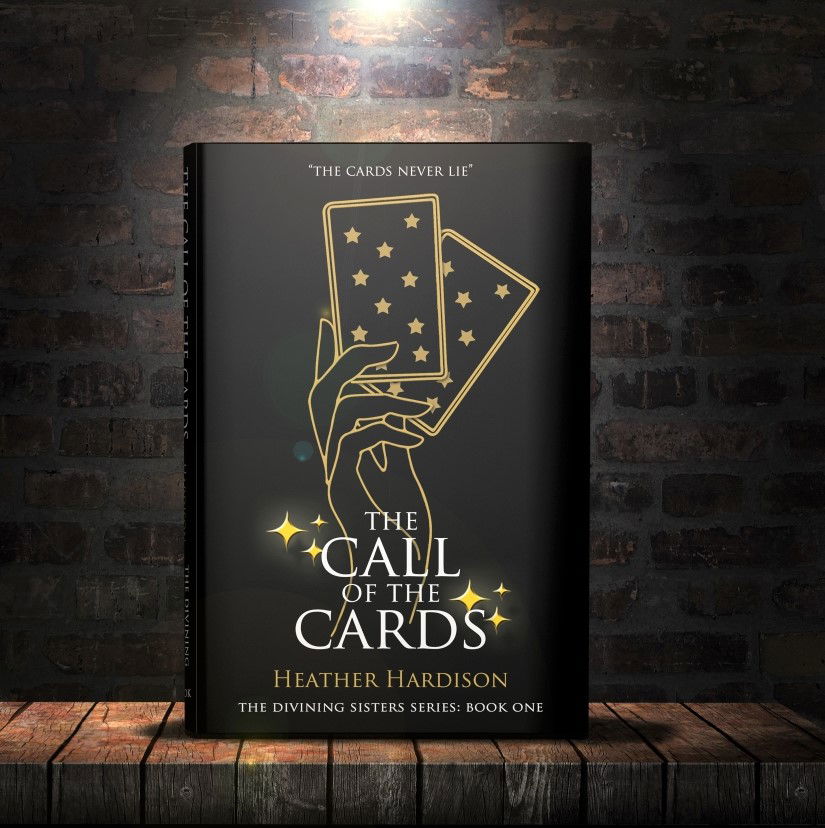 And if you are looking for a good witchy book for autumn, my fictional divination book series, The Divining Sisters, is perfect for this time of year. Book 1 in the series, The Call of the Cards, and book 2, We Divine Three, are out now. Book 3, The Threads of Fate, drops 9/26/23 - ebook preorders open now.
They're available as ebooks $4.99 and paperbacks $14.99 on Amazon. And the eBooks are also on Barnes and Noble, Apple Books, Google Play, Kobo, Scribd, Smash words, and more.
Find out more details on my novels on my author website author.heatherhardison.com - where I post updates on book releases, book blurbs and quotes, book covers, links to purchase, and fun things like my Spotify playlists for each book. I carefully curate those to express the energy of each book.
Readers are raving about the series like these 5 star amazon reviews of The Call of the Cards and We Divine Three:
"Absolutely Unique! Resonated so much!"
"Life-changing. I felt seen. I don't think I've had this experience with any other book."
"The metaphysical series I've been waiting for! I was hooked from the beginning and even found myself slowing down because I want it to last. The characters are so relatable and genuine, and the explanations of tarot readings and past life stories is spot on! I'm eagerly awaiting the next ones. Please please, Heather, keep writing."
Readers call it "Harry Potter for adults."
If you get a copy, please leave a book review on whatever platform you buy it on if you enjoy it. That really helps me out and can help get my book in front of more readers. And if you love it please also review it on good reads.
If you follow me on Instagram, you'll see updates on the book releases there. I have 2 instagram accounts My tarot and podcast account - healingthrutarot My author account heatherhardisonauthor
Watch the book trailer for The Divining Sisters Series
Time to pre-order the 2024 Writual Tarot Planner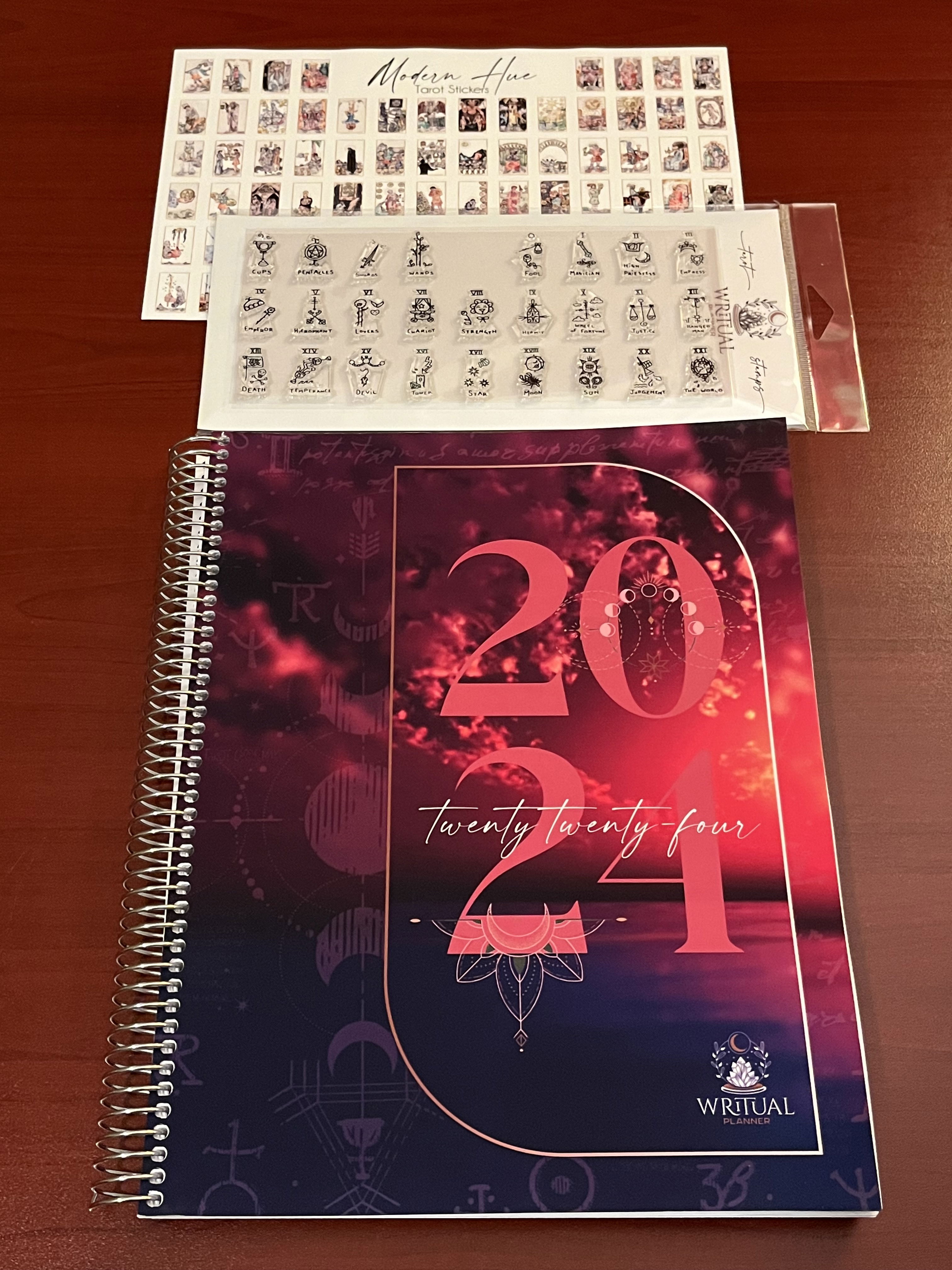 And it's that time of year when we need to order another tarot journal. It's out now! I always order a new Writual Tarot Planner around this time. If you want one before the new year, remember you can use my writual discount code at checkout. Use my Writual ambassador link here along with my discount code HEATHER (all caps), which gets you 15% off ALL your Writual purchases when you use that affiliate link and code. Writual has tarot stamps and stickers, dated and undated tarot journals and planners, including one for kids, tarot decks and tarot-themed mugs, candles, and jewelry so check them out using my link!
Healing Thru Tarot's Spread Ebook Line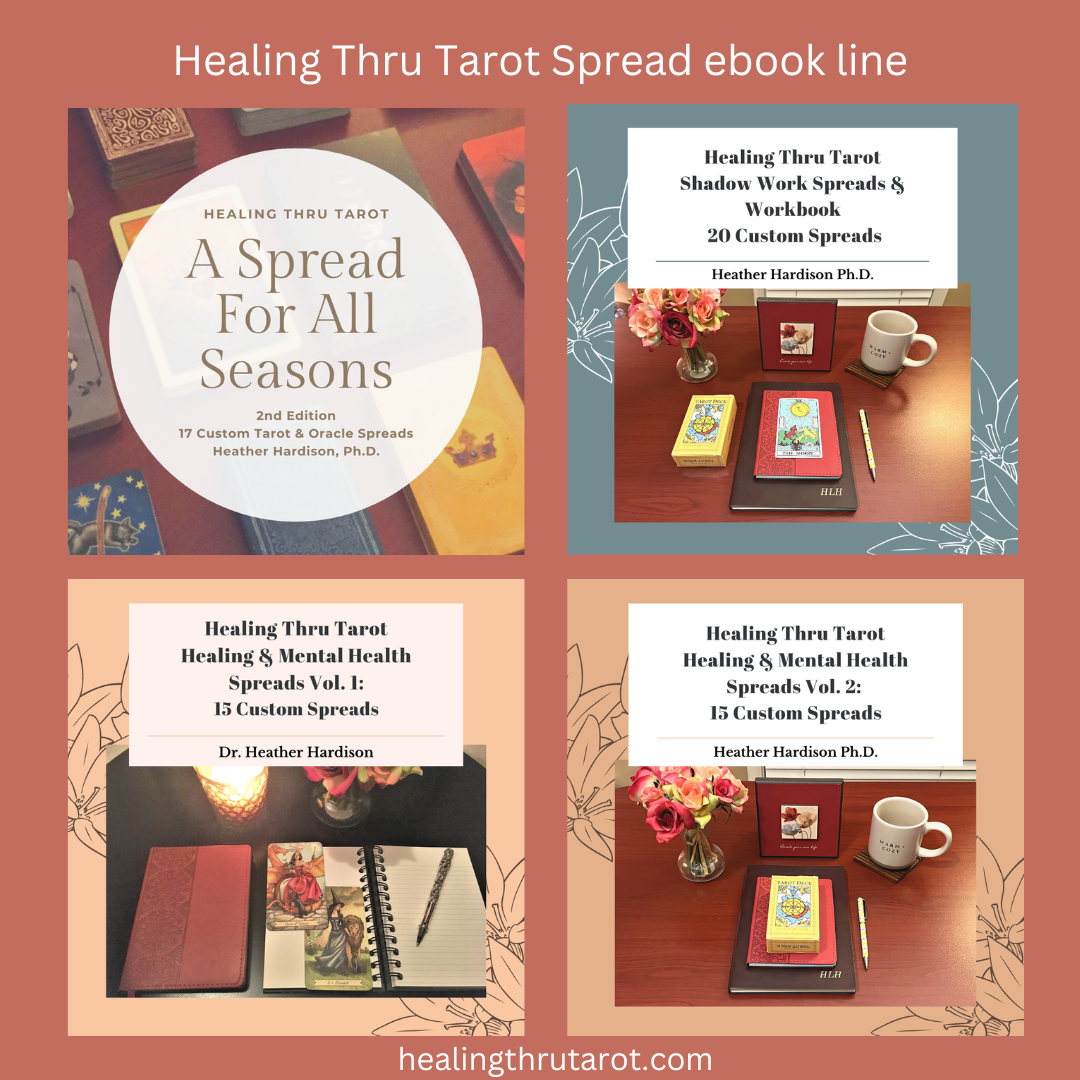 A Spread for All Seasons - 17 custom spreads
Healing and Mental Health Spreads Vol. 1 - 15 custom spreads
Healing and Mental Health Spreads Vol. 2- 15 9-card spreads
Shadow Work Spreads and Workbook - 20 spreads
* (Newest) Healing Thru Tarot's Life Path and Life Purpose spread ebook includes 15 custom spreads I've created to help you identify and align with your life path and sail to success. Spreads like the life path alignment spread, lightwork path guidance spread, conquering obstacles on my path spread, advice from my future self-spread and karmic healing path spread will help you position yourself to step into your full power and achieve the purpose you incarnated to fulfill. Plus many more spreads offering guidance and advice to get on path and stay on track. $12
Click here to purchase any of these spread ebooks
Listener Support
Are you enjoying the Healing Thru Tarot podcast and companion blog? If so, now you can gift me a coffee or two to kept me fueled as I pull all-nighters writing the scripts and recording all the episodes. Help me keep this content flowing by sparking my inspiration! Just click here to gift me a caffeine fix.