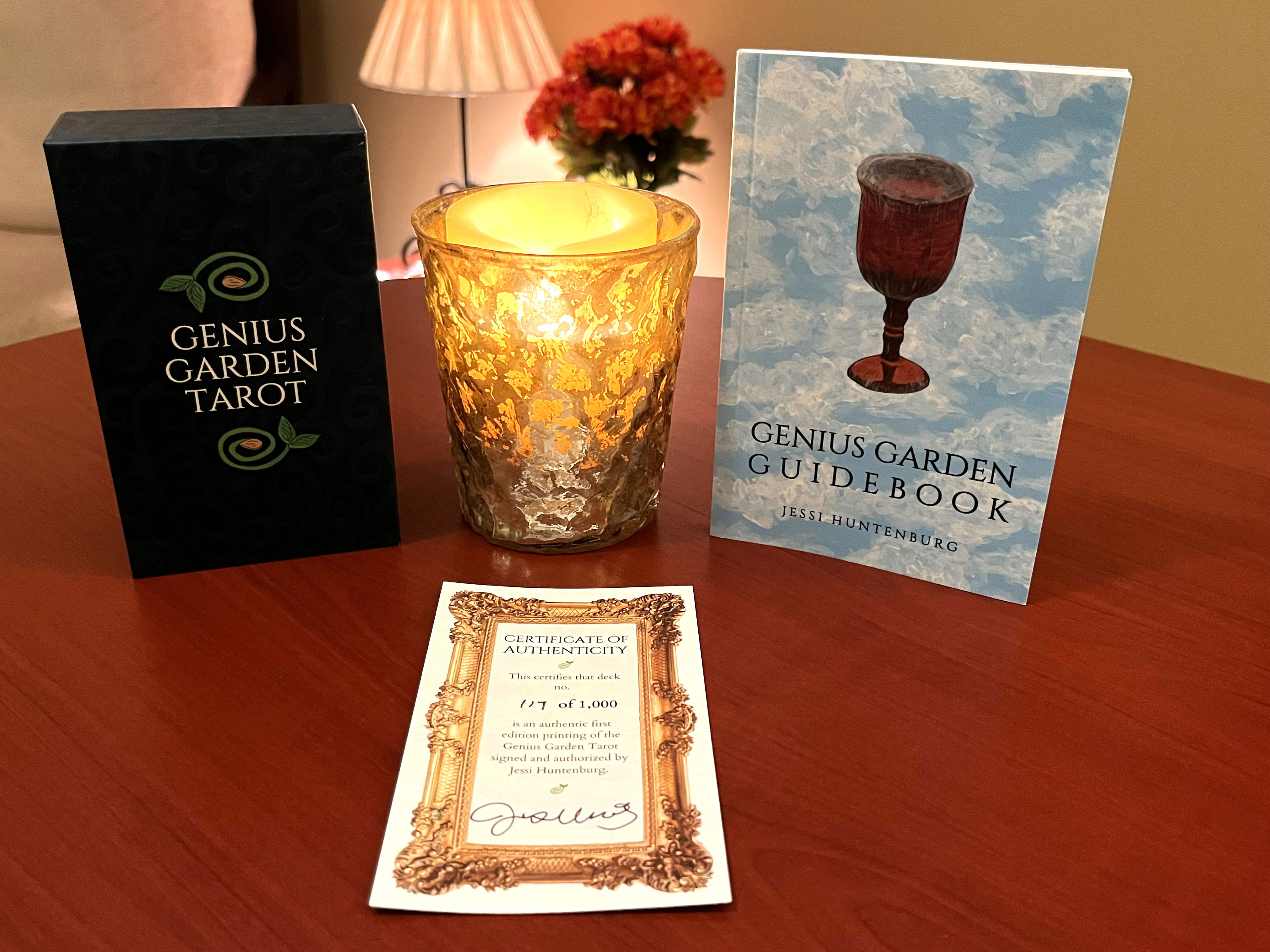 Jessi Huntenburg has created a stunningly beautiful new tarot deck called the Genius Garden Tarot. She sent over the deck for me to review and share with you and boy I'm so glad she did! Jessi hand-painted this gorgeous 78 card tarot deck in her attic studio, taking her time over the course of thirteen months so she could pour her soul and essence into these uniquely creative and evocative images where she aims to help card readers tap into their own creative genius and "cultivate an authentic, creative life."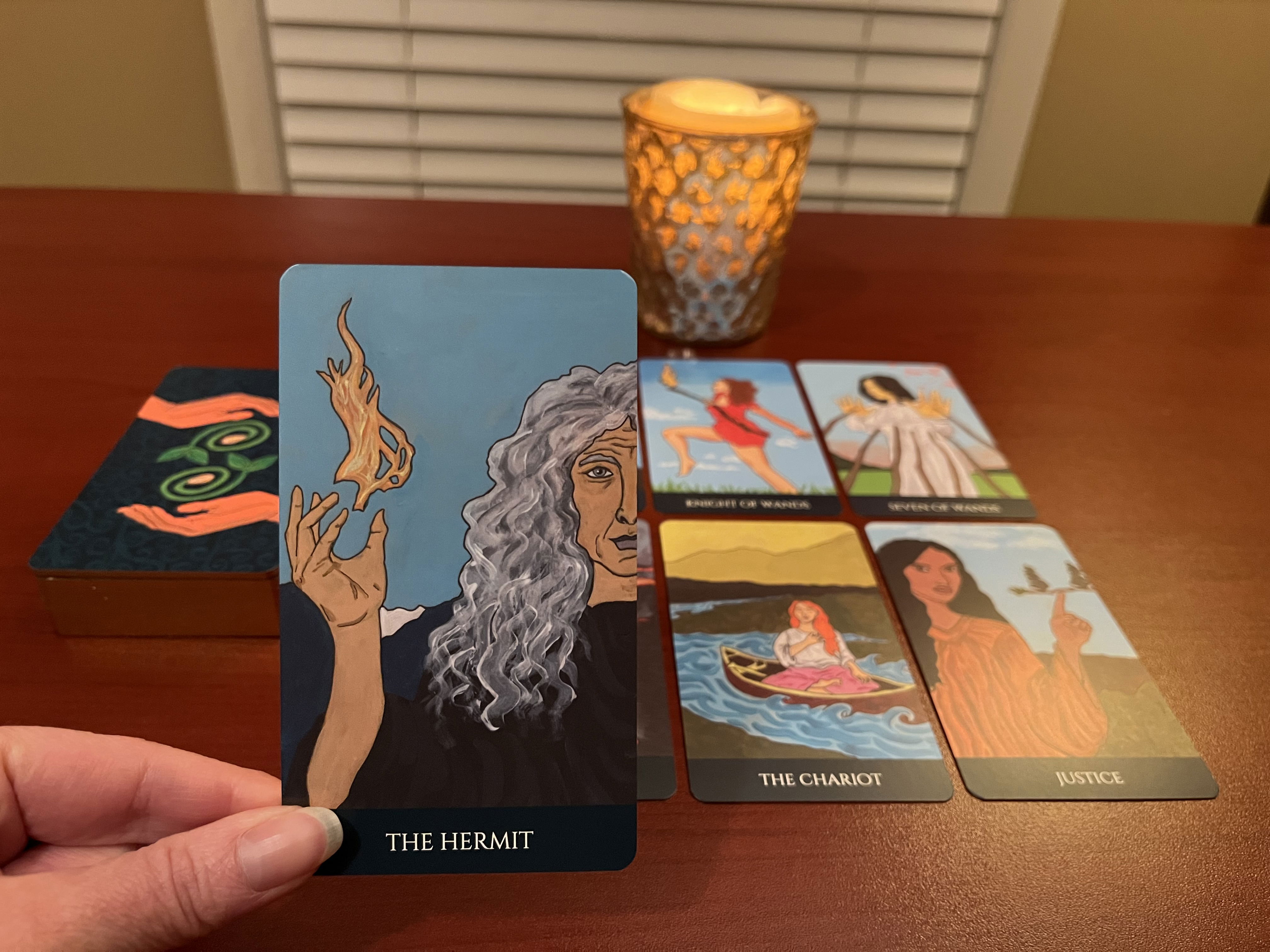 She describes her definition of "genius" as the unique spirit within, our higher self, that points us toward our highest creative potential. And the "genius garden" is the space from which we nurture our creations and express our authentic voice. Her vision for this deck was to create a tool to awaken and channel the creative divine spark that resides within.
"Each of us holds the power to sew and nurture the seeds of our truest becoming, and the Genius Garden Tarot is a tool we can use to awaken that power and infuse it into everything we do."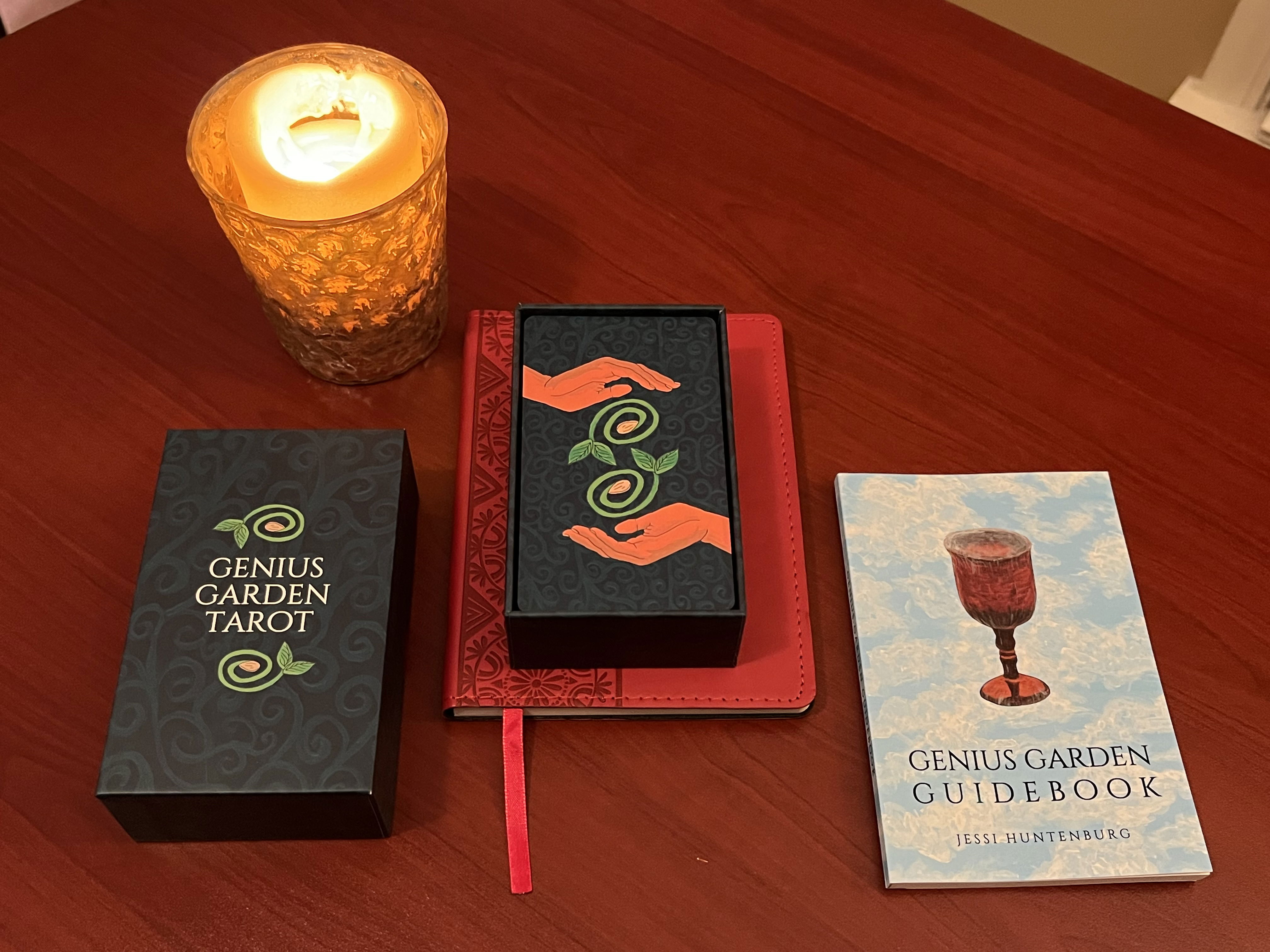 The hand drawn seedlings on the card backs (shown above) represent the emergence of life from the darkness, which perfectly describes the experience she had when this creation was born after struggling with the isolation from the pandemic coupled with the collapse of her business. In that trying time when she was searching for a way back to herself, something tugged at her core – the rumblings of a creation that yearned to be birthed into this world. And she listened to that inner calling. An thus, The Genius Garden Tarot was born. The two cupped hands represent the energy we give to everything we create. Jessi explains that this design "symbolizes the miracle of genius birth" in each individual.
Her story spoke to me because it's the exact same yearning I experienced when my book series, The Divining Sisters, first tapped me on the shoulder, begging to be written and released into the world.
This artistic indie deck is perfect for those who are currently struggling with connecting to their creative spark, those who feel blocked from expressing themselves fully, and those who want to connect with their higher spirit and creative muse in order to nurture the creations that are waiting to enter the physical world. She offers us 4 custom spreads to assist us in the process of conversing with our inner creative and learning to channel that creative flow including the Grow Your Garden Spread, Genius Reunion Spread, Genius Journey Spread, and The Creatrix Fire Spread.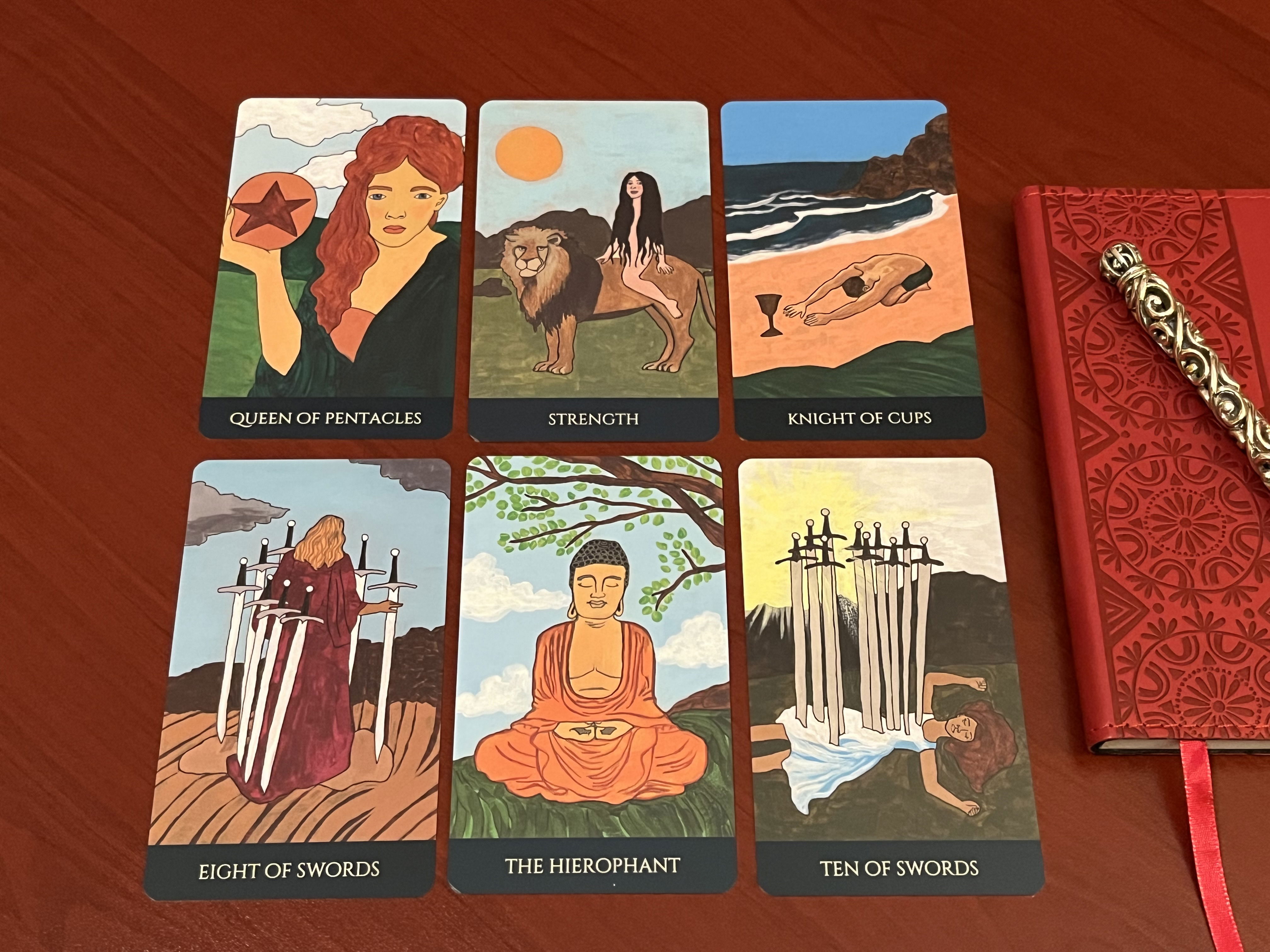 When describing her artistic process and approach to the creation of this unique and personal set of cards, Jessi explains that she "blended acrylic paints in primary colors to alchemize the deck's color palette, and I painted those colors on a tan mixed media board to add depth and texture to the illustrations. The choice to paint nearly every aspect of this offering was highly intentional—as technological advancements pull us further away from analog means of creation, and the soul-shaping process of 'hands in the clay' creativity is threatened. It's my personal belief that the process of creation is just as important as the product of creativity, and if we cede that process to algorithms, we lose vital opportunities for growth and self-discovery."
As you can see, these images offer a very warm invitation into the world of creation and inspire an influx of new ideas and the spark of passion and motivation to bring them to life.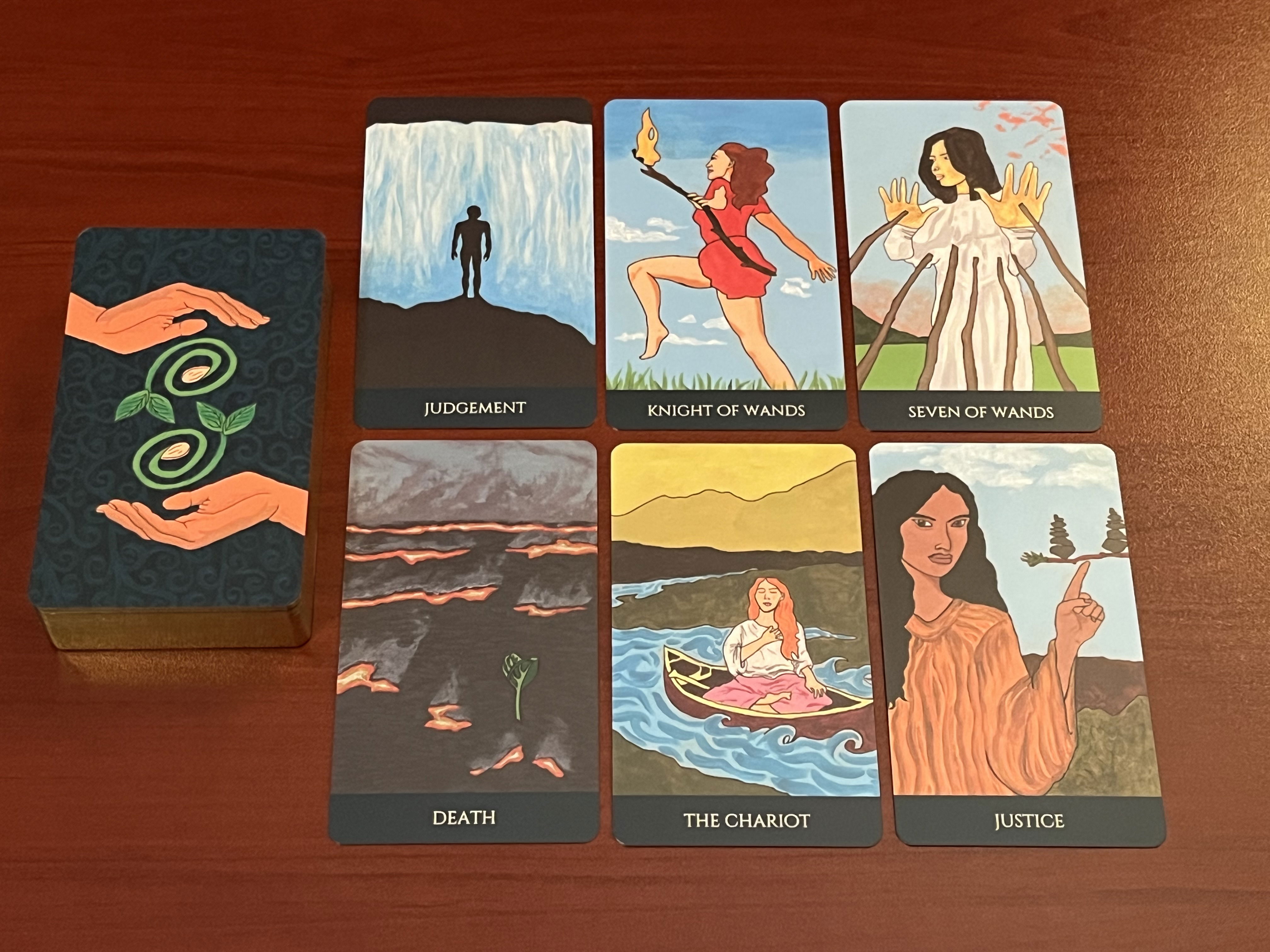 As a creator myself, I appreciate when artists intentionally and purposefully mold their creation with a specific vision in mind, especially when the motivation behind it is a healing one like Jessi's. I've taken one of her tarot courses, so I know that Jessi is a purpose-driven individual with a large heart and an immense creative well. She has a soothing, nurturing energy that helps all those around her to become the best version of themselves. I've watched her journey through her YouTube channel over the years, and her genuine and calming presence has been so vital to our tarot and spiritual community.
I'm so happy to see that she has a new creation to share with the world. I jumped at the chance to work with her deck and review it for you today because I knew her essence would come through clearly in the card images. She is usually the person that comes to mind when I think of modern examples of the witch archetype due to her nature loving, carefree spirit that's so clearly connected to her surroundings and fully aware of her own magic and personal power. And that all comes through so clearly with each brush stroke in these images.
She's inspired me in so many ways over the years through my own healing journey, and I know she will continue to inspire many tarot readers for decades to come with this unique creation. Her vision is truly an inspiring one. "I created the Genius Garden Tarot as a means through which its readers may activate and channel their distinct animating spark—that divine light within them that desires nothing more than free dynamic expression. Practicing the Genius Invocation Ritual included in the guidebook will help readers deepen their bond with the deck and generate subconscious associations of truth, openness, and authenticity. In other words, the ritual 'unlocks' the Genius within and lets it speak through the reader as they study and interpret the cards."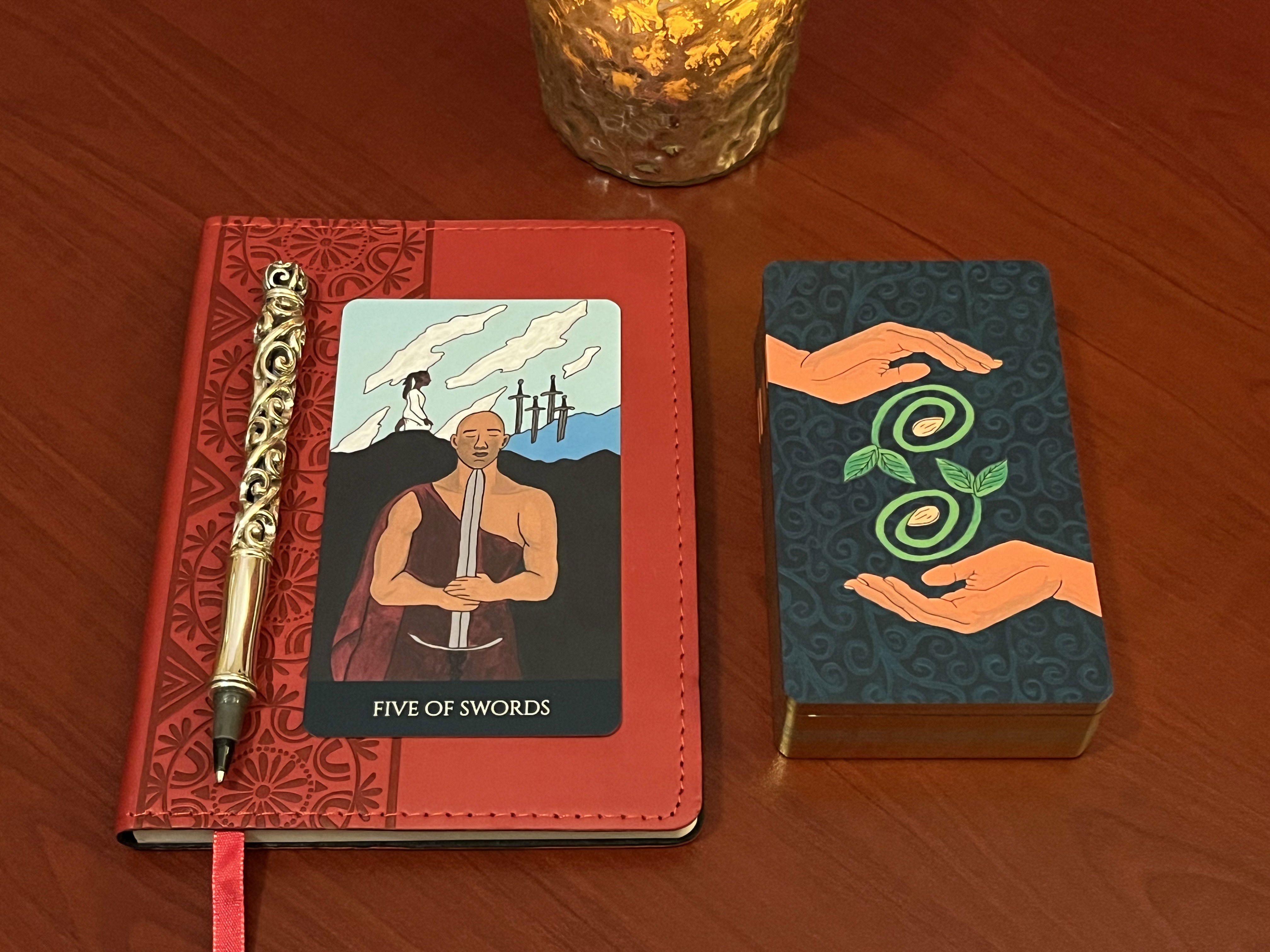 While the cards themselves do follow the Rider-Waite-Smith Tarot system, she has lent her own interpretation of the cards to help "highlight the strength and resiliency of the human spirit. For example, the Death card nurtures the first seedling of rebirth, and the Chariot card champions the idea of finding balance through surrender rather than willpower."
And I personally love the 5 of Swords depiction (shown above) that demonstrates the possible consequences of winning at all costs and how that could be to this figure's detriment, so it's worth contemplating that blowback before taking action that harms others, especially innocent people. This card's message is, "Is it worth it?"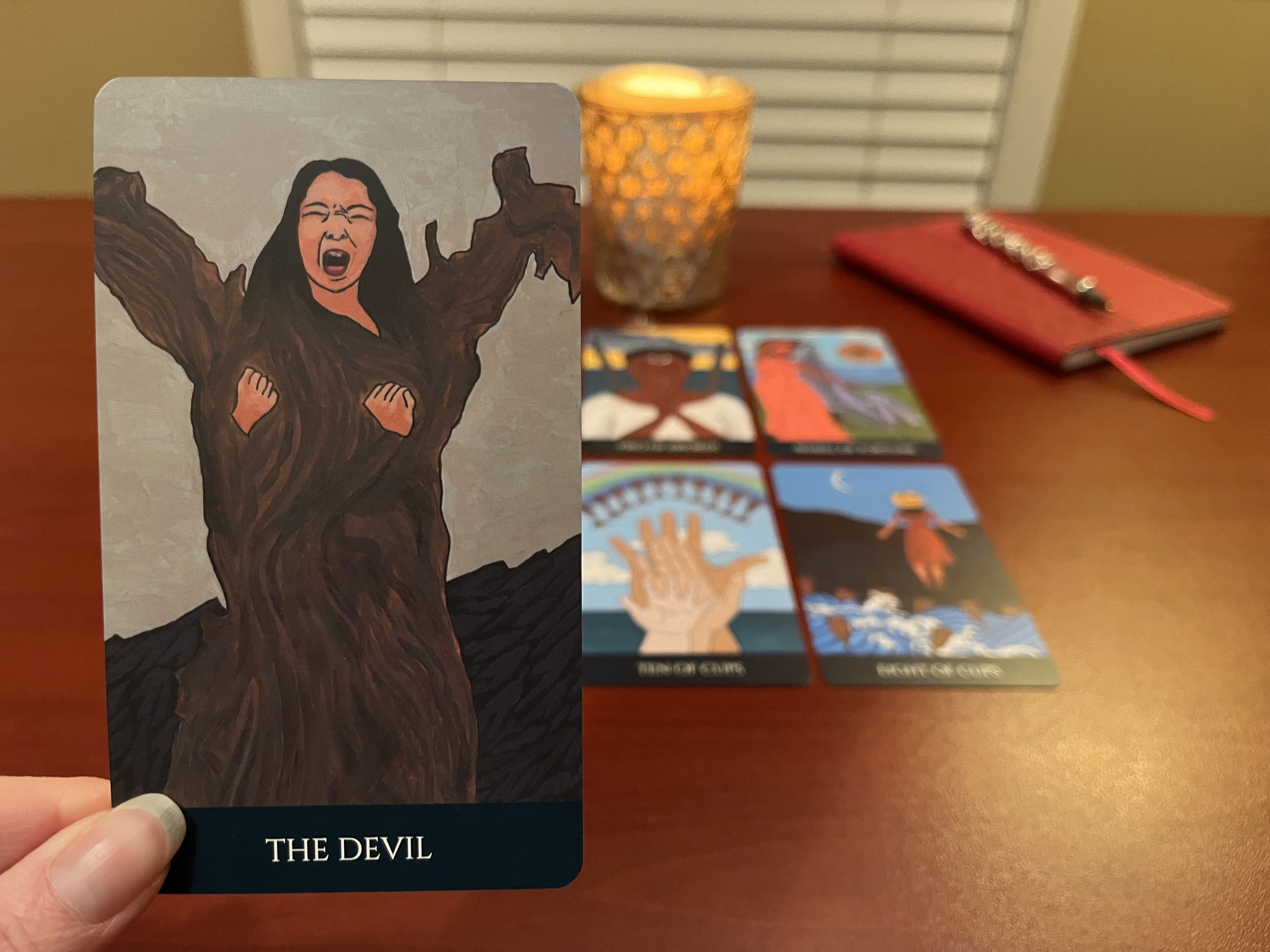 The use of negative space and simple imagery was intentional to help draw the reader into the world of this deck and to offer the reader the space for their own interpretations and messages to flow through as they connect with their own creative spark.
What does this simple version of the Devil card (shown above) say to you? To me, this card symbolizes the way we sabotage ourselves and trap ourselves in our own fears, shadow, and self-criticisms. This is how I feel when perfectionism hinders my progress. I'm always my worst enemy, and it can be such a struggle to not let that get the best of me and thwart my creative plans.
Simple imagery can be far more evocative at times because it can help tune out the clutter and help us focus on the intuitive messages coming in just for us in that moment. That's why every single spread is a unique, highly personal reading no matter how many times you throw the cards. It's one of the many reasons I fell madly in love with tarot. Sometimes busy decks have too much going on that blocks the flow of our stream of consciousness, which can be vital to the creative process.
I'm loving using this deck with my own writing process as I work on book 4 in my fictional divination series, The Divining Sisters. I tend to reach for unique and creative decks when throwing spreads for plotlines or for sparking my own inspiration for a character profile or storyline. I had been using the Dame Darcy Mermaid Tarot for years for this process and switched to the Genius Garden Tarot as soon as it arrived.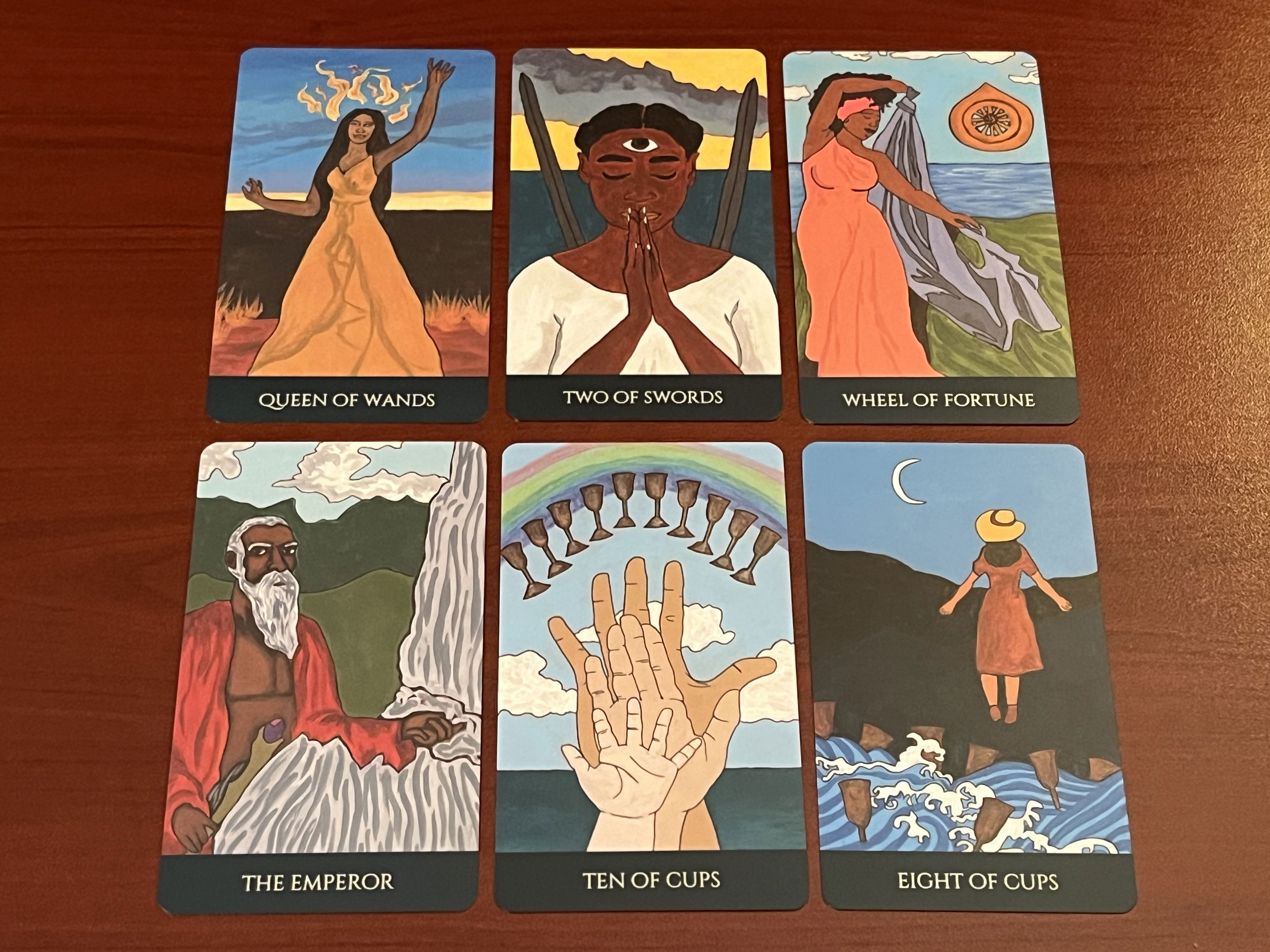 And I love how diverse this deck is as shown above. And she purposefully painted the Lovers card to be mysterious and ambiguous so that readers could interpret it in a way that best fits their preferences as shown below.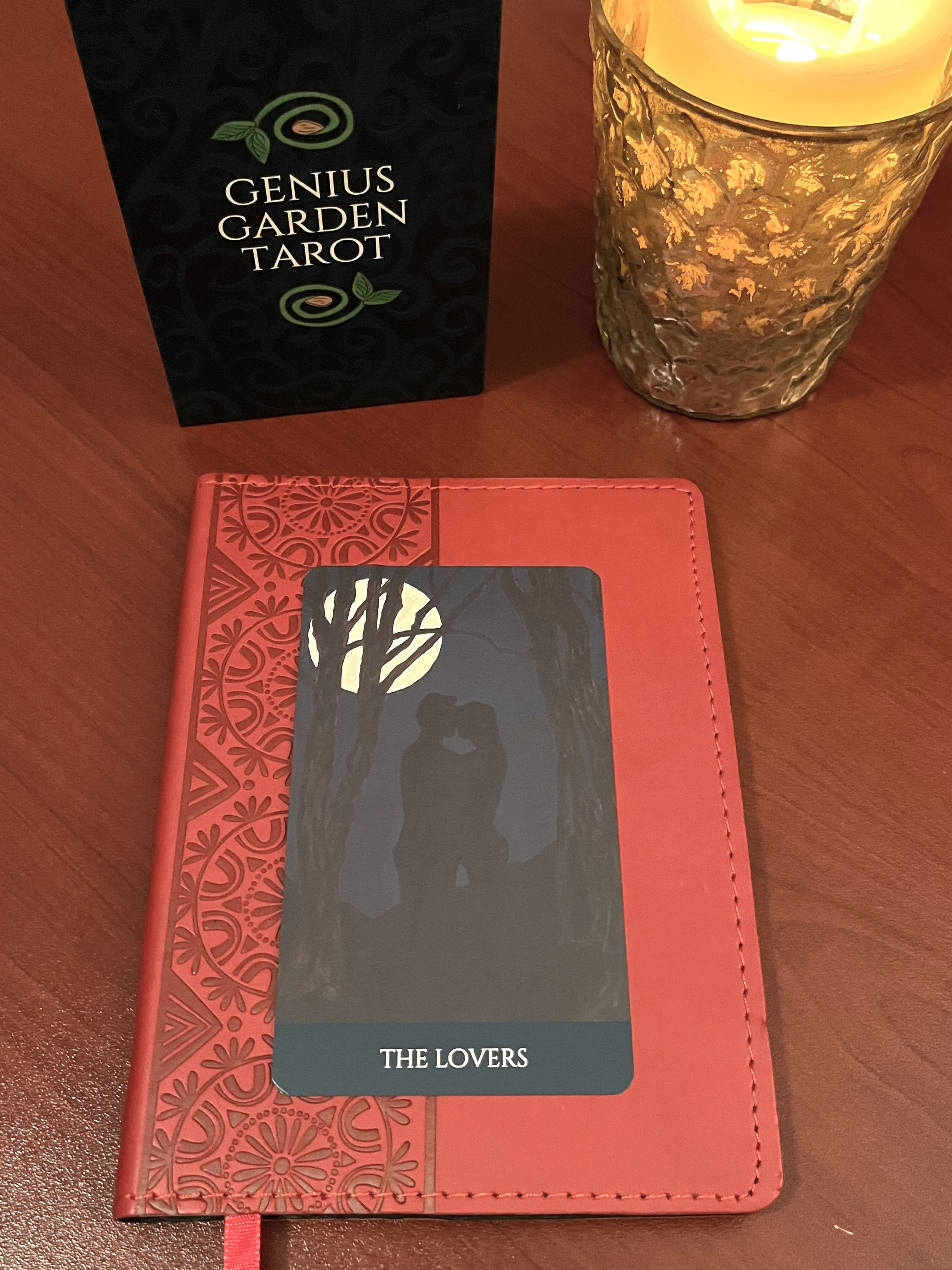 Let's Dive into the Guidebook
The guidebook includes thoughtful card meanings, descriptions, and interpretations. I've always enjoyed Jessi's point of view on the tarot meanings and her approach to the cards. She's an old soul who is wise and soulful. It's so clear to me that she's here at this moment in time to serve as a guide for those of us who want to walk a more intentional, connected path.
The guidebook includes an "Invocation of Genius" ritual, four original card spreads, and 78 empowering messages for each of the cards. "In many ways, the guidebook is its own oracle, offering insight, perspective, and calls to action rather than lengthy descriptions of traditional meanings."
To give you an idea of what the guidebook includes, here's the entry for the Fool. She provides this sneak peek on her website for us to get a taste of the voice of this deck.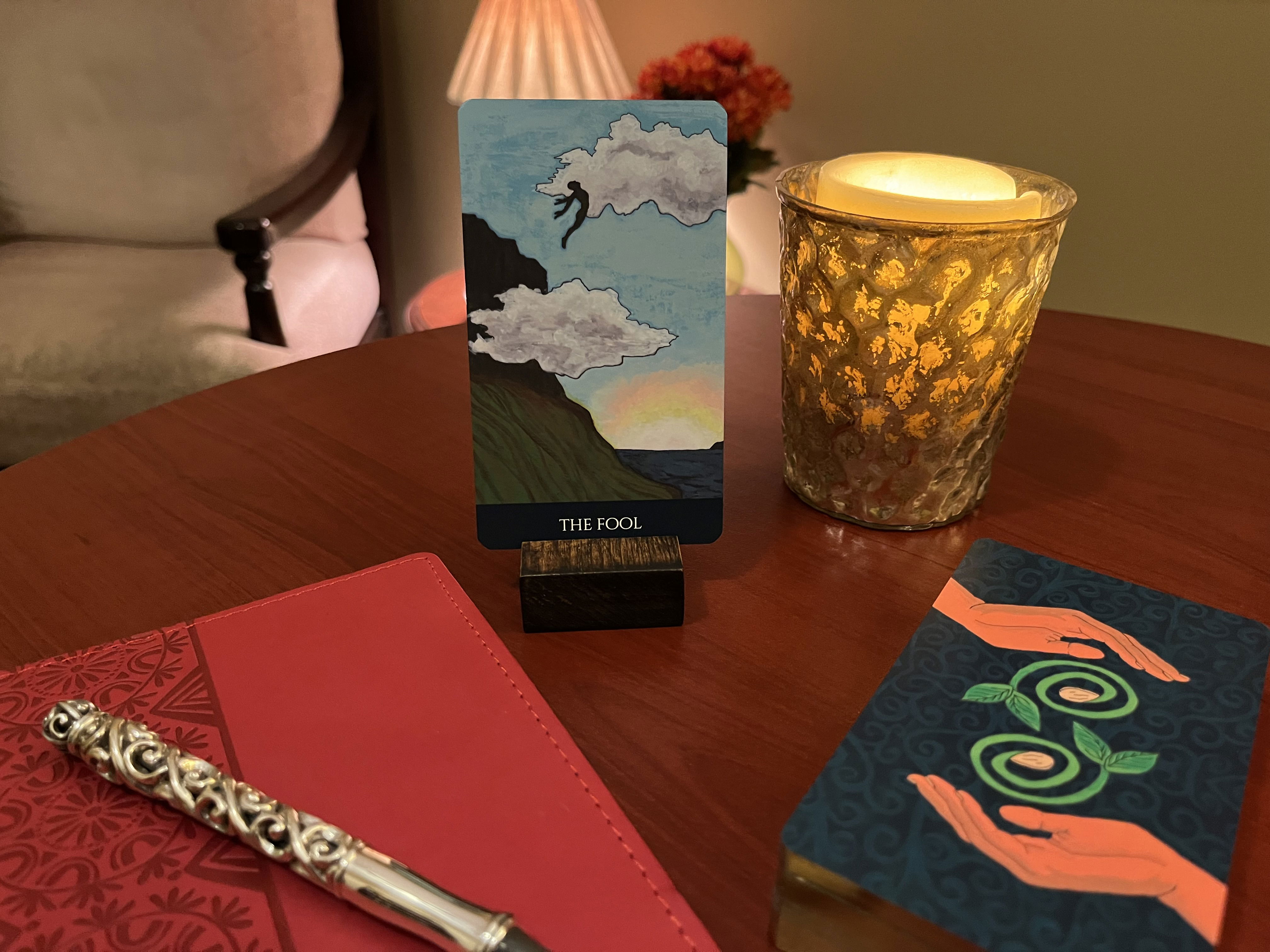 "A figure dauntlessly launches off of the edge of a cliff, head back and heart forward. They trust in the universe enough not to look down—they know they will land right where they are meant to. Each time they've encountered this precipice, they've backed away in fear and apprehension. Today is a new day, however. The hopeful glow of the rising sun emboldens them to run and leap with all of the enthusiasm they can muster. Faith and trust are the forces that keep them aloft.
The next step on your soul's journey is a leap, and it's waiting for you to take it. Dive into the vast unknown with strength and grace, Beauty. Be brave and meet your challenges head-on. There's a calling rising within you that won't be ignored, and the more you resist it, the louder it gets. The time to act is now, so leave off stalling and go for it!
Trust that you have everything you need to navigate the challenges in store. Trust in the guidance of your Genius, that divine inner light that animates and inspires you. And finally, trust in the inherent benevolence of the beautiful cosmic expanse—it will take you where you're meant to go."
She includes a journal prompt for every major arcana card. Here's the prompt for the Fool: What fears, uncertainties, or insecurities are holding you back? How might a "genius leap" silence them?
I don't think I've quite seen a Fool card like this, showcasing the eagerness to launch themselves off the cliff into the unknown. Most of the time we see the Fool approaching the cliff. Let's zoom in closer to check this card out.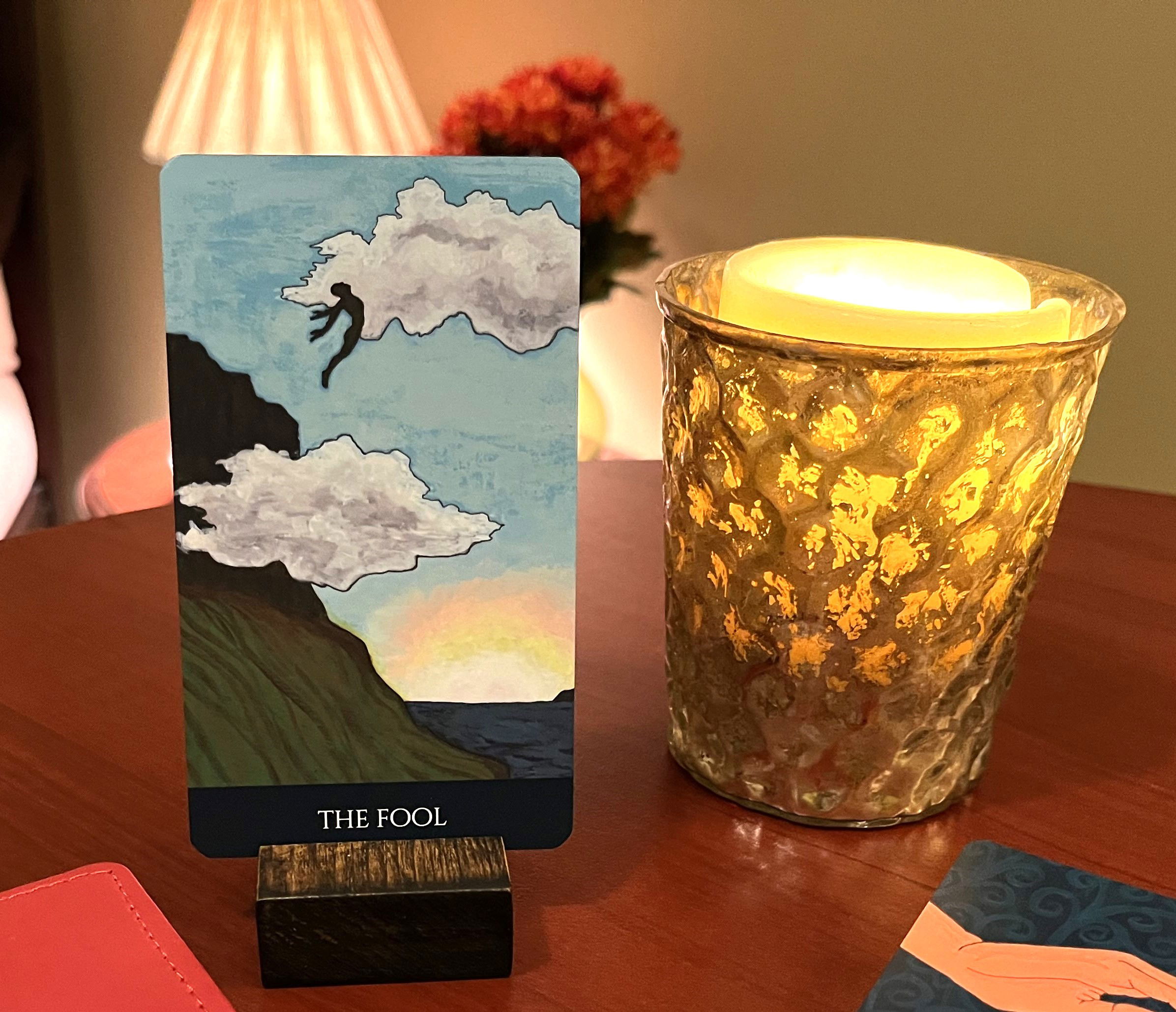 The only thing close to this image that comes to mind is the one from the Light Seers Tarot where the figure trust falls backward off the cliff into the water below. But this card captures the enthusiasm that the Fool experiences as they surrender to the sense of adventure that arises as they approach the start of their journey, trusting that not only will the universe catch them but also take them on an exhilarating journey that will be the time of their life.
Let's see what the deck has to say!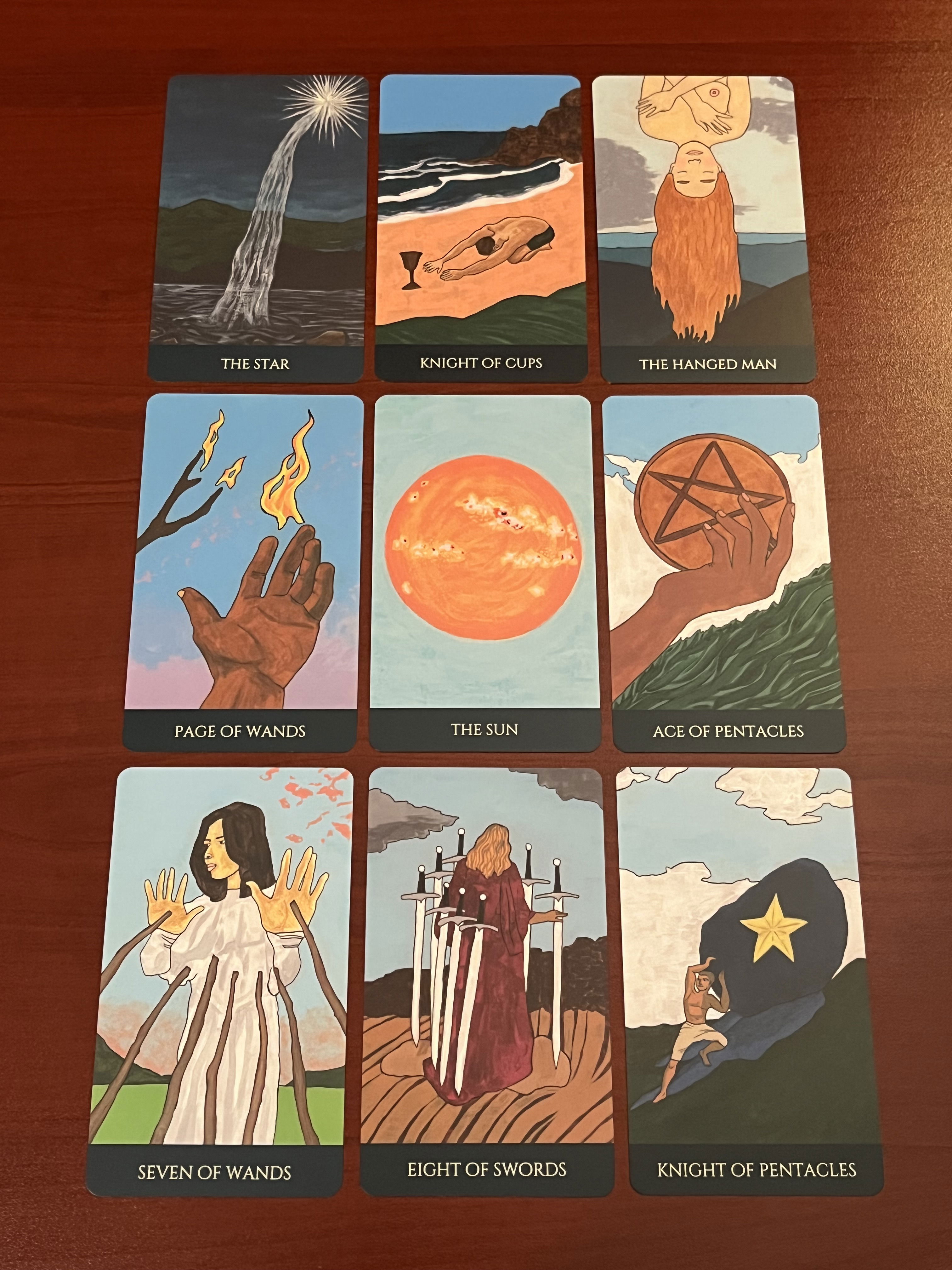 As soon as I had these cards in my hands, I felt called to pull a deck interview spread to connect with the voice of this deck and was thrilled to see the Star card come up right away for what this deck could tell me about itself — that it's an endless well of creative inspiration, hope, renewal, and guidance on my creative path. And 2 other major arcana cards showed up to send the message that this deck would offer a unique vantage point to help broaden my perspective (Hanged Man) and that it would teach me how to tap into my inner child and source of my greatest joy while leading to fulfillment and enthusiasm (The Sun). Together we can bring my creative visions to life in the physical world (Ace of Pentacles) while also helping me grow the most in areas where I've been self-restricted and blocked (8 of Swords). This reading made me even more excited about my relationship with these cards and my ability to tap into my inner creative and to nurture my own genius garden.
Below, I've provided that deck interview spread that I created to go along with Healing Thru Tarot Podcast Ep. 27 if you want to throw the spread yourself.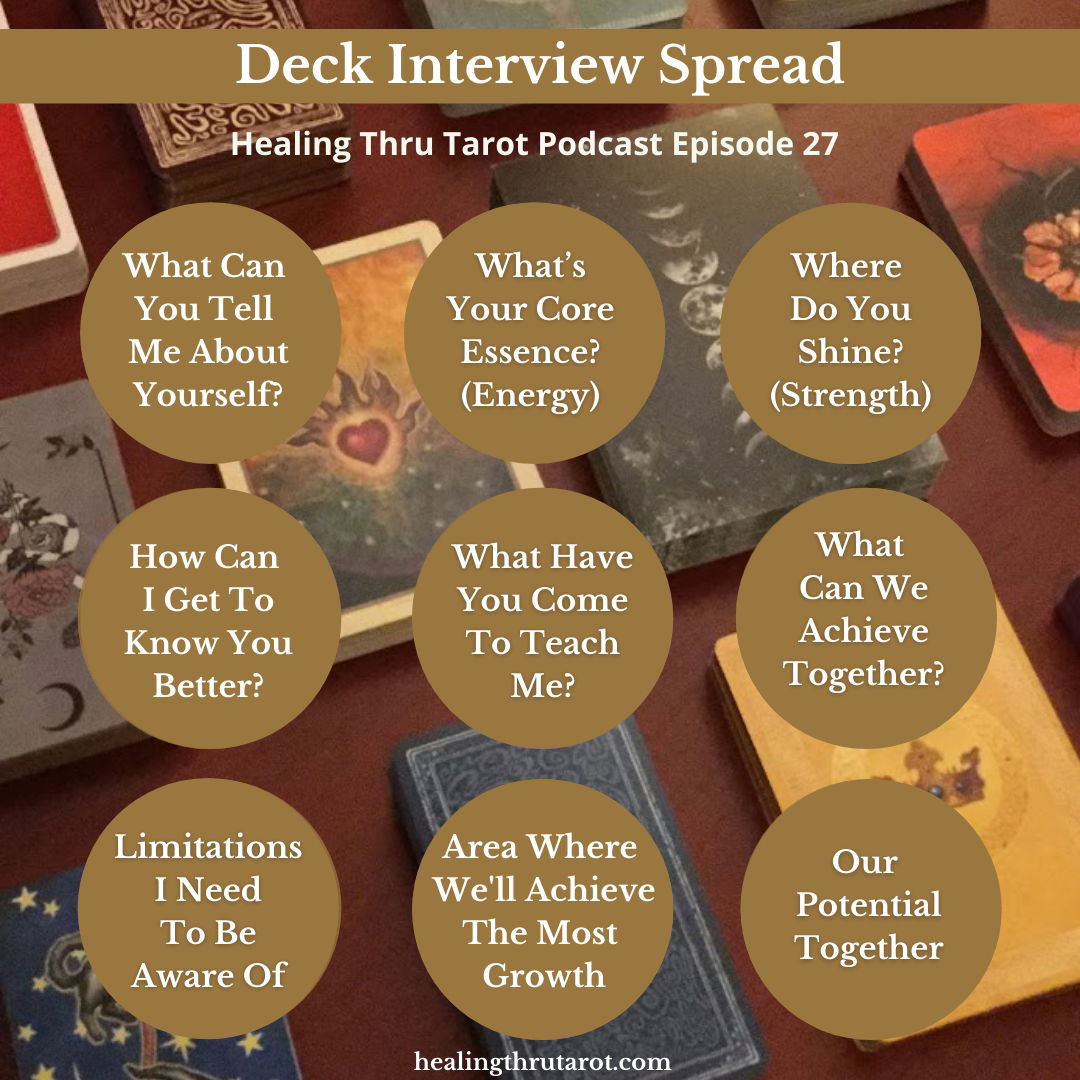 Deck Specifications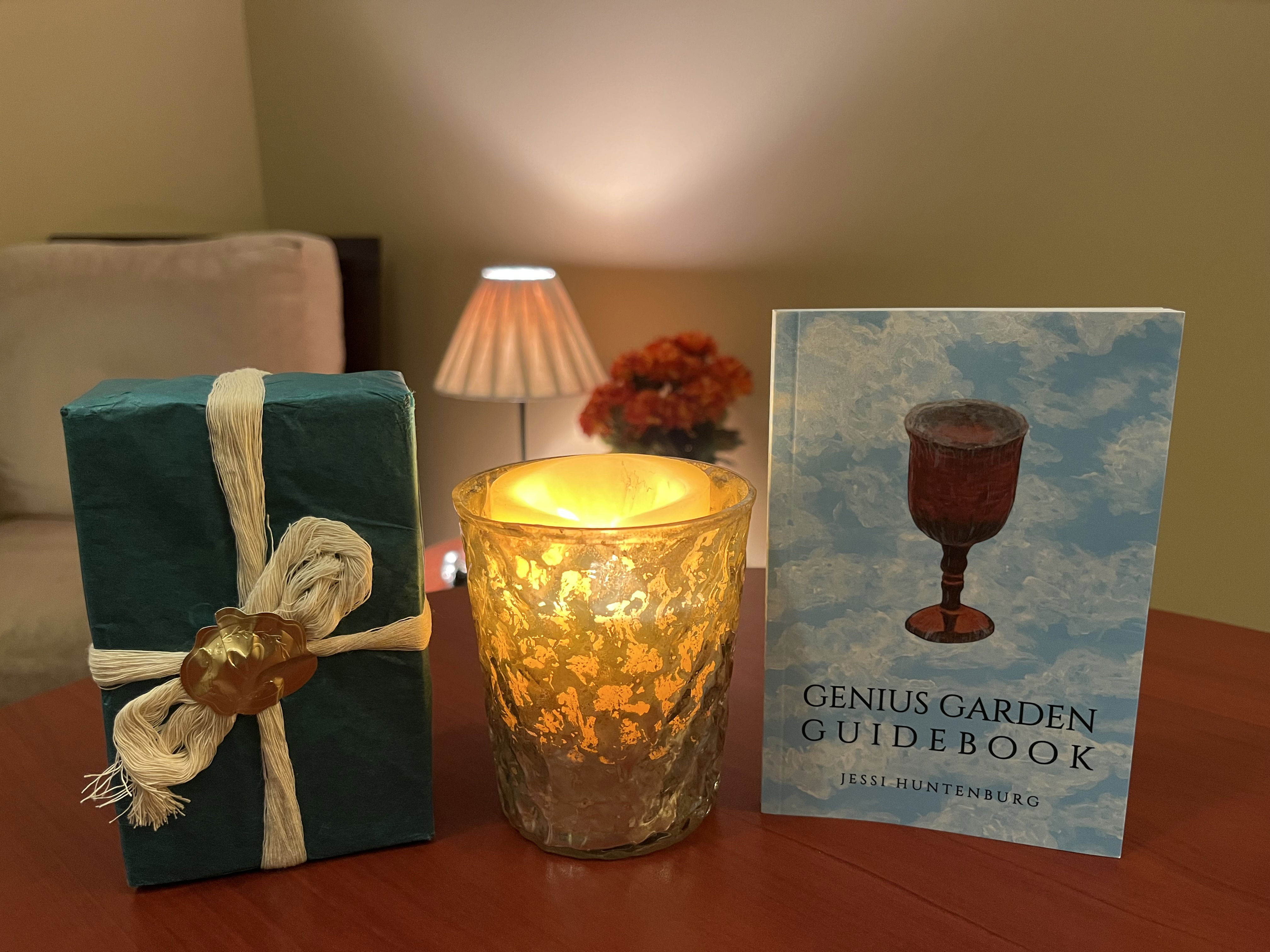 Available Now!
First of all it comes beautifully wrapped for a personal touch!
This deck has fully illustrated pip cards! Yay!! It's printed on 350 GSM card stock with uv matte finish and gold-gilded edging, which is stunning! And it shuffles beautifully.
It's accompanied by a 100-page guidebook, measuring 4″ x 6″
Card Measurements: 2.75″ x 4.75″ (70mm x 120 mm) and comes in a rigid 2-piece matte box
You may purchase the Genius Garden Tarot for $46 by visiting the shop at https://www.geniusgardentarot.com/ or by following this link: https://geniusgardentarot.com/product/pre-order-the-genius-garden-tarot-deck-guidebook/
Awaken your own genius now with this gorgeous, stunning deck with a truly unique voice and evocative spirit.
Also Check Out Jessi's Other Offerings
Definitely follow Jessi's journey and her tarot guidance that she offers generously on YouTube. That's where I first found her and fell in love with her carefree, witchy energy! I was particularly drawn in by her videos on using ritual in your daily life and how to carve out space in your life to connect authentically with your inner self. She models how we can nurture a connection with the natural world. Her witchy videos are especially captivating for me as her spirit just invites you in and inspires you to turn inward to hear the whispers of your soul. I've found her to be one of the most honest people I've discovered on social media. I always appreciate her courage to be vulnerable with us and to be raw in the midst of her journey that isn't always glamourous. Check out her YouTube channel below with this video where she unboxes the Genius Garden Tarot. She also provides monthly tarotscopes for each zodiac sign using this deck! Check those out monthly.
I can highly recommend her tarot course through the Tarot Reader's Academy called Ancestral Healing: A Tarot Journey with Jessi Huntenburg. I took it a few years ago and benefited greatly from it at a time when I needed to dive deeper into ancestral karma clearing and healing. In this very detailed tarot course, Jessi provides several spreads on ancestral healing, family patterns, forgiveness, and releasing.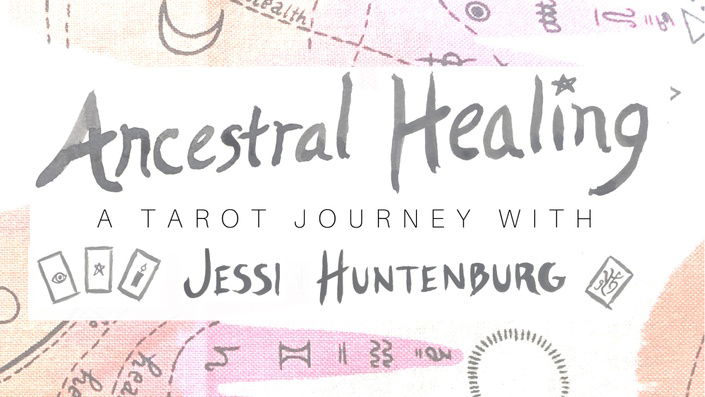 She walks you through exercises using the major and minor arcana to help you unearth root issues and patterns present in your family, and she provides numerous lessons to help you unpack how all of this has impacted you over your life. This course is very thorough and will keep you very engaged with her insightful exercises. She helps you create a tarot map of your family tree so you can understand your psycho-spiritual and genetic legacy on a macrocosmic level. I really enjoyed that process as well as assigning tarot cards to family events, cycles, and shadows/karma that have pass down through my lineage generationally. She then guides us through breaking toxic family cycles and releasing resentment against family members. And the class is so affordable at $40, cheaper than one tarot reading! Link to class here https://tarotreadersacademy.com/p/ancestral-healing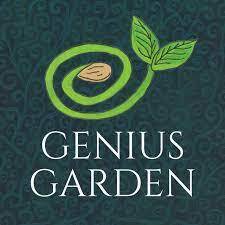 And if you aren't aware of her wonderful podcast, she hosts one called "Genius Garden with Jessi Huntenburg," dedicated to cultivating wellness, self-awareness, creativity, authenticity, and inner harmony. She focuses on how to live a healthy, happy life by channeling the creative divine that lives within us.
She also has a blog here https://geniusgardentarot.com/blog/
Her website: https://geniusgardentarot.com/
Thank you, Jessi, for all the guidance you've provided over the years for our community and congratulations on a truly divine and inspirational deck creation with stunning original art and heart. I'm so thankful you found your creative spark again through this project and created a tool to help nurture all of ours! Your journey never ceases to inspire me.
FTC Disclosure: In accordance with Title 16 of the U.S. Code of Federal Regulations Part 255, "Guides Concerning Use of Endorsements and Testimonials in Advertising," I received the Genius Garden Tarot from Jessi Huntenburg for prospective review. Everything I've said here is sincere and accurately reflects my opinion of this deck.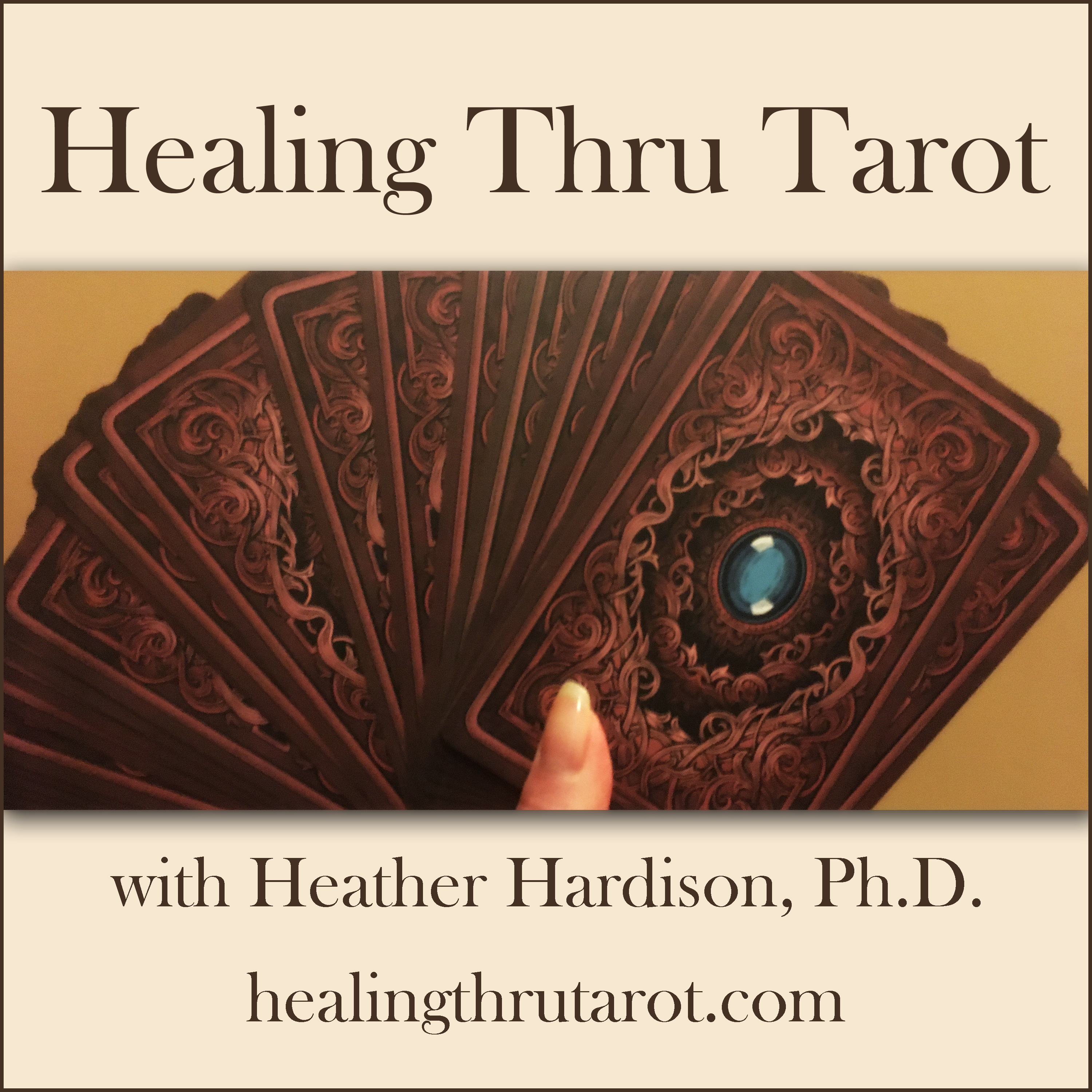 If you're looking for ways to use Tarot for creative projects, check out my Healing Thru Tarot Podcast Ep. 7: Using Tarot for Creative Projects like Writing + Custom Creativity Spread click here
New podcast episodes drop 9/25/23 - first up will be Ep. 47: Tarot for Writing, Story Development, and Nanowrimo + The Divining Sisters Book 3 Release and Excerpts
You can find Healing Thru Tarot on goodpods, apple podcasts, google podcasts, spotify, pocketcasts, pandora, amazon music, audible, overcast, breaker, radio public, and more.
The Divining Sisters Series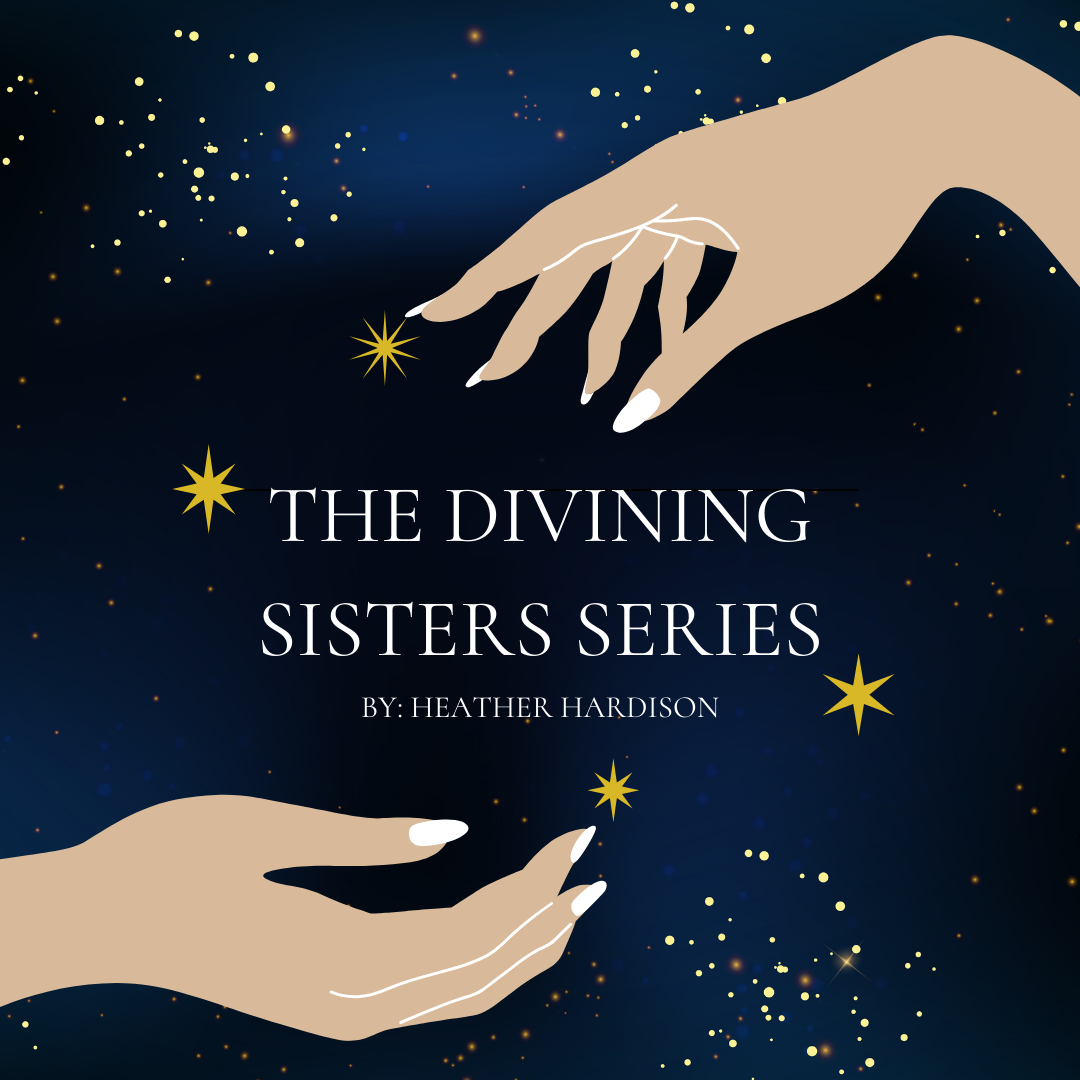 And if you're looking for a good witchy book for autumn, check out my book series, The Divining Sisters, which is perfect for this time of year. Book 1 in the series, The Call of the Cards is available now as an ebook $4.99 and paperback $14.99 on Amazon and Barnes and Noble. And the eBooks are also on Apple Books, Google Play, Kobo, Scribd, Smash words, and more.
Find out more details about my novels on my author website author.heatherhardison.com - where I post updates on book releases, book blurbs, quotes, book covers, links to purchase, and fun things like my witchy Spotify playlists for each book. I carefully curate those to express the energy of each book. Book 3 drops 9/26/23!!
Readers are raving about the series like this 5 star amazon review of The Call of the Cards "The metaphysical series I've been waiting for! I was hooked from the beginning and even find myself slowing down because I want it to last. The characters are so relatable and genuine, and the explanations of tarot readings and past life stories is spot on! I'm eagerly awaiting the next ones. Please please, Heather, keep writing."
5 star review on Google Play - "Harry Potter for adults!"
If you get a copy, please leave a book review on whatever platform you buy it on if you enjoy it. That really helps me out and can help get my book in front of more readers. And if you love it please also review it on good reads.
Buy Book 1 - The Call of the Cards here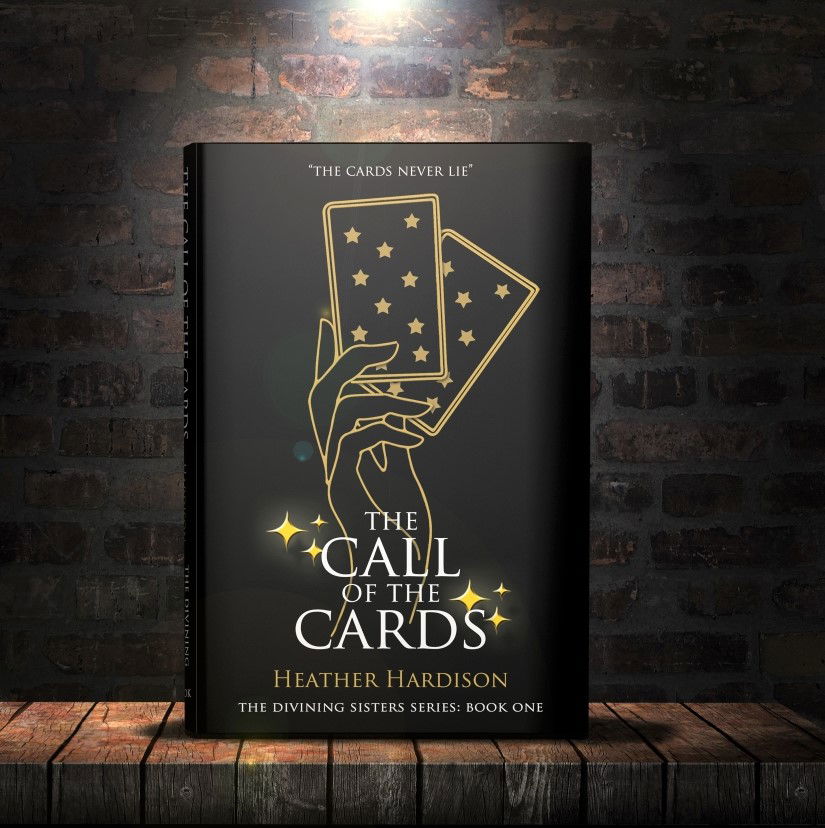 Buy Book 2 - We Divine Three here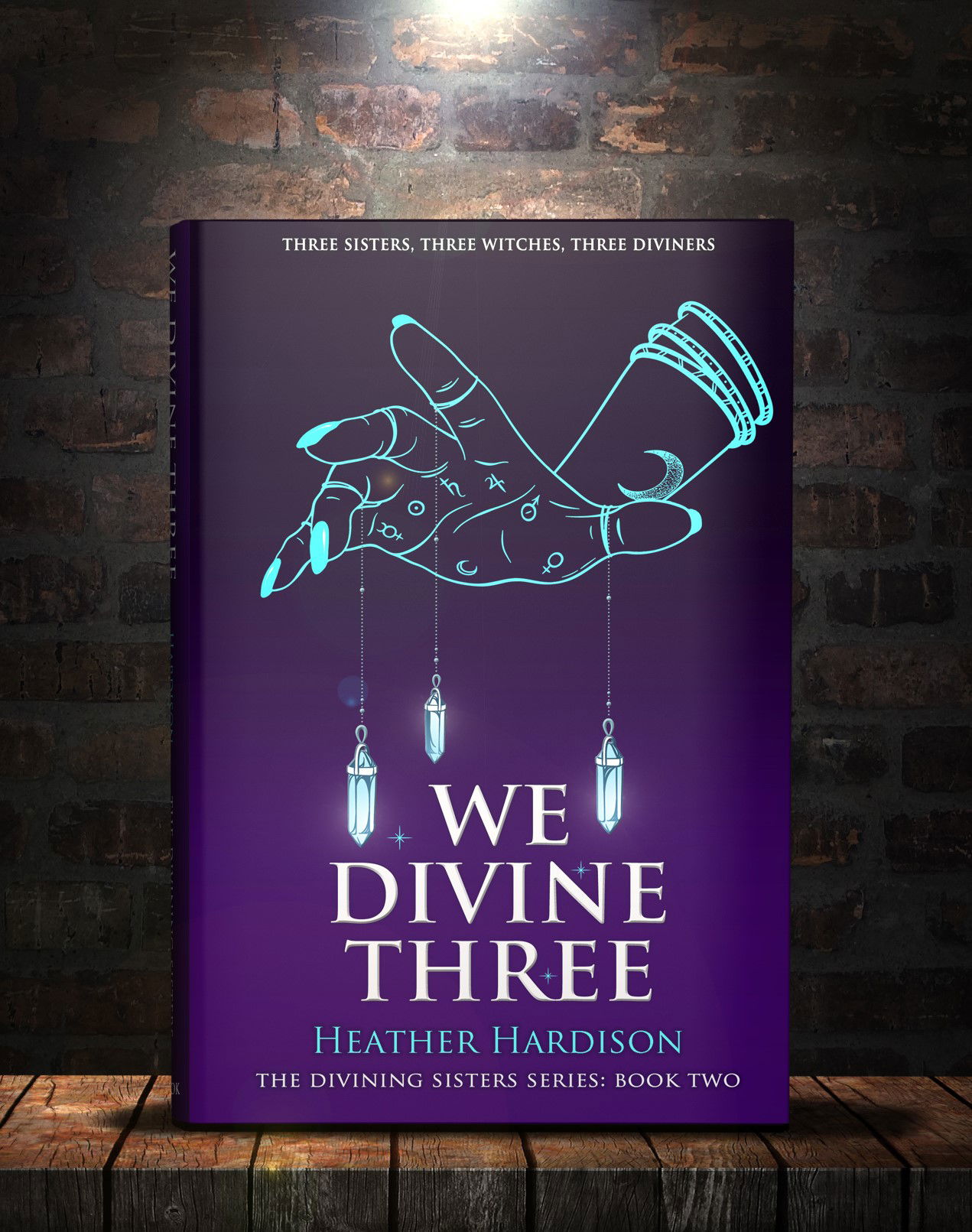 If you follow me on Instagram, you'll see updates on the book releases there. I have 2 instagram accounts My tarot and podcast account - healingthrutarot My author account heatherhardisonauthor
Time to pre-order the 2024 Writual Tarot Planner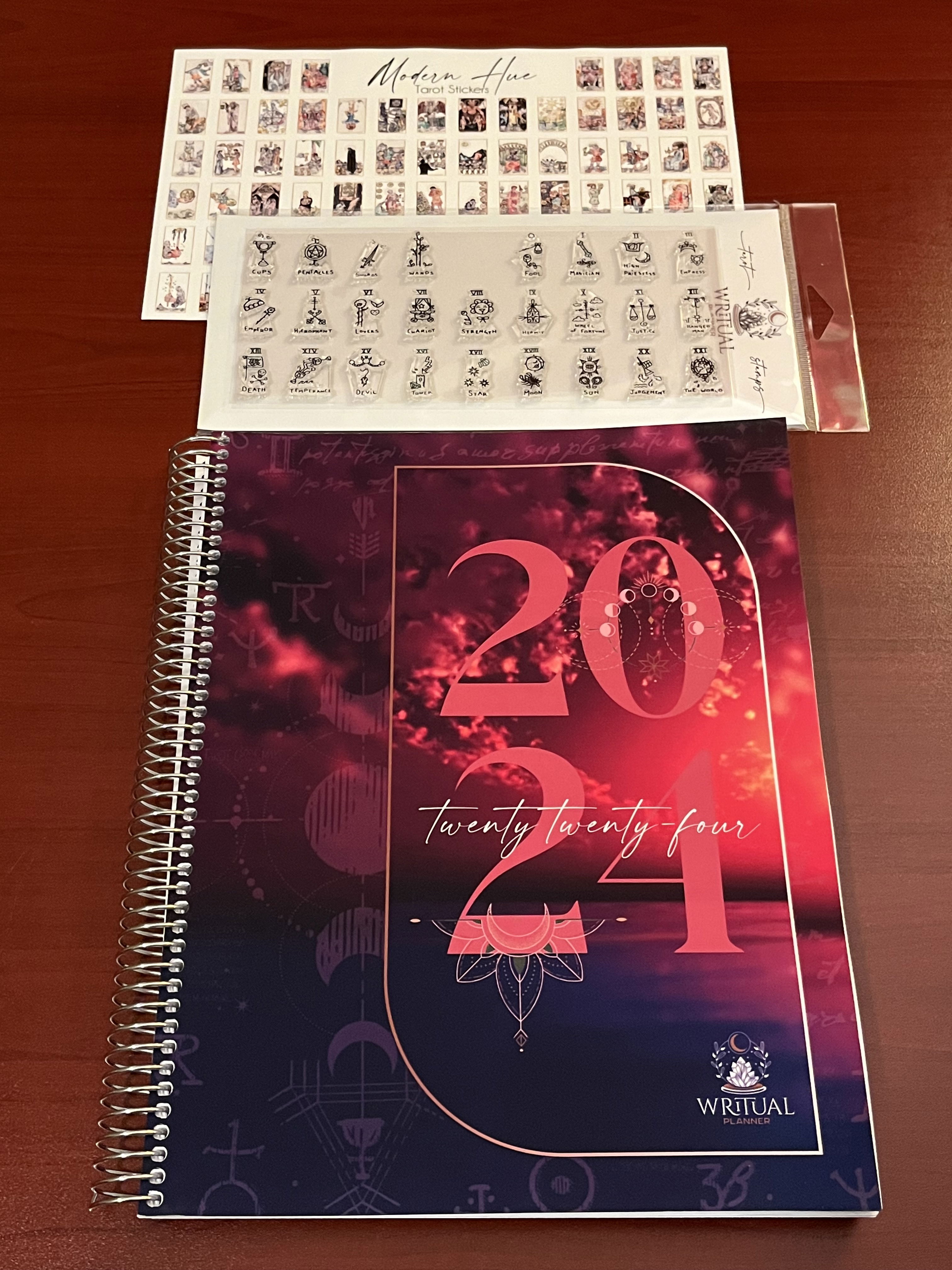 And it's that time of year when we need to order another tarot journal. Available to order! I always order a new Writual Tarot Planner around this time. If you want one before the new year, remember you can use my writual discount code at checkout. Use my Writual ambassador link here along with my discount code HEATHER (all caps), which gets you 15% off ALL your Writual purchases when you use that affiliate link and code. Writual has tarot stamps and stickers, dated and undated tarot journals and planners, including one for kids, tarot decks and tarot-themed mugs, candles, and jewelry so check them out using my link!
Healing Thru Tarot's Spread Ebook Line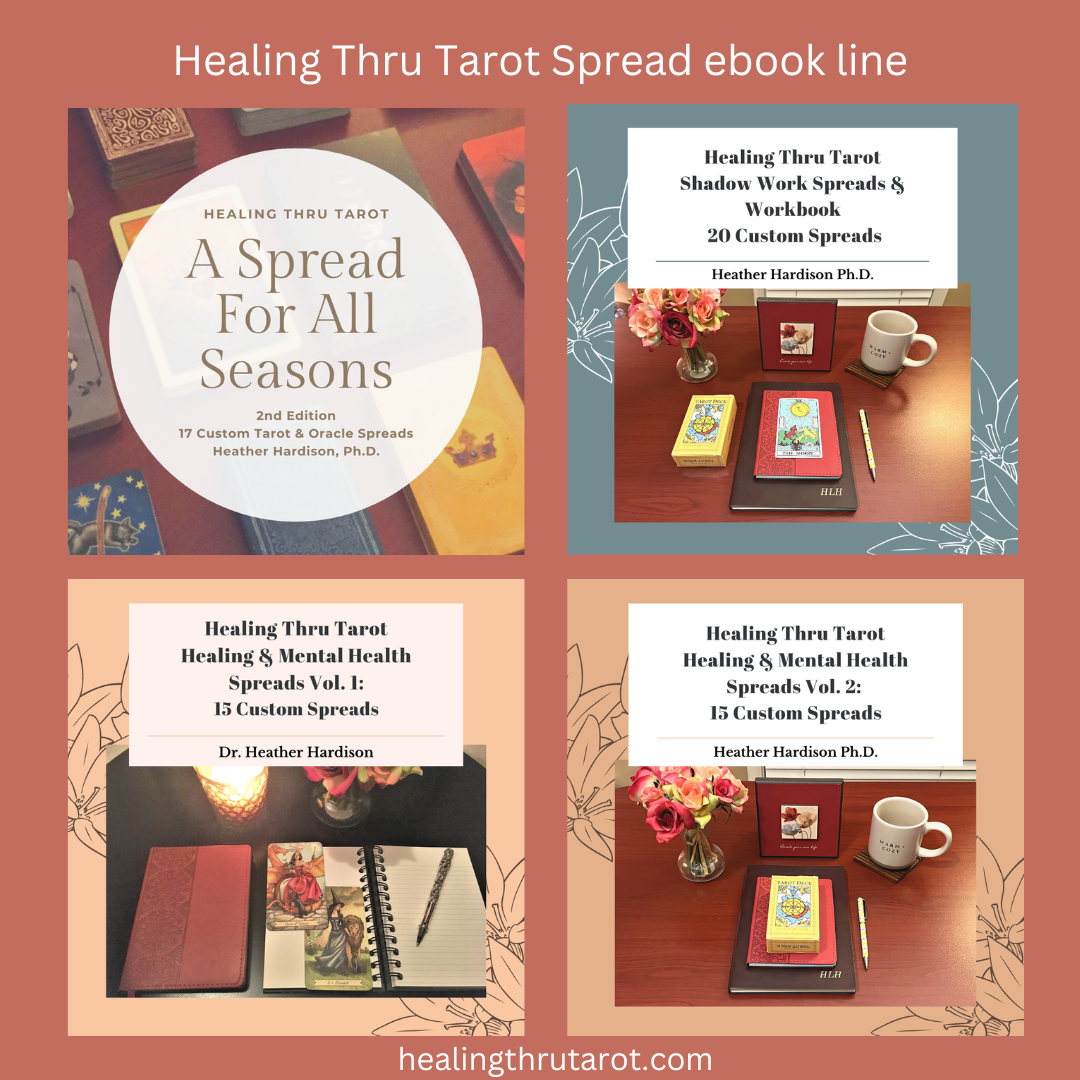 A Spread for All Seasons - 17 custom spreads
Healing and Mental Health Spreads Vol. 1 - 15 custom spreads
Healing and Mental Health Spreads Vol. 2- 15 9-card spreads
Shadow Work Spreads and Workbook - 20 spreads
Healing Thru Tarot's Life Path and Life Purpose spread ebook includes 15 custom spreads I've created to help you identify and align with your life path and sail to success. Spreads like the life path alignment spread, lightwork path guidance spread, conquering obstacles on my path spread, advice from my future self-spread and karmic healing path spread will help you position yourself to step into your full power and achieve the purpose you incarnated to fulfill. Plus many more spreads offering guidance and advice to get on path and stay on track. $12
Click here to purchase any of these spread ebooks