As we are nearing the end of 2020, I will be discussing Year Ahead Spreads and how to use them to get a peek into the next year's themes and energies. And I will cover how to calculate your personal tarot year card.
Every year I complete a Year Ahead Spread where I pull one tarot card for each month of the upcoming year. I think this is best done at the end of the year for the upcoming year, so I usually do it sometime in mid to late December. I usually pick my favorite tarot deck at that time to work with. Last year I used the Light Seers Tarot, and this year I used the Bonestone and Earthflesh Tarot.
When I start the reading I pull the tarot card out of the deck that represents my Personal Tarot Year Card of the year that is upcoming. I put that in the middle of the surface I am working on. I will talk more in detail about how to calculate your Tarot Year Card toward the end of the blog so that you can calculate yours for next year.
I will shuffle the deck while centering myself and thinking about the question in mind, which for this type of reading would be "what will the energy and themes of each month be like for me in the next year?" I start with January and work my way through each month of the year. I shuffle between each card pick to get my card for the month. Some readers may shuffle then pull off the top 12 cards of the deck. Use whatever method feels natural for you.
So to start, I focus on January and shuffle the cards until I feel ready to pull a card, or I take jumpers if they fly out. I do this process for all 12 months. I place the cards in a clockwise fashion and start with January at the 1 o'clock position and go all the way through December. When I finish pulling the cards for all the months I then pull a card for the overall energy for the next year for myself. So now in the middle of my circle I have my Tarot Year Card and the card I pulled for the energy of the year.
Personally, I love to mix tarot and oracle together, so I then choose whatever oracle deck I want to use for the year, and I pull 4 cards. 1 card for each season. I place each seasonal card near the 3 tarot cards that represent those months. So, for Fall I place the fall oracle card next to the tarot cards for September, October and November. This way I can easily identify patterns of themes or energies playing out during those months.
My 2021 Year Ahead Spread with The Bonestone and Earthflesh Tarot and Oracle of Echoes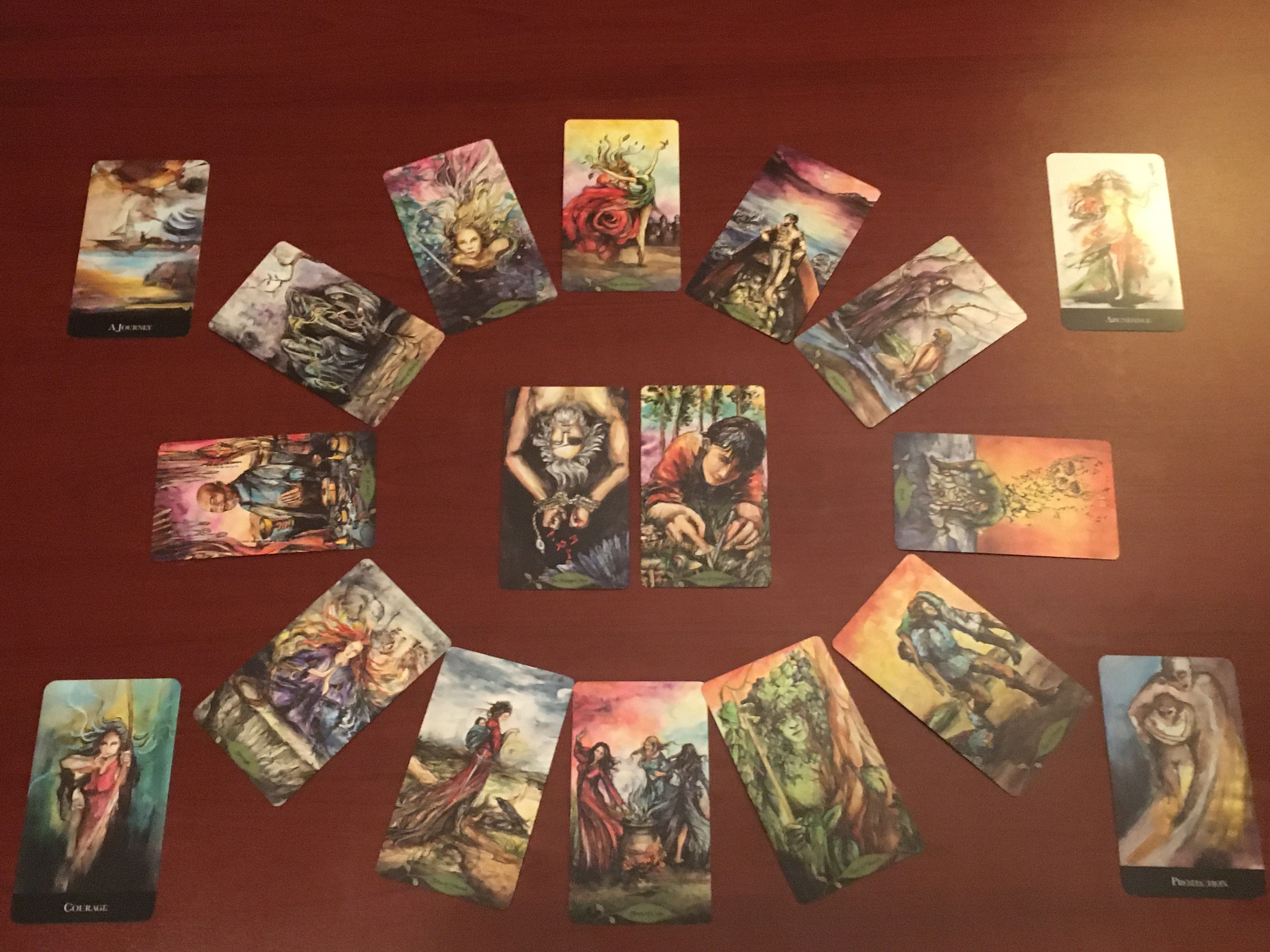 Now after the cards are all pulled and arranged in front of you, take some time to review all of the cards you pulled for each month plus your oracle cards. When looking at the cards you have pulled for the year look at the suits that are most present. What does that mean to you? Are any suits missing? This could be important information for the next year.
How many major arcana cards are present? If you pull 3 or more major arcana for the year that would be an active year. If you pull 5 or more it signifies important life lessons that will unfold over the year that could be creating significant changes in your life. I would also suggest at that point to look at the astrology of that particular year and look at your birth chart because really active years could be due to planetary transits or a Saturn return.
Next look at the minor arcana cards. Check to see if any numbered cards are coming up more than once. Last year I had three 7's within my minor arcana and the year before I had four 8's – look at the major arcana too when considering patterns with numbers.
Which court cards came up? Are there mostly pages, knights, queens, or kings? Are there any court cards not present? Such as all pages and no queens or kings. Pages would signify beginnings, knights could symbolize action, queens could show you which areas you will be nurturing over the year, and kings could be mastering certain skills or leading in certain areas.
Assess which time periods over the next year might represent struggles, challenges, and obstacles. This helps you prepare for what may be coming your way over the next year. Mark these down on your calendar so you can watch out for these challenges and take action. My main reason for pulling cards for the year ahead is to get a head's up for what I will face so that I can make plans and be proactive. Things are not set in stone unless they are truly fated, so I always go into this type of reading knowing that energies and events could shift throughout the year and change from what I pulled. If I see the Tower or 5 of Pentacles, I am going to make a plan to avoid those events, if possible.
I take a photo of this Year Ahead Spread and look back at this all year. I am always checking in to see which card I pulled for that month. I also write down in my planner the tarot card for the month that I pulled, and I do the same for the oracle card of the season. This way this reading continues to work for me all year. I love checking in to see how accurate the cards are. The spreads from the past few years have been very accurate.
I also check back at the end of the year to review how things played out and to see if I learned all the messages from the year and how I handled all of the energies of the year. This is my favorite reading to do. I am a life path 4, so I love planning ahead and seeing what is coming my way. It lessens my anxiety to know that I get a glimpse around the corner.
When I pull my planner out for the year to add all of these card pulls, I also take the time to write in the dates for all the new moons and full moons and all the mercury retrograde dates, as I find those to be significant times throughout the year. Also, note any eclipses or planetary retrogrades that are significant in your chart if you read astrology. I am including my 2020 Year Ahead Spread below using the Light Seers Tarot. In the center of the spread I have my Tarot Year card for that year along with the card I pulled for the overall energy of 2020 for me. Below that is a photo of my 2019 Year Ahead Spread including 4 oracle cards - 1 for each season using the Oracle of Echoes. The tarot deck is the Everyday Witch Tarot.
My 2020 Year Ahead Spread
Light Seers Tarot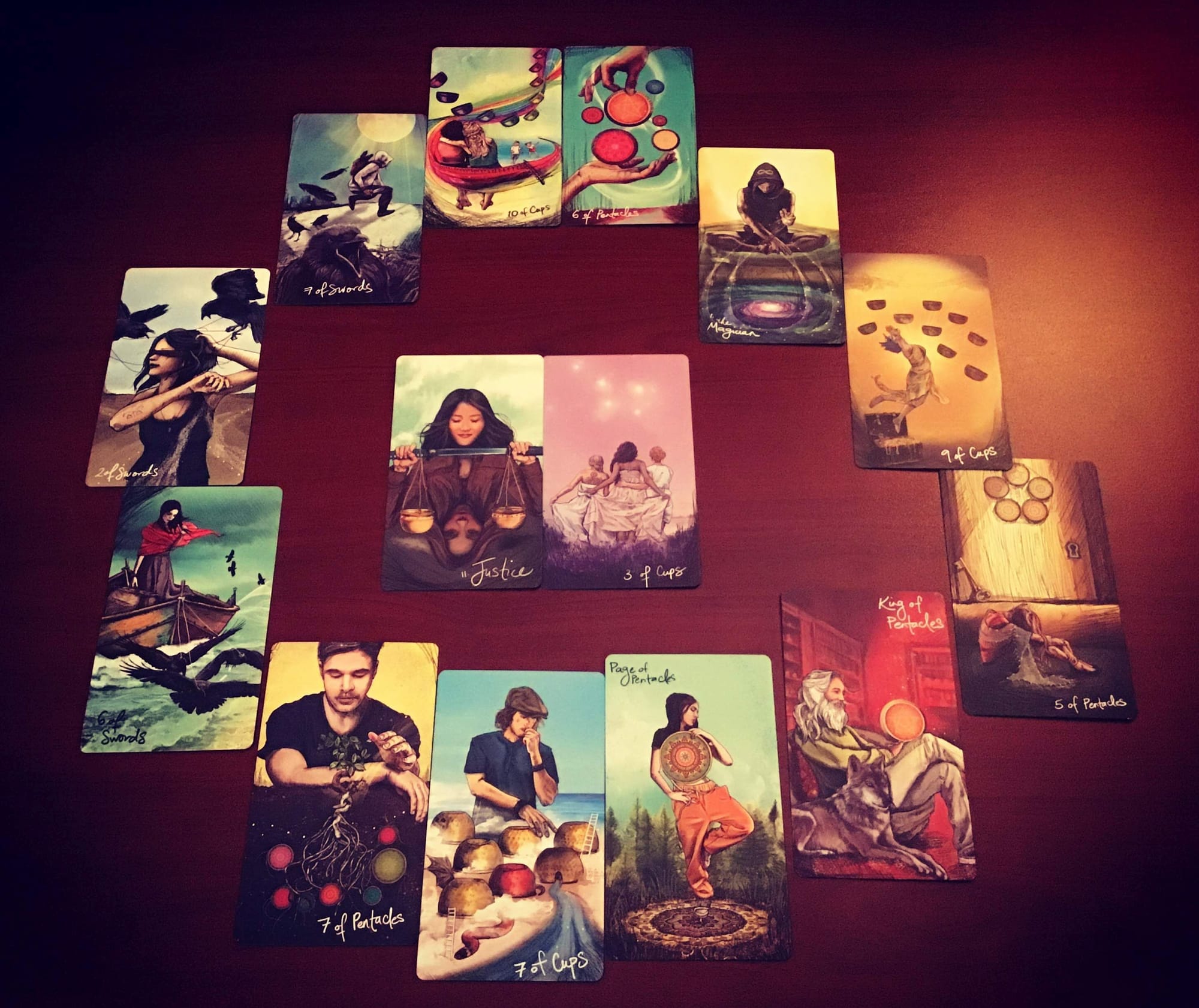 My 2019 Year Ahead Spread
Everyday Witch Tarot and Oracle of Echoes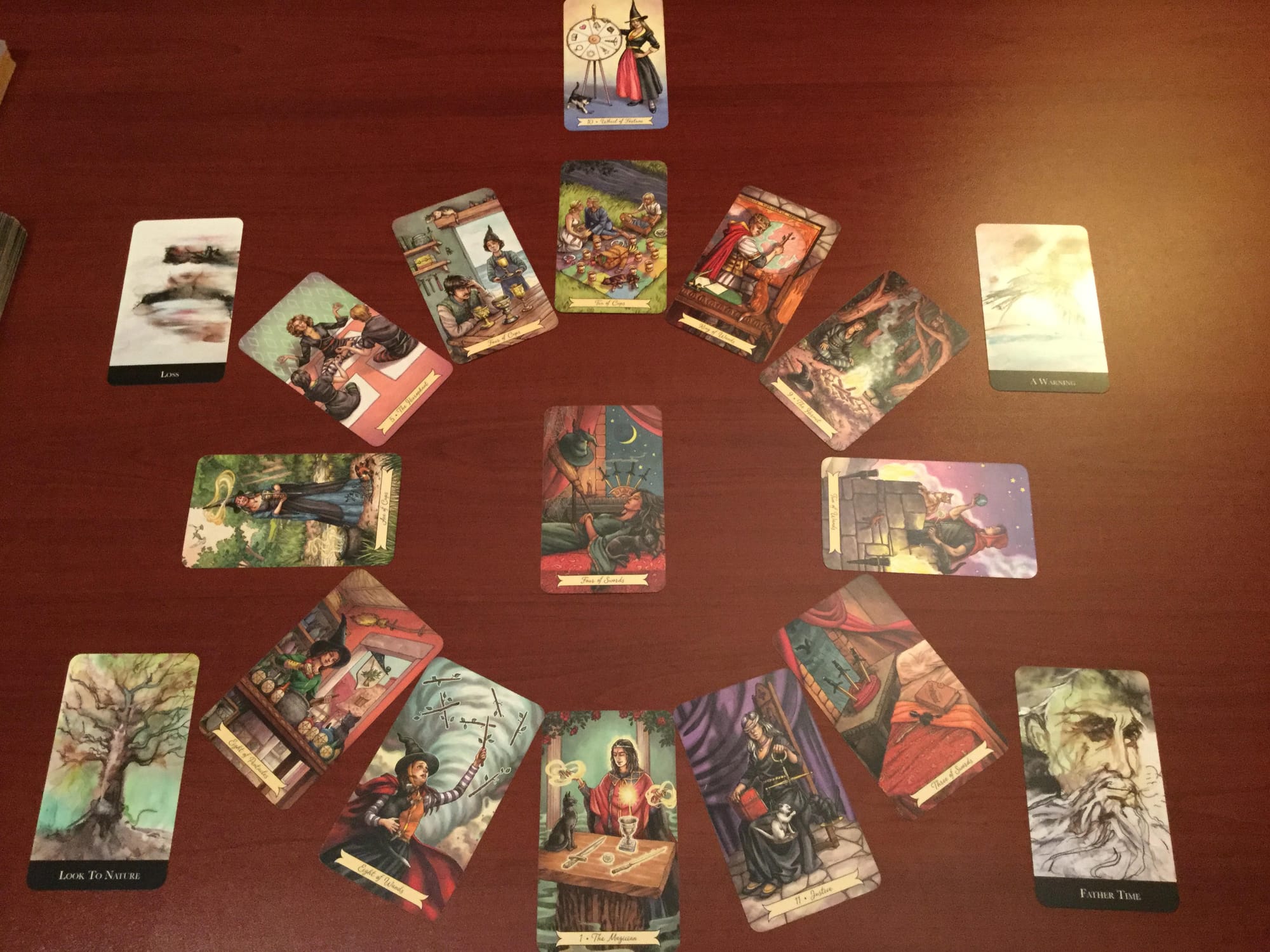 Since we are approaching a new year, let's now look at calculating Tarot Year Cards. When talking about the Tarot Year Cards, I want to point out that there is a Universal Tarot Card for the year which applies to everyone in the world, and then there is a Personal Tarot Card that you have that will represent energies, themes, or life lessons that will play out for you over the course of the next year. You will have a different tarot card every year, so this is something you have to calculate to determine.
First, let's talk about calculating the Universal Tarot Year Card for 2021 for everyone. All we have to do is add up the 4 numbers of the year and when we do for 2021, we get a 5. So that is the Hierophant card in the Major Arcana.
Hierophant Card from The Bonestone and Earthflesh Tarot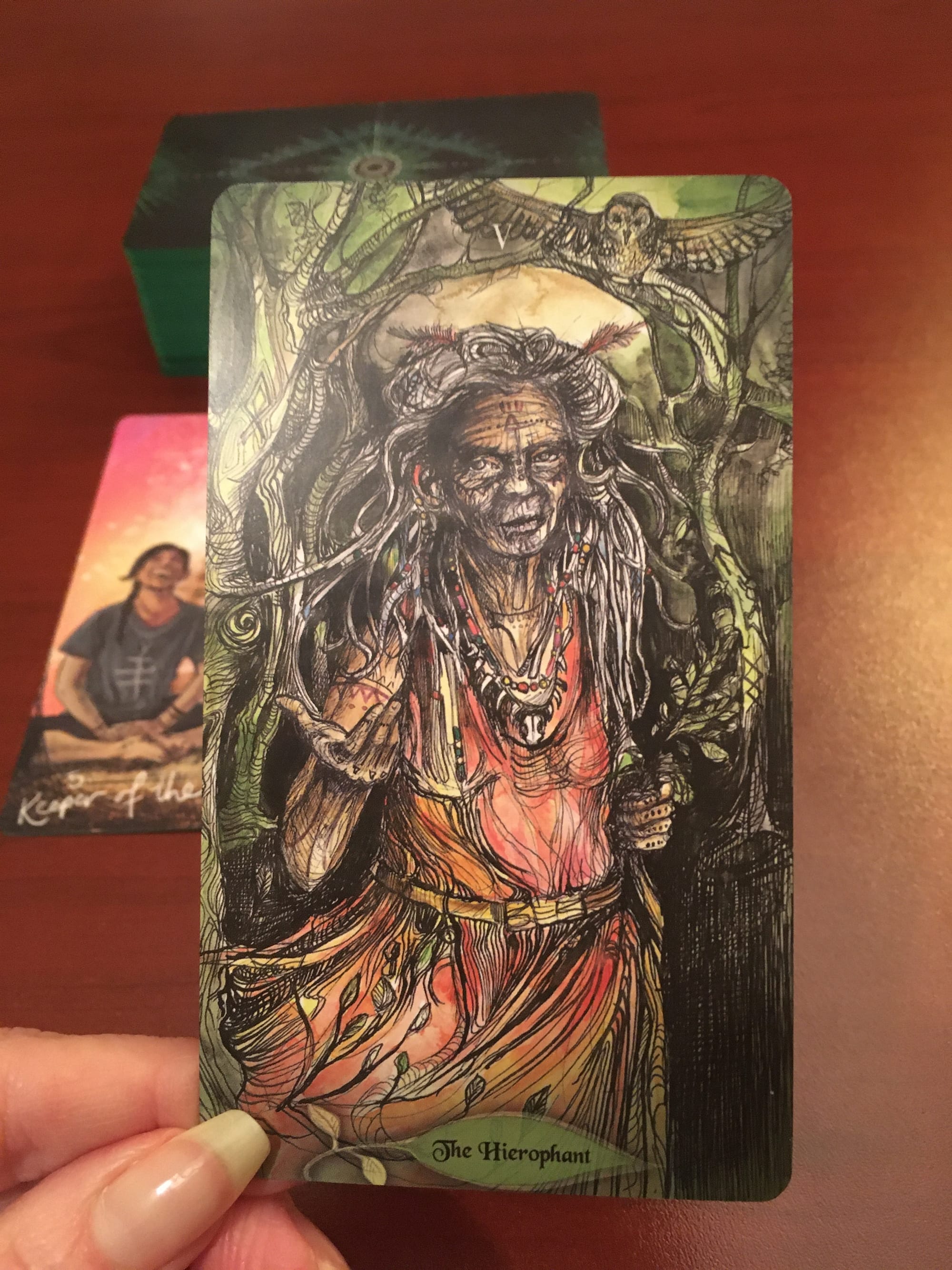 The year of the Hierophant could see many of us turning inward to seek spiritual knowledge and investing in our spiritual practice. We may be exploring our belief systems, values, morals, traditions, and ritual practices throughout the year 2021. Some of us will seek out spiritual teachers and delve deep into esoteric knowledge. I have a feeling many people out there will be searching this year for deeper truths that they have been missing for a long time.
Hierophant Card from The Light Seers Tarot and The Bonestone and Earthflesh Tarot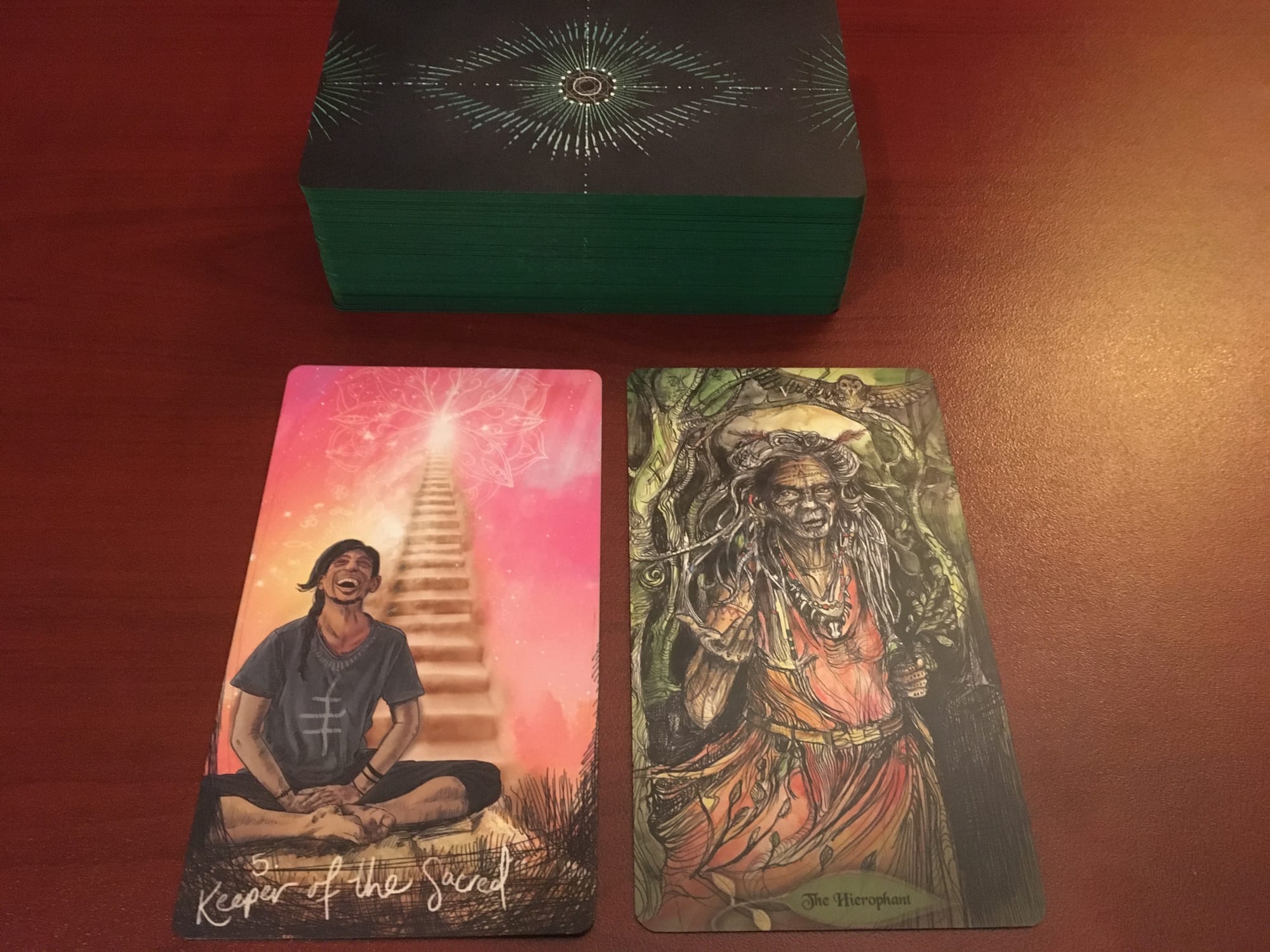 The Hierophant can represent organized religion or spiritual mentors for those of us that are more spiritually-minded. It could also signify a struggle with organized religion, and the role it plays in society. I know here in the US this has been playing out as we end this year with issues with our supreme court. This could be a real struggle for power in 2021 and could be something we all find ourselves weighing in on. It could be a very intense year with those power struggles playing out in society. We could see individuals turning from organized religion to individual spiritual practices in a revolt against power grabs and control of personal freedoms.
Mary K. Greer Workbook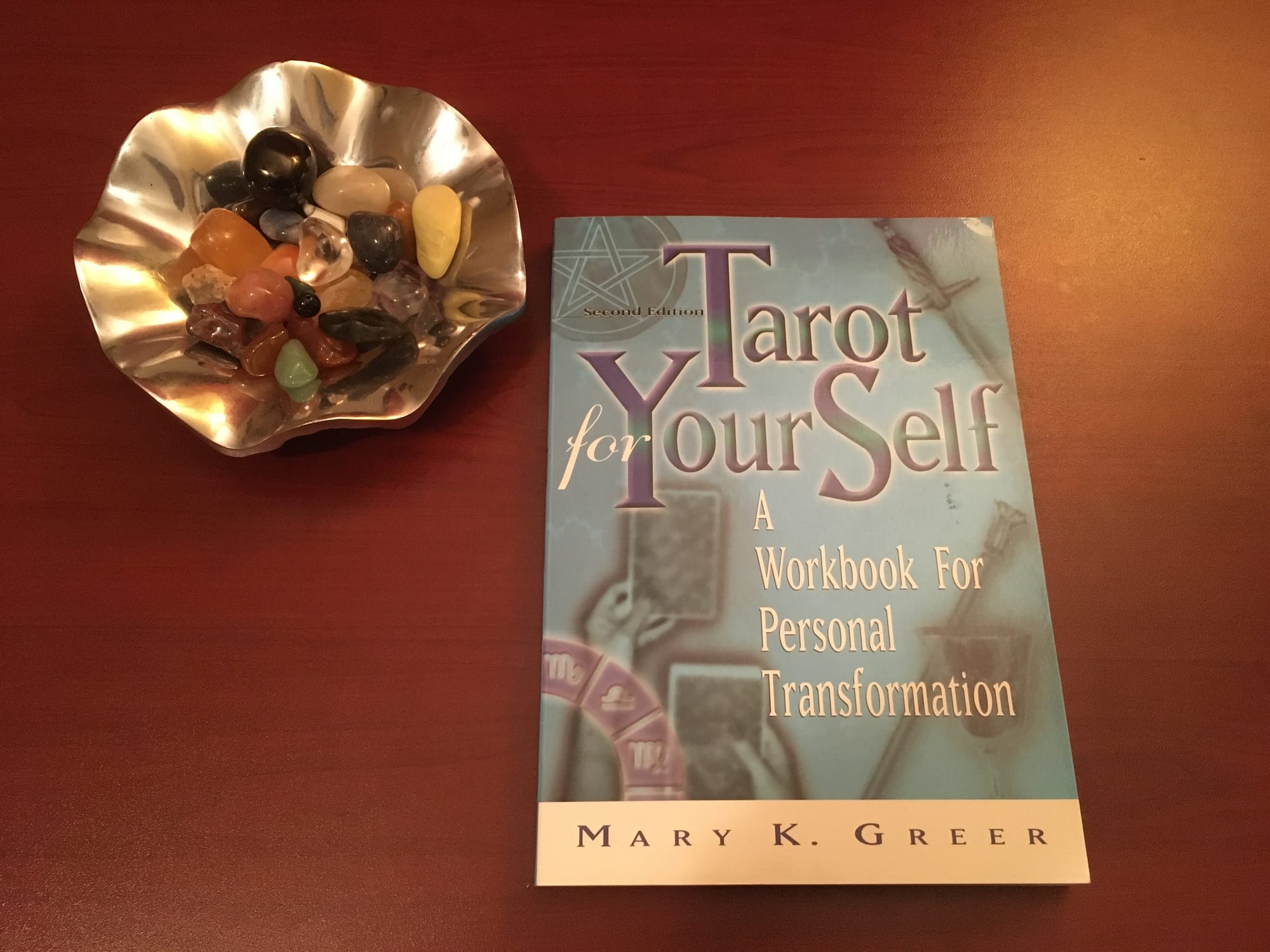 To calculate your Personal Tarot Year Card we can use Mary K. Greer's method, which she details in her workbook, Tarot for Yourself, A Workbook for Personal Transformation. To do this, you add the month and day of your birth to the current year. The number you get will correspond with a Major Arcana card. You will always keep the highest number under 23. In this calculation The Fool corresponds with 22. So 1 is Magician and 22 is the Fool.
So for example, if you are born on January 1st. we take the number 1 that represents the month January, add that to the 1 that represents the day which gives us a 2. Then add that to the year which is 2021, and this gives us 2023. Then we reduce that to, 7 and you would get the Chariot card for your Tarot Year Card.
1
+
1
+
2021
= 2023 (reduce to 7)
Your Tarot Year Card can provide clues to the lessons, tests, experiences, and challenges you will encounter over the next year. Use this card to meditate over the course of the year. Pull out this card often to display in your environment, so it is at the forefront of your mind. You can pathwork with your favorite version of this card. Pathworking is where you step inside the card and take in the surroundings of the card, and you can hold a conversation with the images and figures in the card. Ask what message does this card have for you? Ask your guides what you need to know about this card's message for you at this time. And you can journal throughout the year on the themes this card represents for you. And reassess your progress throughout the year with this card's themes.
The Hanged Man from The Light Seers Tarot and The Bonestone and Earthflesh Tarot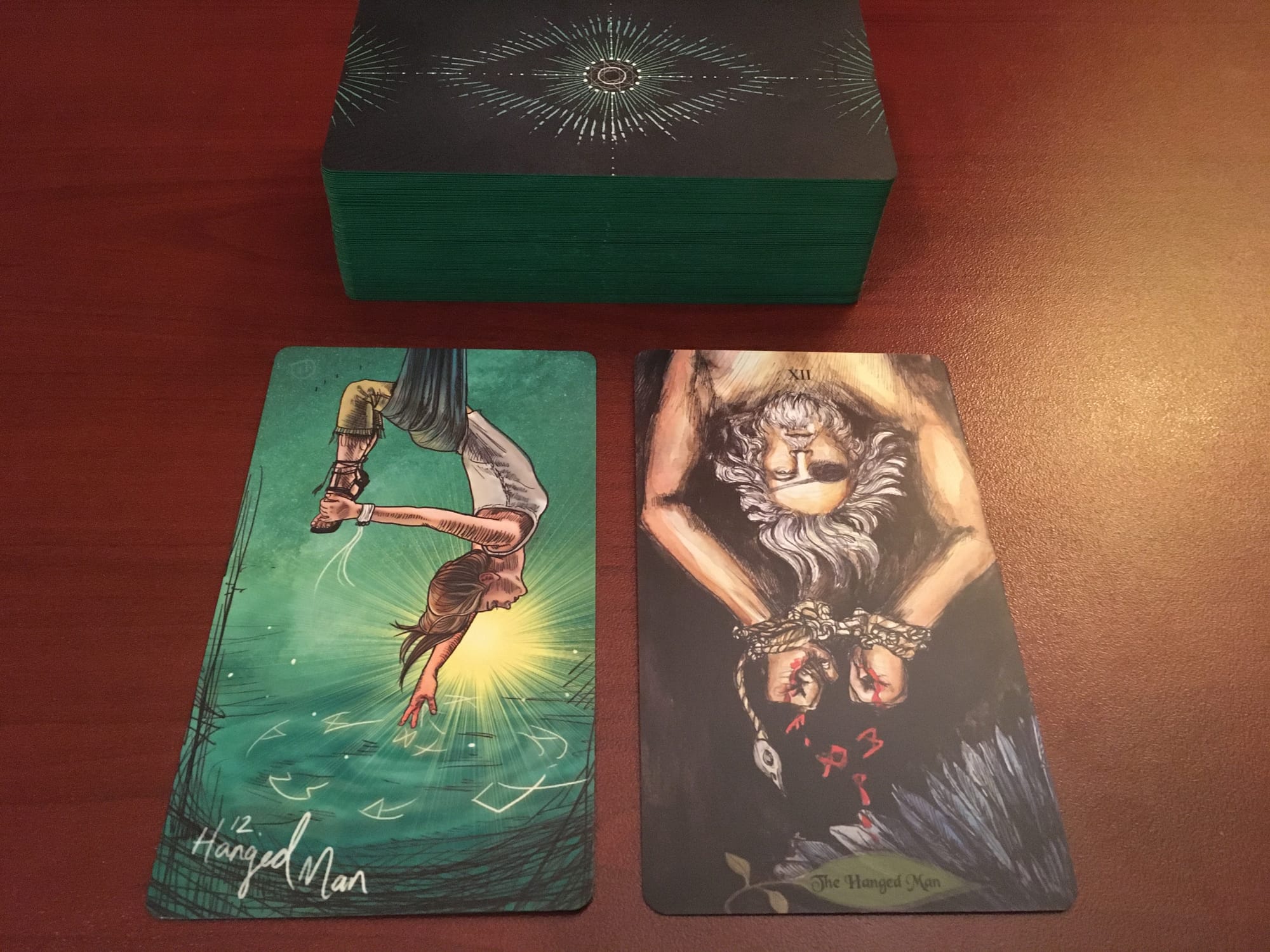 I often create a tarot spread centered on the themes of the card I have for the year. This helps me to delve further into the lessons I need to work on throughout the year and helps give me feedback on how I will know if I am progressing at a good rate. For example, my tarot card for 2021 is The Hanged Man. I have created a spread for myself to ask what's in suspension this year, what is the block for me this year, what needs a new perspective, and advice to change that perspective. I also draw 2-3 tarot cards that represent the major lessons I need to learn for that particular year and a card for the outcome if the lessons are completed. So this is just an example of the type of spread you can create for yourself on the Major Arcana card that will be your Tarot Year Card or feel free to ask these questions if your card for 2021 happens to also be the Hanged Man. Remember, this is not the same as your Birth Tarot Card which is using your full birthdate and birth year.
Have fun slinging cards for the next year and examining the themes that will play out for you. I'm excited to see all of your Year Ahead Spreads. Please feel free to tag me on Instagram @healingthrutarot so I can see your spreads. The next time I will talk to you will be in January 2021, so I want to wish you all a Happy New Year. I am already making a list of topics to cover in the New Year, so we can continue our Healing Thru Tarot journey together. This year has already been unbelievable, and the response to this podcast and companion blog has been more than I imagined.
I am still taking orders for Year Ahead Spreads for 2021. If you would like me to pull your cards for the year ahead, just reach out and reserve your reading on my website. I'd love to sling cards for you. This reading is $95 and helps you plan out your entire year and gives you a head's up for what is coming in the New Year, so you can make the most of your year.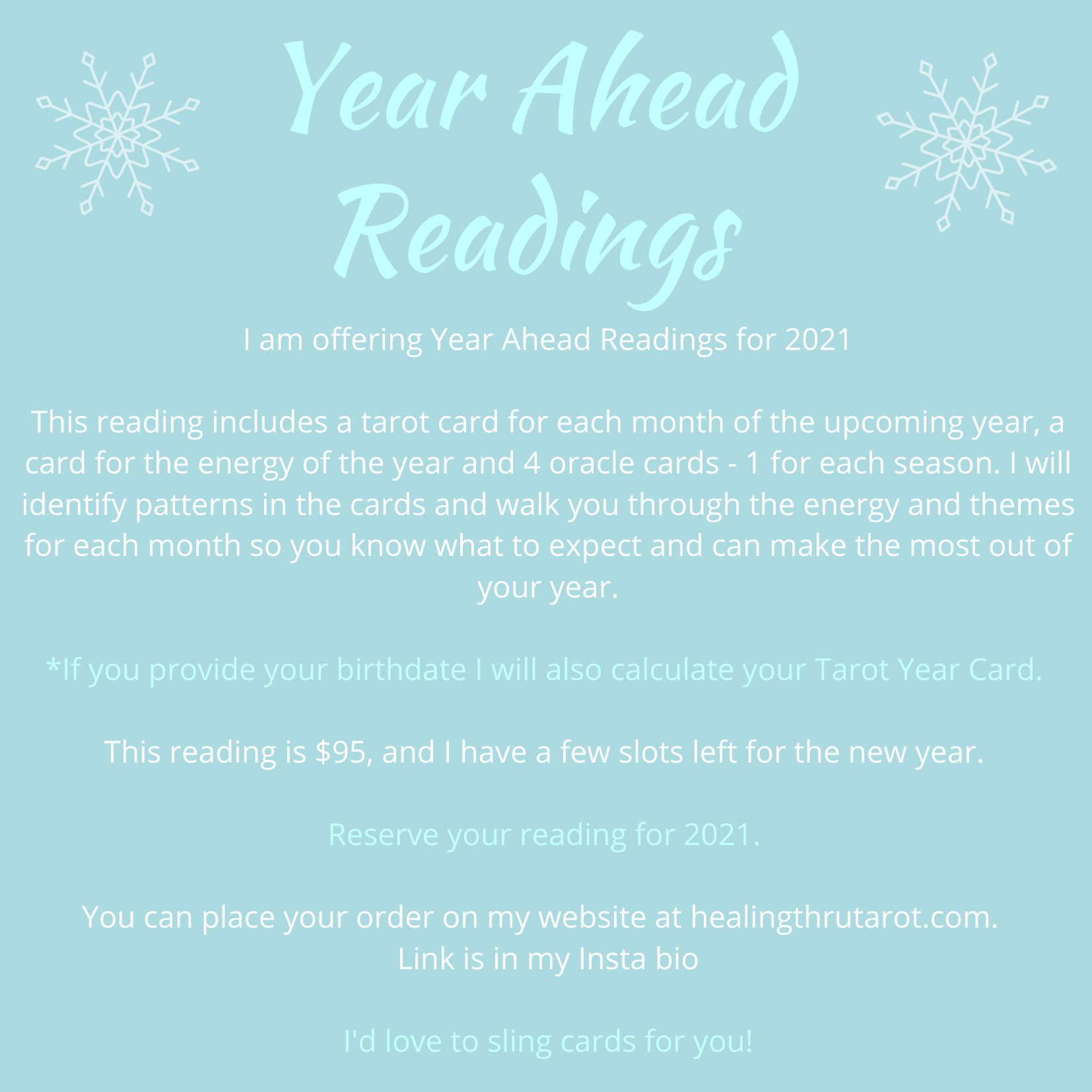 Thank you for coming on this Healing Thru Tarot journey with me. I love growing together!
Happy New Year card slingers and see you in 2021!
Books and Decks shown in this blog or recommended are below. Some of these are amazon affiliate links and it helps me out if you use these links. Thanks for your support.
Link to Mary K Greer Tarot for Yourself: A workbook for the Inward Journey 35th anniversary edition click here
Link to Light Seers Tarot Mass Market click here
Rider Waite Smith Tarot deck click here
Follow me on Instagram @healingthrutarot
Decks shown in this blog: Light Seers Tarot, Bonestone and Earthflesh Tarot, Oracle of Echoes.
Link to Podcast Episode 14 on Anchor click here
*If you would like to support this podcast monthly, please consider signing up for a small pledge to help me be able to continue to produce these quality episodes every two weeks. Use the link below to sign up to support through anchor.
Much appreciated!
https://anchor.fm/healingthrutarot/support
Are you enjoying the Healing Thru Tarot podcast and companion blog? If so, now you can gift me a coffee or two to kept me fueled as I pull all-nighters writing the scripts and recording all the episodes. Help me keep this content flowing by sparking my inspiration! Just click here to gift me a caffeine fix.