In this blog, I want to cover my top choices for tarot resources for intermediate level tarot readers. I have read approximately 20 tarot books over the past 3 years, and I have divided them up into beginner, intermediate and advanced levels. Previously, I covered 3 of my favorite tarot books that I recommend for beginner tarot readers. I will briefly talk about those again here before revealing my choices for the intermediate level.
For tarot beginners, I always recommend WTF is Tarot and How Do I do it? by Bakara Wintner, Kitchen Table Tarot by Melissa Cynova, and 78 Degrees of Wisdom by Rachel Pollack. I chose WTF is Tarot and Kitchen Table Tarot because they are easy to digest in a short period of time, and they use modern language to explain the cards with great life examples for each card. I find that most beginners find these books fun to read and very relatable. I really enjoyed these books myself, and WTF is Tarot is by far my favorite book I've read so far.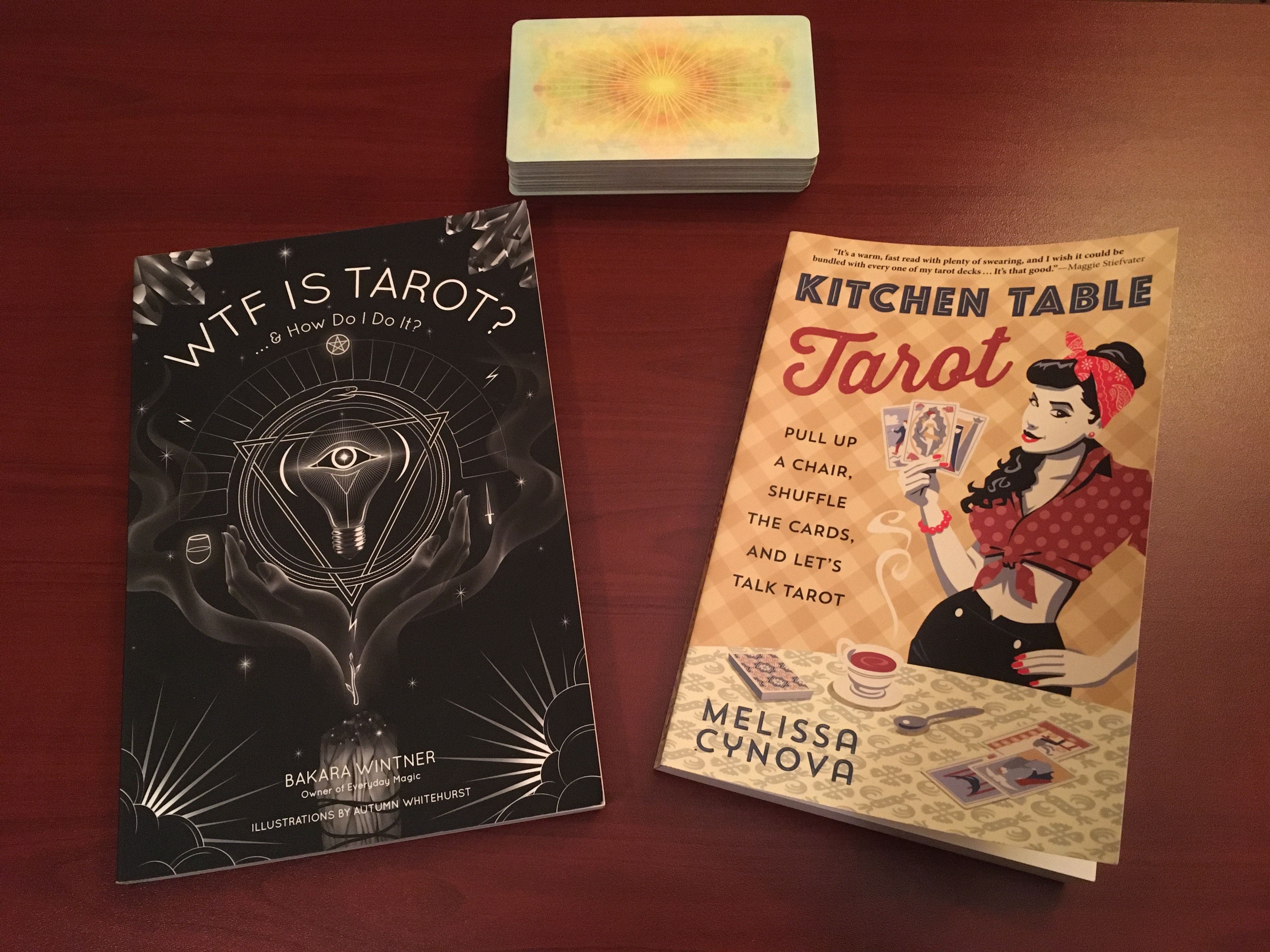 Bakara's experience finding the tarot and learning to read for others really resonated with me. It was this book that I felt gave me permission to read for others so quickly after finding tarot. Before reading WTF is Tarot I thought it was such a quick jump for me to start reading for others, but hearing Bakara's experience of getting her tarot deck from her therapist, and then her therapist sending her a client that week helped me feel more comfortable with my own tarot journey. And the way Bakara talks about each tarot card along with her personal examples for each card was truly powerful. When I listen to her talk about tarot, I feel the ancient wisdom of the tarot system flowing through her. Watching her Sunday tarot readings on Instagram over the past year taught me a lot about reading intuitively. She has recently stopped those Sunday readings, but you can find the past ones on her youtube channel (link at end of blog). Her knowledge of tarot is immense, and I consider her one of my greatest tarot teachers. So, for that reason WTF is Tarot will probably always be my favorite book to return to over and over again to connect with the tarot. It is a quick read but packed full of wisdom.
Kitchen Table Tarot is another great one for beginners. Melissa Cynova presents tarot in modern, relatable language that I think most people can absorb easily. I read this book in one day. She keeps her tarot card meanings concise. I put her meanings on index cards to remember early on because they were easy to digest. She also puts a modern spin on her examples for the cards, and it makes it so clear how to read the cards in spreads with her examples.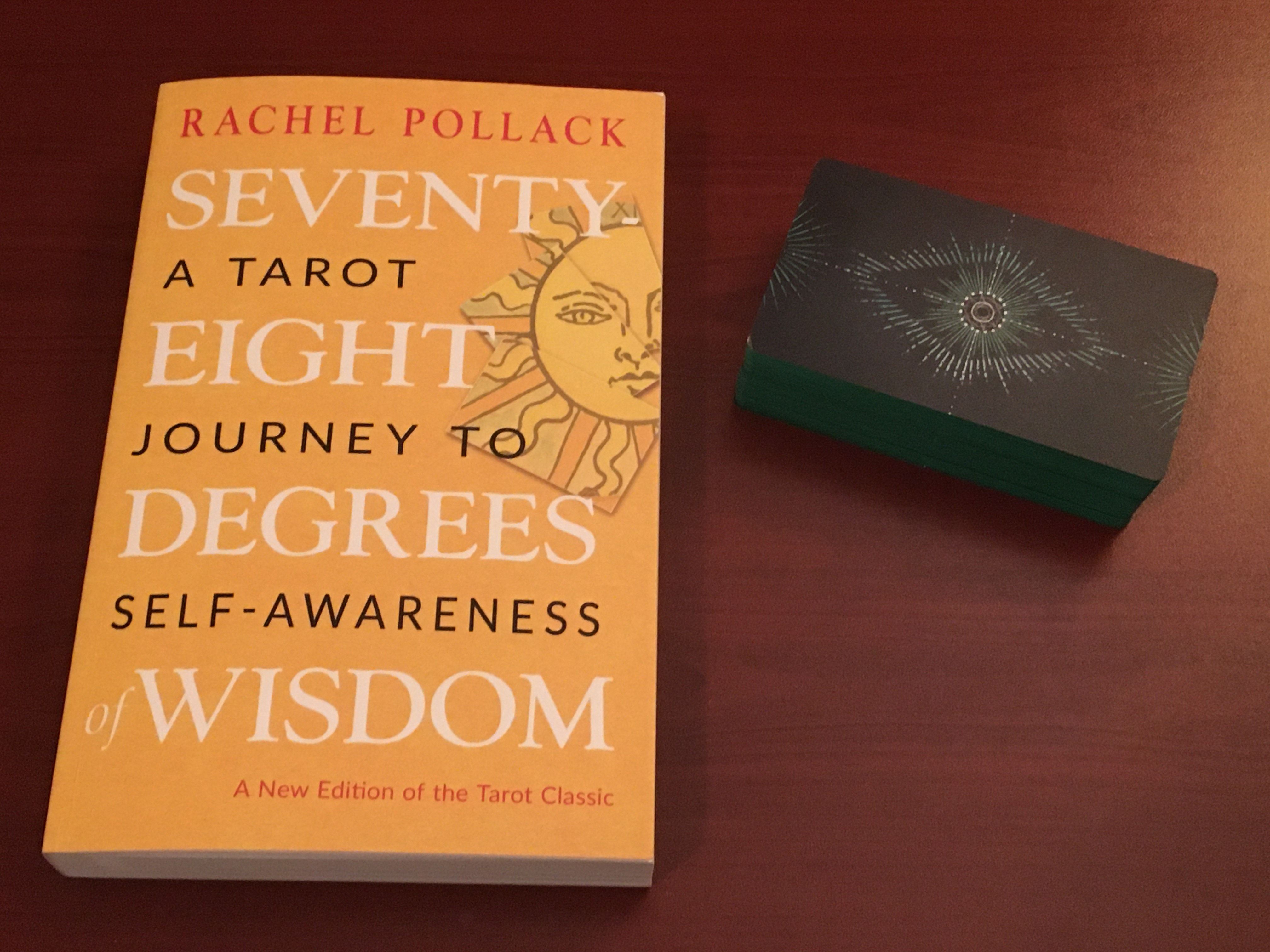 78 Degrees of Wisdom is the main tarot source people usually start with, as this book has been in print since 1980 and is a staple on the shelves of most tarot readers. Rachel Pollack is well renowned in the tarot community and has studied and written about tarot for over 40 years. There is a 3rd edition of this book that was just released in 2019. Links to each of these books are included at the end of the blog. If you could just have one book on the tarot, I think this is the one I would suggest. It is a common resource for so many in the tarot community. She also covers the Fool's journey through the tarot well.
Tarot Resources for Intermediate Tarot Readers
Now that I have briefly summarized my beginner tarot resources, let me turn the 6 tarot books I have chosen for the Intermediate level tarot reader.
Court cards are a struggle for many tarot readers, especially if you are new to tarot. I found that the book Your Tarot Court by Ethony Dawn is the best reference for understanding the court cards. This whole book is dedicated to deeply exploring each of the 16 court cards with common card meanings, personality characteristics, and upright and reversed meanings for each. She includes several spreads to use to explore the court cards thoroughly.
My favorite part of the book is where Ethony goes through each court card and provides pop culture references for each to help you associate the court cards with characters in books, television, or movies that you are familiar with. I will give you a few of my favorite characters she provided in the book. Dr. Michaela Quinn from the television show Dr. Quinn, Medicine Woman for the Queen of Pentacles, which is the Healer. My signifier card is the Queen of Pentacles, and as soon as I saw that she had picked this character for this court card a light bulb went off for me. I watched that show growing up and connected with her character, so I found it fitting that she chose her for this card. It really fits the character's nurturing nature and comforting presence along with her healer roles that she embodied in the show. Ethony chose Sherlock Holmes for the Page of Swords. I usually associate Hermione Granger with the Page of Swords, but Sherlock totally fits because she labels the Page of Swords as the Detective. She also gives Veronica Mars as an example of this archetype. Each of these selections are endlessly curious, studious, and intellectual.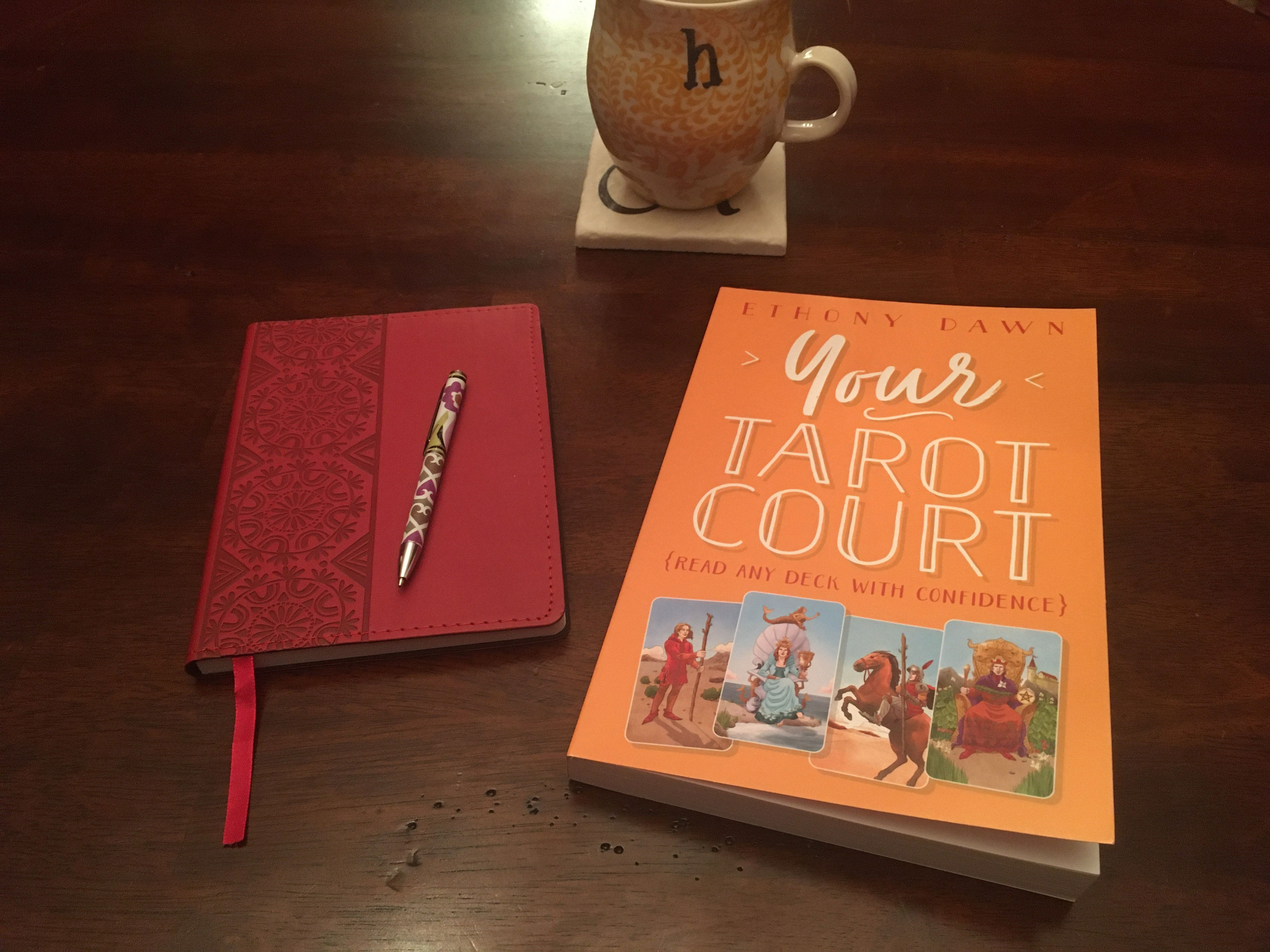 As she walks you through each court card, she gives you keywords, astrological associations, archetypes, and examples of how they interact in love and relationships, in work and career, and their strengths and weaknesses (shadow). She explains their motivations, behavioral aspects and what the messages might be when these cards come up in a reading. I found this information so helpful that I made index cards using these insights to help quiz myself on each court personality to become more familiar with each. Ethony provides tarot spreads for the courts and a few spreads on love and relationships with the court figures.
Ethony covers gender and social constructs, hierarchy of the court, archetypes and social roles of the court. She gives the court a modern makeover leaving you with a fresher take on these fascinating characters that have much more life than the traditional court. She explains how these personalities behave, interact with other court players and the light and shadow characteristics of each. After you read this book, the court cards take on fully defined personalities that are easy to remember. This book helped take my readings to a whole new level. I no longer struggle with confusing court cards in my spreads. Ethony helps give the court personalities depth and definition which enrich your readings. The court cards are much more accessible by the end of this book.
Whenever anyone asks for book suggestions on the court cards, Your Tarot Court is the book I recommend. Ethony is such a great teacher and writer, and she is funny so that combination makes this an excellent and fun read. Ethony also has a facebook page dedicated to this book where she has videos of free classes she offered to walk you through the different sections of the book, so take advantage of that perk too.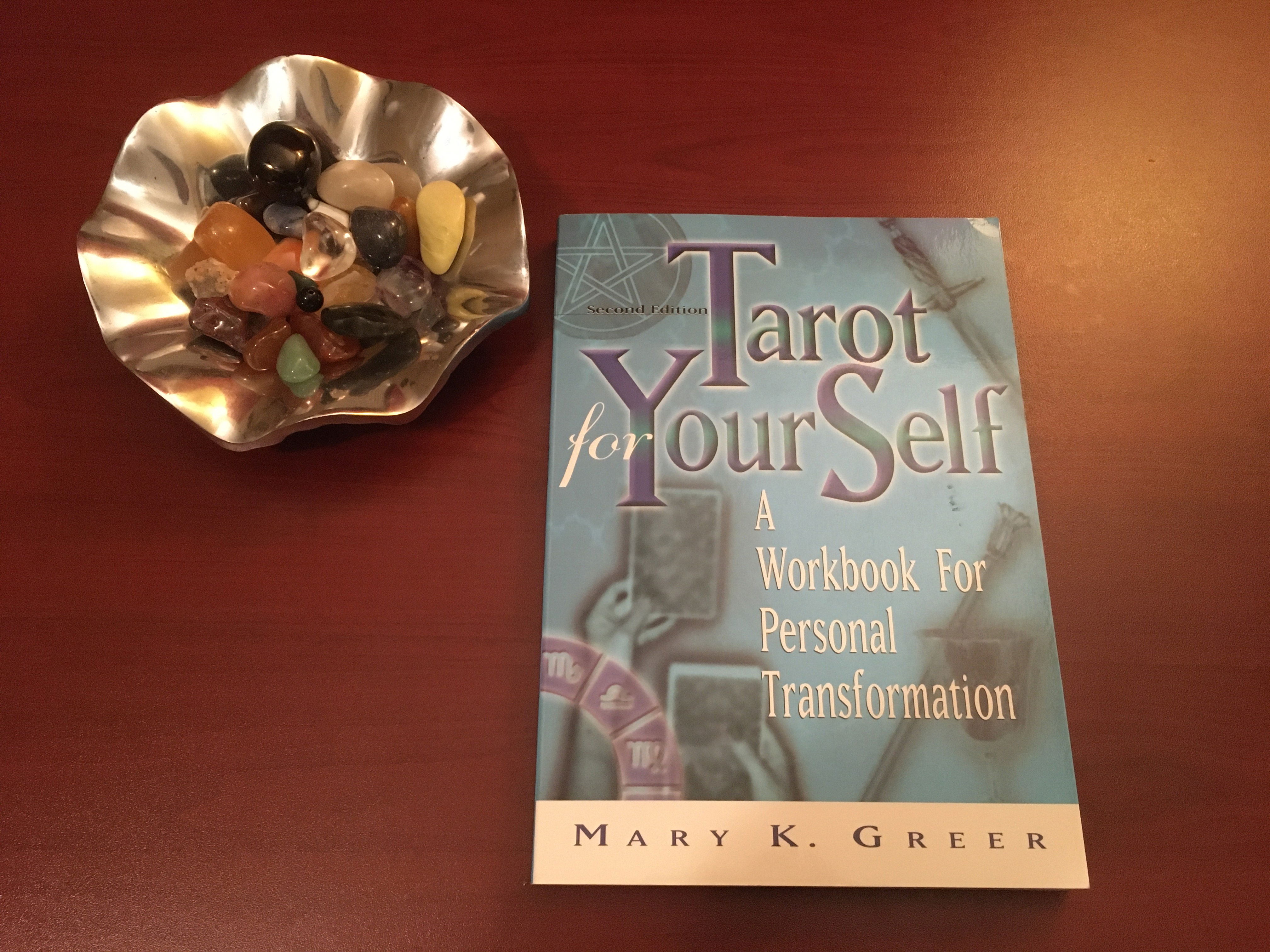 Another book that most tarot readers seem to own is Mary K Greer's Tarot for Yourself Workbook: A workbook for personal transformation. Mary K Greer is world famous for her work on the tarot. She is an amazing teacher, and her work with the tarot has a psychological nature about it, so I am very drawn to her work. This workbook walks you through calculating your tarot birth card, tarot year cards each year, and other personalized tarot profile cards like your personal card, soul card and hidden factor card, which is your shadow card. She reveals what these cards mean for you and how they can teach you throughout your life. Greer covers turning points and milestones in your life with the tarot and planning with the tarot, which I love and use often. She goes over the zodiac lessons and opportunities offered by each tarot card. The workbook is chock full of unique tarot spreads. She presents A Whole Person Summary Reading, A Major Arcana Reading, A Horoscope spread, and an Astrological Birth Chart spread and Year Card lessons. She helps relate the tarot to you personally and shows you how in depth tarot study can reveal areas you can explore that might lead to psychological breakthroughs.
One of my favorite parts of the workbook shows you how to calculate your Lifetime Year Card Graph where you calculate your Tarot Year Card for every year of your life and look for patterns and cycles that tend to recur every 10 years. I found this fascinating and insightful as I looked back over the past 43 years of my life and forward for the next 40 years to give me a glimpse at what might be coming my way. It is fascinating to see it all laid out on a graph. She walks you through the card meanings for each card as well as providing you with affirmations and questions to ask when pulling these cards. There is so much to break down in this workbook. As Mary says, "Tarot is a dynamic tool for personal growth and transformation." This Tarot for Your Self work book is high on my tarot book recommendation list, especially for people who want to use the tarot as a tool to learn more about themselves and who want to stretch themselves further in their self-development journey by working through the many lessons offered by the tarot system.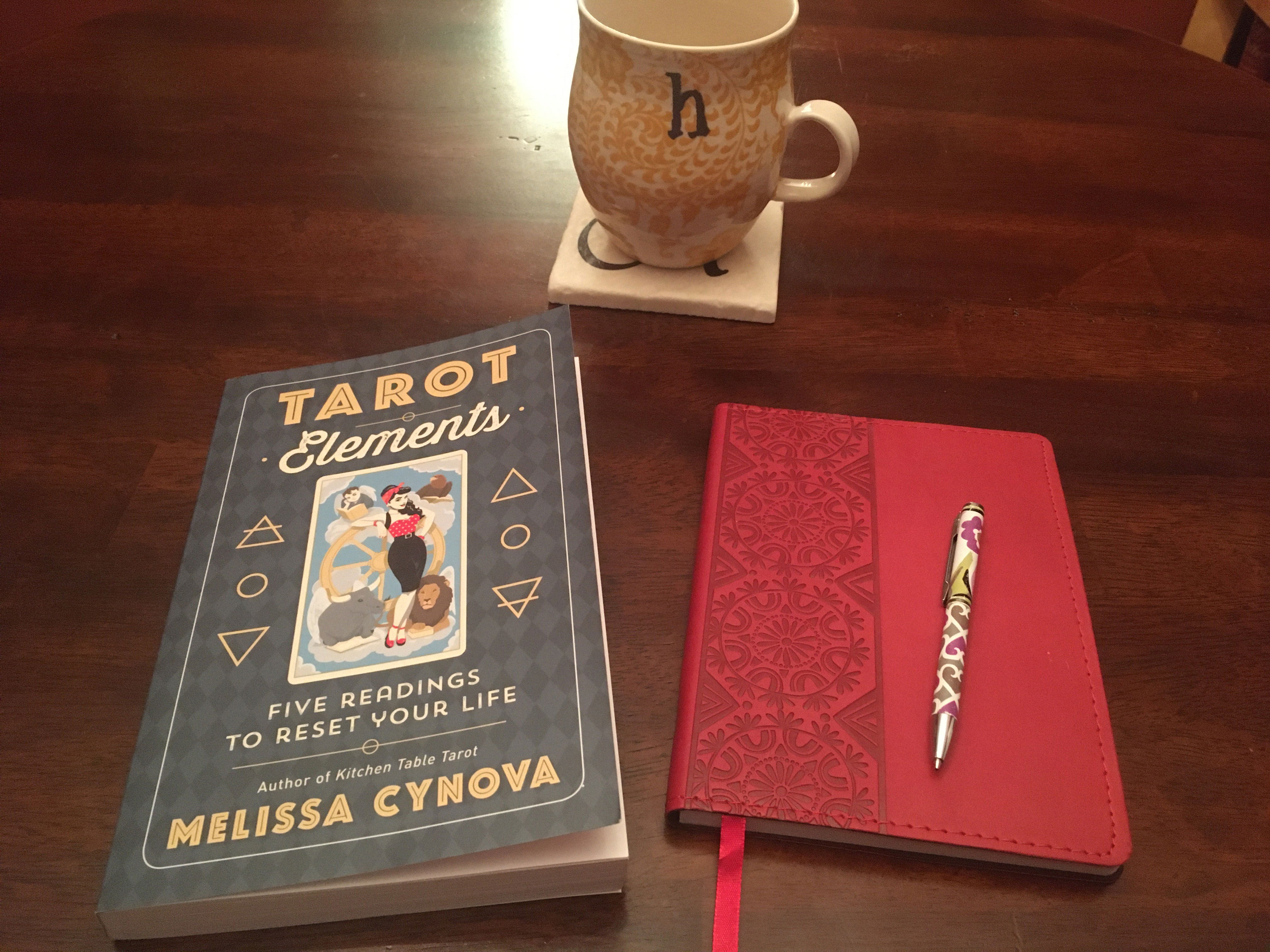 Another book by the author of Kitchen Table Tarot makes my recommendation list. Tarot Elements: 5 Readings to Reset Your Life by Melissa Cynova was a fascinating read. She walks you through 5 main areas of your life and offers a spread for each to help change your life in those areas. She presents these 5 spreads as a way to troubleshoot complicated life problems to help you move through the internal or external obstacles that have you stuck and helps you to find a clear path forward for change. I love this because the way she has it set up is like a life coach session to identify where to roadblocks are and how to clear the way. She has an earth reading about home life, air is for the mind, fire is the body/health, water is for the heart and relationships and the spirit spread assesses your spiritual practice. It a well-rounded book since it covers so many main aspects of an individual's life. And you can read the book out of order if you have one or two areas you want to focus on first. I loved working through all 5 spreads, and they even gave me ideas for other spreads I wanted to try and a few I wanted to expand on that she had created so I could do a deep dive in a few of these areas that were most relevant to me.
This book helps to frame tarot as a powerful and effective tool in self-improvement, problem solving and life assessment. If you want to take stock of these areas of your life, this book is a good read to help you do so. And just like Kitchen Table Tarot – this book is written in clear, modern and relatable language, which is easy to digest. Melissa also gives several example readings for each spread in the book. I always find that sample readings help new readers feel more confident in reading for themselves. She always provides excellent sample readings in all her books. She also provides meanings for all 78 tarot cards to help you with mastering the card associations.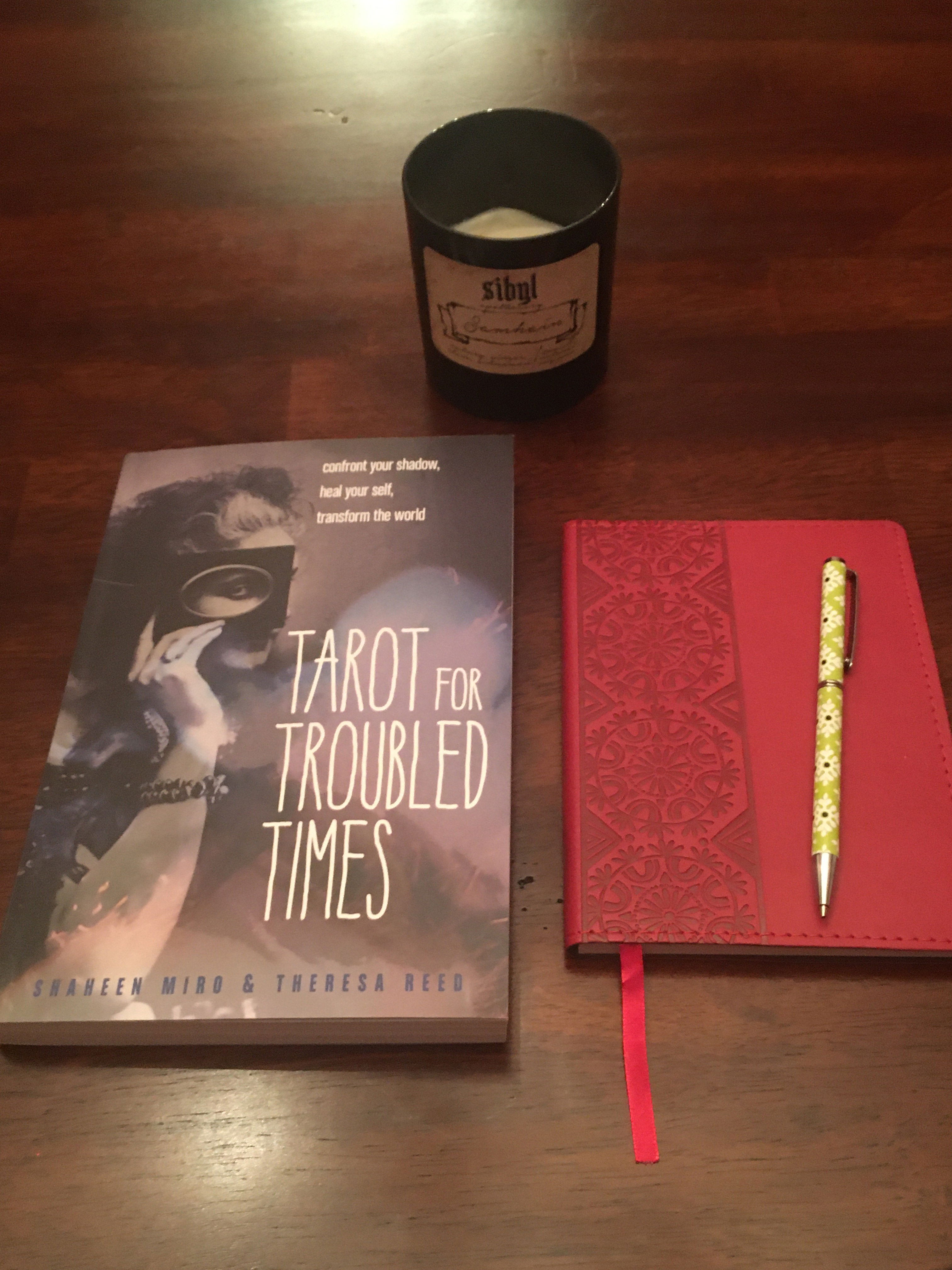 My next recommendation is Tarot for Troubled Times: Confront your shadow, heal your self, transform the world by Shaheen Miro and Teresa Reed AKA "The Tarot Lady." This book was very needed in 2018 when the world was going through a very dark and unsettling time. I found it very comforting, and this book helped me further connect to tarot and see deeper meanings in the cards that could be used for deep healing and transformation. They offer lessons to be learned through each of the Major Arcana through the archetypes present in the majors and lessons to be learned from those cards if they happen to be your birth card or tarot year card. They also offer chapters on rituals, healing, processing trauma and even a section on how to be an ally and advocate for others struggling during these unprecedented times across the world. Throughout their chapters they add journal prompts and meditations to use with the cards.
It was an uplifting read with a focus on healing, confronting your shadow, finding hope, developing compassion for others and reaching out to find ways to make a difference in our communities to help heal those around us. There is a lot of insight to be found in these pages. This book helps you dive deeper into tarot by teaching you how to explore your shadow and work with it to reconstruct negative patterns that may have boxed you in with limiting beliefs and roles in your life. There is a freedom you feel when you read this book and realize that you hold the key to changing your own world and building a life that you can fall in love with.
This is a great read if you are looking to use tarot for transformation and empowerment. They also offer tarot spreads for the heavier topics in healing work such as grief, anxiety, depression, anger, divorce, and addiction. Theresa and Shaheen also offer tarot lessons from the major arcana on personal power and transformation. It is important to have support when you dig around in the darkness and confront your own fears, insecurities, and inner demons. They provide that much needed support throughout this book. Even though they are covering heavy topics, they lead you to the light at the end of the tunnel, and I found that I was feeling much lighter in spirit by the end of the book. If you have been struggling with some of these darker themes of life and want to start breaking these unhealthy cycles, check out Tarot for Troubled Times.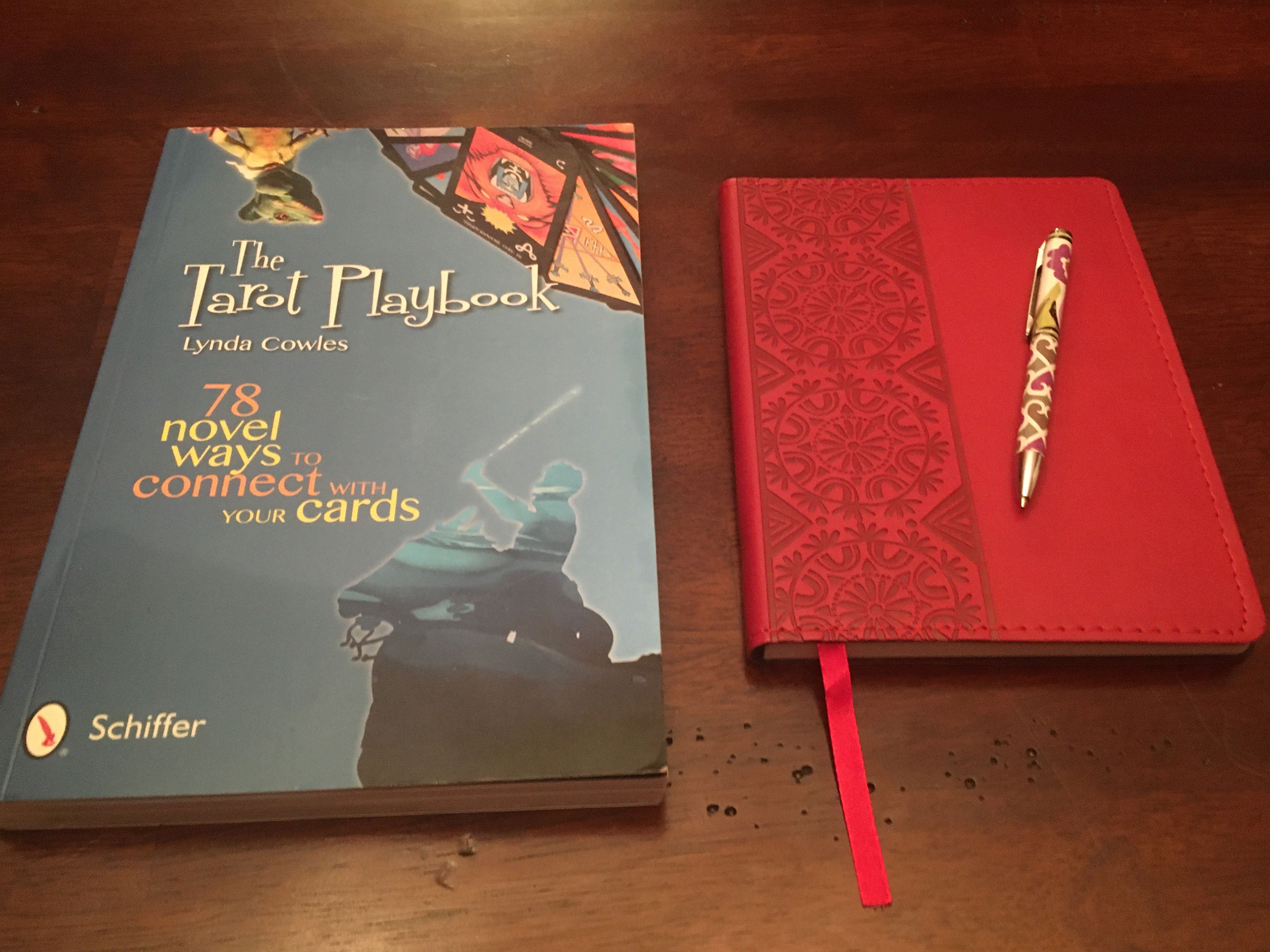 I bought The Tarot Playbook: 78 Novel Ways to Connect with Your Cards by Lynda Cowles to have a fun book to use with the tarot in creative and joyful ways on a daily basis. This book provides a fun activity or game for each tarot card in the deck. These exercises are fun if you have a group of friends that also enjoy tarot, so you will have a good list of activities for groups. The activities are pretty creative and even include creative writing, setting up a murder mystery and artistic crafts or journaling ideas just to name a few examples.
My last pick is the most recent book that I have read. This book is a beast and so is it's title - Tarot for Transformation: Using the Major Arcana to Discover Your Best Self and Create a Life Worth Living by Andy Matzner. Andy is a licensed clinical social worker, psychotherapist, and tarot reader. He teaches psychology, mental health skills and gender studies at Virginia Western Community College and Hollins University. Andy also wrote the Tarot Activity book and Journaling the Tarot. This book is like a huge workbook that is a journal-based book. What I like the most is that Andy provides writing prompts for you to think about and to use for reflection, mediation, exploration and journaling. He asks great questions for each card to aide you in diving deeply into each Major Arcana card. This book offers you a chance to fully explore and study the tarot.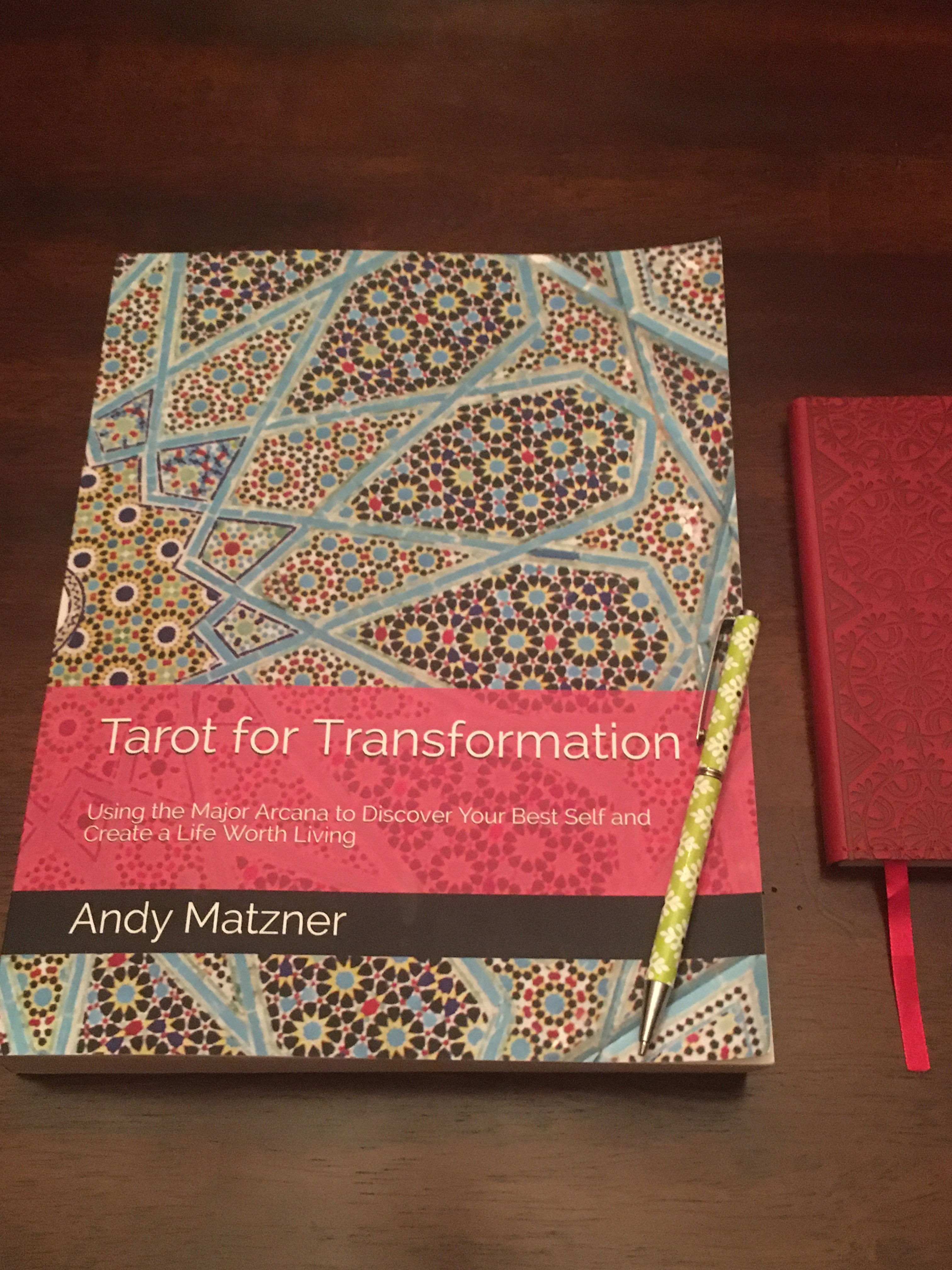 This book not only helps you learn the Major Arcana, but it facilitates a healing and self-discovery journey as well. This book offers you an excellent opportunity to dive in deep with the majors and work your way through the Fool's journey to see what the journey has to teach you. You could take your time with this book and get lost in the lessons of the majors.
As a psychologist who uses tarot for healing, I love Andy's approach to tarot and the fact that he offers psychological techniques, which help with the healing and self-exploration process. If you are wanting to explore the depths of the tarot, this book is an excellent guide on that journey. There are so many tarot journal prompts in this book that you could journal daily for at least a year without repeating a single prompt. I appreciate all the insight Andy offers in this book. I definitely recommend this book as a tool for intermediate readers who want to go a bit deeper with the tarot than many other tarot books would provide.
For each Major Arcana card, you get related quotes, card meanings, symbolism for the colors in the image, numerological, mythological and historical associations, insightful questions meant to aide you in probing beneath the surface into your subconscious mind, journal prompts for your journal work and psychological techniques and exercises that tie into the work with that particular major arcana, which helps you further immerse yourself in tarot study.
For example, I will give you a few of the journal prompts Andy provides for us for the Death card since that is a card many people fear.
"What message are you resisting that you need to accept?"
"What beliefs no longer serve you?"
"What chapter is ready to close in your life?"
"What new chapter are you ready to begin."
Those are just about 25% of the prompts he gives us for that card. I just wanted to give you just a taste of what Andy offers in this book.
Andy gives several quotes for the death card. I picked my favorite to share with you. "We must be willing to get rid of the life we've planned, so as to have the life that is waiting for us." ~ Joseph Campbell
One of Andy's insights for the death card was very poignant – "We have the capacity to enact change in our lives. We have the ability to force endings and create new beginnings. So, what prevents us from owning that power?" This insight really made me ponder why we choose to stay in situations where we are unhappy when we have the power to create new lives for ourselves that can bring us joy and excitement.
Andy gives us psychological techniques and exercises for each card as well. Some examples he provides for the majors include techniques like yoga, sleep hygiene, exercise, stress management, deep breathing, guided imagery, acupuncture and psychological treatments like ACT, which is Acceptance and Commitment Therapy. He also provides book recommendations for any psychological concepts you may want to explore further, and each of these techniques has a devoted section where he details how to start implementing these techniques into your healing work. This book is a beast. There is so much he includes in this book. It takes awhile to work through, so take your time with it to fully absorb this material.
Later in the year I will post a blog with my recommendations for advanced tarot readers. This way you will have a resource list for all levels: beginners, intermediate and advanced. Each level takes you deeper in your tarot study.
Books and Decks shown in this blog or recommended are below: click on title to go to the product. Some of these are amazon affiliate links and it helps me out if you use these links. Thanks for your support.
WTF is Tarot and How Do I Do It? by Bakara Wintner
Kitchen Table Tarot by Melissa Cynova
78 Degrees of Wisdom by Rachel Pollack
Tarot Elements by Melissa Cynova
Tarot for Your Self Workbook by Mary K Greer
Your Tarot Court by Ethony Dawn
Tarot for Troubled Times by Shaheen Miro and Theresa Reed
The Tarot PlayBook by Lynda Cowles
Tarot for Transformation by Andy Matzner
Bakara Wintner's Youtube channel here you will find all her Sunday Tarot Readings for 2019 and 2020
Link for Podcast Ep 17 that goes with this blog on Anchor click here
*If you would like to support this podcast monthly, please consider signing up for a small pledge to help me be able to continue to produce these quality episodes every two weeks. Use the link below to sign up to support through anchor.
Much appreciated!
https://anchor.fm/healingthrutarot/support
Are you enjoying the Healing Thru Tarot podcast and companion blog? If so, now you can gift me a coffee or two to kept me fueled as I pull all-nighters writing the scripts and recording all the episodes. Help me keep this content flowing by sparking my inspiration! Just click here to gift me a caffeine fix.