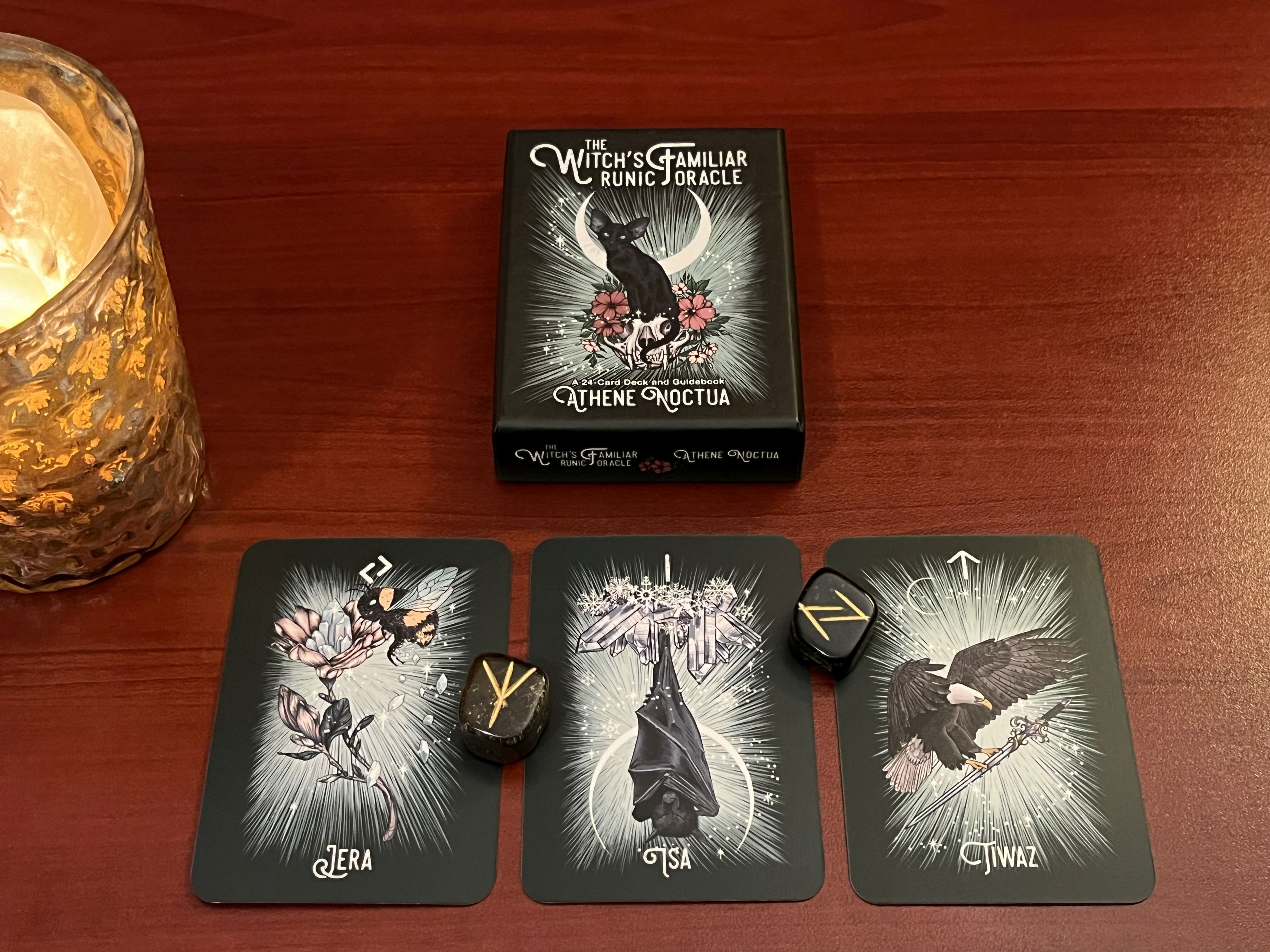 Hayhouse sent over the brand-new pocket version of The Witch's Familiar Runic Oracle by Athene Noctua for me to review and share with you. And I'm SO EXCITED because this is my first rune deck and my first witch's familiar deck, so I jumped at the chance to review this the second I saw that it was going to be released this fall.
I'm just starting to learn about witch's familiars as I write my witchy series, The Divining Sisters, where my main characters are discovering ancient ties to magick and divination, which includes reconnecting with animal spirit guides who have followed them throughout many lifetimes and familiars that reincarnate with them. It's such a magical journey, and I'm finding this deck is helpful in connecting me with that special bond between a witch and their familiar where trust is key and communication is often unspoken but understood on a deep soul level.
Athene says, "A witch's familiar is not a pet but a creature that brings its own powers and energies to aid the witch in magick. I have combined each symbol with a familiar, or an animal companion, that reflects the qualities of the associated rune."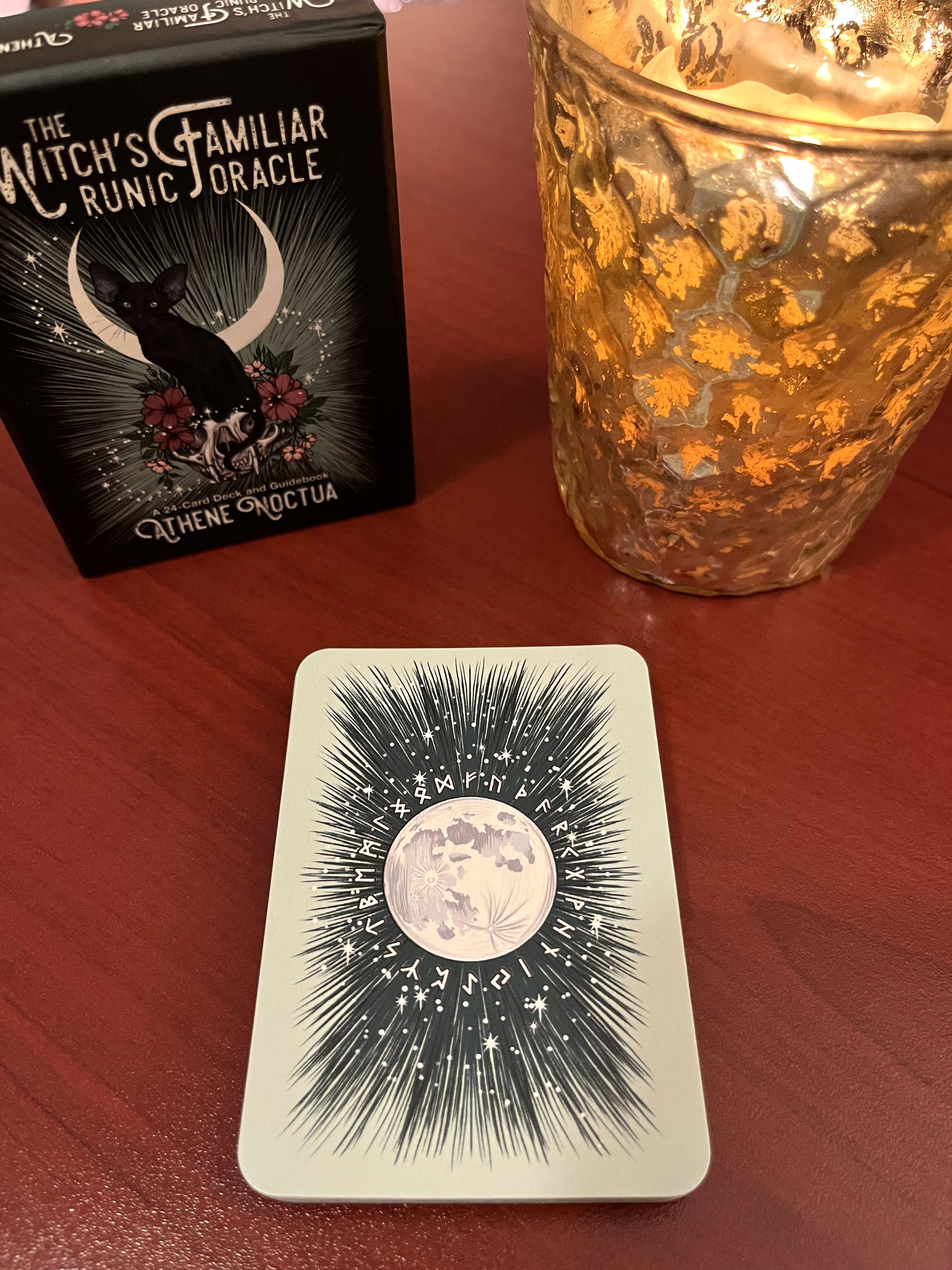 Upon unboxing this petite oracle, I was struck by the deep mystical feel and aesthetic. With the dark-green borders on the card faces and deep emerald, light green, and black color palette throughout the card images, the visuals conjure up a witch's cabin deep in the woods with her familiar clinging closely by her side as she hones her craft. They're magical, mystical, and a bit mysterious. There's both an ancient and a modern feel to the cards. And I pick up a lot of soul in these cards and messages!
And can we talk about how STUNNING the card backs are (shown above). These are some of the most striking backs I've seen. I love how the runes circle the moon. And the way the dark green bursts to life makes me think of being in warp speed in space. Majestic effect here!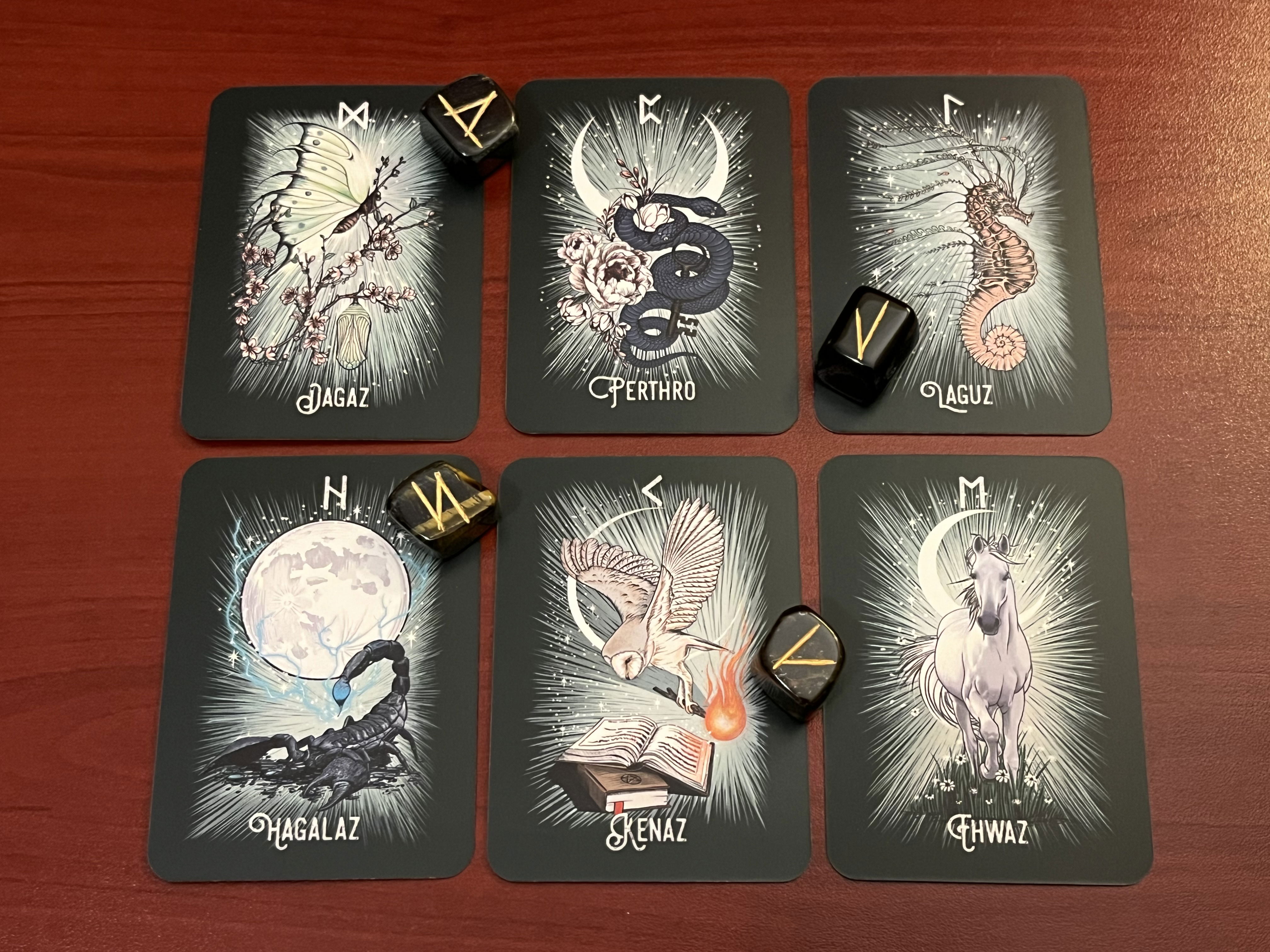 You can easily get entranced by their siren's call. They may be small, but there's ancient magick bursting off these cards, offering you wisdom from the old ways as you pose your most desired questions. There's something so magical about casting a question into the universe and receiving a reply laced with wisdom from the ancient seers, animal guides, and spiritual realm. Perfect for this time of year (the Season of the Witch). In the photo above I've also pulled runes along with the cards. They pair beautifully with my Tiger's Eye runes.
And they would be perfect as a stocking stuffer this year, too. So, of course, you know I added this to my 2023 Stocking Stuffer gift guide for tarot lovers! Check out that full list here. For the witch in your life, this is the perfect gift to help them connect to the animal world, their familiar spirit, and the practice of runes as each of these 24 cards matches an animal spirit with a rune that shares the traits of their paired familiar.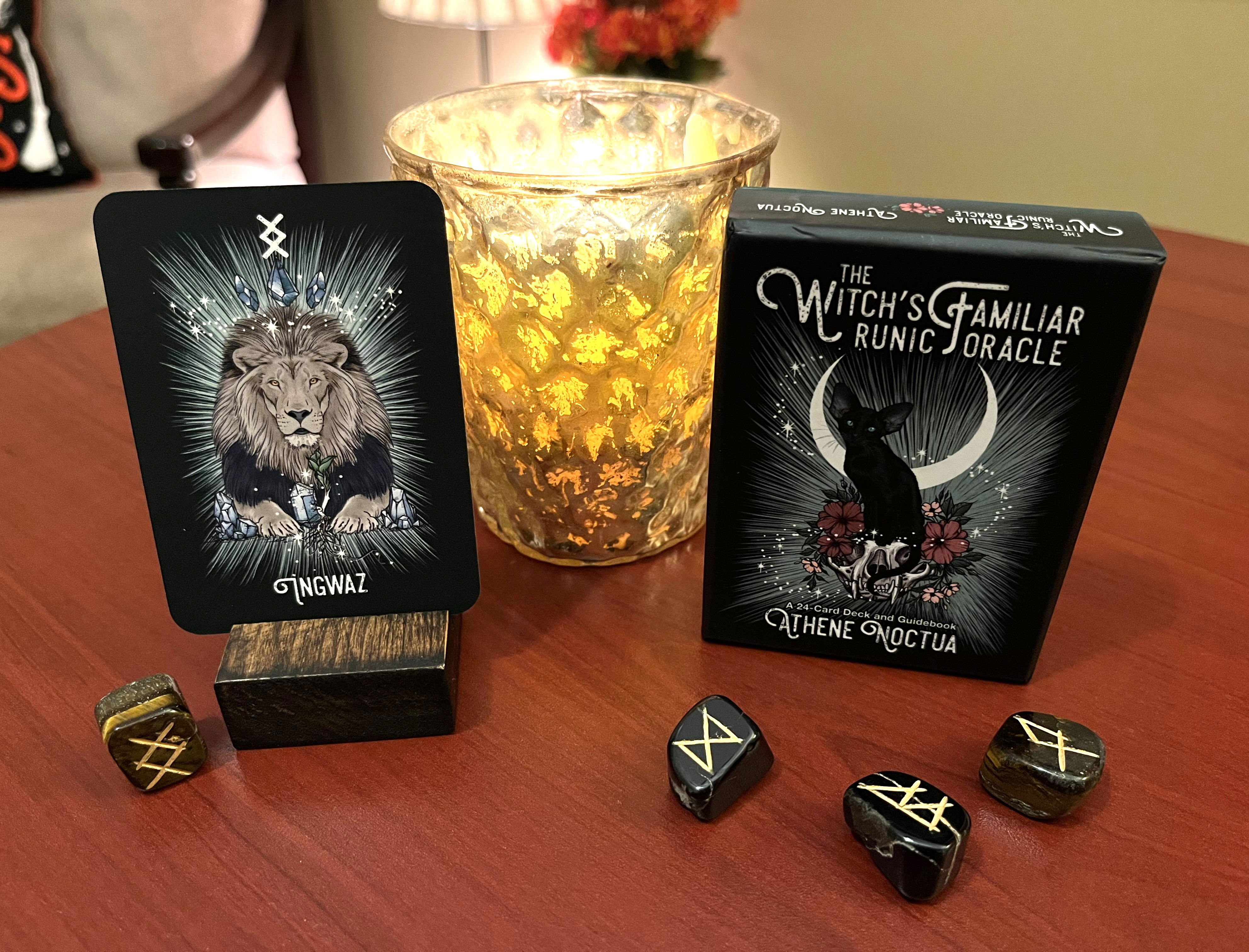 Enhance your divination practice with this 24-card pocket oracle deck featuring Nordic rune interpretations and majestic animal companions. The Elder Futhark runes are paired up with animal familiars such as ravens (my favorite), snakes, owls, stags, hares, and other magical animal guides. The author says that each animal embodies the meanings, qualities, and energies of the various runes they've been chosen to represent. Perfect for daily pulls, deepening your divination practice and your connection to the animal kingdom, directing energy during rituals, seeking guidance, and calling on protection from your animal spirit guides and familiars.
The cards are accompanied by a guidebook detailing the Elder Futhark runes and their interpretations. And it's small enough to slip into your purse on the go. Never be without their guidance even during your busy lifestyle.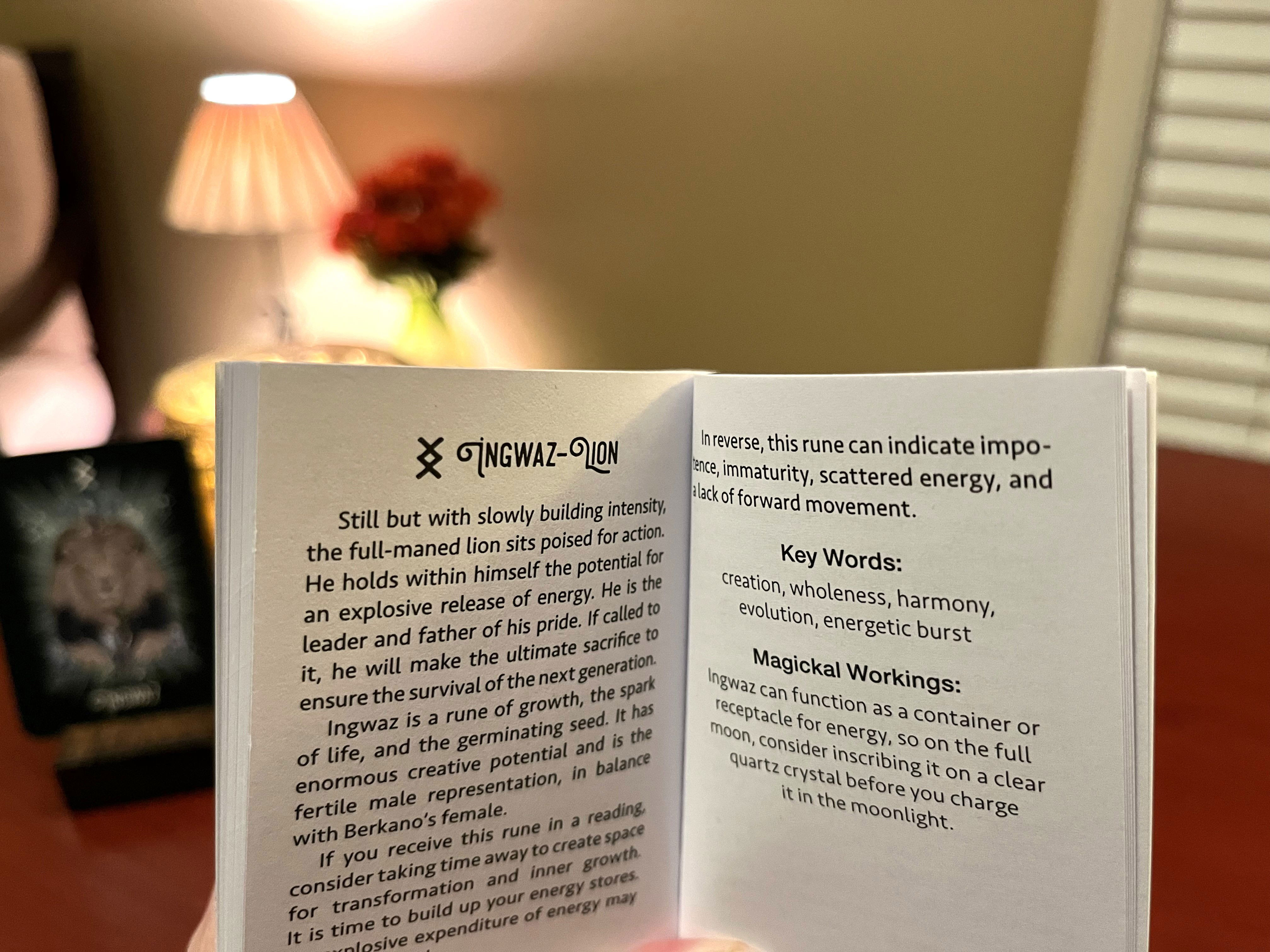 Each card in this runic deck has a description of the image with the familiar, the Elder Futhark rune description, meanings for upright and reversed runes with meanings when pulled in a reading, keywords, and suggestions for magickal workings such as manifestation rituals, moon rituals, and how to wear the runes to usher that energy into your life. I love that the creator has included a section on how to use the runes for manifesting because she notes, "The power of the runes lies in the fact that they are multifaceted. They can be used to divine and also hold within themselves the power of the idea they represent. When a rune is selected, spoken, or inscribed, it releases that power in the life of that person."
She often encourages you to display the rune or the runic card in your environment to usher in that energy so it can assist you in the outcome you desire or the manifestation of something you are working on.
This oracle is a unique type of deck unlike any others that I have in my collection!
Athene says, "I have always been fascinated by this ancient Norse 'alphabet', and the symbols' ability to both divine and imbue. As a divination system, runes can tell us about all those things most important to us: home, family, love, prosperity, health, and the fulfilment of our destinies. They can also imbue objects and ceremonies with the energies they embody. As such, I loved the fact that by placing a rune on each card, it not only denotes the meaning that card will have within the oracle deck, but also lends its energy to the card, imbuing it with its nature."
If you don't have a working knowledge of the runes, don't worry. I'm new to it, too. I've tried over the years to dive into them, but I haven't connected as easily with them as I have with tarot cards. But the guidebook that accompanies this deck will give you all the information you will need! So, no fear! I jumped in and started pulling spreads with these cards immediately and picked it up easily.
Athene is also the deck creator of the Crystal Ball Pocket Oracle and The Unfolding Path Tarot that just released August 8, 2023 – that pocket oracle would also make a great stocking stuffer!
Purchase the Witch's Familiar Runic Oracle here
Let's read about some animal spirit guides!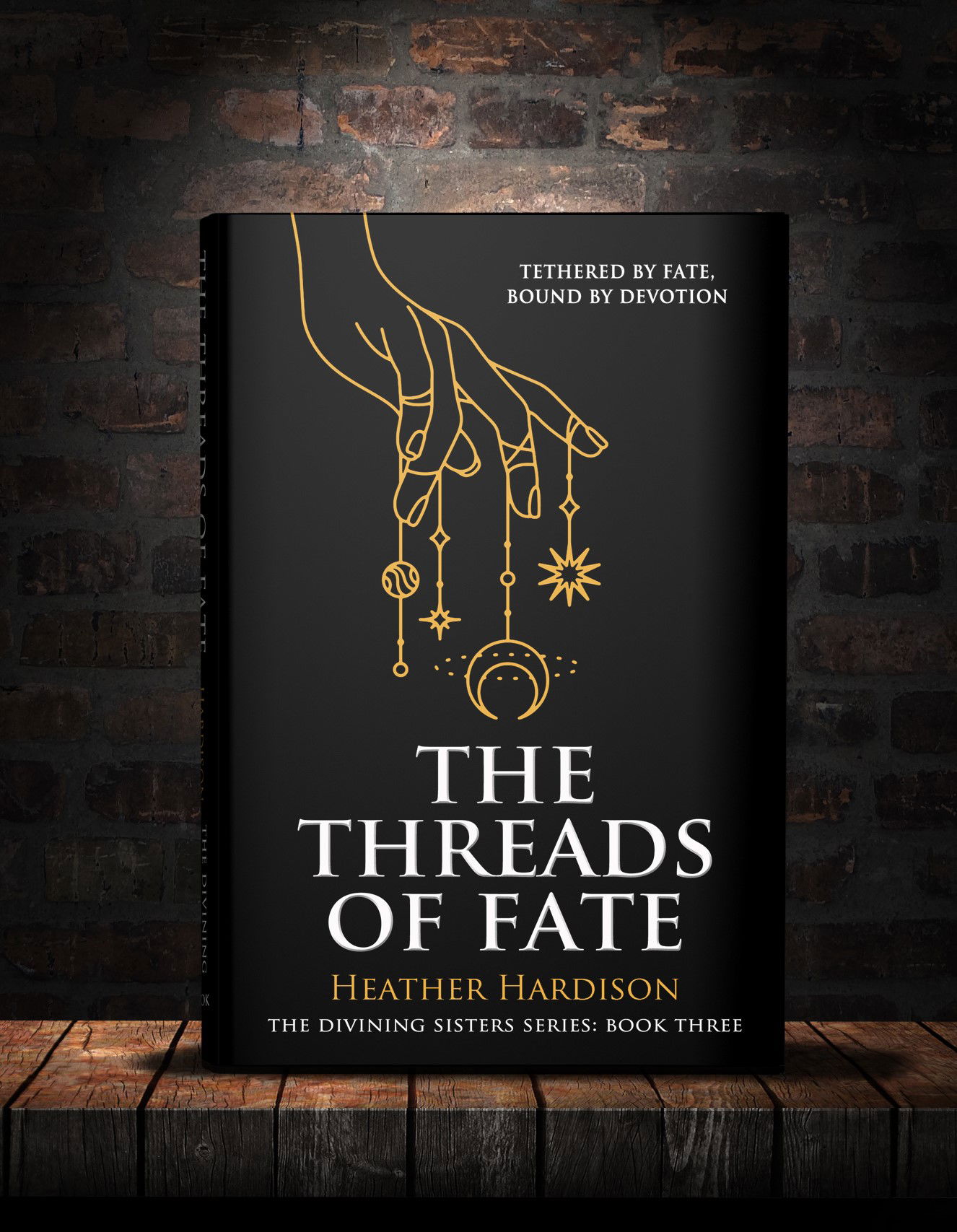 In the third book in my divination series, The Divining Sisters, I introduce a few animal spirit guides for the main characters. Since we're on the subject, I thought I'd share a few snippets from The Threads of Fate (book 3) that just released on 9/26/23. Here, one of their past coven sisters is revealing the animal guides she sees around Alexandra Steele, the main protagonist in this witchy series. And it just happens to be a raven – my favorite card from the Witch's Familiar Runic Oracle!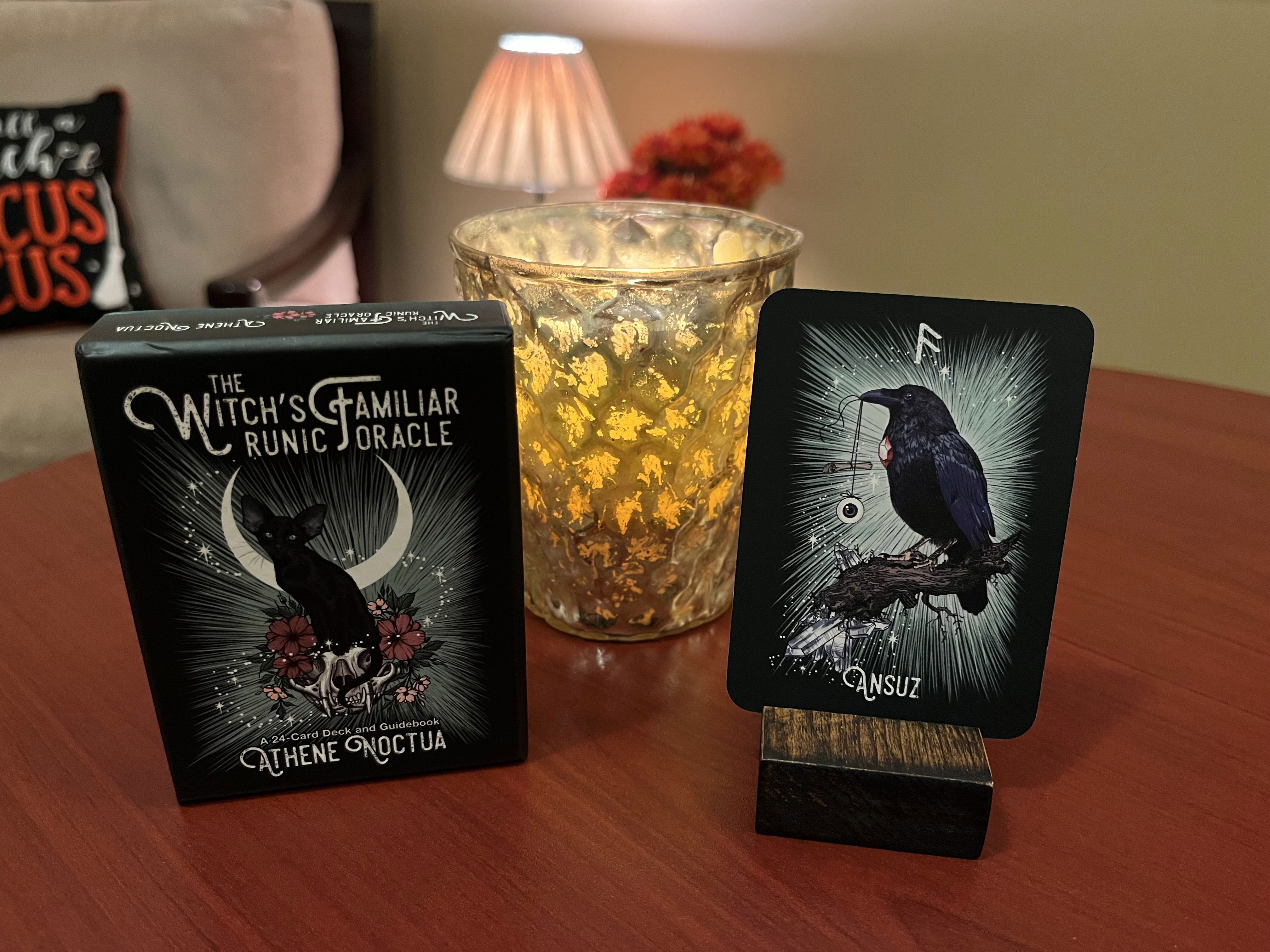 "Raven has been with you throughout your mystical lives. She's there whenever magic is at play. Call on her to help your intentions come to life. When she's around, your dreams can become a reality. She'll guide you when you dive into your shadow to confront those deep wounds. Your greatest healing will come when you work with her to heal those hurts. She'll help you bend space and time at the right moment, leading to a monumental rebirth. Let her help you unleash your magic. Some Native American tribes call the raven a 'secret keeper.' That seems significant."
Alex shot Hazel a look. They had uncovered so many lifetimes where they'd died to protect the secret wisdom they'd sworn to guard.
"Next to Raven is Crow who has been with you in your witch lives. She has long been the symbol of magic. She has a gift for seeing the invisible and revealing the unknown when you're ready. She can reveal to you the secrets and knowledge of the past, present, and future. Can you sense the magic pulsating around you? If you can, you're detecting her presence. Sometimes you question your magical gifts and worry that you're just ordinary. But she's here to reveal your magic to you. The world is shifting around you. Are you shifting with it? A new life is on its way. Trust that she'll return your magic to you."
I won't reveal too much about the story. But this is just a small part of that animal spirit guide session where many of their past familiars and animal guides gather around them to be revealed along with their purpose in guiding each of these sisters to their destined path set in motion lifetimes ago.
Check out The Divining Sisters Series here.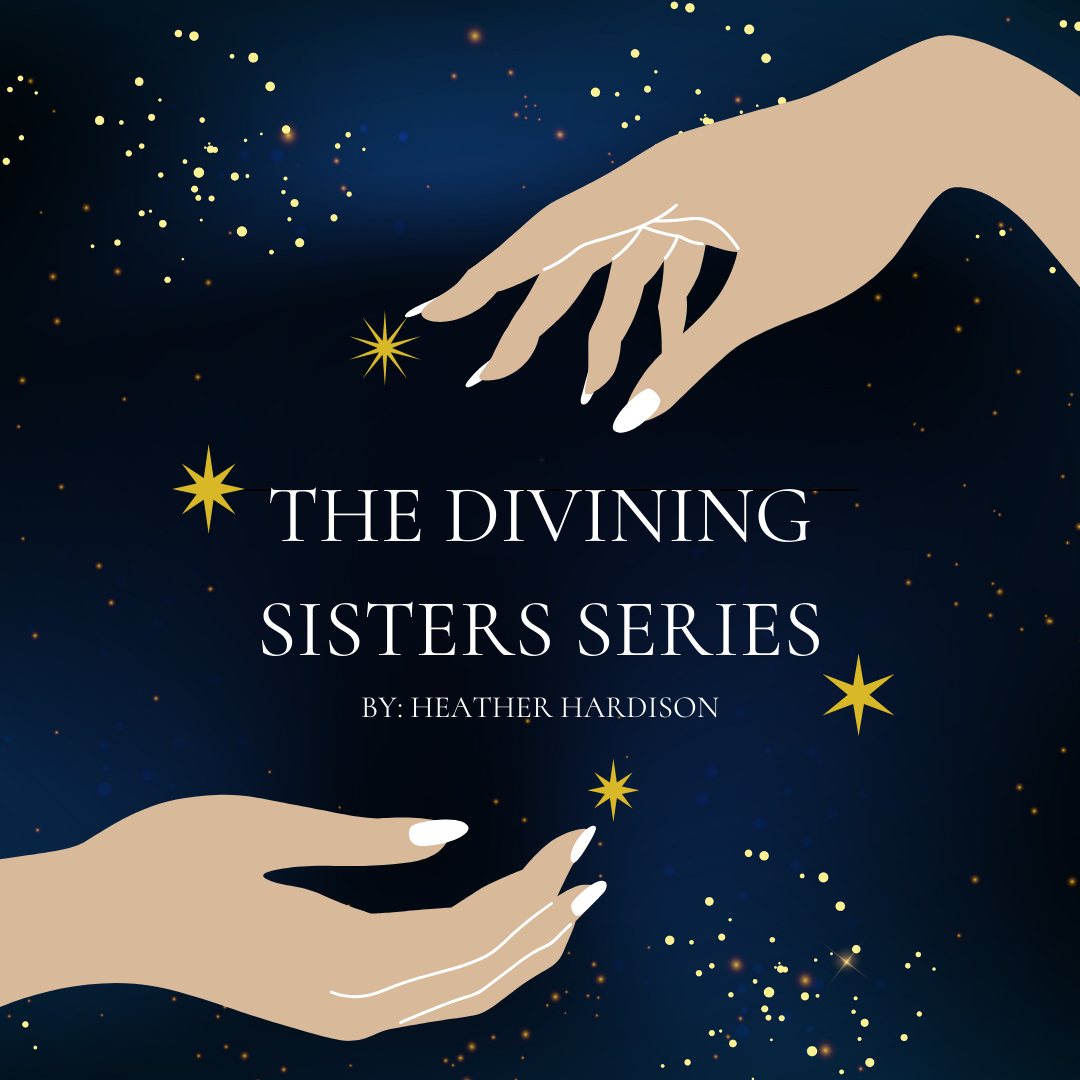 If you're looking for a good witchy book, my fictional divination book series, The Divining Sisters, is perfect for this time of year! Start with book 1 in the series, The Call of the Cards, and then catch up to book 2, We Divine Three and book 3, The Threads of Fate, that just released in Sept. 2023. Writing the last in the series (book 4) now.
They're available as ebooks $4.99 and paperbacks $14.99 on Amazon. And the eBooks are also on Barnes and Noble, Apple Books, Google Play, Kobo, Scribd, Smash words, and more.
Find out more details on my novels on my author website author.heatherhardison.com - where I post updates on book releases, video book trailers, book blurbs and quotes, as well as fun things like my Spotify playlists for each book. I carefully curate those to express the energy of each book.
This series follows a group of women (witches, healers, diviners) who reincarnate lifetime after lifetime and reunite with their coven so they can fulfill a mission of keeping their craft of divination, healing, and magic alive for future generations.
Book Blurb for Book 1 in The Divining Sisters Series: The Call of the Cards
Alexandra Steele, a clinical psychologist, stumbles upon a mystical store in downtown, Memphis, TN, where she encounters tarot cards for the first time. She doesn't realize it at the time, but this simple encounter will leave her life forever changed as she uncovers a world of past life connections to the cards and the craft of divination. This sparks an awakening that opens door after door of a long line of mystic and witch incarnations that run throughout her history. As she reconnects to these deep mystical ties, she begins to learn about her destiny, which is revealed as she starts to encounter coven sisters and foes from previous incarnations. Will her tendency to hide in the shadows and play small continue to hold her back or will the call of the cards lure her onto her destined path of a life full of magic and sisterhood?
Readers are raving about the series like these 5 star amazon reviews of The Call of the Cards and We Divine Three:
"Absolutely Unique! Resonated so much!"
"Life-changing. I felt seen. I don't think I've had this experience with any other book."
"The metaphysical series I've been waiting for! I was hooked from the beginning and even found myself slowing down because I want it to last. The characters are so relatable and genuine, and the explanations of tarot readings and past life stories is spot on! I'm eagerly awaiting the next ones. Please please, Heather, keep writing."
Readers call it "Harry Potter for adults."
If you get a copy, please leave a book review on whatever platform you buy it on if you enjoy it. That really helps me out and can help get my book in front of more readers. And if you love it please also review it on good reads.
If you follow me on Instagram, you'll see updates on the book releases there. I have 2 instagram accounts My tarot and podcast account - healingthrutarot My author account heatherhardisonauthor
Watch the book trailer for The Divining Sisters Series
And if you are interested in witchy things, I just released a podcast episode of Healing Thru Tarot called Healing the Witch Wound+ Review of the Oracle of the Witch: Reclaim Your Birthright Deck

In this episode, I discuss healing the witch wound and review the Oracle of the Witch: Reclaim Your Birthright deck and Spells: A Little Deck of Enchantments both by Rockpool Publishing. I also share a 9 card spread to help heal the witch wound. Check that out here!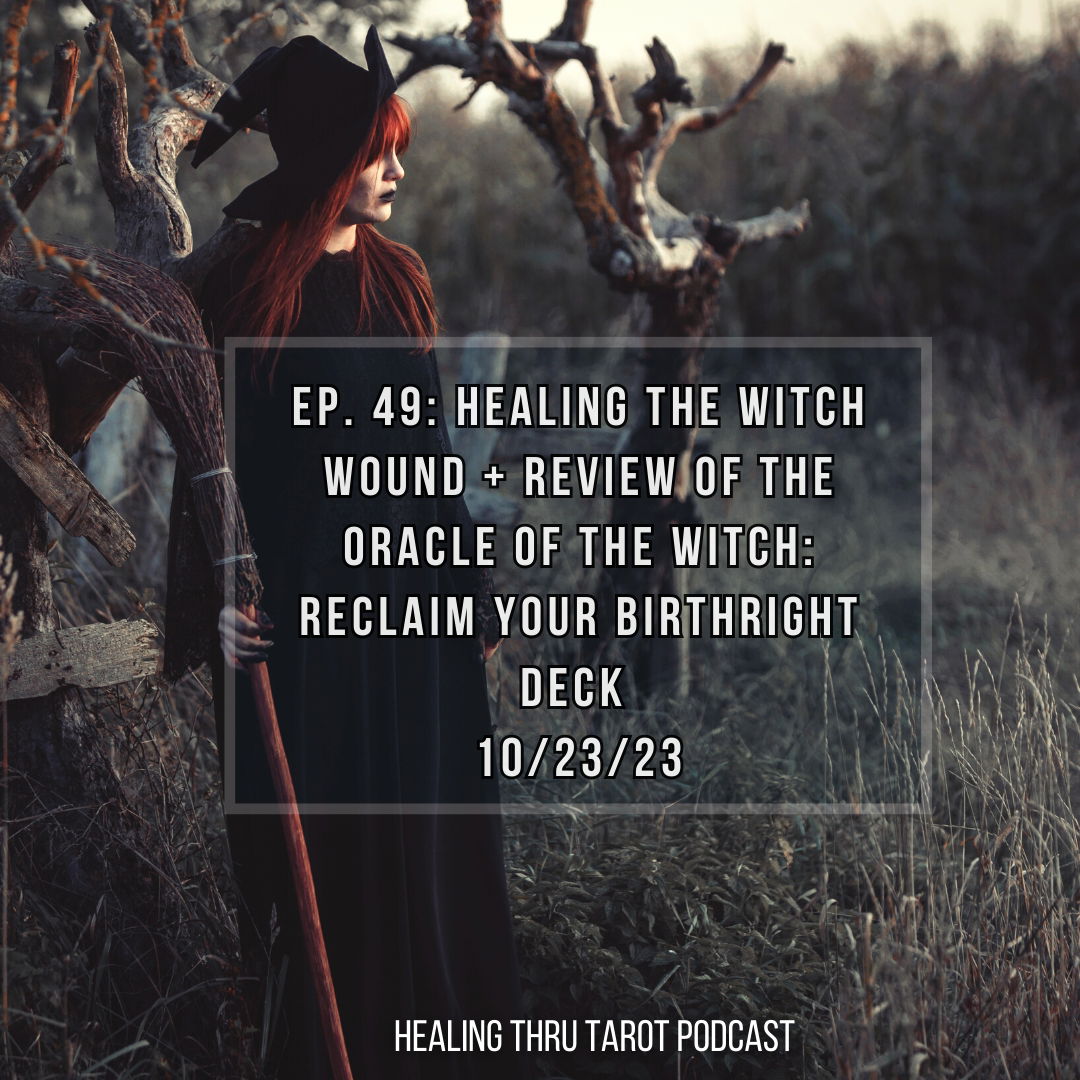 Time to pre-order the 2024 Writual Tarot Planner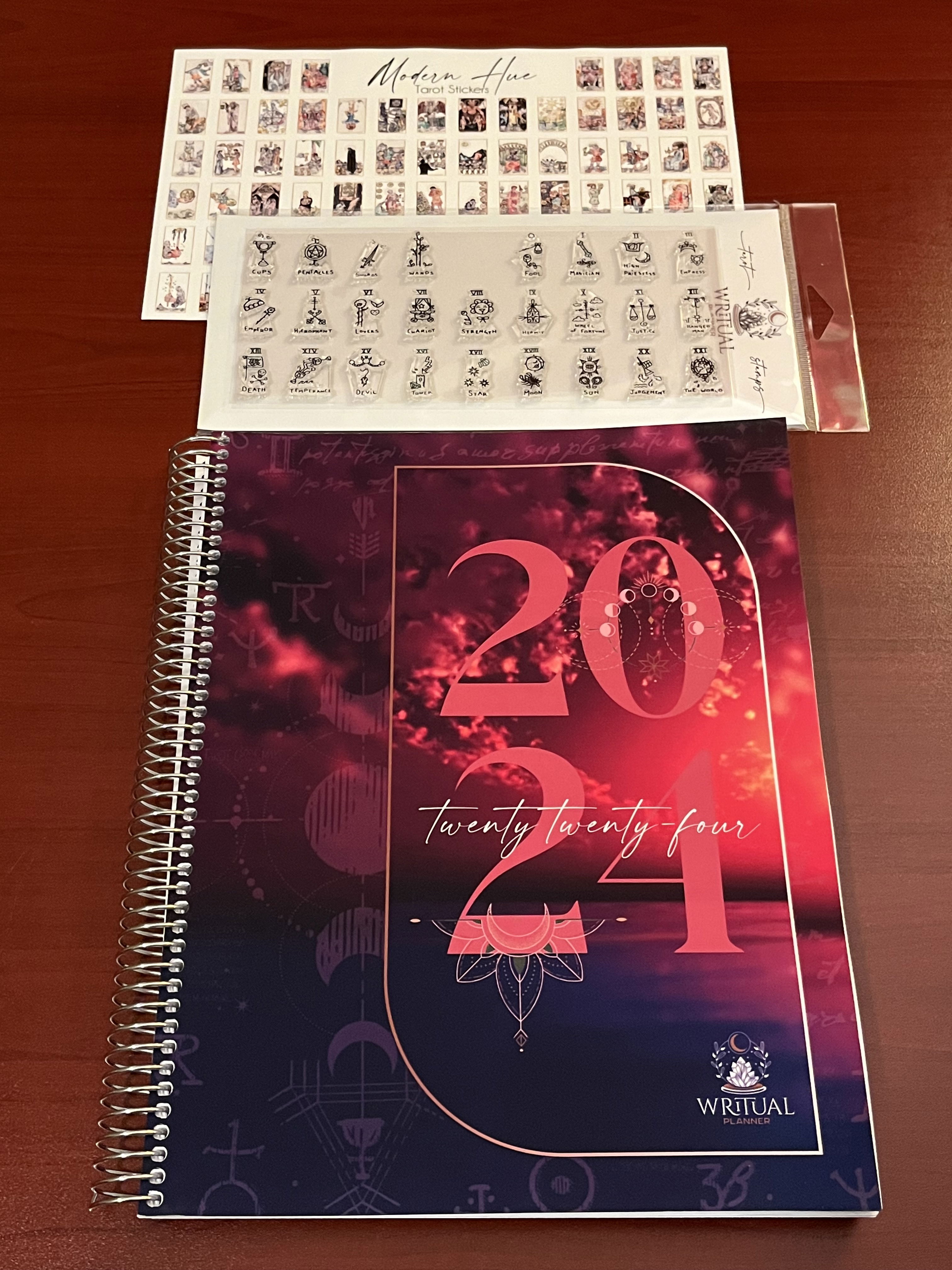 And it's that time of year when we need to order another tarot journal. It's out now! I always order a new Writual Tarot Planner around this time. If you want one before the new year, remember you can use my writual discount code at checkout. Use my Writual ambassador link here along with my NEW discount code HEALING (all caps), which gets you 15% off your Writual purchases when you use that affiliate link and code. Writual has tarot stamps and stickers, dated and undated tarot journals and planners, including one for kids, tarot decks and tarot-themed mugs, candles, and jewelry so check them out using my link!
Healing Thru Tarot's Spread Ebook Line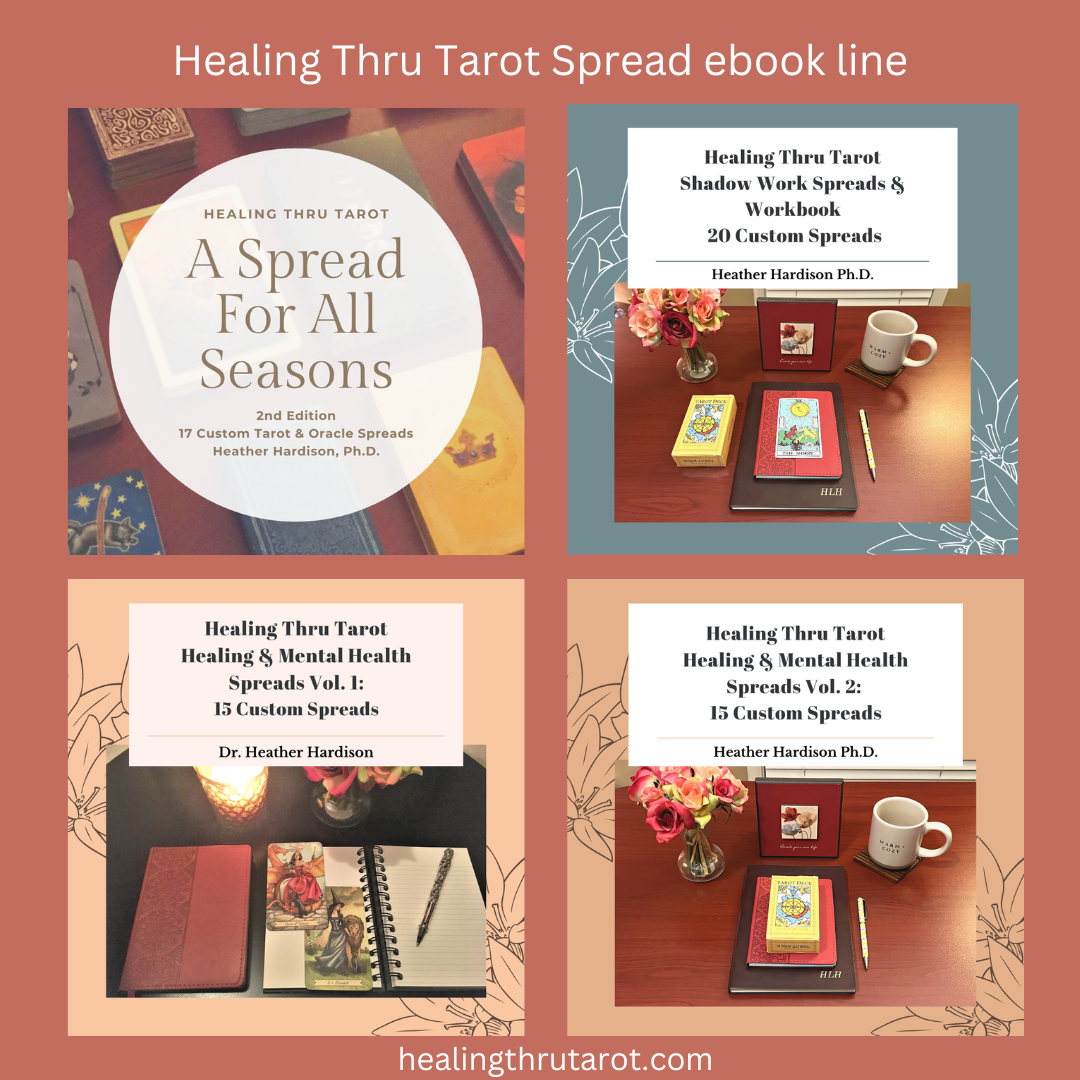 A Spread for All Seasons - 17 custom spreads
Healing and Mental Health Spreads Vol. 1 - 15 custom spreads
Healing and Mental Health Spreads Vol. 2- 15 9-card spreads
Shadow Work Spreads and Workbook - 20 spreads
* (Newest) Healing Thru Tarot's Life Path and Life Purpose spread ebook includes 15 custom spreads I've created to help you identify and align with your life path and sail to success. Spreads like the life path alignment spread, lightwork path guidance spread, conquering obstacles on my path spread, advice from my future self-spread and karmic healing path spread will help you position yourself to step into your full power and achieve the purpose you incarnated to fulfill. Plus many more spreads offering guidance and advice to get on path and stay on track. $12
Click here to purchase any of these spread ebooks
FTC Disclosure: In accordance with Title 16 of the U.S. Code of Federal Regulations Part 255, "Guides Concerning Use of Endorsements and Testimonials in Advertising," I received the Witch's Familiar Runic Oracle from Hayhouse for prospective review. Everything I've said here is sincere and accurately reflects my opinion of this deck and journal.
Listener Support
Are you enjoying the Healing Thru Tarot podcast and companion blog? If so, now you can gift me a coffee or two to kept me fueled as I pull all-nighters writing the scripts and recording all the episodes. Help me keep this content flowing by sparking my inspiration! Just click here to gift me a caffeine fix.