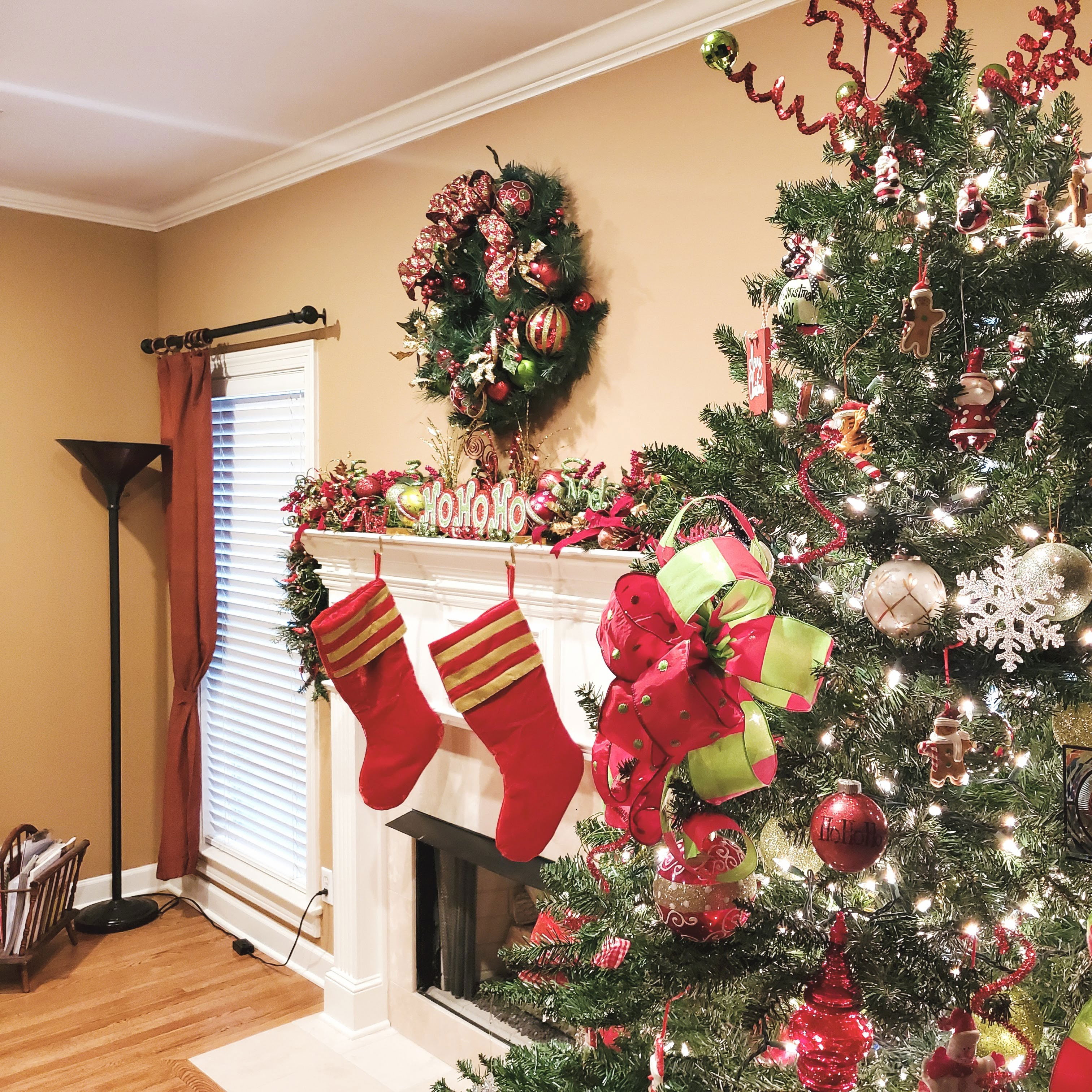 I LOVE filling stockings!! It's one of my favorite parts of the holidays. I gather ideas all year long for tiny gifts that would tuck easily into a stocking. Last year I got the idea to share my list with you. So this year I've updated my favorite tarot and oracle goodies. In this blog, I'll share those to help you with your holiday shopping for the diviners in your life. And if you see anything on this list that you'd like, share this list with those in your life that will be shopping for you. I'm never shy about dropping hints about what I want. Don't be afraid to declare to the universe what you'd like to find in your stocking this year. Manifest away.
And to make this easy for you I've consolidated all the links in this blog at the end of the blog in 1 section and in a separate shopping list here to help streamline your holiday shopping!
Let's dive in to my 2023 Holiday Tarot Gift Guide
Tarot with Keywords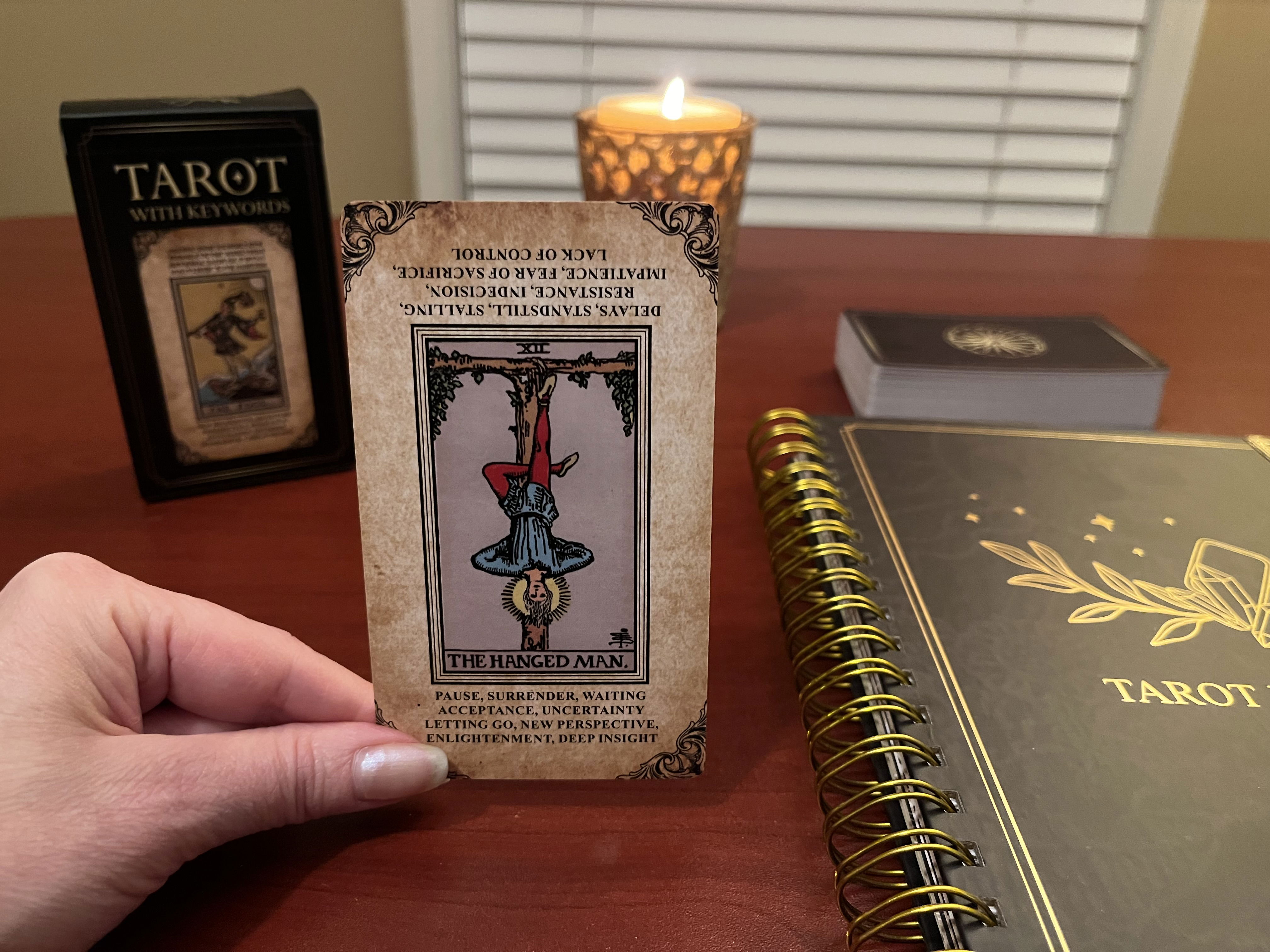 First up, I'm including a deck to help you or your loved one master the tarot card meanings. This is especially perfect for anyone that struggles with reversals. I mean that's something we all go through right?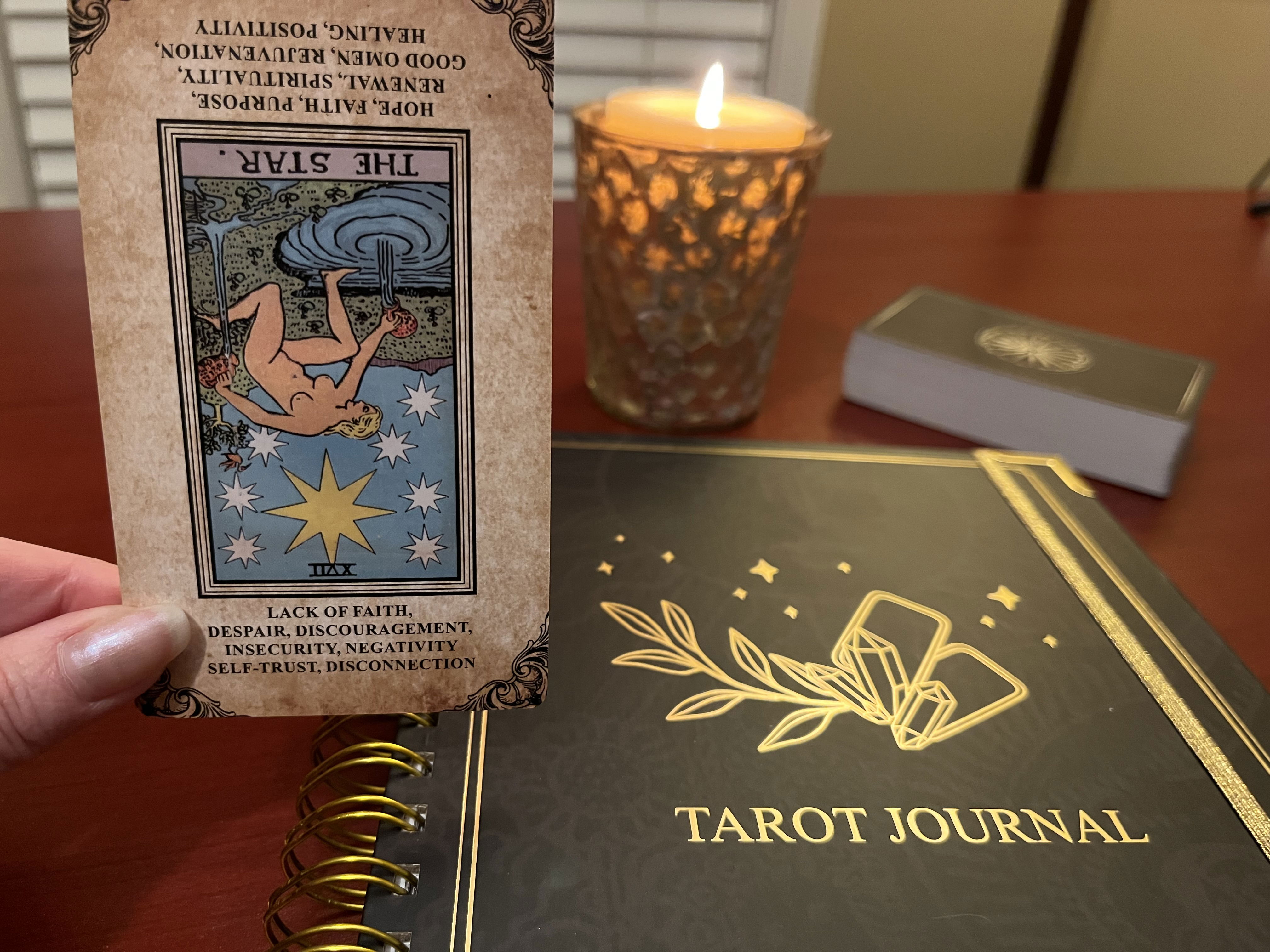 As you can see from the images above, The Tarot With Keywords deck has a matte finish, Rider Waite Smith imagery, & upright and reversed keywords right on the card.
I love a deck with keywords as they help beginners master the various card meanings, and it allows you to start reading spreads right away without a guidebook. Plus, for me, I love to refresh my memory every year by using them like flashcards, especially with the reversed meanings included. I love the antique look as well - so photogenic. Great for beginners & tarot teachers, too!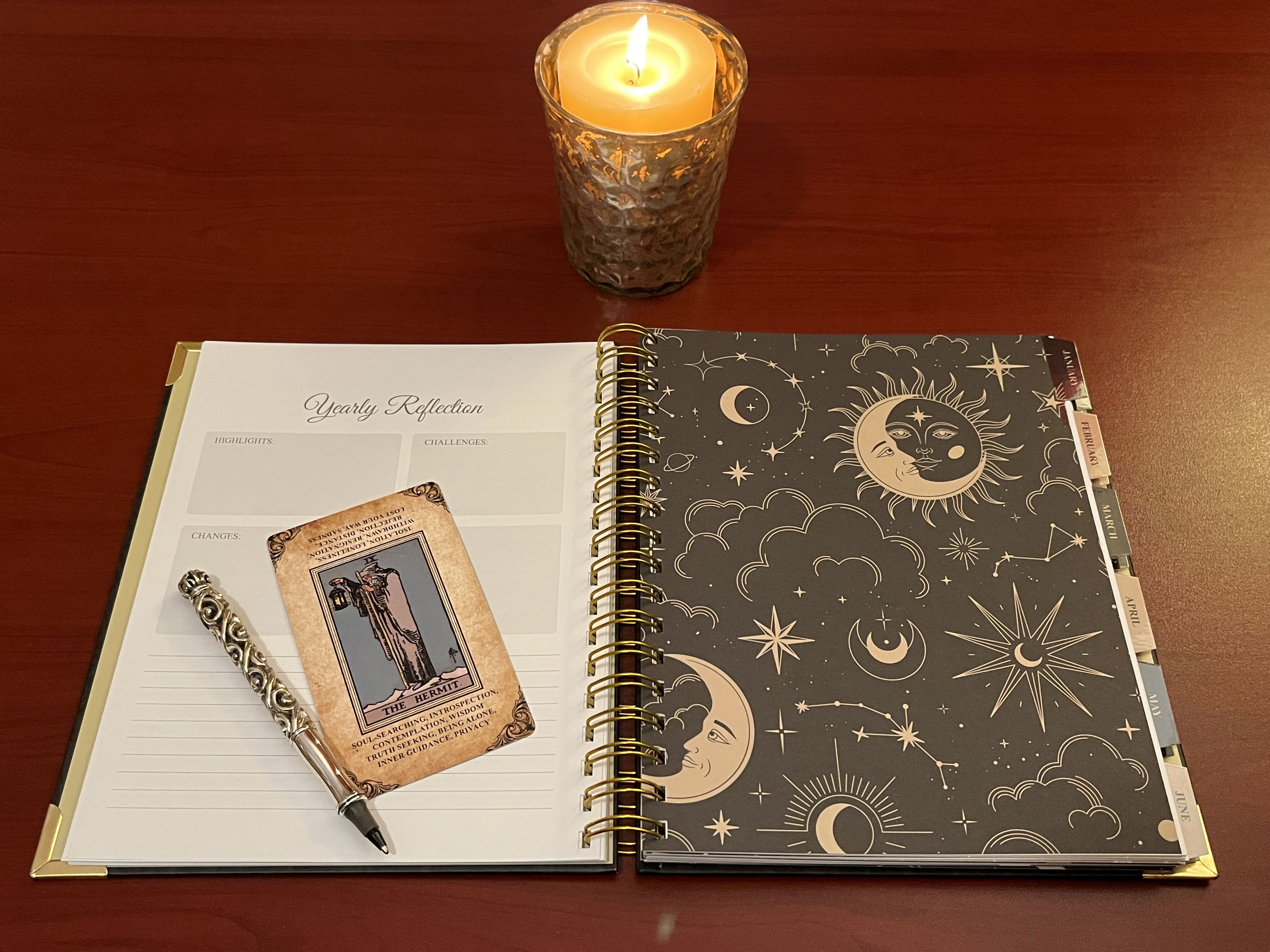 In addition to the deck, Little Sage Tarot sells a beautiful spiral hardback tarot journal that's undated, so you're able to jump in at any time of year and customize it as needed. There are pages for daily card pulls and notes, your year ahead spread, monthly notes, goals, intentions, and reflections at the end of the month where you can tally your card pulls to determine your stalker cards for the month and document your monthly highlights and challenges. There's also a page for a monthly spread to determine monthly goals and advice.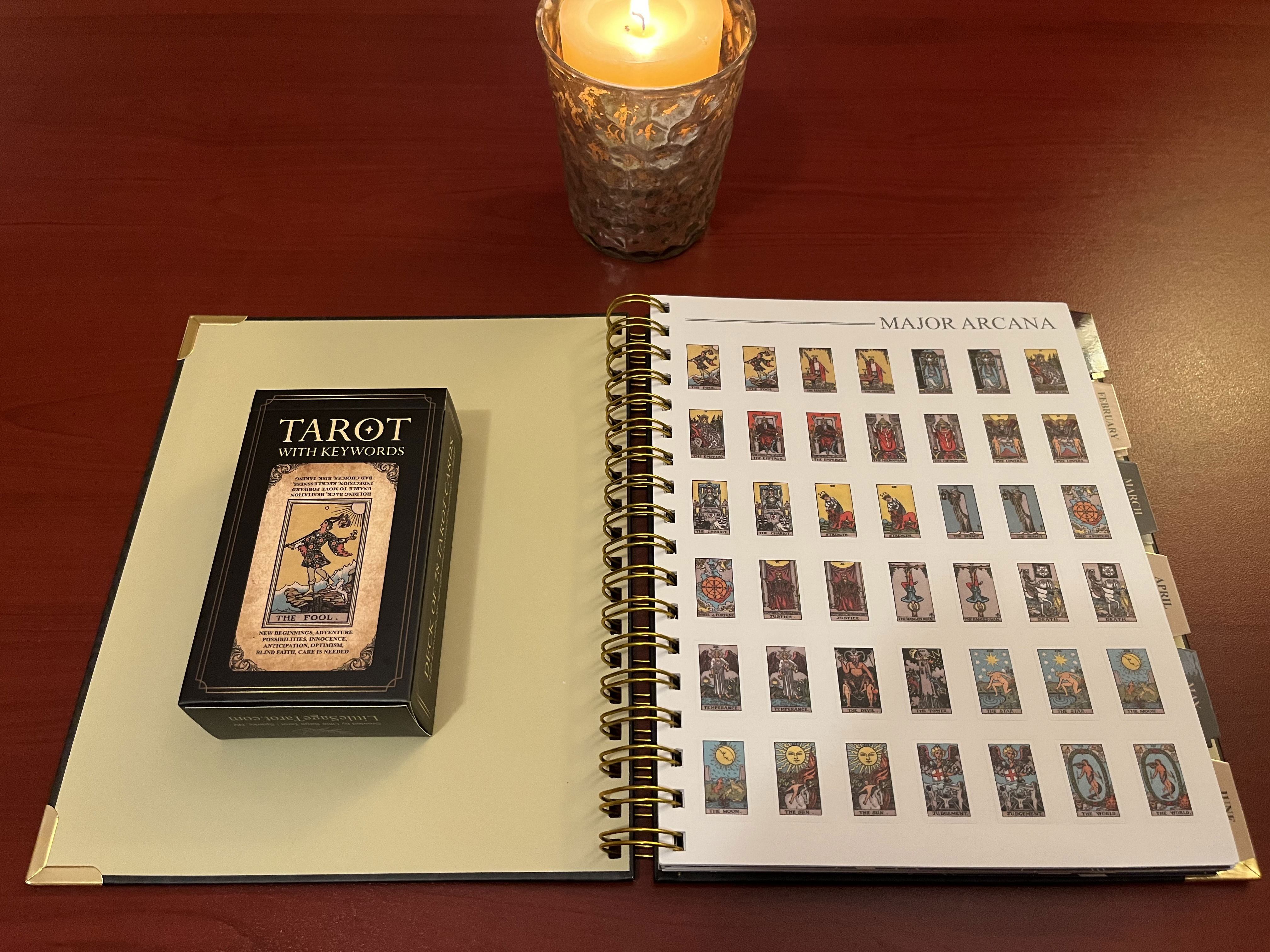 One of the best things about this journal is that it comes with 5 pages of tarot stickers for you to use to log your card pulls ($10 value). You receive 2 of each major arcana & 3 per minor arcana cards! That's so helpful because you'll pull multiples of each card throughout the year. This journal couldn't be more beautiful with its elegant interior artwork, the gold-plated corners for durability, and the monthly dividers are so appreciated! This journal is $49 and with those stickers included that's a great price. Her tarot stickers are $10 for 5 pages (210 stickers), $15 for 20 pgs (420 stickers), $20 for 20 pgs (840 stickers). Great prices! Check out her store at littlesagetarot.com
Pocket-Sized Decks
Since stockings have limited space, I think the perfect stocking stuffer is a pocket-sized tarot or oracle deck, especially ones in those cute little tins. You would even have enough space to fit a few of these adorable tiny decks. These days there are so many pocket versions available.
Witch's Familiar Rune Pocket Oracle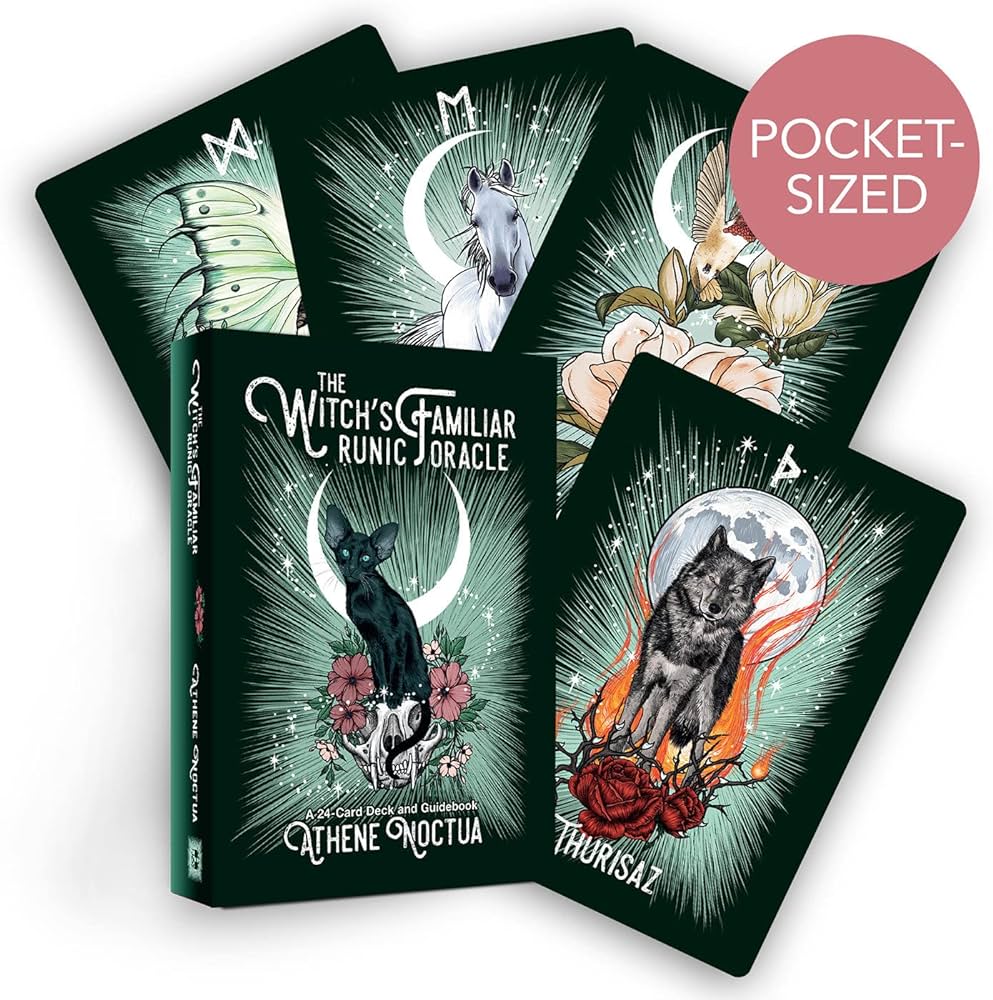 For the witch in your life, this is the perfect gift to help them connect to the animal world, their familiar spirit, and the practice of runes as each of these 26 cards matches an animal spirit with a rune that shares the traits of their paired familiar.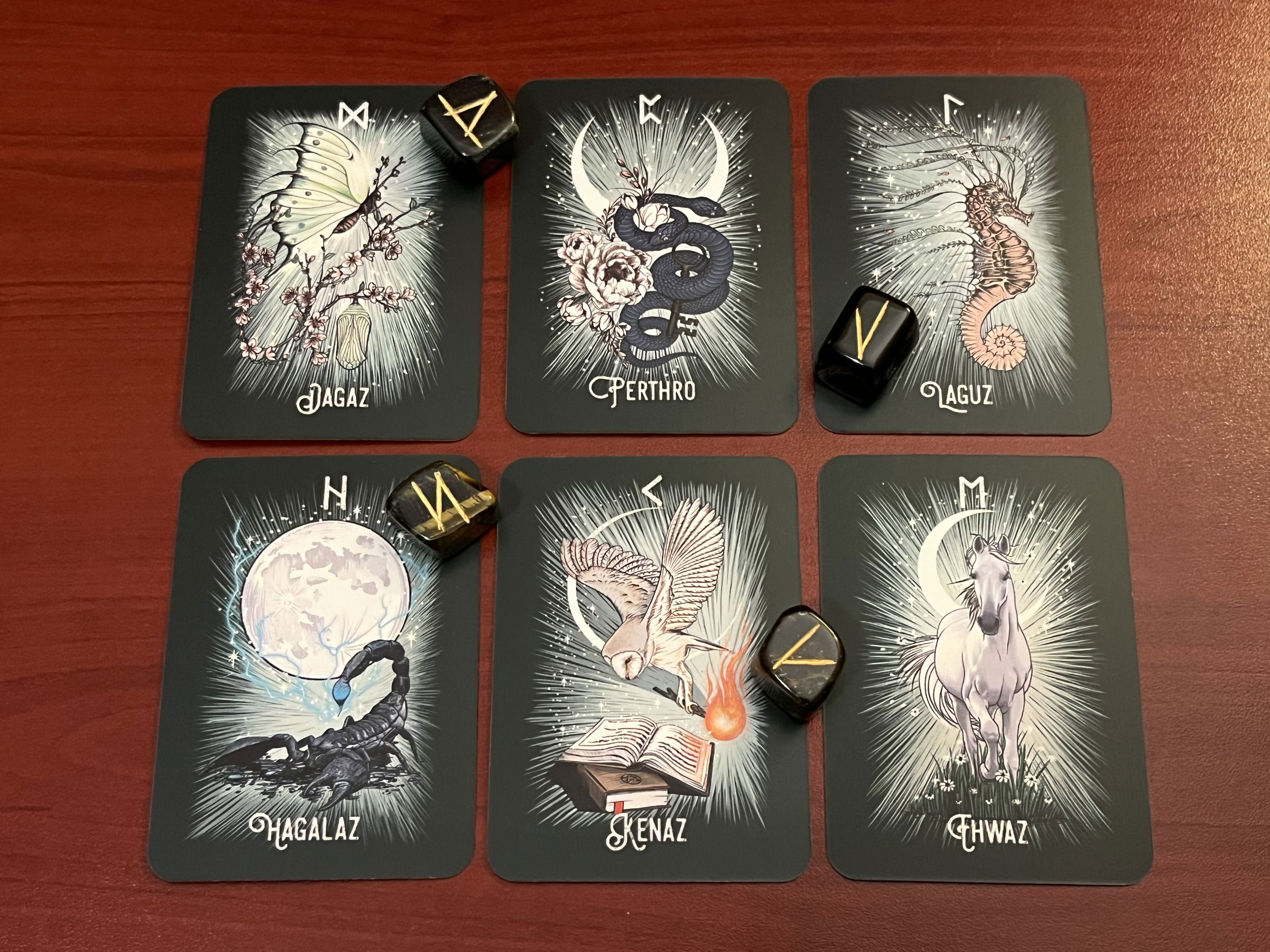 In the photo above I've also pulled runes with the cards. I'm hoping this new runic deck will help me learn the runes!
Each card in this runic deck has a description of the image, the rune description, meanings for upright and reversed runes with meanings in a reading and suggestions for magickal workings such as manifestation rituals, moon rituals, and how to wear the runes to usher that energy into your life. It's my newest deck and it's the perfect size for a stocking! And it's a unique type of deck unlike any others that I have in my collection - my first rune deck! Buy here. Check out my full deck review for this unique deck on my tarot blog here.
Spells: A Little Deck of Enchantments: 40 Mini Cards for Inspiration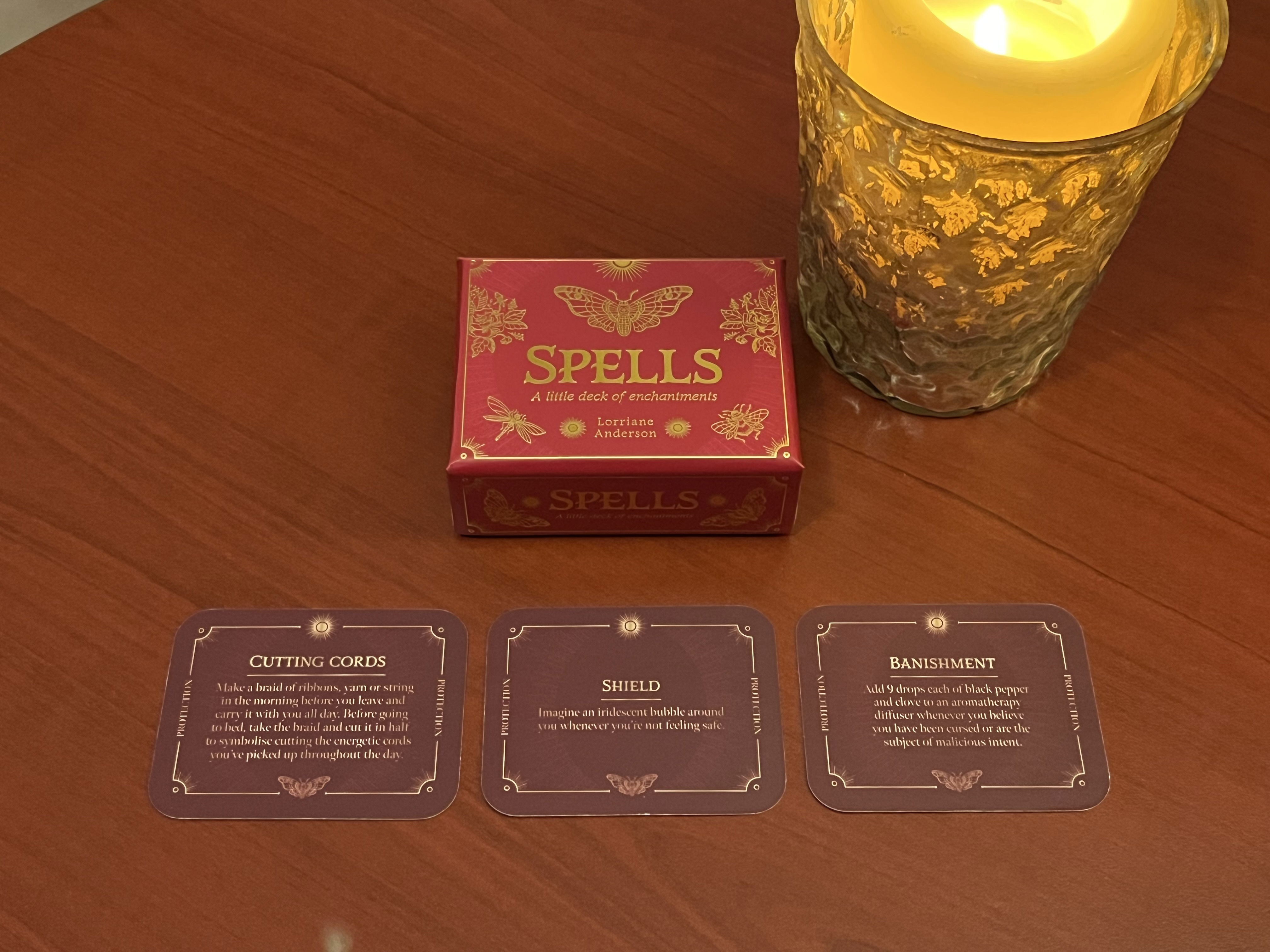 These tiny cards by Lorraine Anderson contain practical spells that you can implement quickly and easily to bring in more abundance and healing energy to manifest your greatest desires. You can use these cards to tap into your inner magic by including practical magic into your daily life. They're easy, simple spells to attract money, abundance, protection, love, and healing into your life. And there are even spells for banishment if you feel you need extra protection around you. For example, for a simple banishment spell, this card above says to add 9 drops of both black pepper and clove to an aromatherapy diffuser whenever you believe you have been cursed or are the subject of malicious intent. Easy but effective. And they're small enough to travel with or keep in your car or your desk at work. And of course, they're the PERFECT stocking stuffer at $12.95 on Amazon (perfect price for a magical treat this holiday season). Amplify your healing and manifestation and tap into your inner magic with these magical enchantment cards. Link here
Some of my favorite pocket-sized decks have been around for a few years and include Everyday Witch Tarot, The Wild Unknown Tarot in tin, and the traditional Rider Waite Smith Tarot in a tin. And Prisma Visions Tarot by James Eads is now available in a smaller version in a tin. I have the full-sized versions of the Prisma Visions and Light Visions decks which run around $45 each, but these pocket versions are $20, which is a great way to own a gorgeous indie deck for the price of a mass-market deck.
Even if the person you're shopping for has these decks, everyone wants a pocket version of their favorite deck to carry with them on the go. So, do some probing and find out what their favorite decks are and see if they have a small version that you can slide into their stocking this year.
My number one pick for this year's stocking stuffer is a pocket-sized deck but you'll have to get to the bottom of the list for that reveal!
Spread some positivity this year for some holiday cheer.
I love a good affirmation deck! We become what we tell ourselves. If we focus on negative thoughts, that's what we will attract to us. Therefore, we need to work hard to stay positive in our thoughts to attract what we want to manifest! So why not share an uplifting, affirmation deck with your loved ones this holiday.
Ryve's Affirmation card sets feature powerful affirmations and reflection questions to help with inner strength, and cultivate self-discovery. It's design encourages introspection, personal growth and it showcases beautiful artwork that creates an inspiring experience. This affirmation deck contains 52 uniquely designed positive affirmation cards for meditation, self-reflection and daily journaling. They help to start each day with the right intentions.
Purchase the Ryve Affirmation cards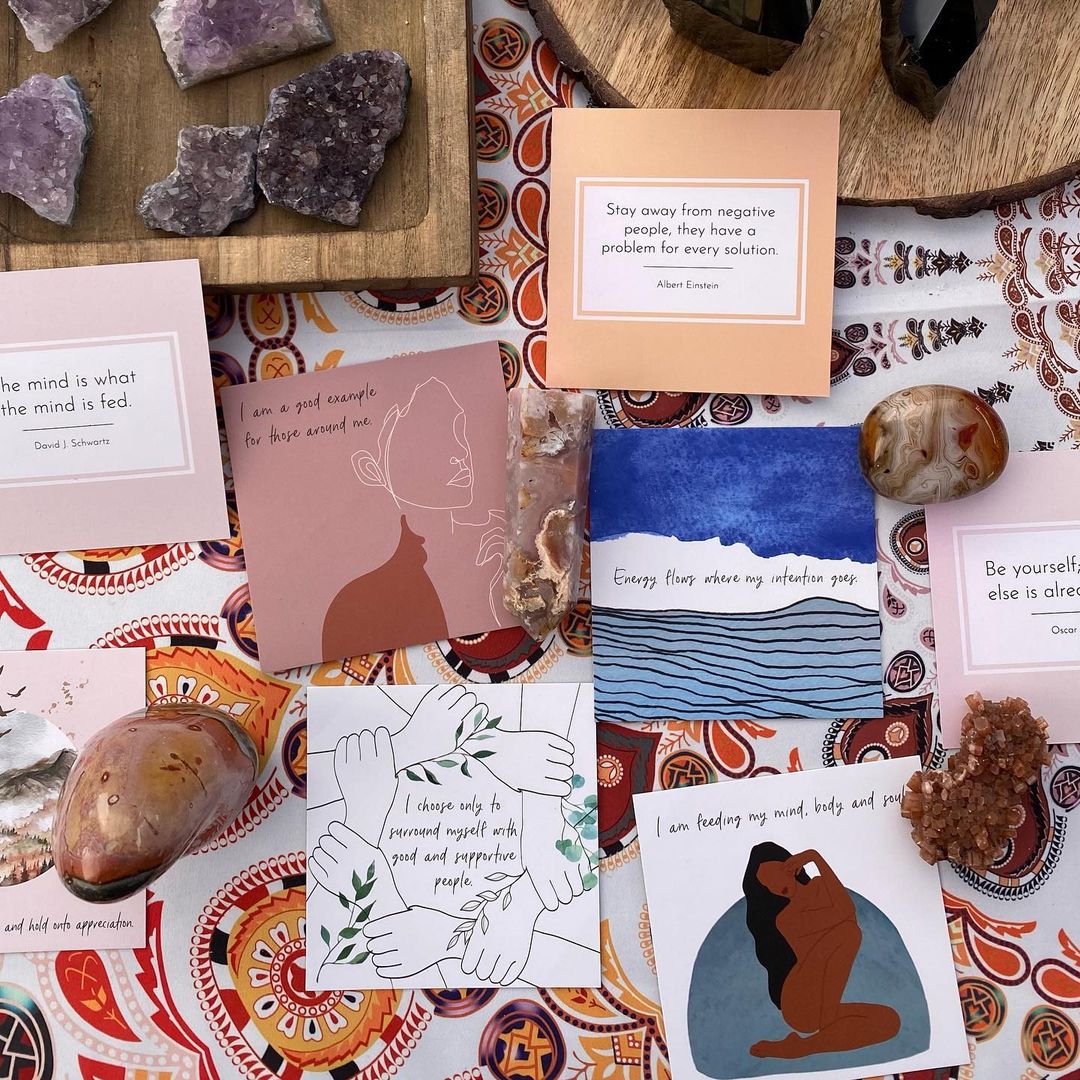 Ryve Reflection Cards
This self-reflection deck is a tool for introspection and self-discovery. It's comprised of 52 thought-provoking question cards designed to increase self-love and self-care, question behavioral patterns, challenge self sabotaging behaviors, and guide you to release that which no longer serves you. Each card contains a beautifully curated image that embodies the reflection question. Find daily inspiration with these gorgeous self-reflection cards.
Purchase Ryve Reflection Cards here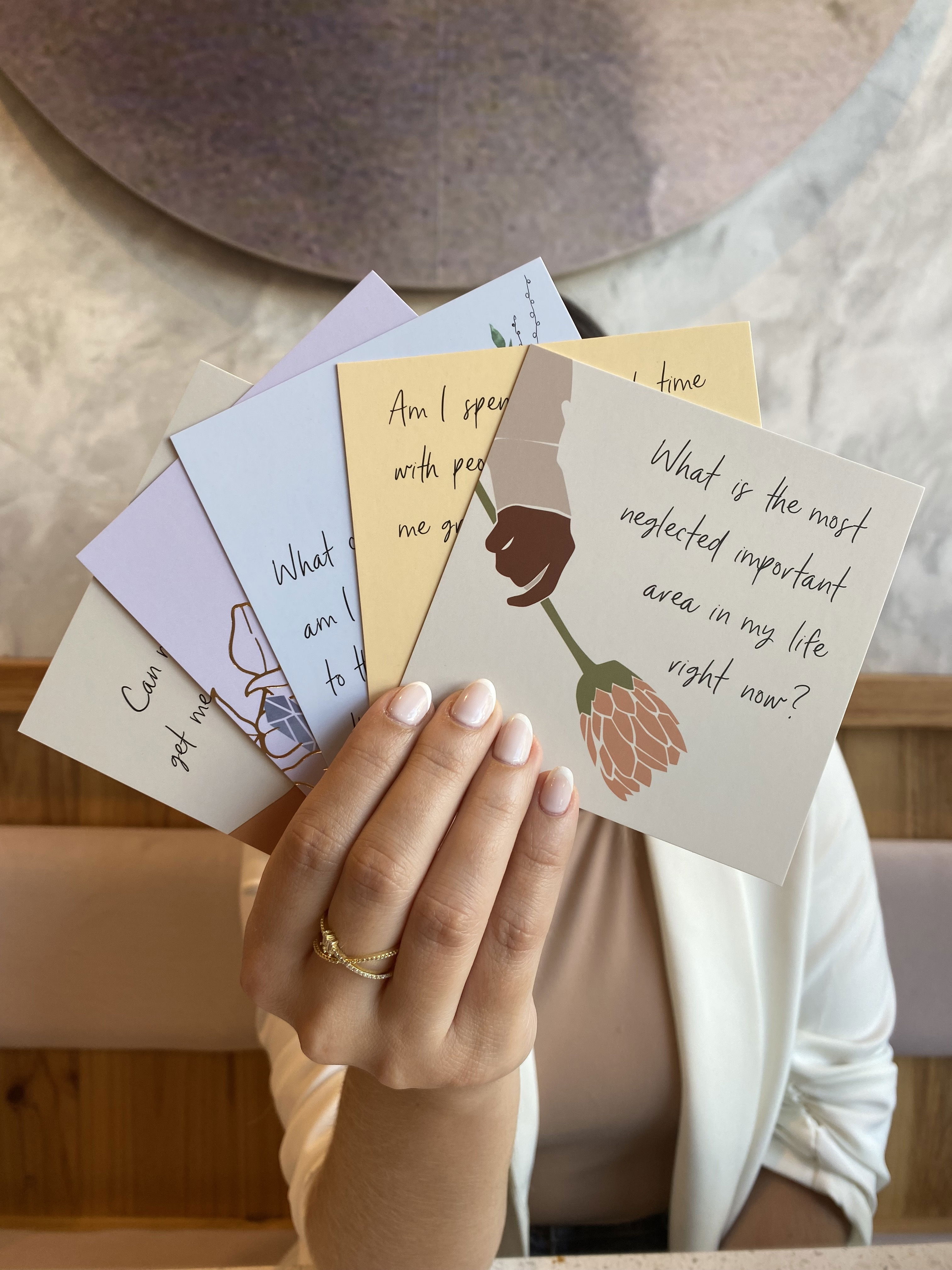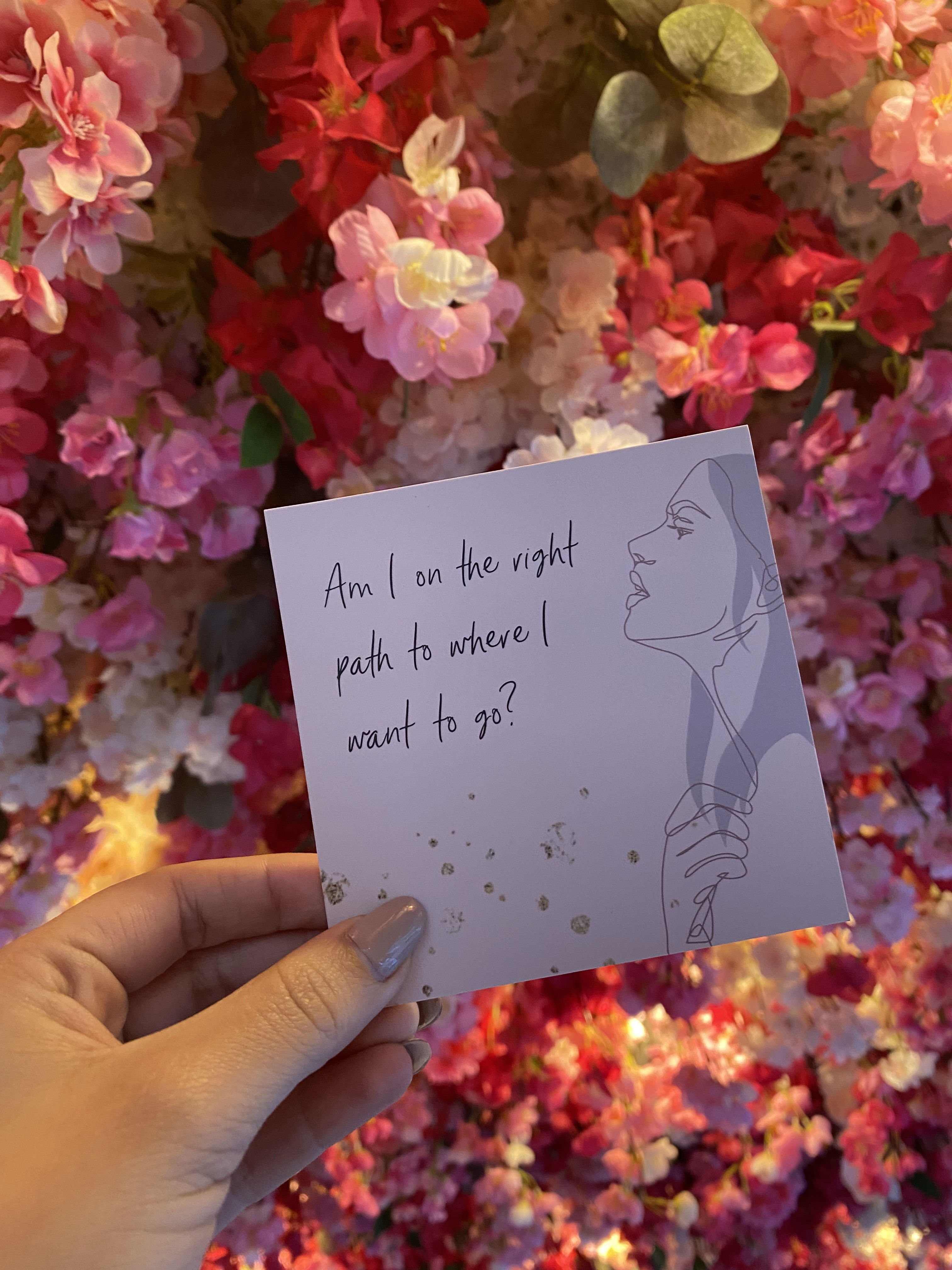 Gifts For Kids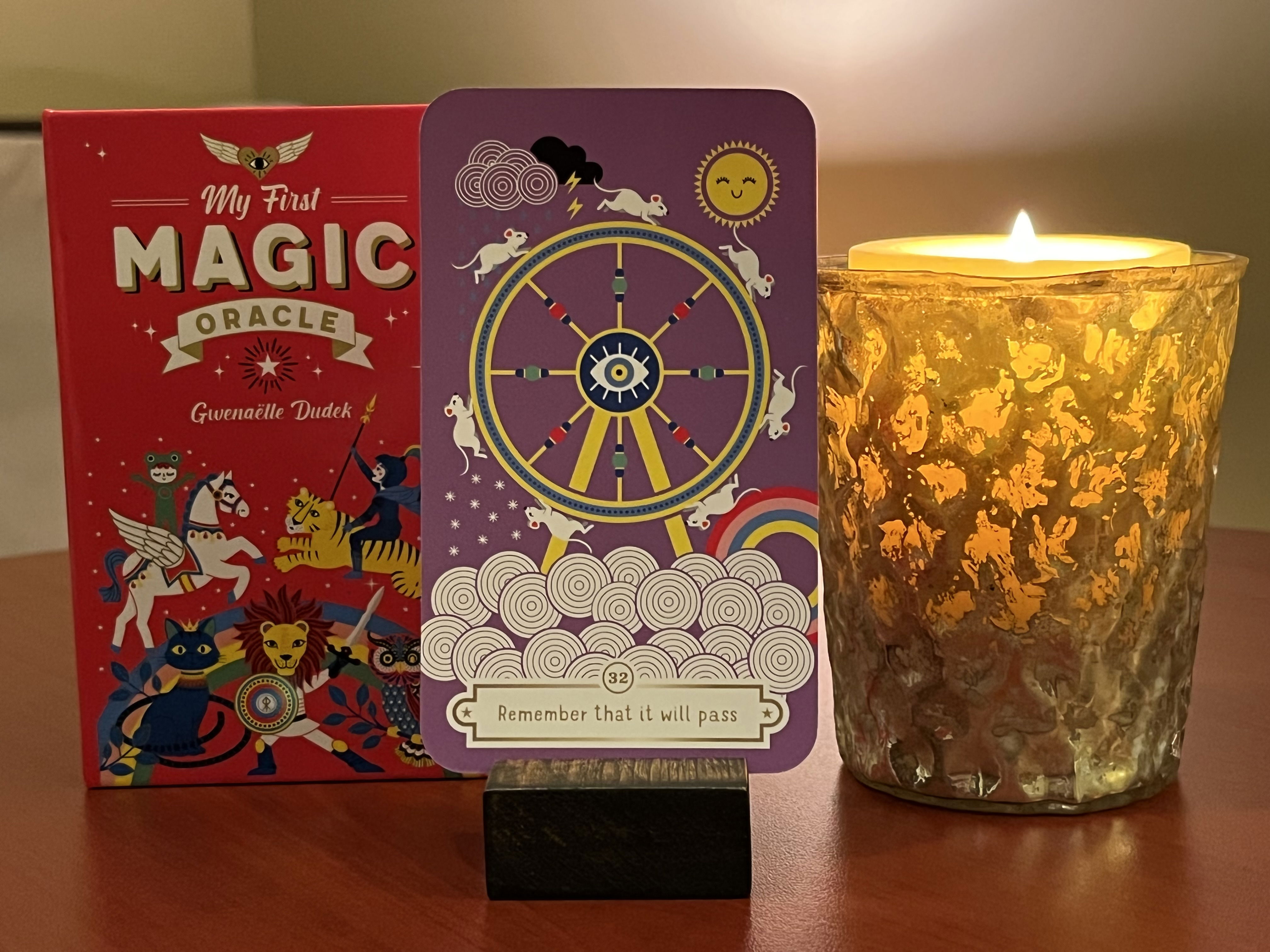 Rockpool Publishing has an adorable new kids oracle called My First Magic Oracle. It's so cute! This 42-card deck by Gwenaelle Dudek helps kids explore their emotions, learn to express and share their feelings, and process their thoughts, fears, worries, and feelings in healthy ways. This deck helps them learn more about themselves and how they view the world around them. The creator, Gwenaelle, is an illustrator, author, and personal fulfillment coach.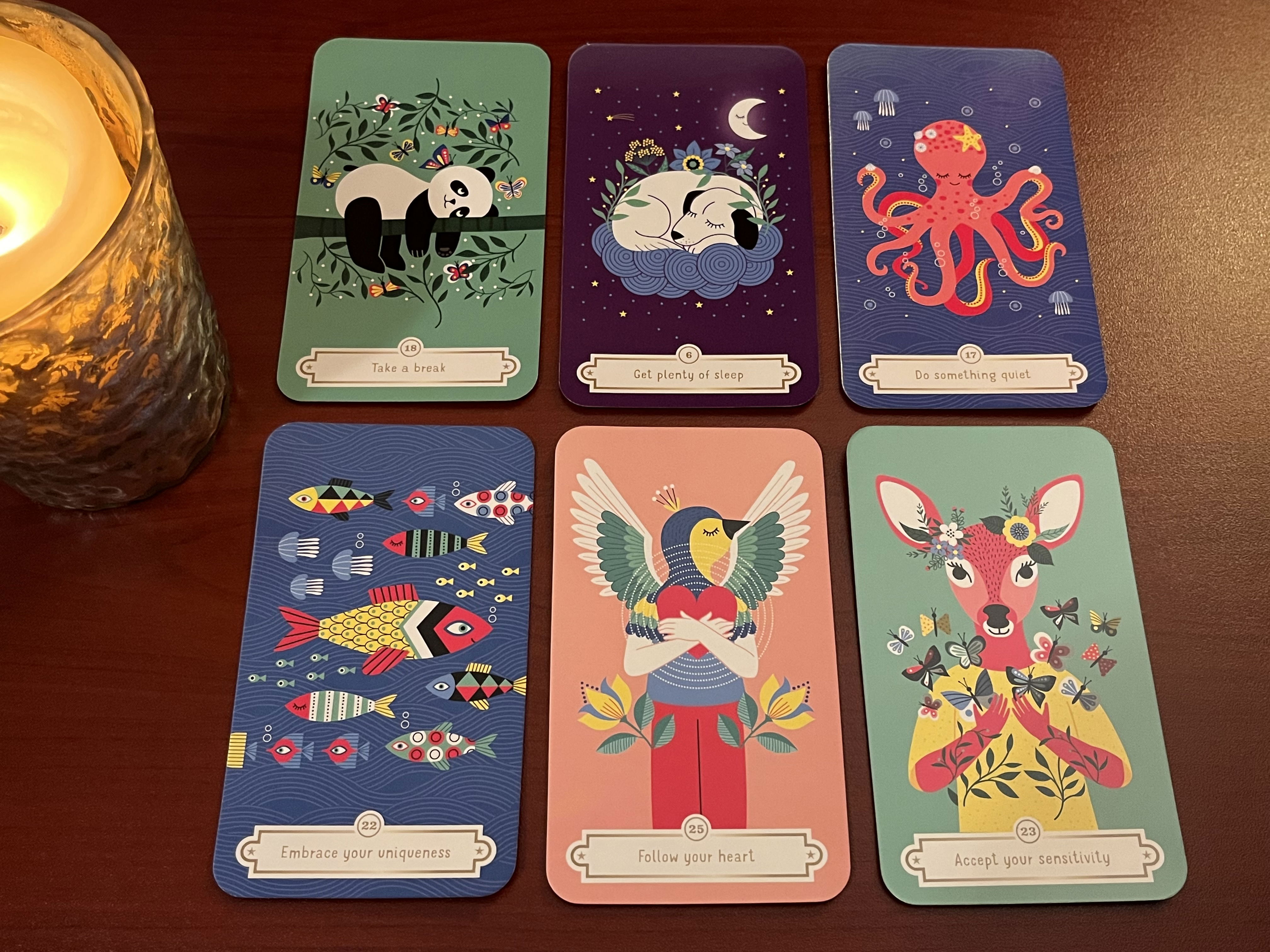 This deck doesn't focus on prediction, instead its focus is on self-reflection, self-awareness, emotion regulation, and behavior modification to include healthier habits in their daily life. The cards are very bright and colorful and showcase fun-loving animals, flowers, rainbows, plenty of sunrays and nature scenes with kids engaging in outdoor activities from exercising and playing to planting seeds in a garden to care for the planet. I find that the cards are very encouraging with messages like Be Brave, Know That You Can Do It, Do your Best, and Congratulate Yourself.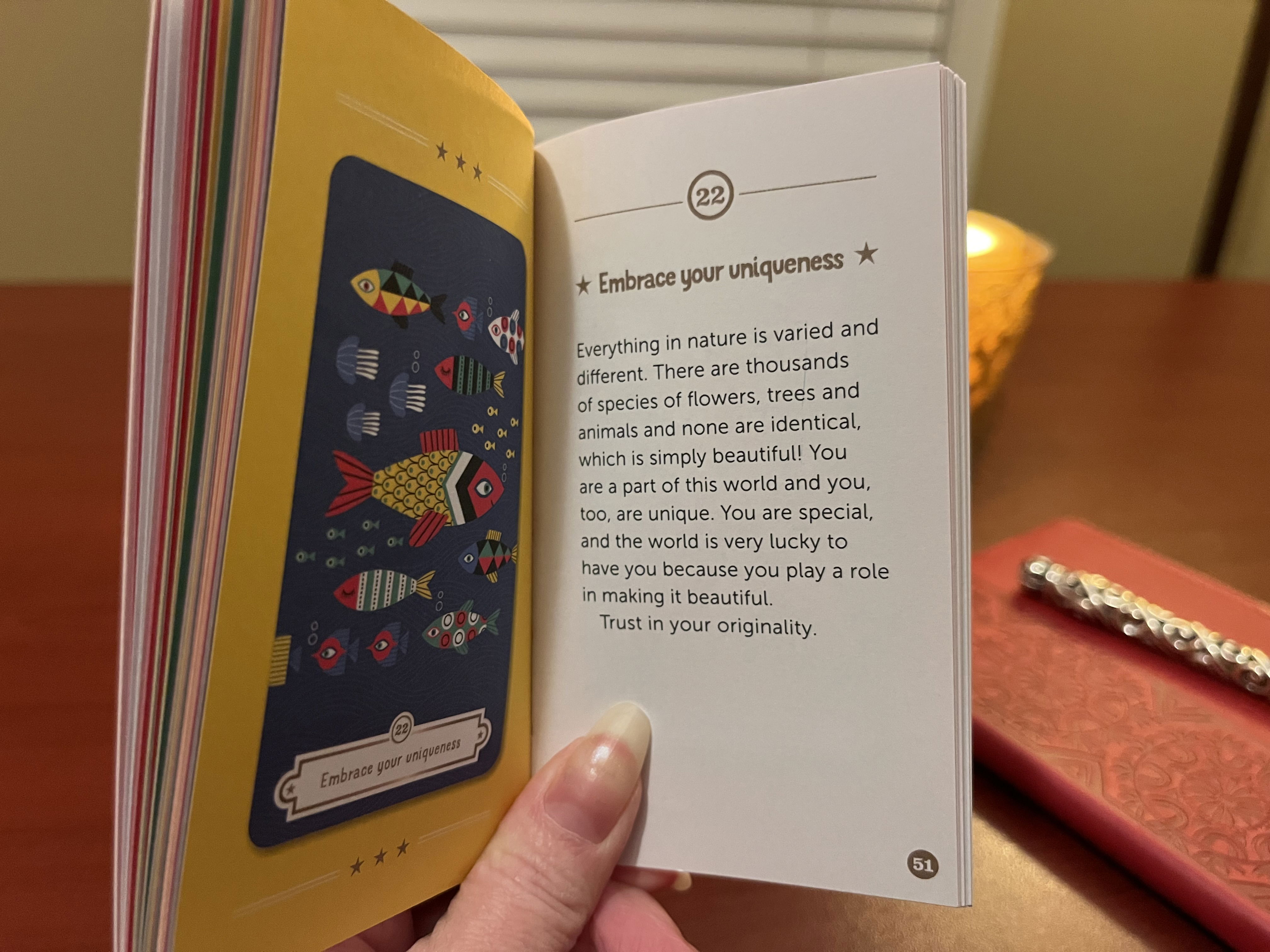 And the card messages are very hopeful and supportive, which should help each young reader feel safe and positive with cards like Remember That It Will Pass, Feel Protected, Know You Are Always Loved, Dream Big and Believe In The Magic of Life.
My First Magic Oracle (buy here) is my favorite pick for stocking stuffers for young readers from the ages of 4 through around 10 years. It would be a perfect first oracle to work with to introduce young readers to card pulling and journaling about the cards. And it will fit right into a stocking! You know that's the first thought I had when I held it in my hand!
I give a more thorough review of this deck in Healing Thru Tarot Podcast Ep. 50 so watch for that episode coming up on 11/13/23.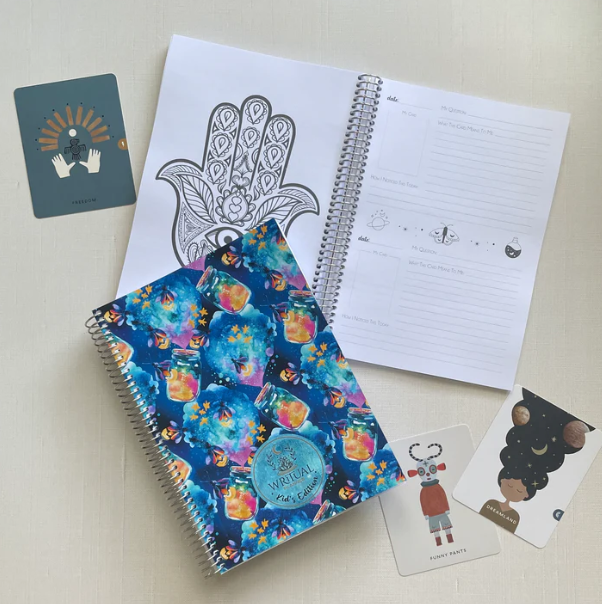 Other gifts for kids, include a small charm set, a journal, and laminated tarot sheets for the tarot card meanings if they're into tarot.
And Writual now has a Kid's Tarot Journal for just $28 (shown above)! It includes 186 pages for single-card draws, journaling, coloring pages, and tarot card meaning cheat sheets to help them learn the card meanings. Learning to identify and process emotions is such a valuable tool. Teach your kids how to journal about their feelings, which helps them learn how to cope with emotions when they feel upset, angry, sad, or lonely. I wish we taught this skill in schools.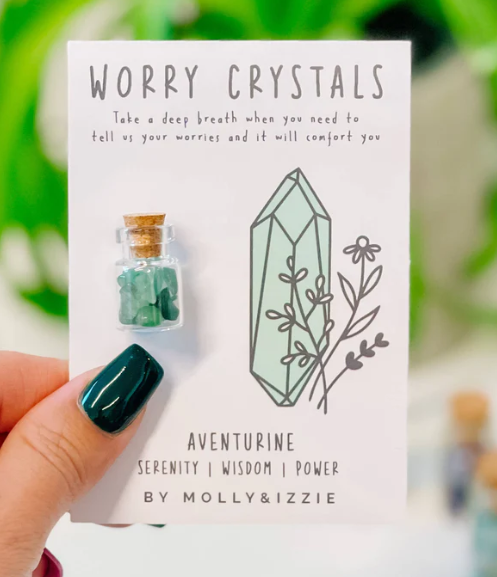 These worry crystals from Writual (shown above) are just $8 and are adorable! Slip these into a stocking to help soothe your loved one. Writual has a whole line to choose from for protection, calming your system, grounding, confidence, etc. Small enough to slip into a backpack or jacket pocket to carry to school to keep calming vibes with them at all times.
Divinatory Accessories!
Writual Tarot Pouch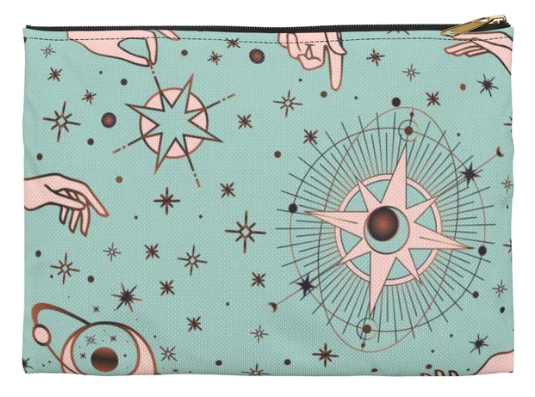 For diviners, I always recommend tarot pouches and spread cloths because they fold so nicely and easily fit in any stocking. Tarot pouches are great for storing decks outside of their boxes, and you can personalize them based on personality. The one shown above is from Writual.
Spread cloths are wonderful to lay out on tables and throw your spread onto. There are so many to choose from. If you know the person's favorite color or hobbies, you can find the perfect pattern that will make them feel extra special when they read.
Writual's tarot stamps and tarot stickers would also fit in stockings and are exciting gifts to receive. What tarot reader doesn't love tools to help them document their daily or weekly tarot pulls? I recommend gifting them a Writual planner as well but those are not the right size for a stocking so that would be a gift to wrap and place beside the stocking.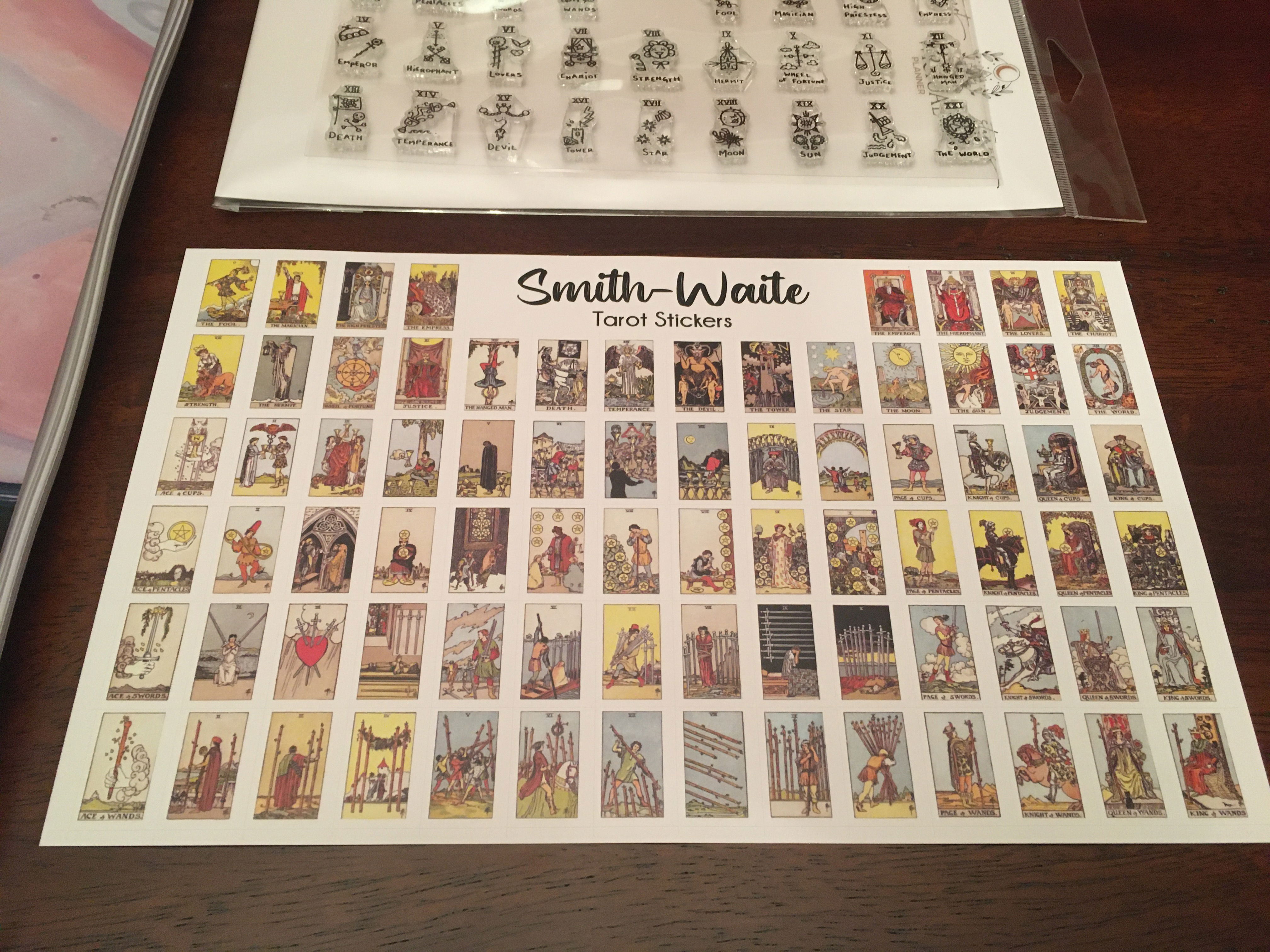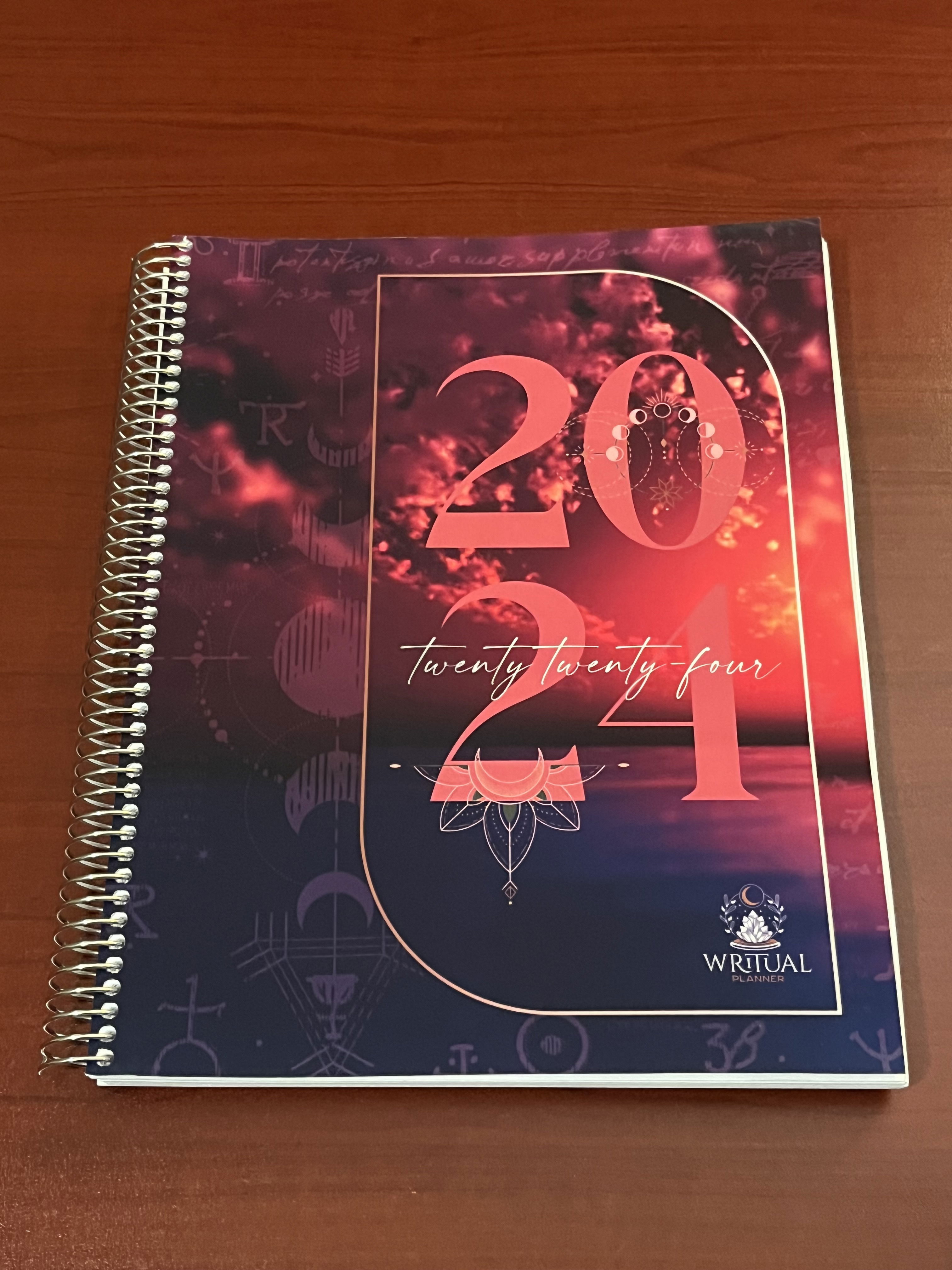 This planner includes astrological transits, dates for planetary retrogrades, and new and full moons as well as the void course moon times for the year. There's also space for a 3 card pull to be documented for every day of the year. You'd be setting your loved one up with a gift that will help them stay organized and motivated for the entire year. And now that I'm a Writual affiliate you can use my affiliate link here with the discount code HEALING in all caps for 15% off Writual purchases!
Writual Tarot Candle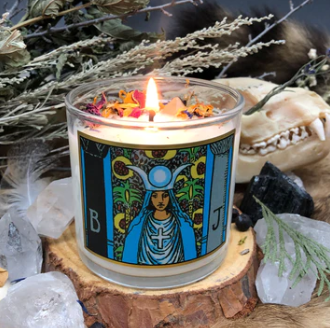 For larger gifts that need to be wrapped instead of tucked in a stocking, there are tons of goodies that I know I would love. Tarot themed mugs and tarot candles are such nice gifts that can be enjoyed all year long. Or pick out a nice card display or stand where they can display their card pulls to enjoy and reflect on throughout the week. There are so many options on Esty so choose something that matches their preferred aesthetic. OR buy them a beautiful wooden crystal grid where they can set up grids with their own crystals and set intentions that help with their healing and yearly goals.
Winter Decks for Gifts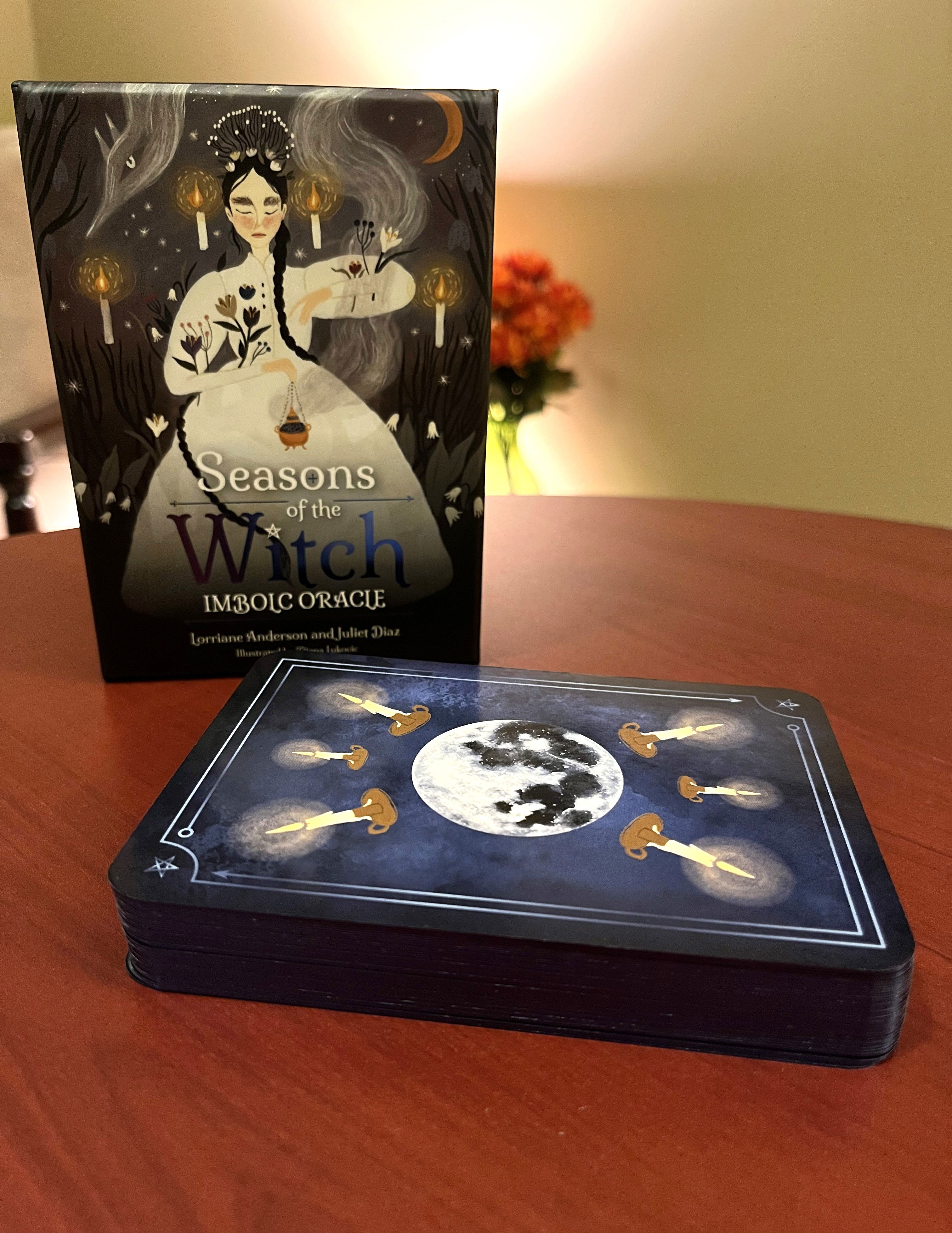 If you want to gift them a winter deck, I recommend the brand new Seasons of the Witch: Imbolc Oracle
I highly recommend this deck if you need a deep, reflective deck for the later months of winter. I pull out the Seasons of the Witch: Yule Oracle (also a great holiday gift) to kick off the holiday season in November. But once the holiday cheer has passed, the Imbolc Oracle is a great deck to help us settle into a deep analysis of where the colder months are directing us before we're ready to emerge from hibernation and embrace the warmth of spring. Since December is such a hustle and bustle month, January, February, and March are great months to dive deeply into our psyche to finish up the shadow work needed during this time of year.
These wintery scenes depict our gradual shift from the colder temps to the light warmth of spring as it inches closer, but some of the darker, more reflective images remind us that there's still shadow work to be done before we depart winter for good. Check out my recent deck review of the Imbolc Oracle here.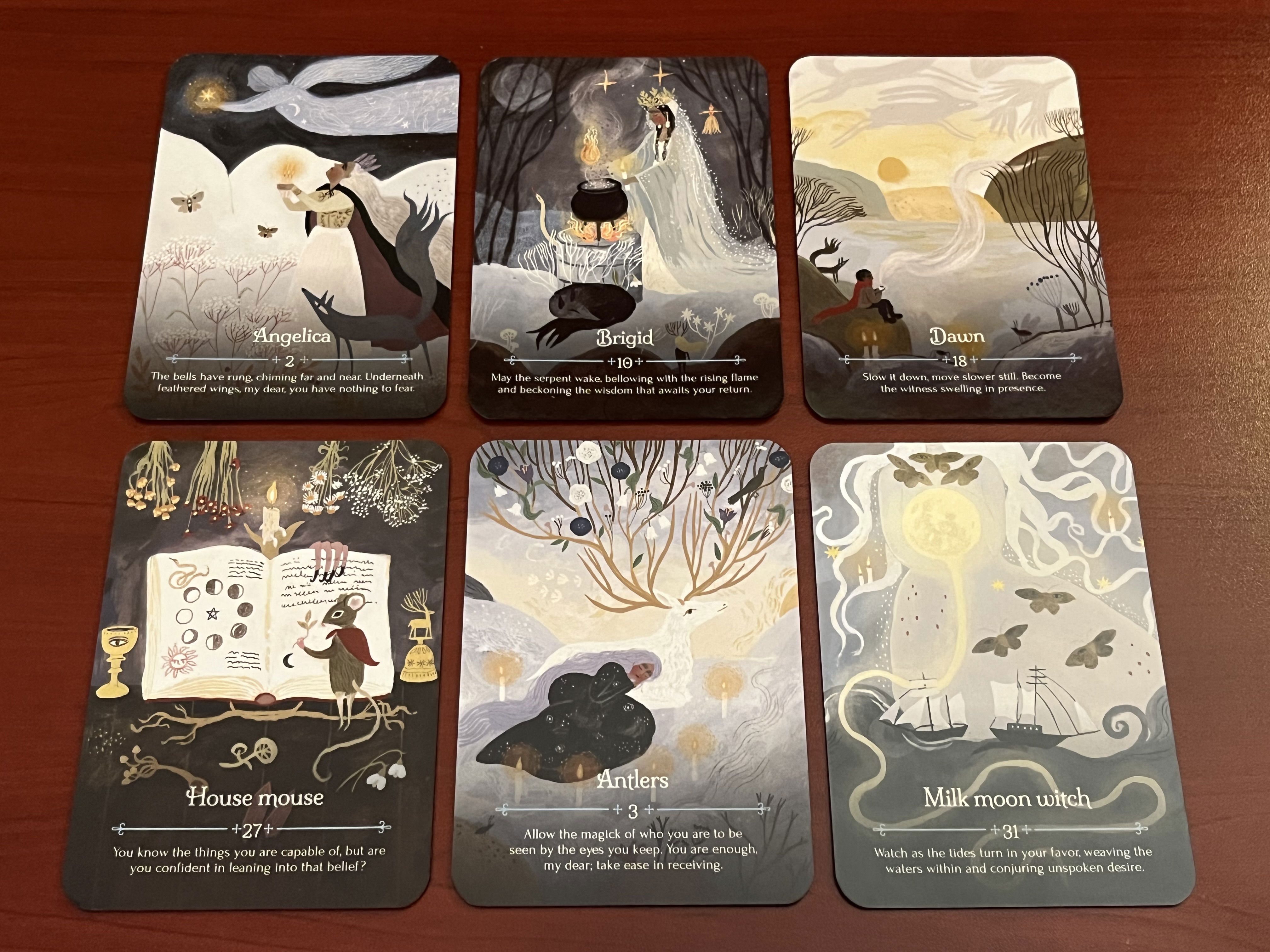 Some of my other favorite winter decks include The Nightmare Before Christmas Tarot, The Winter Waite Tarot and the Season of the Witch: Yule oracle. All of these have such beautiful winter scenes and vibes, which is sure to get anyone in the mood for the holidays. To hear more about those decks, check out Ep. 18 where I dive into my favorite winter decks, and I cover the Yule Oracle in detail in Ep. 32 which is the episode on Healing with the Witch Archetype where I also talk about the Samhain deck as well.
#1 Stocking Stuffer Pick for 2023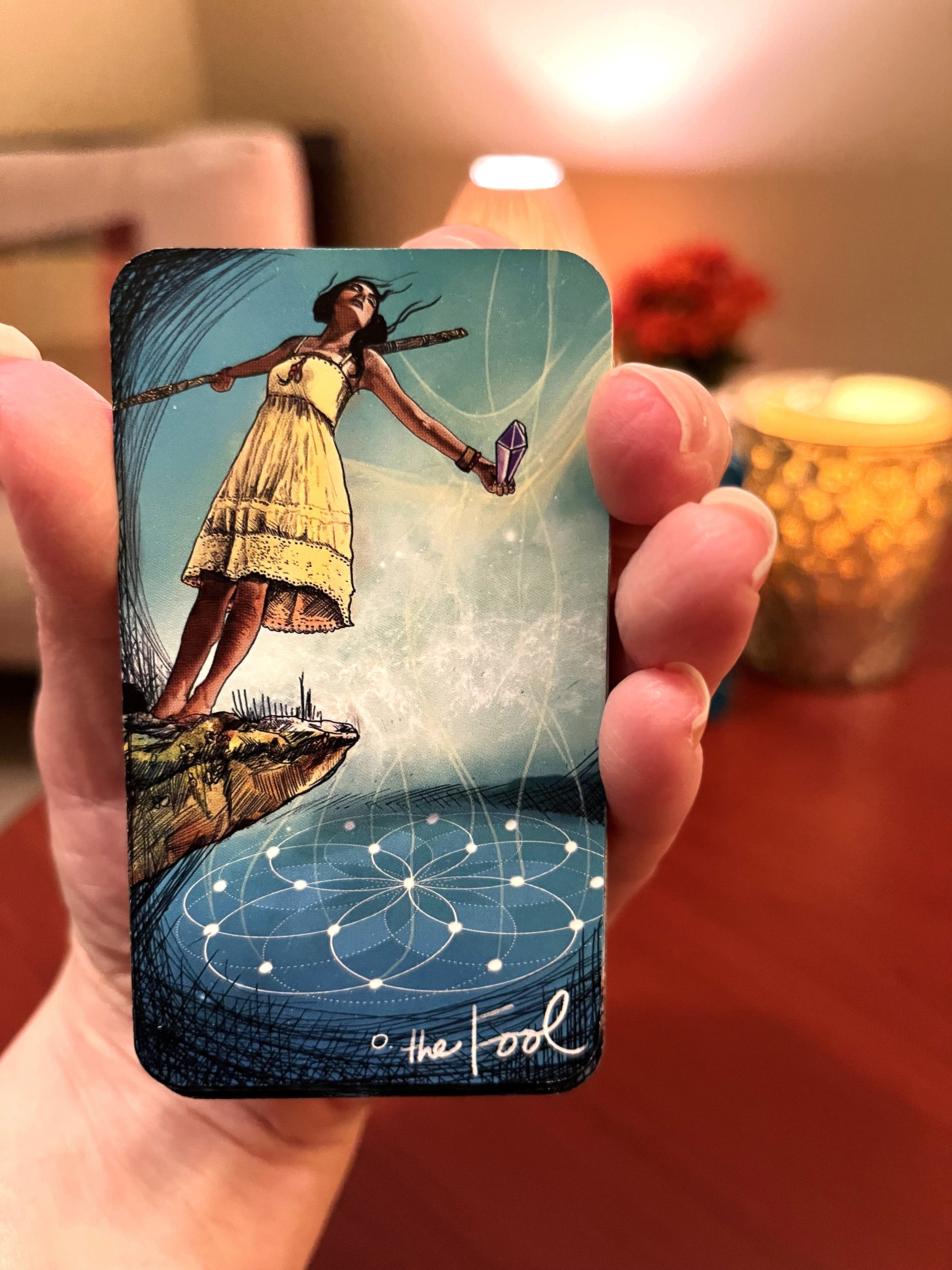 This is a must for stockings this year! It's the Light Seers Tarot Pocket Version!! It's my favorite tarot deck of all time!
So if you need a small gift to tuck into a tarot lover's stocking this holiday season this is THE GIFT! I had 2 versions of this deck already and still had to have it, so it doesn't matter if they already have this deck. Slip this cutie in anyway!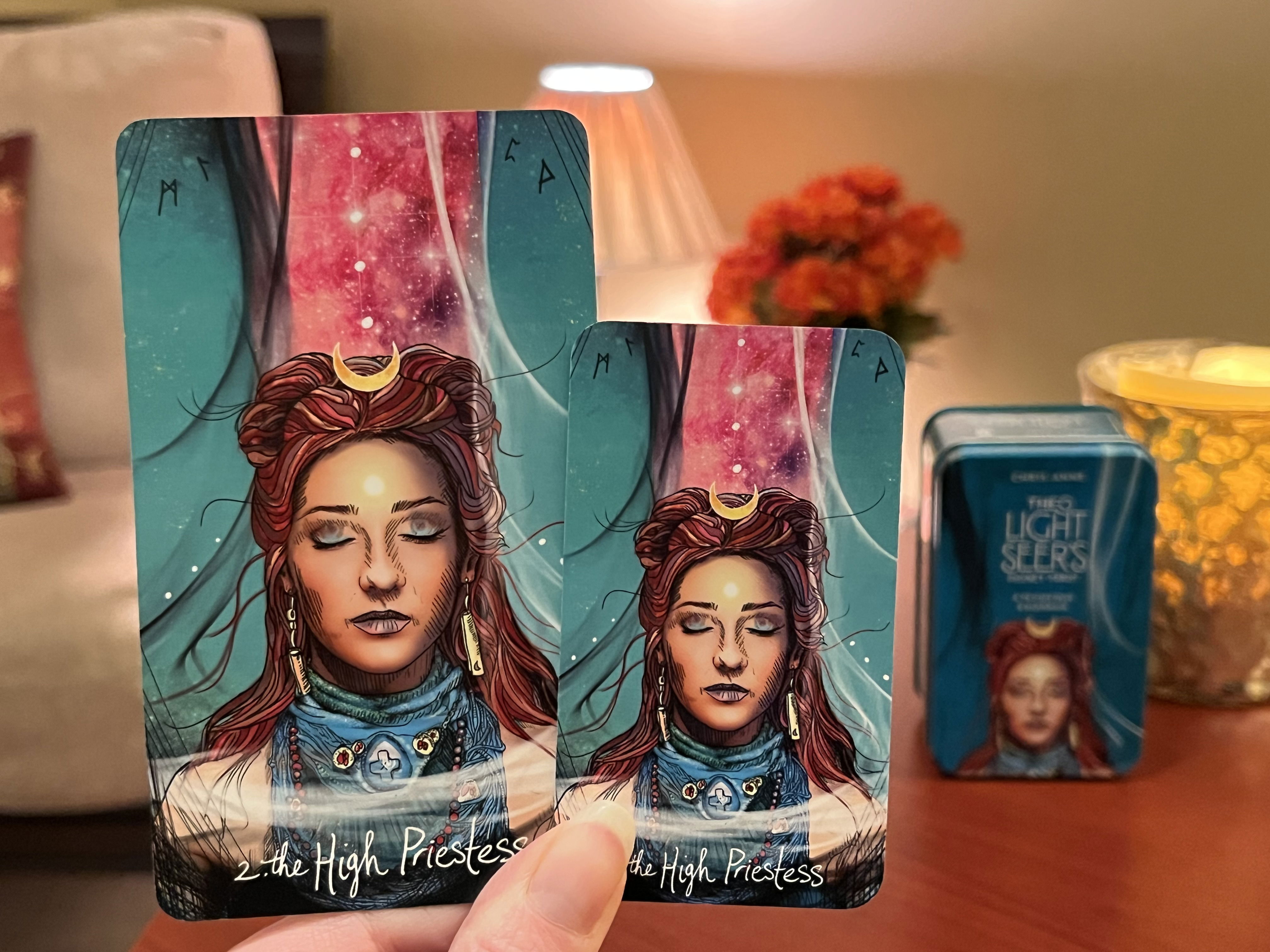 It's small enough to throw into my purse and take with me everywhere. I'll never be without these cards again. See the size comparison above compared to the mass market full size card on the left - also released by Hayhouse. These are tiny! And it comes with a tiny guidebook (below). How freaking cute is this!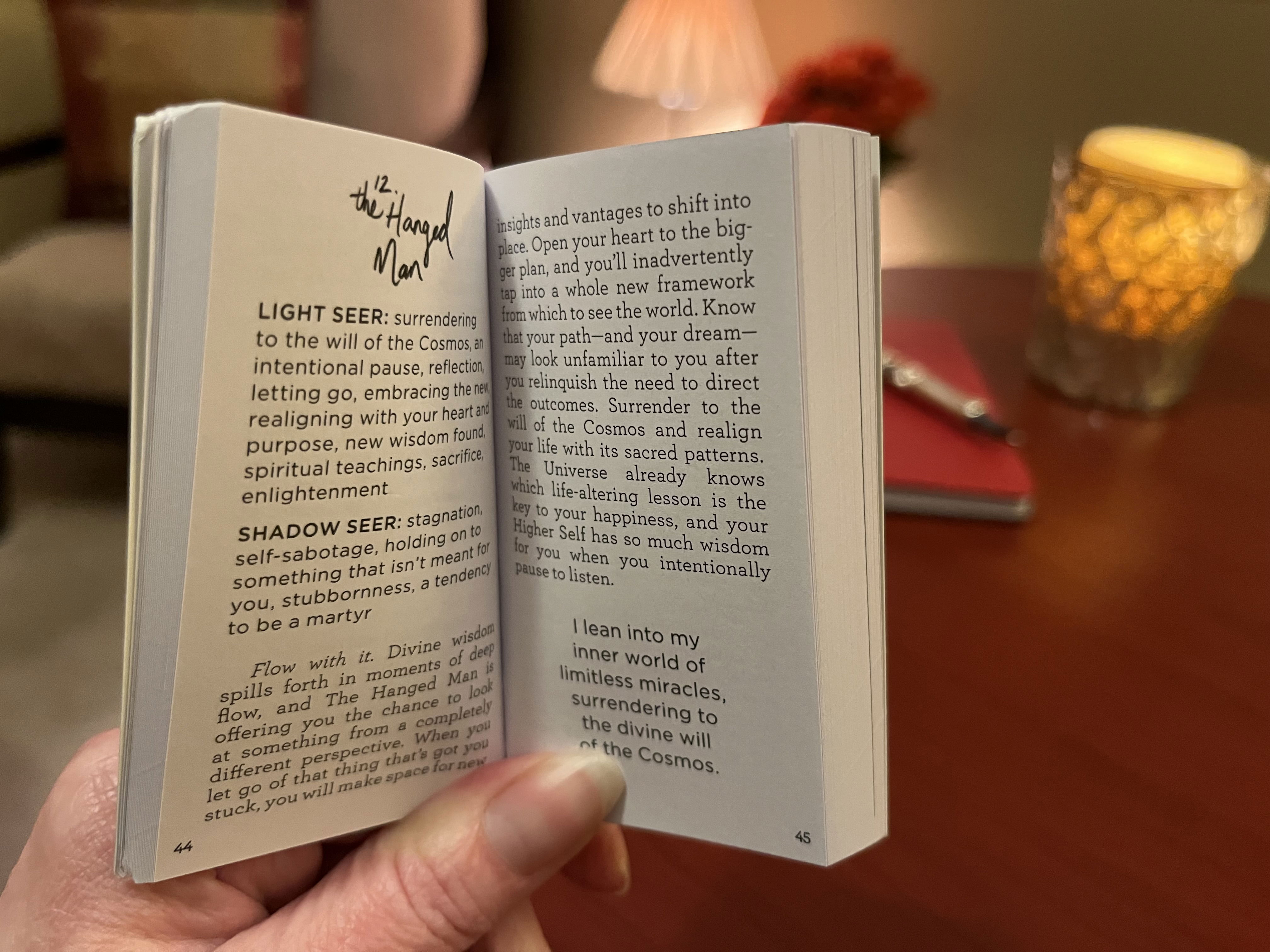 Mini Star Card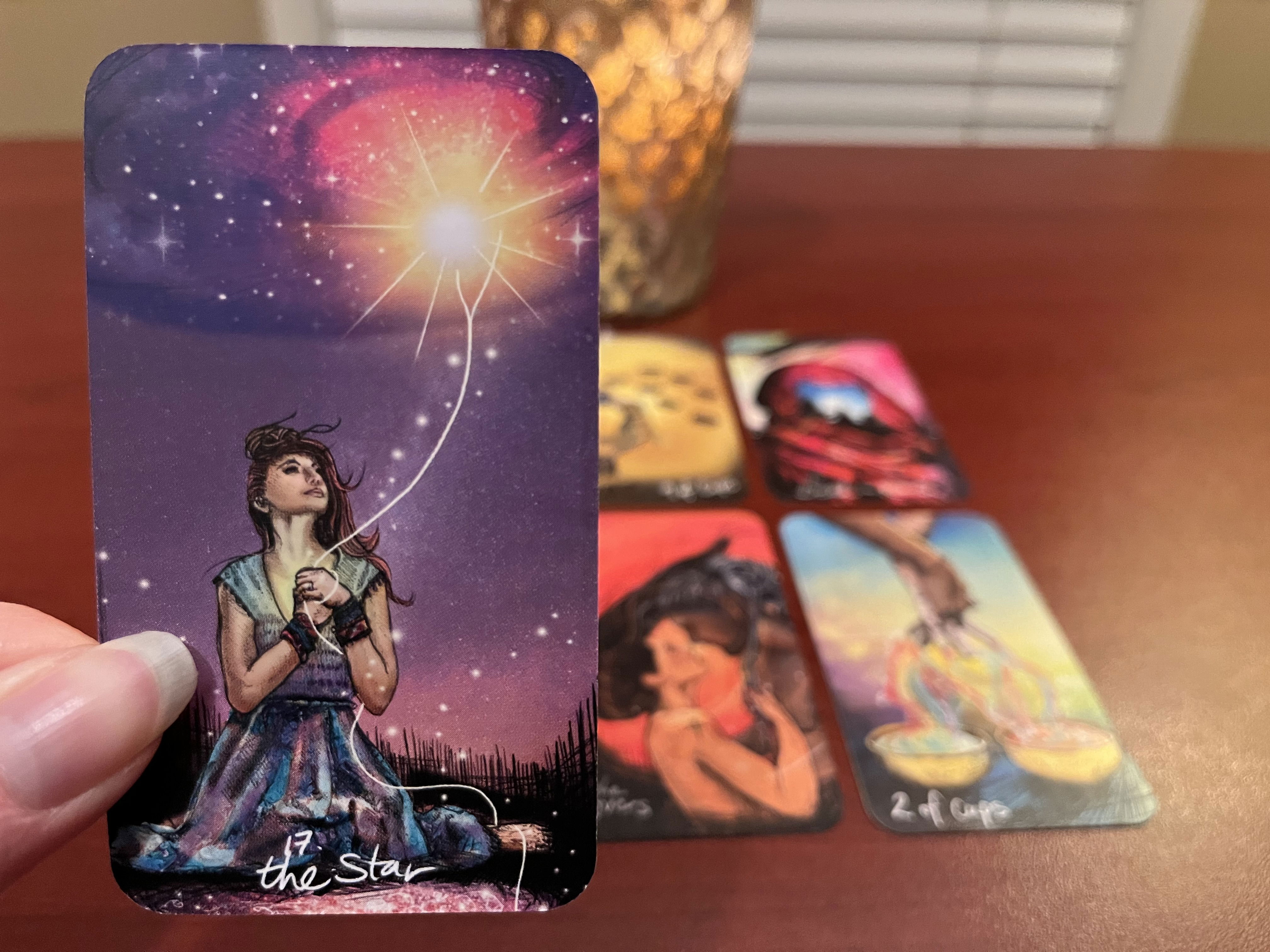 One of the things I love the most about the Light Seers Tarot is Chris Anne's use of light. It's so vibrant, colorful, and uplifting to work with. Even years after working with this deck on a daily basis I'm still so captivated by it. I never tire of working with it, and I love introducing new people to it. Whenever anyone asks for recommendations for decks to start with, this deck is always my go to recommendation, and I've heard from so many people that bought it after that and fell totally in love just like I did.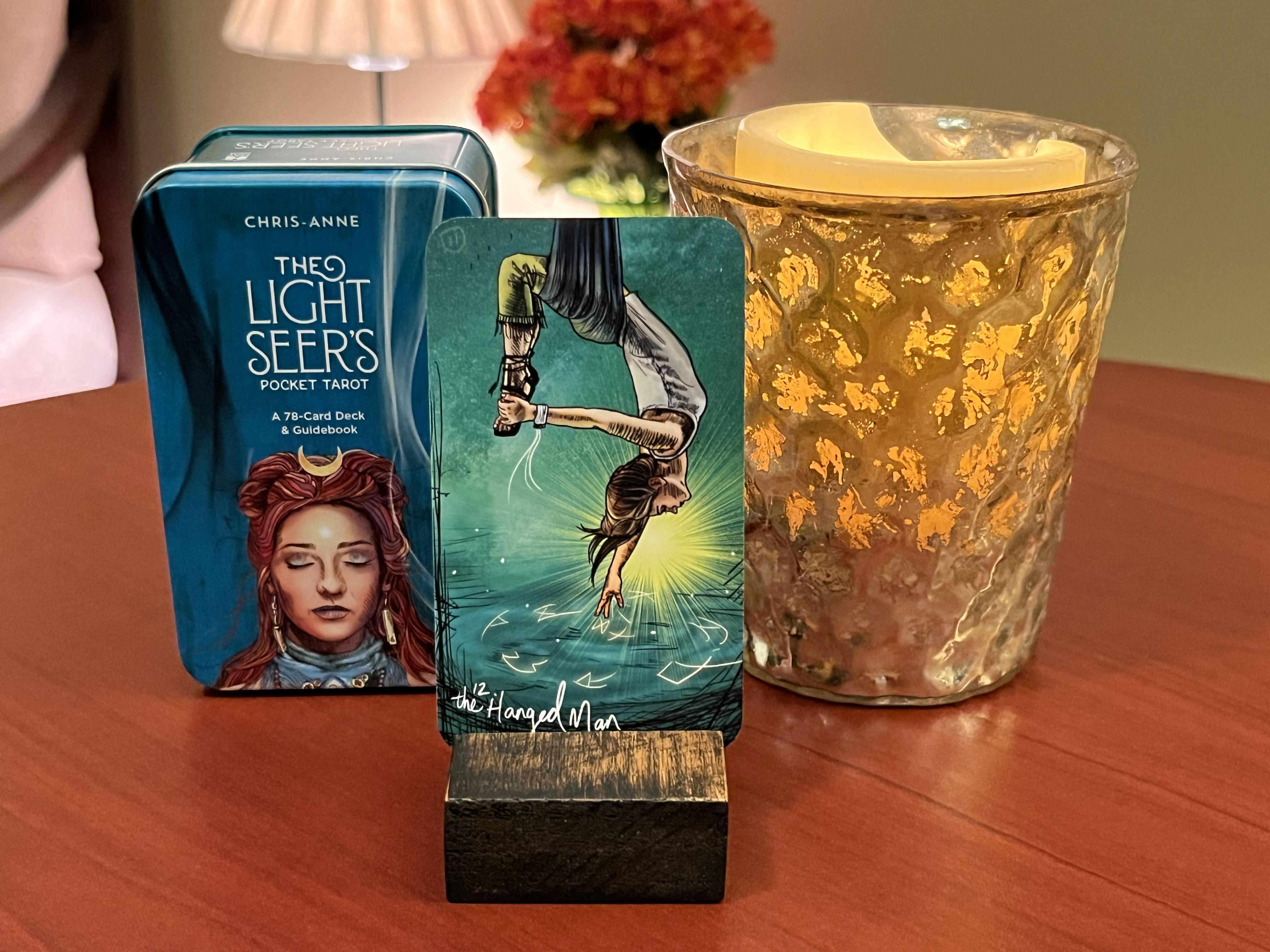 It's perfect for lightworkers, creatives/artists, dreamers, beginners, etc. And it now comes in a tiny tin! I could gush about this deck all day! Here's my longer deck review of The Light Seers Tarot
Gifts for the New Year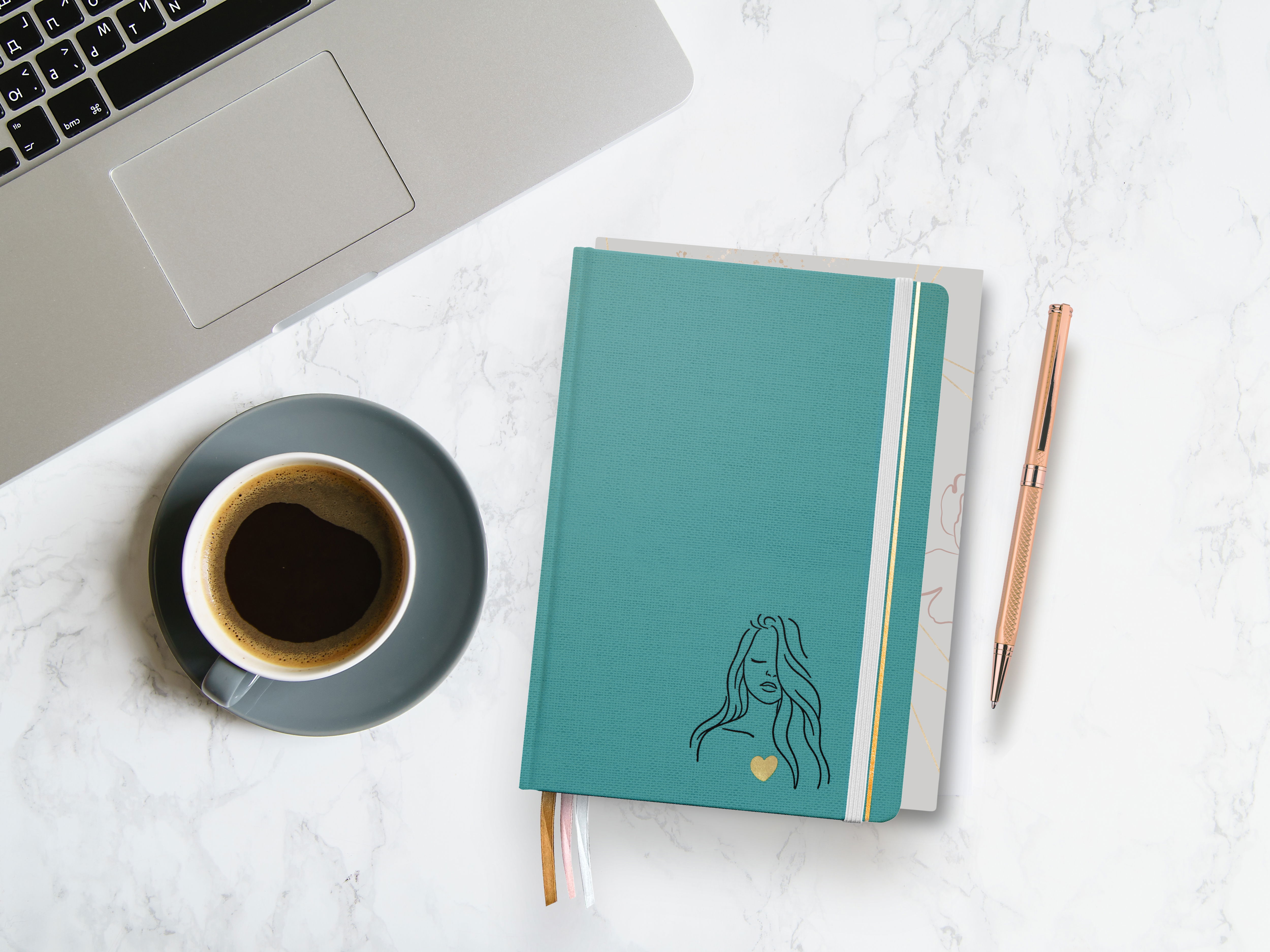 Who doesn't need a journal? When you don't know what someone wants or needs, a journal is a great gift idea because it's something we can all use, and the new year is a perfect time to crack open a brand new journal!
Ryve also offers gratitude journals with a variety of features including affirmation and gratitude journaling, self-reflections, and more. And they're gorgeous! It's available in three colors: beige, green, and navy. Journaling is therapeutic and healing! Personalize your innermost thoughts in these elegant daily journals.
Ryve Green Navy and Beige Journal link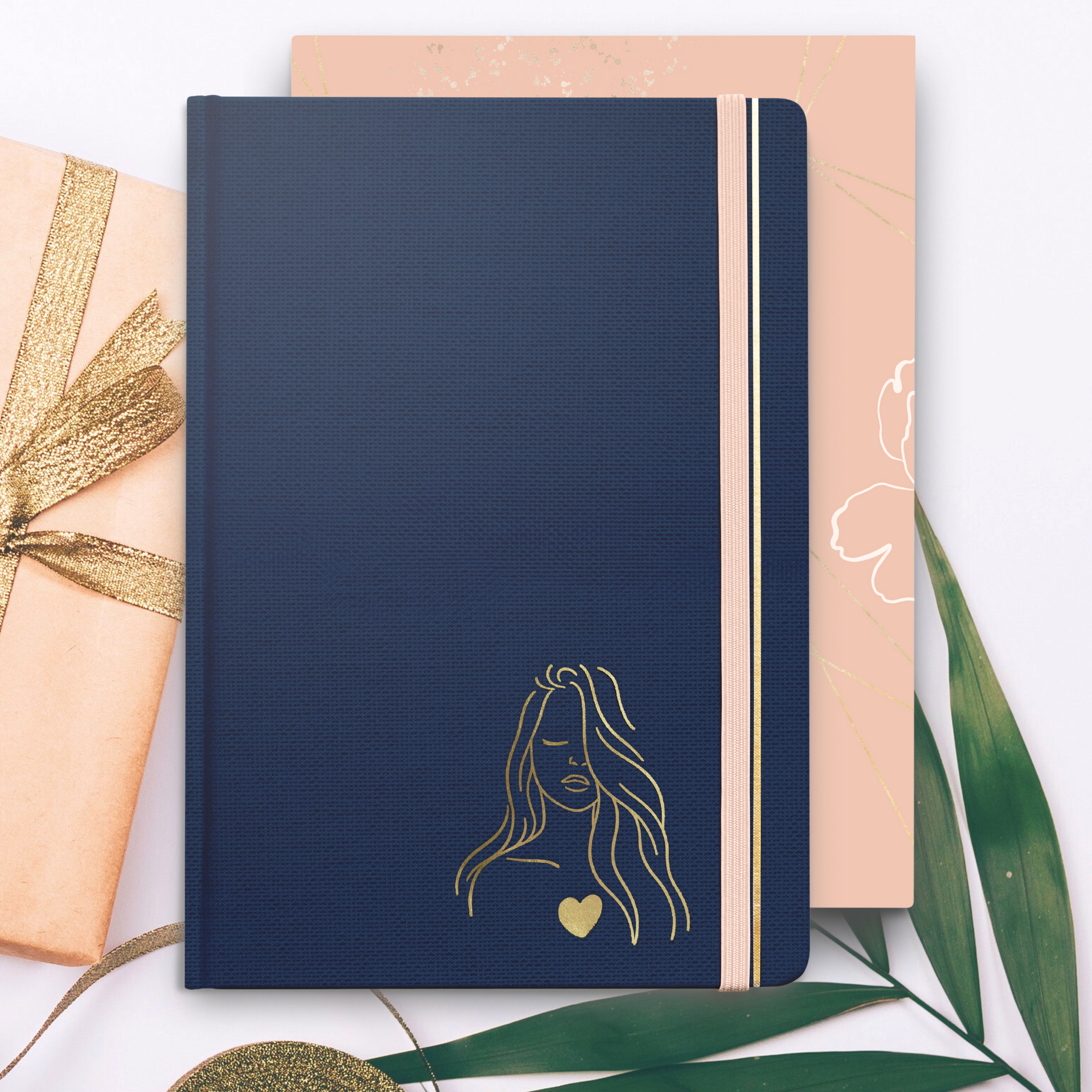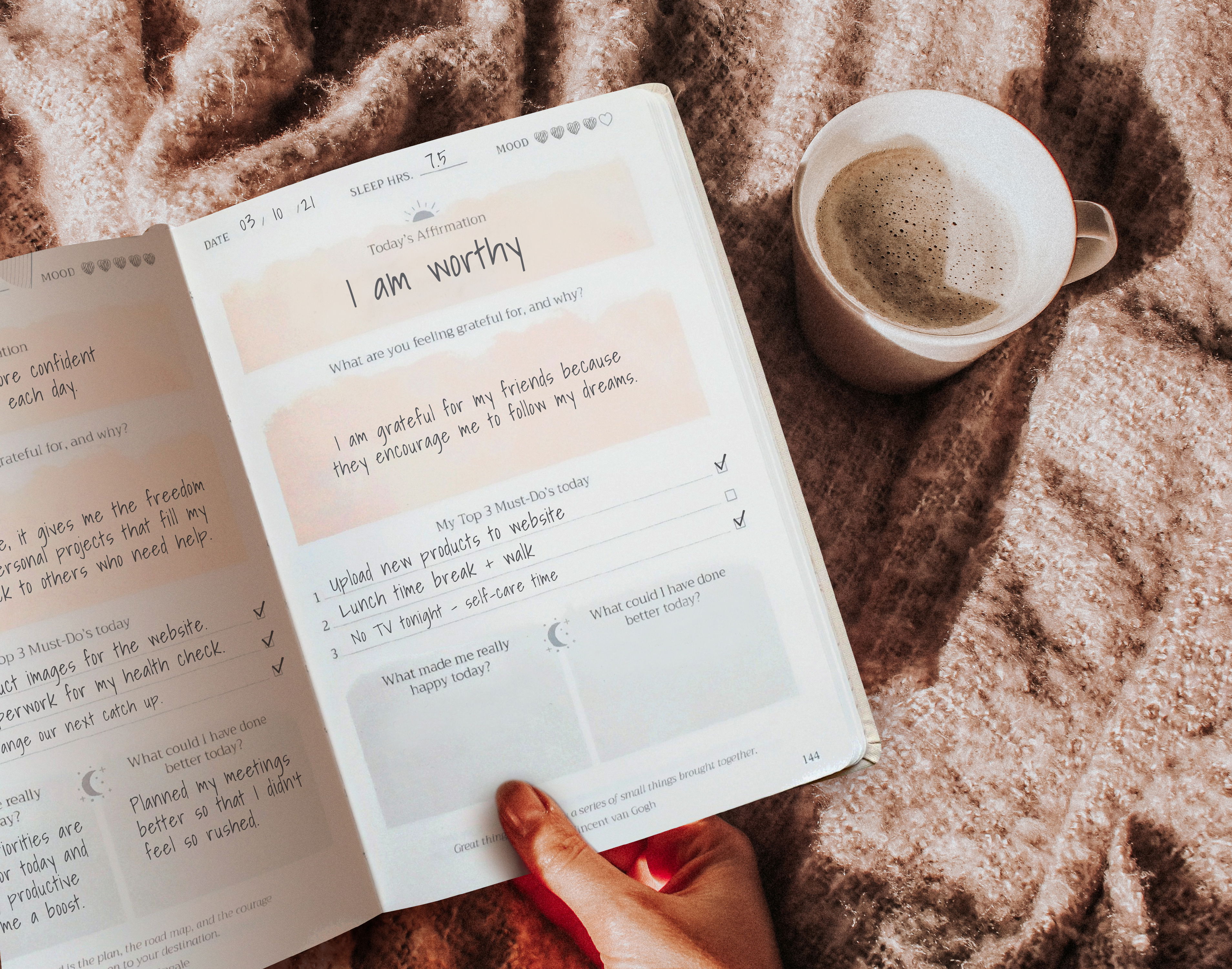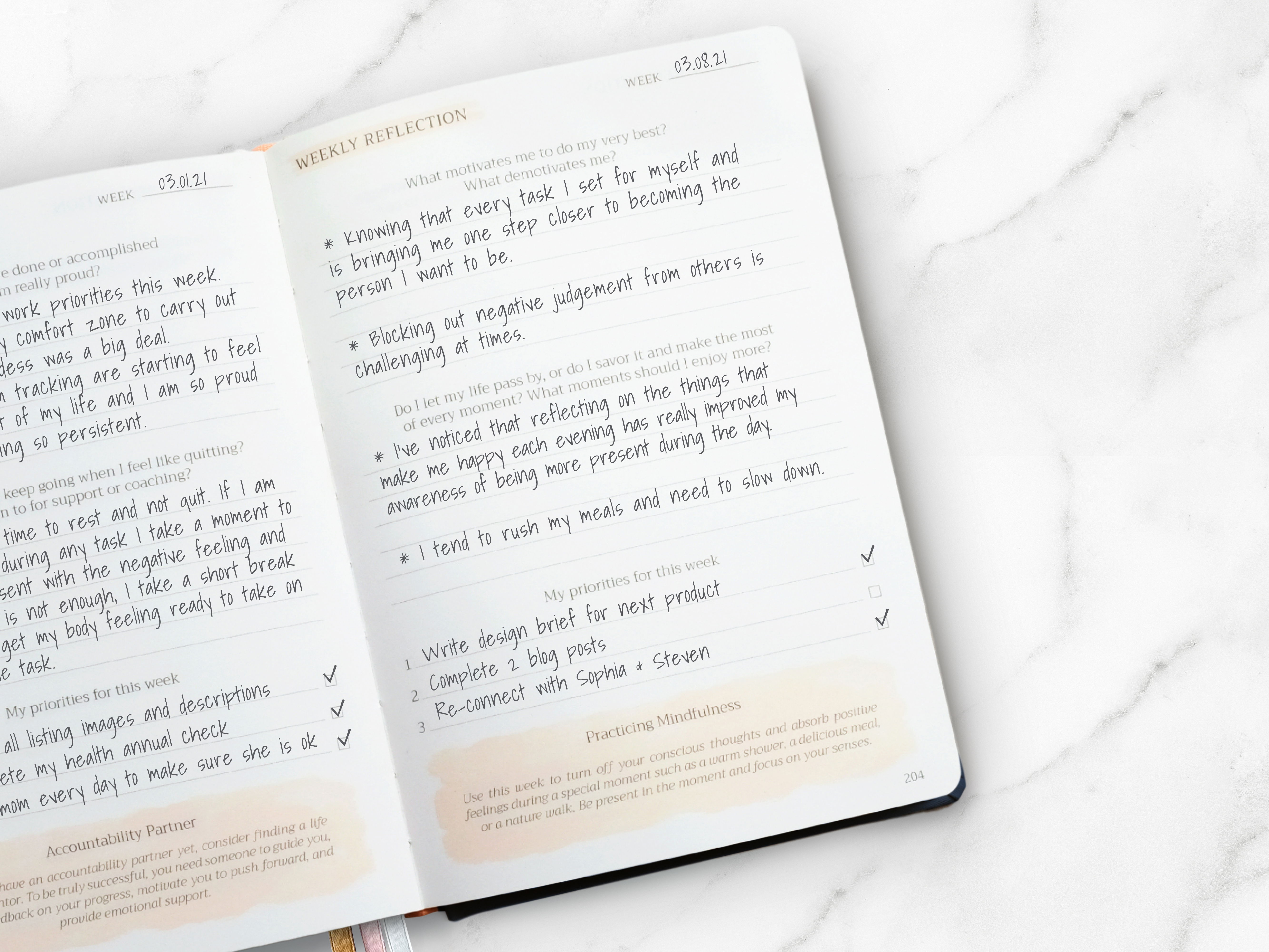 Ryve Desk Calendars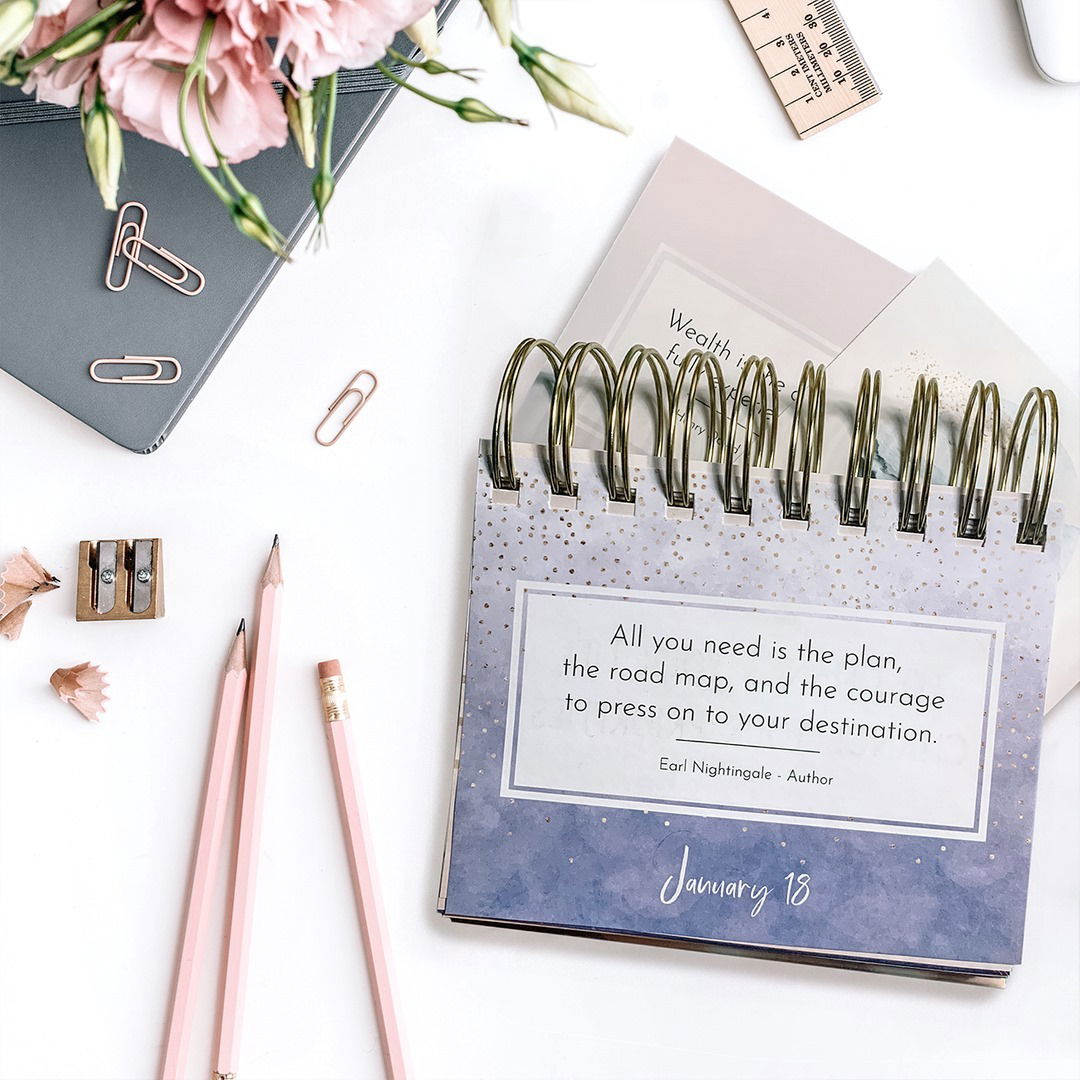 Another can't miss gift is a desk calendar. At the New Year, we're all looking for ways to begin anew, and a new themed desk calendar can help us start the year off with the vibe we're hoping to maintain all year long whether it be inspirational, motivating, or comical. I prefer inspirational ones to keep me focused, uplifted, and empowered through even the toughest parts of the year.
Ryve's beautiful desk calendars are designed to inspire us with positive quotes, affirmations, and reflective prompts every day. They include uplifting quotes and thoughtful questions. They come in three soothing colors: pink, red, and navy. I love a little dose of inspiration daily. In this fast paced world, we have to find ways to ground ourselves and remind ourselves to take a breath and connect to our mission in life. And with these beautiful desk calendars we can tap into that inspiration in under a minute a day.
Purchase the Red Desk Calendar here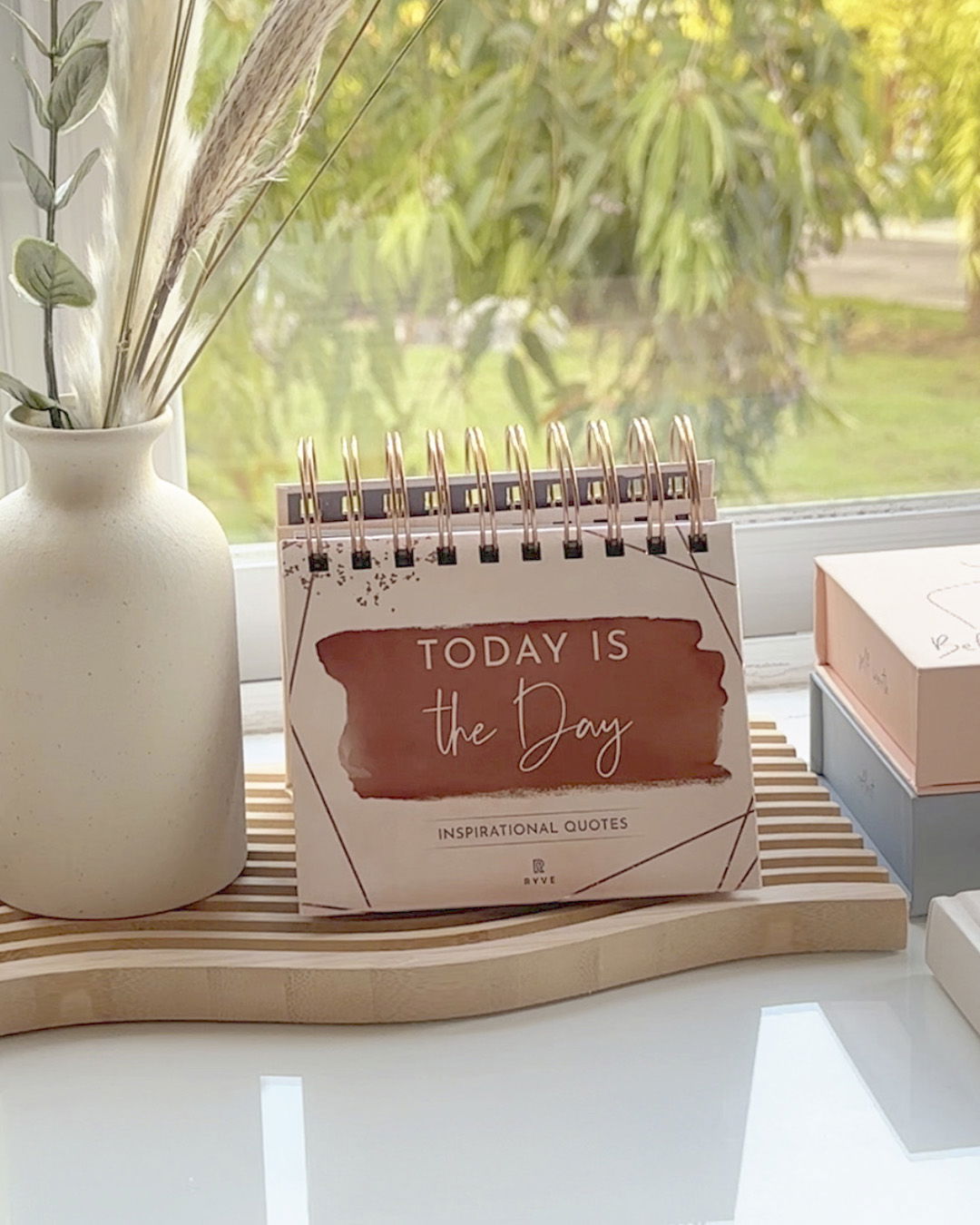 Purchase the blue desk calendar here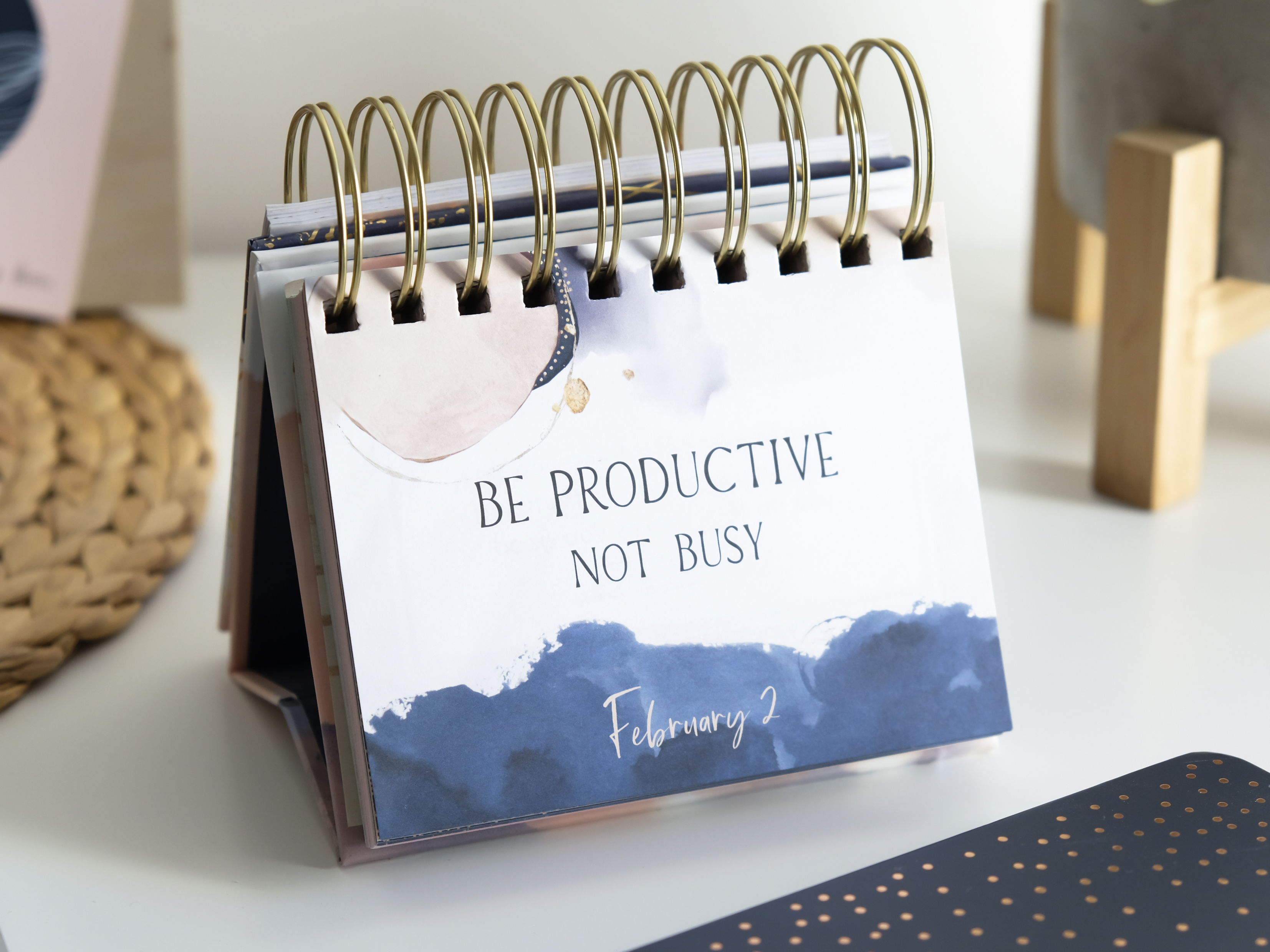 Purchase the pink desk calendar here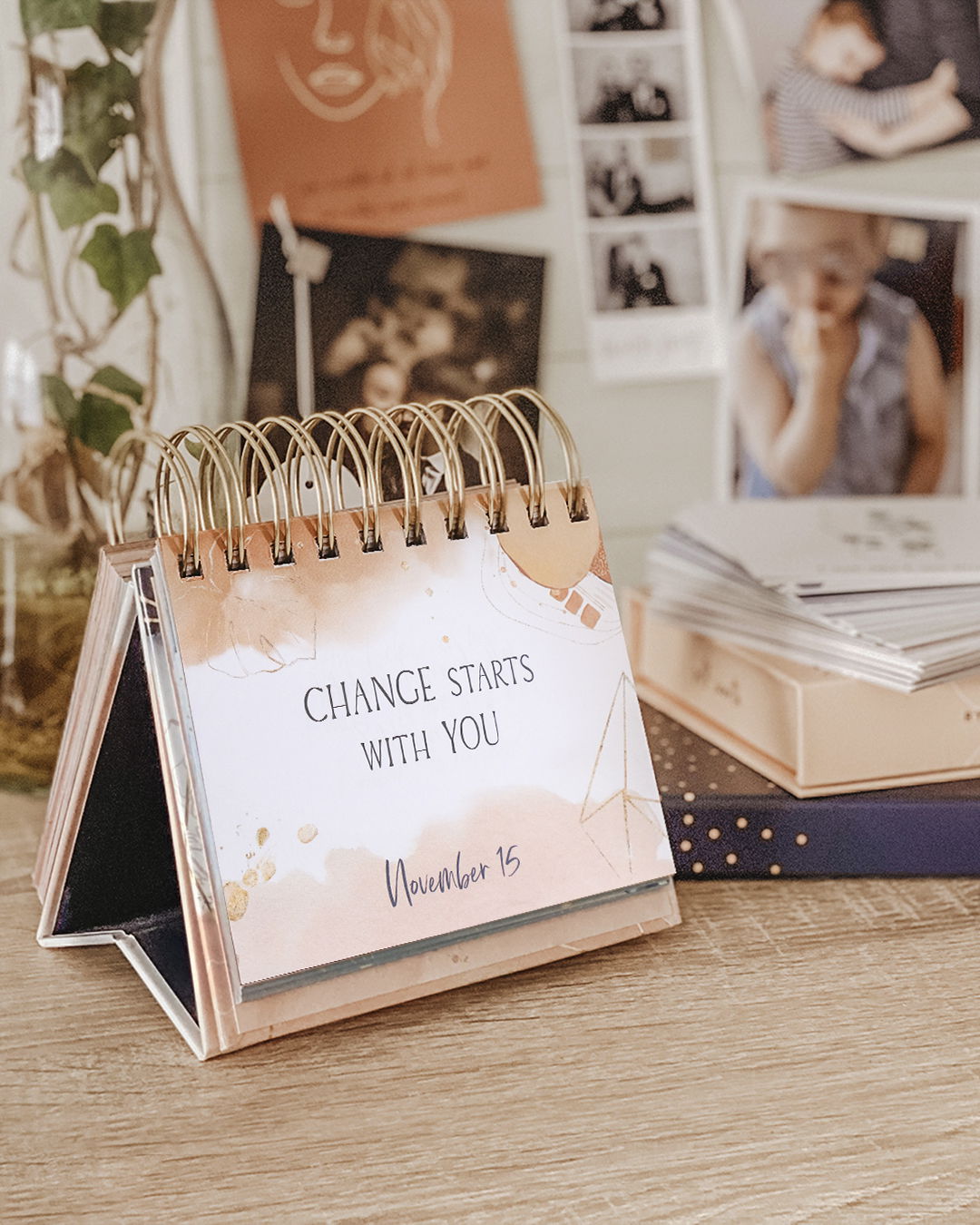 2024 Astrology Diary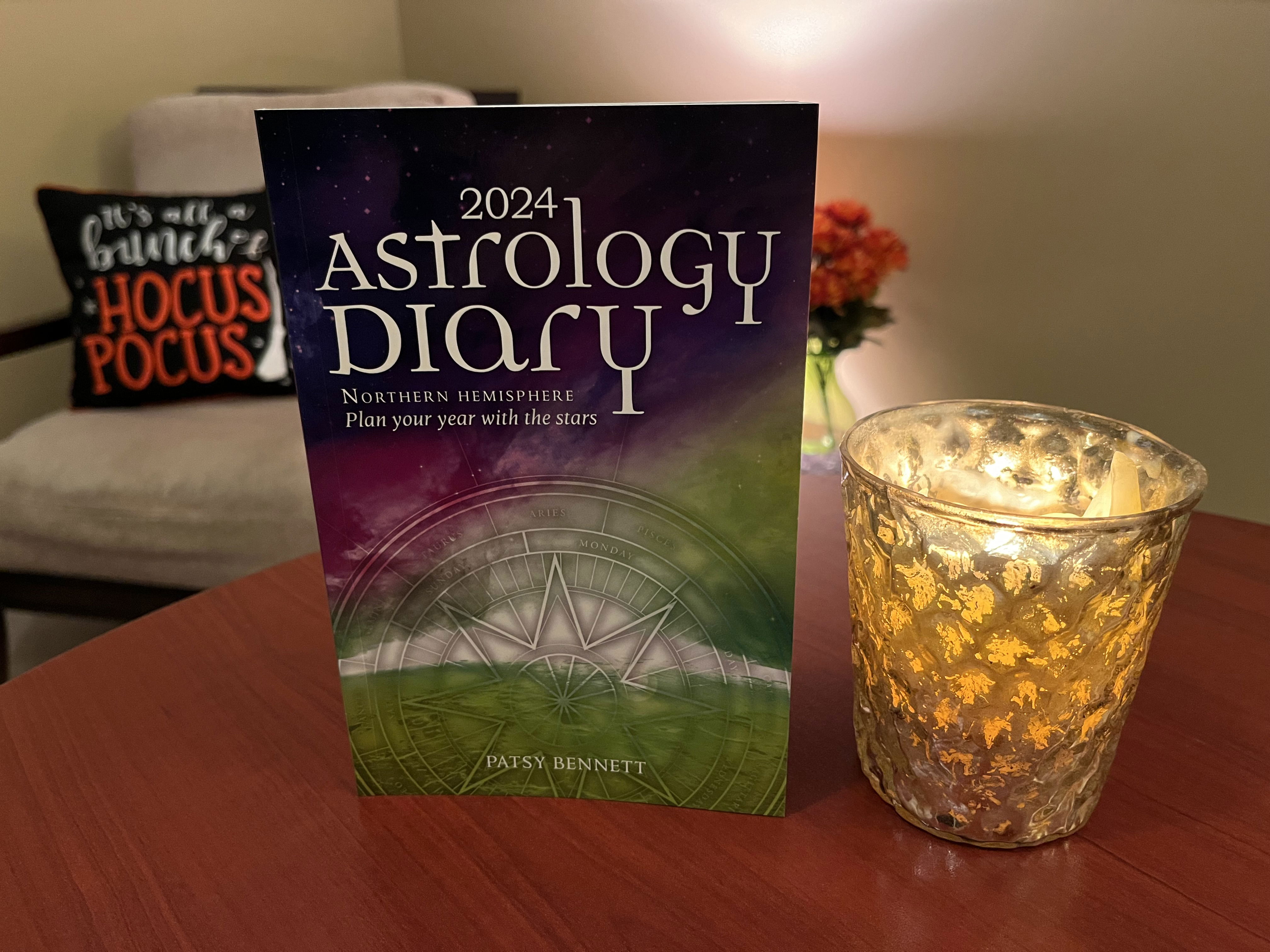 If you have an astrology lover on your list, this 2024 Astrology Diary by Rockpool Publishing is a perfect gift because the New Year is just around the corner, and this is the perfect size to slip into the top of a stocking. Patsy Bennett, an astrologer for over 25 years, has documented all the major planetary movements, moon phases, and retrogrades for the entire year and gives us daily and weekly forecasts as well as monthly sun sign forecasts, tips for navigating eclipses and supermoons, and how to make mercury retrogrades work for you. Knowing all of this helps us learn when to take action in regard to health, wealth, and love and when to rest and hang back till the energy shifts.
In the beginning of the diary, she walks us through each of the months and what to expect as the wheel turns. This helps to give us a big picture glance of what 2024 has in store for us and gives us a heads up on days where we may struggle. For each month, she explains how that month will impact us, helping us determine how best to use the energy of that month and where to place our focus and effort. Each of the 2024 new and full moons are included with their dates, zodiac signs, and how it will impact us. She also explains what each moon in each zodiac sign means. For example, she says when the moon is in Capricorn "that energy can stimulate a practical and focused approach to work, goals, and plans."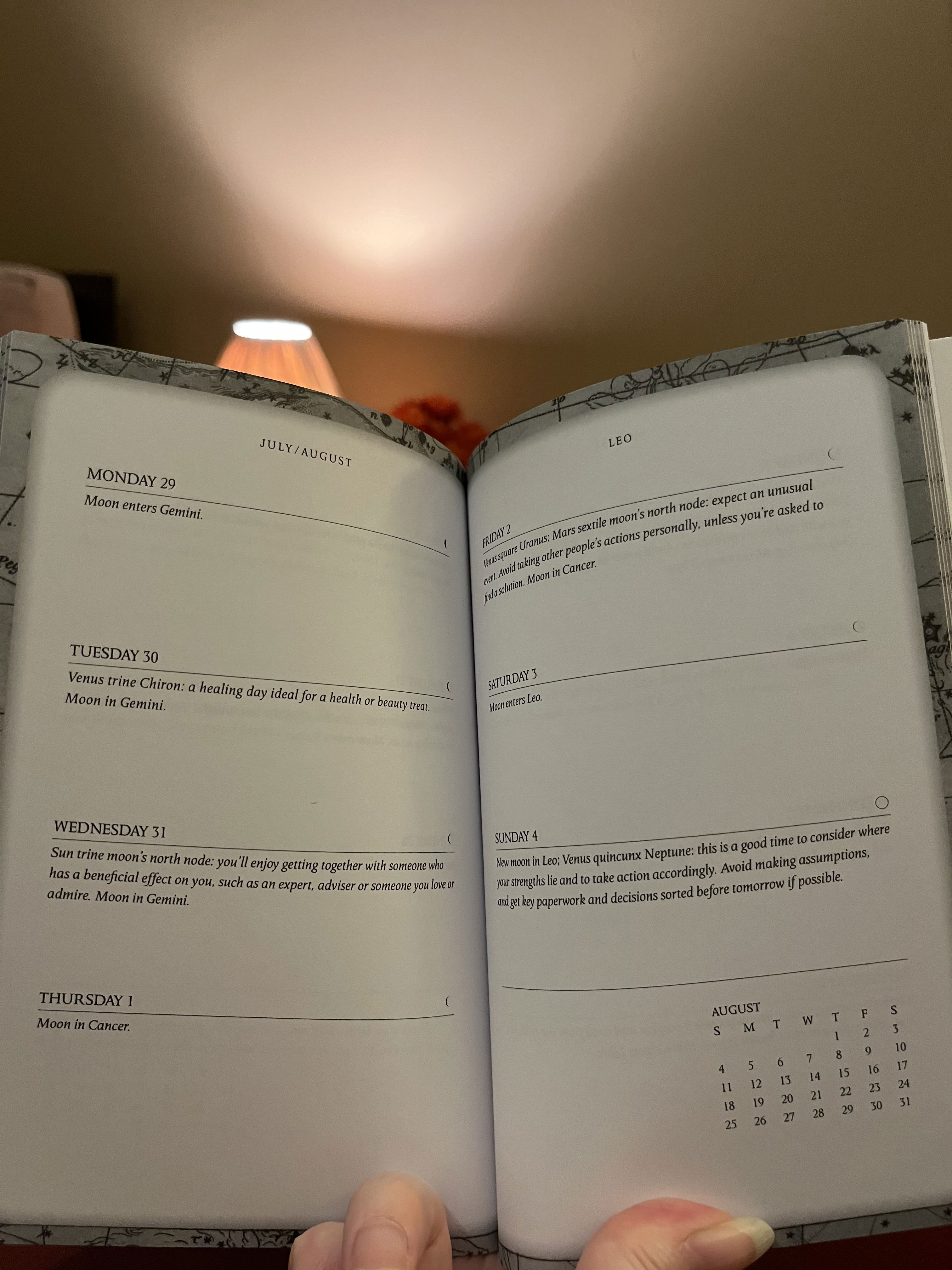 Having a detailed astrology diary like this helps structure, organize, and plan for the year to come. Available for both the Northern and Southern Hemispheres. Buy here
Ryve Coloring Books $12.95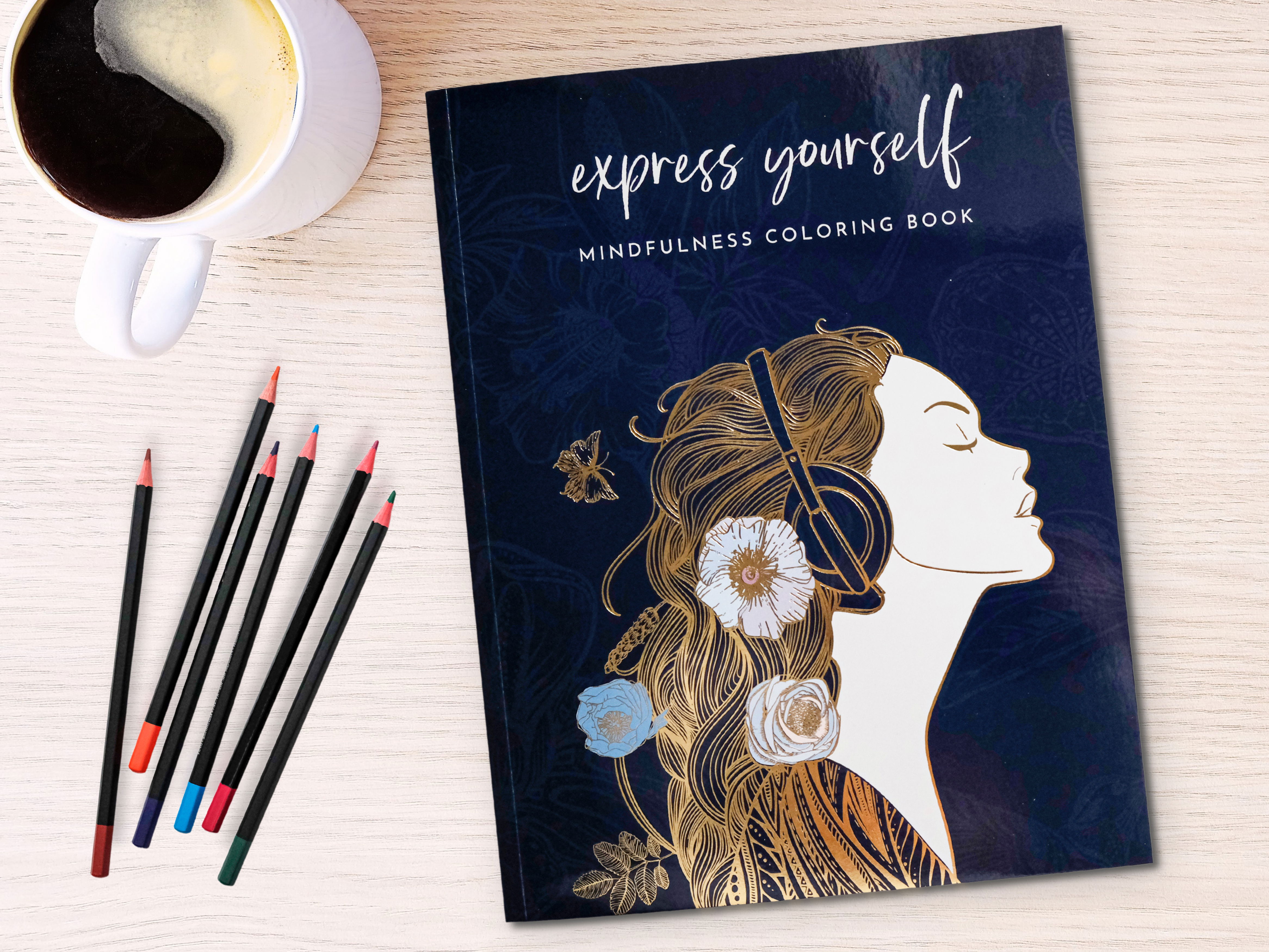 Coloring is therapeutic and is a gift that can be enjoyed by all ages!
Coloring, like journaling, reduces stress, occupies our mind, releases negative and taxing emotions, and calms our mind, body and spirit.
Adult coloring books are all the rage these days! This is a can't miss gift.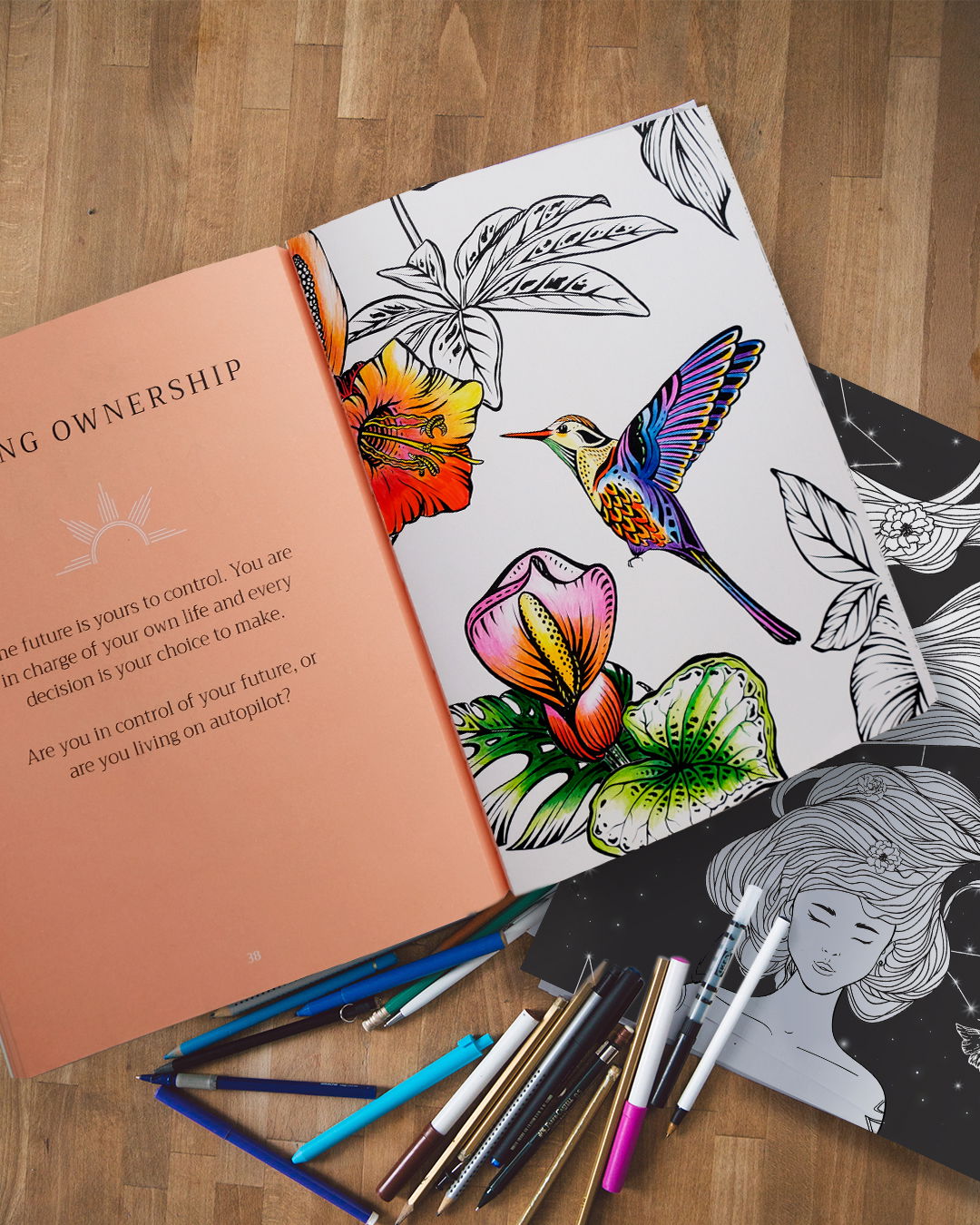 Ryve's coloring books offer a range of stress-reducing features, including coloring pages, and self-reflection prompts. It's an all-in-one tool designed to help you unwind and find calm amidst the chaos of everyday.
Mindfulness Coloring Book link
Stress Relief Coloring Book link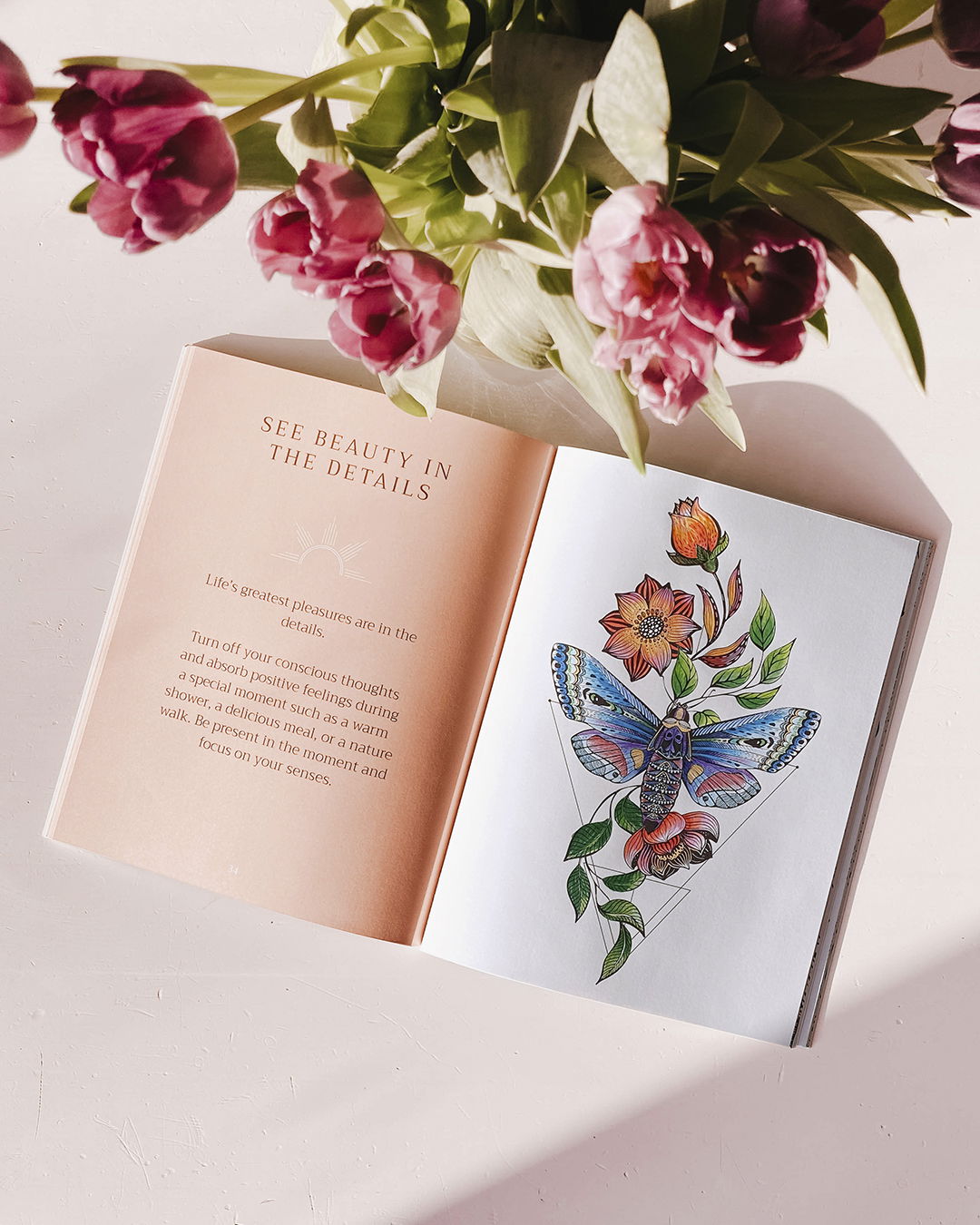 The Divining Sisters Series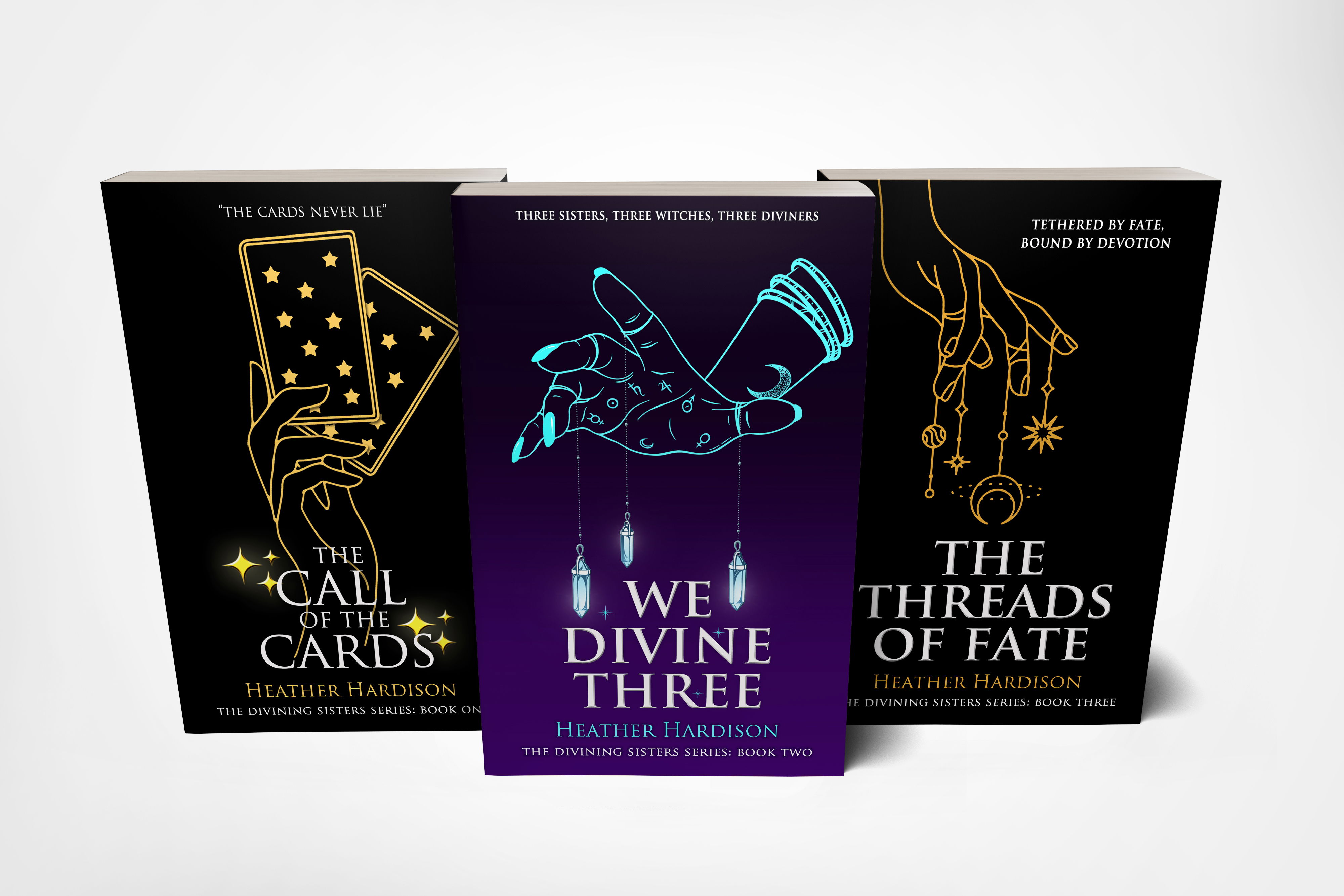 And how about gifting them a copy of one of my fictional divination books. There are 3 books in my series. Start with book 1 - The Call of the Cards (The Divining Sisters Book 1). Book 2 We Divine Three and Book 3 The Threads of Fate both released in 2023 and also make for great gifts. These novels feature my favorite type of divination – tarot. The Divining Sisters Series follows a group of witches, healers, and diviners who reincarnate lifetime after lifetime and reunite with their coven so they can fulfill a mission of keeping their craft of divination, healing, and magic alive for future generations. Perfect for any divination enthusiast. Available in paperback and ebook on Amazon. Find the books on my author website author.heatherhardison.com
Discount Codes for you!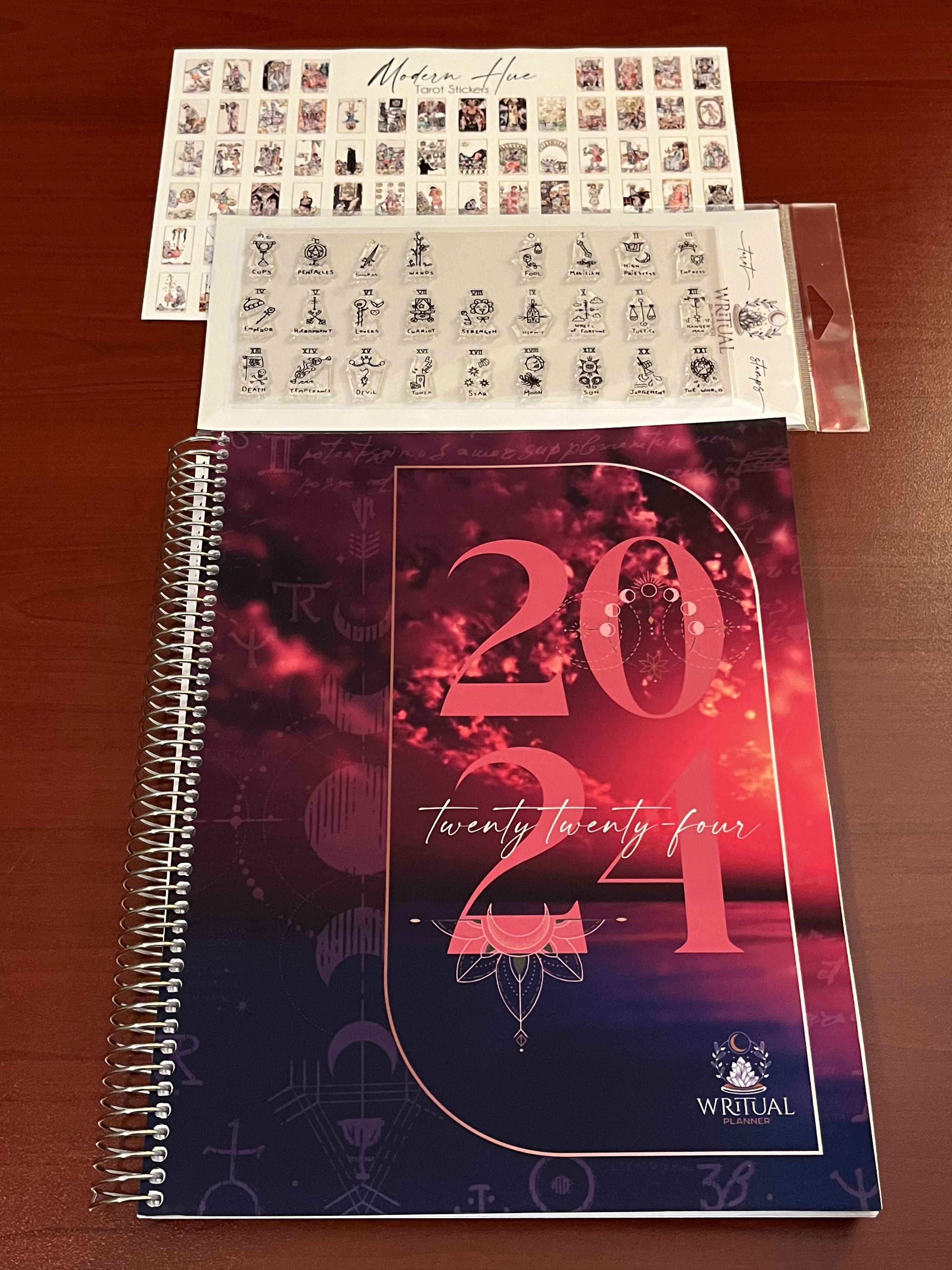 To get 15% off your Writual products use My Writual affiliate link and my discount code at checkout - HEALING in all caps - use this link for all the Writual items in this blog.
Links for Products
Links in this blog are mostly affiliate amazon links or Writual affiliate links. It helps me a small amount if you use these links. Thanks for your support!
Books, decks, and all stocking stuffers and gift ideas shown or recommended in this blog: Charm set, Prisma Visions Tarot mini in tin, The Light Seers Tarot Pocket Version, My First Magic Oracle, Nightmare Before Christmas Tarot, Rider Waite Smith Tarot in a tin, Seasons of the Witch: Imbolc Oracle, Season of the Witch: Yule Oracle, Spells: A Little Deck of Enchantments: 40 Mini Cards for Inspiration, Tarot mug, Tarot pouches, Tarot spread cloths, Wild Unknown Tarot pocket version in a tin, Winter Waite Tarot, Witch's Familiar Runic Oracle, 2024 Astrology Diary
Affiliate Links for Ryve Products Discussed in the Blog
Awaken Tarot Deck by Ryve
Purchase Ryve Reflection Cards here
Purchase the Ryve Affirmation cards
Mindfulness Coloring Book link
Stress Relief Coloring Book link
Ryve Green Navy and Beige Journal link
Healing Thru Tarot's Spread Ebook Line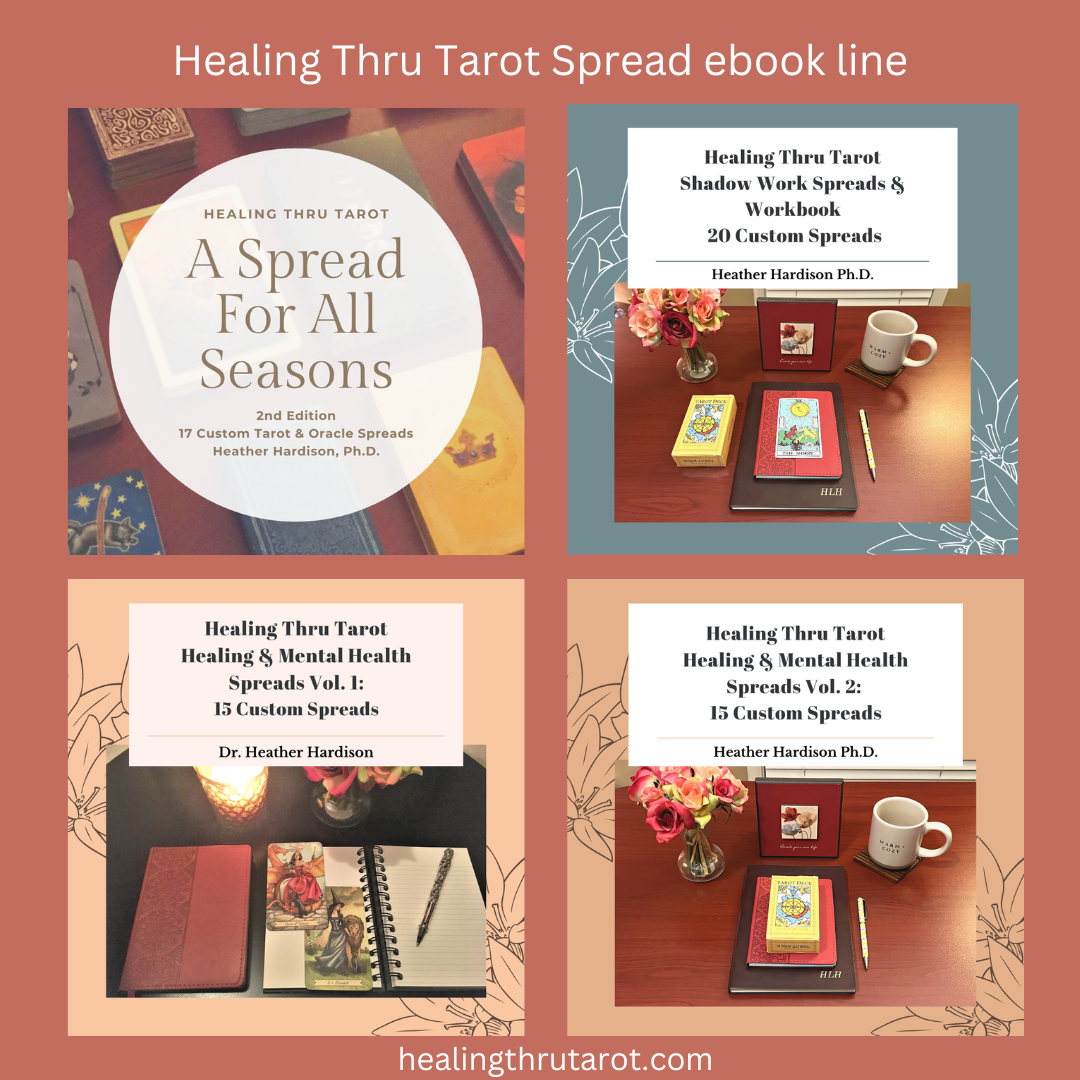 A Spread for All Seasons - 17 custom spreads
Healing and Mental Health Spreads Vol. 1 - 15 custom spreads
Healing and Mental Health Spreads Vol. 2- 15 9-card spreads
Shadow Work Spreads and Workbook - 20 spreads
Healing Thru Tarot's Life Path and Life Purpose spread ebook includes 15 custom spreads I've created to help you identify and align with your life path and sail to success. Spreads like the life path alignment spread, lightwork path guidance spread, conquering obstacles on my path spread, advice from my future self-spread and karmic healing path spread will help you position yourself to step into your full power and achieve the purpose you incarnated to fulfill. Plus many more spreads offering guidance and advice to get on path and stay on track. $12
Click here to purchase any of these spread ebooks
FTC Disclosure: In accordance with Title 16 of the U.S. Code of Federal Regulations Part 255, "Guides Concerning Use of Endorsements and Testimonials in Advertising," I received the following products for prospective review. Everything I've said here is sincere and accurately reflects my opinion of those products:
Seasons of the Witch Imbolc, Yule, Samhain Oracles, My First Magic Oracle Journal, Spells: A Little Deck of Enchantments: 40 Mini Cards for Inspiration from Rockpool Publishing, The Light Seers Tarot Pocket Version from Hayhouse. The 2024 Writual Tarot Journal Tarot Stamps, and Tarot Stickers from Writual, Tarot with Keywords Deck, Journal and Tarot Stickers from Little Sage Tarot The Nightmare Before Christmas from Insight Editions, the 2024 Astrology Diary from Rockpool Publishing, and The Witch's Familiar Runic Oracle from Hayhouse.
Listener Support
*If you would like to support this podcast monthly, please consider signing up for a small pledge to help me be able to continue to produce these quality episodes every two weeks. Use the link below to sign up to support through anchor.
Much appreciated!
https://anchor.fm/healingthrutarot/support
Are you enjoying the Healing Thru Tarot podcast and companion blog? If so, now you can gift me a coffee or two to kept me fueled as I pull all-nighters writing the scripts and recording all the episodes. Help me keep this content flowing by sparking my inspiration! Just click here to gift me a caffeine fix.